Description
Beautiful Bizarre Magazine is the freshest contemporary art magazine for artists, enthusiasts, collectors and galleries. They are a unique quarterly publication that's individual, creative and cool, but always fresh and approachable. Check out BBM for: Art, Culture, Couture.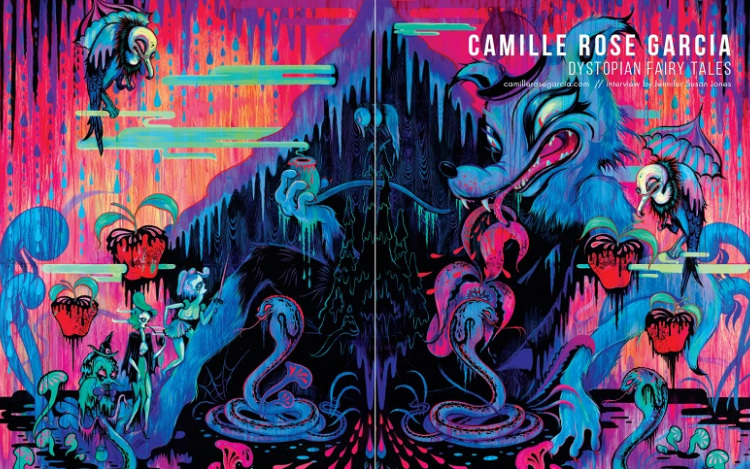 Inside Issue 022 you will discover the honest voices of 40+ visual and wearable artists in fascinating interviews and articles – let their stories inspire your own practice! Read the intimate conversation between fellow pop surrealist artists Camilla d'Errico & Caia Koopman as they chat about art, social media, and their mutual love and concerns for the environment, the earth and her creatures. Discover what Distinction Gallery's Director Melissa Walker would like to add to her personal collection. Take a peek at some of our favourite wearable art brands, and join us as we visit Australian sculptor Juz Kitson's porcelain studio. See Rebecca Levielle's work in full page brilliant colour in our Lookbook feature, plus so much more inside this inspiring issue!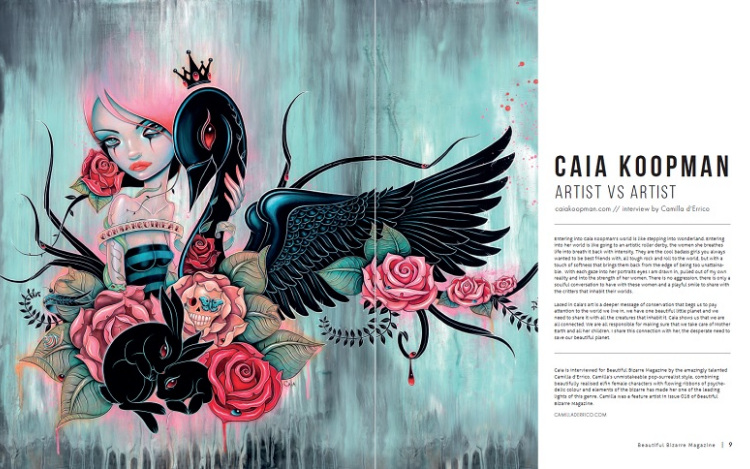 Inside Issue 022 // September 2018
Featured Interviews: Camille Rose Garcia [cover artist], RONE, Kin Fables & Tom Bagshaw.
Artists Vs Artist Interview: Camilla d'Errico interviews Caia Koopman.
Studio Visit: We visit Australian sculptor, Juz Kitson's Chinese porcelain studio.
Featured Articles: Josh Keyes, Caitlin McCormack, Greg Simkins, Lisa Ericson, Yuka Sakuma, Escoto + Carrara & Aaron McPolin.
Curator's Wishlist: Melissa Walker of Distinction Gallery shares what she would like to add to her personal collection.
Lookbook: Rebecca Leveille.
Artist Snapshot: Kurtis Rykovich, Anton Semenov, Nunzio Paci, Alessia Iannetti, Paul Barnes & Daria Hlazatova.
Some of our Favourite Things: Our favourite wearable art brands including, Julia deVille, Blood Milk, Macabre Gadgets, Sofia Fitzpatrick, Parts of Four & Thrajar Jewellery.
Join the Tribe: Instagram #beautifulbizarre community feature including, @deerandbeard, @cannibalmalabar, @RekhaGarton, @ricardilus, @Gianmaria.DeLuca, @littlespaceboi, @ltg.art & @tinycutiepie.