Ania Tomicka lives in Florence, Italy, and there could be no better dwelling place for an artist with a deep love for the work of the great masters of the Renaissance. Like those great painters that came before her, Ania shares an interest in learning from classical sources and also has a passion for the beauty of the human form. This however, is where the Renaissance comparison ends, because Ania's wonderful work is injected with her own unique surrealist twist and she paints scenarios which suggest that not all of the universe's mysteries can be understood through human logic and reasoning. Her narratives are personal, whilst remaining universal in theme, and are delivered to us by beautiful female protagonists who exist in dreamlike environments surrounded by ethereal beings, not all of whom appear to be friendly.
Ania has only been exhibiting her art since 2009, and in this short time has shown her work all over the world and has attracted followings on her social media channels that reach figures into the hundreds of thousands.
WOW x WOW caught up with Ania to ask her a few questions, and get some insight into the life and creative thoughts of this talented young artist.
Hi Ania, thanks for taking the time away from your busy schedule to talk to us. You were born in Poland and spent the first nine years of your life there. What do you remember most about childhood in your home country?
I remember having a big family and great grandmas and grandpas. I remember I was good in school and tried my best to make friends, even if I was already very shy. I also remember that I was always drawing, if only to be able to stay up late. "I promise, I will finish this one and I will go to bed", but it would take me hours, haha.
Since then you have been living in Italy. Tell us a little about where you currently stay?
I live in a little studio-apartment in Florence. My parents live near Venice, but I have friends and my boyfriend that live here, so I decided to stay. I really love this city, even if I don't go out as often as I was used to. I stay at home all day long to work, but I can still feel the phantoms of great masters surrounding me and yelling, "WORK HARDER!!!" Even though I don't have time to go to visit all the amazing museums.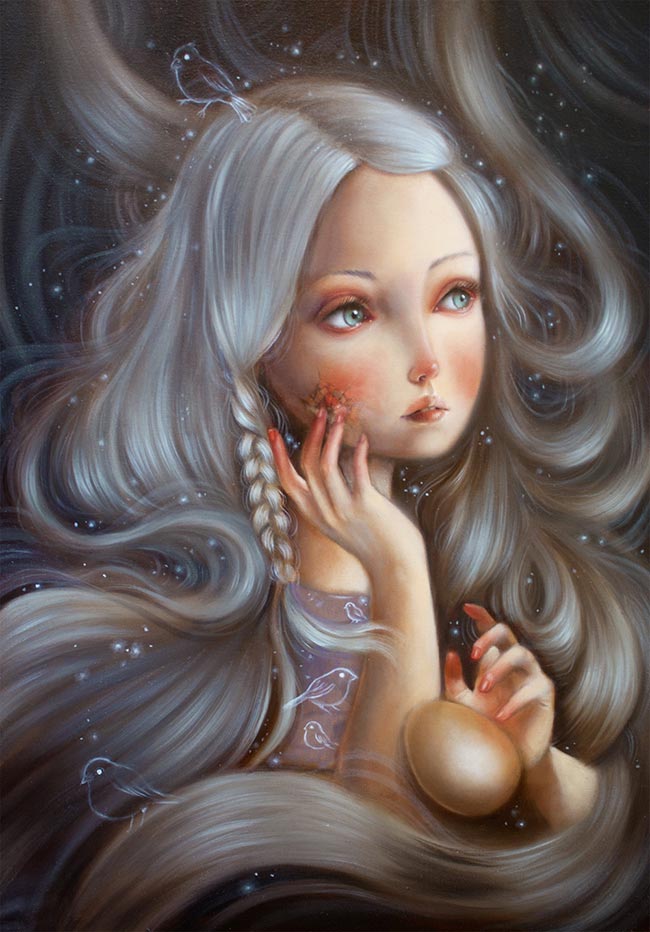 What is the New Contemporary Art/Pop Surrealist scene like in Italy?
I think that there are some great artists here, and some with amazing potential that will emerge in the near future. I am not particularly involved in the Italian art scene and I don't know many galleries, but I think there are some valid ones!
Describe what your studio looks like?
My studio is also my bedroom, so I need to clean really often and hide all the toxic stuff every day. I don't have much space, but I also think that I am really lucky to have it! I have an old easel and some Ikea stuff that is great for holding brushes and paints. Beside that, it's a clean and cozy place. My dream is to have a real studio, and I'm pretty sure that it will be a mess. I can't wait!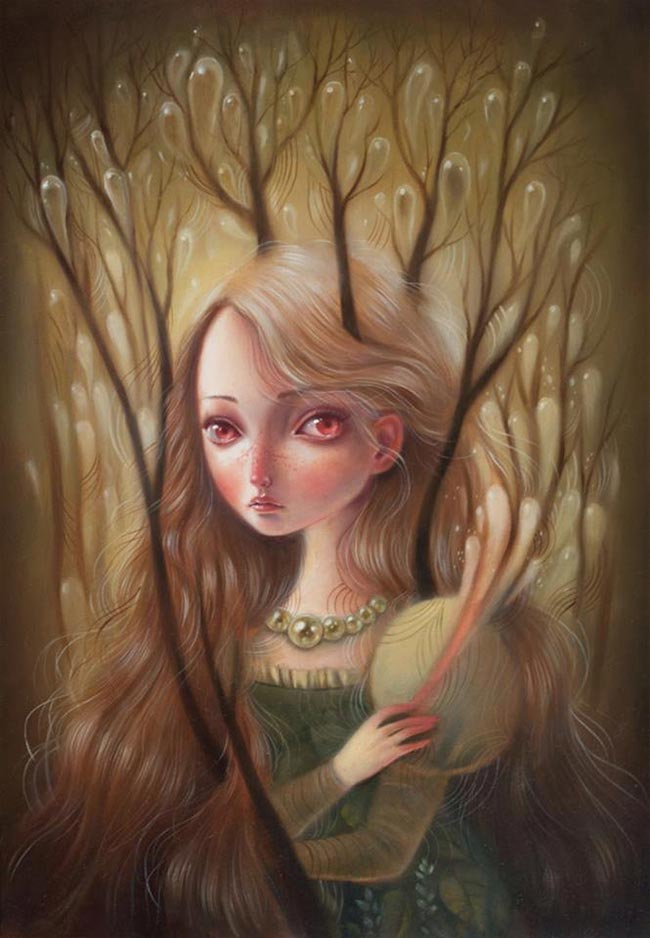 What compels you to paint?
Like many other painters I feel the urge to paint. Not always, but when I don't paint for more that a week, I almost feel sick. I believe every artist can relate to this. Also, I want to improve so badly that I need to work as much as I can, and when I don't work I feel really guilty and sad that I've been wasting my time.
Who are the creepy little pointy eared characters that appear in a lot of your paintings and what do they represent?
Ciccetto is his name. He is a little asshole that brings all the evil stuff into your mind. He and his minions are there to make you sad and miserable. You try to fight them but it's not easy because sometimes they are cute and you are getting used to them. It's a love-hate relationship.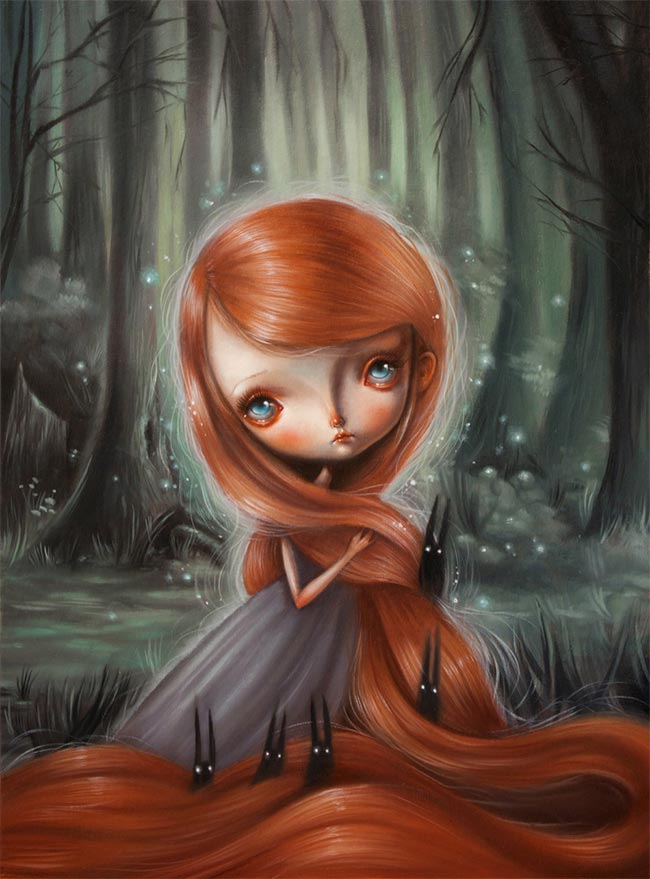 Can you name some of the artists who have had the biggest influence on you and why?
I don't have any particular names at the moment. I just love all the artists that have amazing painting and drawing skills, the ones where you can see that they are professionals only by looking at their sketches. Why? I want to be that way too! I want to learn everything about everything (in the artistic field) and I would like people to think about me, in the same way that I think about…oh I don't know, Martin Wittfooth for example. So OK, I have a name…but I still have a long way to go!
Here at WOW x WOW we love our Heavy Metal and we've heard on the grapevine that you do too. Who are some of your favourite bands and does music have any influence on the images you make?
You love heavy metal? That's great! I believe Iron Maiden is the best heavy metal band ever. Have you ever tried to paint to that music? It's amazing! Once I painted a piece listening to "Ghost of the Navigator" in loop, and afterwards I gave my painting that title. I also love epic metal (Kamelot, Rhapsody of Fire) and progressive metal and rock (Pain of Salvation, Katatonia, Karnivool)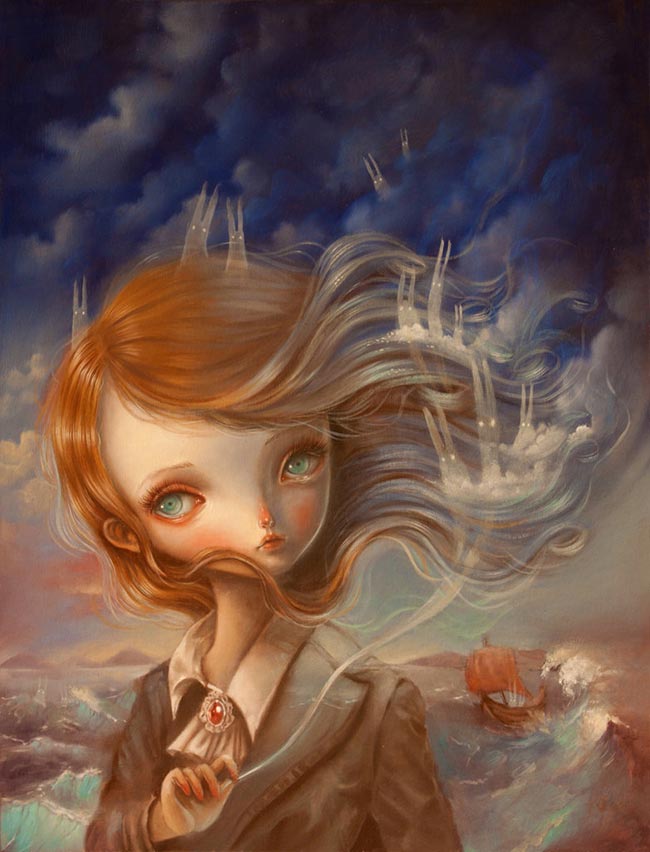 What has been the highlight of your career so far?
Each show and each publication is a highlight for me, I wouldn't been able to decide.
You have built up an incredible following on your social media channels. Does the feedback you receive on those have any impact on the art you make and do you find social media a distraction while working?
Sure, it has a huge impact. In some ways my followers influence me each day to do better and work harder. I'm really happy that I have them! Social media is not a problem for me. I use it only for work purposes, so I don't spend too much time browsing Facebook or any others, unless I find some great art, then I visit the artist's page. The only site that is a big distraction is 9gag, sometimes I just can't stop watching it.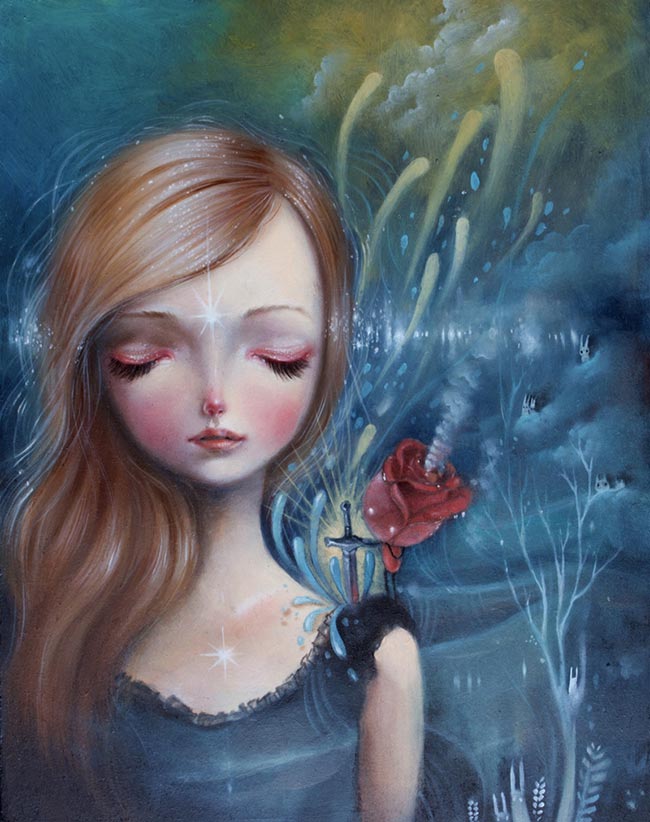 What do you like to do to relax and take a break from painting?
I play Final Fantasy XIV almost every day, me and my boyfriend have a group of people that we play together with to clear the hard content of the game. I really enjoy it because it's a break from real life.
What's next for Ania Tomicka?
There is a lot of study and learning ahead. It's a hard journey but as long as I inspire others it is worth all the effort.