The surreal paintings of Bob Doucette capture our imaginations with their rich narratives and whimsical delights. They beckon us into their lusciously opulent worlds through fantastical symbolism, all the while whispering the language of dreams into our subconscious. Building metaphors, both unconsciously and with intention, Doucette paints emotional tales straight from the heart, and what a tender loving heart it is too. Placing great importance on maintaining integrity and the ability to advance his own spiritual growth through the act of creation, Doucette draws inspiration from what really moves him, be that his personal relationships, his deep appreciation for art history or the ideas from pop culture that intrigue and resonate with him. Having embarked on a self-imposed mission to provide some much needed healing to our world, Doucette has already accomplished this and a whole lot more.
Bob Doucette grew up in Maine and moved to Southern California in 1989 to study, where he still lives and works to this day. His studies were in both illustration and animation and he earned a BFA at RISD and an MFA at CalARTS. Bob's independently animated films won him many prestigious awards and honours and his MFA thesis film Pink Triangle is in the permanent collection at the New York Public Library. His Ben Franklin doll, created for the White House Christmas tree in 1999, is in the permanent collection of the Smithsonian. Bob has since left the animation world behind and has been focused on his fine art for the past several years. His works have been exhibited extensively both in his home country and abroad.
WOW x WOW is thrilled to have not one, but two Bob Doucette originals in our current 'Lightning Bolts & Little Sparks' exhibit. 'Adam' and 'Eve' will grace the show with their precence until the 30th of June. In honour of the occasion we asked Bob to take part in the following exclusive interview. Read on to get deeper into his creative thoughts and motivations.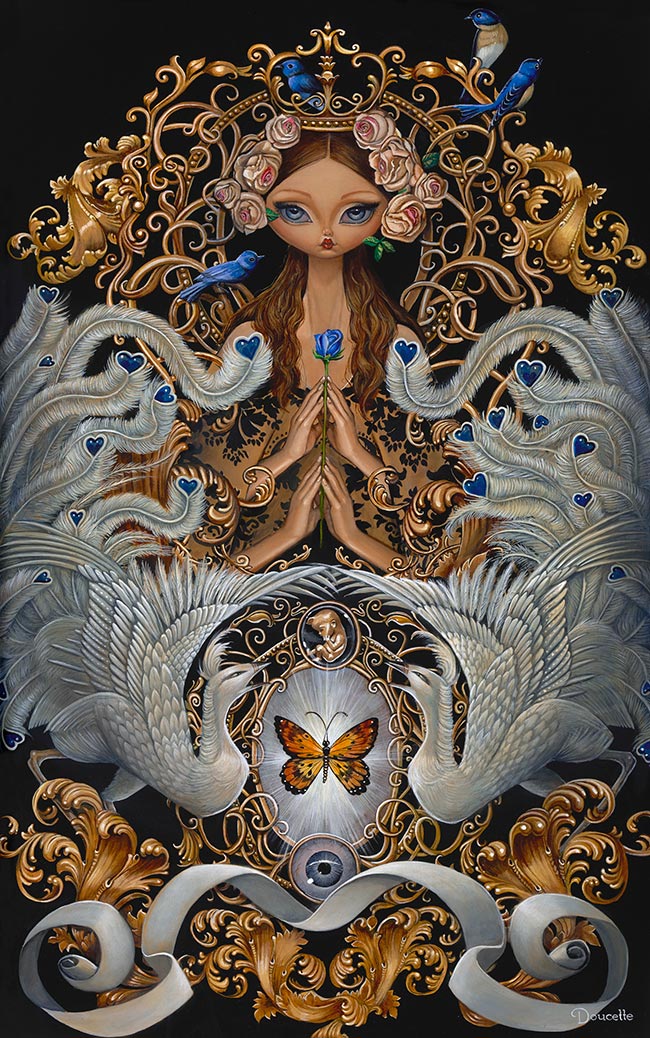 Hi Bob! First of all, thanks for agreeing to free up some of your valuable time in order to have this wee chat, we really appreciate it. If you could please start us off by introducing yourself and talking about your background, touching on anything you feel has been relevant to shaping Bob Doucette the artist?
I have been painting since I was a eight years old but it took me years before I took the leap and made it my career. On the way I found set and costume design, puppetry and animation. After 23 years in animation working on TV and DVD productions I had a craving to make things that I created from scratch. My favorite part of animation was the design and story telling but it always came down to someone else's vision. As an artist all I ever wanted was to create my own characters and tell my own stories and now that's what I do.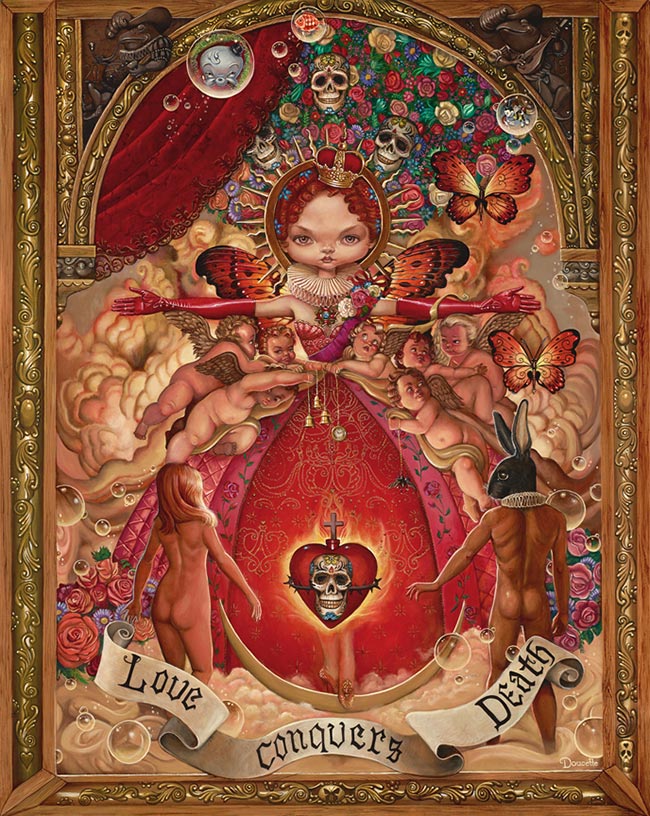 We're interested to hear about where you're currently living and what you like about the area? What is the art scene like there and do you feel a part of that community? Are these aspects of your existence that are important to your creativity?
Wow, I could not imagine living somewhere that had more possibilities and opportunities than the greater Los Angeles area. I have lived here in Southern California for the last thirty years and I love the art scene here. Beyond the myriad of galleries that are here there are also many world class museums which I often frequent. I love seeing art in person and seeing the artists touch, the paintings brush strokes, the sculptures chisel marks, they all make me feel my connection to the past.
In what ways did your childhood and upbringing affect your relationship with the arts?
My dad wanted to be an artist but was raised in a large poor family and he could never see his way out of blue collar jobs. He put so much love and effort into providing me with all the supplies and classes I needed even when he could not afford them. I will always be grateful for that.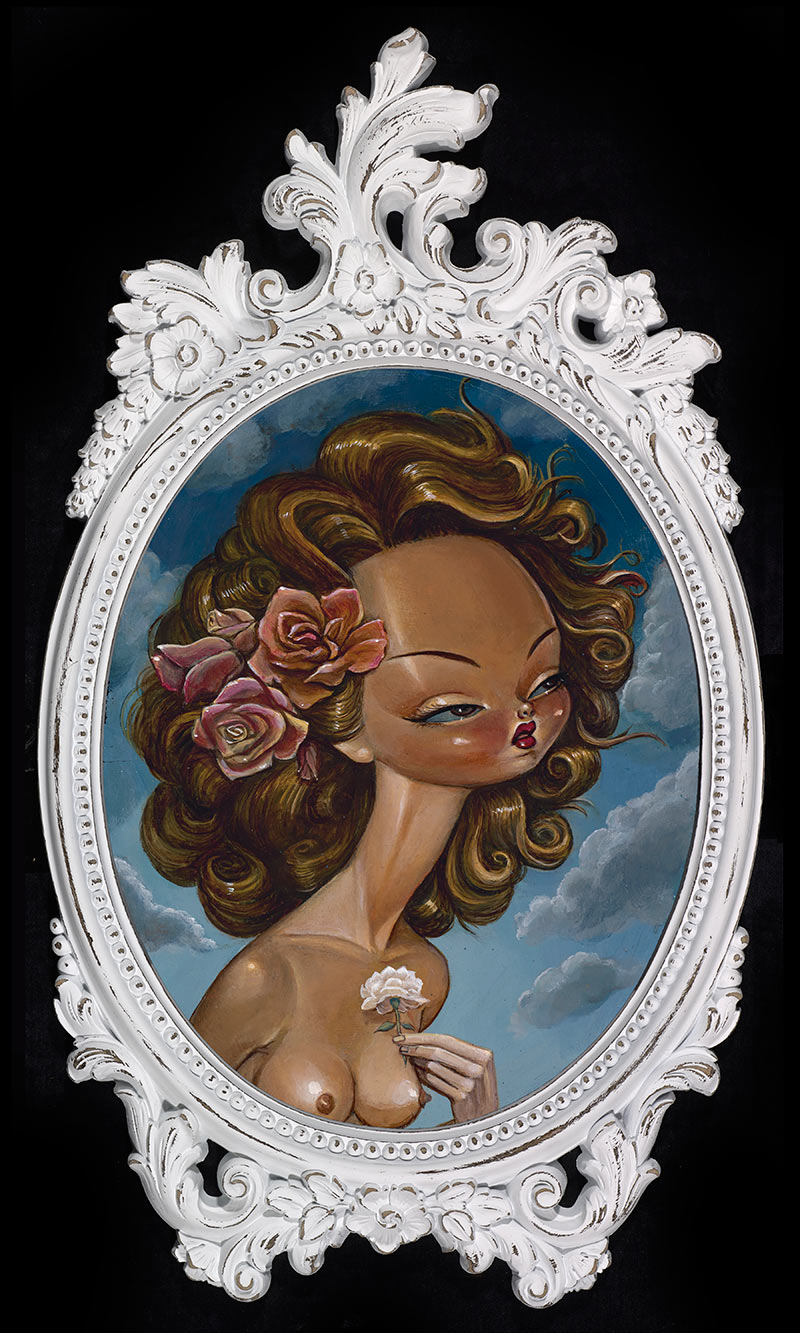 You identify yourself with the Pop Surrealist movement. Given the importance of dreams and symbolism to surreal imagery, the subconscious mind must be something you hold dear. Do you assign personal meaning to the symbolic elements in your paintings, or do you prefer to keep this aspect more ambiguous and allow things to evolve and mature with age? We'd love to hear your thoughts.
One of the reason dreams are such a rich source of material for artists and writers is their ability to relate a message through metaphor. If you really observe your dreams and study them you will find that they are the way our minds take the events of the day and our feelings towards them and illustrate them back to us in beautiful poetic snippets.
All the symbols in my paintings have meaning to me but I don't often realize it until after I'm finished. I think staying too focused on conceptualization can take you away from the possibilities of experimentation and surprise. I don't want to know exactly how a painting is going to come out before I start because it takes away from the enjoyment of actually doing it.
When I'm designing a painting I let the images flow free form, one shape inspires another, one color leads to the next and often I stand back and look at what I've created only to find the symbols all fit the storytelling, even though I hadn't planned it. I don't force my interpretation on the viewer, they are allowed to interpret their way.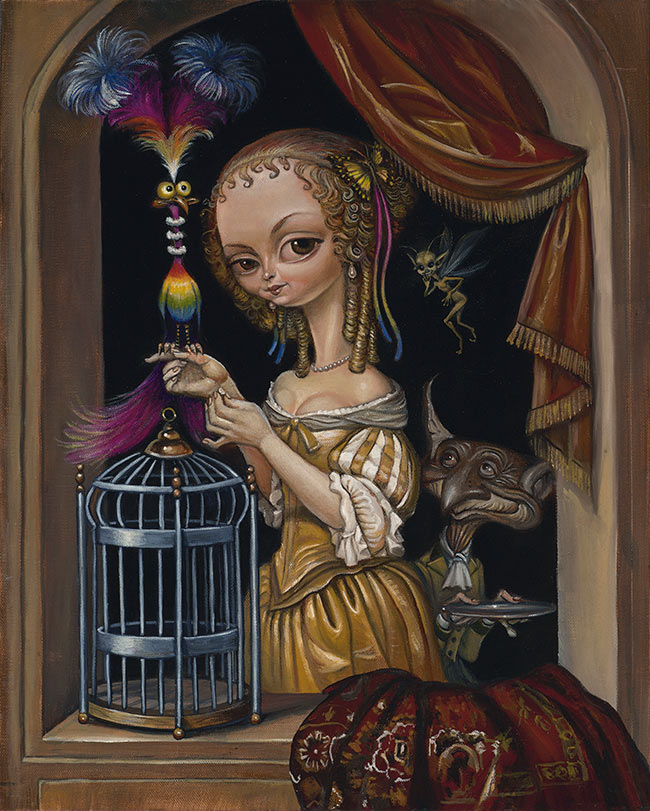 Thinking now about the popular culture leanings of your imagery; what sort of criteria must these pop inspirations meet in order to aid you with the creative process and assist with the assembling of your narratives?
We live in a pop culture world, more so than any other time in history. Because of the internet the whole world shares the same pop culture. Some things may be specifically regional but on the whole we have everything at our fingertips and are exposed to more world culture than any other time.
Within the world of Pop Surrealism painting there is a community that share like symbolism and this is an important part of being a community that learns and grows by the influences around it. Although it sometimes feels like inbreeding, the art scene is a conversation that keeps getting added too. We are inspired by what we see and then do our own take on things. I listen to my inner voice to try and discern what's right for my paintings, some things just don't fit and you know it, so you try and eliminate all ideas that don't resonate with you personally, because all good art is self-portrait in the end.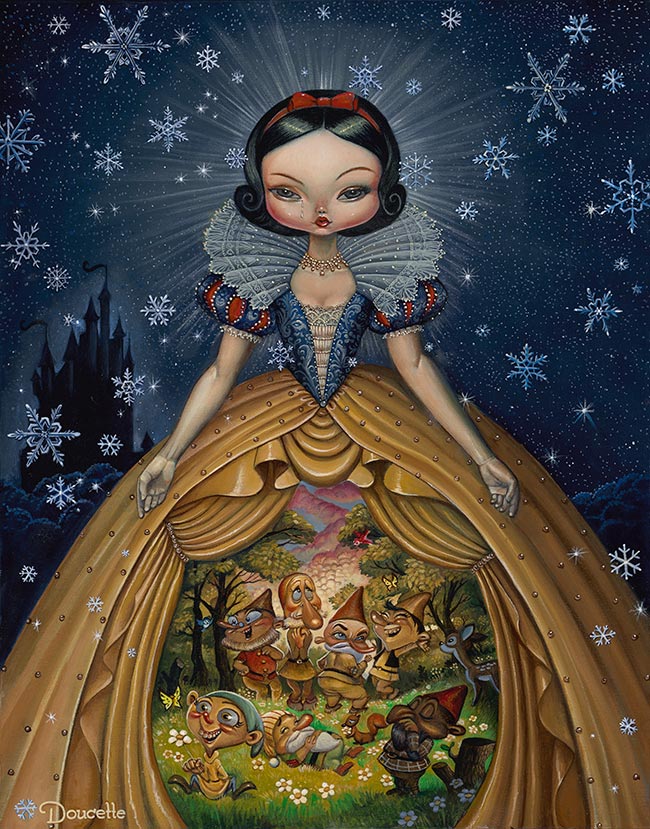 Where does your focus lie when you're painting?
It is important for me to be in the moment and present when I'm painting. Whenever I get distracted I stop because the art starts to suffer from the lack of focus.
To what extent do you consider your audience while creating your art?
I am my art so if people don't like my point of view or me, they probably don't like my art. However, I need to make money so often I find myself painting very small paintings to make them affordable when all I really want to do is paint large complicated paintings!
My dream is to one day do one super grand show a year and I sell out so that I can spend the rest of the year planning my next theme and not worry about hustling to pay the bills. I want beautiful receptions at great venues where my large paintings wow the crowd! I love the interaction with collectors and art lovers but I wish the shows could be more theatrical and grand.
Being an artist who works within the visual realm, can you shed some light on some of the most important inspirations and influences on your work that aren't visual and how they have helped you evolve your subject matter and creative practice?
I do a lot of reading on spiritual growth and this topic has seeped into all my work. I find it fascinating to think about why we are here and how to be better human beings. I also like to read a lot of mysteries and fantasy books so that has also seeped into my imagery.
We'd love to hear you talk about a favourite creative experience and why it has earned that status.
My favorite creative experience is yet to come and I live in anticipation of it and that is what keeps me going.
What are your opinions about beauty in reference to man-made artefacts? Is beauty something that you search for in art and is it something you consider when producing your own work?
Beauty is the reason for art.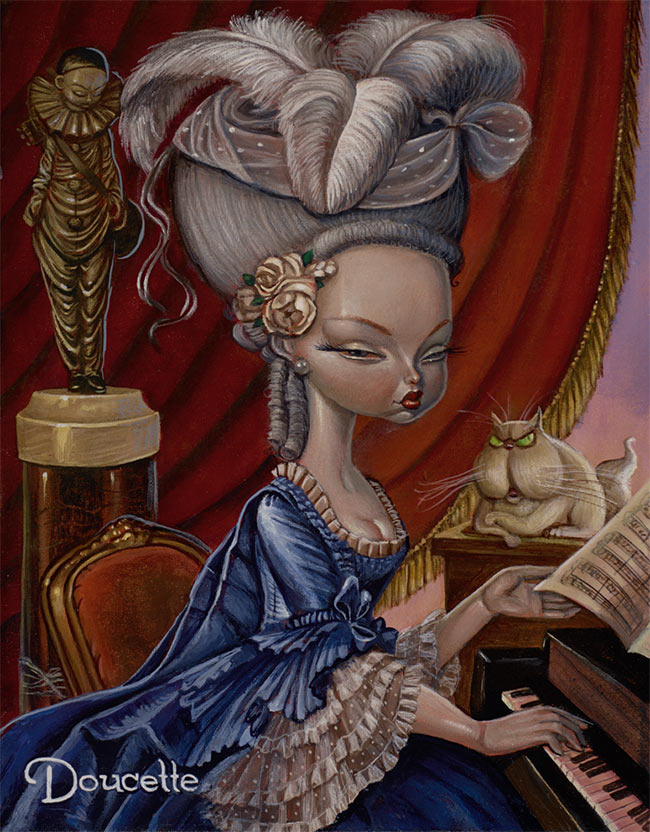 In order to get a better understanding of the personality of an artist, it can help to get a peek behind the curtain. Would you be willing to share a story from your own life, possibly one whose memory you find yourself returning to for inspiration, or maybe just a tale about a hardship you've overcome which has helped define the person and therefore artist that you are now?
I have always tried to be a responsible person, to please others and do the right thing, but keep my sanity by doing it my way. For the last five years I worked as an animation director I was very unhappy with my job but it paid very well and being responsible it was hard to let it go. I made several feature length movies that were never released. I knew that it was time to make my dream of painting full-time come true. I had to listen very closely to my intuition to find the right time and courage to walk away from a steady paycheck. I prepared myself by working very hard at my painting.
The last five years of before I quit, I painted in all my spare time, at breakfast, at lunch and into the night and every weekend I worked at my craft. It felt like I had two jobs for those five years. Finally I saw an opportunity, the animation show I had just started working on was cancelled after two weeks. I took that as a sign it was time to leave for good. I have no regrets, but trying to pay your bills is a real challenge without the steady stream of income. I'm still struggling financially, but I will not let myself fail.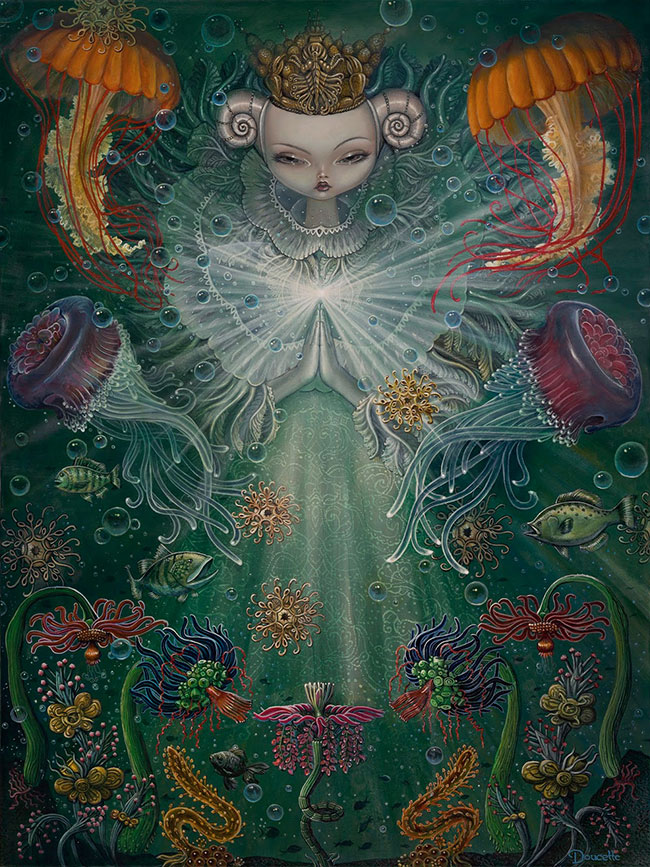 If you could own one piece of art from any of the world's collections what would it be and why?
So many choices, if I had my way I would live in the museum and study a different piece of art every day. I can't say just one piece of art as I can't choose among so many favorites. But not wanting to miss the opportunity, I would have to choose something from the 1500's as that is my favorite period of painting and I feel like there is so much to learn from and study. So today I'm choosing Hans Memling's 'Last Judgement'.
What's next for Bob Doucette?
I always try and focus on what's right in front of me now, so I pay it proper attention, but for the future I only have fond wishes that I will get better and better and help bring beauty into this often dark world.