Hanna Jaeun's arresting imagery speaks to each one of us on a deeply personal and individual basis, about aspects of our existence which are also profoundly discrete and associated with the realms of solitary contemplation. Such themes as isolation, dreams and conceptions of an afterlife, are presented within a symbolic surrealism filtered through a dark fairy tale aesthetic. Jaeun's passion for nature and her belief in the power of animal symbolism have led to her expressions and explorations of the human condition via the universality and intuitive emotional associations we project onto non-human creatures. And while her most recent work retains a wealth of wildlife, a stronger emphasis has been placed on her human protagonists, encouraging immediate connections and allowing her narratives to flourish, taking on more impact than ever.
Hanna Jaeun is a fine artist living and working in Brooklyn, NY. She earned a BFA in Apparel Design at the Rhode Island School of Design. Upon graduating she decided to pursue her ultimate dream of becoming a painter, and to this day remains largely self-taught in this field, constantly pushing forward through the perils of trial and error. As an emerging artist within the New Contemporary Art scene, Hanna's work is becoming very sought after and has been shown in prominent galleries such as Copro Gallery, Cotton Candy Machine and Arch Enemy Arts.
WOW x WOW is over the moon to have a brand-new painting by Hanna in our current 'Room of a Thousand Doors' group show. The painting, entitled 'Passage', is a fantastic exploration of her current themes and can be purchased here. In order to celebrate the first occasion of Hanna exhibiting with us, we've put together the following exclusive interview with her. Enjoy!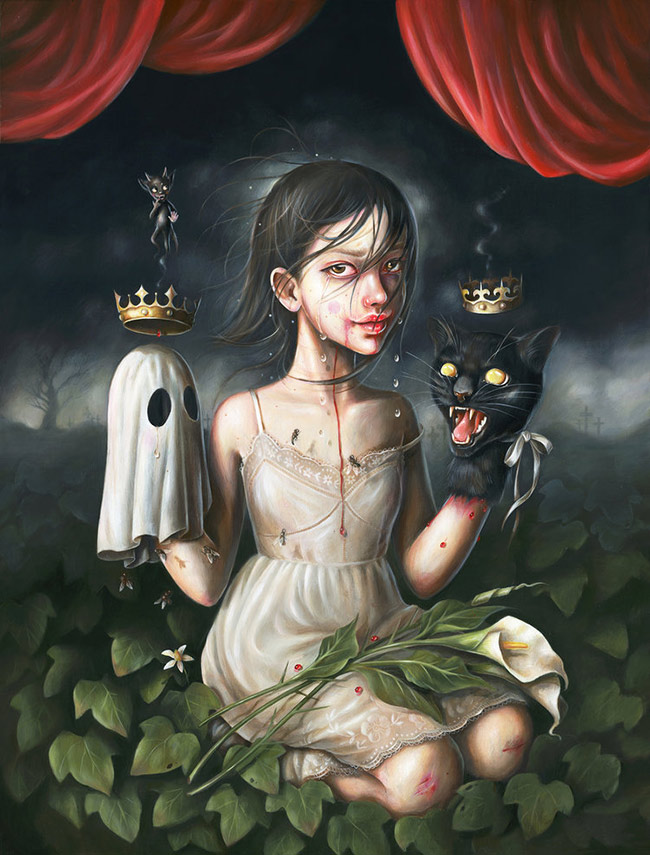 Hi Hanna, thanks very much for making the time to have a chat, we really appreciate it. To get us started, can you give us some background on what has lead you to this point in your professional life, be it your formal training, serendipity, etc.?
I wanted to be an artist ever since I could remember. I used to watch Bob Ross with my dad and would try to imitate him on my child size easel. My dad had wanted become an artist too. When it was time to choose a major in college, I chose apparel design because it had more security. I quickly realized it was not for me. It took me a few years out of school to quit and explore other creative options. I finally settled on painting, which had always been my dream.
In what ways did your childhood and upbringing affect your relationship with the arts?
I have great childhood memories and I also have a dark cloud over some childhood memories. Perhaps, you can see that in my paintings. I don't feel that they are too dark, but that is what I have been told.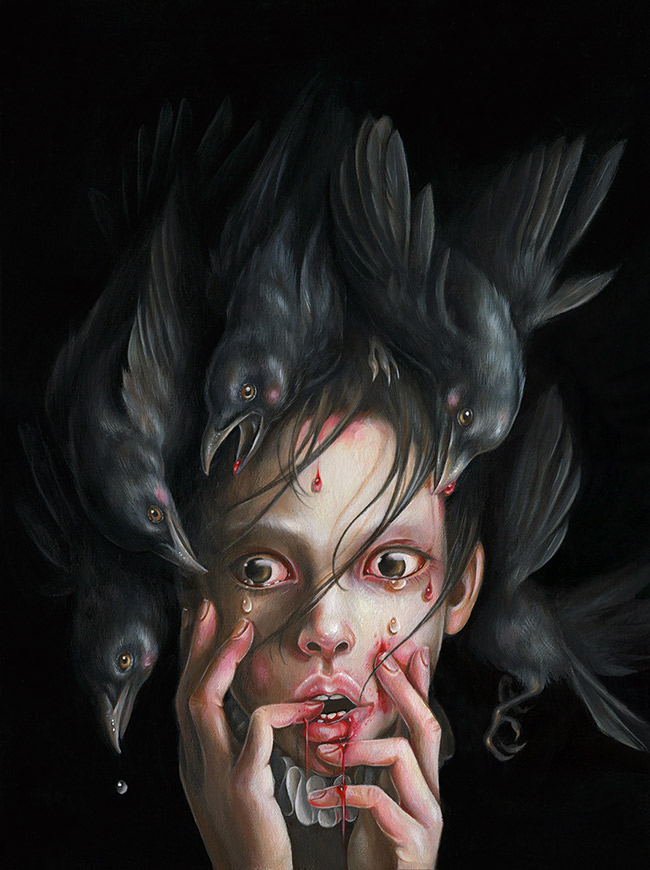 Where does your sense of community stem from as an artist? Do you feel part of a close-knit scene in your home city, or do you connect more with other creatives online? Is community something that is important to you and your creativity?
I don't have an art community here in NYC. The only way I connect with other artists is through social media and meeting these artists at gallery openings once in a while. I feel that not everyone understands how time consuming painting is. When I do meet other artists in person it is really amazing to relate to those who are going through the exact same thing. This is why I really wish I had a community of artists to share experiences and challenges.
Talk to us about the animals in your work. What initially inspired your use of animal-human hybrids? In what ways have you seen your animal symbology evolve over time?
I love animals. In the beginning, I painted animals exclusively. I, then, started introducing human bodies paired the with large animal heads. Now I find that humans are more of the main subject. The animal heads represent our basic and raw emotions. Because animals cannot talk, I find them to be more expressive.
There are often signifiers and motifs of religious suggestion in your works. What impact has religion had on your life and how do you approach this aspect of your art?
I went to church and Sunday school when I was little, but like most people, I don't go to church anymore. I don't think it is my experience with religion that gives me inspiration. It is the art and Catholic art and architecture that is really inspiring. There is something beautiful yet dark about it. It definitely inspires many artists.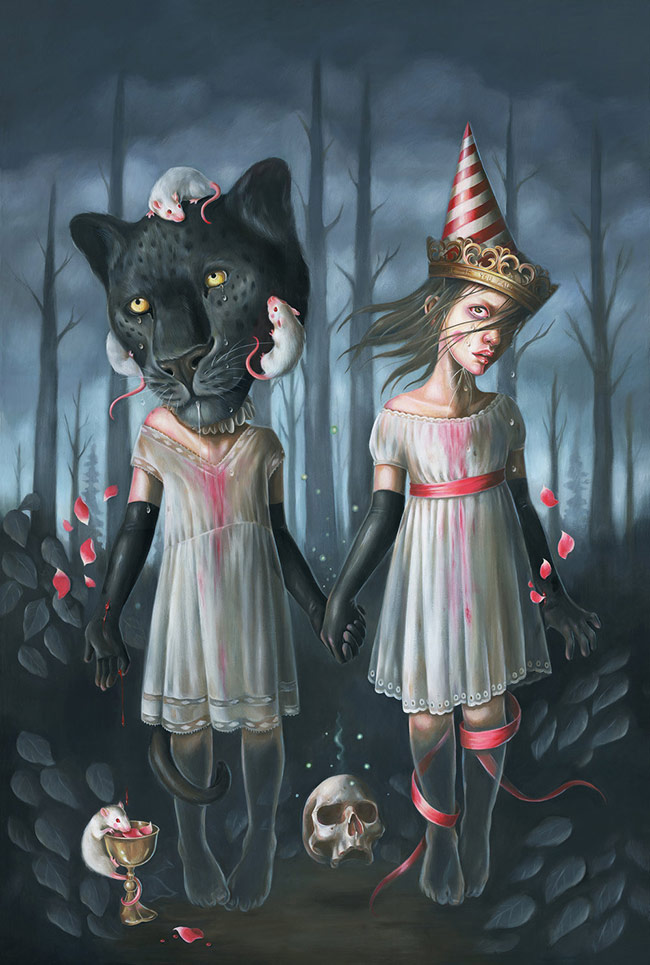 Have you ever created something that surprised you? That you didn't know was in you?
I don't really remember being surprised specifically, but I have been pleased with something I created. And this happens gradually. It takes time to make improvements, which is something that happens over time.
As a self-taught painter, what have been the greatest breakthroughs you've experienced that have allowed you to take those next big steps forward in honing your craft?
I was using heavy body acrylics for a while and then discovered fluid acrylics, which changed my life. The colors are more saturated and don't keep wiping off with every brush stroke. I'm still learning things as I go and every time I do, it makes my life a little bit easier. I still have an ongoing battle with varnish.
Being an artist who works within the visual realm, can you shed some light on some of the most important inspirations and influences on your work that aren't visual?
Experiences and emotions I am feeling at the time often play a big role in the mood of my paintings. For example, when I  experienced a death in my family, themes of death were prevalent in my work. I am not always aware of it, but such life experiences are reflected in my paintings.
What is the most memorable thing anyone has ever said about your art?
I have had a few memorable ones, but I don't remember exactly what was said. When people take the time to write and let me know that they appreciate my work, it means a lot to me. It gives me a little boost of energy. Even the nice comments I get on social media, make me smile.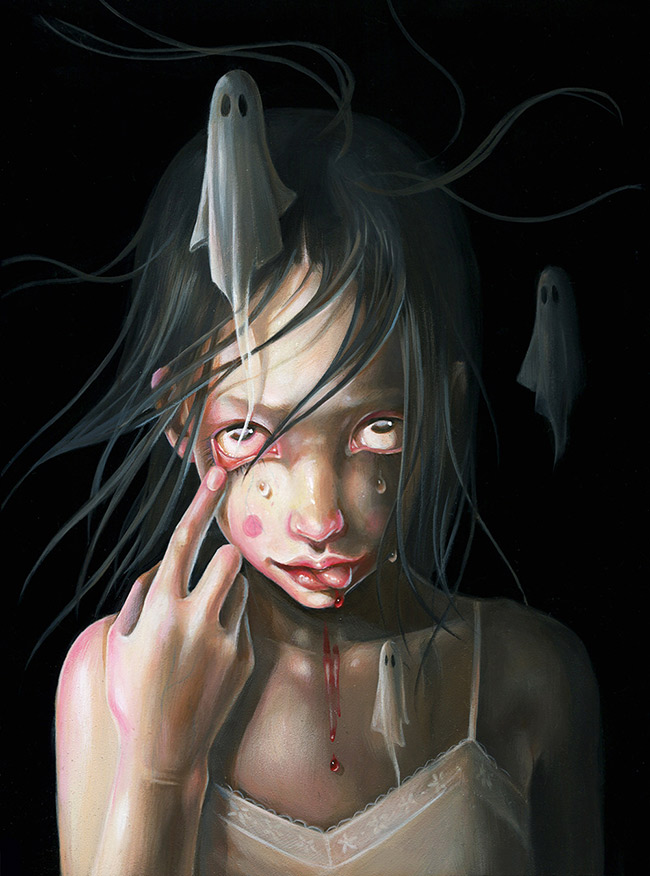 In order to get a better understanding of the personality of an artist, it can help to get a peek behind the curtain. Would you be willing to share a story from your own life, possibly one who's memory you find yourself returning to for inspiration, or maybe just a tale about a hardship you've overcome which has helped define the person and therefore artist that you are now?
It doesn't happen often but, if I am left alone, I have a tendency to hole up and become a recluse once in a while. When I am in that state, it becomes a downward spiral. Once, after living a very social life with many roommates for many years, I moved into an apartment by myself. I also lost my steady freelance work. I was very lonely and cut myself off from the world. But during this time, I was able to focus on myself and my art. I think I really needed this and it allowed me to take a big step into the beginning of my art career.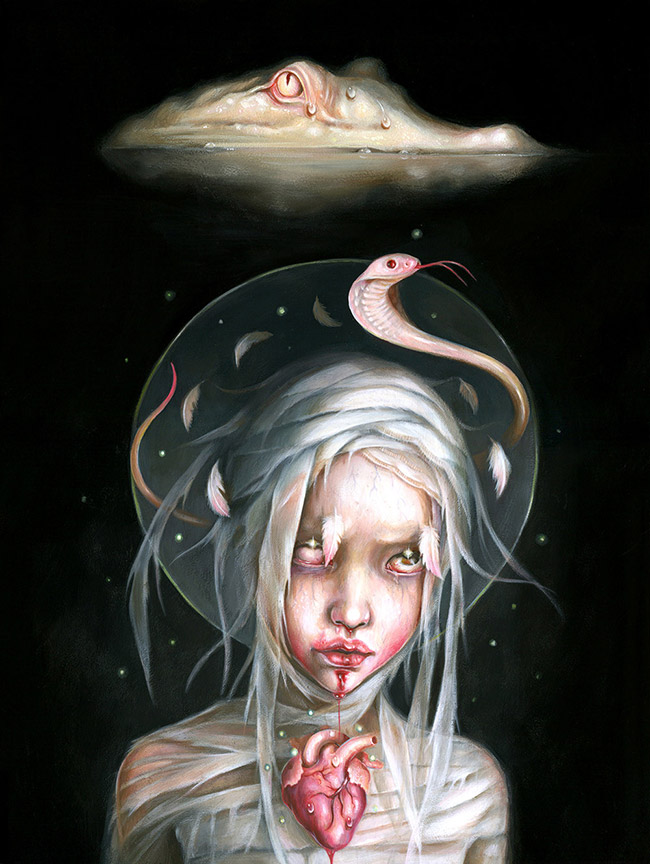 If you could own one piece of art from any of the world's collections what would it be and why?
Van Gogh's 'Sunflowers' painting. Mainly because I have a specific childhood memory attached to it. My Dad would share stories of all of those master artists we learned in school, and for some reason in my hazy memory that painting stands out.
What's next for Hanna Jaeun?
I have a few shows coming up in 2017. I have a piece in the 'BLAB! SHOW' in Santa Monica at Copro Gallery, the 'Hide and Seek' Group Show at Weswal Gallery in Australia, Requiem – The art of Death & Mourning at the Dark Art Emporium in Long Beach, CA.