Olaf Hajek refers to himself as an artistic illustrator. Comfortably residing within the camps of both fine art and illustration, Olaf has been carving a career in which he has allowed himself the freedom to develop within both disciplines simultaneously, letting the skills learned in each inform those of the other. Hajek's thirst for knowledge about other cultures has led him to travel the world, and it is through the synthesis of the sights, sounds and stories he has experienced on his travels that his unique, yet, ultimately universal aesthetic has developed. Formulating a personal symbolism inspired by contemporary life and also the more rustic and folkloric elements of the past, Olaf explores the concept of beauty through narratives rich in flora and fauna, texture, mystery and often harbouring a veiled darker side.
Olaf Hajek was born in 1965 in Rendsburg, Germany, along the Northern frontier to Denmark, and currently splits his time between New York, London and Germany. Although born in Germany, Olaf was raised in the Netherlands, until he returned to Germany to study graphic design at Fachhochschule Düsseldorf. Soon realising that he didn't want to spend his working life in sitting in front of a computer, he changed to their illustration course instead. Since graduating, Olaf's illustration career has gone from strength to strength, having illustrated for many high profile clients, such as The New Yorker, Rolling Stone and Time Magazine. He has also received numerous awards including The Gold Award from the Art Directors Club of Europe.
WOW x WOW seized a recent opportunity to ask Olaf a few questions about his wonderful work, in the run up to his upcoming solo show 'Precious' at the Hamburg based Anna Jill Lüpertz Gallery, which opens on the 2nd October.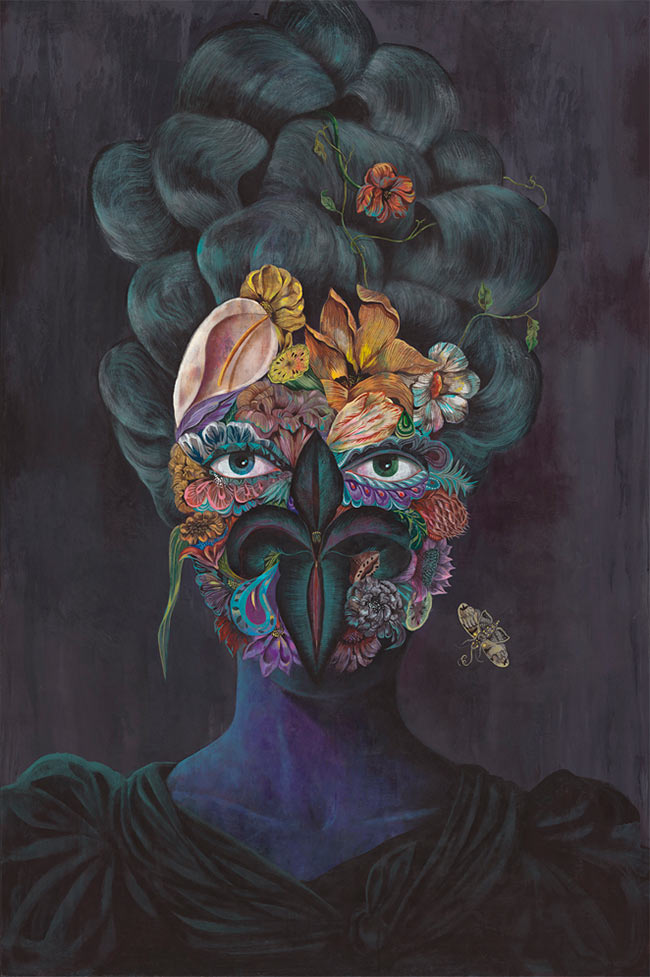 Hi Olaf, thanks ever so much for making the time to join us for a chat, we really appreciate it. If you could please start us off by introducing yourself, touching on anything you feel relevant to story of Olaf Hajek the artist?
I am a painterly illustrator with a with a penchant for hardcore fantasy and melancholic beauty. As an artist I revel in the complex simplicity of folklorish imagery, while at the same time addressing the heady issues of race and youth.
Your new solo exhibit entitled 'Precious' opens at Anna Jill Lüpertz Gallery on 2nd of October. Can you tell us about the title of the show and what we can expect from the new work you've prepared for the exhibition?
With the work for "Precious" I go on a trip to places of nostalgia. Driven by the desire for the unknown, the desire for a different identity, I'm an explorer of a new world. In this creative moment, I focus on whatever resonates with melancholy. One feels attracted to foreign worlds and then yet alone. The stranger. 'Eagerly homesick!'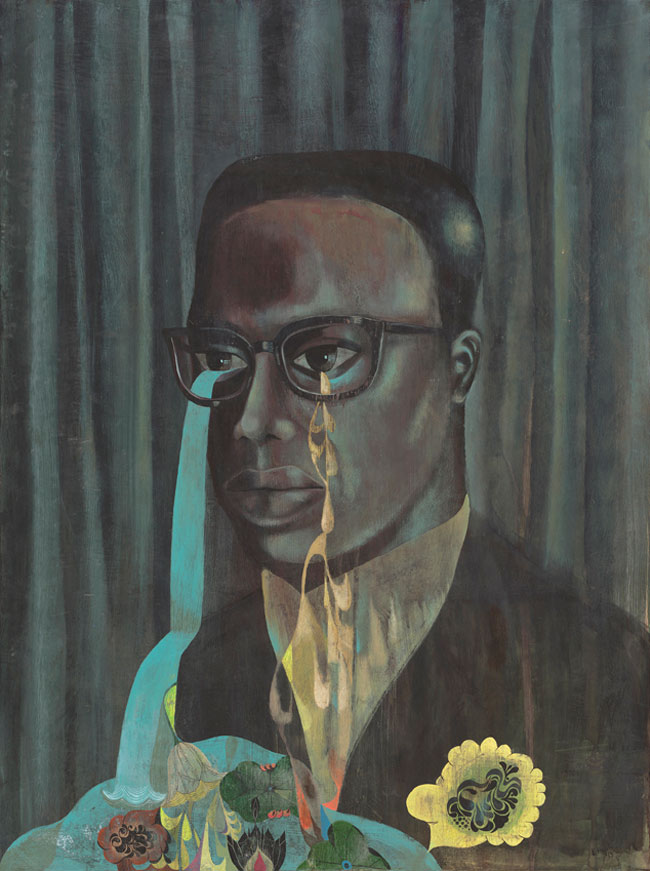 Can you discuss what you consider to be your favourite parts of doing both illustration work and fine art work? What kind of influence does each discipline have on the other?
I started mainly as an illustrator, although I was always interested and inspired by fine art. As an illustrator who mainly painted and didn't work digitally it was just a short way to exhibit my work and show originals. My approach to fine art was always influencing my illustration style as well and created another group of clients too.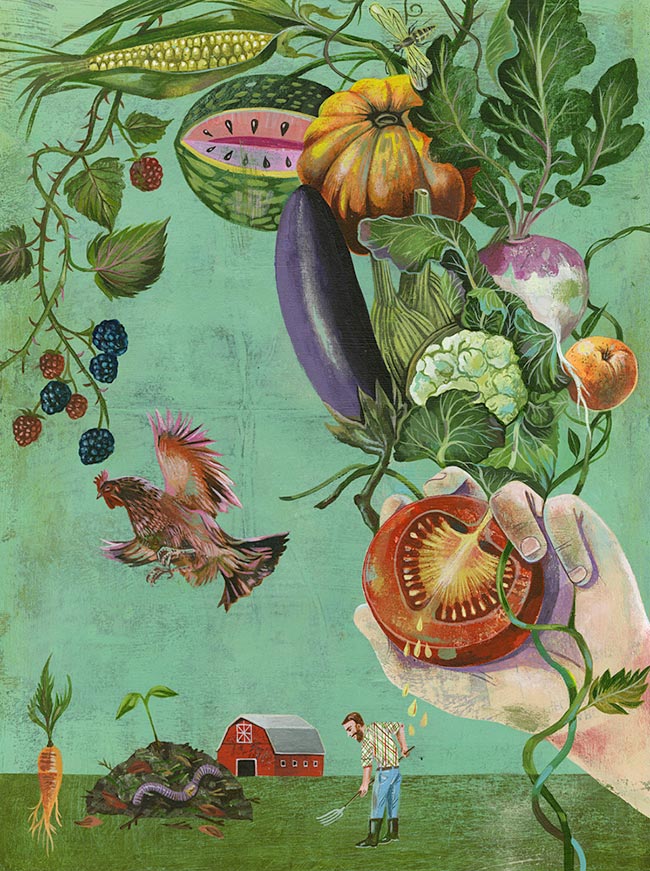 Looking at all the wonderful textures you create within your work, one can only assume that things must get a little messy in your working environment. What does your studio look like?
As an illustrator you work by yourself most of the time, there's no real contact with clients or other people. For more then 15 years now I've shared a studio with my illustrator friend, Martin Haake. It helps a lot to share thoughts and ideas with Martin, and to get inspiration and help. It's great that we both work internationally and have a good eye for the each other's work. The studio we share is not huge, but has big windows which look onto a cosy street in Berlin Mitte. When I create an exhibition and work on a bigger scale the studio can end up a bit messy, but my illustration work is under 'good control'.
You have a deep interest in the artwork of other cultures, from which you borrow aesthetic elements and skilfully recombine and incorporate these in your own unique style. When did you start experimenting in this way and can you tell us about some of the different cultural styles you admire and what appeals to you most about them?
I was born in Germany and I am part of a generation that felt a bit uncomfortable with it. The time before the reunification was not very inspiring for me. I was somehow dreaming about other cultures and worlds. I was always inspired by the power of simplicity in folk art and primitive art. As a student I admired the style of the American illustrators who had a very artistic approach to commercial illustration, something which was hard to find in Germany at that time. I guess I was dreaming a bit, of a journey to a different world and style, which helped me to create my own ideas and the aesthetics of my personal view and taste of the world.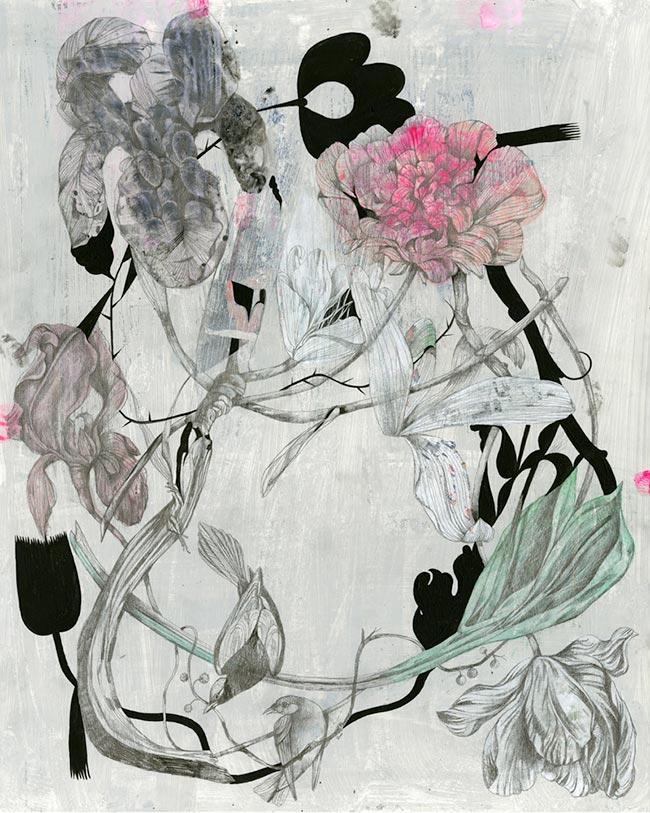 Having such a fascination with different cultures, do you tend to travel a lot?
Starting to travel, of course, helped to define that style. Meanwhile, I have a gallery in South Africa, which is another step for me to have a deeper look into another culture.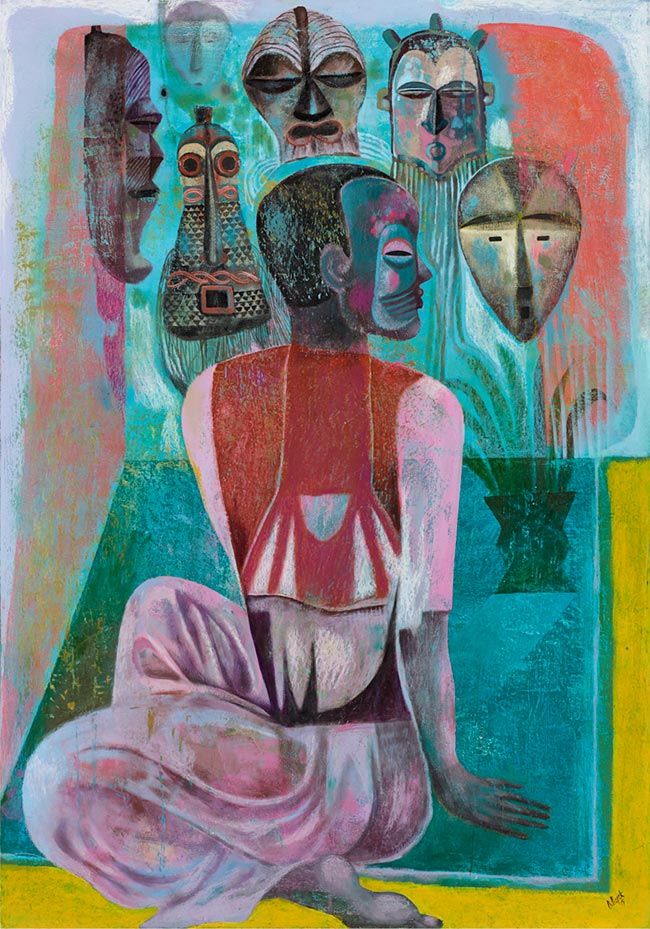 Folk Art is a major inspiration to your work. Please talk to us about some of the Folk Artists who have made a particular impression on you.
As a student I found a book about German Art Brut, which was amazing. It described art created outside of the boundaries of official cultures. The structures, the compositions and the material, were stunning. Work from Adolf Wölfi for example is mind blowing. My first travel to New York led me directly to the former American folk art museum, which has been maybe one of the most inspiring locations ever for me. The work of Henry Darger or Bill Traylor were such a revelation.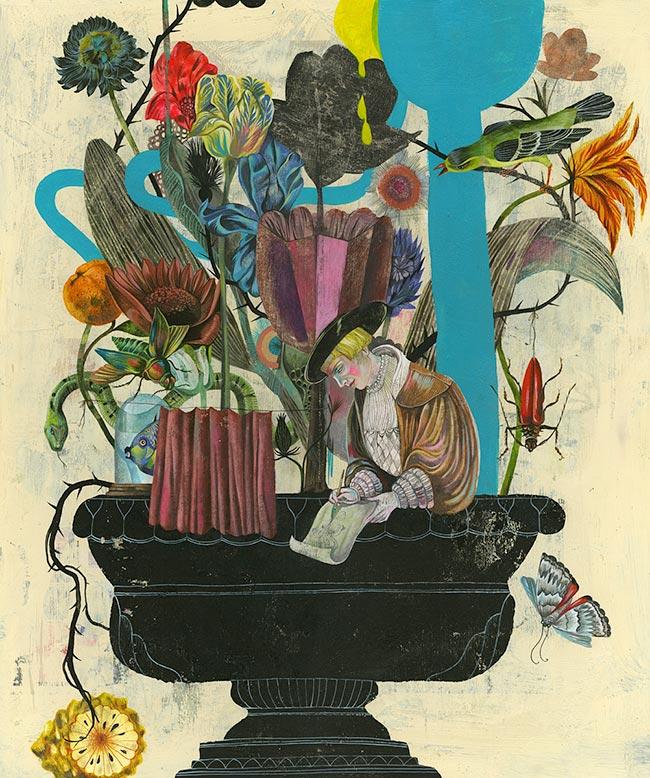 Inspirations stemming from mythology and folklore have also been important in forming your visual aesthetic. Do you have any favourite tales or legends that you would like to share?
Of course I was grew up with German fairy tales, but that's not to say that any specific one is a focus. I guess it's more the idea itself, the curiosity of fairy tales and mythology, combined with my own symbolism of fauna and flora.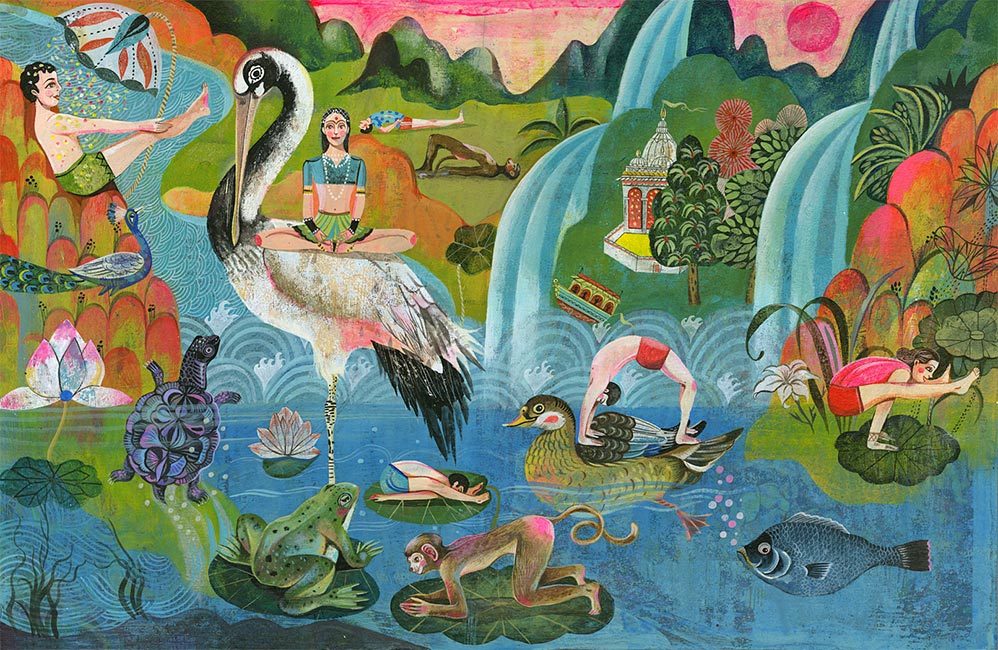 You have stated that your work "explores the opposition between imagination and reality in the context of western cultures". Can you expand on this concept for us and give some details about how you approach this aspect of your image making?
I like to explore our view to different cultures. I am not afraid of taking a somewhat naive approach and I also don't want to document anything. It can be a very personal or emotional point of view. A kaleidoscope of entries form an encyclopedia, which turns into an eclectic collage of images capturing a disordered reality.
Colour is a vital ingredient to your work. Your colour palette can vary dramatically, sometimes moody and sombre, other times bright and jaunty. Is your choice of colour influenced by your mood or does it have more to do with the type of project your working on?
Colour is of course a very important factor of my work. I think my mood can change the palette, but most of the time my choice of colour is dependent on the idea and the statement of the certain piece of work.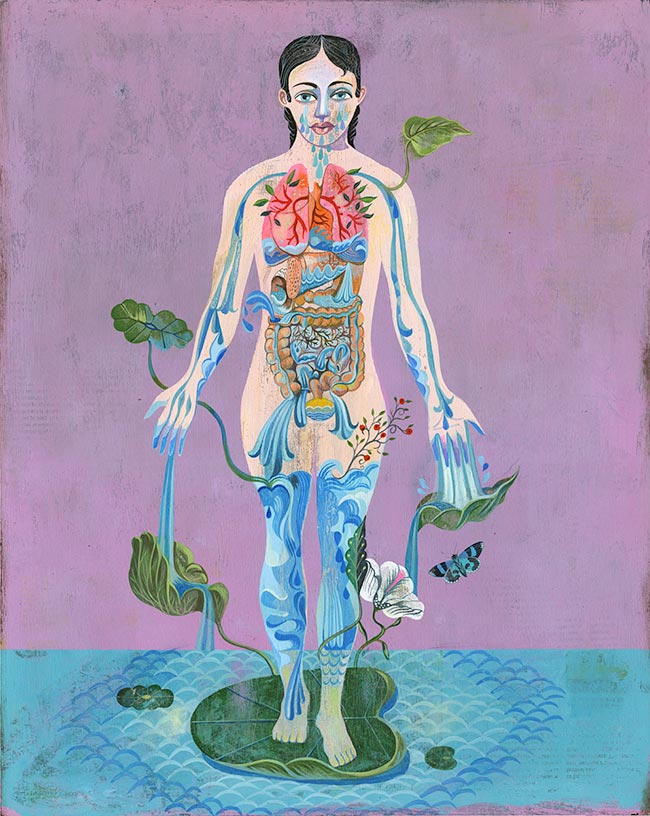 Your paintings are always beautiful to look at, although they sometimes apppear to be exploring darker thematic territory. What are your thoughts about the relationship between beauty and dark subject matter?
I try to explore the imperfection of beauty. Perfection for me, is boring, but beauty is indispensable. I believe that real beauty always has a hidden darker side, which makes it more mysterious and shining.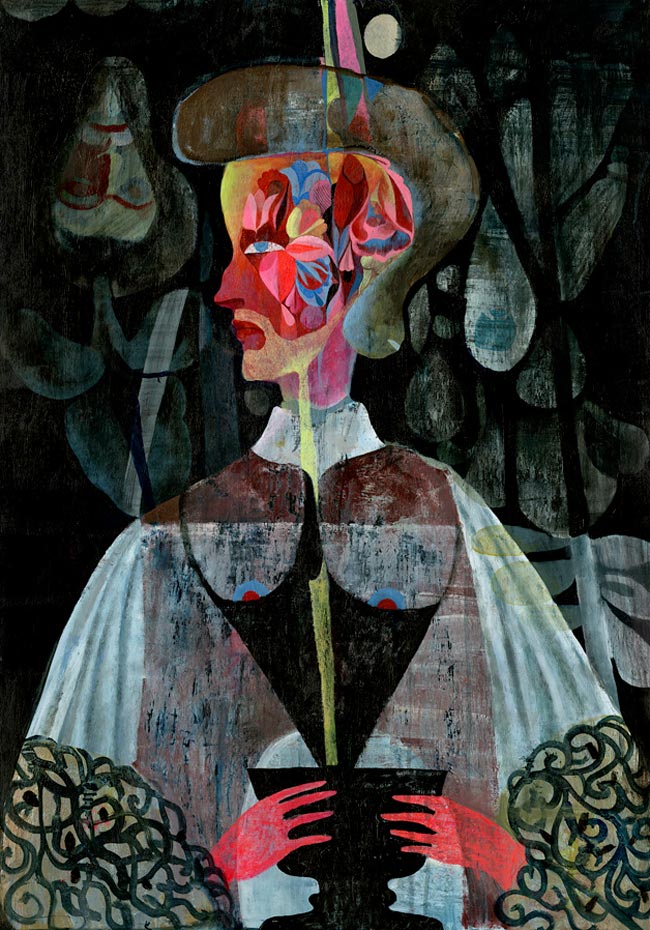 What's next for Olaf Hajek?
My new gallery show opens on 2nd October in Hamburg at Anna Jill Lüpertz Gallery, Germany and a new monograph which focuses only on my gallery work, will be published around November this year. At the beginning of 2016 I will spend 3 months in South Africa in order to create a new show at Whatiftheworld Gallery. And of course I hope to get some new wonderful illustration projects to work on as well. The future is not a blank canvas.