Peca's art transports us to a cosmos inhabited by mystical beings who act as our guides and mentors through it's enigmatic existential terrain. The peaceful anthropomorphic residents of Peca's universe carry great wisdom and impart their knowledge, when we are willing to look hard enough. Peca herself, is a master at sharing her own life's knowledge and experience. She skillfully translates the images which appear to her through her dreams and meditations, and turns them into wonderfully engaging visual narratives filled with her dream world's native language of universal symbols. All that is left, is for us to open our minds and hearts to the magical wonder of it all.
Peca's trajectory into the upper echelons of the New Contemporary Art scene is sure to be nothing short of meteoric. During the course of her short career to date, she has already exhibited her work in galleries all over the world, including, Stephen Romano Gallery, Brooklyn, USA; Auguste Clown Gallery, Melbourne, Australia and The Dream Factory Gallery, Frankfurt, Germany.
WOW x WOW grabbed the chance of asking Peca a few questions about her life, work and inspirations. Hear what she had to say in the following interview.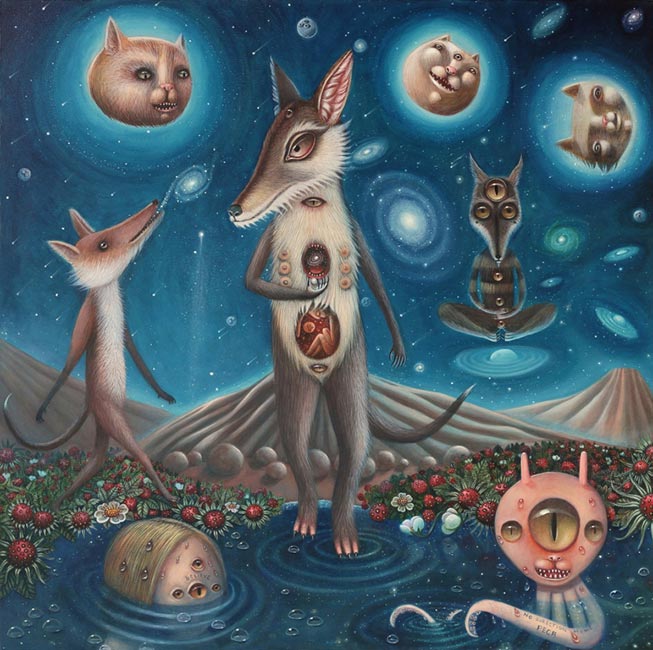 Hi Peca, thank you for taking the time out of your busy schedule to chat with us. Before we get going, can you tell us a little bit about your background, touching on any artistic training you may have had?
I was born in the remote town of La Plata in Argentina, many moons ago. My childhood is marked by the military dictatorship and hard times in my country. My first artistic and human refuge was The Beatles and although I spent a lot of time drawing, my greatest desire was to be a musician and play the bass. My parents were not very happy with this idea however, and bought me a piano instead. They believed that the bass was an instrument for men, so I started studying the piano.
Later, at University, I decided to specialize in musical composition, and while the social aspect was a lot of fun, the academic training took me away from music, and I spent hours in class sketching. It was then that I made a big change and I began to study engraving at the same university, until my graduation. During this time I received several engraving awards, and did some illustration work for the Argentinian edition of Rolling Stone magazine, but what I enjoyed the most was painting. I was painting all the time.
Since 2001 I've lived in Barcelona, where I've spent my time painting and making stop motion movies with my husband. Currently however, I'm devoting all my time to painting.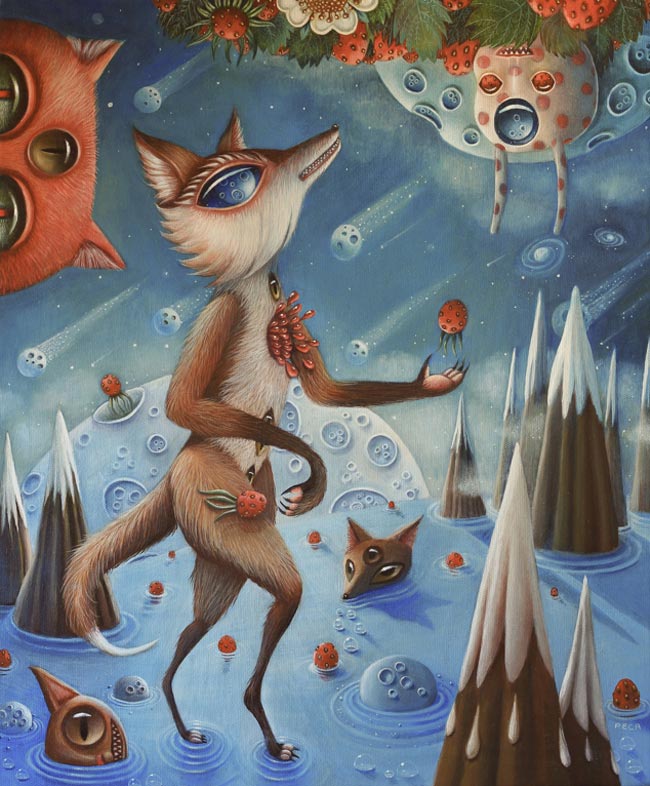 Describe your creative process?
Usually, I have an idea floating around in my head for a couple of days. The idea is often a little confusing at first and I suffer through it's conception like Chopin. After a lot of hard work and some real struggle, order and calm begin to emerge. That's my process. Reflection, work, chaos, order.
You are currently working on a series of paintings which you've titled 'Hopi Dreams'. What can you tell us about this title and can you also give us some insight into your thoughts behind the series and what themes you are exploring with it?
The art I make is my way of exploring myself, and it connects me to life. It's how I find answers. It's my way of consciously making sense of the continual accumulation of images that inhabit my mind, which can sometimes get out of control. Through my art I try to understand my own existence. Each character has it's own mission and represents a specific enigma. My paintings are the materialization of the dreams within my mind which are all connected to the universal experience. For me, the Hopis and other aboriginal cultures I paint, represent wisdom and connection. They warn us and expose our ignorance. I also love the fact that the Hopis believe in the coming of space beings.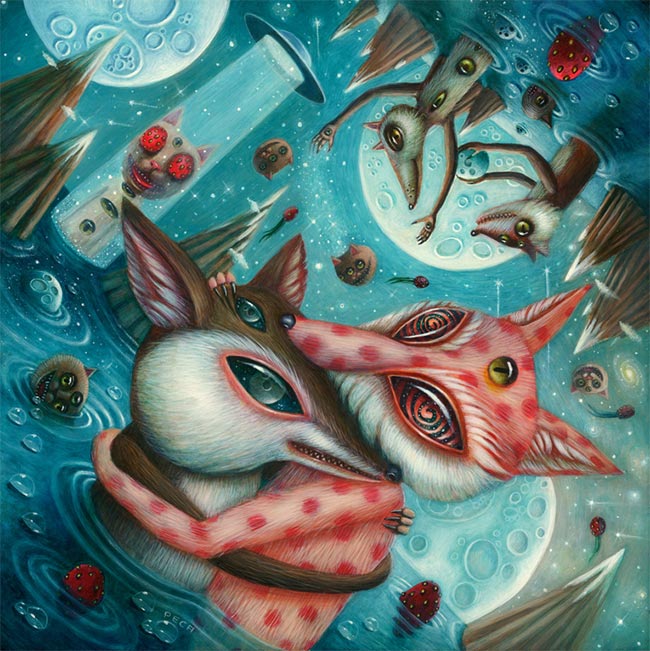 Some recent additions to the 'Hopi Dreams' series have been in the form of interactive wooden characters with moving appendages. How did the idea for these guys develop?
It's an idea that I've had in mind for a long time and originated during my passage through the world of stop motion animation. The cut out animation is closely related to them. The idea centres around the concept of giving life to the inert, and the aim of interacting with those who approach the exhibition. I like this concept a lot, but have not yet had the opportunity to develop it in the way that I want.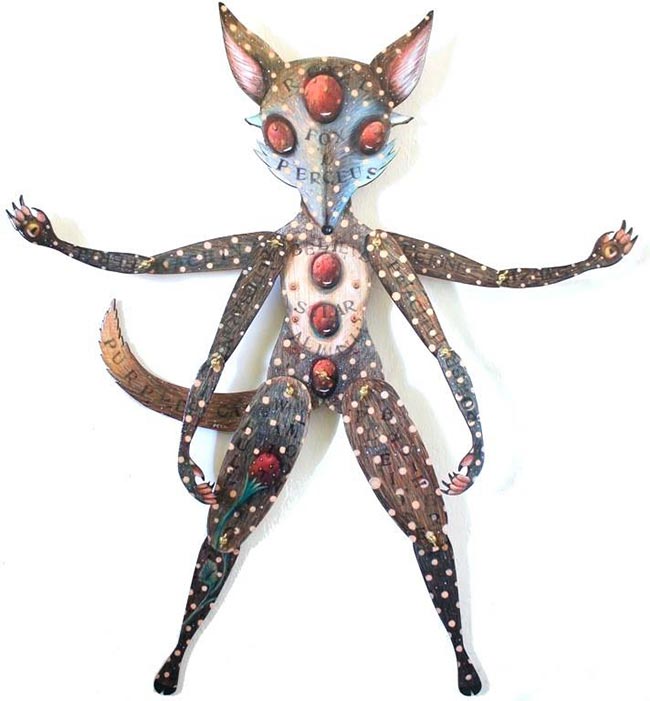 The painted world you create is occupied by the most wonderful anthropomorphic beings. Do you remember what initially sparked you interest in anthropomorphism and what is the main inspiration for you to use it in your art?
I have always loved science fiction and fantasy. The idea that anything is possible and that life may be a dream in our mind. The emptiness. The miracle. So, I like to create strange beings with extraordinary qualities in fantasy worlds. I wish to explore and evolve this concept further.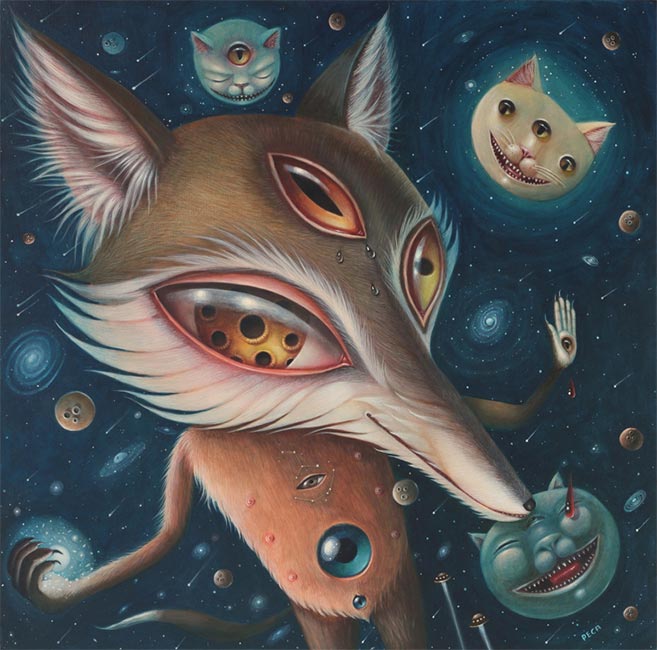 Eyes play an important role in your art. What special significance do you place on them?
The eye is the witness, and for me, many eyes represent expanding our perception of the world.
Many of your paintings are set against backdrops of expansive night skies filled with unusual planets, shooting stars and the swirls of faraway galaxies. Do you have a particular interest in astronomy or cosmology?
Yes, I am big a fan of space and of the great enigma of it all. I love watching the night sky. I'll watch a star and think, "This is something that happened millions of years ago." I like to learn the names of constellations and planets so that I can then follow their movement, it is something that makes me very happy. It's all such a fucking miracle!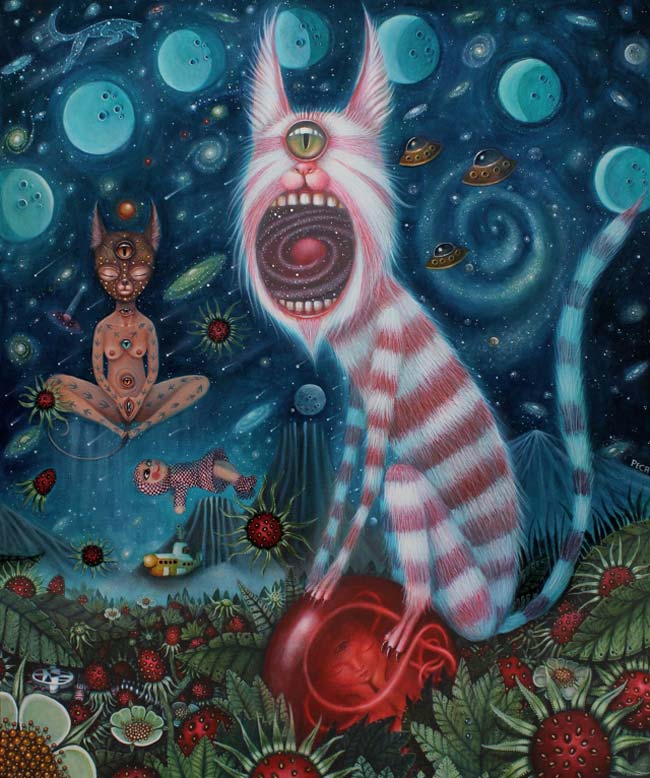 The narrative of your work appears to rely heavily on the symbolism you use. Can you talk to us about how you approach this aspect of your work?
My paintings are my way of searching for life's answers. They are my meditation and come from my own mental space, where all is possible. The strawberry fields are part of a concept about my childhood, but not as memory, more to do with the strawberry being a symbol of the potentiality. The anthropomorphic beings are in the same search, they open all the channels of perception and are existentialists. Space, although it sometimes appears menacing is the hope. It is the magic and the unknown that will be revealed. It's what propels me to live and feeds the need to wake up and attempt to understand the true meaning of life.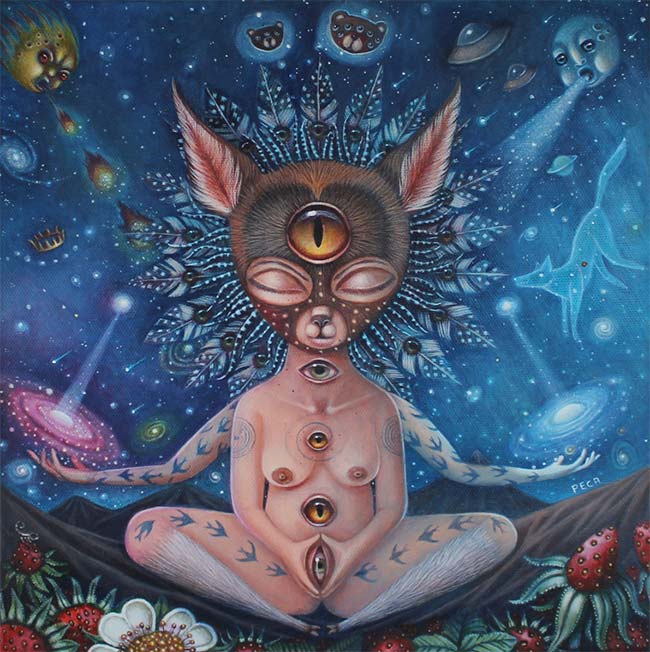 You and your partner also produce animated films. Do you see this as an extension of the world you create in your paintings or are the two quite separate? Also, is there anywhere online that we can view your animations?
Yes, the animations are a part of my own universe, and the universe of Mono Cieza (50/50) and our own limitations with respect to language of cinema.
You can find some of the short films we've made on Youtube:
Pasillo 45 (2003) by Mono & Peca (this was our first rustic film which we made in 2 weeks)
Gallvs Avgvstvs (2005) by Mono & Peca (a more surrealistic film we made)
You can also find small separators, and short household on Vimeo:
La Competitiva (2009) by Mono & Peca (our last film)
If you could own one piece of art from the world's collections, what would it be and why?
"Wheatfield with Crows" by Vincent Van Gogh, his last painting. I love this piece because the paintings energy bursts free of the limits of the picture. Like many other paintings by Van Gogh, it's a very powerful work. It's an existentialist scream.
What's next for Peca?
I'll go where life takes me, and I'll be painting for sure!