Robert Mackenzie is a San Francisco native, who currently lives and works in New York City. His artistic skills know no bounds, as MacKenzie is constantly challenging himself within multiple disciplines. Having trained as an animator, Robert now works as a concept artist within the film industry and he is also an exhibiting fine artist. As if that isn't enough he is also one quarter of a collaborative arts collective know as RVMP, who have recently started to engage in outdoor mural painting. MacKenzie's work is instantly recognizable through the distinctive style he has developed, incorporating elements of the disparate stimuli he encounters in his daily life. When processed by Robert's vivid imagination, the variety of patterns and cultural signifiers take on a whole new life, within ambiguous images which question us and invite our participation in finding their meaning.
WOW x WOW is thrilled to have recently had the opportunity to catch up with Robert. We asked him a few questions about his working life and the various creative fields that he pursues. Read what he had to say in the following interview.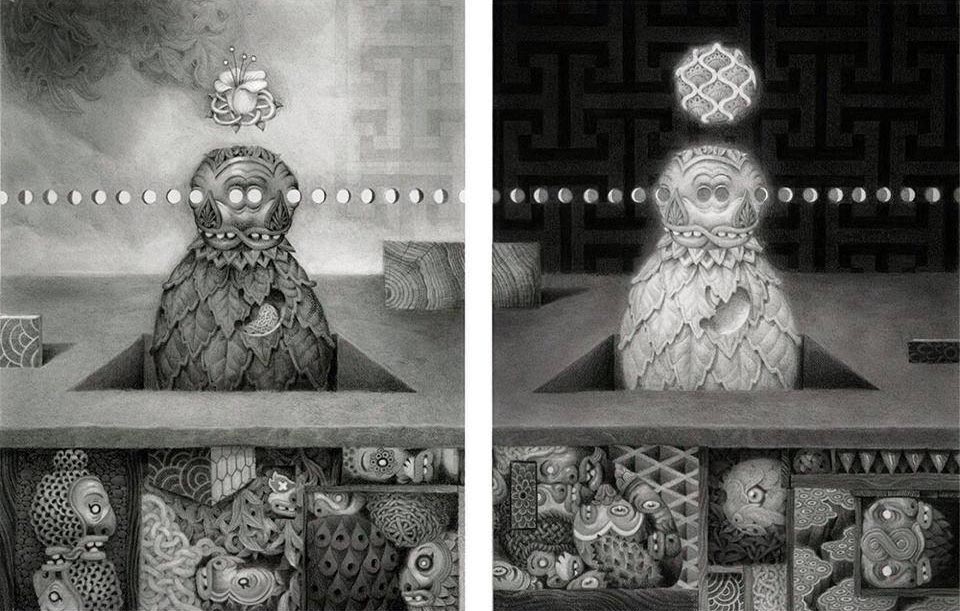 Hi Robert, thanks for taking the time out to answer our questions. First of all, can you tell us a little about where you're from and where you currently live?
I grew up in the San Francisco Bay Area and have called New York City home for the last ten years.
Fill us in on your creative background. What was it that lead you to pursue a career in the arts? What training have you had, etc.?
I was always interested in art. I can't really remember a time when I wasn't drawing or making stuff. I think I was like a lot of kids who enjoyed art; I just never stopped.
I eventually studied animation at San Jose State University. At the time I was there, they were just starting to focus their Illustration program towards the film industry. It was a very rigorous program that put a strong emphasis on the foundations of drawing and painting.
You have worked for many years within the film and animation industry. Can you give us a bit of the backstory on how you got into the business, what your roles have included, and some of the films you have worked on?
My work after San Jose State was strongly rooted in drawing from life. However, I was really raw and inexperienced. My first job after graduation was at Lucasfilm. I bound together a crude set of xeroxed sketchbook pages and mailed it out to them. I'm still amazed that they ever called me back. I started from the bottom at Lucasfilm, as a production assistant and worked my way up to being a concept artist. Starting off at the bottom was really instrumental in my development as an artist. It made me strive to get better and seek out help from more experienced artists. I have really benefited from being around a lot of talented people in the film industry.
Over the past 17 years I have worked for Lucasfilm, PDI Dreamworks and Blue Sky Studios. Some of the films I've worked on include Harry Potter and the Sorcerer's Stone, Hulk, Horton Hears a Who!, Epic, and the Shrek and Ice Age franchises.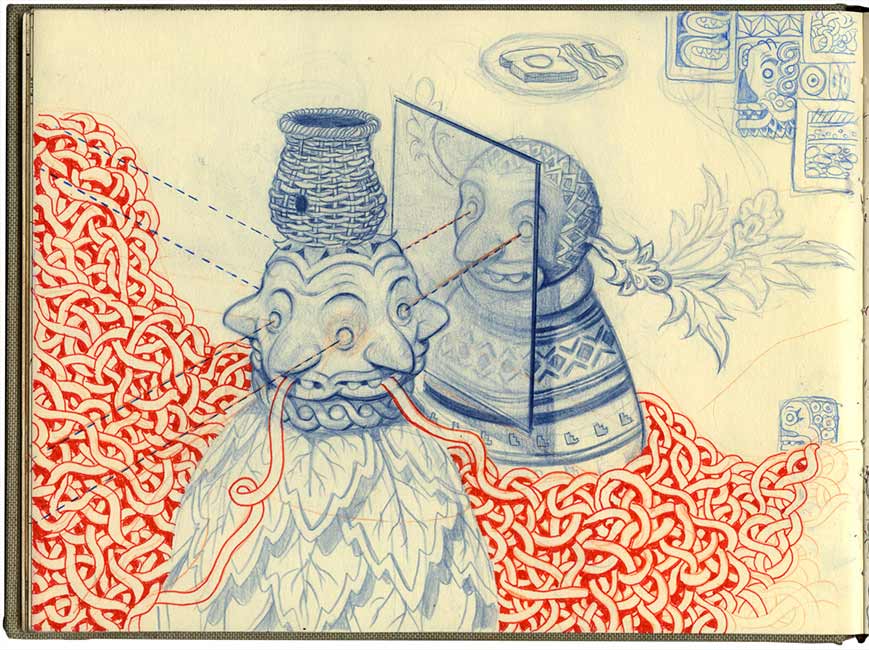 Having worked within the digital realm for many years, you appear to have more recently fallen back in love with using traditional media again. Is this mainly with regards to your personal fine artwork or have you incorporated traditional tools into your other creative outlets as well?
I have always loved working in traditional media. I actually never really stopped using it for my personal work. It is my preferred method of working. However, I seldom work traditionally anymore in my film work. Photoshop is such an efficient tool for making changes and generating ideas quickly. I actually like to use it as a sketching tool early in the process of making my fine art, before switching over to traditional media.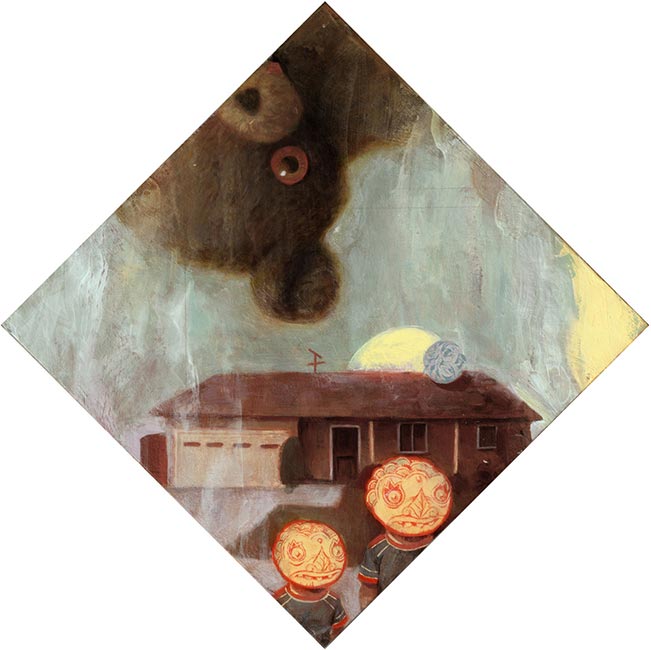 Your personal work is often filled with wonderfully imaginative characters and has a distinct pattern driven aesthetic. What are some of the inspirations and influences for the themes you like to explore?
The characters and spaces in my art are a product of the patterns, cultures, architecture and stimuli I encounter every day. I am always trying to take these disparate elements that relate to my experiences and repurpose them to create inhuman characters that are culturally and emotionally ambiguous. I strive to make work that allows viewers to come to their own conclusion, rather than telling them how they should feel. That is why I love hearing people say that the characters are cute, while someone else thinks that same character is sad, disturbing or sinister.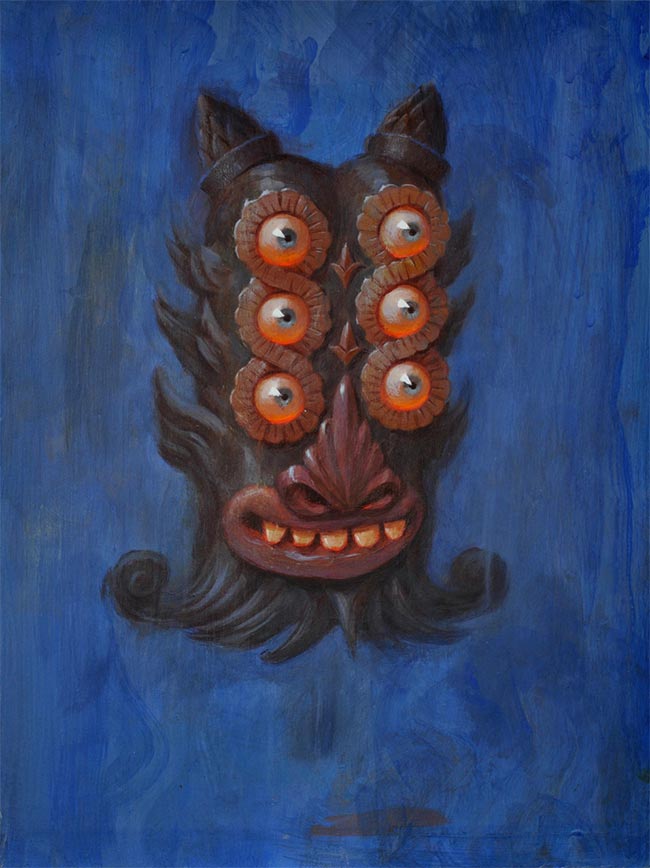 A few months back you took part in an incredible exhibition called 'Beast Astray' curated by Joe Hahn (of Linkin Park fame) and the artist James Jean. Can you tell us a little bit about the show, how you came to be involved?
The "Beast Astray" show at Known Gallery was a collection of work inspired by Joe Hahn's film, 'Mall'. I was fortunate to be invited to take part in the show due to my involvement with RVMP.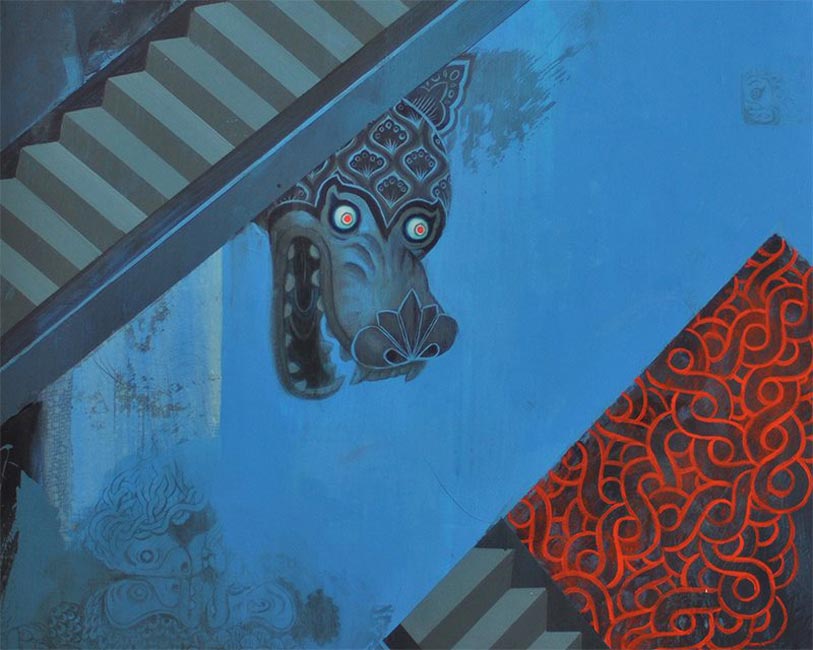 RVMP is a collaborative group that includes yourself, Mike Lee, and brothers Vincent and Peter Nguyen. Talk to us about the group, what brought you together and what your main goals are?
Those guys are like extended family to me. We have all worked together for years and would be close friends even if we weren't all artists. Our group formed very fluidly. We were always hanging out talking about art, drinking beer, critiquing each other's work and drawing together. It just seemed like a logical step to work on projects together. We are all big fans of each other's work and while we all have different styles and working processes, we are aesthetically on the same page.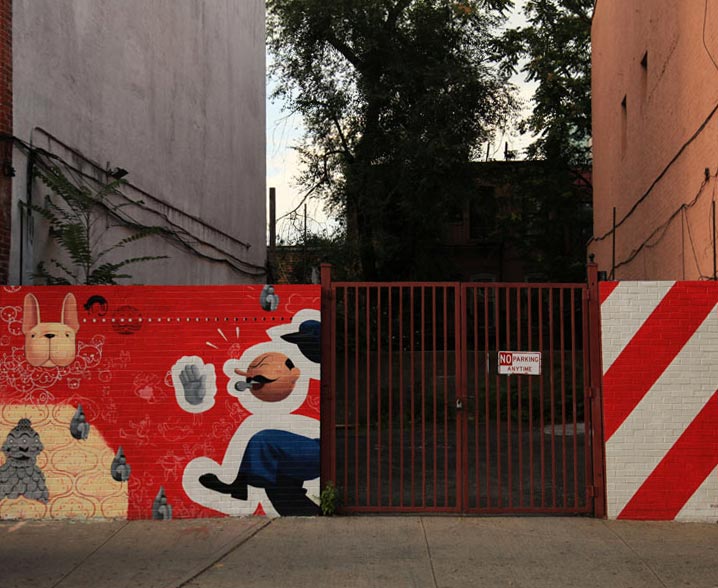 Over the last couple of years or so, RVMP have started doing some mural work. Give us the lowdown on some of the projects you have worked on and how you go about tackling the preparation and logistics of your outdoor work? Also, do you get invited to create murals for specific occasions or do you put proposals forward in order to paint certain spaces? How does it all come about?
We were invited to paint some murals in Williamsburg, Brooklyn through a friend of a friend. None of us had ever painted murals on that scale, but it was such a satisfying experience.
There is a whole different set of challenges in painting murals. While it is exciting to approach a painting intuitively, for these projects, we had to go in with a more concrete plan. There are just a lot more variables to consider. From purchasing supplies, managing time, adjusting to painting at a larger scale to dealing with the elements, the entire process required us to plan thoughtfully.
Thus far we have always been invited to paint these murals, in fact Vincent Nguyen is actually painting a wall in Hawaii for POW! WOW!. We are always looking for walls to paint, and will actively seek out more of these opportunities, especially when New York City thaws out.
Is there anything that you have learned through the collaborative work you have participated in that has helped give you a different perspective in your personal work?
Working with the rest of the members of RVMP has always been easy. We have a lot of respect for each other and have worked together on films long before we started painting murals. I think listening and being open to new ideas has been really instrumental in my personal work. We challenge one another to be better, freely share ideas, and are not afraid to critique each other's work.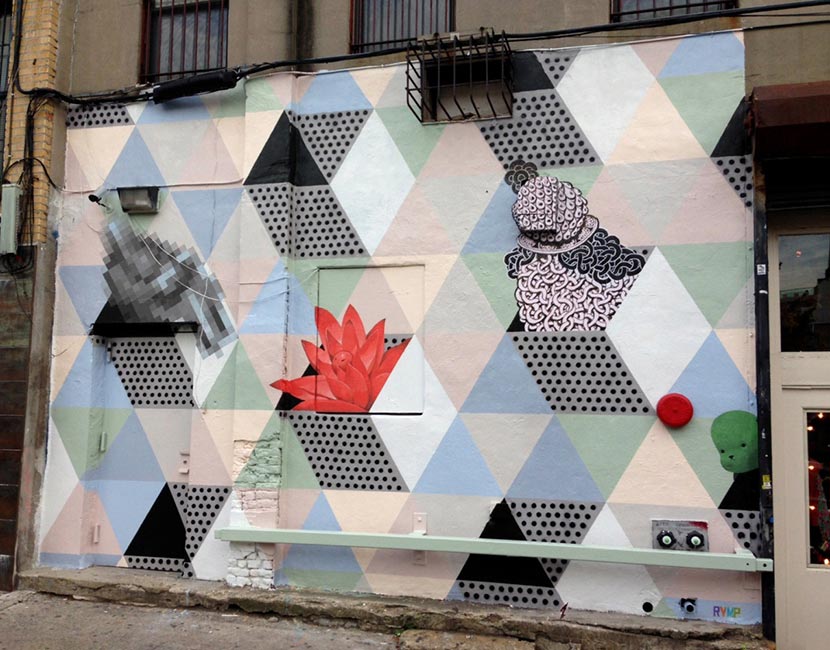 If you could own one piece of art from the world's collections, what would it be and why?
This question is impossible… That being said when I was in college, I visited the National Gallery in London. In the Rembrandt room there were a number of self-portraits. On one side of the room was a picture of him looking like a cocky young man. On the other side of the room, hung a picture he painted as an old man. The later painting was made by a man at the height of his powers, yet all of the cockiness was replaced by humility and introspection. I would choose that painting as a reminder that I have a lot more work to do.
What's next for Robert MacKenzie?
A lot of time spent in front of the easel.