Ryan Heshka's distinctive retro dynamism comes loaded with a cultural savvy that spans both the high and the low. Filtered through the passions of a mind shaped by the golden age of comics and pulp magazines, Heshka's world is one where femme fatales become involved in mysterious sci-fi happenings and eerie apparitions lurk in the shadows, all of which we witness occurring within environments informed by a love for extraordinary architecture and impressive interior design. In Heshka's recent narratives we are treated to an engaging and thought-provoking merger, where symbols and signifiers from past eras become entangled with complex contemporary issues surrounding the nature of liberty and its related social constructs, including; identity, privacy, authority and conformity.
Ryan Heshka was born 1970. He is a Canadian artist and illustrator, born in Manitoba, Canada. Formally trained in interior design, he is self-taught as an artist. His illustrations (represented by Kate Larkworthy) has appeared in Vanity Fair, Playboy, Wall Street Journal, Esquire, the New York Times, Smart Money, and on the cover and interiors of BLAB!. He has been selected to appear in American Illustration, Society of Illustrators, and Communication Arts. In addition to gallery shows across North America and Europe, he is currently working on picture book projects for children as well as adults.
WOW x WOW is most honoured to have had a recent opportunity to speak to Ryan about his upcoming solo exhibition, 'Freeks', which opens at Corey Helford Gallery on 10th August. We hope that you enjoy the following exclusive interview in which Ryan discusses the inspirations and concepts behind the work that will be on view as part of the show, which includes new paintings, a new comic book and the complete artwork from his graphic novel, 'The Mean Girls Club'.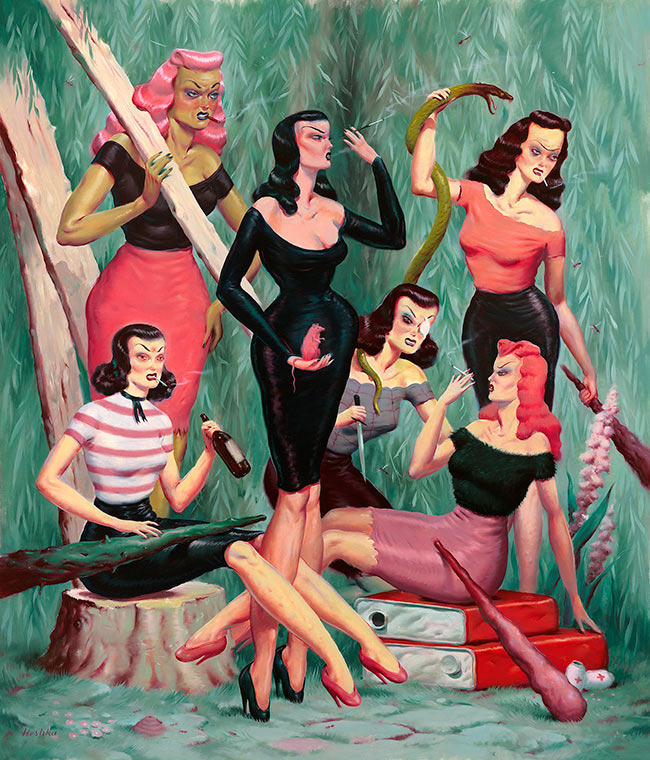 Hi Ryan, thanks very much for making the time to have a chat, we really appreciate it. To get us started, can you give us some background on what has lead you to this point in your professional life, be it your formal training, serendipity, etc.?
I arrived where I am via a very indirect route. I drew a lot as a child, and through my teens. After graduation, I attended university for interior design and worked in that field for about four years. It wasn't for me, although I gained a lot of knowledge about art, architecture, and general design principles. In the late 90s I relocated to Vancouver, B.C., and found my way into animation, an art form I have always loved. Again, it ended up not for me. Around that time, illustration really caught my eye, so I created some promotional cards and sent those out, with the hopes of becoming a professional illustrator. Kate Larkworthy Artist Representation in New York liked my work, and I found myself, again, image making. I am entirely self taught as an artist/illustrator.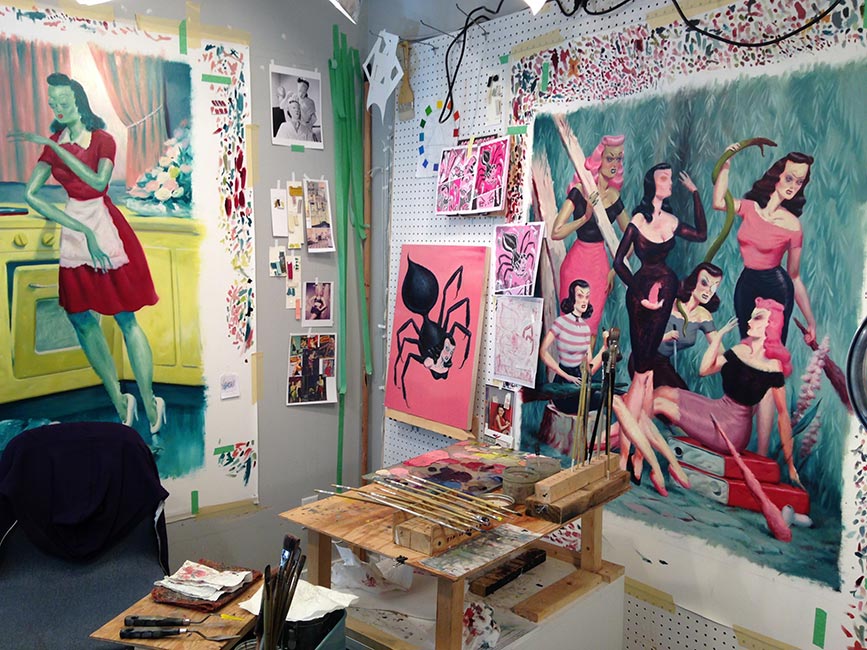 You have a big show coming up at Corey Helford Gallery, entitled 'Freeks', which opens on 10th August. With a new comic book, art print, and paintings being released at the show, we'd love to hear a little about your preparation for the exhibition and the inspiration behind the new works you'll have on display. How does this new collection differ from, or progress, previously explored concepts and narratives?
This show (my first at Corey Helford) was an opportunity to celebrate my passion for comic and pulp-inspired art. I knew from the get-go that I would only be able to do the show if the owners agreed that a good portion of wall space could be occupied by the artwork from my 'Mean Girls Club: Pink Dawn' graphic novel. It's a bit of an experiment for me to show and sell comic art, but I really wanted to get it out in the world and have it displayed in its entirety.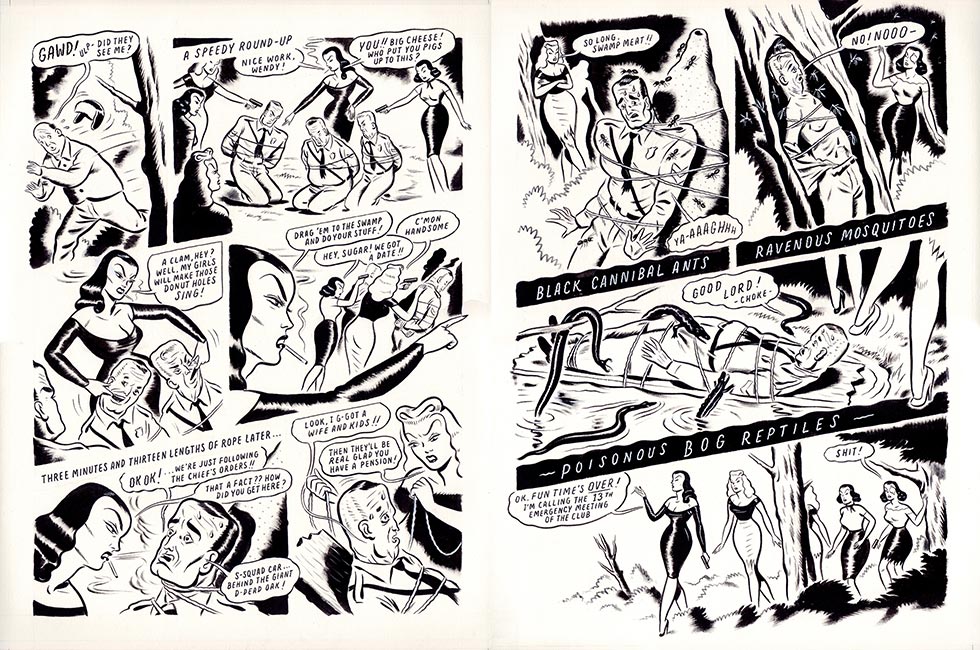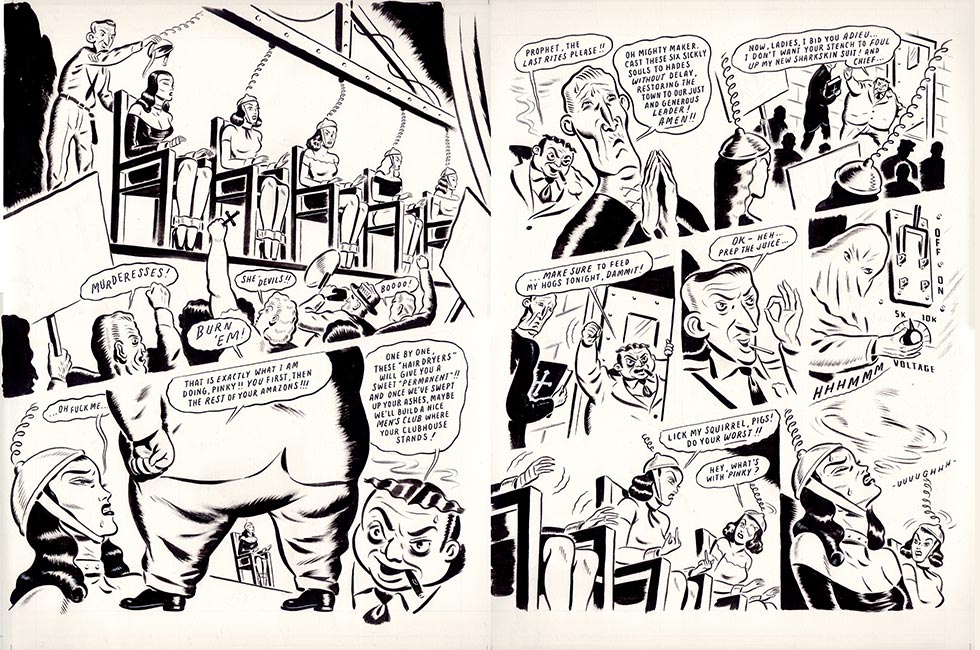 I also knew that this would be a great opportunity to develop and release my second comic series, 'Frog Wife'. This, like MGC, was based off one small painting. Shortly after the small painting, I created a hand painted mini comic art piece of Frog Wife for a group show. Frog Wife has been gestating for a few years now, and I was dying to execute it in an extended narrative form. I thought this comic would flow freely from me, but it actually turned into a struggle of continual improvements, additions of details, re-writes and edits. Being self-published, I became my own absolute WORST editor! It is not yet in hand, but the preview photos of the printed piece look beyond my expectations. The comic art from Frog Wife will also be on display, along with a large oil painting of Frog Wife.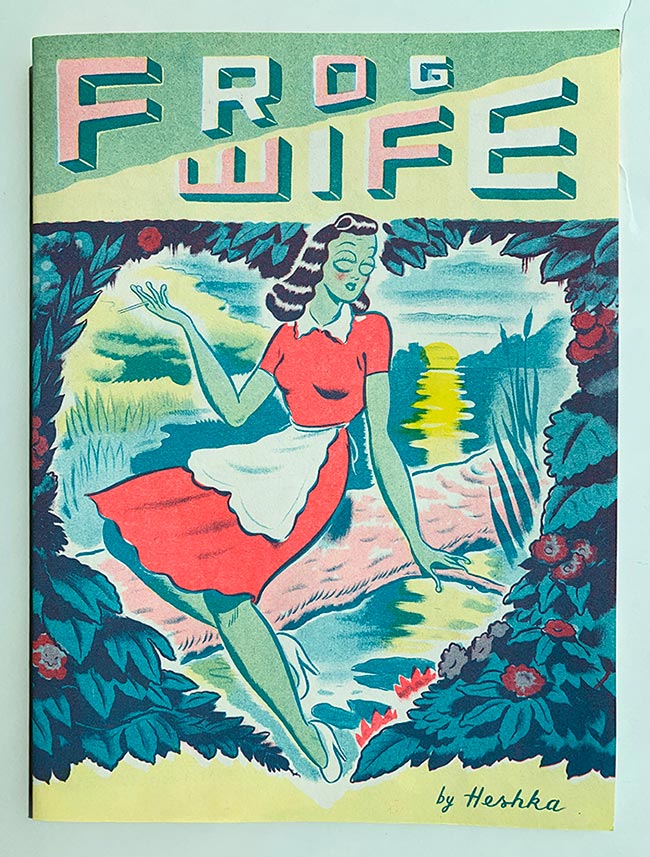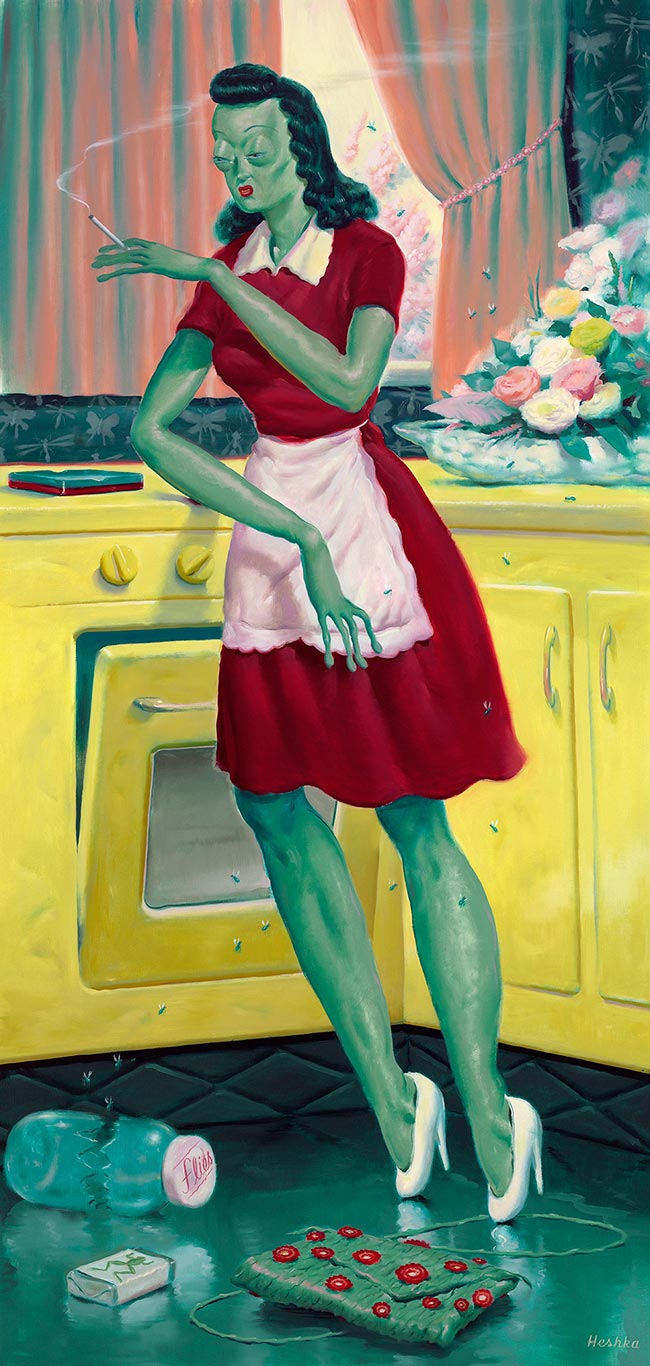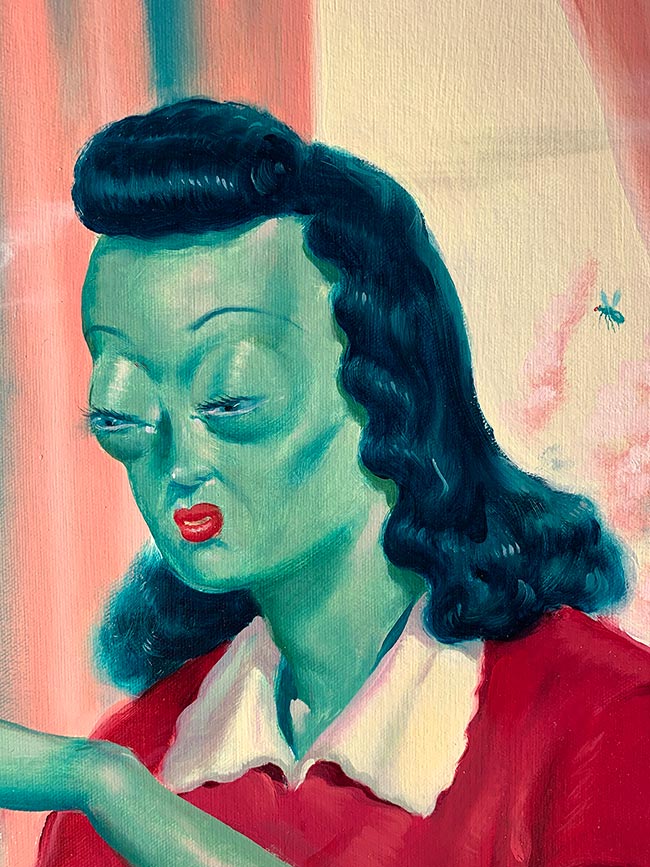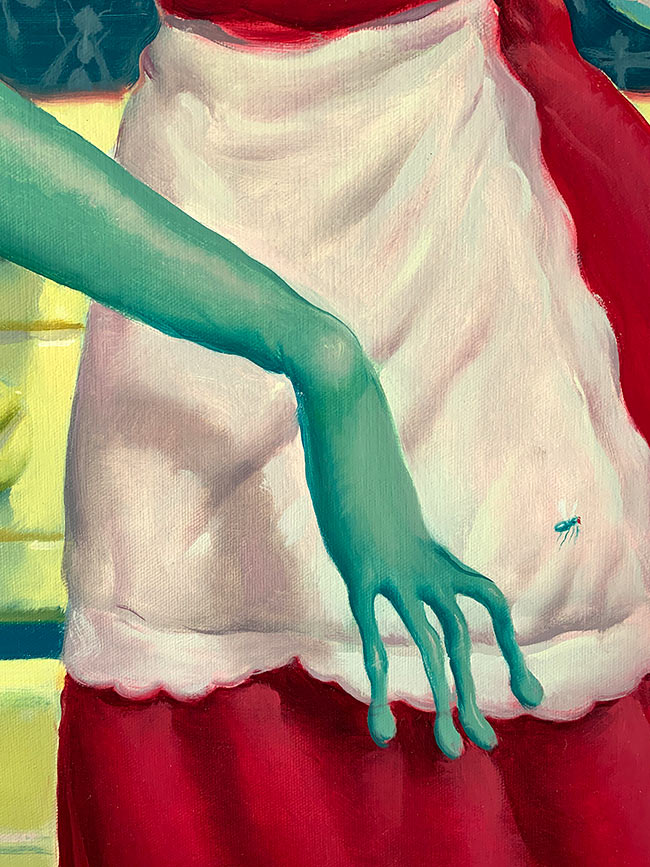 The third element of the show is a series of new paintings of so-called 'Freeks', celebrating weirdos, oddballs and our own individual uniqueness in a world torn by conformity versus chaos. All the characters, all the art, all the narratives across the entire show have an underlying theme of rebellion and rejection of authority and social norms.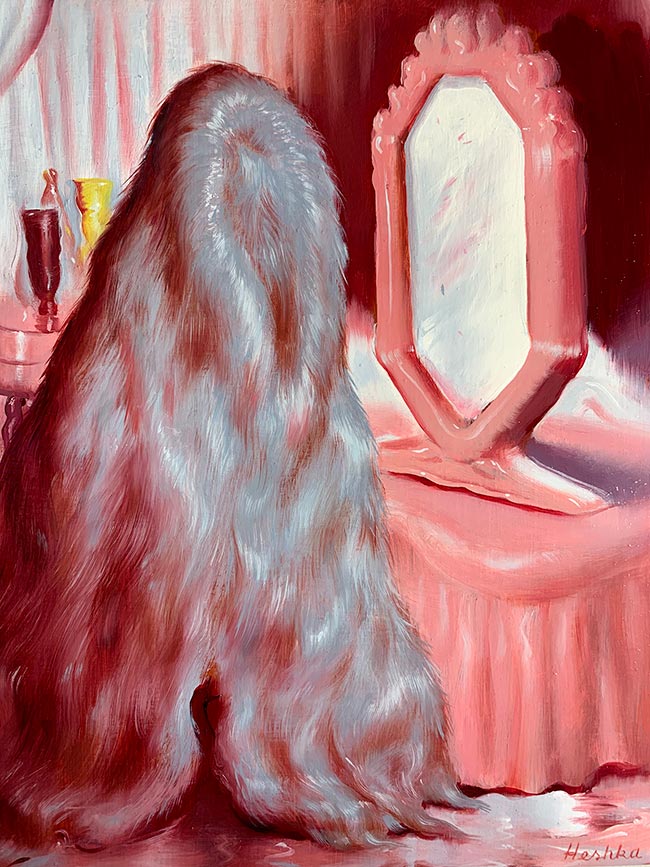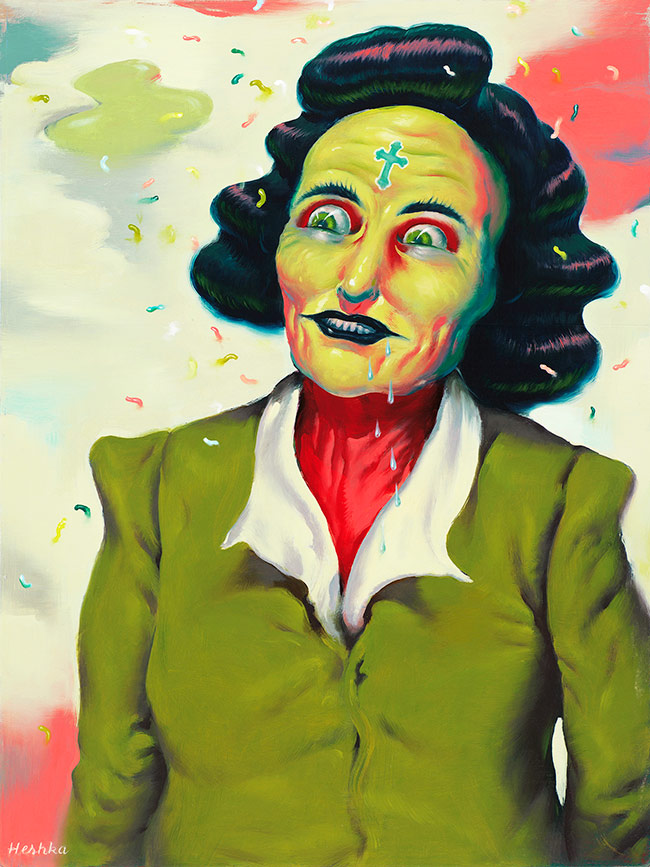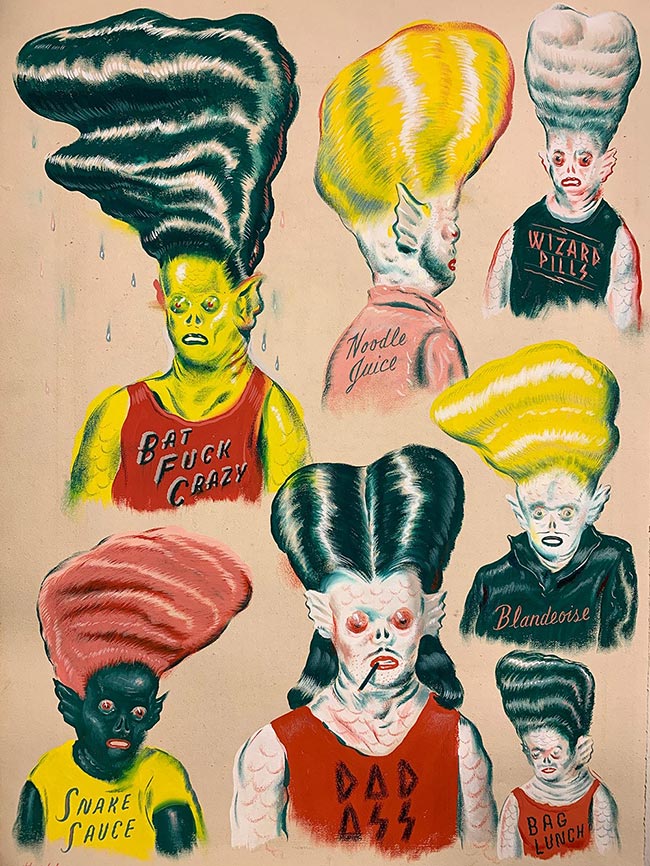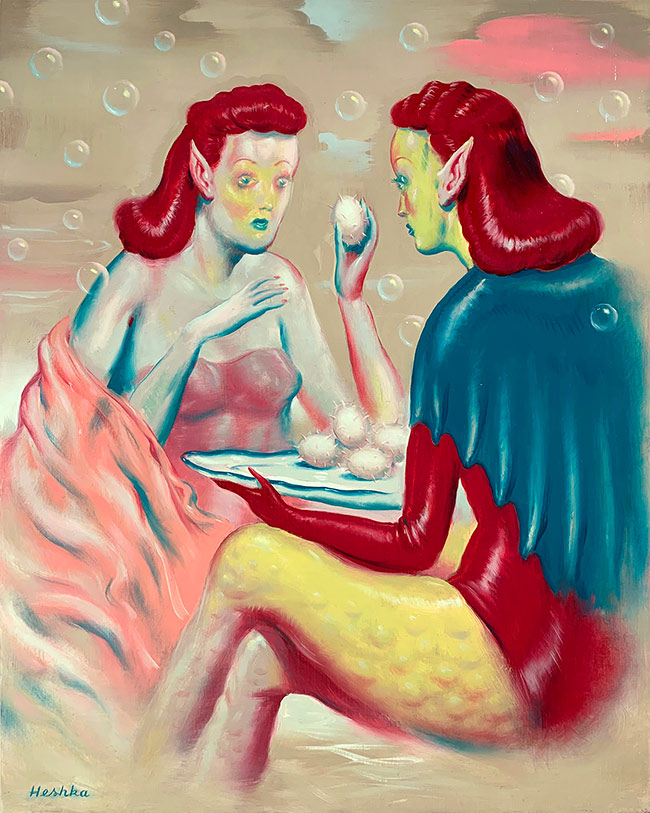 As you've mentioned, at 'Freeks', you'll also be displaying and selling the entire artwork from your Mean Girls Club graphic novel and there will be a signing taking place at Secret Headquarters in LA on 12th August, as well. Please give us a brief history of the graphic novel, your relationship with comics in general and which aspects you've drawn particular inspiration from when creating your own?
'Mean Girls Club: Pink Dawn' came about through my publisher, Nobrow (UK) wanting to expand and build on the success of the short 24 page soft cover Mean Girls Club. This coincided with the rise of Trump, Brexit, and other swelling global social/political issues, as well as the birth of my daughter. I kept thinking "what kind of world did I bring this kid into?". My feelings as a new father really guided the book and the voice of the book into its final form. On a secondary level, it also became a love letter to the old comics that I grew up with. As a child, I searched for comics published well before my time, from the 1930s to the 60s. In particular: EC Comics, old Timely Comics (which later became Marvel), Batman, pre-code horror comics, monster comics, as well as classic old newspaper comics like Dick Tracy and Miss Fury. These were the comics that I related to, that later shaped my art and my storytelling. MGC as well as Frog Wife lean heavily on 1950s pre-code horror comics, capturing the paranoia and violence of that era but at the same time rejecting its stereotypical portrayals of women as June Cleaver-type homemakers and mothers. So, I suppose I've tried to distil down all my favorite motifs while injecting a good dose of the new millennia into the mix.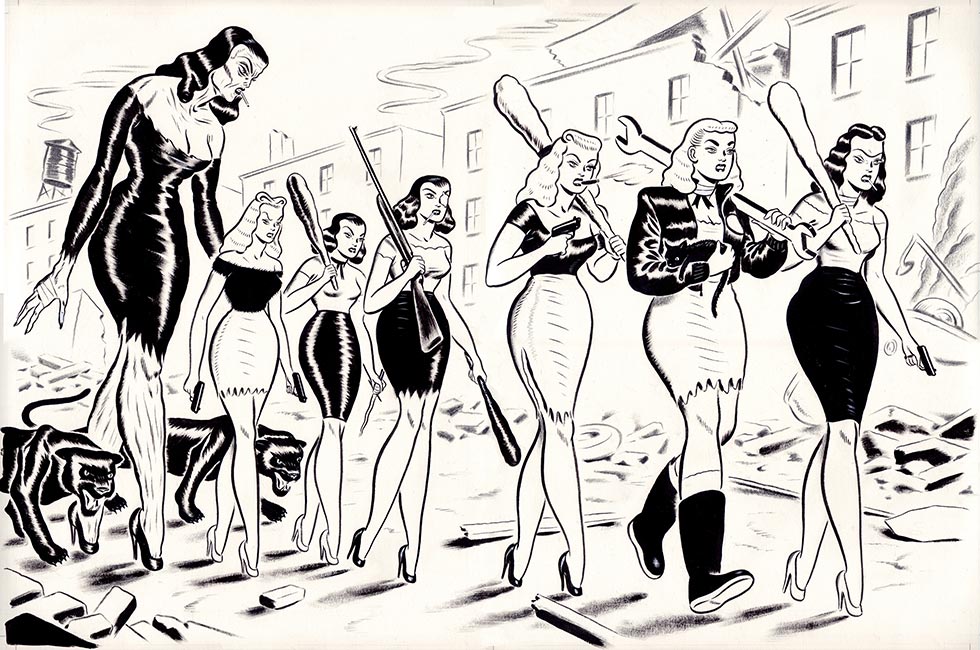 Last year you released a monograph of your work, entitled 'Fatales – The Art of Ryan Heshka'. Give us the lowdown on what the book gathers together.
This 256 page volume is a collection of my personal work, dating back from 2005 to the present. It covers many genres, from pulp and comic inspired art, to femme fatales (hence the title), to my more recent, dreamscape-inspired oil paintings. Only about half of my personal output made the cut, and it is strictly personal work: no commercial illustration. I had a great deal of input on how the book was compiled and designed, and am totally satisfied with the results. This is saying something, because I am a stickler for how my work is represented. Cernunnos, the publisher, did a wonderful job on this monograph.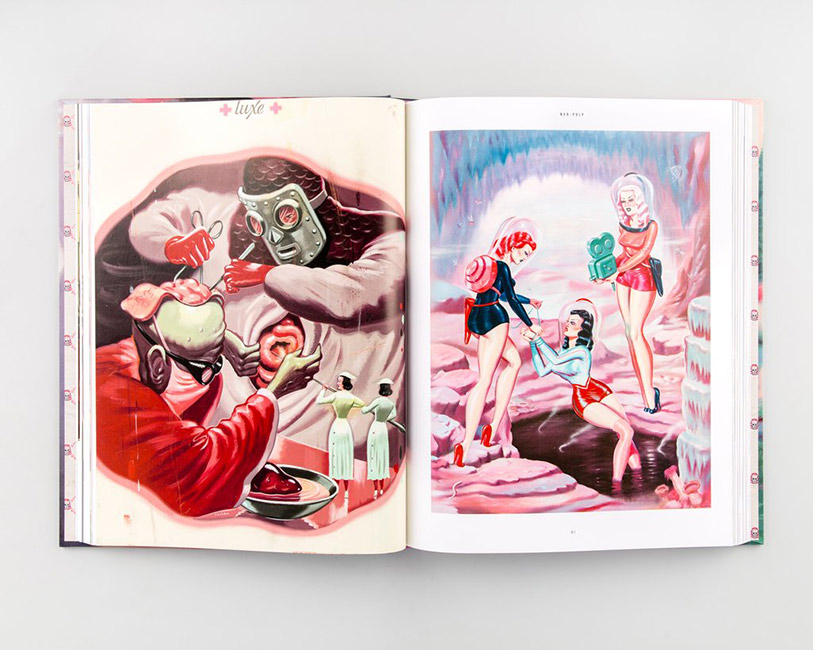 In what ways did your childhood and upbringing affect your relationship with the arts?
I have always been a creative person, and my parents encouraged this early on. I spent a lot of time drawing, but also got into super 8mm film making (mostly stop motion animation), as well as building cities and figures out of cardboard. My dad made sure we got out of the house and into nature, and that connected me to such things as the insect world and microscopy. I was a very visually oriented child, and scoured the library for books on comics, vintage pulps, and film. I used to buy comics off the spinner racks at the drug store, caught King Kong and Frankenstein on TV on Sunday afternoons, and loved trips to the museum and the planetarium. Later on, comic book and used book stores became regular haunts.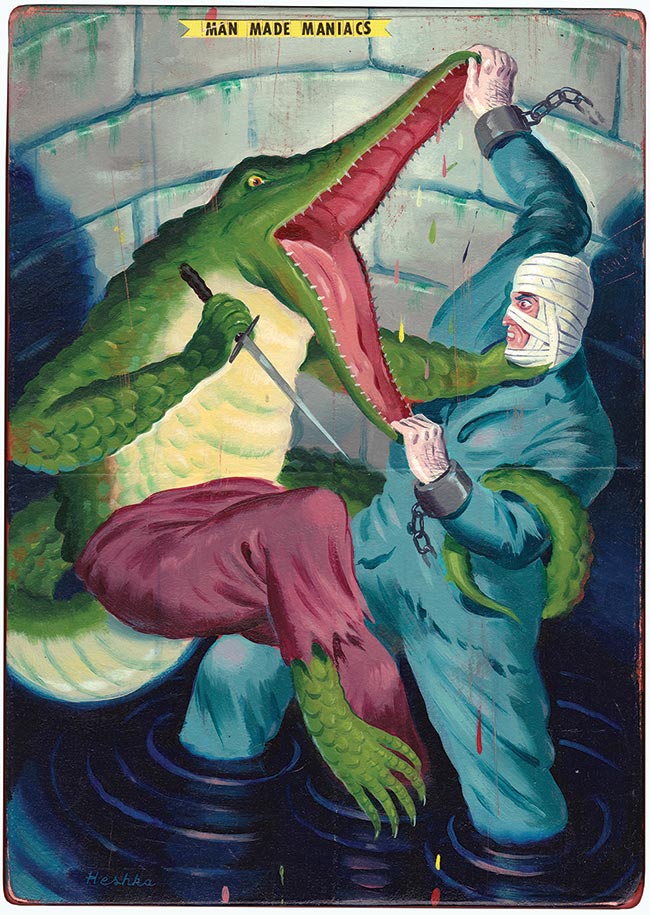 With reference to your paintings, do you plan out your images or do you prefer to let them unfold in a more organic way? How does the creative process work for you?
Up until a couple years ago, I would plan the image out in great detail. I've never left much to chance with my layouts. This process started to feel stagnant to me… it became repetitive, dry, safe. With the challenge of a large series of commissions that arose two years ago, I made a conscious effort to work more spontaneously. Armed with no more than some pencil crayon studies and sketches of objects or figures, I began doing most of my composing directly on the canvas. Happy accidents were left intact, original ideas edited out if deemed out of place. As I am still new to this process, it can be both liberating and frustrating. But I feel that it is a big leap forward and my confidence grows with each painting. The commissions, by the way, are mostly large, around 1.5 x 2 meters… a further challenge in addition to the new work process as most of my previous works were quite small.
I have never been big on having a locked down, consistent, routine workflow… I believe this would stifle my ability to explore, to surprise, to grow. Although this can at times lead to hitting the artistic wall, the breakthroughs are almost always significant.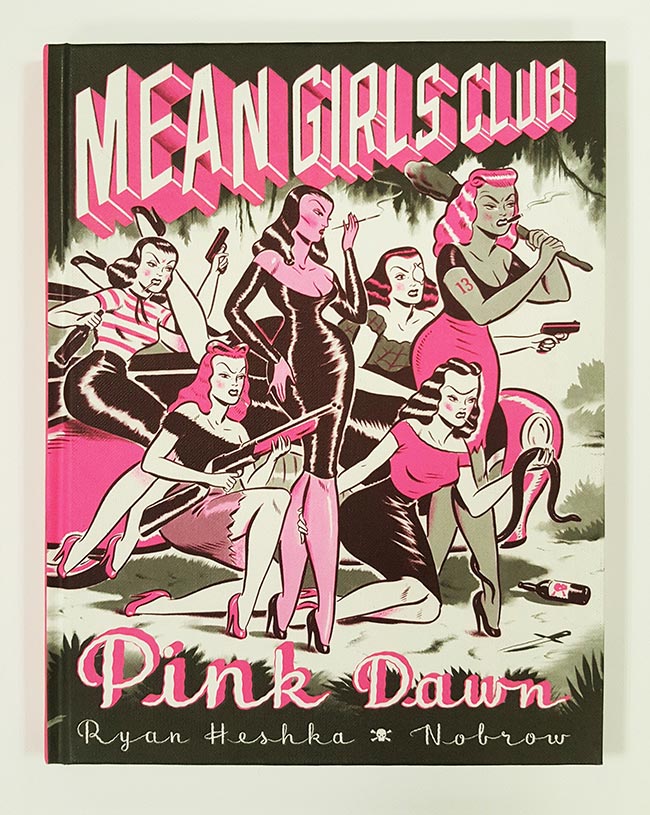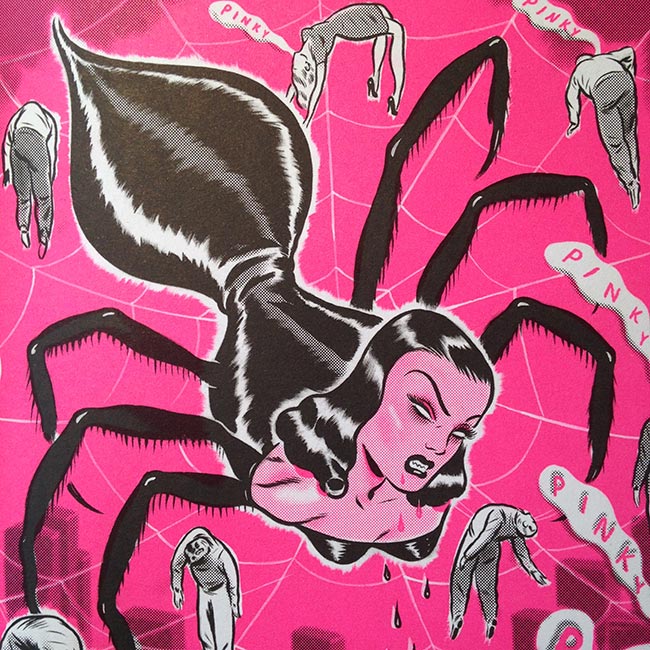 Thinking about comics again for a moment, and the differences between those and the work that you put into the fine art arena… What are your thoughts about the types of narrative that can be conveyed through a single static image? What do you tackle differently when painting, knowing that everything a viewer can glean is encapsulated within the characters, signifiers and environments you present for them?
I treat my single images as comic panels taken out of context. I may or may not imagine a narrative that informs the image I'm developing. For instance, a back-story might unfold about particular characters. But my end goal is to create compelling images that allow the viewer to fill in some or most of the blanks. The more blanks the better. I enjoy odd scenarios and bizarre, unexpected, informal compositions, and I'm always working to undo any formalities in my work. I'm a big fan of David Lynch and Guy Maddin, both masters of the vague, the mysterious, and dark humor. If I could paint images that match the quality of single frames of their films, I'd be a happy camper.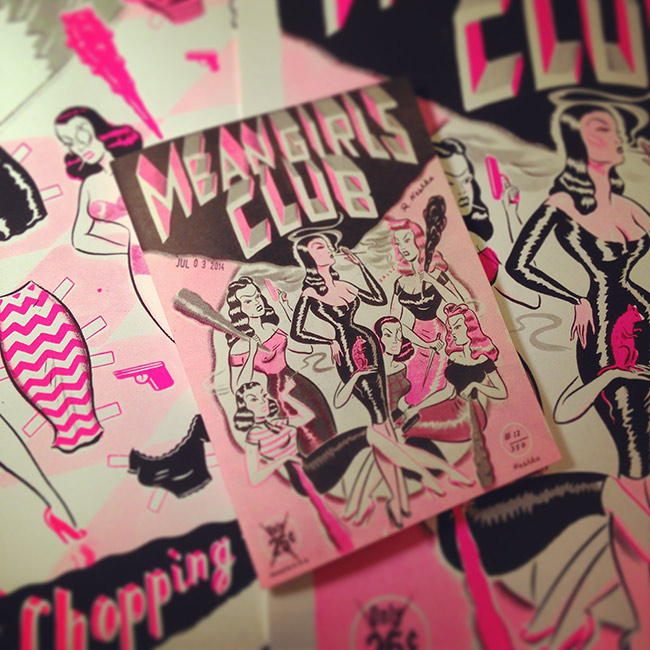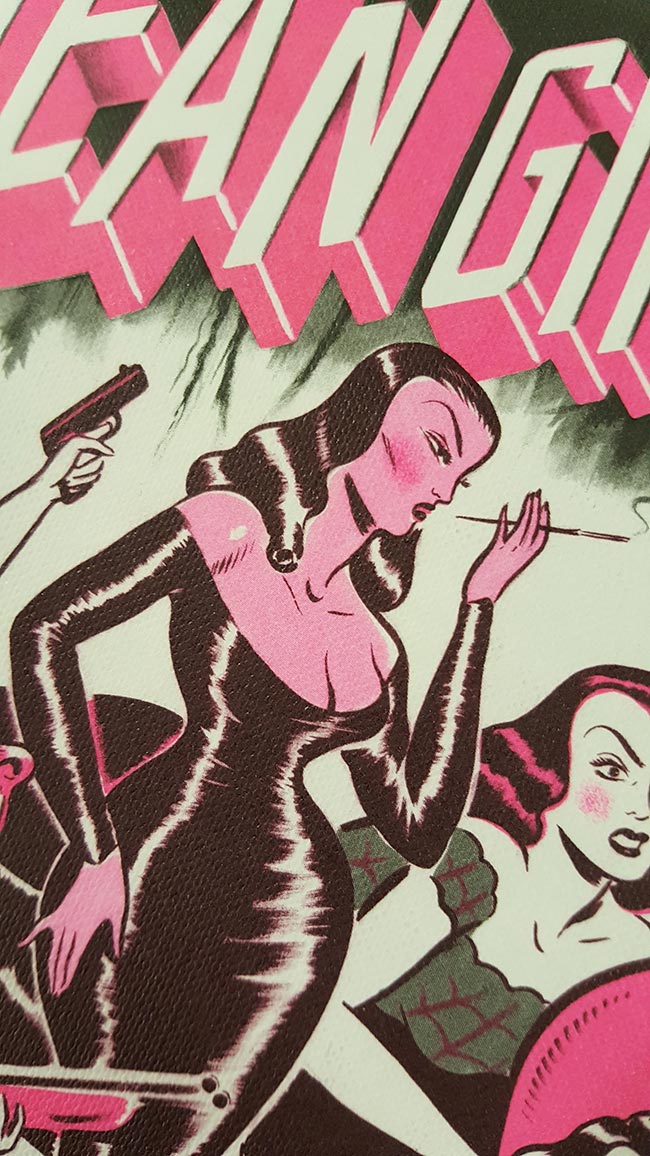 Can you tell us about some of the greatest breakthroughs you've experienced within your learning as an artist? Those moments that have opened up whole new creative avenues or that have led to you taking large leaps forward in your development?
The previously mentioned recent commissions feel like the biggest breakthrough I've experienced as an artist both in terms of scale, workflow and technique. However, this process had its roots back in 2005. Early on while developing my personal style, I started to execute painted sketches in a small vintage day timer, just using up extra paint at the end of the day rather than wash it down the sink. These spontaneous sketches gave me a new found confidence in just going for it: creating a quick, spontaneous image with existing colors. More often than not, I felt that these sketches had more vitality and freshness than the laborious, complete planned paintings. My goal: capture that raw energy of the sketch.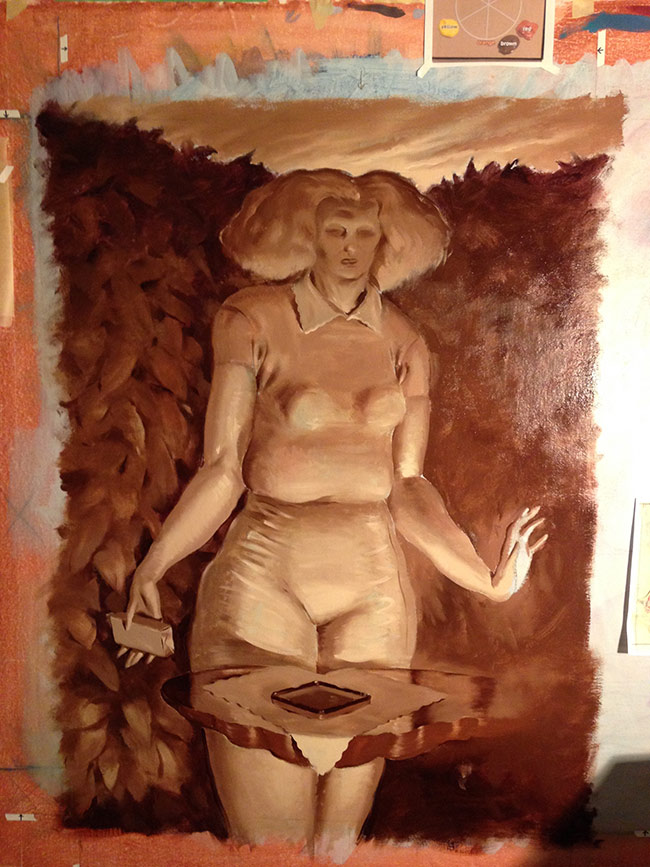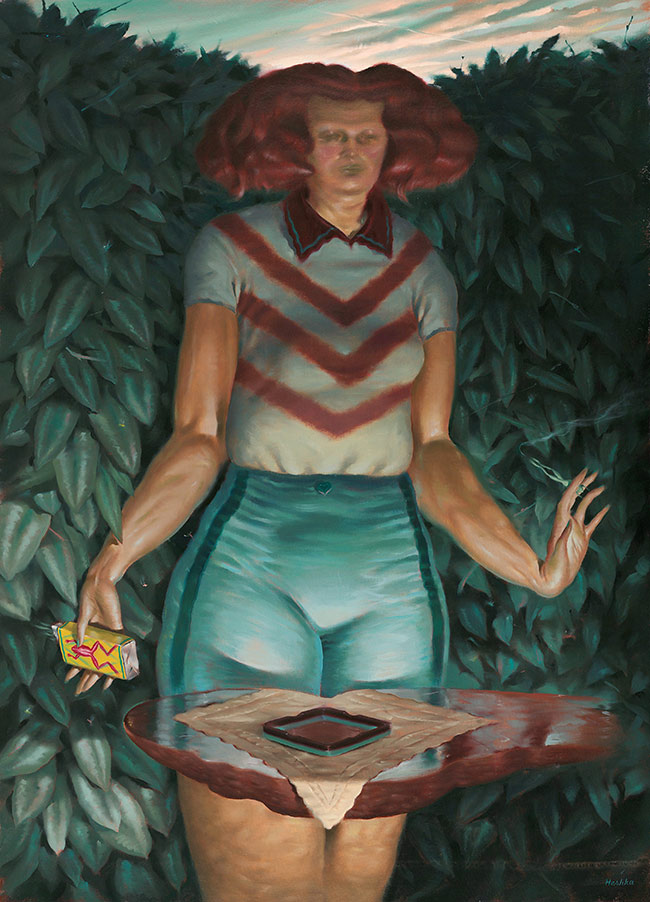 Another recent breakthrough has been the use of the computer in creating and modifying mock ups of works in progress: I'll take a blocked out piece and use photoshop to add/subtract elements, which saves countless hours of painting and repainting. The balancing act comes with still allowing much of the creation to happen on the painting surface.
Who or what has had the most influential impact on your development as a person, and in turn, as a creative? In what ways has this influence both changed and remained constant over the years?
I have two uncles on my mom's side: Uncle Jodi and Uncle John. When my brother and I were kids, there was nothing we looked forward to more than spending time with these uncles. They were kindred spirits: sure there was an age difference, but their interests in nerdy stuff like comic books, computers, Lego, table top models, electronics, science, etc. really got into my head. They were my role models, both very smart and very creative individuals. My fire for creating was stoked by them. The feeling of playing, building and observing informed my creative side. I can't say this has changed much, except that I have matured, but still feel like a kid at heart. My childhood was much richer due to these uncles.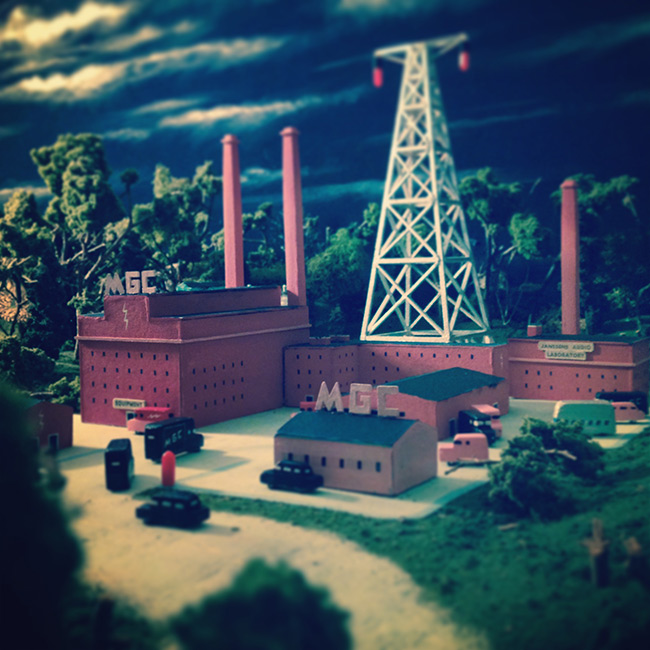 What role does history play in your art making? This can be personal, learned or simply your inspirations from the past.
My aesthetic from the get go was vintage: I was an oddball kid who sought out visuals from bygone eras. The 1930s and 1940s in particular were my poison. I LOVED old graphics, illustration, film stills, golden age comics, pulp magazine covers, even old industrial design. I've pondered why a kid in 1970s Winnipeg was such a vintage junkie, and have found no real reason for it. Its almost as if I were just born that way, wired into the past. For better or worse, that influence was a defining visual identity in my artwork from those early promotional illustration cards onwards.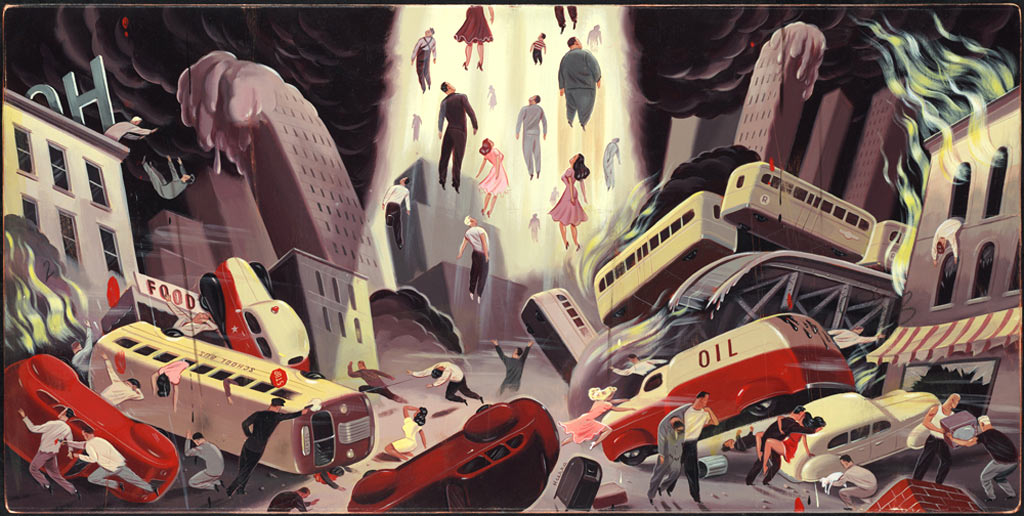 What has been the most exciting life and impact you have you witnessed any of your art take on once it has left confines of your studio? What kind of feelings do you have about letting your creations go and live their own lives in the big wide world?
It's very gratifying to be invited into someone's home in New York City, or Bologne, or Los Angeles and see my work hanging on their walls, often next to paintings of artists that I deeply admire. When people share with me how or what my art makes them feel, it becomes a very personal experience. I have heard some artists talk about how it's tough for them to let pieces go, but I have never felt that. Which is odd, because as someone with a collector mentality, it seems natural for me to want to hang onto my work. There is a therapeutic aspect for me in creating and then releasing the artwork. Perhaps if I painted THE perfect painting, I would be hesitant to let it go. That has yet to happen though. I think that's the dragon all artists chase.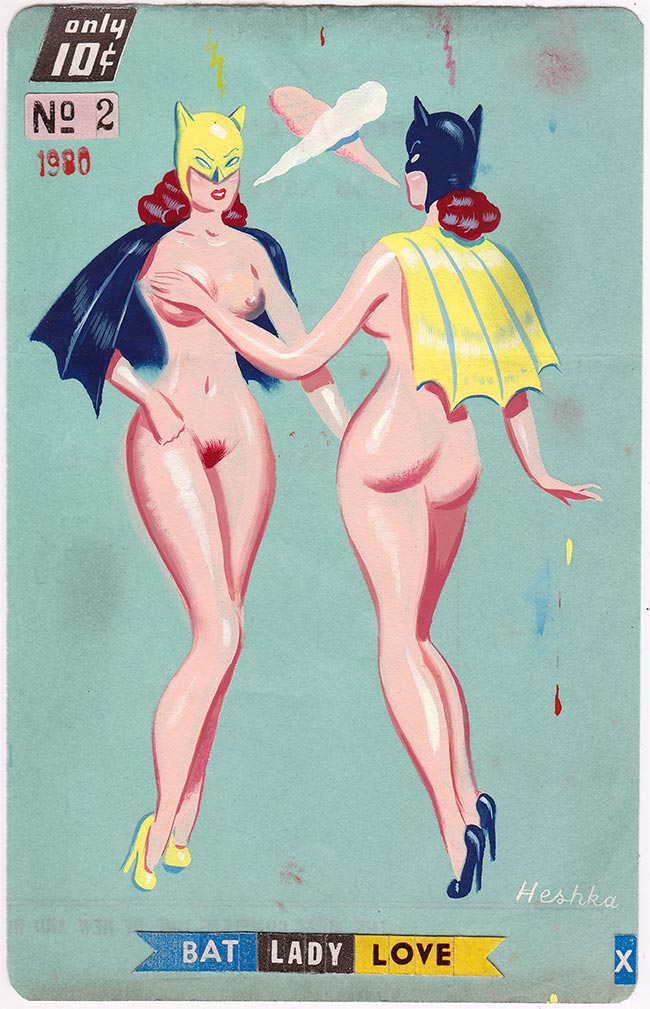 In order to get a better understanding of the personality of an artist, it can help to get a peek behind the curtain. Would you be willing to share a story from your own life, possibly one whose memory you find yourself returning to for inspiration, or maybe just a tale about a hardship you've overcome which has helped define the person and therefore artist that you are now?
My divorce in 1998, as bad as it was at the time, was a huge catalyst in changing the way I approached life. It really caused me to take matters into my own hands and end my 'go with the flow' (indifferent, indecisive) attitude. I took control, I made and executed very conscious decisions, and became very honest with myself. It was shortly after this that I created those illustration promo cards, and began to discover a world of incredible artists: Mark Ryden, the Clayton Brothers, Neo Rauch, Margaret Kilgallen, Henry Darger, the list goes on. The divorce reset me, and although I have grown as an artist and a person in the twenty years since, it was a massively pivotal point in my life.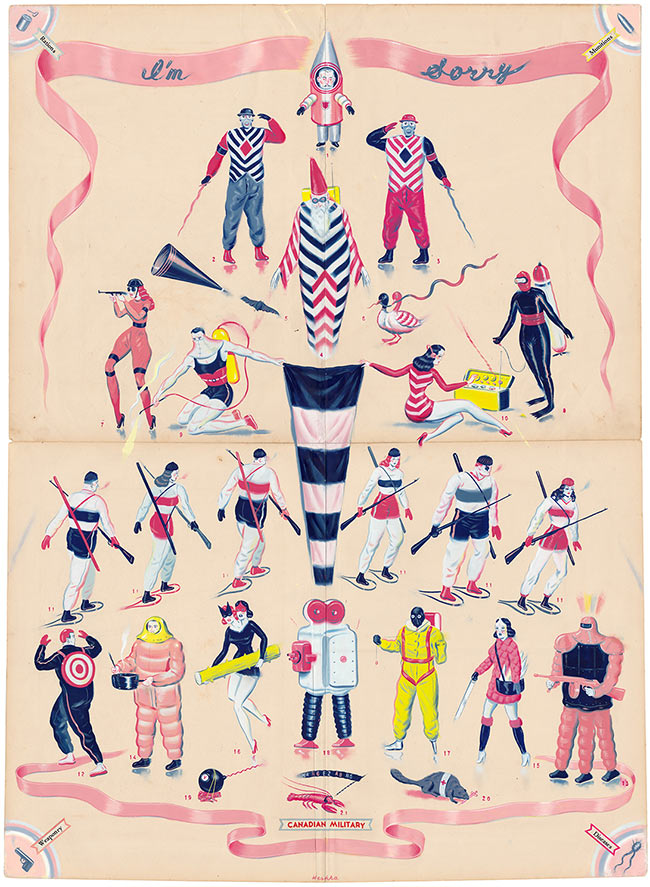 If you could own one piece of art from any of the world's collections what would it be and why?
'Persistence of Memory' by Dalí (MoMA). What a gem of a painting: iconic, beautiful, dreamy. And I'm a sucker for ants.
What's next for Ryan Heshka?
Post-LA, I have a lengthy commission list to catch up on. I purposely haven't booked any large shows to give myself some time to regroup, explore and catch up. I will be part of a multi-person art show at Feinkunst Kruger (Hamburg) early next year, and am in a new artist-oriented jewelry line from Suarez (Madrid, Spain) coming out in June of 2020. I am really hoping to do another comic project within the next year, even if its a small one… comics are in my blood. At twenty years into my career it's time to reflect and celebrate some accomplishments, something I haven't allowed myself to do up to this point.