'Hide and Seek' by Nicoletta Ceccoli
With this series, I play with the idea of identity, hidden self, what we show, what we are, and the different meanings that the words 'Hide' and 'Seek' evoke to me. In my mind, I always look for a way to hide from reality, nonetheless, I very well know there is no safe hiding place. A hiding child is a form of regression, an act. The girls in my drawings are trying to disguise themselves with masks and acting. Reality is banned in its rational form, and so it came back in the form of a disturbing unconscious nightmare that inflates and animates toys. A sense of threat runs around the girls I represent. They're alone, on their own, all they want is someone to play with. Common toys, on the other side, perceive them as a menacing entity to expel from their world. By then, it's difficult to understand exactly if this is a product of a corrupted fantasy or reality itself has corrupted the fantasy. It's a game of hide and seek.
I used to peep the world from behind my masks. Can you be sure this is my real face?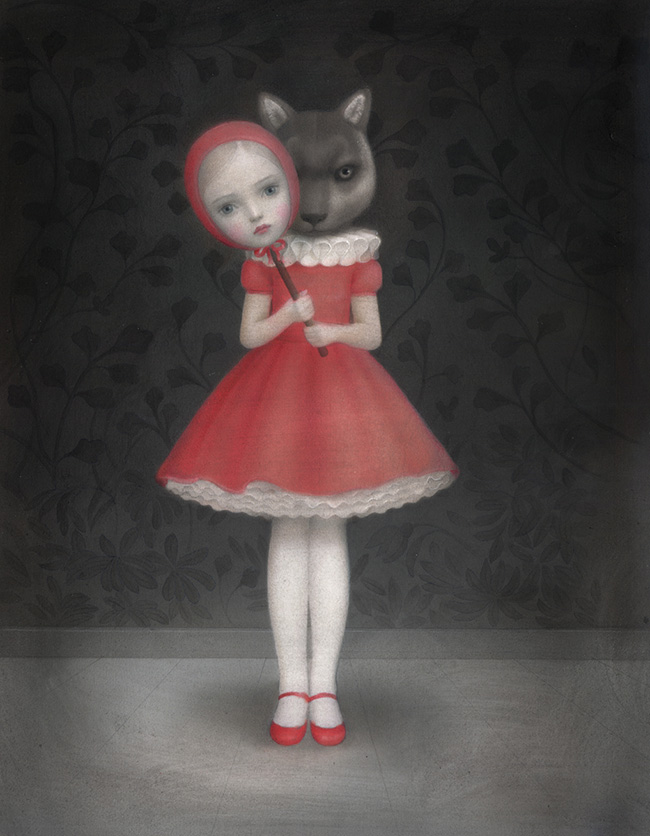 It's hard to constantly pretend to be, or feel like you need to be, someone else. Sometimes I find it hard to deal with my thoughts and feelings, I am afraid that they would be unacceptable, afraid to be rejected or criticized by others so I hide myself behind the mask of the good and nice girl while I feel like a wolf inside. In this picture, I say "I am not pretending anymore."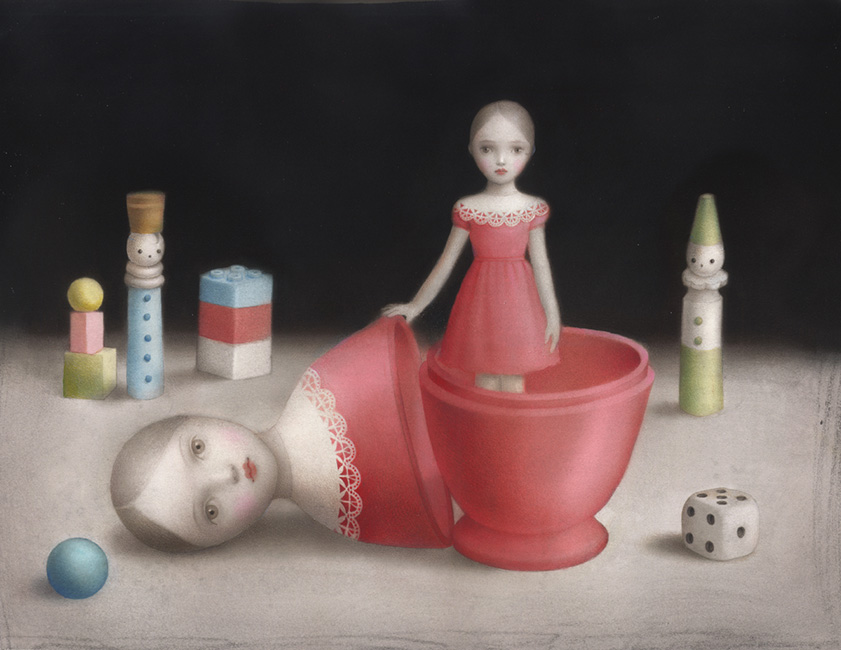 A shell, so similar yet so different from our inner selves is what we show to others.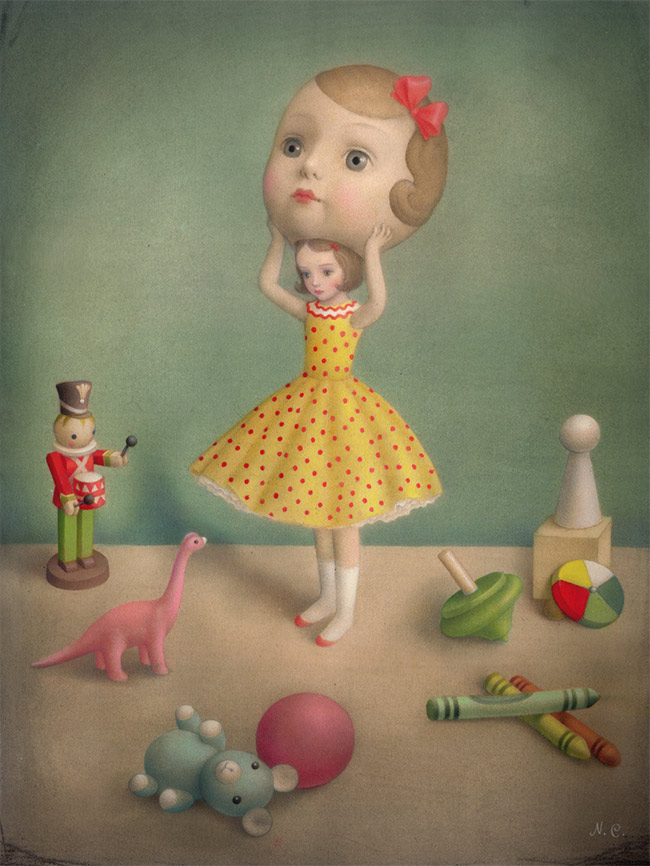 Here the girl is disguised as a toy, it's her way to refuse reality. She just wants to keep on playing like she always did in her childhood. I like to create confusion whether my protagonists are real beings or toys.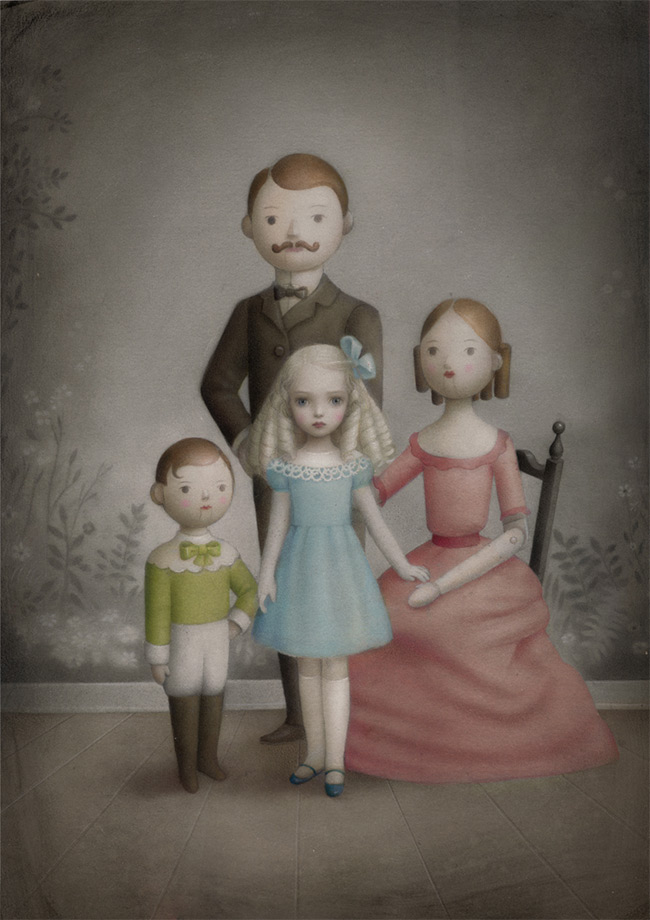 Being still in a still life. A puppet family for a lonely girl. I wanted to depict the feeling of loneliness we can feel even when we are with other people. The impossibility to create a connection with others.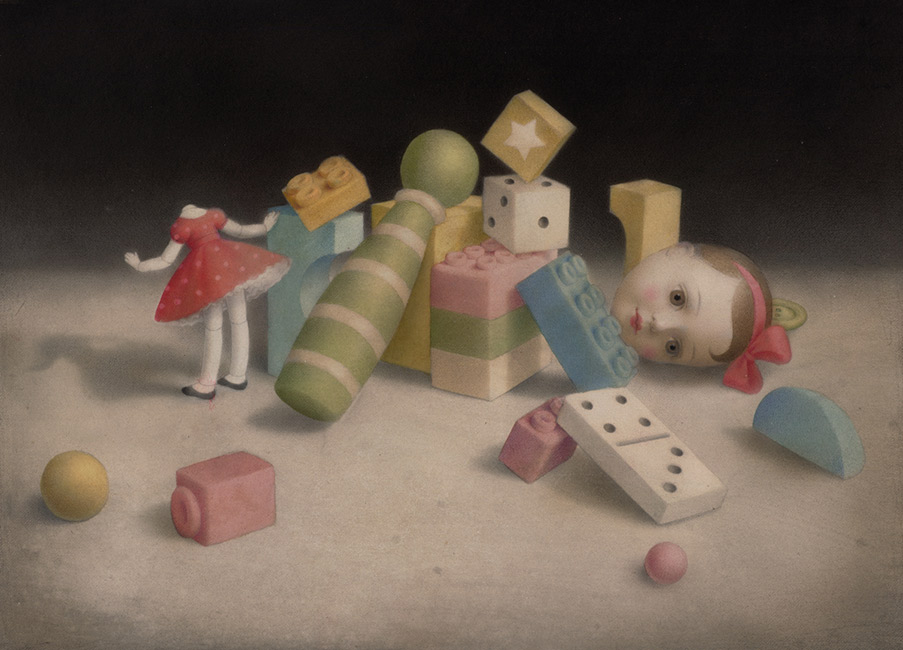 Dice and bricks here are portrayed as old relics of an unconscious mind. To escape and hide from them is a way to escape and hide from one selves.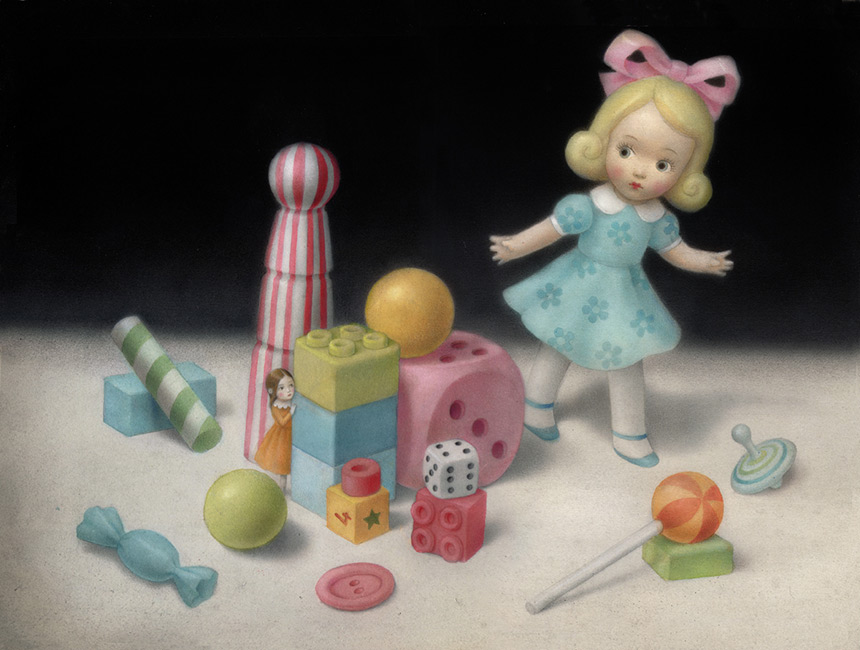 This is a game of hide and seek between a girl and a doll, where a girl acts like a toy and a giant doll tries to expel her from her world.
Nicoletta's 'Hide and Seek' exhibition opened at Corey Helford Gallery on 19th August and runs until 16th September.