WOW x WOW Gallery proudly presents Ecstatic Flux, which kicks off our 2020 exhibition programme in remarkable style! Opening on wowxwow.com at 7pm GMT on 10th January and running until 31st January, the exhibition features 40 incredible international artists and consists of over 50 fabulous artworks.
Inspiration, creativity, invention, originality; what do these words have in common? Well, they all represent concepts which require one vital ingredient before being enabled to give rise to tangible impact. So, what is this one integral component that provides the creative process with legs to walk, wings to fly and the power to propel an infinite array of stimuli into the realms of wonder and magic? It is unquestionably, that most incredible and mysterious of our cognitive processes: the imagination. Imaginative thinking rarely occurs in a straight line from A to B, instead emerging from an emotive brainstorm, where the exciting ebb and flow of thoughts and feelings results in a flux of new ideas and possibilities; an 'Ecstatic Flux'.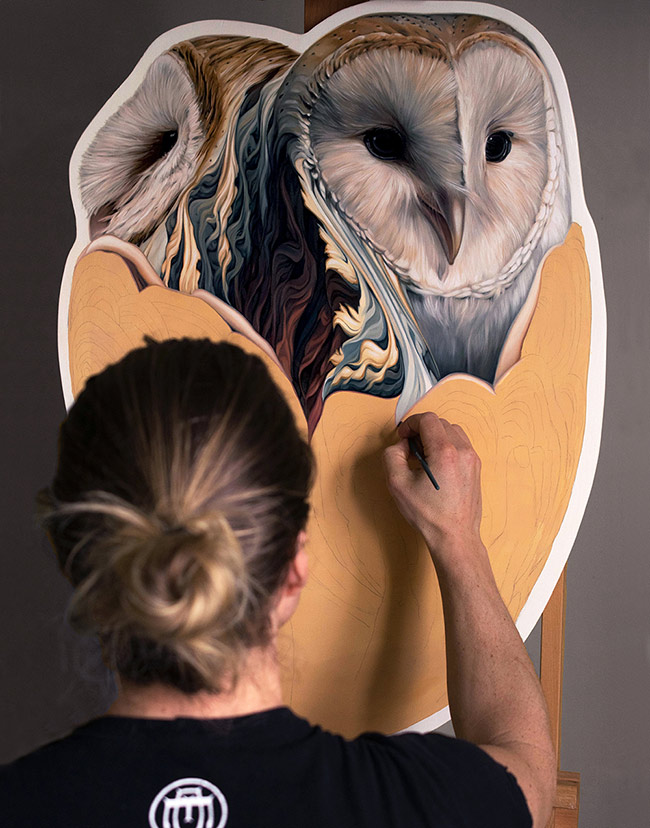 As always, we'd really appreciate you spreading the word to anyone that you think might be interested in the exhibition. We're super excited about the work we've received for Ecstatic Flux, and we hope that you enjoy the show!
If you're interested in receiving the Collector's Preview, please email us at info(at)wowxwow(dot)com. Thank you.
Participating Artists:
Adam Alaniz | Jenna Andersen | Kaitlin Beckett | Benz and Chang | Brian Britigan | Matt Byle | John Casey | Caroline Choi | DantesDots | Nam Das | Ale De la Torre | Jialun Deng | Collin Elder | Carlos Fdez | Gunnar Foley | Thomas A. Gieseke | Amelia Hofsteede | Scott Kirschner | Luca Ledda | Anthony Lejeune | Andrew MacRae | Serena Malyon | Marina Mika | Monika Mitkute | Erich J. Moffitt | Niark1 | Peca | Karla Pereira | Dusty Ray | Eva Redamonti | Catriona Secker | Brian Serway | Yuriko Shirou | Andi Soto | Peter Striffolino | Deirdre Sullivan-Beeman | Deth P. Sun | August Vilella | Kelly Vivanco | Jamie Wells | Sri Whipple
Flyer image: 'Luna' by Serena Malyon