WOW x WOW Gallery proudly presents Imaginators-a-Go-Go. Opening on wowxwow.com at 7pm BST on 5th August and running until 26th August, the exhibition will feature incredible original artworks by more than 60 super talented international artists.
Albert Einstein famously stated: "Imagination is everything. It is the preview for life's coming attractions."
Of all the tools in an artist's arsenal, the imagination has to be placed on a pedestal above the rest. Seen by many as the key that unlocks creativity and innovation, the imagination allows us to think outside the box. It aids problem solving and supports us during adversity. It helps us connect with others on a deeper level, by providing a way to put ourselves in their shoes. It allows us to escape reality and travel into the realms of fantasy, where we can explore facets of existence beyond scientific possibilities and cultural conventions. Put simply, the imagination is what makes us uniquely human.
With this exhibition, we invite you to celebrate with us, to raise your glasses in praise of the mighty powers of those imaginations in full whirring motion… imaginations belonging to the extraordinary 'Imaginators-a-Go-Go'.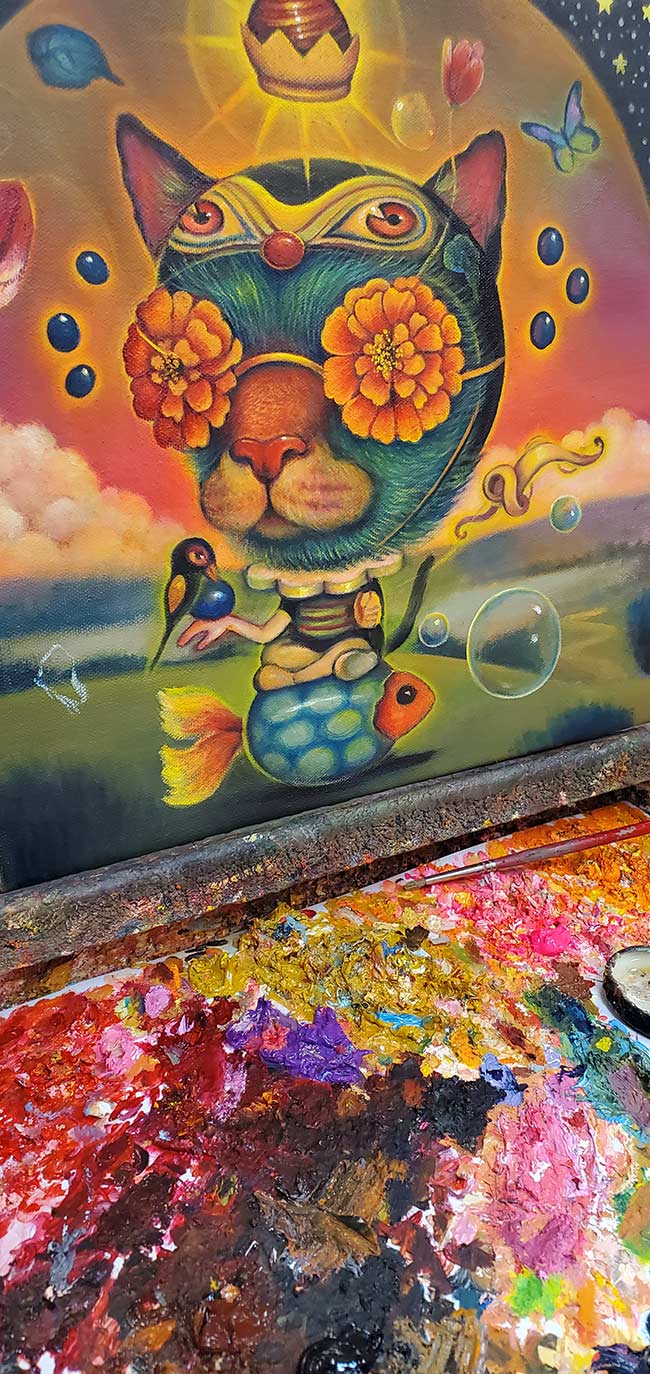 As always, we'd really appreciate you spreading the word to anyone that you think might be interested in the exhibition. We're super excited about the work we've received for Imaginators-a-Go-Go, and we hope that you enjoy the show!
If you're interested in receiving the Collector's Preview, please email us at info(at)wowxwow(dot)com. Thank you.
Participating artists:
Ivardi Ahau | Paul Barnes | Martín Riveros Baxter | Doug Boehm | Nicole Bustamante | Jesús Inglés Canalejo | Authan Chen | Jeff Christensen | Fran De Anda | Ilaria Del Monte | C. M. Duffy | Jel Ena | Sharon England | Roselin Estephanía | Aria Fawn | Carlos Fdez | Daniel Fisher | Sonya Fu | kEda Gomes | Andrea Guzzetta | Helena Art Book | Briana Hertzog | Veronica Jaeger | Sarah Jamison | Josh Juett | Kahla | Anna Kathleen | Stephanie Kilgast | Risa Kishida | Declan Lee | Erica Rose Levine | Nona Limmen | Milka Lolo | Joseph Loughborough | Colete Martin | Nicolás Menay | Zach Meyer | Marina Mika | Andreas Nagel | Paul Neberra | Johannah O'Donnell | Nojus Petrauskas | Ryan Pola | Angelika Rasmus | John Rego | Christina Ridgeway | Camilla Roeder | Ronch | Chay Ruby | Juliet Schreckinger | Silas | Alina-Ondine Slimovschi | Alex Sugar | Brea'n Thompson (aka JaneFloats) | Neil Thompson | Thoth | Myriam Tillson | Valentina Toma' (aka Zoe Chigi) | Ingrid Tusell | Alexandra Verhoven | Joe Vollan | Win Wallace | Eric Wixon | David Michael Wright
Flyer image: 'Forged From Demise' by Jeff Christensen