WOW x WOW Gallery proudly presents Monochromagic 6, which opens on wowxwow.com at 7pm BST on 7th July and will run until 28th July. Monochromagic 6 will be the sixth exhibition hosted by WOW x WOW in celebration of monochrome artworks. It will feature 70 incredible international artists and consist of more than 80 wonderful artworks.
For centuries, artists have created monochrome images and sculptures. By limiting the colour palette to just one, the focus for the artist, and in turn the viewer, becomes more direct and encourages deeper contemplations and closer connections with the colour, form, texture and techniques of an artwork. The artists participating in this exhibition are all brought together through their affinity for monochromatic exploration and simultaneously via a shared passion for the language of surrealism and fantastical narratives. The absolutely intriguing monochrome wonders you will behold, have unfurled from truly masterful imaginations and are loaded with enigmatic and enchanting magic: 'Monochromagic'.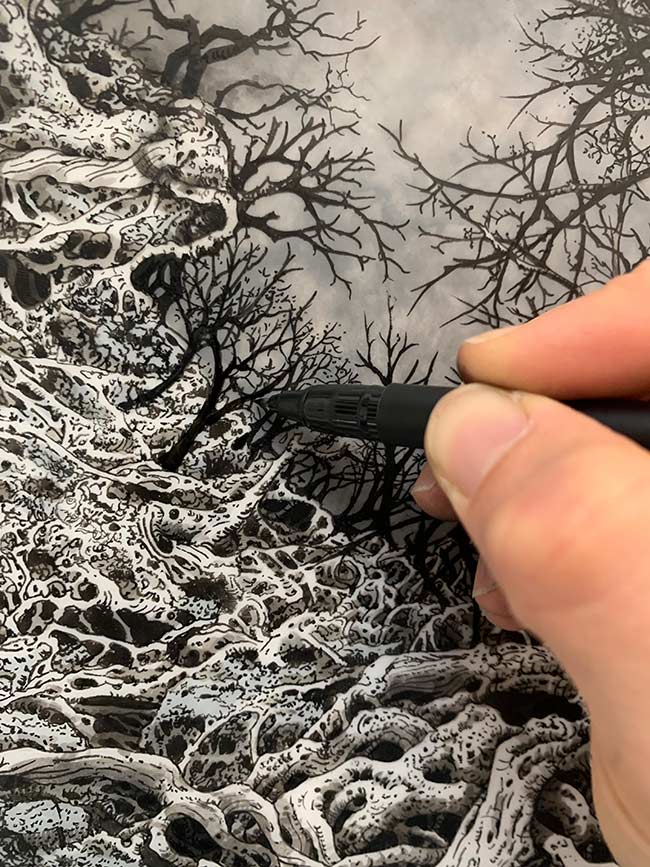 As always, we'd really appreciate you spreading the word to anyone that you think might be interested in the exhibition. We're super excited about the work we've received for Monochromagic 6, and we hope that you enjoy the show!
If you're interested in receiving the Collector's Preview, please email us at info(at)wowxwow(dot)com. Thank you.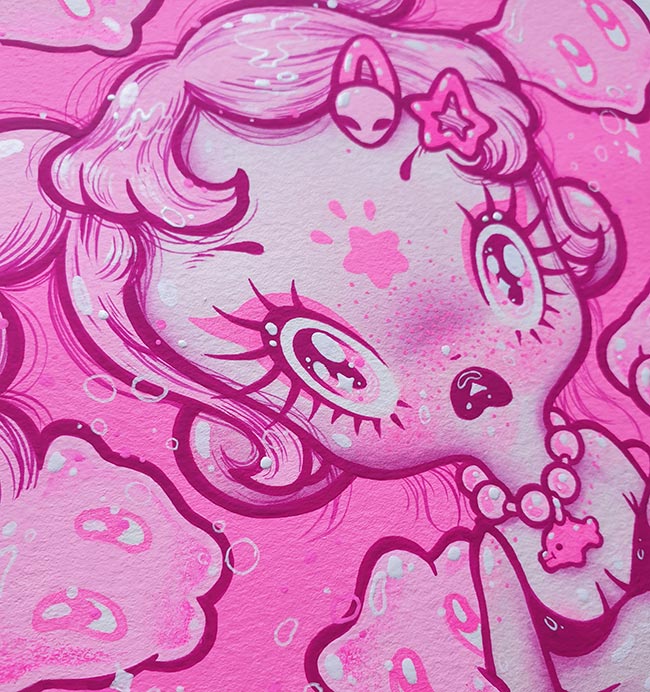 Participating artists:
Abby Aceves | Sena Adjovi | AJ Ainscough | Yiğit Can Alper | Samuel Araya | Paul Barnes | Bayo | Cécile Berrubé | Katrin Berge | Bird Cvlt | Brian Britigan | Steph C. | Sam Wolfe Connelly | Andrew K. Currey | Lara Dann | Tripper Dungan | Roselin Estephanía | Miriam Frank | Lindsey Martin Gardner | Chloe Gendron | Debbies Grahl | Liz Gridley | Jazmine Gubbe | Philip Harris | Gregory Hergert | Cleonique Hilsaca | Richard Ingersoll | Hanna Jaeun | Paulette Jo | Kahla | Dima Kashtalyan | Lisa Kogawa | Kane Kokaris | E. E. Kono | Elliot Lang | Po Yan Leung | Esther Limones | Jamie Linley | Milka Lolo | Allison M. Low | Marijke Ludwig (Miosis Studio) | MadebyEnger | Isaac Malakkai | Many III | Bill Mayer | McMonster | Zach Meyer | Scott Mills | Camille Murgue | Beatriz Mutelet | Andreas Nagel | Connor Nguyen | Jennifer Nguyen | The Obanoth | Christian Orrillo and Cristopher Pérez | Rachael Pease | Dasha Pliska | Doriana Popa | Angela Ramones | Nadia Rausa | Chay Ruby | Rustlehare | Vorja Sánchez | Kirsten Schaap | Mark Seabrook | James Thistlethwaite | Paul W Thompson | Mizna Wada | Wingchow | David Michael Wright
Flyer image: 'Slow Crash' by AJ Ainscough.