WOW x WOW Gallery proudly presents The Eclectic Majestic. Opening on wowxwow.com at 7pm GMT on 4th August and running until 25th August, the exhibition will feature over 70 incredible original artworks by more than 60 super talented international artists.
Eclectic: [adjective] deriving ideas, style, or taste from a broad and diverse range of sources.
Majestic: [adjective] having or showing impressive beauty or scale; superior to mundane matters.
Creativity is thought of as the combining of existing parts to create something new. Therefore, casting a wide net is a wonderful way for an artist to progress ideas and boost inspiration. The world we live in is made up of vast multitudes of varying beliefs, ideas, designs, sounds, etc., and remaining open to diversity in all aspects of life can have a truly powerful impact on our imaginations and creativity. It is considered to be in a creative's best interest to have a broad knowledge of a variety of unrelated topics, as the more unrelated facts and theories we have in our minds, the larger number of new combinations we can make. And this concept doesn't only apply to knowledge, but relates to all stimuli that can inform and shape an artist's thoughts and practice. So, this month, we invite you all to join us in celebration of 'The Eclectic Majestic'.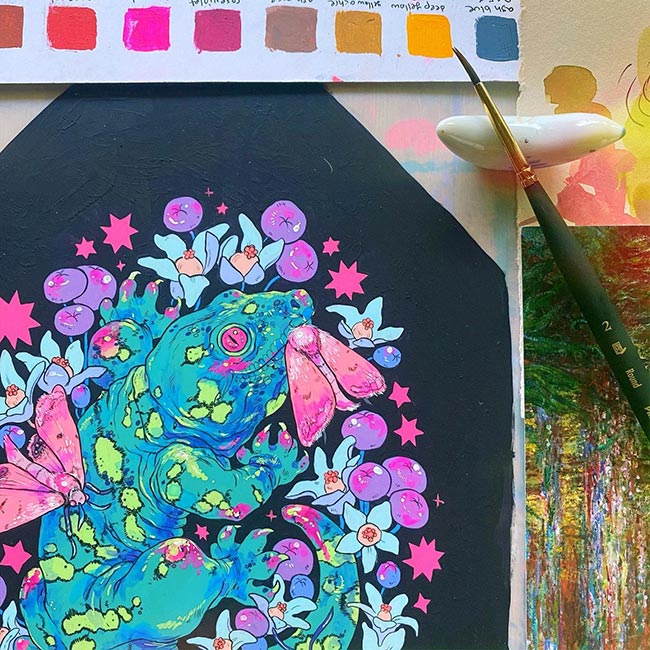 As always, we'd really appreciate you spreading the word to anyone that you think might be interested in the exhibition. We're super excited about the work we've received for The Eclectic Majestic, and we hope that you enjoy the show!
If you're interested in receiving the Collector's Preview, please email us at info(at)wowxwow(dot)com. Thank you.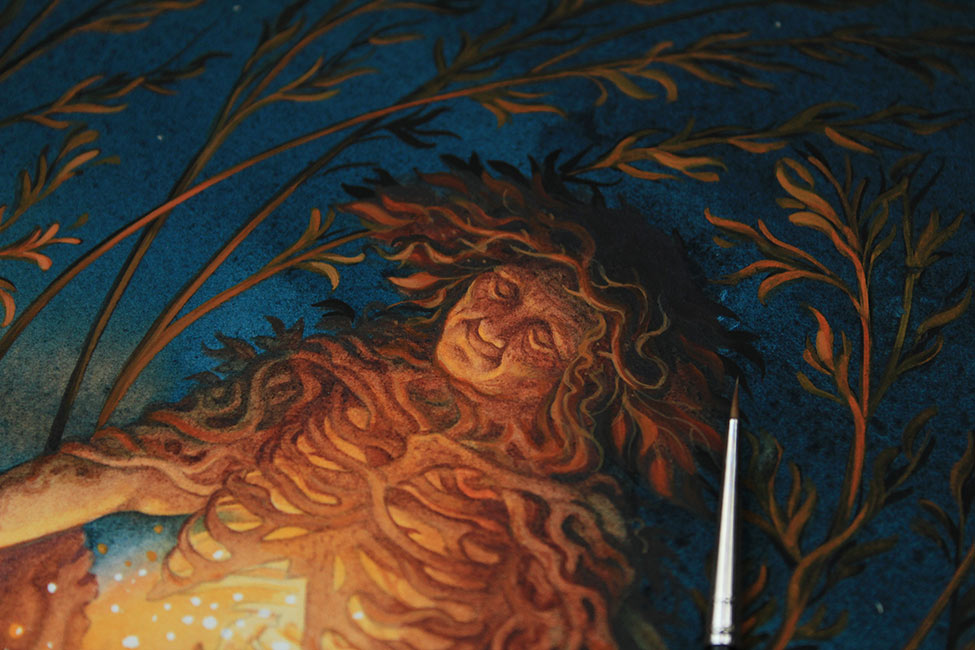 Participating artists:
Orphné Achéron | Yiğit Can Alper | Anne Angelshaug | Paul Barnes | Martín Riveros Baxter | Bayo | Bird Cvlt | Doug Boehm | Sofia Bonati | Morgan Booth | Nico Cathcart | Laura Catherwood | Authan Chen | Zoe Chigi | Josh Courlas | Fran De Anda | Defectivepudding | Olivia Di Gregorio | Tripper Dungan | Roselin Estephanía | Etara | Kelli Flitton | Jon Fox | Petra Frankova | Arthur Gain | Lindsey Martin Gardner | Brad Gray | Naoto Hattori | Matthew Huntley | Nataša Ilinčić | Richard Ingersoll | Hanna Jaeun | James W Johnson | Cassandra Kim | Irene Lopez | Lihao Lu | MadebyEnger | Isaac Malakkai | MalOjo | Cassidy Rae Marietta | Gary McMillan | Scott Mills | Drew Mosley | Niky Motekallem | Mary Esther Munoz | Andreas Nagel | Alex V Ngo | Connor Nguyen | Jennifer Nguyen | Johannah O'Donnell | Jonathan Ouisse | Dasha Pliska | Natalia Cardona Puerta | Angelika Rasmus | Nadia Rausa | John Rego | Terry Ribera | Chay Ruby | Simona Ruscheva | Rustlehare | Matt Schu | Cody Seekins | Andrea Sipl | Shannon Taylor | James Thistlethwaite | Eva Toorenent (Evaboneva) | Nikolas Tower | Alexandra Verhoven | Brady Willmott | Jenna Wing-Hu
Flyer image: 'Watermelonhead' by James W Johnson