WOW x WOW Gallery is super excited to announce Monochromagic, our first ever show dedicated to the celebration of monochrome artworks. Monochromagic opens here on wowxwow.com at 7pm BST on 7th September and will run until 28th September. The exhibition features five magnificent international artists who have each contributed four new and previously unexhibited pieces.
At the very heart of Monochromagic lies the passion for drawing, which the artists push in a multitude of directions, utilising a variety of media and incorporating labour intensive processes, such as etching. Exploring an array of themes including, fantasy, chaos and folklore, the artists and their artworks are brought together through a combination of fabulous surrealistic visions and painstaking attention to detail. The absolutely intriguing monochrome wonders you will behold in this show have unfurled from truly masterful imaginations and are loaded with enigmatic and enchanting magic: 'Monochromagic'.
Participating artists:
Richard A. Kirk
Jon MacNair
Jeremy Nichols
Pamela Tait
Tronvs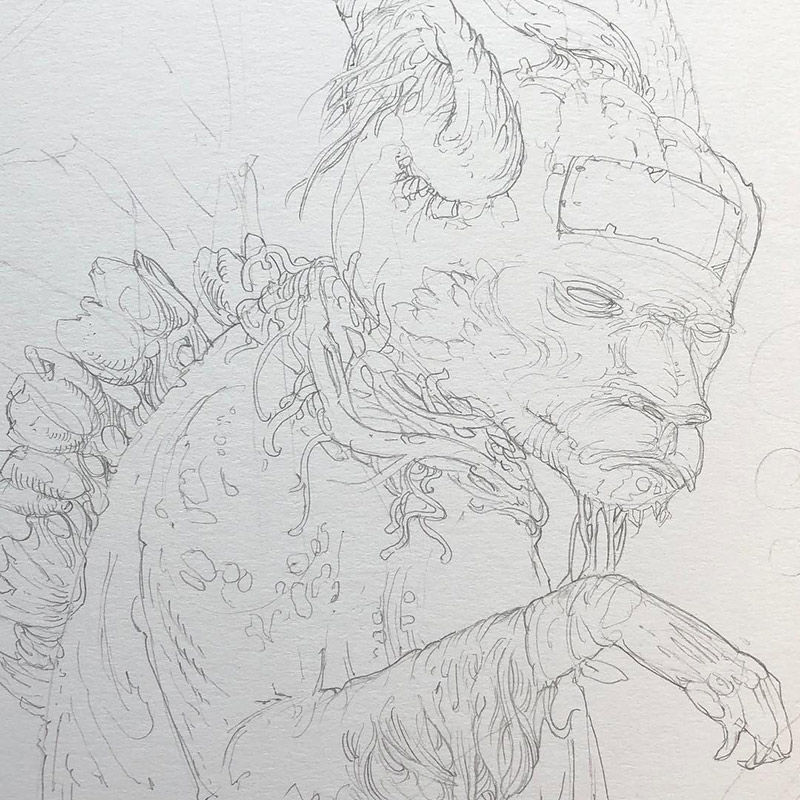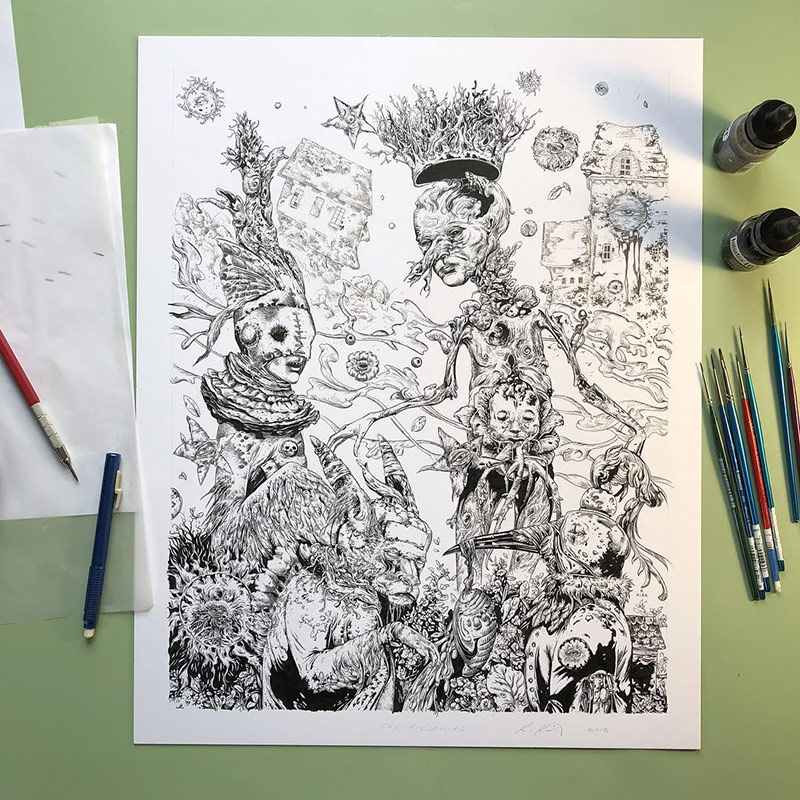 Richard A. Kirk is a Canadian visual artist, illustrator, and author.
He exhibits internationally. Richard has illustrated works by Clive Barker, Caitlin R. Kiernan, Christopher Golden, China Mieville, the rock band Korn and others.
Richard's work is drawn from an interest in the forms and processes of the natural world. He explores these themes through the creation of meticulous drawings, which often depict chimerical creatures and protean landscapes. Metamorphosis is an underlying narrative in all of Richard's work.
Richard is the author of the novels, THE LOST MACHINE (Radiolaria Studios, 2010), and NECESSARY MONSTERS (Resurrection House, Arche Press, 2017), and a forthcoming short story collection (2017).
Representation: Martha Millard, Sterling Lord Literistic, NY.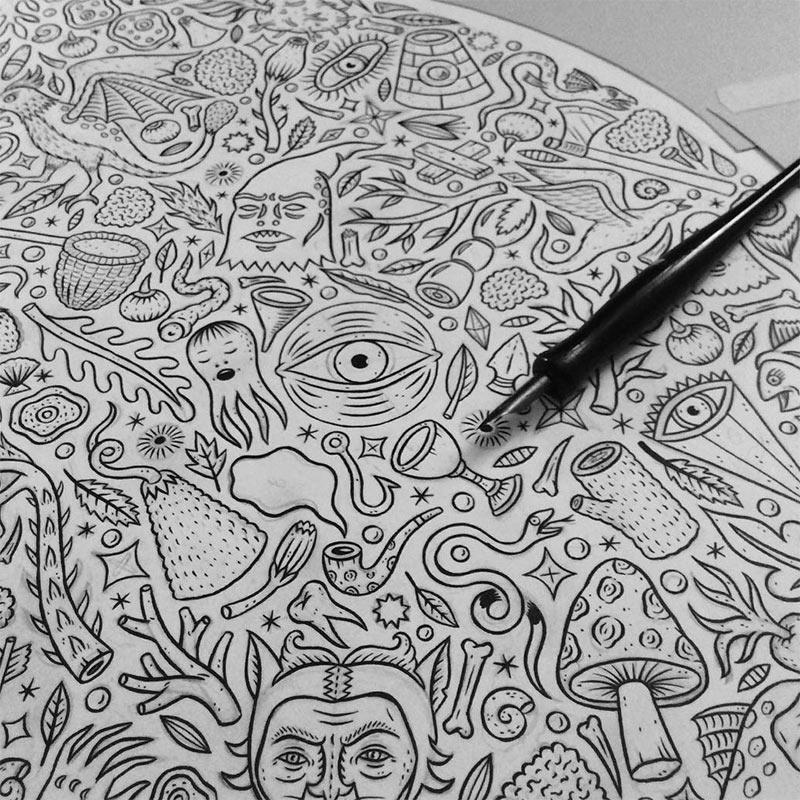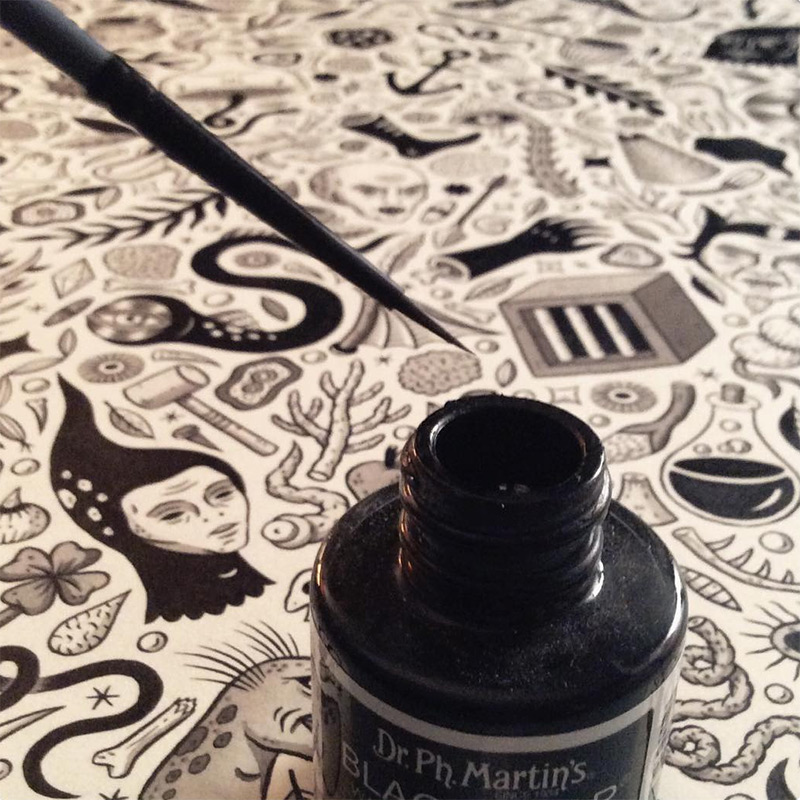 Jon MacNair was born in Seoul, South Korea and grew up in the suburbs of southeast Michigan near Detroit. He graduated from the Maryland Institute College of Art in 2005, where he earned a BFA in Illustration. His commercial work has appeared in editorial publications and mainly been used for apparel and package design. Over the last 10 years he has exhibited his personal work in many galleries around the U.S. and abroad. Jon currently resides in Austin Texas where he divides his time between freelance projects and creating personal work for exhibitions.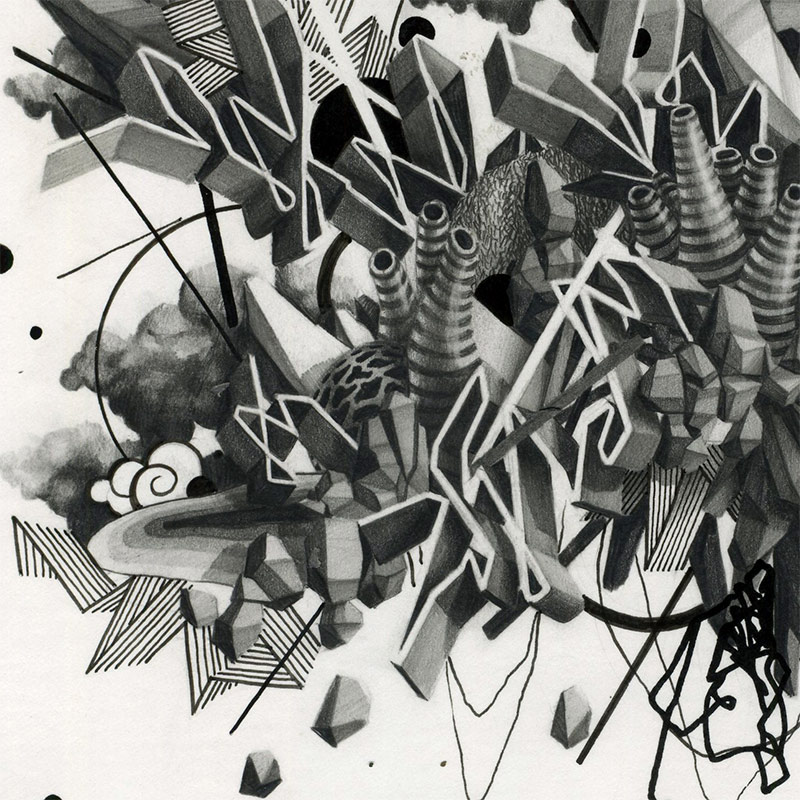 Jeremy Nichols was born in Tokyo, Japan in 1982. He is a graphite and spraypaint artist hailing from Portland, OR. After studying printmaking at Ohio State University and receiving his BFA, he made the move to the West coast.
His work tends to focus on the energy, movement, balance, and harmony of the chaos around us. From urban growth and development, to the forward push to preserve the nature around us. He tries visually show a juxtaposition of these opposing forces by using elements of graphic design, mixed with fragments of organic matter, and layer them so they turn into an alien world or cluster.
He wants to present something that may or may not be familiar to the viewer. He wants the viewer to see it as a foreign environment, and take their own visual journey through the details. He wants to take the viewer somewhere unfamiliar and question the environment around them.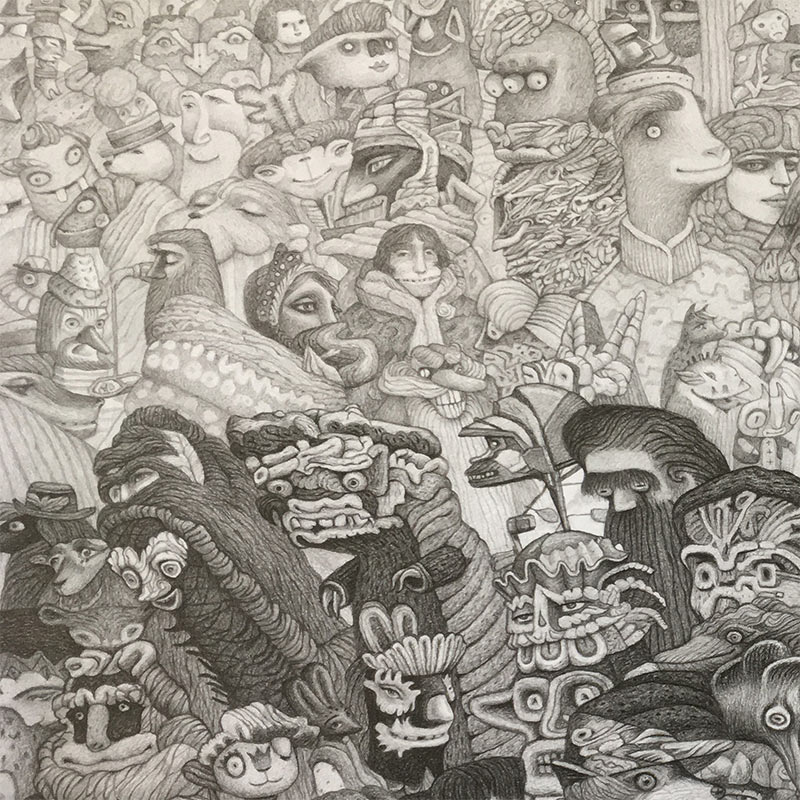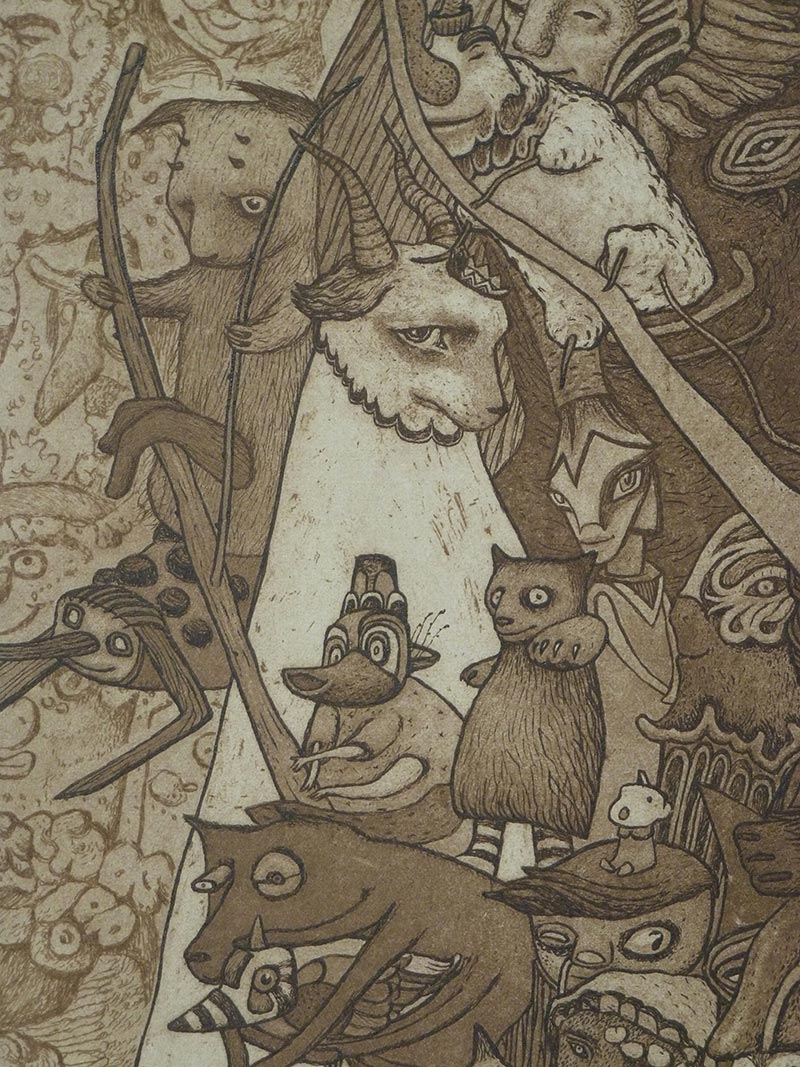 Pamela Tait grew up in rural Aberdeen-shire and studied Drawing and Painting at Grays School of Art. She presently lives and works on the Black Isle with her husband, the artist Erlend Tait.
By exploring the lines and forms created by the overlapping branches of trees she creates a strong visual connection with nature and within her known environment, producing a narrative through her work and a sense of her very own Mythology.
In early 2016 she received funding through the Highland Visual Arts and Crafts Award Scheme and the Bet Low Trust to learn and incorporate Printmaking into her practice.
Pamela is represented by FB69 Gallery in Germany and has exhibited her work internationally.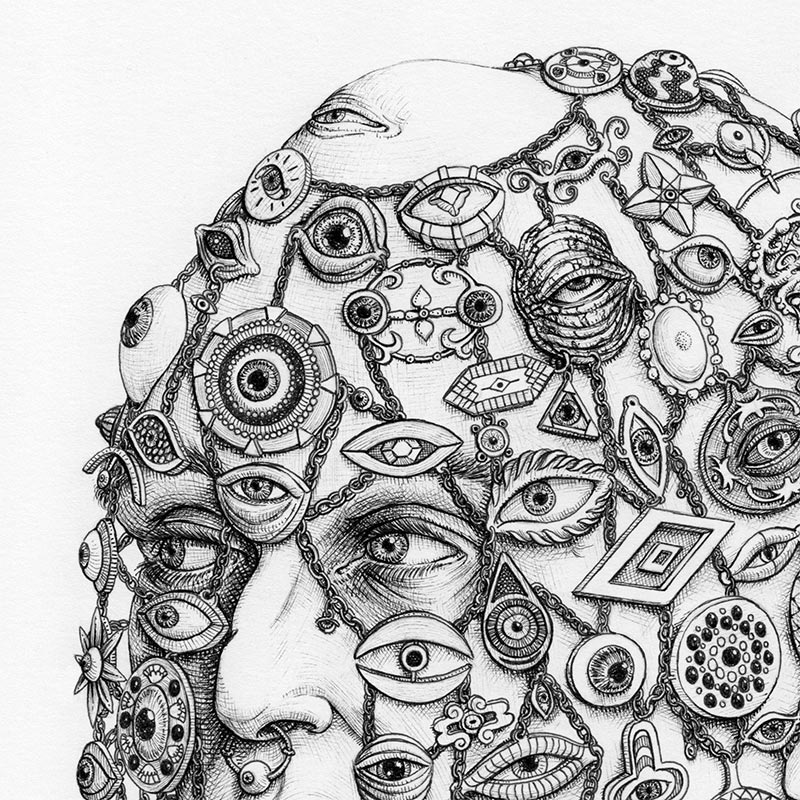 Tronvs is a self-taught artist from the Hudson Valley, NY, whose intention is to tell a story. Through his illustrative works he creates expansive narratives with roving, rich symbolism and dense imagery; often showing worlds within worlds. Although the imagery can at times be surreal and mysterious, the intent is never to be vague or confusing, but rather to be engaging and permeable; empowering the viewer to feel like an explorer, coming upon a new and exciting world. Reverentially, he strives to contribute to the rich, varied history of image making, while also retaining a sense of awe and wonderment at what came before. He is interested in delighting the imaginations of others. To encourage viewers to be curious or to excite their imaginations, allowing them to infer a narrative, and encouraging participation.
If you are interested in receiving the Collector's Preview for Monochromagic, please email us at info@wowxwow.com. Thank you.