WOW x WOW Gallery is super excited to announce our first 6 person group show of the year. Shadow and Grace opens here on wowxwow.com at 7pm BST on 10th August and will run until 31st August. The exhibition features 6 incredible international artists and includes brand new works created using both traditional media and modern digital tools. Through creative techniques revolving around meticulous precision right through to painterly expression, the participating artists explore their intriguing narratives via inventive figurative arrangements, often with a surrealistic focus on the dark and the beautiful: 'Shadow and Grace'.
Participating artists:
​Lioba Brückner
Hanna Jaeun
​Archan Nair
Andi Soto
Nathalia Suellen
John Walker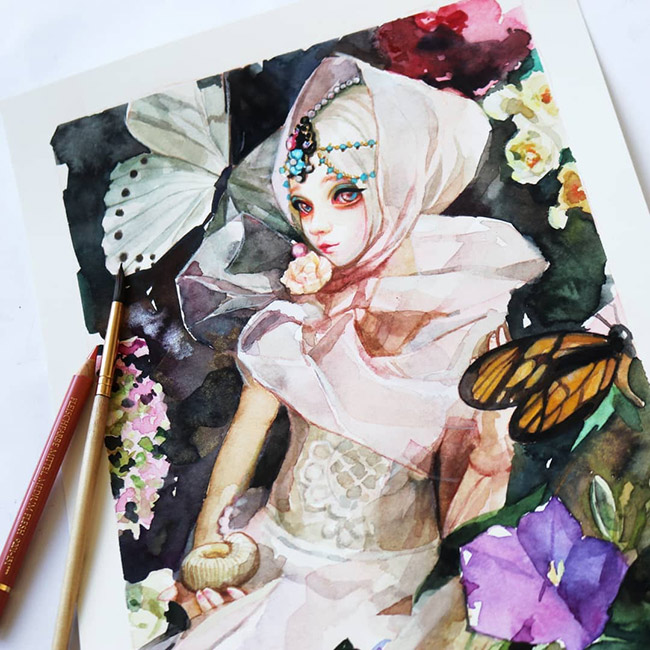 Lioba Brückner (b. 1988) is a painter based in Oberhausen, Germany.
She portrays young women in a surrealistic manner superimposed by plants or insects while submerged in dripping oil colour and translucent layers. Her subjects transport a melancholic and dreamful mood while often seem lost in thoughts.
Every painting is a reflection of thoughts and feelings she experiences during the time period of creation. Lioba uses her specific aesthetic for her portraits which derives from her fascination of the beauty in every woman.
Influenced by contemporary artists, old masters, her admiration for nature, Japan, science-fiction and fantasy movies her art is in a constant state of development.
Lioba Brückner studied with Markus Lüpertz and received her diploma under Tony Cragg at the academy of arts in Düsseldorf 2012. She exhibits nationally and internationally. She lives and works in Oberhausen, Germany.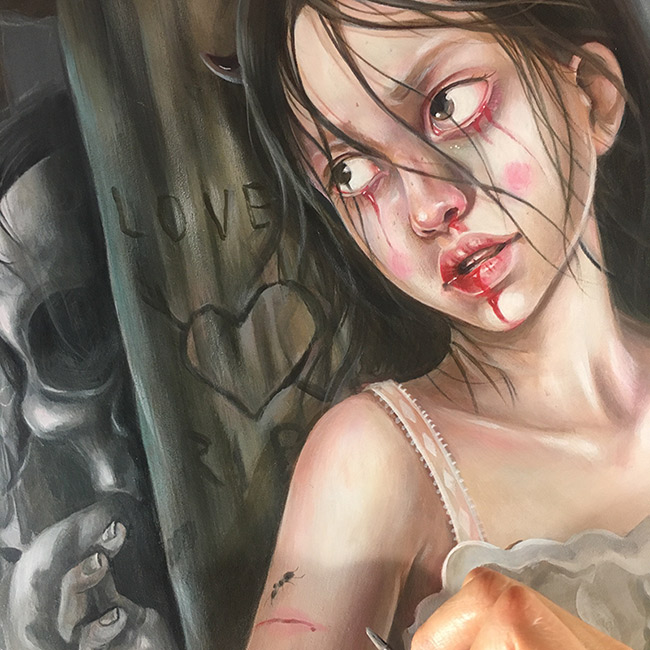 Hanna Jaeun is a Brooklyn-based painter. She received a BFA in Apparel Design at the Rhode Island School of Design. After some soul-searching, she finally decided to pursue her dreams of becoming a painter. She now works with acrylics on wood panel. Drawing inspirations from religious paintings, puppetry, and her love of animals, her work explores the plight of animals. She uses animals and animal-human hybrids to explore themes of isolation, vulnerability, and the yearning to belong. She has had the opportunity to exhibit across the US, at events and galleries including, Beyond Eden Art Fair, SCOPE Art Fair at Miami Basel, Cotton Candy Machine, Arch Enemy Arts, and various other galleries.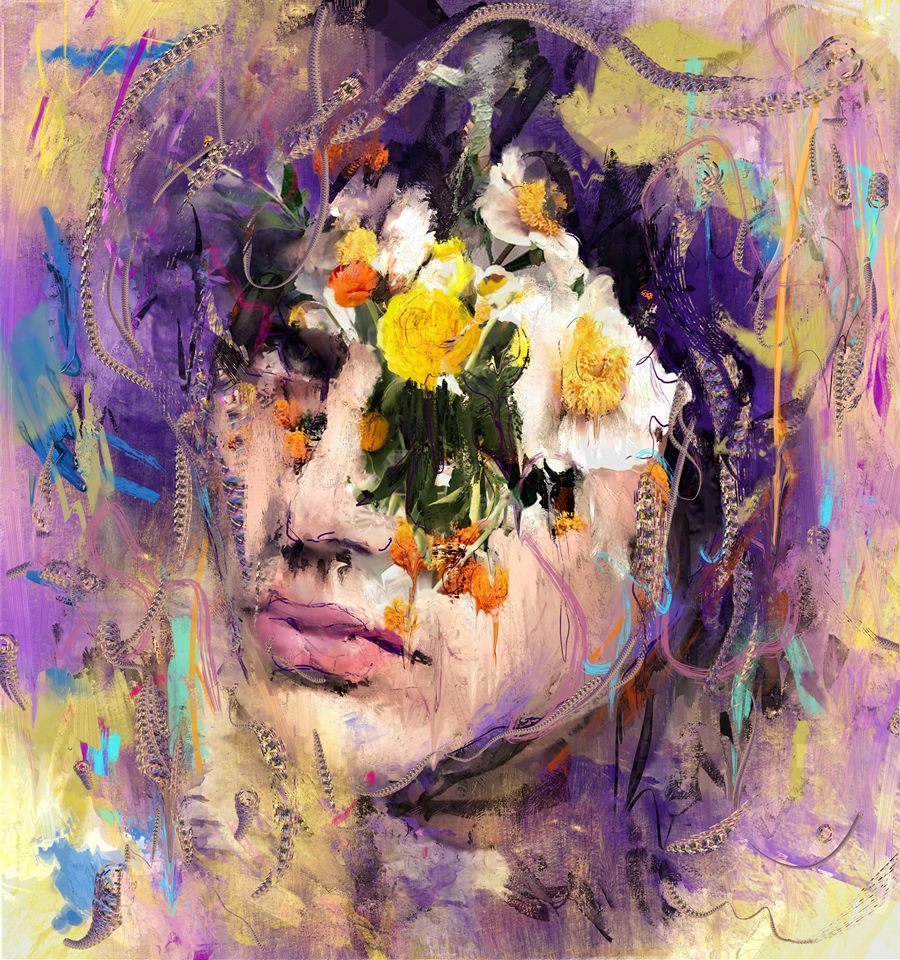 Archan Nair is a self- taught visual artist, illustrator and Digital Artist, specialising in mixed media, illustration, and digital art based out of Berlin, Germany. His visual expressions are part of a journey which is really influenced by the mysteries of our existence and how every action, emotion, and our interconnectedness in a universal scale sets of a chain of reactions.. which we experience from the micro to the macro scale.
Formerly a fashion major and entrepreneur, Archan started painting in 2006 at the age of 24 and made the shift as an independent artist in 2007 with his cultural roots from India. Since then he has embarked on an exhilarating and inspirational journey, collaborating with various companies and individuals such as: Nike, RedBull, Canon, Infiniti, Sony Netflix, Samsung, Electric Forest, GQ among many others.
Archan has been featured in various publications and has achieved recognition from music artists like Kanye West along with collaborations with Chris Brown and Lindsay Lohan. Archan's passion and love for the creative process and expressing himself has opened a whole new journey, where he is exploring the beautiful essence of life.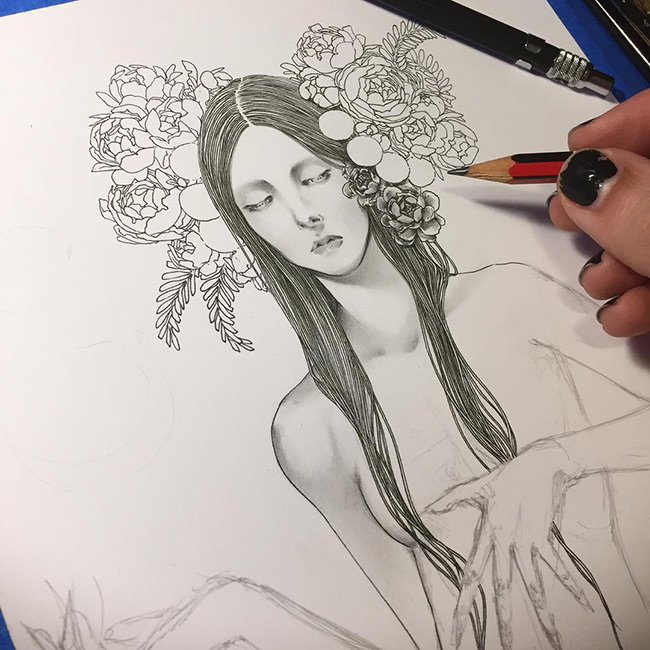 Andi Soto is a self-taught illustrator moving around between Panama and Croatia. Meticulously rendering drawings are a combination of ink, graphite, coloured pencils and markers that work together to form cascading lines of infinite strands of hair merged with delicate shading and blossoms bursting with color that embody what is past, present and to come all in the cycles of existence.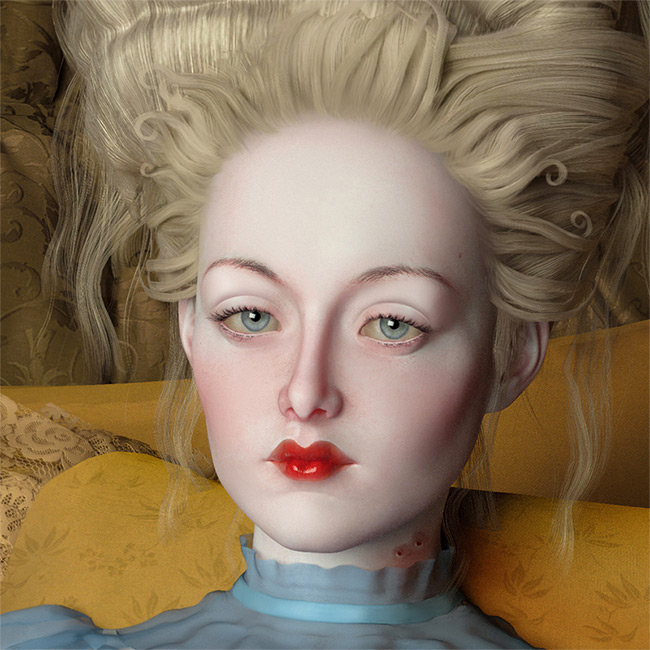 Nathalia Suellen (born 20 February 1989) is a contemporary fine artist and commercial illustrator based in Rio de Janeiro, Brazil.
Entirely self-taught, Suellen's developed a distinctive visual language from a combination of dark art and pop-surrealism. Her current artworks are born from a high-detailed mixture of photography, 3D and digital painting showing a signature style that blends symbolism, retro-futurism, death and dystopia with extremely colorful surrealistic worlds. Her main characters are often captured in scenes where something sad is about to happen, as if they were trapped in a bad dream. Despite her personal illustrations, Nathália is mostly known by her commercial works and a notable clientele list which consists of musicians,photographers, best-selling writers as well as major companies including Random House, Penguin Group, Harper Collins, Simon & Schuster, McCann Erickson, Bloomsbury, Scholastic and Harry N. Abrams Books.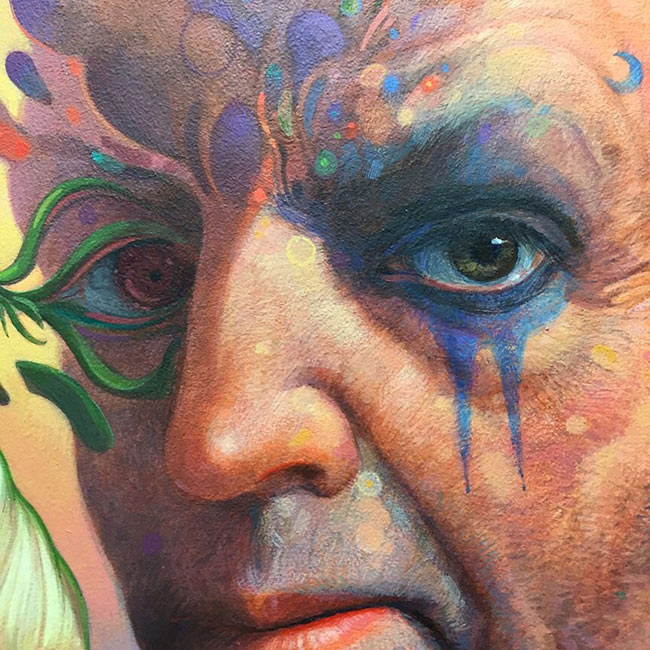 John Walker's work centers around a core of imagined narratives, as with his recent series of faux antiquities from an invented culture. Born in Aurora IL, he attended the College of DuPage and the American Academy of Art in Chicago before beginning a long career as an airbrush artist and illustrator. Much of his work is executed in a realistic manner that often includes elements of graphic design, stylization, and three dimensional objects. He has has won numerous awards including Best in Show at the Richeson 75 International Portrait and Figure Competition and the National Society of Painters in Casein and Acrylic Award at the 59th Annual NSPC&A Exhibit. His work has appeared in the "AcrylicWorks Best of Acrylic Painting" annuals, Spectrum art annual and Acrylic Artist magazine. His studio is located in a suburb west of Chicago, IL.
If you are interested in receiving the Collector's Preview, please email us at info@wowxwow.com. Thank you.
(Header Image: 'Grace' by Nathalia Suellen)