WOW x WOW Gallery is super excited to announce Vestiges to Voyages, a six person exhibition featuring new and previously un-exhibited works by Matt Byle, Kelly Denato, Femke Hiemstra, Alice Lin, Bill Mayer and Nathan Spoor. Each of the six participating artists welcome us into their masterfully realised visual worlds, filled to the brim with curious narratives, alluring symbolism and explorations of universal themes. Vestiges to Voyages opens here on wowxwow.com at 7pm GMT on 2nd November and will run until 23rd November.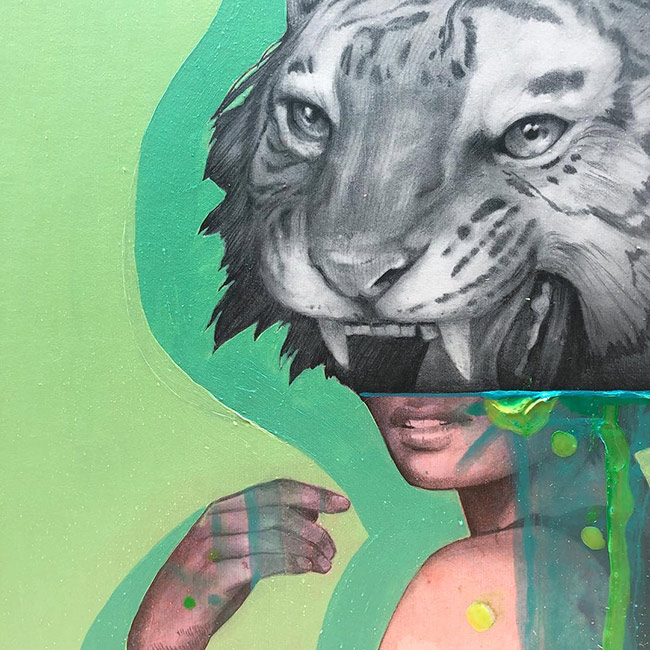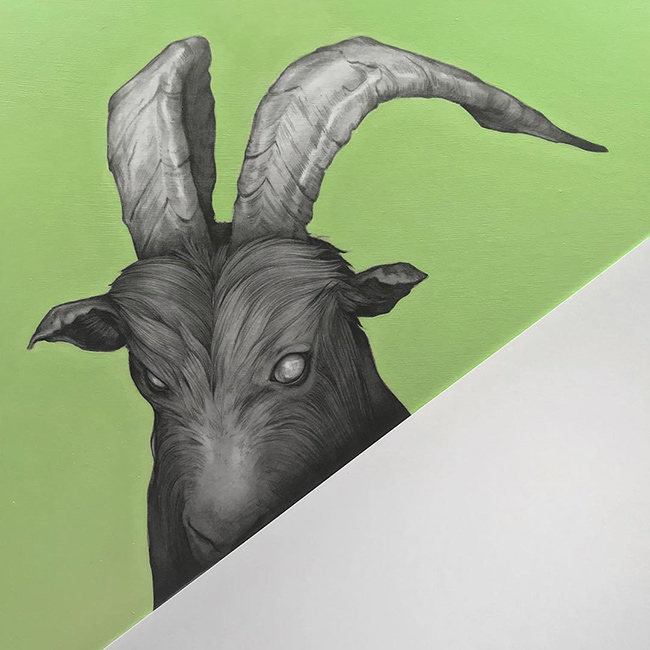 Matt Byle is a Detroit based artist. His inspiration stems from film, beauty, and nature, which is blended together in an expressive and aesthetically pleasing way. His style embodies a juxtaposition between the carefully planned and creative chance. He marries meticulously drafted figures with expressive drips and runs of paint in a wabi-sabi approach. His work has been featured by HiFructose, Secret Walls, events for Converse and at various galleries.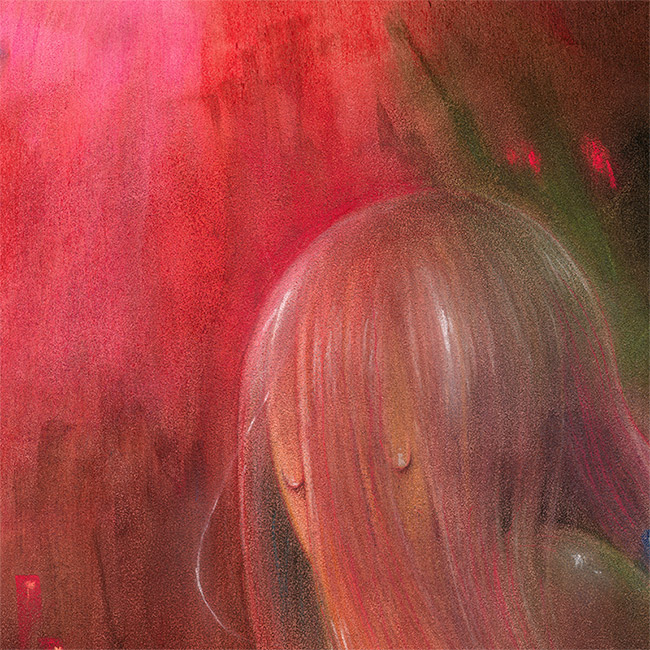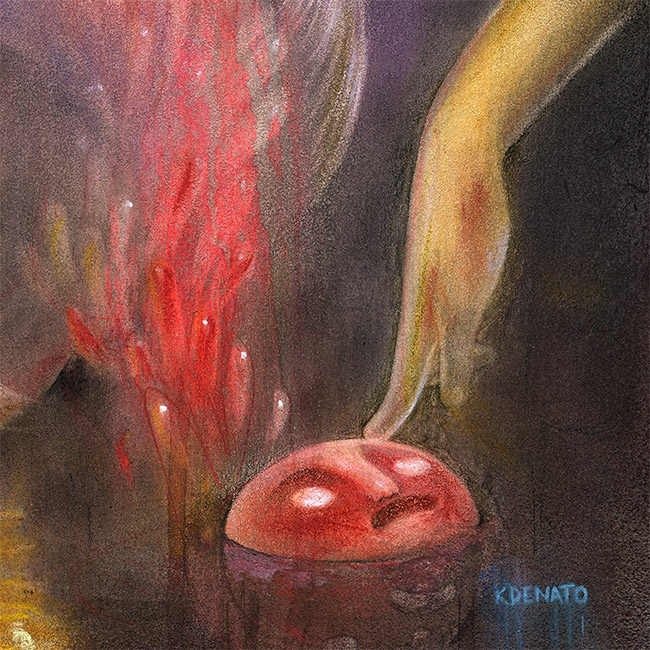 Brooklyn-based artist Kelly Denato works in a variety of industries and mediums. She works professionally in animation, illustration, and design with clients such as Nickelodeon, American Eagle Outfitters, Clinique, InStyle Magazine, and Timex.  Denato also regularly exhibits her paintings, drawings, sculptures, and soft sculptures in galleries across the US.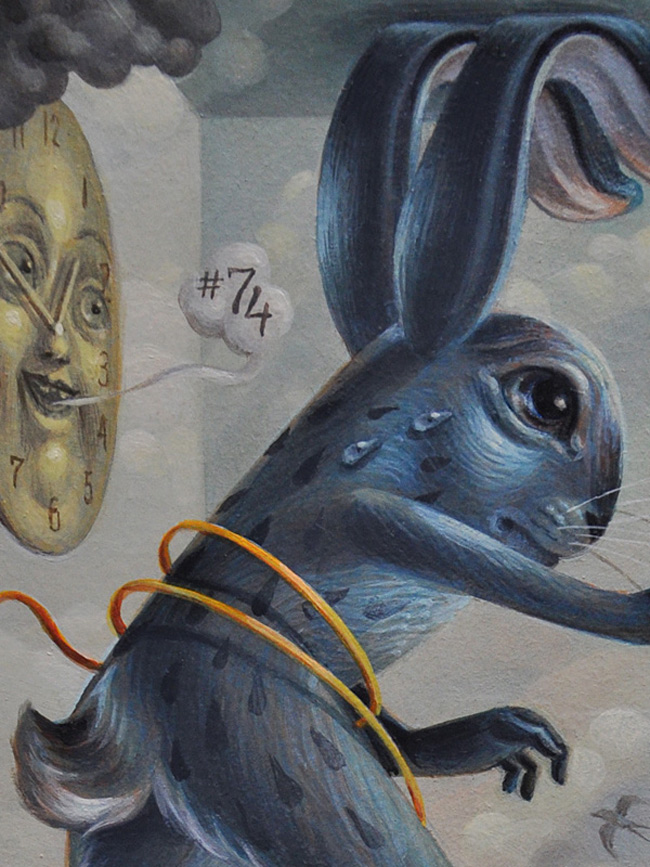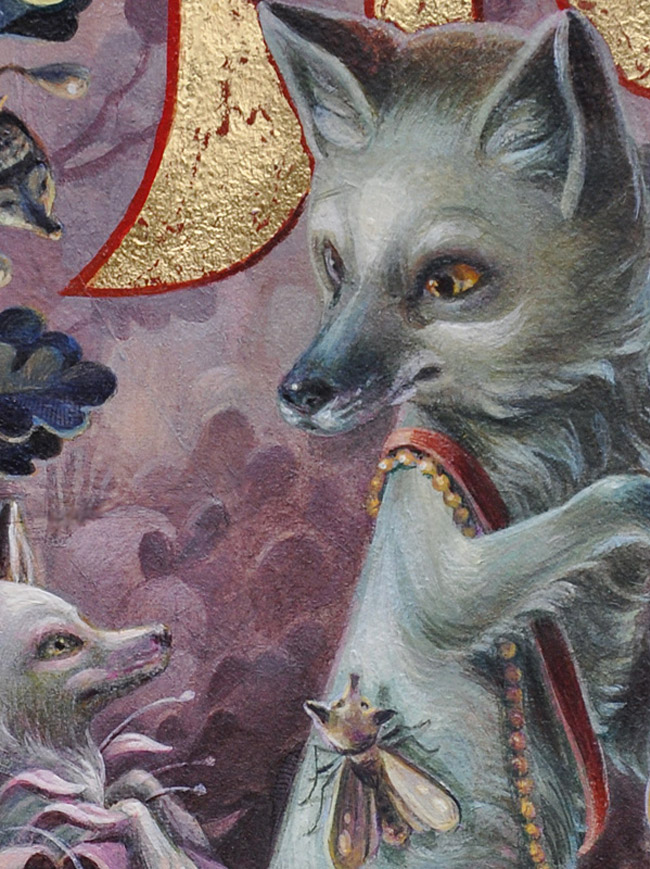 Femke Hiemstra (born 1974 in Zaandam) is a Dutch painter.
Hiemstra started as a freelance illustrator for 10 years until her paintings became too elaborate for commissions and she transitioned into working primarily as a fine artist. Her work is usually categorized as pop surrealist or American lowbrow art, but she has said that the most accurate label for her work is "Neo-Fabulism" due to the anthropomorphic and narrative-based subject matter. Despite her underground style, Hiemstra has been met with a dedicated fan base; most of her shows selling out within minutes of their announcement. Her mixed media works are made with delicate layers of acrylic paint and color pencil on the surfaces of old books or other bric-a-brac objects. The themes are often mixtures of animals and comic characters, dark surreal settings and stylized typography.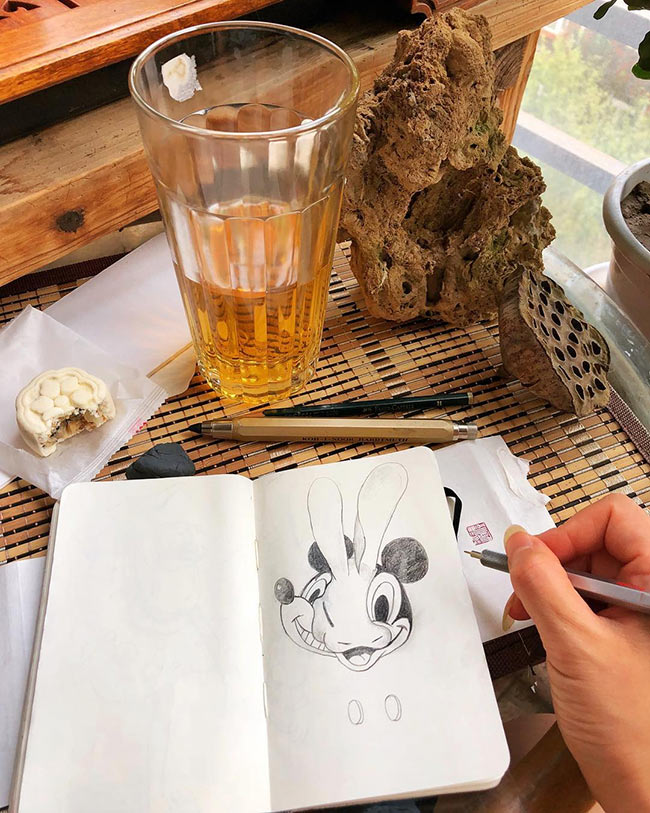 Alice Lin, AKA XU LINLIN, lives in Beijing, she is a freelance artist as well as painter and 3D Art Director with a passion for new Chinese meticulous painting and 3D projection art. She first fell in love with the technique when she was a child, inspired by Chinese tradition techniques and Surrealism. Alice's style is rich and full of details, harmonizes apparently discordant elements and intertwines them together by a skillful use of drawings and paintings. The resulting is unique, fanciful whimsical, undertones of wit and a good old vivid finish. This new and fascinating wonderland of possible realities combines with the human figure, plants, animals into a singular, calm, dark vision.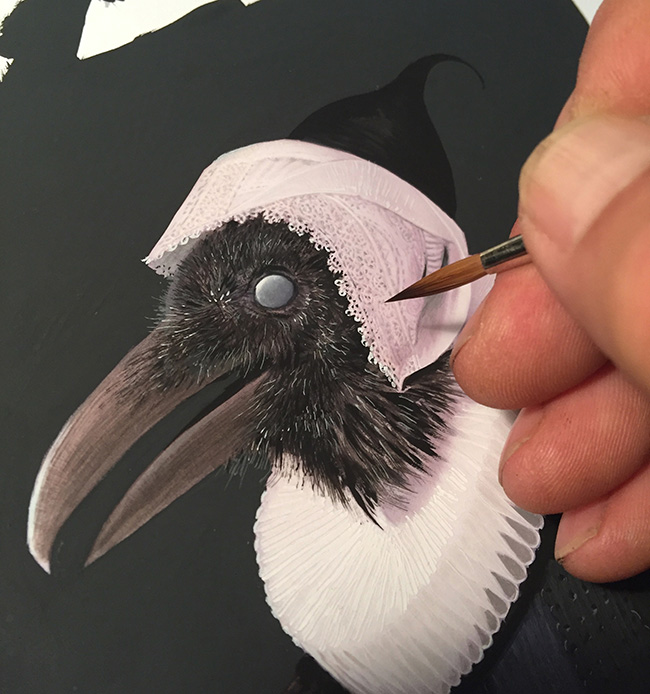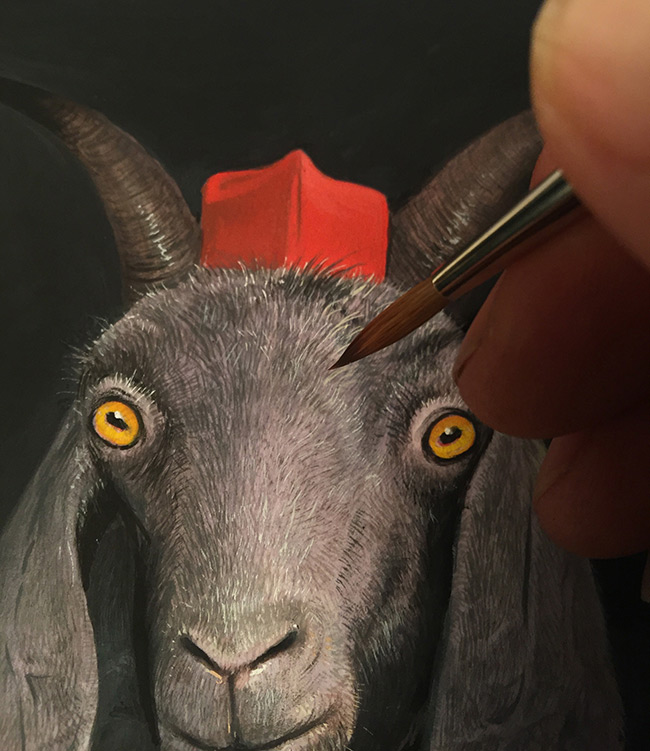 Bill Mayer is absolutely amazing. If you need an illustration of that fact, here it is. Not only have most of the Fortune 500 Companies been Bill's clients one time or another, Bill's crazy creatures, characters and comic creations have been sought after for Magazine covers, countless articles, editorials and ads, product packaging, US Postal Service stamps, posters, and even as designs for Steuben Glass. Bill has won almost every illustration award known to man, and some awards even known to fish.
Bill and his wife Lee live in Decatur, Georgia. They have a son, Jason; and three grand boys: Forest (22) and Zak (9) and Dash (7). Although they continue with the present no-pet-replacement policy, they still have a small rabbit that barks.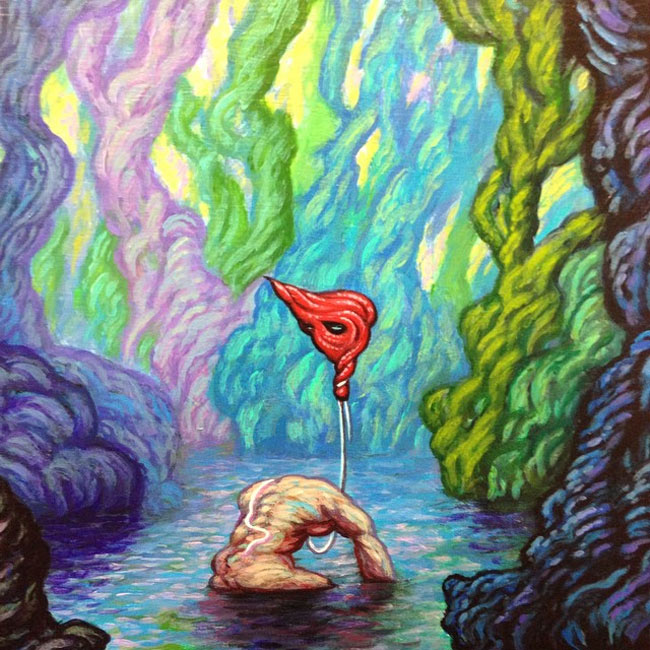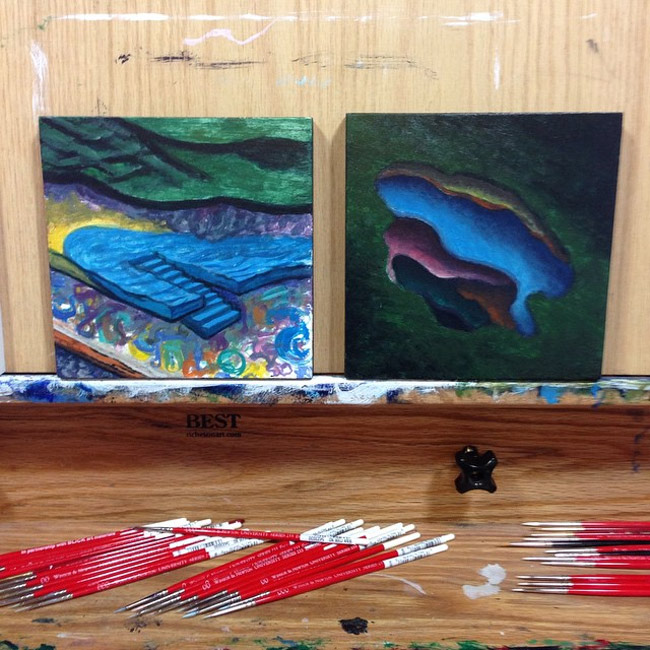 Nathan Spoor is an artist, author and curator living in Los Angeles, CA, whose work is highly regarded by several prestigious collections and publications worldwide. Spoor is Head of Curation & Community for Society6, as well as the Creative Director / Producer / Editor of the Society6 Art Quarterly + Flipside art zine.
Spoor's paintings involve images of transition and growth; fluid narratives that chronicle a world rich with the mystery, joy, pain, and delicate balance of personal and spiritual evolution. A practitioner and student of Suggestivism, Spoor is working on an open-ended, organic and personal series of works entitled 'The Intimate Parade', begun in 2002. Spoor believes that continuous study of technique and process are critical to his own growth as an artist. No image or canvas is too precious to wipe, repaint, and even burn on his own journey to discovery and expression. In this way, Spoor makes a personal and transformative connection with each piece that for him lives on beyond the finished works.
With a writing style that shows an impressive passion and understanding of the arts in context, Spoor continues to bring challenging and informative text on contemporary art to the forefront of culture. Spoor authored the evocative contemporary art volumes, "Suggestivism: A Comprehensive Survey of Contemporary Artists" (2011), "Masterworks – Defining the New Narrative" (2014) and "Suggesitivism Resonance" (2018) which document and identify a selection of the primary artists involved in the new narrative being created in contemporary art.
If you are interested in receiving the Collector's Preview for Vestiges to Voyages, please email us at info@wowxwow.com. Thank you.