'Made of Stars' by Ana Bagayan
My upcoming solo show 'Made of Stars' introduces a new series of colorful aliens called the Rainbow Children, who land on Earth and are taught the ways of society by a human child. This show features 8 new paintings and 7 drawings exploring the reoccurring cosmic themes in my work but from a new perspective. The alien figures are presented in an everyday human environment and the human figures are presented in a more surreal virtual world.
I wanted these artworks to have an educational feel to them. For inspiration and composition reference, I turned to my collection of Soviet-style children's schoolbooks from when I was a child going to school in Armenia. These books were largely picture-based and filled with Soviet propaganda, so they could be understood by any child, even if he or she didn't speak the language.
My family immigrated to the USA when I was six years old so the feeling of being alien in a new country is relatable for me. It was important for me that these images be child-friendly and pure of heart.
My own imagery depicts alien children learning about the basics of being human in the 21st Century, such as friendship, eating and drinking, cryptocurrency, and learning self-defense and discipline from the wise old pine trees. 'The Karate Treecher' takes inspiration from my own life as I have begun learning the martial art of Krav Maga for the past year. This is a series that I have been very passionate about and will be expanding on it in the coming months.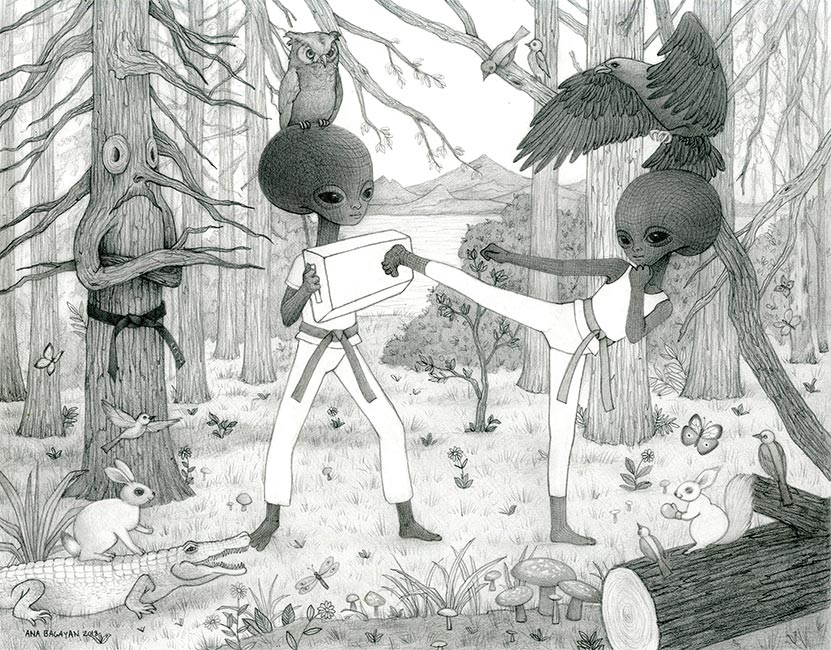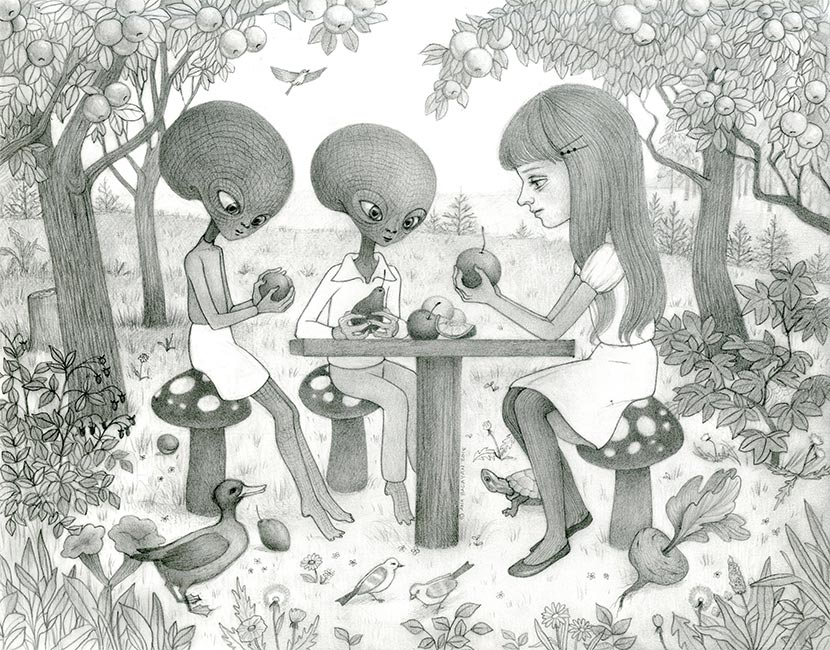 FB69 Gallery has released a new show poster featuring 'Entangled' which will be available starting opening day. I will be in attendance for the artist's reception and am looking forward to my trip to Münster!
The show opens on Nov. 2nd at the new FB69 gallery space in the Germania Campus in Münster, Germany. For a preview list or purchasing inquiries, please contact the gallery at info@FB69.com.
'Made of Stars' Facebook Event