Amandine Urruty taps into a fantastical stream of spontaneous creative thought and channels it to the tip of her pencil, which flows over paper, leaving behind a wondrous world filled with curious characters, engaged in even more curious pursuits. With no limits placed on subject matter, Urruty trusts her instincts and draws inspiration from a wealth of eclectic interests which span the wide gap between high art and pop culture. Revelling in the mystique of her decision making process, she engages in the creation of a unique and personal symbolism, which unveils and unravels itself over the course of time. Having fallen in love with arguably the purest artistic medium of them all, the pencil, Amandine currently focuses her attention on producing monochromatic renderings of her otherworldly bestiary, lending them an aura of timeless enchantment.
Amandine Urruty was born in 1982 in Toulouse, France. She studied at Université Toulouse where she gained a Masters in the Philosophy of Art. After a short career as a singer in an underground band, Amandine focused her attention on producing her own art art, and has since had several solo shows. Her work has also appeared in numerous group shows around the world, at venues such as Jonathan LeVine Gallery, Nucleus Gallery and Bradbury and Blanchard Gallery.
WOW x WOW were keen to learn more about this intriguing young artist, and so were naturally over the moon to receive an opportunity to ask her a few questions. Find out what she had to say in the following interview.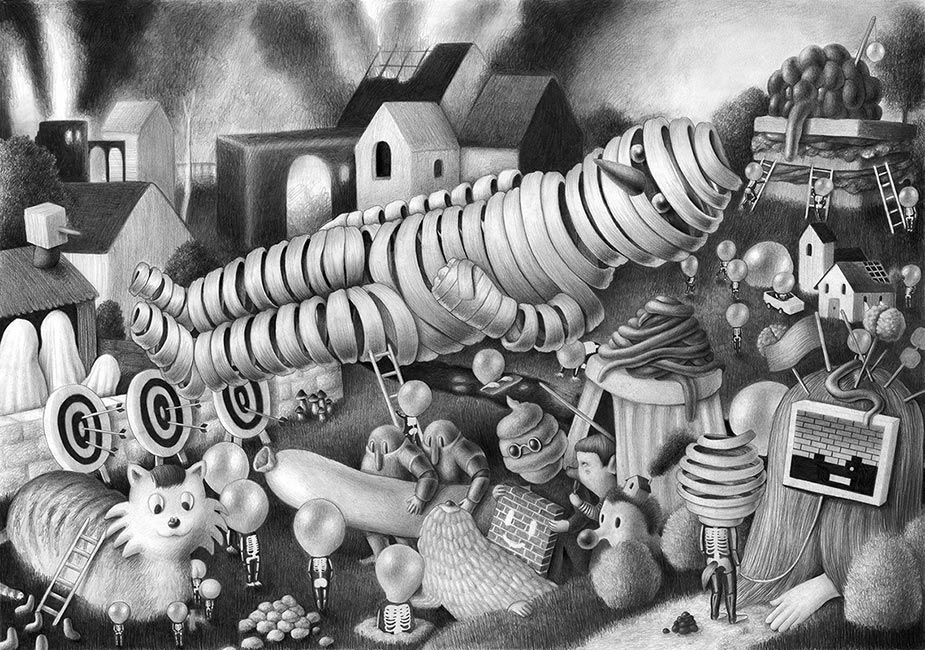 Hi Amandine, thanks very much for making the time to have a chat, we really appreciate it. To get us started, can you give us some background on what has lead you to this point in your professional life, be it your formal training, serendipity, etc.?
As a child, I already knew I wanted to be an artist. I was quite solitary, living in a small rural town. Drawing was a good antidote to boredom, and it quickly became my main activity. Then, I moved to a bigger city and naturally started to study art at university, initially in order to become an art teacher. At that time I thought it would be totally impossible (and stupid) to work as an artist. I stayed eight years at the university, and as my student work was becoming more and more theoretical (doctoral thesis, etc.), I began singing in a band. To be honest, I was an awful vocalist, but it was the occasion that inspired me to create my first posters, record covers, t-shirts, etc. And that's how it all began, actually. We used to do a lot of fly-posting at night, and as I began to receive feedback about my drawings, I left university, a gallery proposed hosting my first show, and I did my first illustrations. That was eight years ago.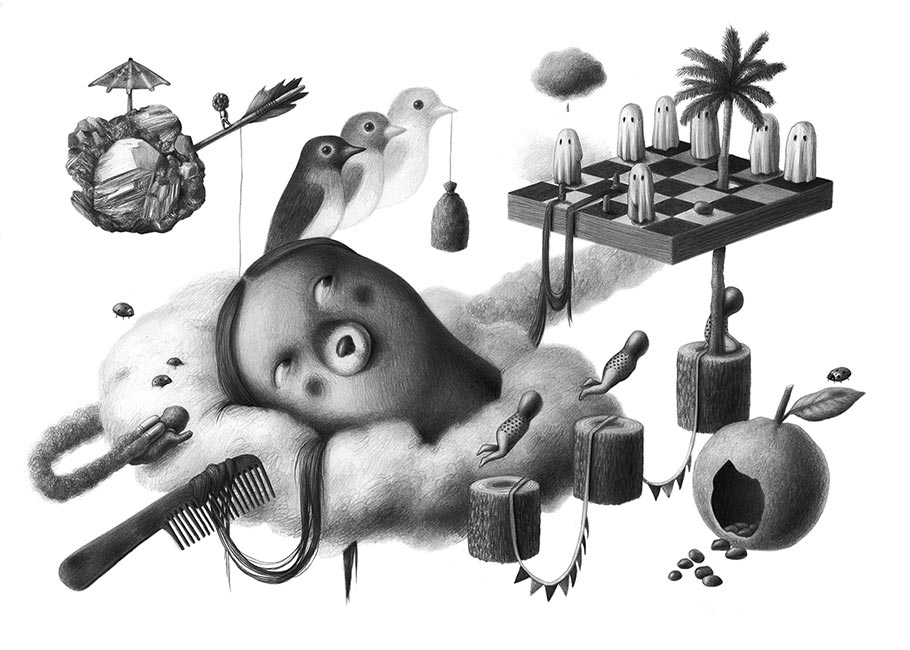 Please tell us about where you are currently living and what you like most about the area?
I'm currently living in Paris. It's a bit clichéd (I know), but it's such a beautiful place to live in! I really love big cities for their dynamism. Paris makes me feel like I can get lost very quickly, crossing very different landscapes and atmospheres in the same city. That's why I often go out walking, during hours, when I need to take a break. And, of course, there's a great community of artists here, and lots of stunning shows to see. I much prefer that to the quietness of the countryside.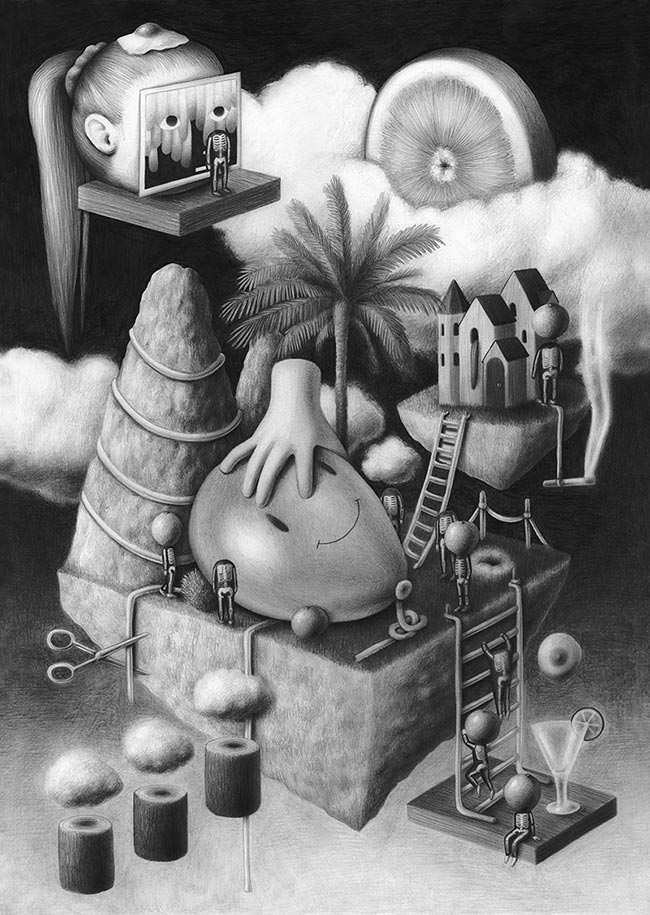 Your preferred weapon of choice is the good old fashioned pencil. What is it about pencils that you love so much?
There are many reasons why I love pencils so much. I love their 'primitive' aspect. To me, graphite pencils are fundamental tools. And to be honest, I've never been very good at painting. I don't know why, maybe I'm not patient enough? Or maybe I'm a bit too clumsy. But I've always preferred pencils for their ease of use. Pencils are also much cleaner than paint, and that's a real advantage considering I've got a bad habit; I've always worked on my bed. With pencils, I can limit the damages.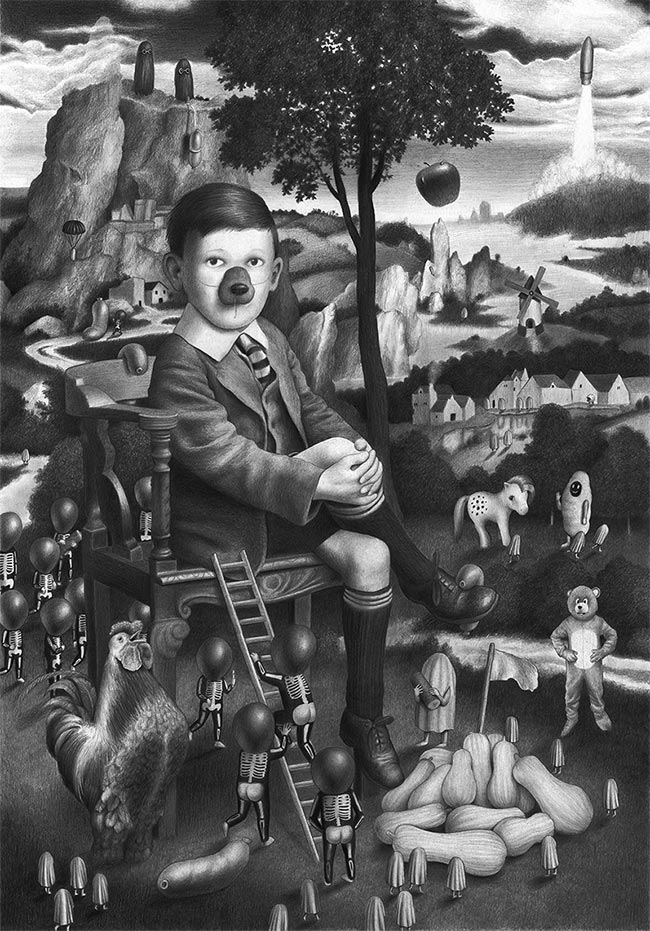 Many of your recent works have been black and white. Can you talk to us about your decision to refrain from using colour?
My very first works were black and white, but they were slightly different from the recent ones, more rough, less precise, made with pens and not pencils, with little lines and less gradations. At that time I used to swear I would never, NEVER use colour. Well, well. I changed my mind only one year later, and began producing very colourful pictures with fluorescent pencils. At that time, I thought these loud colours and rainbows were part of a 'magical thinking' plan. It was a childish way to cope with a new (and so sad) period I had to face. I really immersed myself in candy pink and neon yellow for two years, producing enough drawings to publish a 128 page book called 'Robinet d'Amour'.
When my dad finally died, I decided to go back to black and white. It could seem a bit emo, but who cares. Today, I don't think I'll use colour any more, not for the moment at least. I love graphite too much. It has endless possibilities.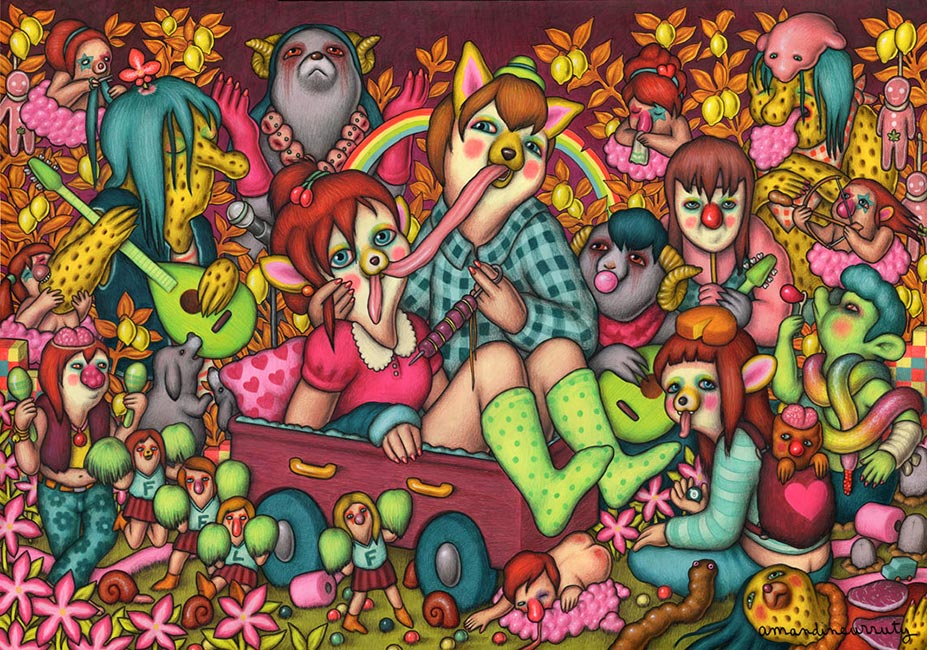 How would you describe the universe that unfurls from the tip of your pencil to someone who has never seen your art?
I think it would be a kind of ragout, mixing antique toys and medieval bestiaries, Dutch landscapes and Little Ponies, a little bit of spicy sausage, slimy monsters and lots of love.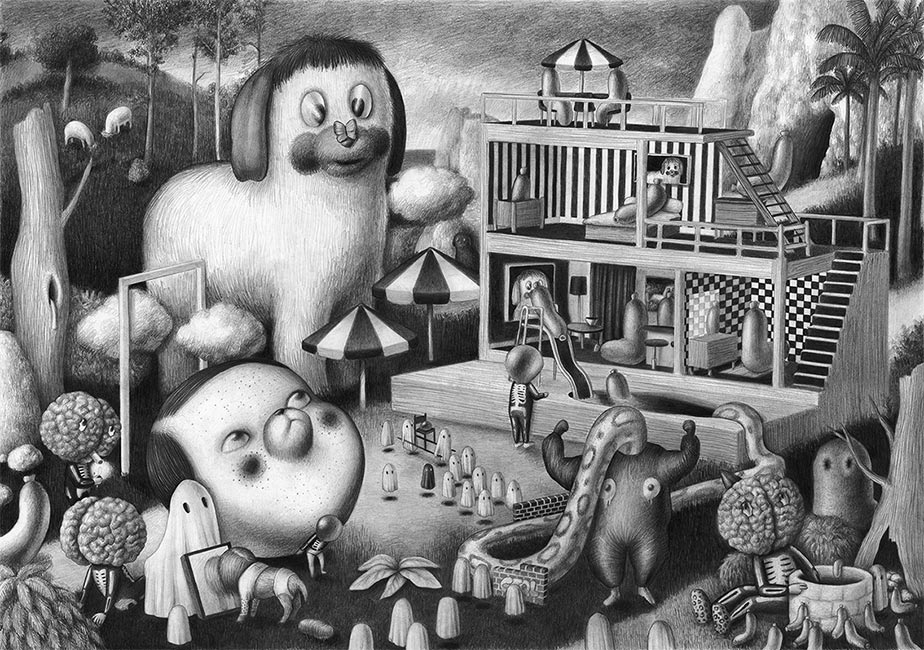 Do you attach any symbolic meanings to the recurring elements within your visual vocabulary?
Of course, yes, but I think it would be unwise to try to explain them. All these ghosts, mummies, sausages, Medusa-like characters (amongst others) have been accompanying me for a long time now. They often have their origins in personal feelings or events, but it seems clearer in retrospect. For example, I think I had to draw houses precisely when I felt homesick, leaving friends and family for Paris. When you read it this way, it seems simple!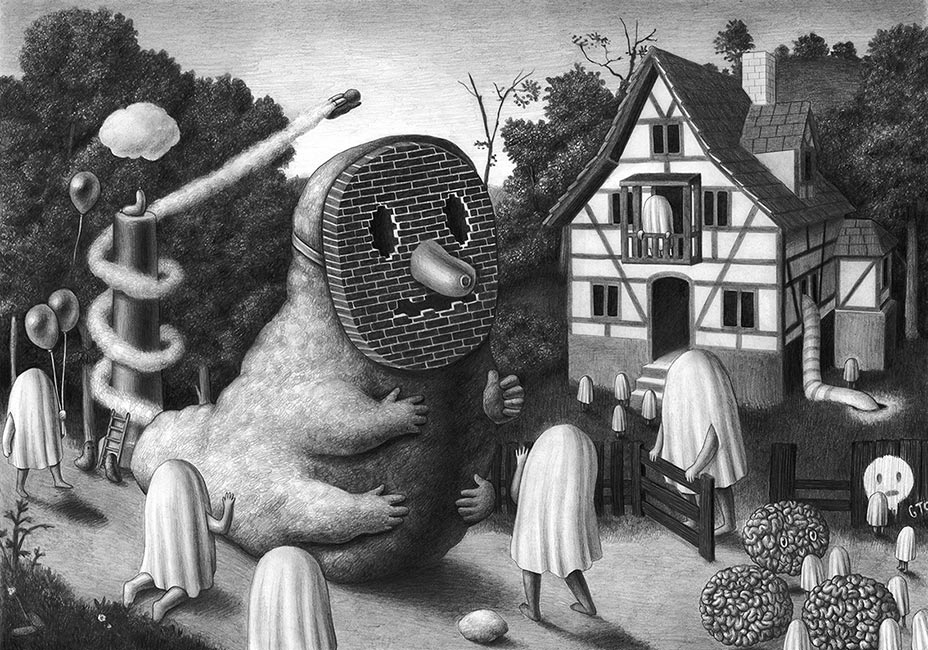 Imagine, all of a sudden, you find yourself residing within the drawn universe you have created. What would your character look like and what would you be engaged in?
I think I would look like a big blob made of sausages drinking a margarita in a hammock, surrounded by little mummies playing ukuleles. In the background a tropical forest, a waterfall and an obese cat in a basket, looking at a levitating wool ball. It's hot. I'm melting. To the right of me there are little ghosts building a castle with cheese. I hope it will have air conditioning.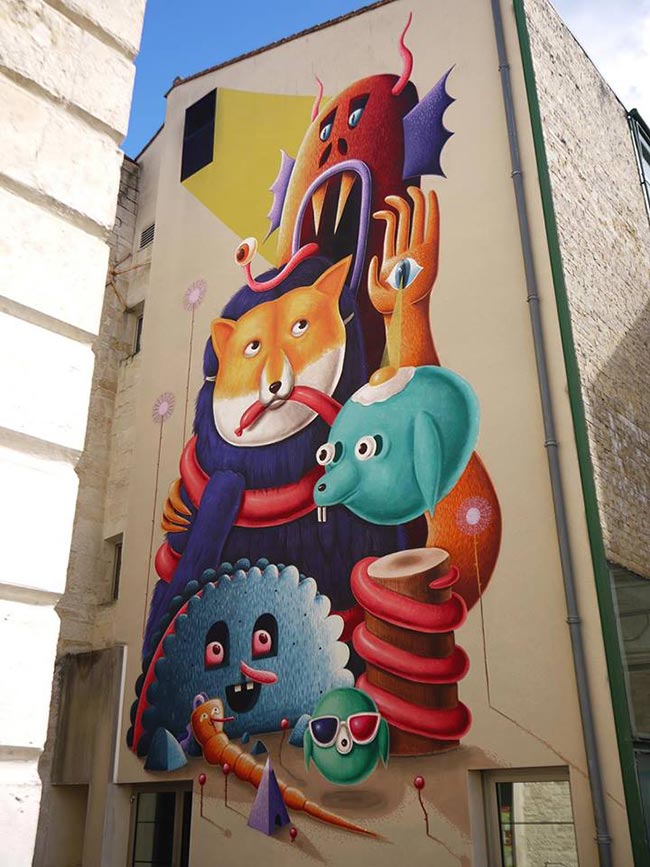 Aside from your gallery work you also engage in outdoor mural painting with artist friends. Can you tell us a little about how this came about and how you approach the collaborative process?
I began doing mural paintings a few years ago, and at the beginning it was just some kind of funny challenge! But in the end it was not as catastrophic as expected, so I decided to continue. I've since had great opportunities to paint big walls in Thailand, Finland, Georgia, Spain… I still prefer paper to walls of course (and loneliness to group work), but it's always a nice thrill to start working on a big wall. When I work in a team, often with Nicolas Barrome, the collaborative process is both funny and difficult, but we try our best to be proud of our walls!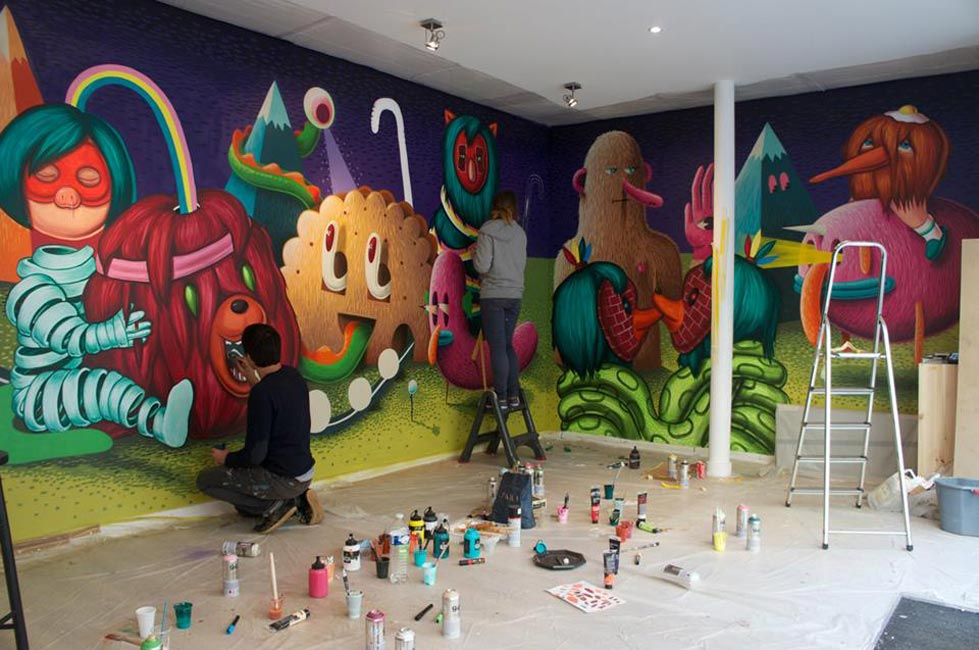 How important is the role of your subconscious to your creative process?
Wow, that's a difficult question, as I'm not particularly versed in psychoanalysis! As I said before, it's funny to note as an afterthought what each element can mean. So I guess the subconscious is important, but I don't really want to dig deeper. I prefer to keep my approach to drawing spontaneous and funny.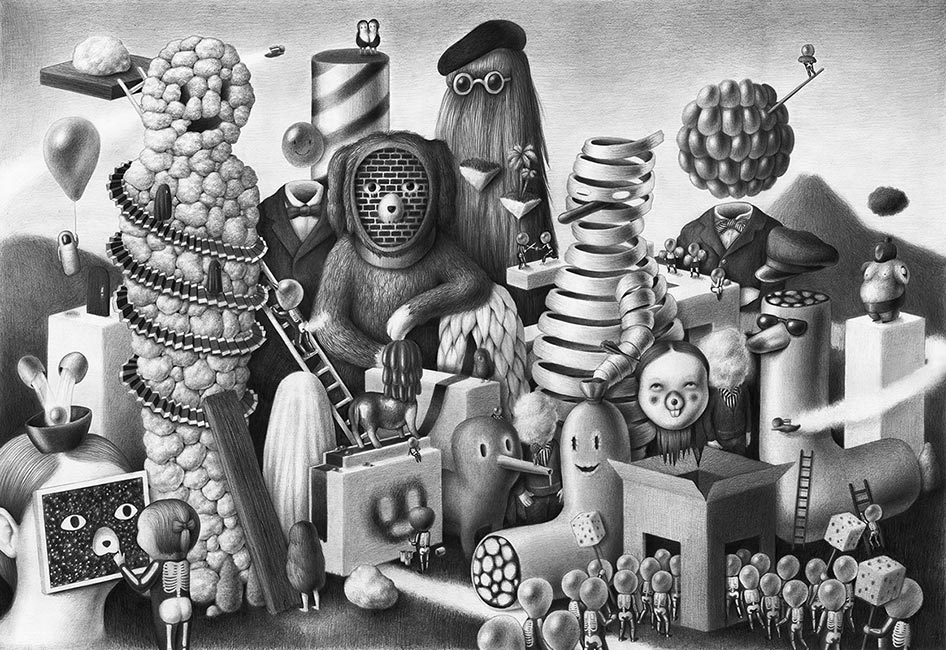 Having been the vocalist in a band, music is clearly important to you. What kind of effect does music have on the type of imagery you conjure up?
I used to listen to different kind of music, from free jazz and sunshine pop, to prog rock and bossa nova, noise, electro… I don't know why, but when I work now, I rather need to listen to stories, especially stories about serial killers.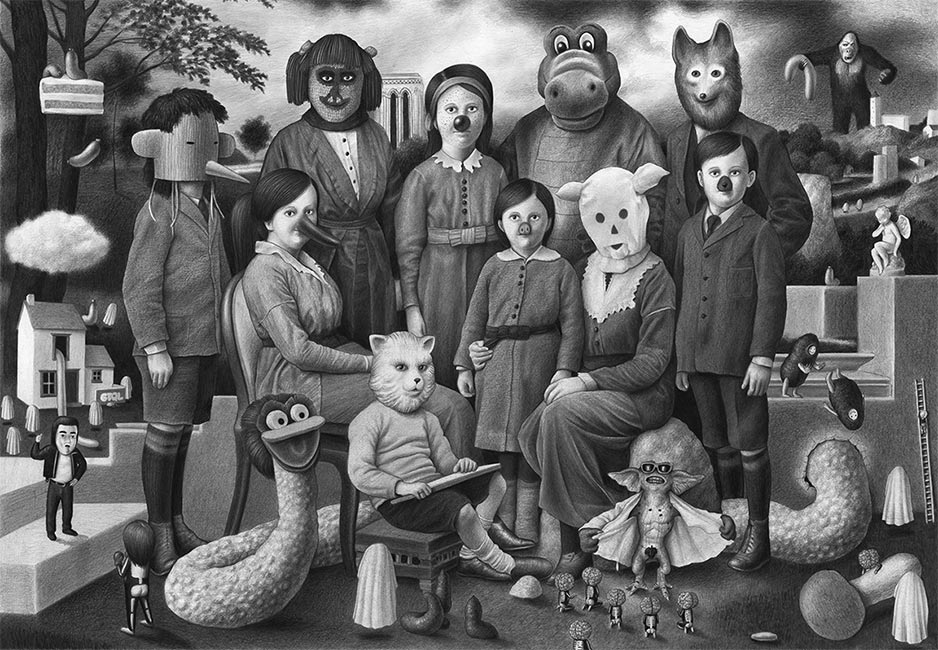 What is your relationship with art history? Do you feel that it's important for an artist to have an understanding of what has gone before them?
Yes, at least it's very important for me. Personally, I've always been fascinated by the Renaissance, Neoclassical and Romantic periods. I used to learn how to draw by copying David, Ingres and Michelangelo (yes, my teacher was quite 'old school'). I do love the old paintings' majesty, sometimes they even make me salivate (true story). And of course Hieronymus Bosch is a big influence for me, as well as lots of Flemish, Italian and French painters. I love to get inspired by their universe to construct mine, even though I can't compete with them!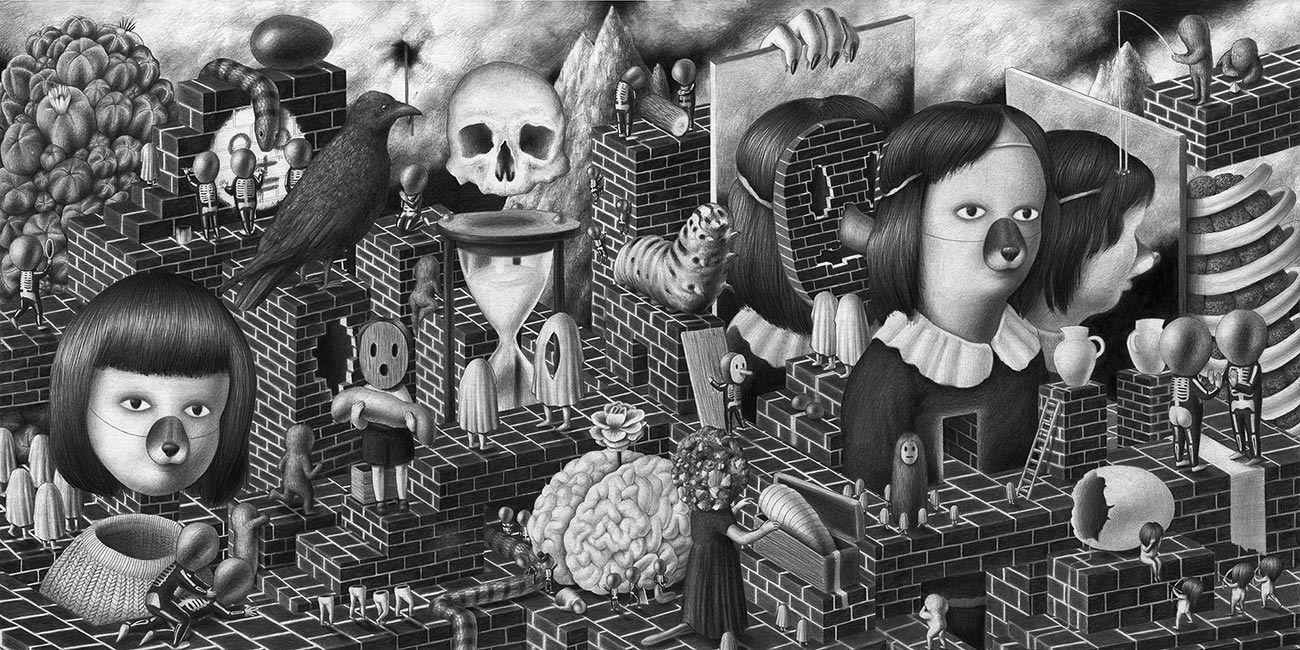 In order to get a better understanding of the personality of an artist, it can help to get a peek behind the curtain. Would you be willing to share a story from your own life, one which you feel has contributed to shaping the person and therefore the artist you are today?
Like lots of people who work as artists today, I used to be a real weirdo at school. I think I should thank all those people who used to laugh at me because I had the wrong clothes and the wrong ambitions (and because I sat down on a dog shit once), they taught me a lot about perseverance and tenacity. And self-mockery too.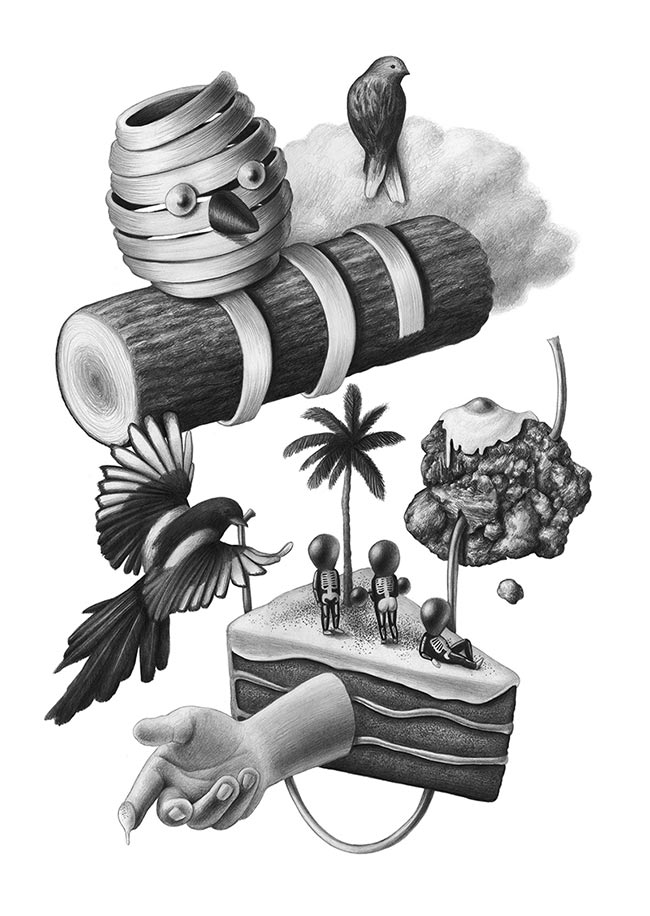 What's next for Amandine Urruty?
For now, I'm showing two drawings at Jonathan LeVine Gallery in New York (till May 2), I'm working on a commercial project, and then I'll be working all spring and summer long on my upcoming shows, a solo show in Paris in September, and a group show in Tampa in September too! I'm also preparing two solo shows for December, one in Valencia, Spain (at Plastic Murs Gallery) and the other in Portland (at Hellion Gallery). I need to produce lots of drawings, and I've got lots of desires… And maybe one or two walls, we'll see!