Heiko Müller doesn't like to think about categories. He makes the art he wants to and uses the techniques that best suit his needs. In doing so, his work soars free of categorisation in both subject and approach. Müller's art comes from an urge to explore. He has a deep love for the great outdoors and is on a constant mission to reveal the dark activities that take place behind the façade of nature. His landscapes are often the dwelling places of fantastical creatures and brightly coloured floating dots, all of which evoke feelings of curiosity and unease. Heiko wields an extensive armoury of mark making knowledge which he skillfully employs alongside his vivid imagination to create images filled with expressive raw power.
Müller was born in 1968 in Hamburg, Germany, where he still lives and works. His art has been exhibited internationally for many years and resides in private collections around the world.
WOW x WOW caught up with Heiko and asked him a few questions about his career as an artist.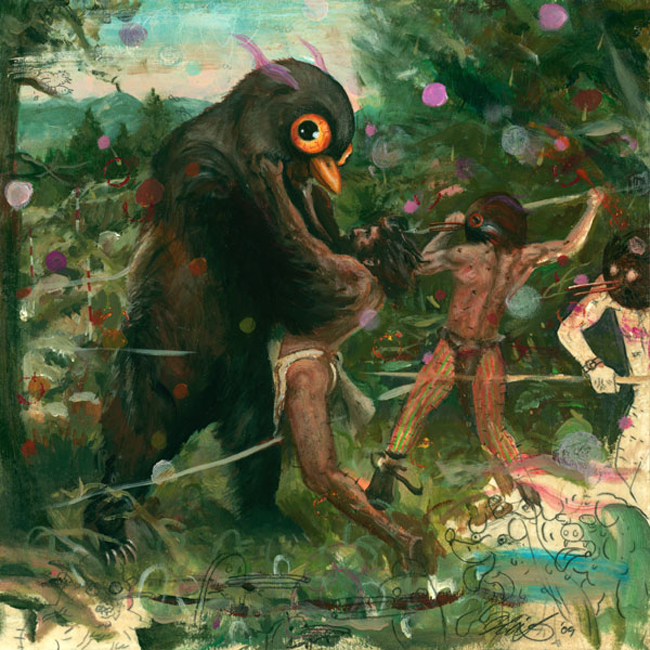 Can you tell us a little about where you live?
I live in a small town close to Hamburg in the North of Germany. I only have to walk a short way down the road to reach a forest with a number of lakes. I try to make this my jogging track once or twice a week and when I do, I sometimes see roe deer. My son Leo once discovered big antlers. Sometimes you can spot rare birds and in the summer there are myriads of tiny frogs. I grew up in the city and had to make a day trip to take a walk in a forest like this one. That didn't happen too often, so I really appreciate having such a place nearby.
An obvious love of nature and the outdoors inspires much of your art, but what inspires the surreal elements that appear throughout your work?
When I was a kid I had to share a bedroom with my brother, who is ten years older. He pinned a big poster on our wall. It was Dali's 'Geopoliticus Child Watching the Birth of the New Man'. The painting fascinated me and so I got infected by Surrealism so to speak. I'm not such a big fan of classic Surrealism anymore, but I still love novels, comics and movies with surreal elements. The comic book artists that I find most influential are Daniel Clowes and Charles Burns. I read their books regularly. What I like most about them is that they always radiate a great sense of calm, regardless of how bizarre they may get. When it comes to movies, I prefer the classic directors: Fritz Lang, Luis Buñuel and Alfred Hitchcock. As far as novels go, I love those of Haruki Murakami, David Mitchell and Gabriel Garcia Márquez, just to mention a few.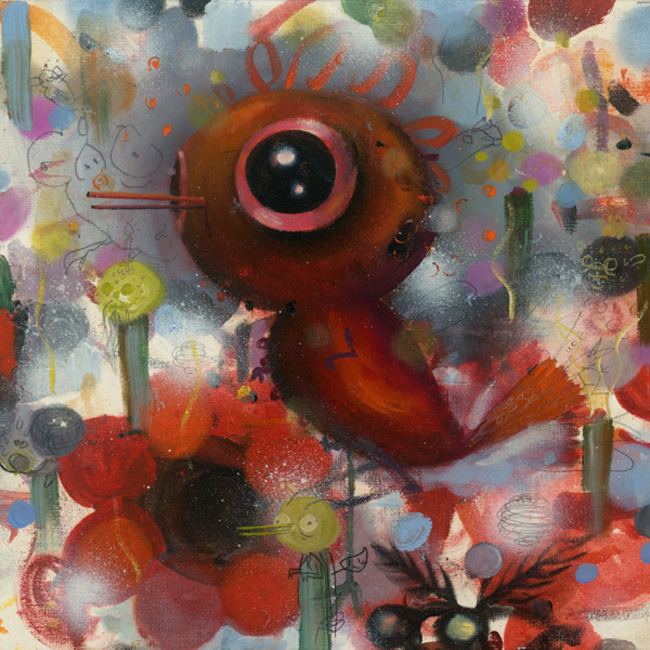 Your paintings traverse a wide range of mark making, going from softly blended areas to very loose and expressive brush strokes. Sometimes these variations occur within the same painting, but more often you stick to one of these styles for a specific piece. How do you go about choosing which painting technique will suit a particular image?
I love to work in both styles, but to work in the more loose and expressive technique is a little bit more exciting for me. The only problem is, that when I start with such a painting, I'm not sure where the journey is going. Those paintings look like they were made rather quickly, but in actual fact, quite often I have worked on those longer than on the more realistic pictures. During the last few years, I was in a steady state of being behind in my schedule, that's why I've made more realist pieces. Don't get me wrong, I love to paint realistic too and it is still very interesting for me to try to increase my technique.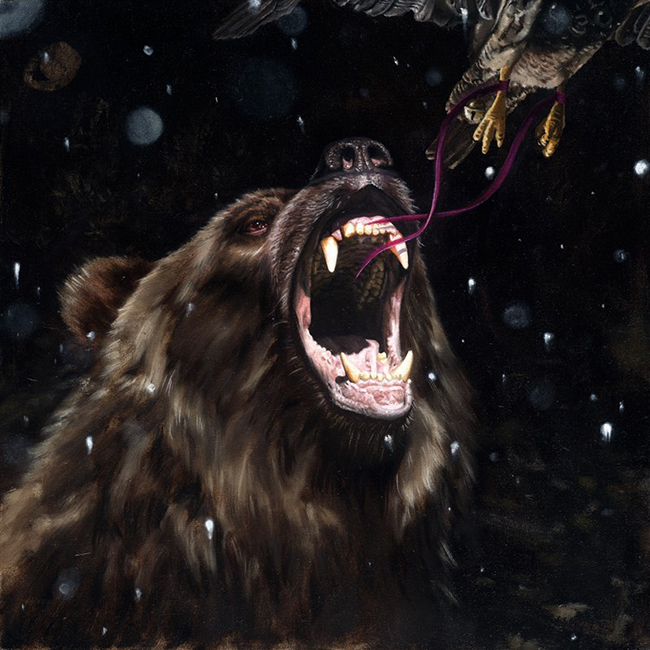 You have exhibited your art on New Contemporary/Pop Surrealist scene for many years now and your drawings and paintings have been exhibited in galleries all over the world. What is the New Contemporary art scene like in Germany and what are your hopes for its future?
About 10 years ago, I became a member of the Art Dorks Collective, which was founded by one of my favourite artists, Brendan Danielsson. I think the group was made up of 22 artists from the US at that time, plus me. They organized group shows for us in Sacramento, LA and New York and so I asked the gallery Feinkunst Krüger if they would be interested in doing a similar thing here in Hamburg. They accepted and for 9 years now, we have been putting on this group show every year during December. From the very first exhibition in 2006, the gallery and I decided to curate the show with a mix of Art Dorks, some other artists we like from the US, plus some European artists who are related to Lowbrow and Pop Surrealism. Throughout the 8 exhibitions we've had so far, we've shown about 100 artists including Ron English, Gary Baseman, Femke Hiemstra and Travis Louie, just to name a few. The show has received so many fans and there are quite a number of people in Hamburg who refer to this show as 'the art highlight of the year.' That's also why I'm puzzled that almost all the other galleries in Germany who were specialising in showing Lowbrow/Pop Surrealism closed during the last few years. And not only those. Also my favourite galleries for Street Art and Urban Art closed or decided to make a break for an undefined time. Even though there would be stiffer competition for us, I would prefer to have more galleries here who show the type of art that I like the most.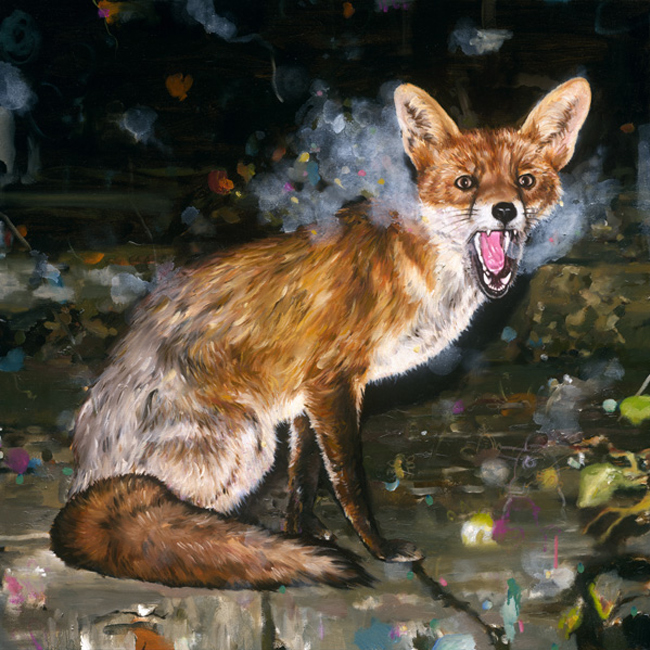 What has been the highlight of your career so far and why?
When I was a student I was a big fan of Fred Stonehouse's work. In 2007 we both took part at a charity show which was curated by Gary Baseman and I actually got a very nice email from him saying that he liked my painting. Later that year we met in Berlin and it was really great. We swapped paintings and talked about showing together. One year later we did a small group show together with Femke Hiemstra and Anthony Pontius and in 2010, Fred, Femke and I did another group show together. Fred and Femke visited us in Hamburg to attend the opening and even though I have had some nice solo shows since, I would still say that the group shows with Fred and Femke are the highlights of my art career. I really love their art, but more important is that we became friends. The exhibitions were quite successful for all of us and so it was really nice to enjoy those experiences together.
What's next for Heiko Müller?
I just had my biggest solo show so far, on which I worked for the last 18 months, but there is no time for a rest, as in November there will be the opening of 'Don't Wake Daddy IX', an annual Lowbrow group show which – as I mentioned above – I've been curating, together with the Feinkunst Krüger gallery, for the last 9 years. Then the Jack Fischer Gallery from San Francisco will show my stuff at a side fair of Art Basel Miami in December. Next year I'll have shows in Portland and San Francisco, both in May.