The Adventures of Yoskay in Portland – An interview with artist Yoskay Yamamoto by Matt Wagner (owner of Hellion Gallery)
Yoskay Yamamoto's solo show, "Rainy Day with a Chance of Sun" opened at Hellion Gallery last Thursday and runs until November 1st. While he is here, he will also be painting a mural. Busy guy. Since he and his fiancé are staying with me, it seemed like a good time to sit down with him and chat.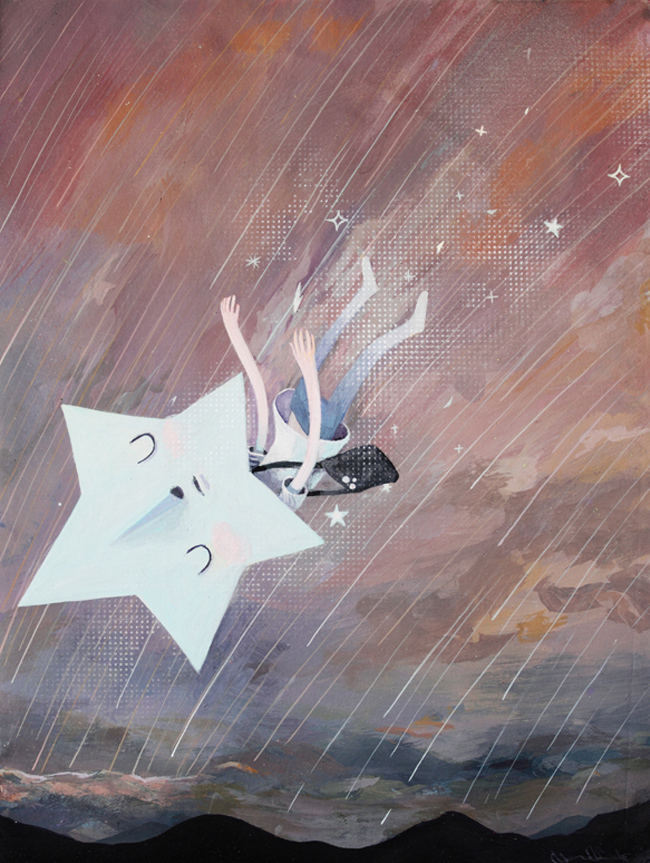 Yoskay, you have spent the last 5 months working on your current body of work. Now you are in an uncommonly sunny Portland. Distinctly absent is our infamous rain. Could you give me an idea of how you came up with the title, "Rainy Day with a Chance of Sun" and how it relates to the work?
First of all the location had to do a lot with titling. I wanted to come up with a title that was appropriate to the city of Portland. Also with this new body of work I explored the balance of melancholia and simple joy of everyday life, and I wanted to represent the dualistic nature of one's life. Sunny days are more enjoyable once you experience the rainy days.
I love all of the work but sculpture has a special place in my soul. Do you have a preference between 2D and 3D? Which is more enjoyable to make?
I feel the sculptural work comes more naturally to me, and paintings are a bit more difficult to get the result I'm trying to achieve. But lately I have been spending a lot more time pushing my brushes and I feel more comfortable with the medium. Also there are surprising moments with the painting process that are satisfying. I plan ahead more with sculptural work because the material of wood is very unforgiving, but with painting I can be more spontaneous and that could result in a place I never meant to discover.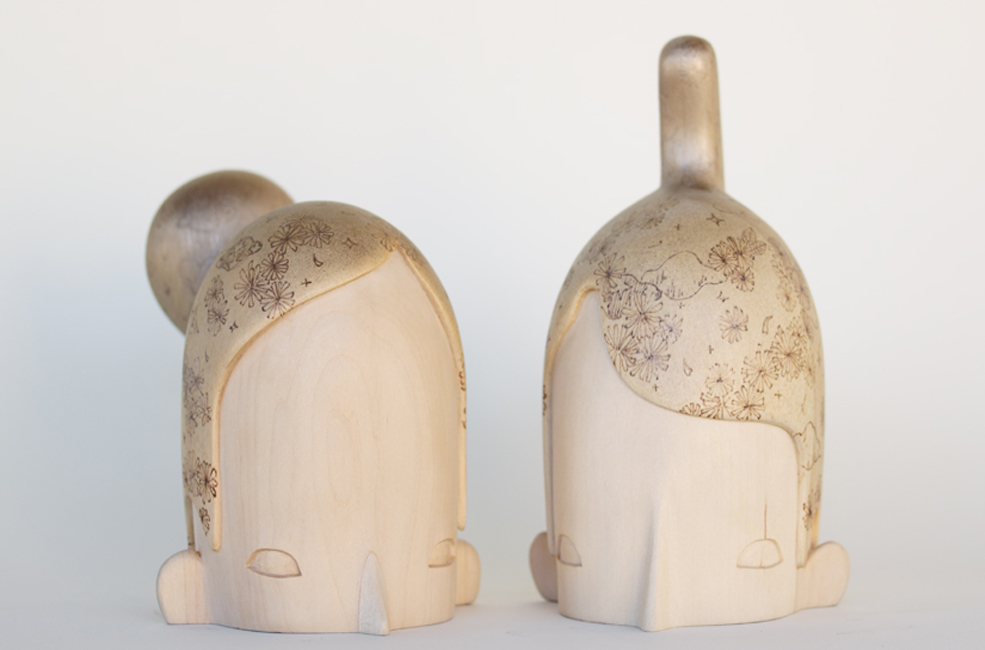 You told me this was the first opening outside of California that you have attended. What did you think of Portlanders' reaction to your work at the opening? What do you think of our little exploding city? When are you moving here?
Putting this show together was challenging in many ways. Not only is this my first solo exhibition outside of California, it is also the first time for me to hold two solo exhibitions in one year, period. So I made sure my approach and new work was different enough from the previous show that I had in May.
I think the new work was well received, at least from the conversations I had with people that visited during the opening. It was nice to share the work in such a welcoming atmosphere to such a wide range of audience, from young kids to older age groups. This city never seems to disappoint me, the more I visit Portland the more it finds a special spot in my heart. I'm ready to move here anytime but I have to confirm with my fiancé first!
Now you are working on a mural in Portland. It's a bit of a different mural than you have done before. It will be painted on louvered panels that will be mounted to the outside of a new building in Portland. It seems like an intimidating project. How did you approach designing this mural on such a new type of surface?
I'm still having a difficult time wrapping my head around this lenticular style mural. The traditional lenticular painting consists of a series of triangular pillars with only two sides to paint. But this mural has three sides for me to work with due to construction factors. So I have to approach it with bit more flexibility and spontaneity. The client wanted to have a sense of movement and an animated feel, so I created a design that focused around the idea of migration. One side of the mural is a submerged head with the lighthouse on top of the head with boats and ships sailing through the sky. And the other side is another submerged head, and with this one I have an empty fish bowl on top of the head with fish swimming around in the sky. My idea is about the migration and journey to discover the new land or place that can be considered to be a home.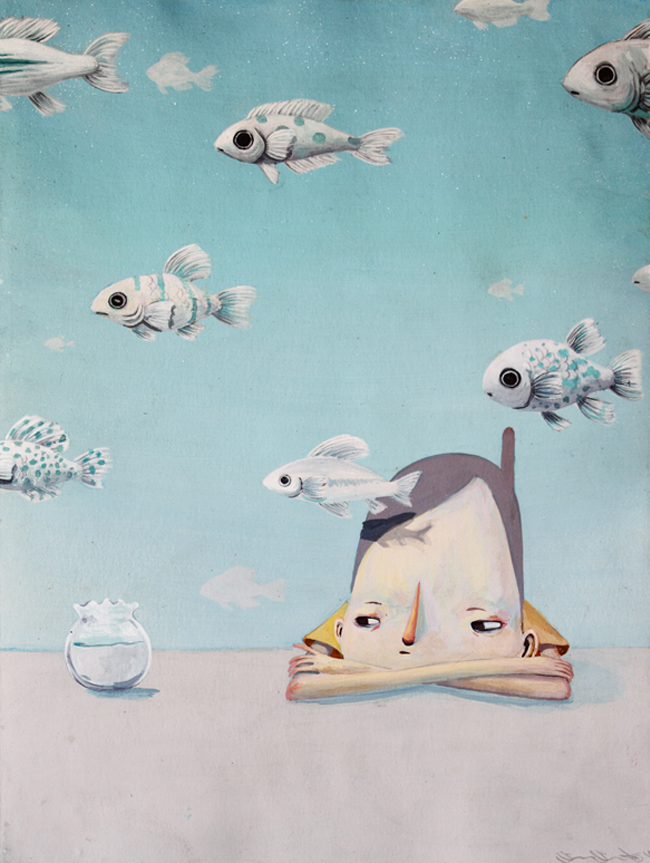 You also have a show opening in your hometown in Japan. How did this show get planned? How do you feel about having your art in your hometown?
I'm really excited about this little show I'm going to have at the end of the month in my home town Toba. The show will be taking place in a new coffee shop called "Musea" and it is organized by my brother.
When I was staring up my art career my very first solo show was at a little coffee shop in Santa Barbara California, so it makes me feel humble to return to my starting point again and to be able to share my work in my home town.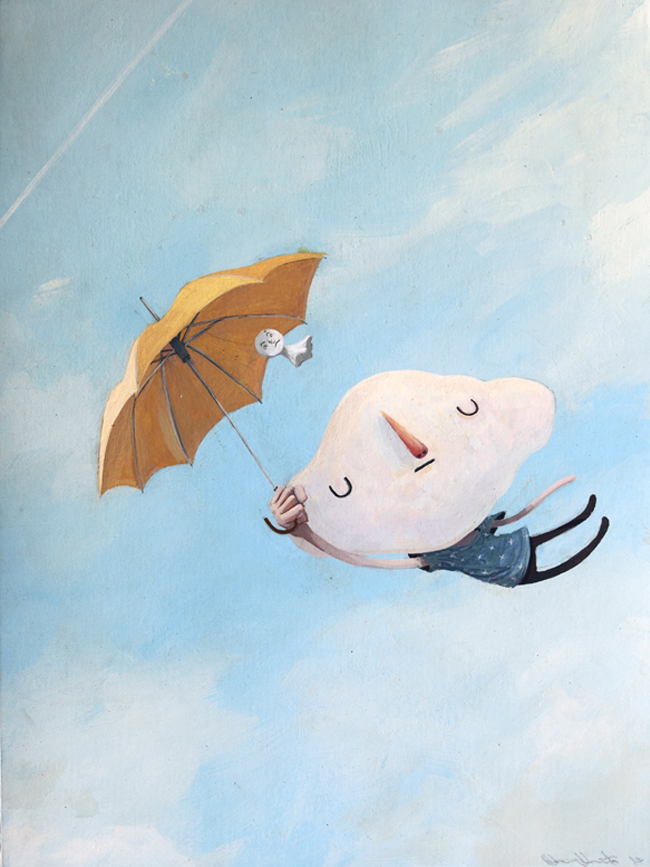 You are starting a new ceramics project. Coincidentally you are working with a local ceramics studio. Can you tell us about the concept and where you hope to take this new company?
My fiancé and I are staring a company called "sunny side up studio" which focuses on house hold items with a unique design. Our first project is a piece of pottery called "pothead" and we are working with a Portland company, Mudshark. I have designed vinyl toys for a couple of different companies in the past few years and the experiences have been great, but all of my toys have been made overseas in China. With our new company we wanted to make our product domestically and working with the good folks of Mudshark is one thing we are so happy about for the new project. In the long run we want to create not only my designs but to collaborate with my friends and artists that we admire and love.