Through the use of both traditional and personal symbolism, in combination with an intelligent wit, artist and illustrator Jeremy Fish revels in the creation of cultured narratives and inventive visual puns. Having developed his distinctive artistic voice and bold aesthetic while working for Think Skateboards and Slap Magazine in the late 90's through to the early 2000's, Fish has since fine tuned his cartoon influenced brands of illustration and fine art into powerfully succinct methods of communication. At the heart of his imagery lies a deep sincerity and a focus on telling his tales without pretension; his chosen vocabulary is kept intentionally simple, clear and concise, while being delivered within a beautiful graphic stylisation, which is naturally suited to flourish within the public and social spheres of everyday life. All of this aids Fish in the creation of artworks which speak to us with immediacy, but which will undoubtedly provide engaging conversation for the years to come.
Jeremy Fish was born in Albany, New York. He moved to San Francisco in 1994 to attend art school, where he earned his BFA in Interdisciplinary Studies from the San Francisco Art Institute in 1997. Since then, Fish has gone on to become a internationally renowned artist, both within the fine art and commercial art arenas. Not only has he shown his art in prestigious galleries around the world and worked with big name clients (including, Nike, Microsoft, Adidas, Paul McCartney and Snoop Dogg), his work has also become an integral component of the visual culture of San Francisco, his home city for the last twenty-three years, where it can be seen adorning signs and buildings throughout North Beach and Lower Haight.
WOW x WOW jumped at a recent opportunity to chew the fat with Jeremy in order to learn a little more about this celebrated artist and find out what he holds dear regarding his current creative practice. Read on!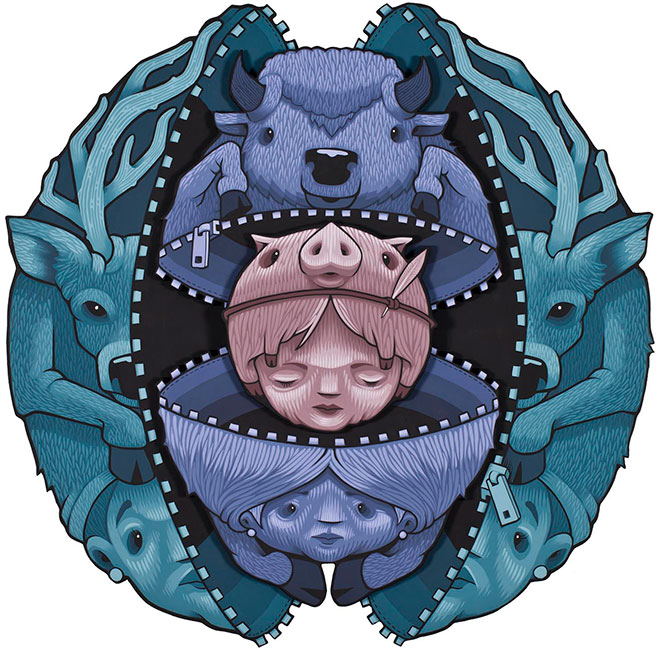 Hi Jeremy! First of all, thanks for agreeing to free up some of your valuable time in order to have this wee chat, we really appreciate it. If you could please start us off by introducing yourself and talking a little about your background, touching on anything you feel has been relevant to shaping Jeremy Fish the artist?
My name is Jeremy Dan Fish, I am 42 years old, and I was born in Albany, New York. I moved to San Francisco to attend art school, and have lived and made my work here for the last 23 years. After art school I worked in the skateboard industry here in SF for almost ten years. I started as a screen print manager, and eventually became an art director and illustrator. I created nearly 400 skateboard graphics, and that was my last full time job roughly ten years ago.
We're interested to hear about where you're currently living and what you like about the area? What is the art scene like there and do you feel a part of that community? Are these aspects of your life that are important to your creativity?
San Francisco is the most expensive city in the entire United States, and as a result the art scene I was a part of in my 20's and 30's has almost completely vanished. Rising costs have made it a difficult place for the arts to grow currently.
What's your first memory related to art?
Drawing cars and trucks with my friends in grade school on stationary and pilot razor point pens from my father's office.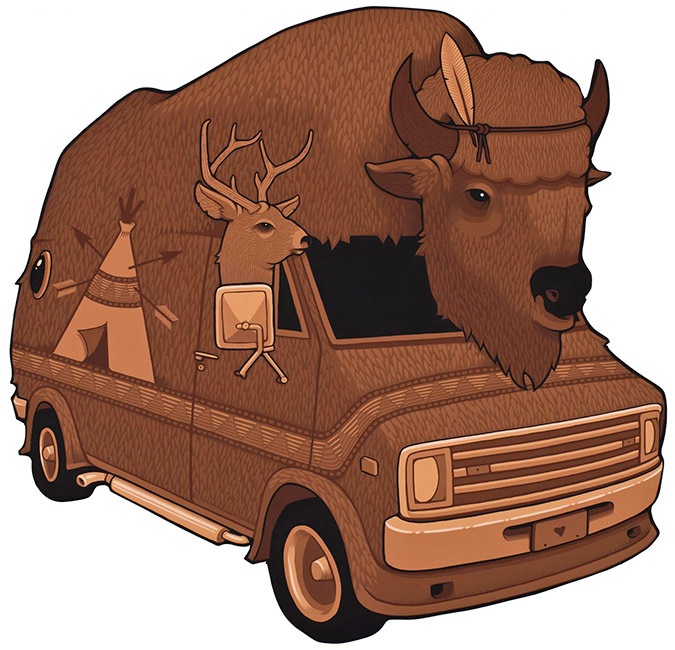 History appears to inform and inspire many of the narratives which form the starting points for your works. Do you generally do a lot of reading and research before you start constructing images? What can you tell us about this aspect of your creative process?
I really only base my works / shows around history when I show at home in my city. I moved to a very historic neighborhood a decade ago, and it sparked an interest for me in the dawn of my city. I became fascinated with the parallels between the original San Francisco gold rush in 1849, and the tech gold rush of the last 15 years.
Much of your imagery combines anthropomorphic animals with man-made or urban signifiers and artefacts. Intended meanings will naturally vary from piece to piece, but could you give us some insight into your general intentions behind these combinations? What was it that initially attracted you to telling stories through anthropomorphic characters and what do you feel are the main benefits of doing so?
The anthropomorphic animals are something I have been drawing since I was a kid, so I am not really sure where the initial inspiration originally came from. I use them in my work currently to describe an inner personality to certain objects, in a similar way that animals are used traditionally in fables. The fox is cunning, the turtle is slow, the rabbit is quick, etc. However, sometimes it may just be the way an animal looks similar to a vehicle or object, as much as it represents a certain type of character.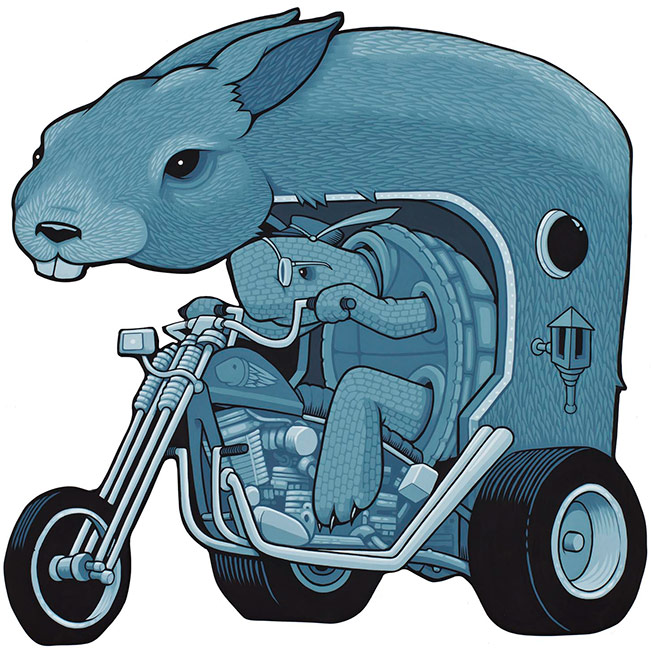 You've previously talked about the early influence that skateboarding (in particular skateboard graphics) and cartoons had on developing your creative aesthetic. Thinking about it at this point in your career, what current aspects of your life do you feel are giving you the inspiration to continually grow and hone your style and skills?
That is a great question, thanks. Cartoons and skateboard graphics were my main initial influences and for sure helped to shape and define my style as a young man. At this stage in my life I draw more influence from things outside of visual art. Film, television, architecture, design, music, and the culinary arts provide more magic and mojo for me right now. I honestly look to visual art for inspiration and motivation as little as possible these days.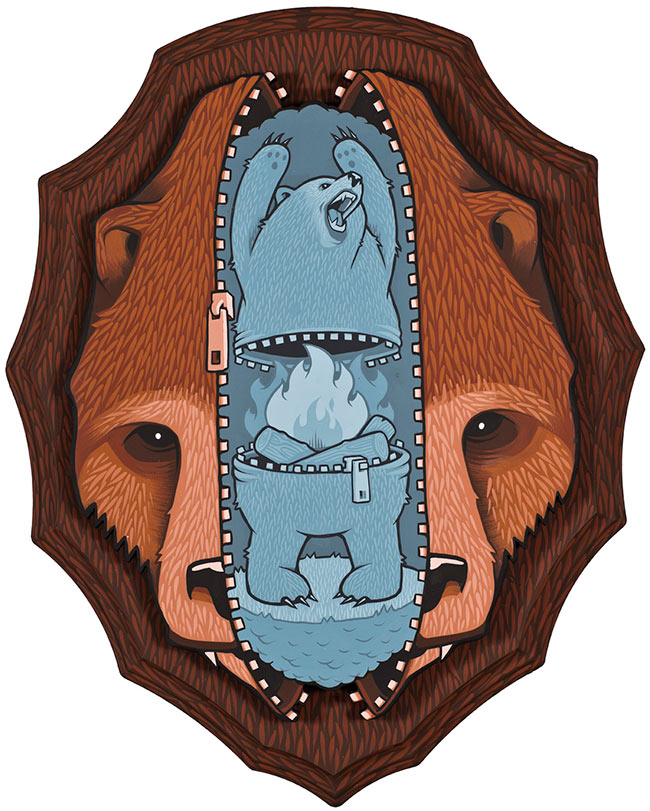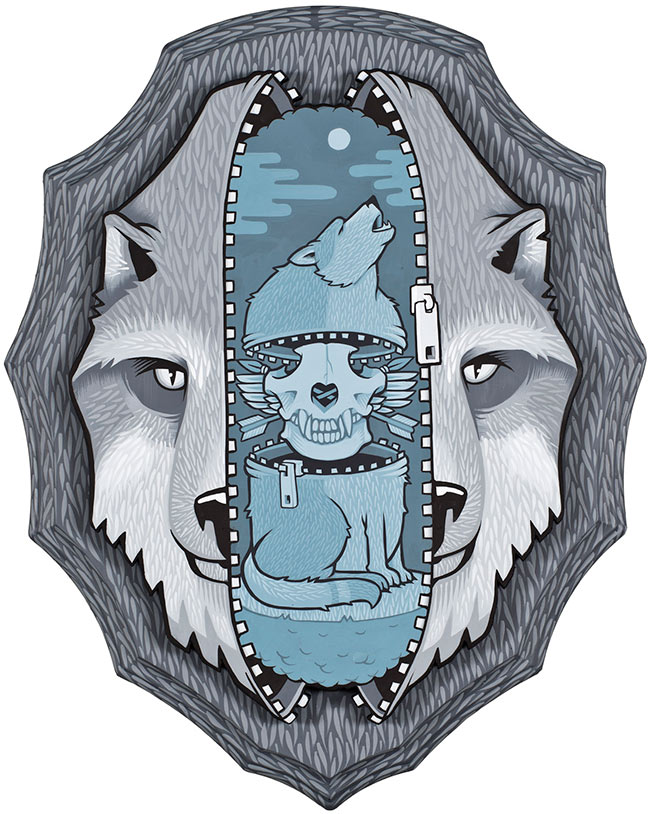 How personal or autobiographical do you allow your art to get? When you look back at certain pieces or larger collections of your own works, do they remind you of certain events or eras in your life? If so, we'd love to hear you talk about a good example of this.
My work has been very autobiographical at different periods in my life. Usually motivated by emotional experiences like love, hate, joy and heartbreak. I don't look back often, but certain bodies of work for sure have special memories attached.
What do you feel is the most essential factor an artist must be open to, regarding the evolution of their practice? Having had a lengthy and successful career so far, how have you seen your own work evolve over time?
I think the key factor is to always push yourself to reach new highs, and to try and learn something each time you hit a new low. I try to build on my failures, and not celebrate too hard on my successes.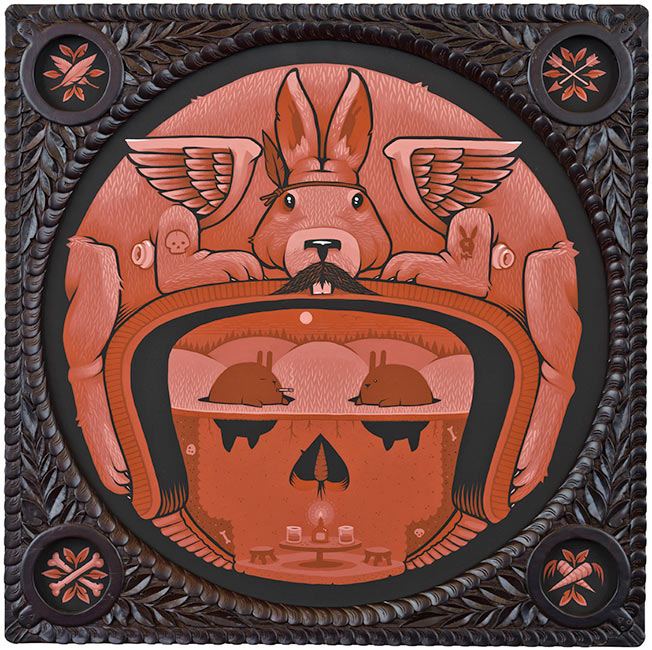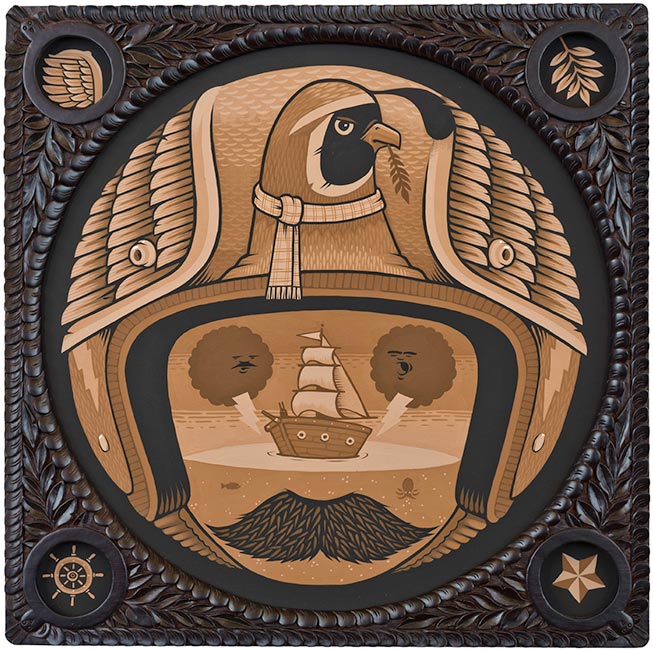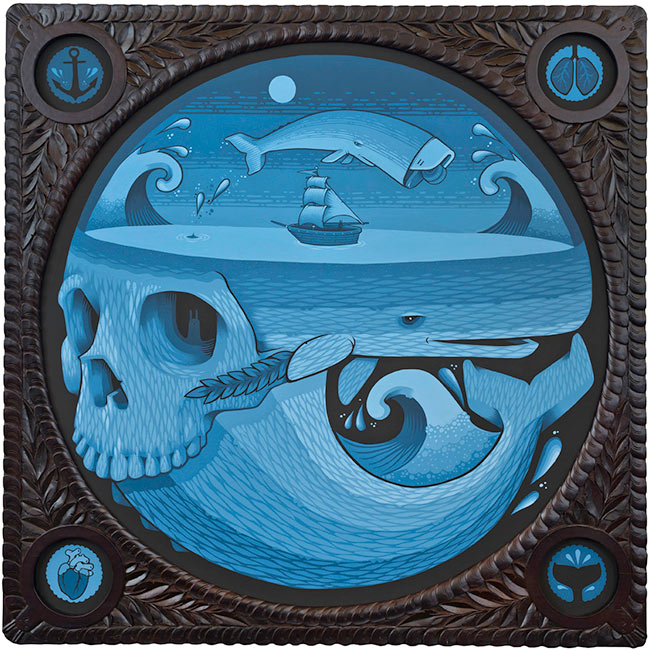 As you are successful within both the fine art and commercial art arenas, it would be great to hear about the important things you keep in mind while working within each sphere. Aside from the obvious, like having to keep paying clients happy or enjoying the freedom to make personal work you're proud of, what do you focus on and how does it vary between disciplines?
I think it is a healthy balance of the two that keeps my work solid in both arenas. If you work with no restrictions for too long the work can get lost, and if you work with too much restriction the work can also get lost. I have discovered new ideas, styles and techniques while working on commercial projects, that I was able to import back into my personal artwork and help it to grow. I am equally proud to do both commercial and fine art projects simultaneously.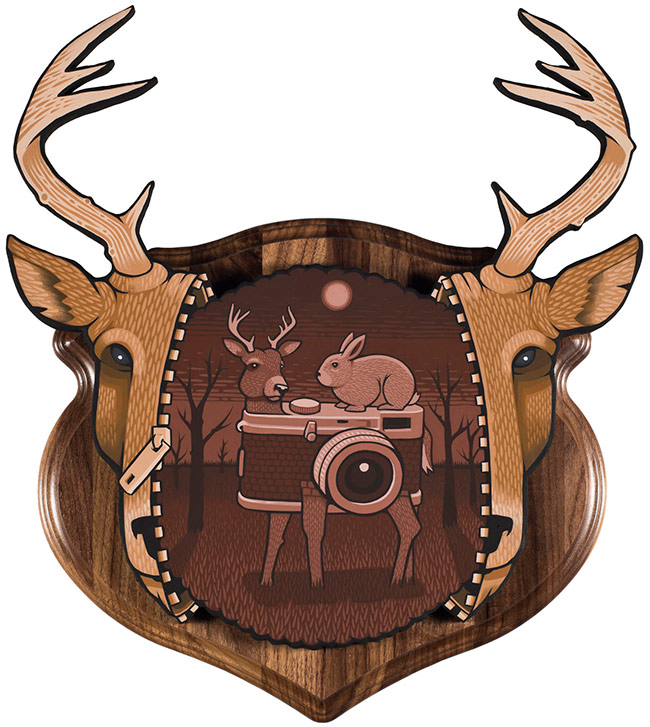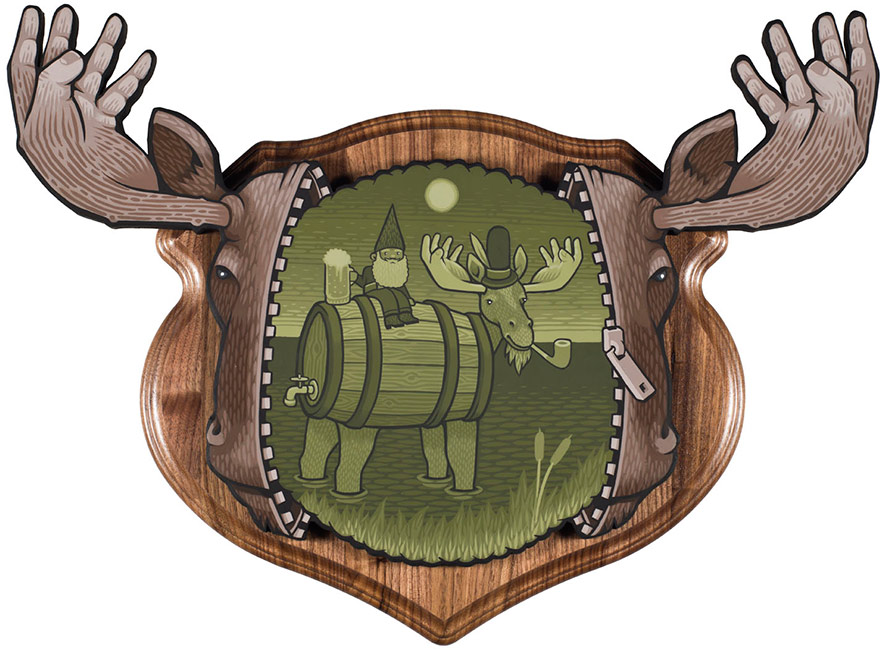 We live in exciting times, and many of the boundaries which may have existed between creative disciplines and cultures are constantly being broken down, and that is something which rings especially true of work created by artists within the international New Contemporary movement. What excites you about what is happening within the scene, and also, what are your hopes for its future?
Honestly, I am very unaware of any scene. I don't pay very close attention to art, and art periodicals, like I did when I was younger. I follow old friends, and find motivation watching them progress as we get older. However, I would be unable to describe the New Contemporary if it was an essay question on a final exam. At 42 years old, I feel like I am more of an island than a part of any movement or scene.
What's the most unexpected feedback you've received during your career?
When I started to meet and become friends with all my favorite rappers.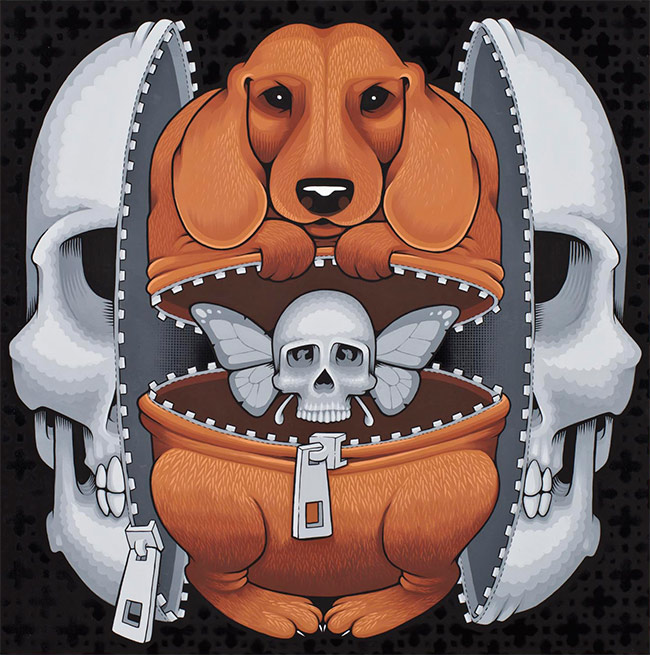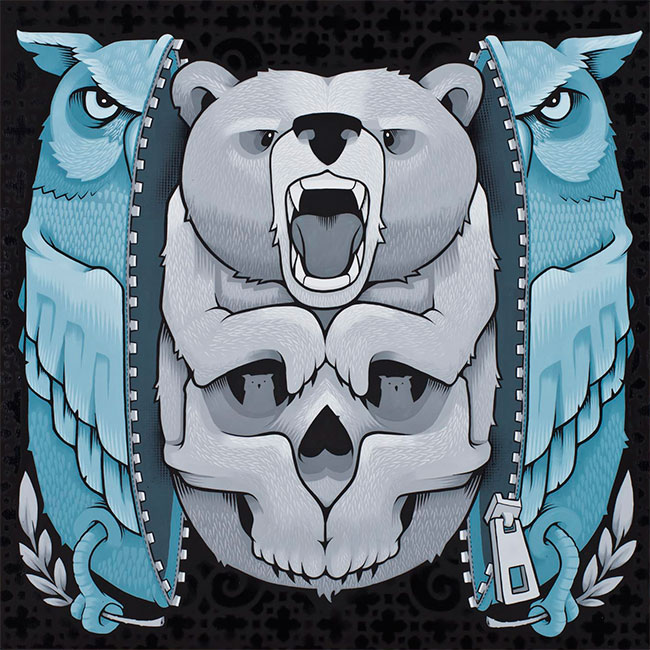 In order to get a better understanding of the personality of an artist, it can help to get a peek behind the curtain. Would you be willing to share a story from your own life, possibly one whose memory you find yourself returning to for inspiration, or maybe just a tale about a hardship you've overcome which has helped define the person and therefore artist that you are now?
A few years ago doctors found a big aneurysm in my brain. It was resolved with surgery, but it changed my perspective on my artwork and what I was doing with my life. I no longer want to create work that will get painted over, and I no longer want to work myself to the point of clinical exhaustion. As a young man I tried to offset my lack of talent, by working extra-long hours and creating larger bodies of work and more exhibitions. It had negative effects on me mentally and physically. As a result, now I focus on my life, happiness, and well-being first, and my job and artwork second.
If you could own one piece of art from any of the world's collections what would it be and why?
I would really love to own an original Barry Mcgee from the 90's. Either that or one of the secret works of Theodor Geisel.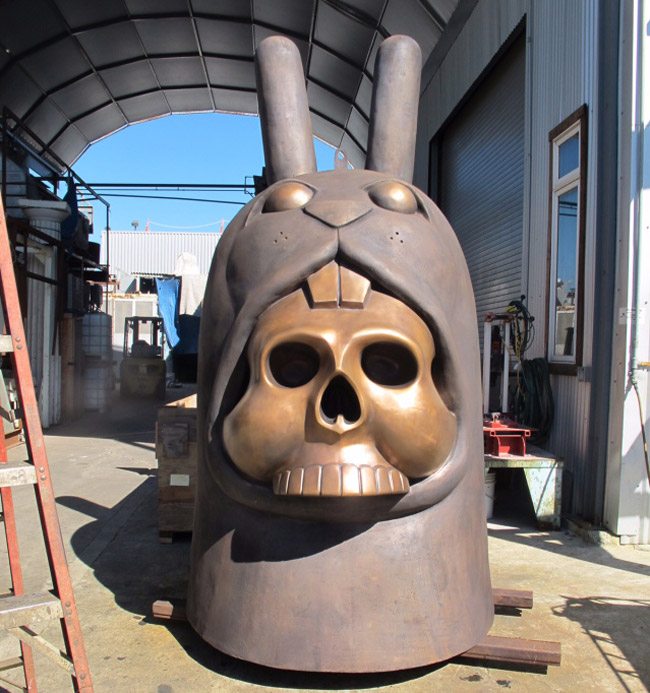 What's next for Jeremy Fish?
I am currently in the process of permitting and installing my first bronze statue in the Lower Haight district of San Francisco. It stands at almost 11 feet tall and is the symbol for my gang, The Silly Pink Bunnies who celebrate their 26 year anniversary this year. It will be the largest crowd funded public bronze statue in the state of California. My next solo show will be at the Jonathan Levine Gallery at the Mana Contemporary in Jersey City. In the meantime, trying to stop and smell the roses a bit more. Life moves pretty fast. If you don't stop and look around once in a while, you could miss it.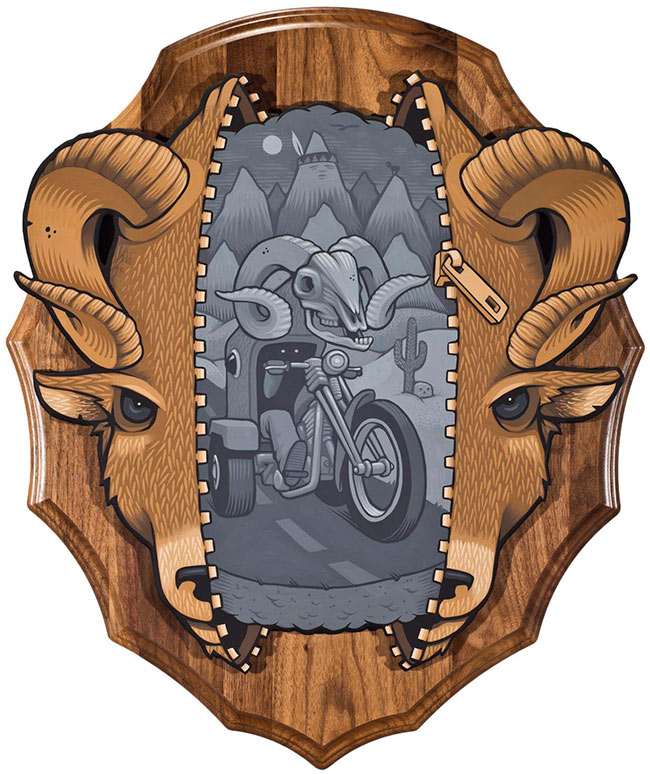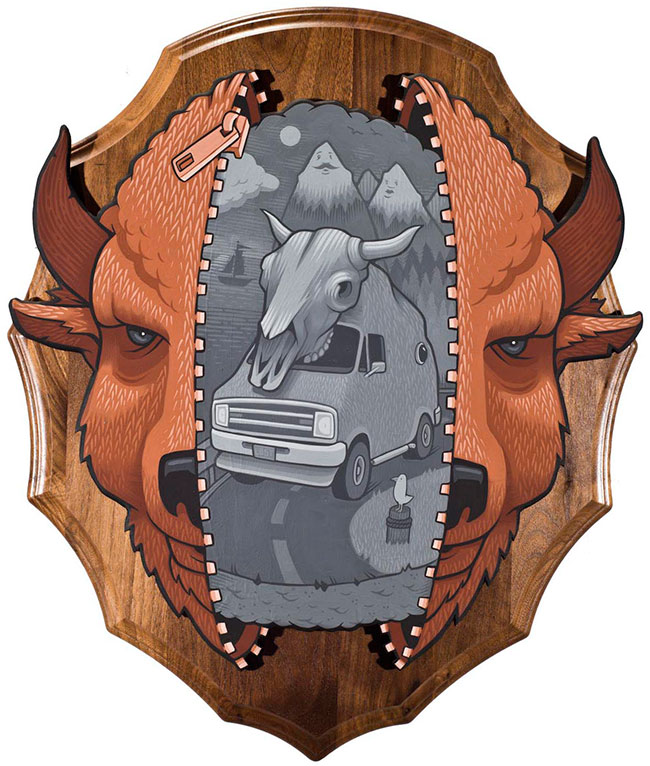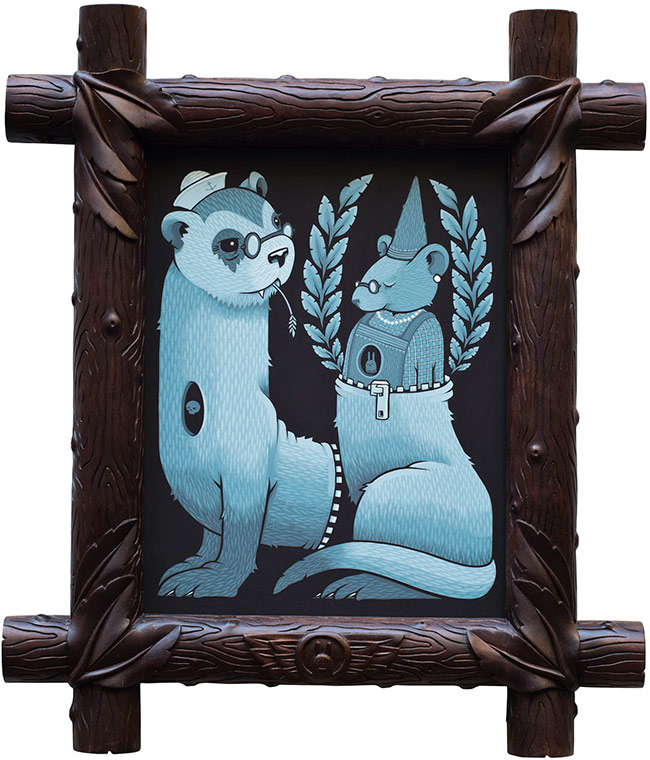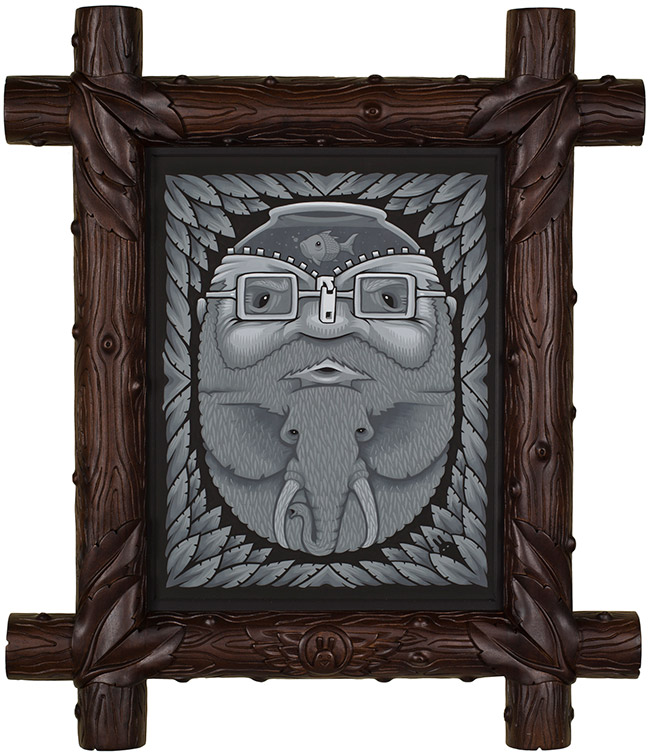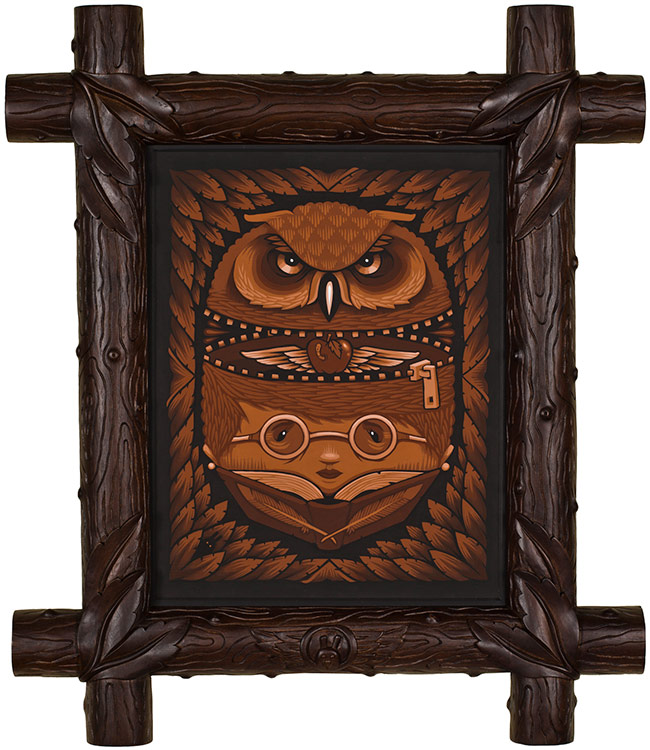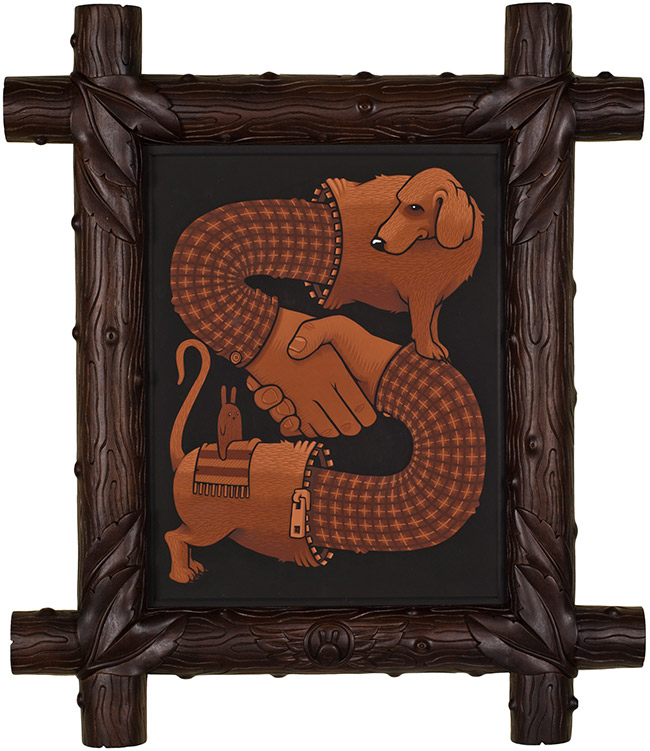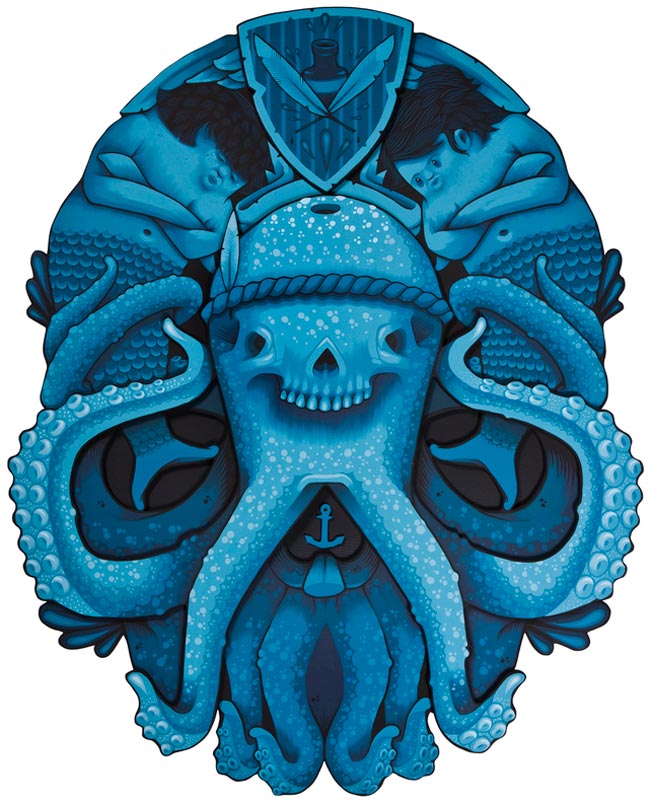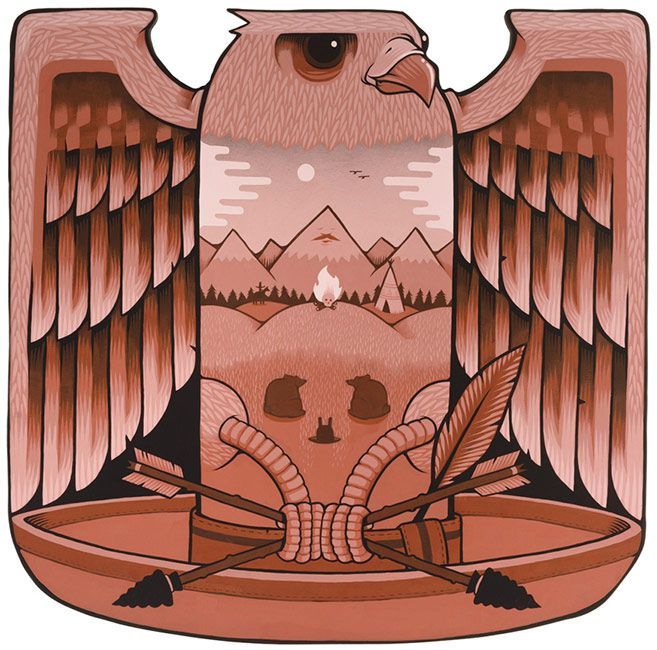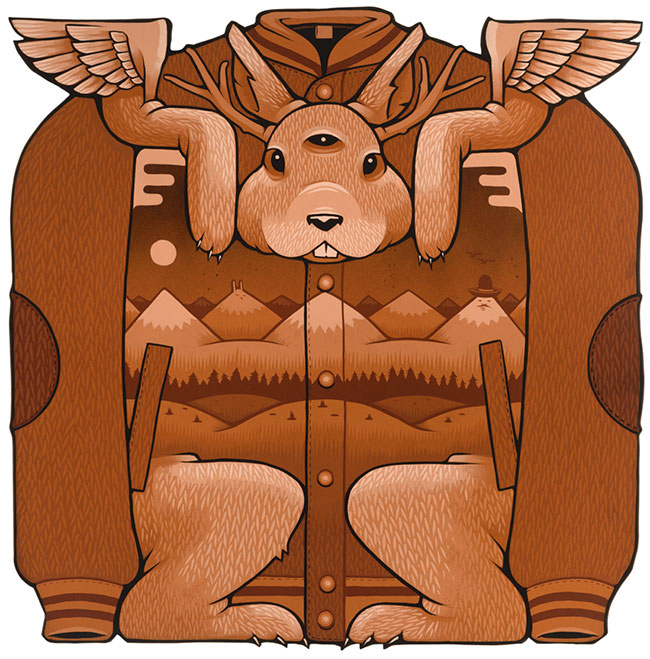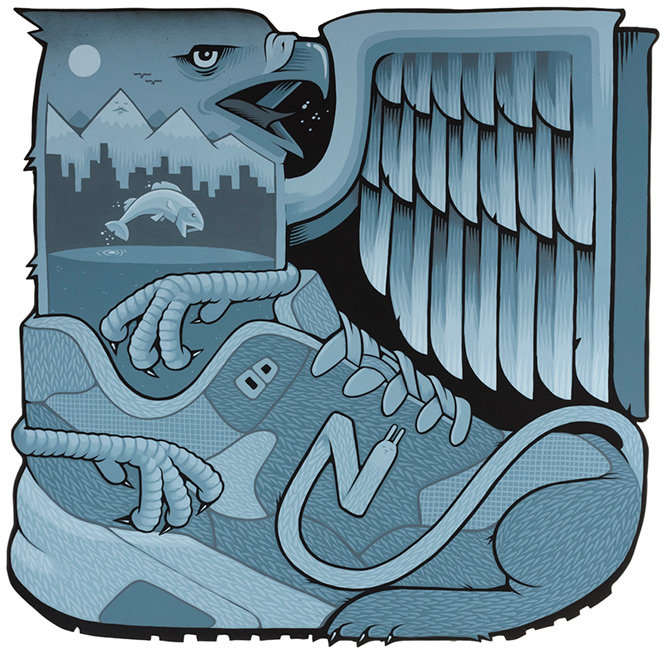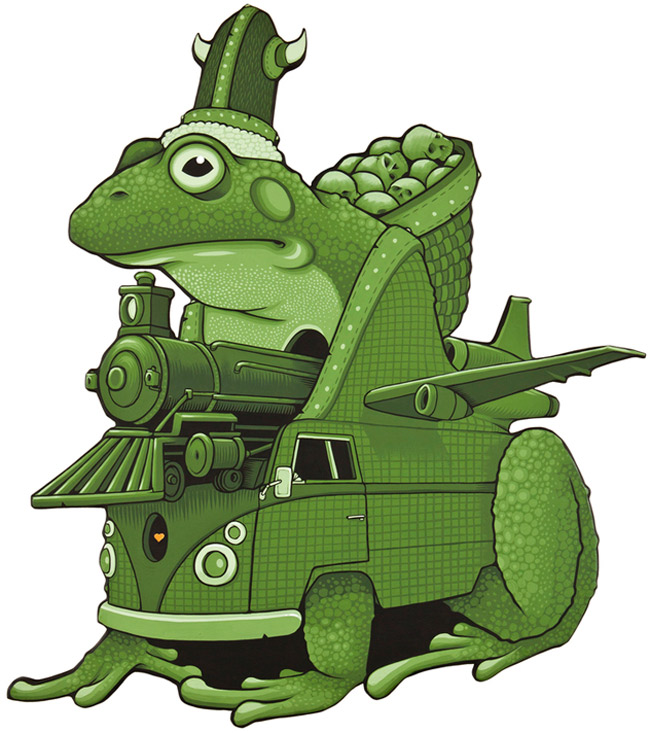 Save
Save
Save
Save
Save
Save
Save
Save
Save
Save
Save
Save
Save
Save
Save
Save
Save
Save
Save
Save
Save
Save
Save
Save
Save
Save
Save
Save
Save