Moki's otherworldly imaginings display her remarkable empathy with the beauty of earth's natural landscape and the urges we have all experienced to escape the confines of our everyday reality. Through the course of Moki's career, she has confronted the boundaries of concrete existence and blurred the lines between the mental and the physical, allowing for the creation of a series of unique spaces of sanctuary, protection and solace. A sophisticated painterly skill is employed to give a staggering degree of reality to her paintings, no matter how fantastical the content may be. However, more recently Moki has been veering away from unreality, instead drawing inspiration from the seemingly endless sources of concern for the well being of many of planet earth's creatures, including much of humanity. From this angle, her environments of security and retreat are arguably used to their full potential; to circumvent the harsher realities of life that many of the worlds inhabitants are forced to endure on a daily basis, often through no fault of their own.
Moki was born in 1982 in Brilon, Germany. She has been living and working in Hamburg since 2001, where she also graduated with a Masters Degree from the Academy of Fine Arts in 2009. Moki has earned a very well deserved reputation as within the international New Contemporary Art scene and continually exhibits her work both at home and abroad.
WOW x WOW had the enormous pleasure of catching up with Moki as she prepares for the launch of her latest monograph 'Shelter' and works towards her upcoming solo exhibit at Feinkunst Krüger in spring 2016.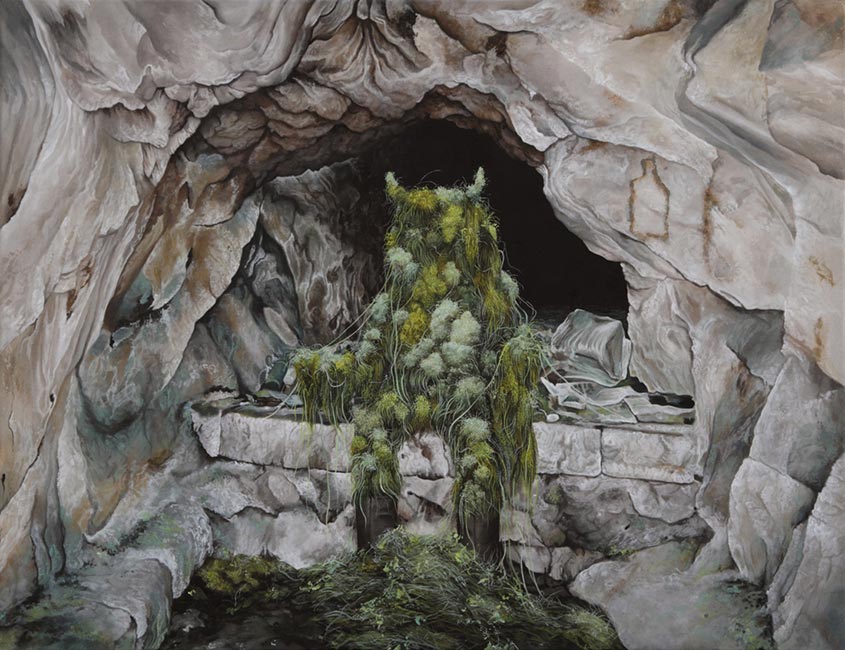 If you could please start us off by introducing yourself and talking about your background, touching on anything you feel has been relevant to shaping Moki the artist?
I grew up in the countryside in Germany, in a big, creative, working class family. I discovered my passion for drawing and painting early on. While in kindergarten at the age of four or five, I decided that I wanted to become a painter and study painting.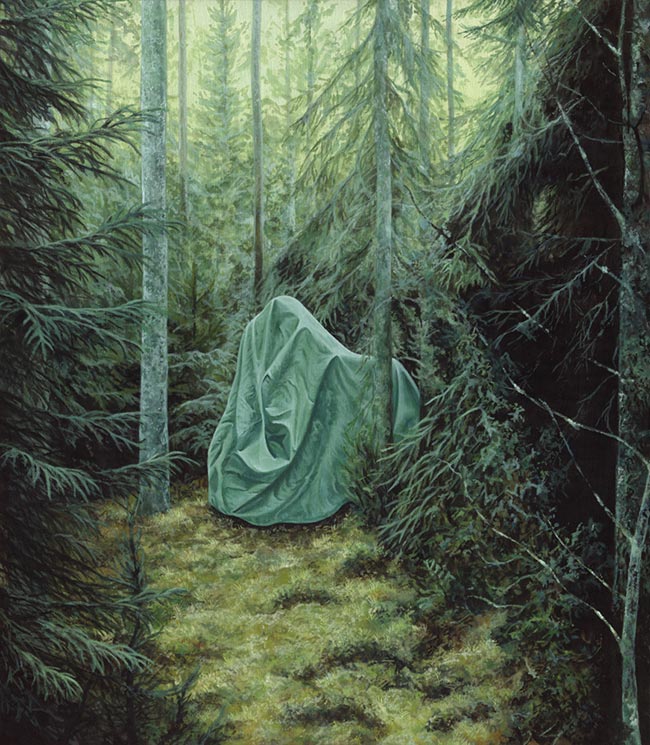 You are a multifaceted artist and although you work primarily as a painter, you also venture into the fields of animation, comics, performance art, and toys. You studied at the Hamburg Academy of Arts. What was your time like there and did your studies allow you to develop in all of these areas, or did that come after you left school?
I studied fine arts at the Academy of Fine Arts in Hamburg between 2001-2007. I graduated as an advanced student in 2009. At that time students of the fine arts had time and space to slowly develop their own ideas. It was an open and free environment. The interaction and exchanges with other students were of bigger importance for me than the actual lessons.
Before university I was already experienced as a painter and my style was sophisticated. Therefore I would call myself an autodidact. I taught myself most of things I know, through curiosity and impatience.
Yes, I use different media. I like to take photographs and discover my surroundings this way. I like to sew and work with fabrics. I try to draw comic stories as well. Variety is needed and it helps me to stay focused. I wish to work more with sound and music in the future.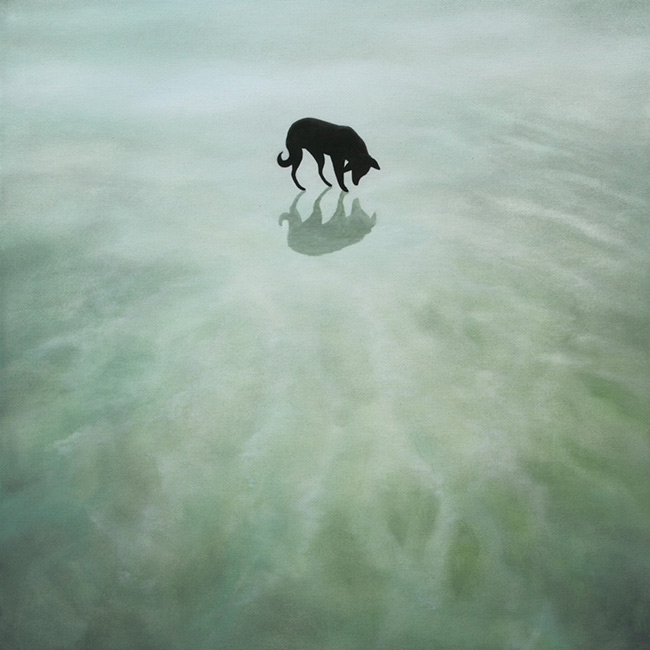 How do you approach the creative process? Talk us through how you construct a painting. Do have a concrete idea of what it will look like before you get started? What type of reference do you use?
I've been working on various long-term series that blend thematically. The fields of interest I am curious about shift slowly. I collect a lot of material long before I start working on a particular piece of art. If I have an idea, I do research and if possible create photographic studies and drafts. I profit from pictures I find online. In the past I collected more printed materials.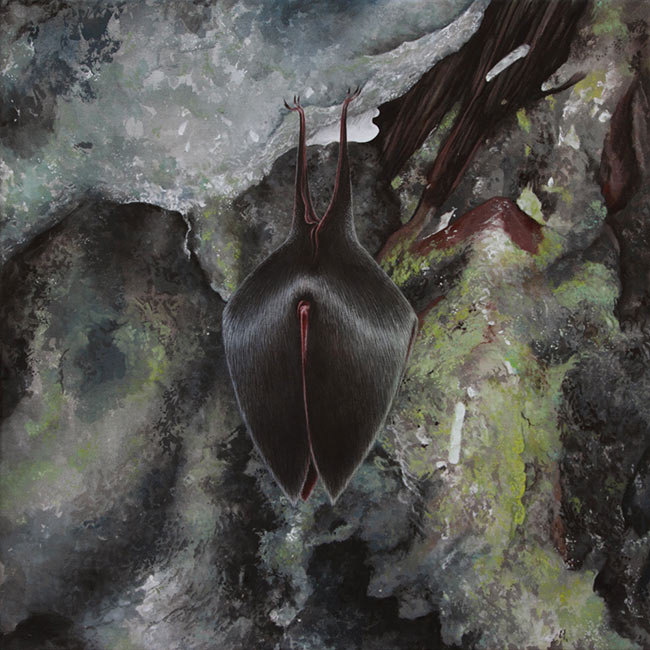 Nature and in particular wild and unspoiled landscapes provide you with a wealth of inspiration. Tell us about when your love affair with nature started and how it has developed over the years?
I grew up close to 'nature'. I had profound sensations when I was wandering on my own. An experience of completeness, happiness and unity. A feeling of being connected with everything. Nature is the source of our life and there is so much to explore and preserve, especially today, in the anthropocene, with the latest man-made mass extinction.
Most people live in an urban environment and follow abstract tasks every day. You can lose the access and the understanding how everything is delicately connected. You can loose your humility, your respect and understanding.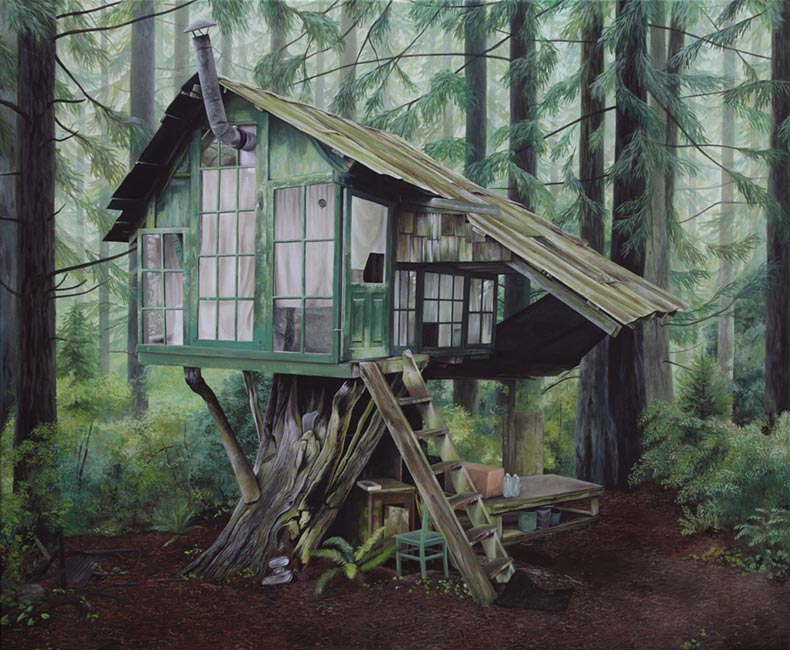 Many of the characters in your paintings merge with their surrounding environments, whether through natural or artificial camouflage. You have also released a book entitled 'How to Disappear'. Please give us an insight into your fascination with hiding or becoming invisible?
In 'How to Disappear' I touch on different aspects. Being invisible is one of the ideas. Invisibility can protect you from harm as well as be suggestive that you are at one with your surroundings. Camouflage means to adapt and to absorb what surrounds you. You become (if only on the surface) a part of the environment. For me this shows meekness and empathy on a metaphorical level.
If you wander in your imagination, your ghost is in the places you visit. But your are not visible there. At the same time your body is absent minded. Acting in imagination fascinates me.
I was reading about constructivist epistemology when I worked on the paintings for 'How to Disappear'. I have synesthetic perception (I see colourful animated shapes when I hear sounds) and understood eventually that not everyone experiences the world like this. The impressions given by my perception are different from yours and this in one of the main reasons I try to communicate with pictures.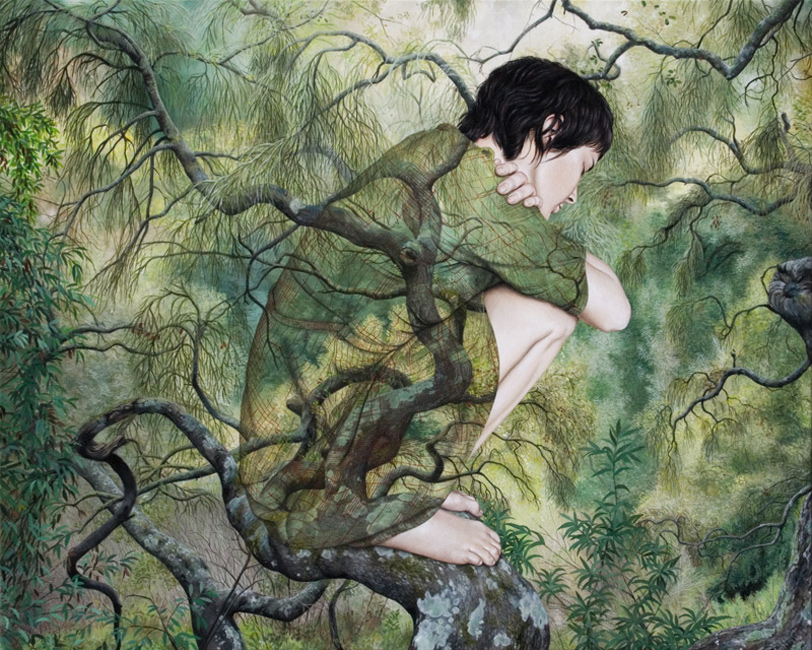 You often include references to Asian culture in your imagery. Can you talk to us about your interest in the east, when it began and what it is in particular that draws your attention to Asian aesthetic and tradition?
What interests me about Asian culture is the holistic approach. Everything is connected. The idea of 'good' and 'bad', that is often strongly represented in western culture, in my opinion is narrow-minded and leads to a twisted view of the world. Everything can be 'good' or 'bad' at the same time depending on the point of view. Whenever I touched the philosophy of Asian culture (by reading books, watching movies, or through interaction with people with this background) I have been given the impression of how everything in the world is entwined and I believe that it is this concept that will help to bring us forward.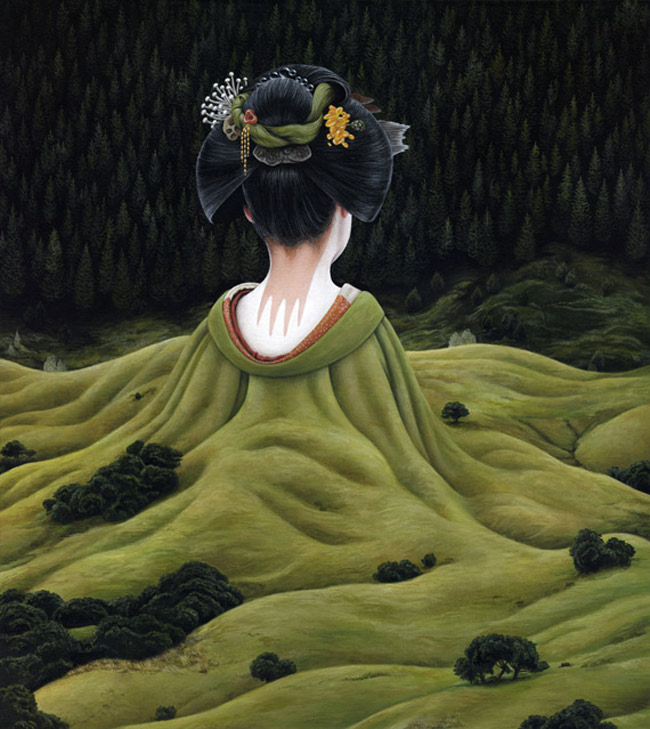 Titles are very rarely given to your work. What are your thoughts about the naming of work. Can you talk a little about your decision not to give the viewer a title to aid in deciphering, or to point them in the direction of your your intention?
That is true. I prefer to not add an interpretable title to a painting. I actually do not like how words take over our attention. Therefore I enjoy comic stories without text. I like if the pictures can do the 'talking'. Furthermore, I enjoy to communicate in colours and shapes, impressions and visual links that evoke different associations. If I could express something in words I would probably write it down. I like the magic of words, but I simply prefer to paint or use other media most of the time.
When I converse with people about my paintings, it is obvious that what they tell me about their ideas is enriching, but almost never what I had in mind. I guess the way we look at a painting (for example) shows more about us, than it shows about the painting. "We don't see things as they are. We see them as we are".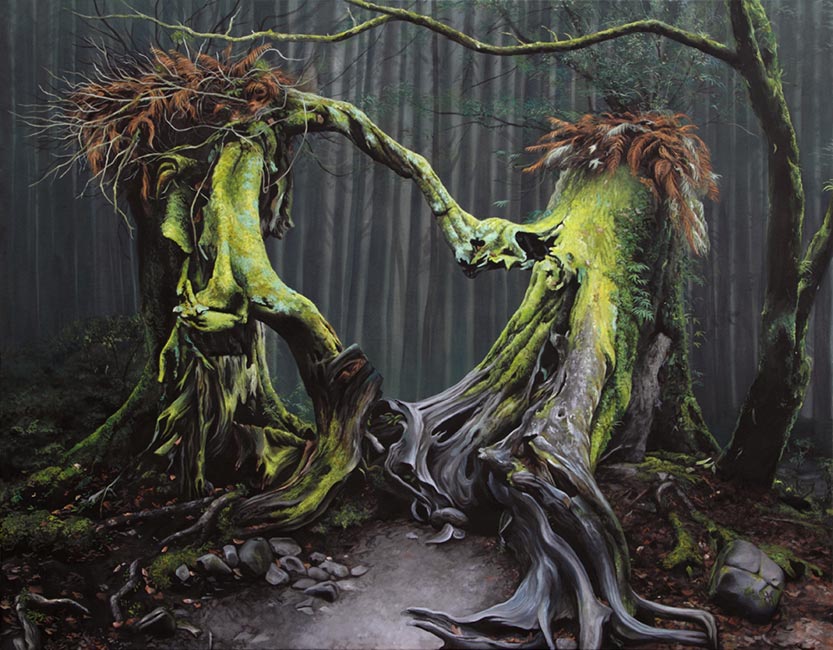 As we move through life we continue to grow and change. In what ways have you seen your work evolve since you started down the path of being a professional artist?
As a teenager and a young adult I felt a need to escape from reality. During my studies in the Art Academy these ideas accompanied me. In my book 'How to Disappear', I explore strategies of escapism; the flight from the world, getting away from reality, building a harmonic entity with the natural environment. My figures are dreaming themselves out of reality, to unreal places and into fantastic creatures.
Nowadays, I have come closer to reality in my artistic work. In my new book 'Shelter', I focus on a realistic context: victims of natural disasters, wars or poverty, but also places and situations capable of counterbalancing the worst aspects of being at the mercy of harsh circumstances.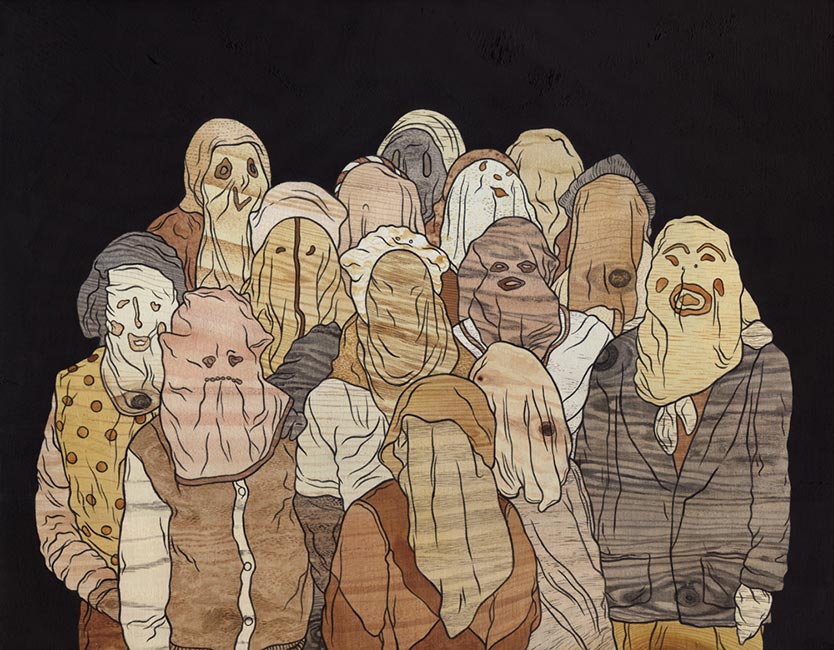 My impression of a world slowly falling apart no longer gives me peace when dreaming myself away. The challenges we are facing on a global scale seem overwhelming: climate change, refugees, species extinction and biotic crisis, intolerance, terror, social inequality, capitalism, globalisation, exploitation, factory farming and so on. There are presently more refugees in the world than ever before. One percent of mankind owns more then the entire rest put together. This makes me think more politically and influences my works as well as my daily actions.
What is your relationship with art history? Do you feel it is important for artists to have a knowledge and understanding of what has gone before them?
I think it is interesting to understand the development of art in history. I had a great course about art about the era of the Stone Age, cave painting and paleolithic figures and instruments. It's enriching to understand how art is a part of life. Later when it gets institutionalized, when the artist transforms from a craftsman to a genius it gets a bit too degenerated for my taste. I dislike the idea that 'the artist' is extraordinary and therefore different. I think it's a question of encouragement and motivation if you spend your time as a director, novelist or photographer. I think you can be a great artist without any knowledge of western art history, nevertheless it's interesting. Personally, I am more interested in science than art.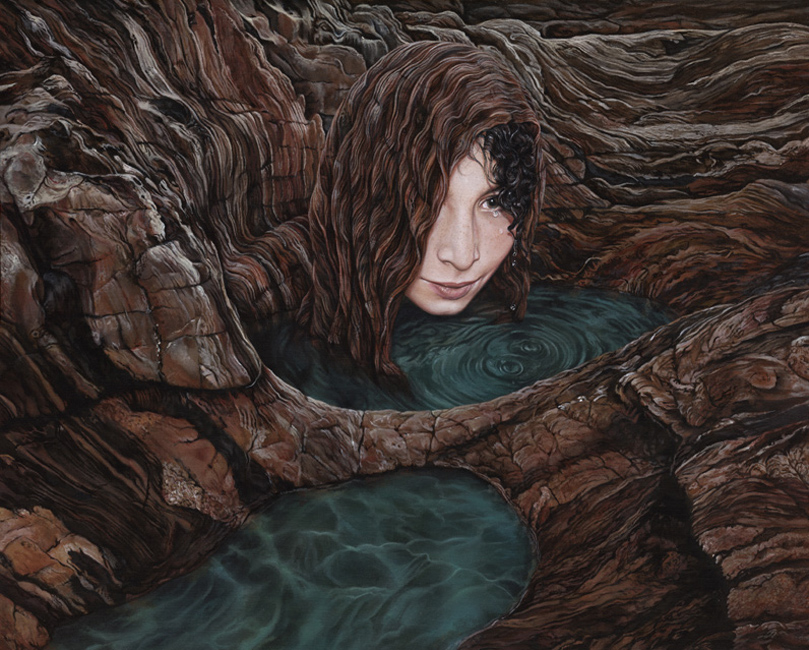 If you could own one piece of art from the world's collections, what would it be?
I would really like to have a copy of Viviane Sassen's book 'Flamboya'. If anyone has this book, please make a copy and send it to me!
What's next for Moki?
Mainly I'm working on preparing new paintings for big solo show in May 2016 at Feinkunst Krüger. At the same time I'm working on different ideas: I'm sketching on a series of paintings together with a fantastic musician who is working on piano pieces to interact with the paintings. I'm drawing and sewing a comic story about the end of the world. I'm delighted to have a book release coming up in some weeks. The book is called 'Shelter' and shows works from over the last 5 years. Therefore, I'm preparing release shows in New York, Berlin, Hamburg and Stockholm.