Nathan Spoor has many strings to his bow. He is an artist, a writer and also a curator. Not to mention a truly unique and captivating visionary with an awe inspiring imagination and the technical skills to match. In 2001, Spoor embarked on a creative journey which has led him to produce a series of paintings centred around the narrative of a young boy and girl. The girl creates a magical world around herself as she sleeps, dreams, thinks and grows and the boy is on a continual voyage of discovery through this world, engaging in it's mystery. The ongoing series began as a study of that male/female dynamic and story. It then became apparent to Spoor that he was participating in an unfolding series of images that paralleled his own growth, wherein the series transformed into having more meaning as a broader perspective on life and his growing place within an interconnected humanity.
Nathan has recently completed his most ambitious painting in the series to date. The painting, which took three years to complete, is entitled 'The Elegant Charade', and will be going on display as part of 'Masterworks', a landmark exhibition at the Long Beach Museum of Art, which shines a light onto the future of art and new contemporary realms. The exhibition concept and accompanying book are Spoor's own handiwork, and includes the work of some of the most pre-eminent names within the world of New Contemporary Art; featuring pieces by the likes of James Jean, Martin Wittfooth, Natalia Fabia and Greg Simkins.
WOW x WOW feel incredibly honoured to have been afforded the opportunity of being the first to speak to Nathan about the completion of his 'masterwork', the upcoming exhibition and his creative thoughts and inspirations.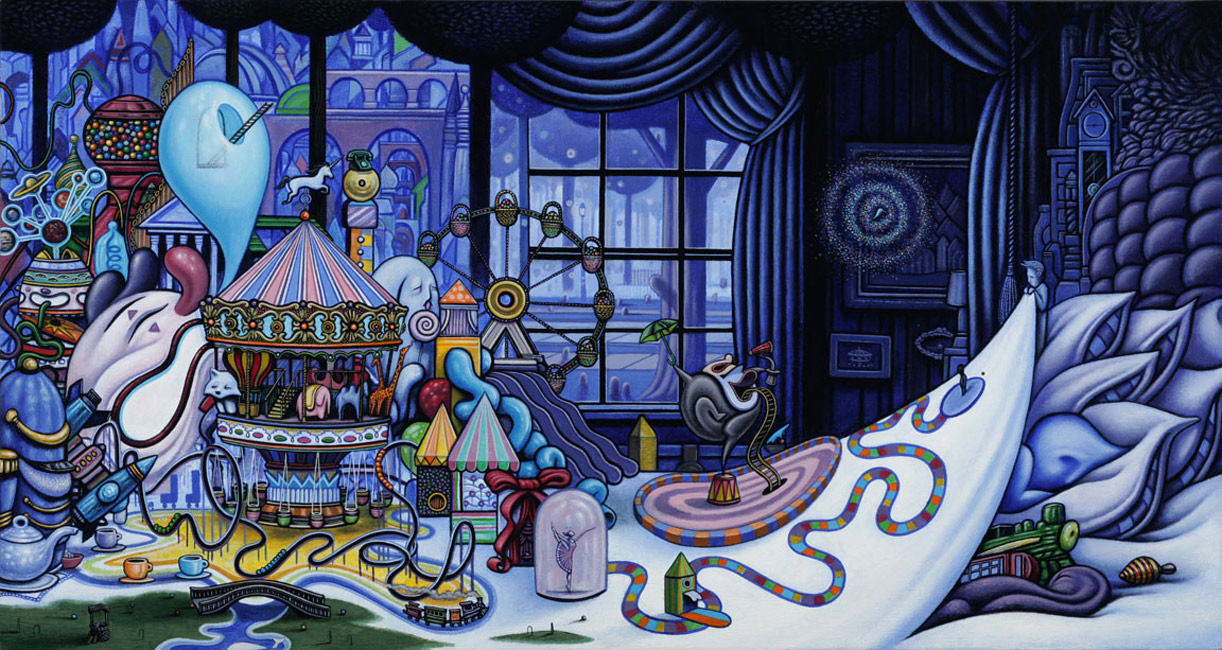 Hi Nathan, thanks very much for taking the time to chat to us. Firstly, can you tell us about where you're from and your background in art, touching on any training, etc.?
Originally I'm from Texas, and most of my early memories involve drawing or having make-believe adventures. As I remember a lot of that youth time was spent putting the two things together and drawing page after page of sequential story scenes. I think the most training I've gotten has been in being exposed to new things and seeing how my mind reacts or gets inspired. I went through all kinds of art classes and schooling, but I think the best training was in learning on my feet – or on the canvas. That's where all the answers are either way. Either someone is an effective communicator, or possibly they are on the path to becoming one.
What does your studio look like?
My studio looks like half of the living room. It's always been like that, part of the living area somehow. It's OK but now that I'm doing larger pieces it means moving things around a lot.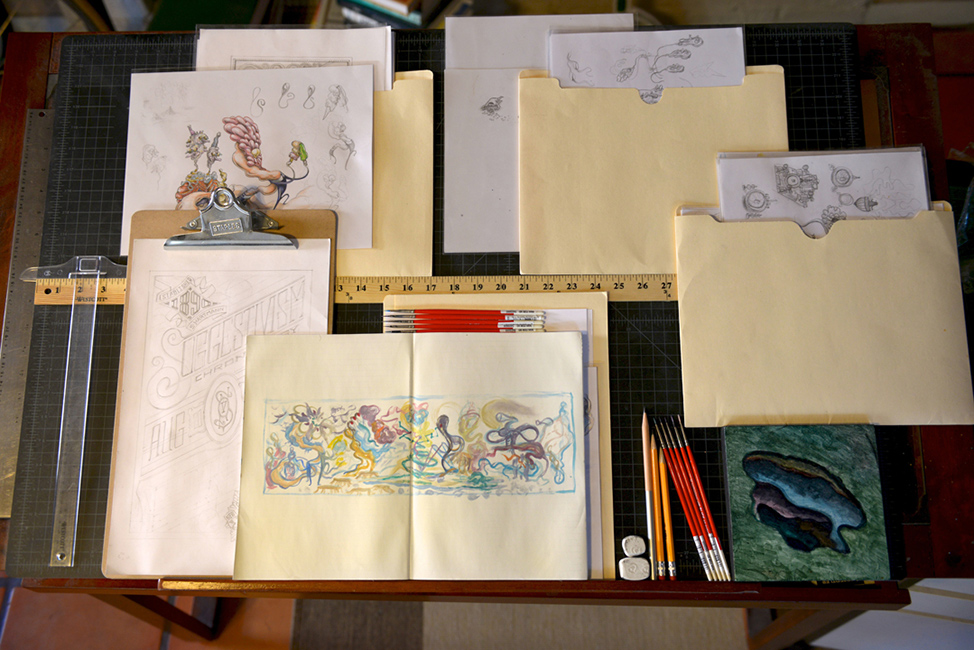 Please share with us a little about your creative process and how it has evolved from when you first started out as a professional artist?
I think my creative process was fairly established by the time I could be a full time artist. I started noticing or trying to be able to describe what I was doing, what the process was, when I started painting and then in grad school. The grad school experience really taught me about timelines, deadlines, thinking outside the box a little more, that it's OK to constantly challenge what I think and what other people say is a fact or is substantial. So there's some training I forgot to mention earlier. That and enjoying writing and researching to find new (old) information and ways to add to my knowledge base – finding ways to confront predispositions and start walking the plank into the unknown. That's all a knowledge base is, a diving board into a larger pool of thought.
Oh my process… Ah, I call it Suggestivism. It's a way of remaining sensitive to new ideas and inspirations. Allowing a work to evolve and grow and not hold on too tightly to what I think is a "really good" idea. Turns out that after a few days of thinking I know what is going on in a piece a new and better idea will come up, not always but quite often. And if I'm open to that change or evolution with the piece, allowing it to become better and grow into something new and surprising, then I find a more pure moment. It's then a more beautiful and unexpected thing. That's what I owe viewers, allowing the art or the work to be itself without too much of my need to drive it or micro-manage it.
What I'm doing now, for the last several years since 2001-2002 is allowing this intriguing narrative to unfold and stay true to the organic nature of the images unfolding before me. Or at least trying to capture and represent my best representation of those visions or images that are appearing in my mind.
The art you make is very narrative driven. What were some of the biggest influences on stimulating your interest in story telling?
I think growing up with a storyteller Dad really started that all off. He used to tell us stories ever since I was little and my brother too. Bedtime stories were a big thing for us. And I've always enjoyed reading, that's probably something else from childhood too. Storybooks and especially books with pictures really woke things up for me at an early age. I wanted to make pictures and tell stories like those stories. Comic books came after that, sequential art is a magical way to tell stories.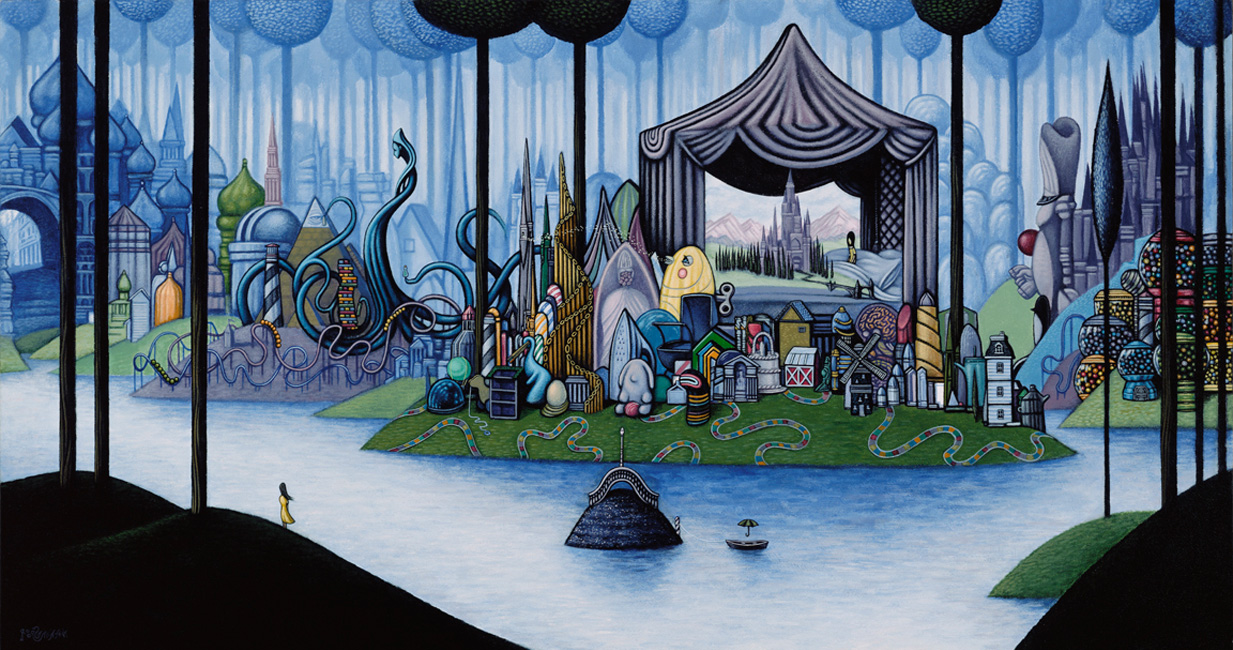 You're the curator of a major exhibition, the upcoming 'Masterworks' exhibition, which opens on 23rd October at the Long Beach Museum of Art. The exhibition features a host of amazing artists who are pre-eminent within the New Contemporary Art movement. You will know better than most that this show has been a long time in the making. Can you talk about the idea for the exhibition, how the curating process with Jeff McMillan began, the partnership with the Museum and what the show means to you?
The curating for this show started with another exhibit. I got to do the first Suggestivism museum show and Jeff showed this great custom-painted piano in that show. He and his family live in Long Beach and during the run of Suggestivism, he went to one of the After Dark events that the Long Beach Museum of Art holds. He told me about those events and that he'd met the director, Ron Nelson, and that Ron was really cool and liked the new wave of art that was happening. Jeff got Ron to see the Suggestivism show, which prompted Ron to request a meeting to talk ideas.
I keep lists of show ideas, so I took a few ideas to pitch and Ron loved the idea of a Masterworks exhibit. Ron is completely on the same page that the new wave of contemporary artists are making something strong happen in the arts at the moment, and that's what he wanted to show at the Museum. I spoke about my goals of talking about the new narrative being written and the artists that are helping to shape that landscape, and that's what the show was agreed on.
The show means a lot to me on different levels. It's a milestone for me and the other artists, being that it's basis is having a large-scale painting that embodies where they've traveled the past 10 years of their professional careers. The show also provides the framework to see a crescendo moment in my ongoing series of paintings. I'd had fleeting peeks at this idea from the first few years in the series, but the idea didn't really come together until this exhibit came into existence.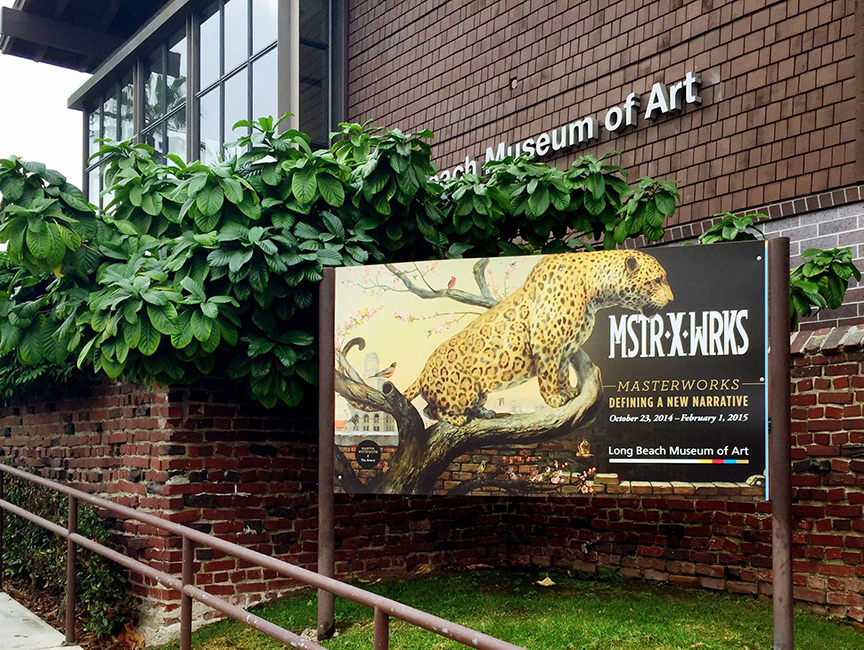 You have also put together a book to document the exhibition. What can you tell us about that?
Accompanying the exhibition, we have a wonderful 240 page, full-color book that chronicles the entire exhibit. Included in the book are the concepts and research for what a "masterwork" is, what it means to curate a show of this caliber, with 14 individual chapters that show each artist's Masterwork, an interview, and other original works that relate to the progress leading up to or coming after their main painting. That exists thanks to a partnership with LBMA and Gingko Press that is gorgeously designed by Wendy Peng.
I think it's important to strive for productions like this, not just the show but the book especially. It's important to have historical documents that show what is happening now. This isn't a book saying that we hope this will happen, this is a book based on actual artists and events occurring right this moment. There hasn't been a book published that attempts to really get into what a "masterwork" is, what this "new narrative" is a selection of artists that are building it, and this is also the first book on what "new contemporary art" is.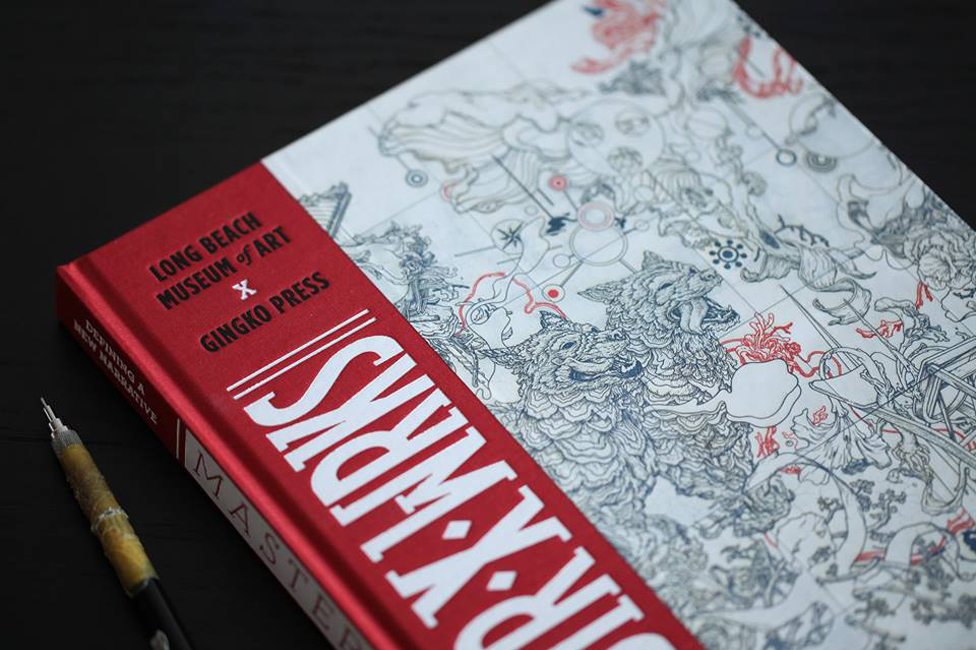 If you could also touch upon how you got into writing and curating?
My first job in the arts was as the assistant curator at Children's Museum called The Grace Cultural Center / Museums of Abilene in their Expansion Wing. It was a really amazing experience and taught me a ton. As a graduating senior it was up to me to put together a public exhibition. This was the first show I'd ever tackled, but having worked in the department for a year I had a decent exposure to what needed to be done. This was also my first encounter with a true obstacle – the Curator that had initially approved the show tried to kill it at the last minute, telling me that it wasn't going to happen the week before the show would open. What this person wasn't aware of was that I was on better terms with the Director there than thought. And that interruption was brought to the table and quickly and enthusiastically approved officially.
I set up several non-traditional shows in Dallas, TX and then started doing that in Los Angeles. The first one I got to do was at a friend's custom furniture shop in Venice. The response was so good that I moved out here a couple months later. As life progressed I got opportunities to curate shows in galleries and then in museums.
Writing has always been a great way for me to be creative as well as painting. It's totally different and yet it's similar in that you kind of just surrender at some point and words start coming out. I got some great encouragement from Greg Escalante a while back and he asked me to help contribute to a few articles for Juxtapoz. Hi-Fructose also asked for features on artists and I really enjoyed it and even started going to shows and interviewing artists, so they made me their first online editor.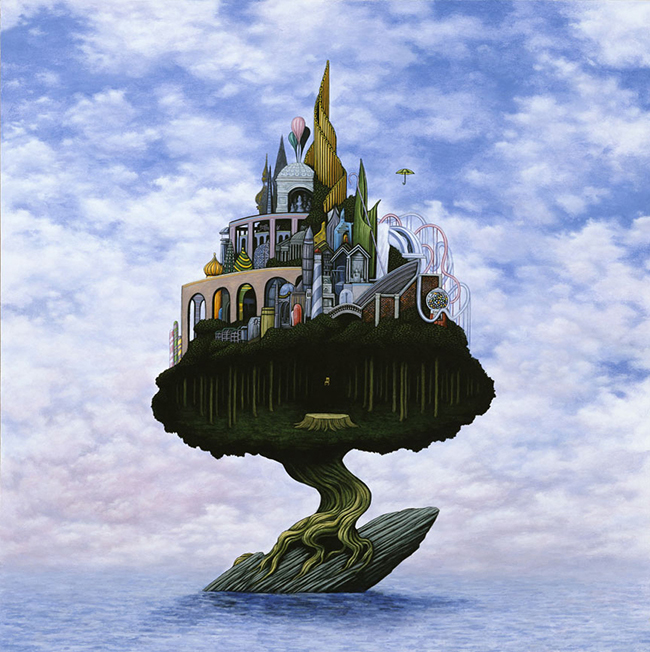 'The Elegant Charade' is your epic painting for the 'Masterworks' exhibition, on which you have worked for the last 3 years. Give us a little insight into the idea behind the painting and tell us what it's like to live with a piece for this long?
Living with a work for a long period of time is really wonderful. I enjoy having a work really unfold at its own pace. We had 3 years for this curating and painting time frame, so I used all of that to paint for this. If you gave me 5 years to paint for a show I'm sure I'd just stretch a larger canvas and use the full 5 years.
Actually that might not be fair. I started a piece that is the painting that comes before The Elegant Charade in the series, called Premonition. It's a dream / vision that tells of a major event in the series, and that took 5 years. I started it in 2009 and just finished it last weekend (Oct 2009 – Oct 2014). It just takes as long as it takes for some things. I've had work that goes faster for sure, but these paintings are some significant transitional moment in the work, so it takes a little longer to be sure that it's at the right place to finish a section let alone a full painting.
Part of the exhibit was to give some serious thought on the concept of a major work that defines where the artist has been for the last decade as well as where they are headed. I think this large painting really says that for me; this piece speaks about allowing things to evolve into new forms. It's about the multitude of personalities that are intertwined in life, and the public forum that we all share to engage and entertain others. I needed to kind of throw a big party in my work and commune with the old ideas, and watch what was happening as the series moves into the future.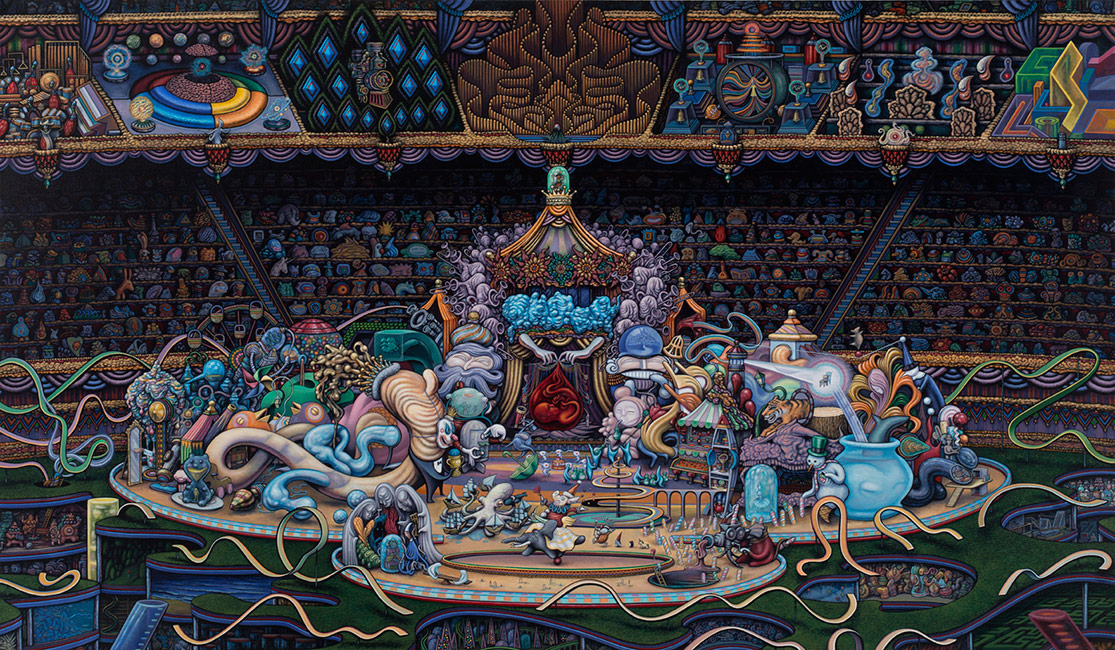 Your work has a very organic, but also, well-considered aesthetic. How closely do the finished paintings resemble your original idea and is this important to you?
That's hard to be really definitive, since I'm able to see these ideas coming to me in flashes or brief glimpses. So after the idea presents itself, I'm left with more of an "impression", an image burned into my mind or at least the movie screen of my psyche.
As I work and live, the idea itself evolves and I try to follow that new manifestation as faithfully as I can for as long as I need to. Then I have to stay sensitive to what the idea is as it evolves and becomes something new. It still has the same core essentials as when it began, but it grows and starts to become something new. So part of my job is usually to figure out what I am capable of using and what I can communicate from these images in my mind.
It's like I'm stepping one foot into a stream, and each time I dip into the stream the idea is also different and new and has grown as time elapses – yet it's something that I've learned not to be frustrated at, because things move faster in that world than here. In this reality, life is much slower and has fewer dimensions than the other side has. I usually refer to the place that I create from or see ideas as "the in-between" for that reason.
How much of your decision-making would you say is conscious, as opposed to arising from your subconscious?
Well, we'd have to get into a conversation about "what is consciousness". What is consciousness? Do we know what it is, or can we agree on a definition of what is conscious and sub-conscious? For me, the process of getting new ideas and seeing the images is due to some ongoing link, some constant communication and ethereal connection to a core energy or consciousness.
For me, it's a juggling act of being present and enjoying the constant stream rather than concentrating on what level of consciousness I'm able to achieve or pass over to. I think I'm more available to ideas when I'm not trying to think about it though. It's almost a blend of being involved in life, but not trying to analyze the pathway that the idea is arriving through. We aren't really capable of seeing it with our eyes, but we can feel something that tugs at our souls from beyond our comprehension. Somehow, that energy leaves really interesting marks on our minds as it passes through. So the subconscious is constantly the greeting and filtration system for the waking life's entertainment or education.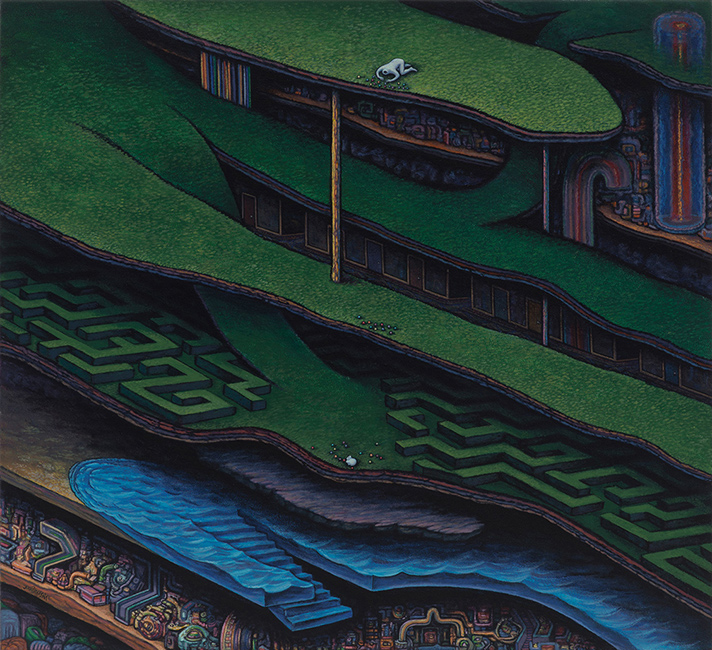 We can tell who many of your favourite artists are on the scene today by looking at who you invite to participate in the shows you curate. But who are some of your favourite artists from the past?
Hans Bellmer, Magritte, those original Surrealists, Edward Hopper, Arnold Böcklin, The Symbolists, Georges Seurat (who was, interestingly enough, a key figure in art historian Sadakichi Hartmann's writings on the origins of Suggestivism in the late 1800's).
As an artist who is an important member of the New Contemporary Art movement, can you summarise what the movement means to you and what are your hopes for its future?
What this new movement means is hope, this is an exciting new horizon being created in the art world.
My hope is that there will be more major exhibitions of this kind, where mindful and intelligent individuals are continuing the conversation. We need more shows and books that promote this day and age in art history, the major artists that are building this new narrative and constantly moving this conversation forward.
And of course I'd love to continue making major contributions and pursuing my work (as an artist, author and curator) in a way that honors and furthers our collective progress as new contemporary artists.
What's next for Nathan Spoor?
What's next for me are these two paintings that are really exciting me right now. I've just started using a full spectrum palette, which means that I've expanded my color selection from around 12 to more than 50. That's such an exciting development and I'm really enjoying the evolution that it opens up in the work. I've got a really detailed scene that's a valley of stacks and stacks of sweets and candies through which a tiny boat with a girl inside is floating – not resting in the water's currents, but traveling in the air toward a corner that she's about to turn into. It's a really fun and challenging piece!
The Masterworks exhibit and book release are happening soon, so that's what's next in the very near future.
Suggestivism has a few exhibits that are in the works for the future, more on that later. In the meantime, I'll be creating a solid body of current work so that I have a new substantial selection of paintings to show what I've been doing the last couple years or so.