Pamela Tait is an internationally exhibited Scottish artist living and working on the Black Isle in the Highlands of Scotland. She has had a number of very successful solo exhibitions on both sides of the Atlantic, and her works have also hung in the illustrious company of art legends such as, Robert Crumb, HR Giger and Robert Williams, to name but a few.
Pamela creates exquisite images largely centered on the female figure. These pieces transcend both portraiture and illustration and transport us to a world of her own making. Whether working with a bright colour palette, or opting for a darker atmosphere, Tait's women always possess an enchanting, if not hypnotizing power. It is through these beauties that she explores such timeless themes as love, or the forces of nature.
WOW x WOW recently sat down with Pamela to find out what makes her tick.
I guess we should start at the beginning Pamela, so I'll ask you the obligatory opening question: Have you always wanted to be an artist?
Yes I have, although I know when I was younger, I did momentarily fantasize about being a fashion designer, a nurse and a witch, not all at the same time I must add!
You trained to be an artist by completing a degree at Gray's School of Art in Aberdeen. Can you tell us a little about how this experience shaped/informed the artist that you are today?
I was quite shy and naive when I was at art school. So looking back on it all, I don't think I achieved as much as I should have from my four years there. Maybe this feeling of regret, feeling like I wasted my time a bit, has made me more focused and driven today. I get sore joints in my right hand now after a day of intense painting. Time is precious, that's becoming more apparent to me now.
Give us an insight into your current working process?
My current working process is mainly painting on either paper or board. I first need some reference images to work from, then i wonder what they can be representing. After that I'll start sketching away and then, fingers crossed, I have come up with an idea that excites me enough to start painting. If I'm enjoying the sketch, I know I'll enjoy painting it.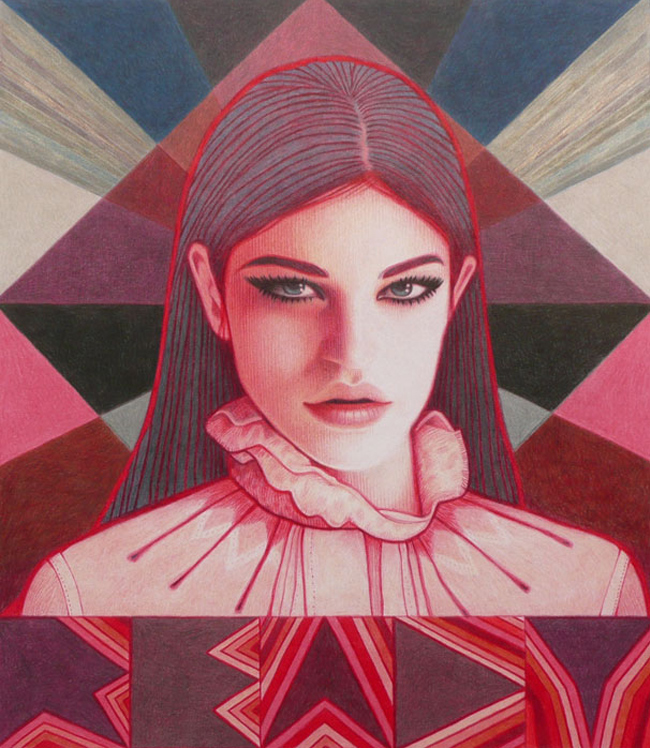 I know that you and your husband, the talented artist Erlend Tait, have started collaborating on artwork. Can you talk to us about how this came about and explain how the process works?
We were invited by the artist Jessica Ward to take part in the 'Feminality Couples' exhibition, which took place at The Hive Gallery, Los Angeles in 2011. This was an exhibition where couples who were both artists would submit a piece of work each and one which they had collaborated on together. The opportunity was just perfect for us as we had spoken about collaborating, but other work would take priority and so it remained something we would just discuss every now and then. But now we had tthe impetus to join forces and collaborate. I found really love collaborating. The discussions and unfolding of ideas, it's so exciting! And it's different for each piece. We start off by sitting together, listening to music and drawing. Exchanging drawings when you got a bit stuck or lost and that's where the fun begins. A few collaborations have been pieces I was close to throwing out, but Erlend saved them and made me fall in love with them again. These pieces are some of my favourite collaborations now.
You and Erlend lived in Scotland's capital city for a good number of years and have now relocated to the serenity of the Black Isle. How has the change of surroundings and pace been reflected in your work?
I am so happy living on the Black Isle, it's such a beautiful place to be. There really is something quite special about this little corner of the world. But….that's a hard question to answer, as when we lived in Edinburgh I wasn't working full time on my art work and I never really embraced the city so to speak or felt like it had an impression on my work. But I've become more influenced by my surroundings since I changed medium, from pencil to paint, and that only happened last year and we've been living up here since 2005. Maybe the slower, earthy pace of life up here just took longer to seep into me and that's why it's taken me a while to represent my surroundings in my work.
The female figure is your predominant subject matter. Why do you choose to paint women and what themes do you like to explore by doing so?
The main reason I have women in my work rather than men is simply because I tend to make men look a bit feminine, which would be ok if that was something I wanted to address in my work, but it's not unfortunately! Maybe one day! My pencil works are love letters to Erlend really. The ladies are my messengers. My painted ladies have a different message as they are representing the forces of nature or governors of the planet: protecting, nurturing, providing.
A lot of your earlier work was produced using coloured pencil on paper, to great effect I might add. Recently though, you have been working with acrylic paint. What was it that brought about this new development and how do you choose what medium will suit a certain piece?
I started painting last year as myself and Erlend had a joint show at the RGI Kelly Gallery in Glasgow. We decided a third of the work for that show would be collaborations, the rest our own work, and all the work would be paintings. That felt like the right meeting ground. I was ready for a change in my work then, which I suppose was quite fortunate, as it made me properly embrace painting. I love drawing, but I was starting to put more background in my work and it would take ages to block in colour, and would then leave me a bit dissatisfied, as I wanted the colour to be more solid and richer, but I was scared to change medium. So this really was the push I needed and all I want to do now is paint. I do still love drawing though and I've noticed my sketchbook is becoming more a drawing book and less sketchy. But my sketches I know will end up as paintings, not a pencil drawing. Sorry pencils.
You often use text in your artwork and I have recognised song lyrics making an appearance, so I'm guessing that music plays an important part in inspiring you? What do you like to listen to when working and what are some of your other main sources of inspiration?
I listen to all sorts, it depends how I'm feeling really. Just now I keep listening to Horseback's new album over and over and over, it's just brilliant. Some of the lyrics I've used have come from listening to Jucifer, Teenage Fanclub, Neil Young, Deerhoof, PJ Harvey, Opeth, Phoenix, Queens of the Stone Age, Tool, Gillian Welch, Jim O'Rourke and Iggy Pop, to name a few. Other sources of inspiration come from reading poetry and books (Ted Hughes, George MacKay Brown, Tom Robbins, David B, Charles Burns and David Woodring are my penned heroes) watching films (although I have far too many favourite films, directors and writers to list) and also being outside and looking at my surroundngs (the shape and colour of the landscape, the form and pattern of the plants). All this weaves around in my head and knits me up a dream.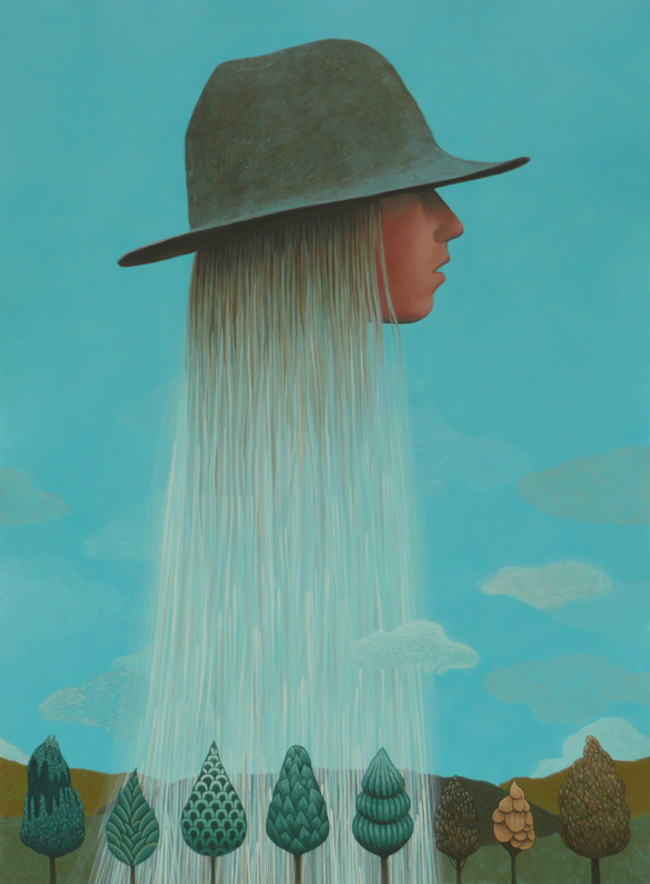 Who are some of your favourite artists?
When I was fifteen my first love was Gustav Klimt, I loved his bold pattern making. Then came David Hockney, lovely fresh colours and so much fun. Andrew Wyeth for his narratives and simple compositions and that was the first time I'd seen tempera used. I've never tried it but I like the finish. I think I'm too lazy and impatient to try tempera! I fell in love with Erlend's work before I fell in love with him at art school. I also admire the skill and ideas of James Jean, Audrey Kawasaki, Anke Feuchtenberger, Maya Hayuk, Souther Salazar, Graham Little…this list could go on and on. There are so many magical minds out there.
What is your proudest achievement as an artist?
My first real solo exhibition at FB69 gallery in Münster, Germany in 2010. I had four rooms to fill and eight months to complete the work so I gave myself a strict timetable to work to, and I managed. My nerves got the better of me just at the last minute, but Erlend gave me so much support and the gallery owner Kolja Steinrötter couldn't have been sweeter. So I'm very proud of what I achieved, but feel ever so blessed by the people around me who helped me get there. I say 'my first real solo exhibition', as in 2007 I had an online solo exhibition with Fuse Gallery in New York. That was a great achievement too and the gallery owner Erik Foss is a wee star, so encouraging and supportive. A fine man.
Ah yes, you took part in the touring DRAW exhibition which was co-curated by Erik Foss and Curse Mackey. We'd love to hear a little about the show and what it felt like to have your work hanging alongside pieces by artist legends such as Robert Crumb, HR Giger and Robert Williams, to name a few?
When I joined in the DRAW exhibition it was being shown at the Stolen Space Gallery in London. We travelled down for the opening and aaawwww, that was the most exciting exhibition opening we'd ever been to, because of the amount of amazing work on show, the artists involved and the tasty cocktails being served! They were called 'Dark 'n' Stormy' – it's dark rum, ginger beer, lime and lots of ice. YUM! It made me feel so proud to be sharing the wall space with artists of such caliber. It kind of makes my head spin thinking about it still. But, I really admired Erik and Curse, as when curating DRAW it wasn't just a show of work by world renowned artists, if they liked the work then you were in. And that's what makes DRAW so diverse and why it has been growing momentum and popularity with every showing. After Stolen Space, it then toured to the Shooting Gallery in San Francisco and then to the Museo de la Ciudad de Mexico in Mexico City, who also had a book published of the exhibition, showing new work by invited artists. I was delighted to have been one of the invited artists. It's a good feeling to know I've been a part of all this.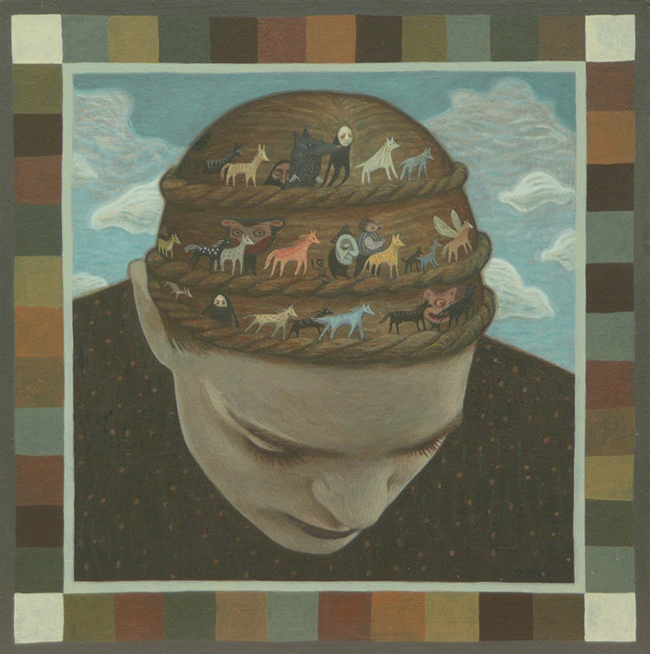 When you aren't making art, what do you like to do to relax?
Mountain biking, walking and talking and being with Erlend, hanging out and eating with friends, watching films, reading, jumping off the harbour wall here in Fortrose and swimming in the sea, if it isn't too cold!
If you weren't an artist, what other career path might you have followed?
If I wasn't an artist I would love to be a landscape architect or a burlesque dancer. A landscape architect is probably more feasible!
The life of an artist is very rarely a straight forward one. What is it that keeps you going?
When I listen to music, or read books or watch or hear something where people are creating purely for themselves and they're being true to themselves, I find that incredibly inspiring and motivating. Their love and passion for their work shines through and it excites me. That encourages me to keep going.
What's next for Pamela Tait?
I'm excited by what's next. I have ideas for a project and plans for developing my work.Talking of which, I must get back to it! Thanks WOW x WOW, it was nice chatting!
Thank you Pamela, the pleasure was ours! To check out more of Pamela's awesome work you can visit her website: pamelatait.co.uk