Tatiana Suarez is a dexterous artistic talent who has many sides to her brilliance. Whether she is in the quiet of her studio or in the hustle and bustle of an outdoor location while painting a mural, Suarez displays an effortless ability to create images which beguile. Tati's work centre's around her sensual female figures with their trademark doe-eyes, which invite you into realms both beautiful and unsettling. Drawing on the symbolism and myth of her rich Brazilian and El Salvadorian heritage, Suarez infuses her paintings not only with personal meaning, but also narrative, which engages the viewer and encourages them to forge backstories for her alluring protagonists.
Tati has become a very sought after artist within the New Contemporary Art scene and has exhibited her work in renowned galleries such as Spoke Art and Thinkspace as well has having participated in events hosted at Art Basel Miami and by Pow! Wow! Hawaii.
WOW x WOW thoroughly enjoyed catching up with Tati recently to chat about her creative thoughts and art happenings.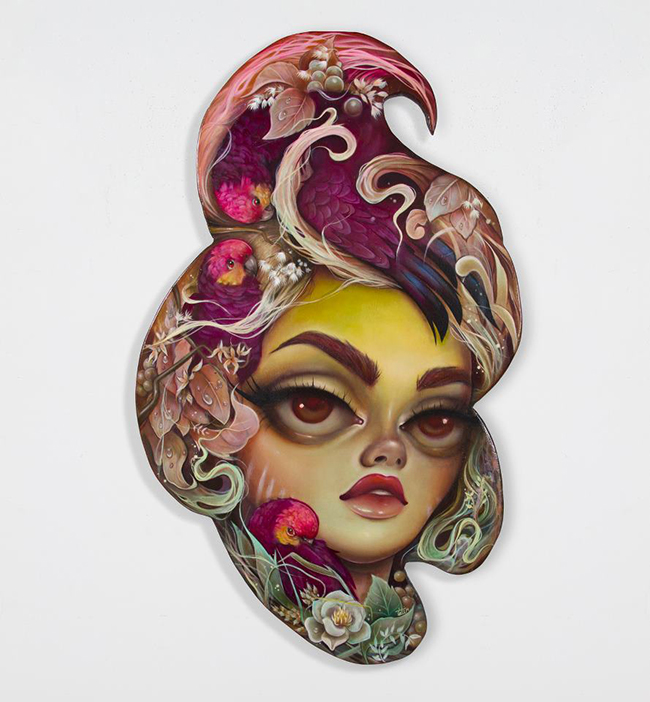 Hey Tati, thanks for taking the time to join us. Before we get going, can you tell us a little about your background? Where you're from, what got you into art, any artistic training, etc.?
I was born and raised in Miami, the land of palms and sunshine. As clichéd as it may sound, I wanted to be an artist for as long as I can remember – that, or pretty much anything involving being surrounded by animals. My dad was an artist, so doodling alongside him and watching him experiment and create, piqued my interest at a very young age. My only artistic training consisted of basic foundation art classes offered in school. I knew my heart was in it when art was the only class I looked forward to throughout the week; not to mention it was also the only class I did well in. I stopped painting in college to focus on my graphic design major, but went back to it full-time after spending a year working in advertising.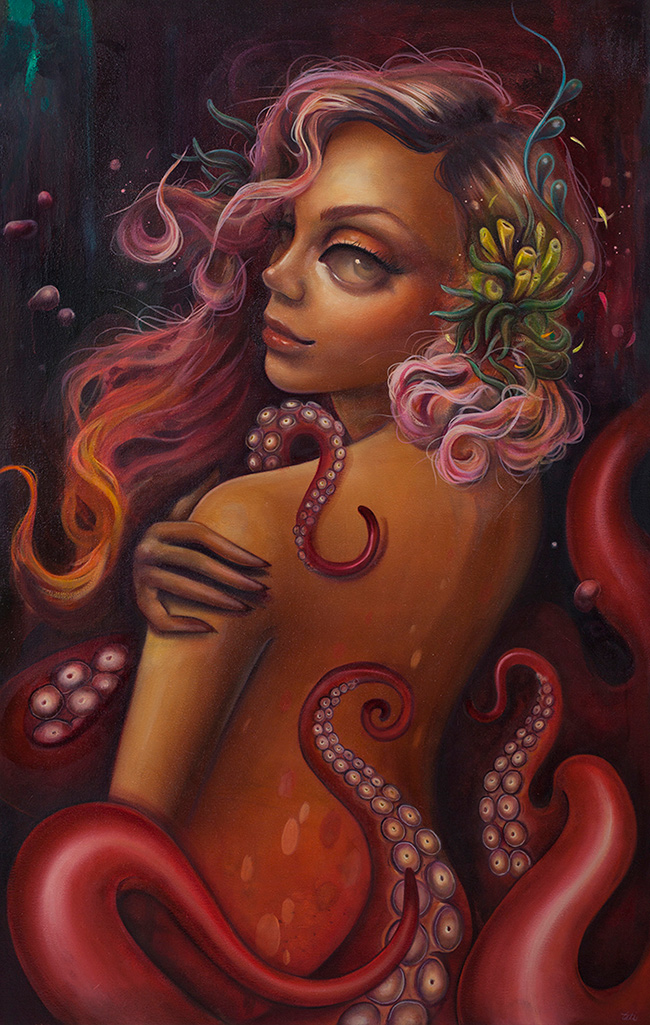 Talk to us about your creative process?
It's nothing out of the ordinary – some brainstorming and research followed by some quick, loose sketches. I'm rather impatient when it comes to sketching, so I never really take the time to refine them. I then begin sketching loosely with paint right onto the surface, and begin to build layers from there. When it comes to murals, my process is quite different. Outdoor work limits you to only having one go at it. It's all or nothing. Typically I create a refined, full-color digital comp with an overlaid grid that allows me to more easily transfer it to the wall surface. The entire process is a roller coaster of emotions!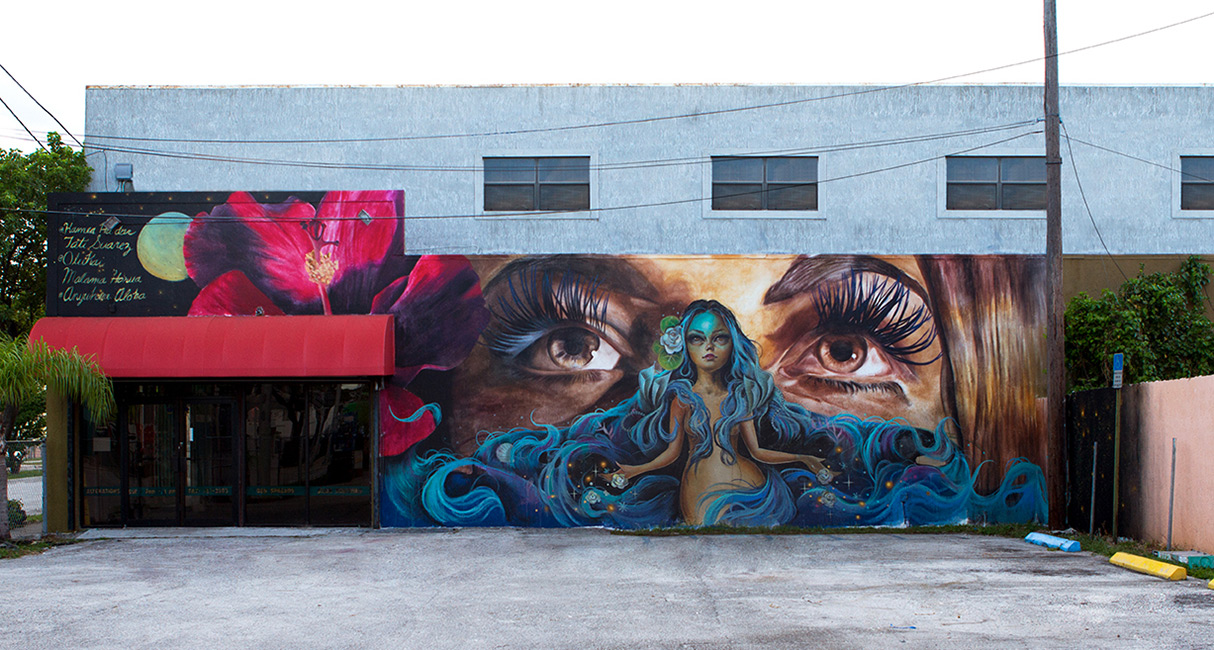 We'd love to hear more about your outdoor murals. How did you get introduced to painting them and what are the main differences/challenges compared to painting in the studio?
I had graff writer friends in college trying to convince me on taking my work large scale and public. In 2009, during Miami Art Basel, the guys at Primary Flight gave me the opportunity to paint my first wall and it just took off from there.
Murals weren't my favorite up until very recently, actually. As someone who primarily works in the comfort and privacy of their own studio, I found painting outdoor murals extremely nerve-wracking. I'd get very anxious at people watching me work, especially the beginning stages when you're trying to sketch and figure things out. I'm finally getting comfortable and figuring out my own techniques, and now I love it! Because of all the challenges and intangibles involved with working outdoors (the scale, obstacles, equipment, weather – oh God, the weather) it's really rewarding to see what you accomplish at the end. Also, as far as reach and visibility goes, studio and gallery work can be limiting, whereas murals introduce my work to a whole new audience. I love that a mural can immerse a viewer, disrupt their commute, offer strength, and even change the present outlook of someone's day.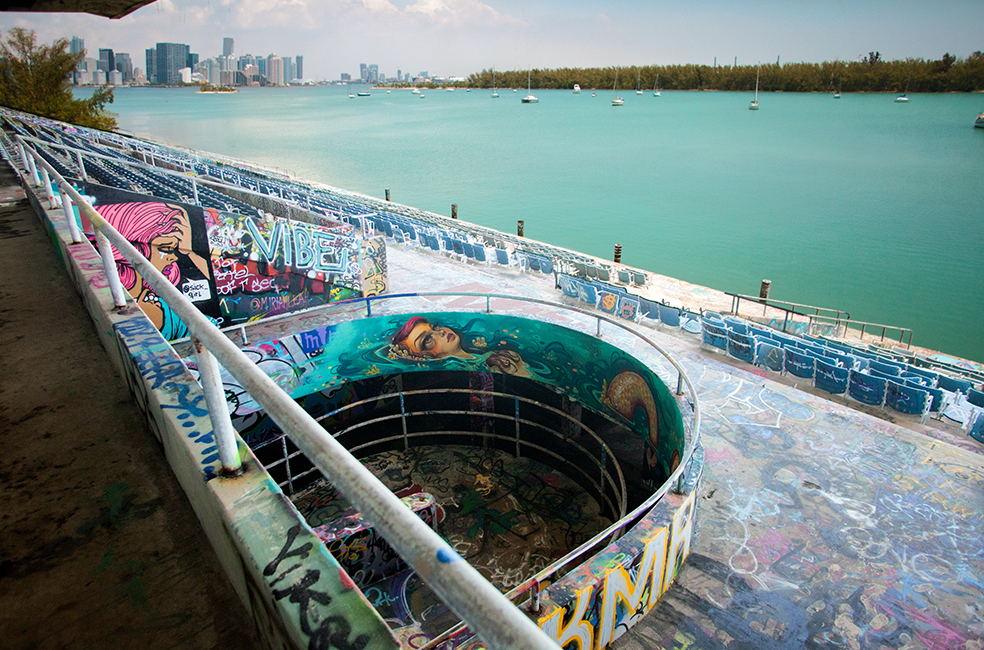 Women feature as the central focus of your work. What themes and issues do you like to explore through them?
The ladies in my work are used as vessels in communicating various topics such as pop culture themes, to exploring cultures and beliefs, to using my art as activism ("artivism"). I often get asked whether my pieces are intended to be self-portraits, the reality is they're not meant to be from a physical standpoint. I consider myself a quiet and timid person and the ladies in my work often times serve as alter egos that facilitate personal expression.
As a figurative painter what kind of reference material do you use? Do you ever have models pose for you?
When I first started painting my ladies, it all came from memory. Later on I began using models found in magazines and the internet as reference in addition to occasionally photographing myself. Most recently, I've asked friends to begin posing for me.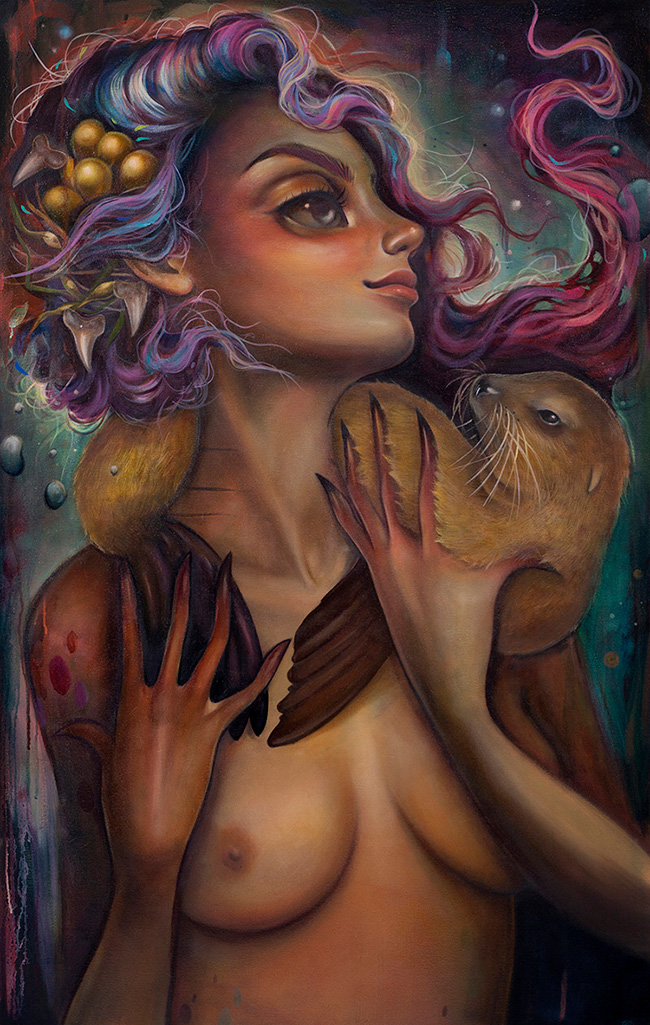 You mentioned the internet. How important has this resource been to you regarding your career as an artist?
The internet has been an awesome way to stay connected to the art world no matter where you are. It's an instrumental tool for networking, sharing, and promoting my art. It's helped me discover and build relationships with so many rad artists! It's also incredible just how quickly one can research and find references, particularly when painting outdoors and needing to quickly Google something. I need to keep reminding myself to unplug every so often and try to gain inspiration the old school way, from nature or simply hanging out at book stores. Having access to so much great work can at times can be a bit overbearing, particularly when you're going through waves of self-doubt and artistic crisis, haha. In the end it's about balance.
The folklore and myth of different cultures, particularly those of Latin America, provide inspiration for your art. Do you have any particular favourite tales or myths that you could share with us?
I'm really into hearing about different cultural myths, legends and beliefs! One of the reasons I love living in Miami is that it's culturally rich city, influenced by many Caribbean and South American countries. My favorite deity to depict is Iemanjá – goddess of waves, queen of the sea. I also enjoy the tale of Vitória Régia, which is the largest water lily in the world. The tale tells us about a young Indian girl named Naia who tries to reach out to the moon and the stars. One night, she sees the reflection of the moon in the river's surface, and tries to grab it, but drowns. The moon takes pity on her, and transforms her into a flower, which blossoms during full moons.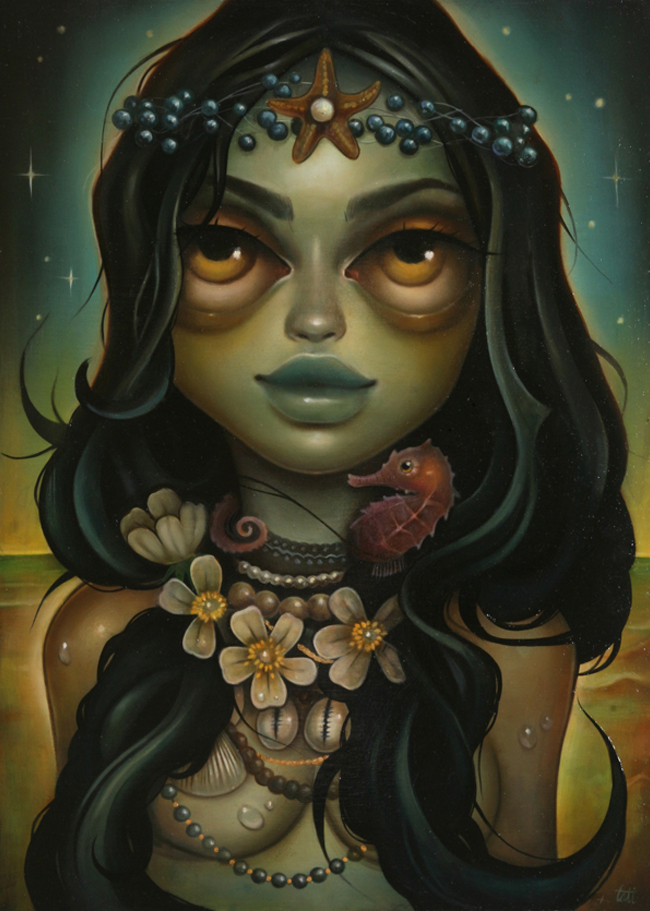 You've been exhibiting your work in New Contemporary Art galleries for several years now. How did you get involved with the scene and can you tell us anything about the type of support you have received being a part of it?
Bear and Bird Gallery in Fort Lauderdale and AntiKulture in Wynwood were the first South Florida galleries that gave me a chance to show my work. These opportunities eventually led to my participation in Miami Art Basel shows and so on and so forth. I'm forever grateful to them! I definitely feel like painting murals has served as a springboard in getting the attention of many of the galleries i'm exhibiting with today. I've received so much love and support and built great, long-lasting relationships with people that have included me in some pretty amazing projects!
Which of your own creations are you the most proud of and why?
I'm not sure, that's a tough one. I guess I would have to say four of my larger paintings which were on display at Known Gallery this past month. It was the first time I used a model that wasn't myself, and I paid extra attention to the play of light and shadow on facial features. They're much more dark and mature than some of my previous works. I'm also pretty proud of the mural I painted in Mexico back in July. It's been my tallest to date. I still don't know how I managed to do that, haha.
What are some words you use to describe your own work?
Dewy. Magical. Creepy. Sensual.
How would you sum up your work ethic?
Hustle! I consider myself fully dedicated to my art. Each project I approach needs to be the best it can be. At times, I can be a little too hard on myself, but it only pushes me to get better. You can always be more organized and work harder.
What's next for Tatiana Suarez?
I'm currently in San Diego for the first couple of weeks in November for some mural projects. The first is with the awesome people over at Pangea Seed and their Sea Walls: Murals for Oceans Project. While I'm out there, I'll also be painting with some of my west coast buddies! Then there's Miami Art Basel in early December, however, my plans for that week are still being worked out. Additionally, there are a few group shows and commission work I'm excited to begin before the year is over.
'Tati' video by Miguel Endara