The subjects of Zoé Byland's paintings exist within a carefully constructed monochromatic universe; exuding a curious timelessness and imbued with a palpable atmosphere. Through her protagonists, Byland invites us on a journey into intriguing territory, where past and present collide, providing us with opportunities to explore the relationships that exist between all facets of our cultural experience from high to low, the ways in which we form personal memories and how these serve to alter our expectations and perceptions. The nature of identity is also under scrutiny, as Byland's characters often appear in disguise, or are partially obscured, inviting us to project ourselves forth, and once again granting us the occasion for valuable introspection and the convergence of philosophical contemplations.
Zoé Byland was born in Bern, Switzerland in 1975 and currently splits her time between Bern and Vienna, Austria. Zoé attended the F+F school for art and media design in Zurich and studied contextual painting at the Academy of Fine Arts in Vienna. Since becoming a professional artist, Zoé has exhibited her artwork far and wide, at galleries including, the Cotton Candy Machine in New York, Pure Evil Gallery in London, Dorothy Circus Gallery in Rome and KochXBos Gallery in Amsterdam.
WOW x WOW caught up with Zoé to find out a little bit more about the inspiration behind her fascinating works. Read on to hear what she has to say about her interest in opposites, how she approaches symbolism and the importance of art history to her creative practice.
Hi Zoé, thanks for freeing up some time to join us for a chat, we really appreciate it. To get us started can you tell us about where you're from, where you're currently living and what you like about the area?
I was born and raised in Bern, Switzerland, then studied painting in Vienna, Austria. For the last 13 years I have been commuting between Switzerland and Austria. Having your family, your friends and your work divided between two locations is often a real challenge. At the same time I really appreciate being at home in two places. Being able to just switch between two separate lives is a huge privilege. Bern and Vienna counter balance each other well. I wouldn't want to miss out on either of the two. Bern provides nature and peace, an ideal working environment. Vienna on the other hand offers all the culture and inspiration of a big city.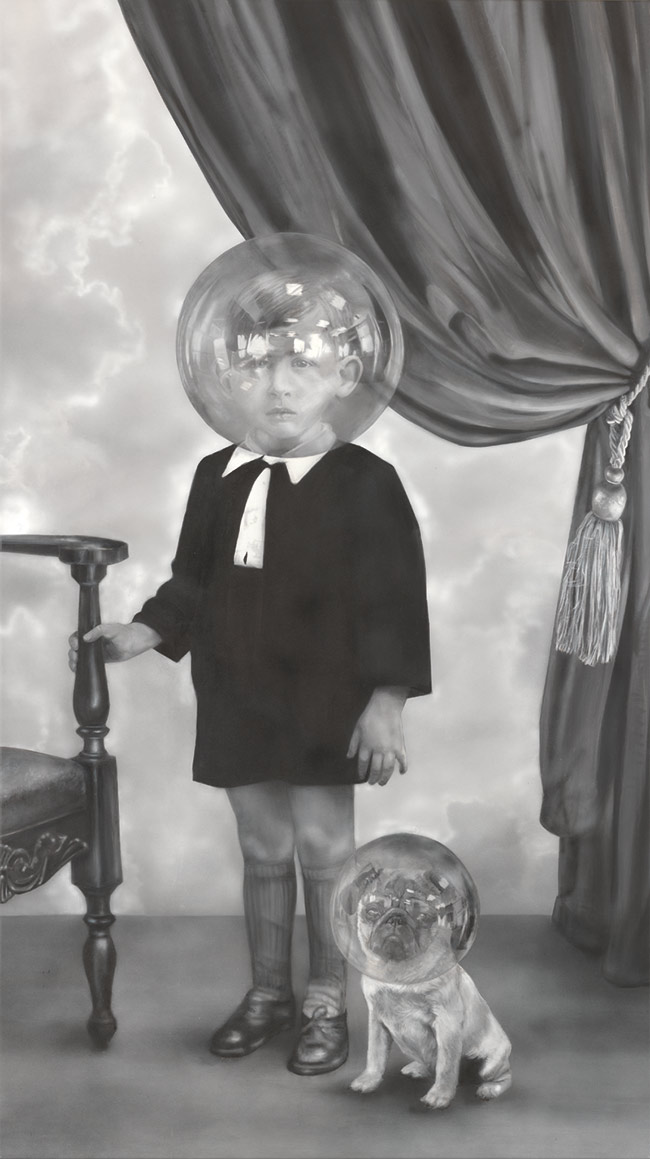 What have you had in the way of formal training? Do you feel that it played an important role in shaping you as an artist, or do give your own hard graft and life experiences more credit for that?
Both.The two go hand in hand. I went to art school in Zürich and then went on to study at the Academy of Fine Arts in Vienna. I also studied a few semesters of art history at the University of Vienna. My studies gave me a framework in which to experiment and develop my own identity as a painter. What it did not manage to do was prepare me for the struggles of everyday life as an artist. To endure this sort of work you have to be pretty tough sometimes.
You had a recent exhibition of wonderful new works at Dorothy Circus Gallery in Italy, entitled 'Head in the Clouds'. Please tell us about the inspiration behind the title and some of the themes you were exploring with this collection of work?
'Head in the Clouds' is the title of a painting as well as a general attitude towards life. Having one's head in the clouds to me means freedom of thought and imagination both in regard to painting and life in general.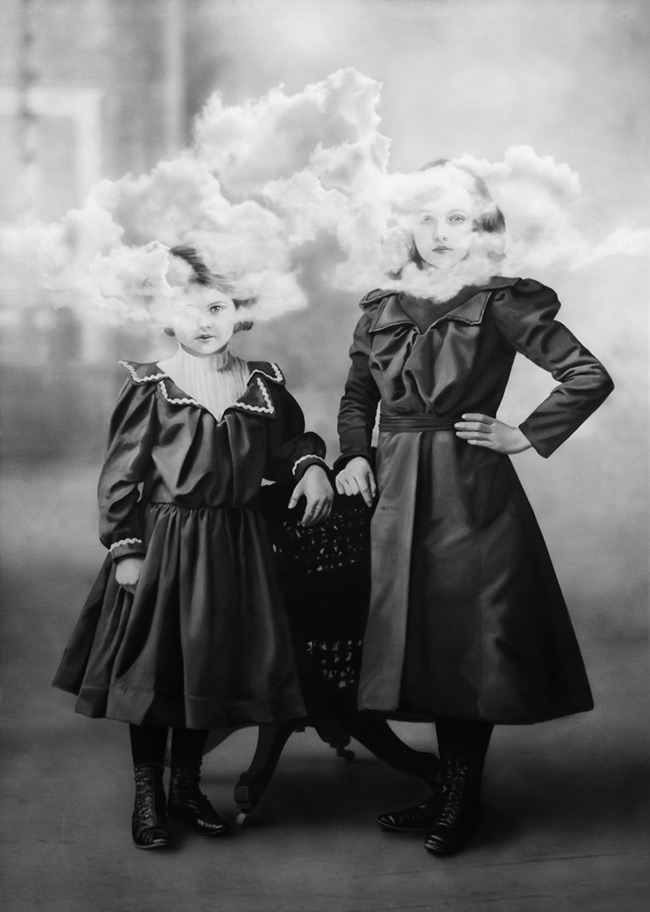 Your painting style combines traditional painting techniques with airbrushing. How did this come about and what does the use of an airbrush allow you to achieve that a paint brush can't?
As a painter, mastering my craft and being versatile in terms of technique has always been important to me. I value details and I work with precision. I love the old masters as well as graffiti, so it was fairly obvious to me to combine traditional painting and airbrush. The merging of opposites is generally a theme in my paintings.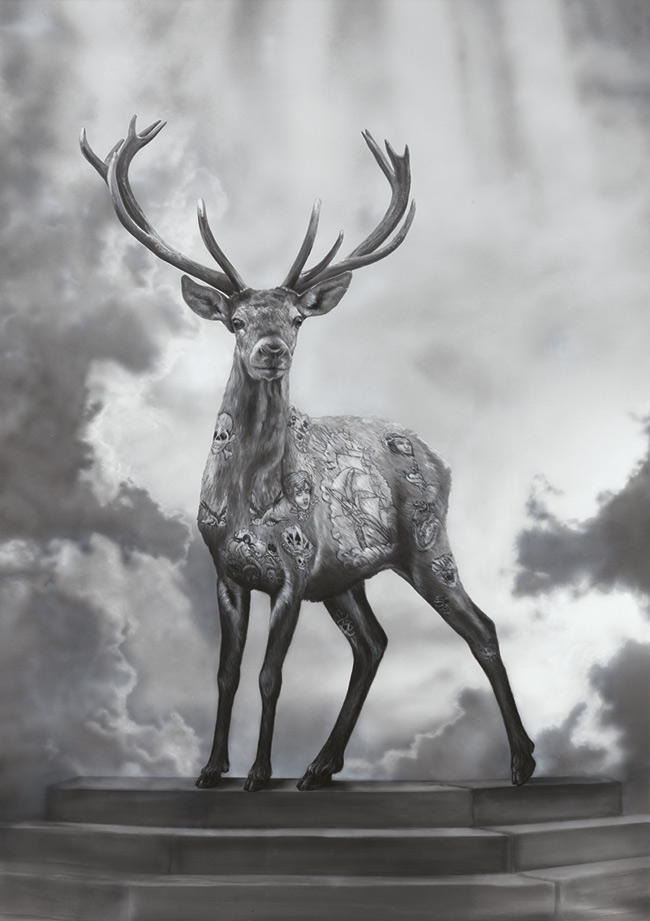 Let's talk about your fascination with opposites for a moment. Whether it be in the merging of the vintage with the contemporary, or the combining of high culture with low. What appeals to you about opposites and how do you like to approach this aspect of your art?
The basic theme of my paintings is the fusion of contrasts or of opposites. The boundaries between low culture and high culture are fluid to me, as is the division between different types of art. I classify design, illustration, comics and art toys as art, in the same way that painting, sculpture and so forth are art. I think the common understanding of the lines between high and low culture are beginning to blur and so the entire art industry is becoming a lot more relaxed about these things.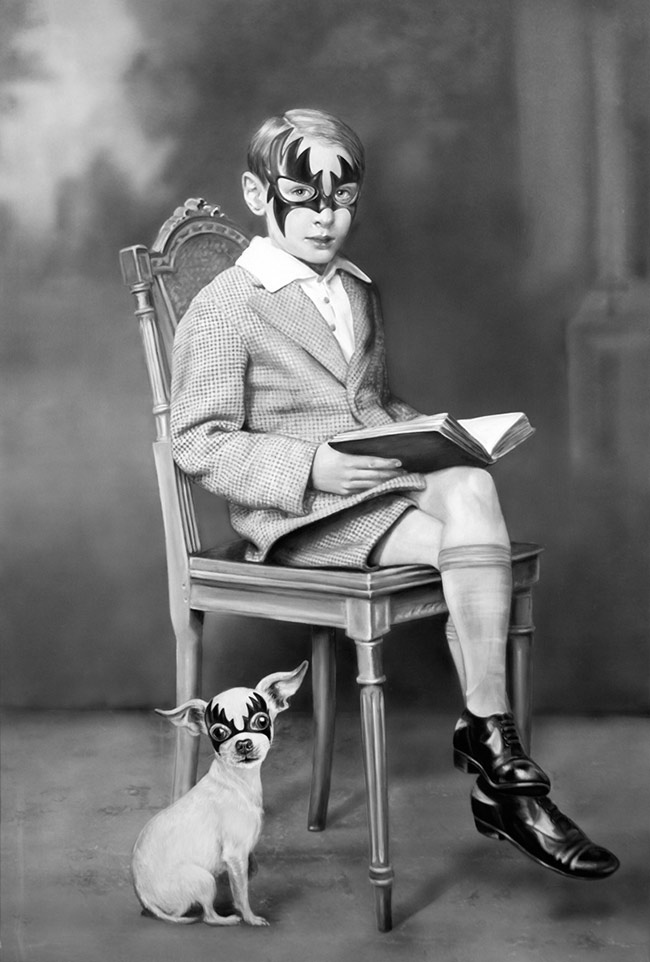 Storytelling and narrative are at the heart of your creative process. In your opinion, what are some of the most important ingredients that go into making a successful visual narrative?
My husband is a screen writer and I continue to be amazed at the number of parallels between our respective lines of work. The rules of successful visual narrative apply to my medium just as much as to other media. Just like a good story, a good painting needs an atmosphere that draws you in and defines the genre in which the narrative is taking place. In addition to a carefully crafted formal framework, drama and mise-en-scène play a role as well. The protagonists of my paintings do not reveal too much of their character, so the viewer's imagination has enough room to think up their own narrative ideas.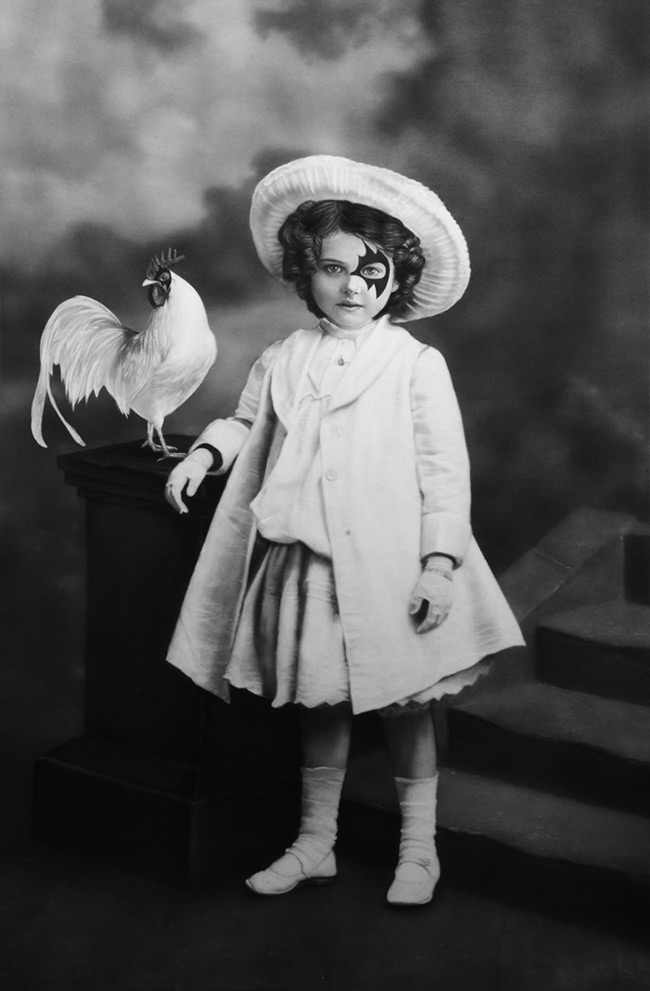 Facets of pop culture inform elements of your visual aesthetic. Please talk about some of the offerings from, or genres within popular culture that have had the most crucial impact on your creative development and artistic motivations? And if you could touch on why you feel they made a lasting impression?
In terms of style and content my paintings are based on elements of vintage photography, film noir, graphic novels, super heroes, tattoos and classical genres of art history. I combine the traditional and the contemporary, the classical and the subcultural. I like to use subjects from turn-of-the-century portrait photography because they are a timeless style of representation. Disguises are another central aspect of my work. My characters never fully reveal their identity; they retain a degree of secrecy. They protect themselves and are simultaneously visible and vulnerable.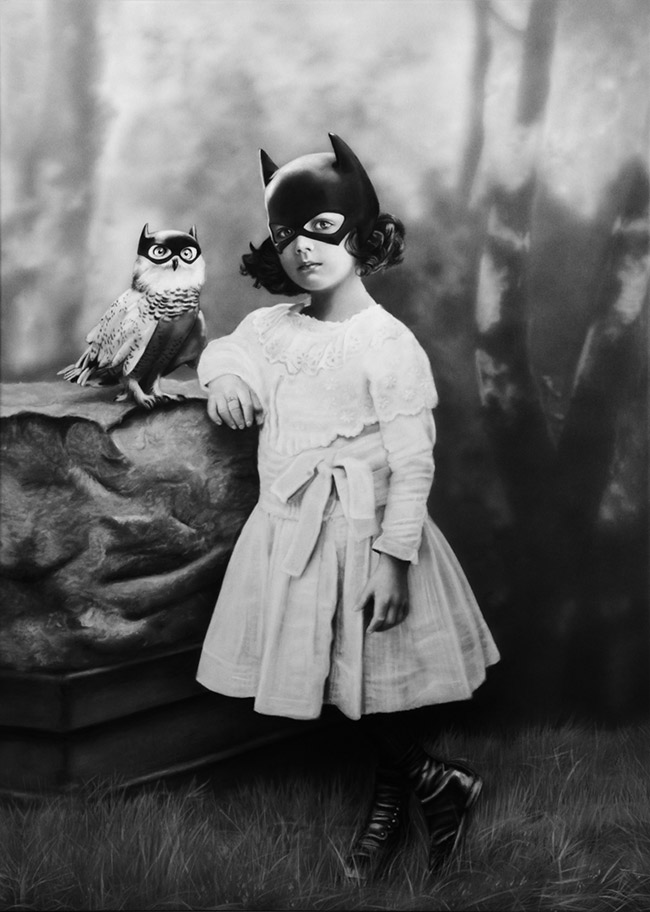 Art history is clearly a source of reference and inspiration for you. Can you discuss your relationship with art history and your thoughts about the importance of artists know what has gone before them?
The analysis of art history and historical works of art is very important to me. It helps me understand what preceded my own work. Simply put, the creation of art has always been about the same thing; finding a way to contextualise inner and outer conditions and translating them into one's own language. I also believe that even though the present is built upon the past, it is not possible to objectively represent the latter. The past only exists in a selective, staged form, altered by memory. In my paintings I want to create moments that elude time and space, in which history and the present day are blended together.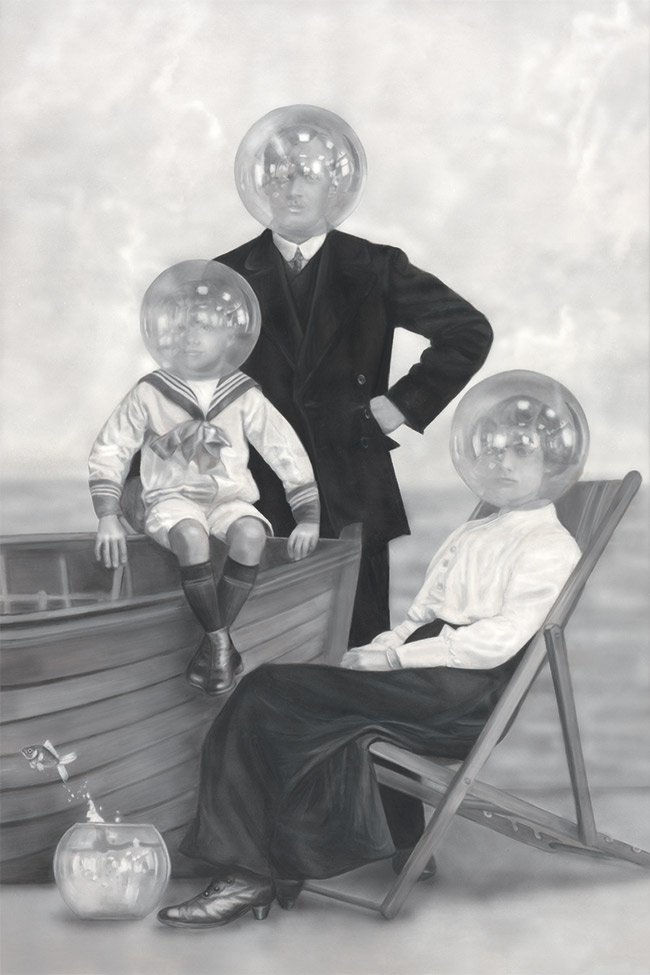 Your work contains an abundance of symbolism. Do you prefer to create your own personal symbols or do you draw from a more universal symbol bank?
I try to combine elements that fit with the underlying atmosphere of the image I am creating. I don't deliberately choose symbols to convey a specific message, that part is up to the viewer. What I love about visual symbolism is that it can carry a story by speaking to deeper levels of perception and emotion. An image can be read in a variety of ways. I don't want to limit this spectrum of interpretation by applying specific meaning. The personal and cultural background of the viewer may result in each individual finding a different meaning in the symbolism of my paintings.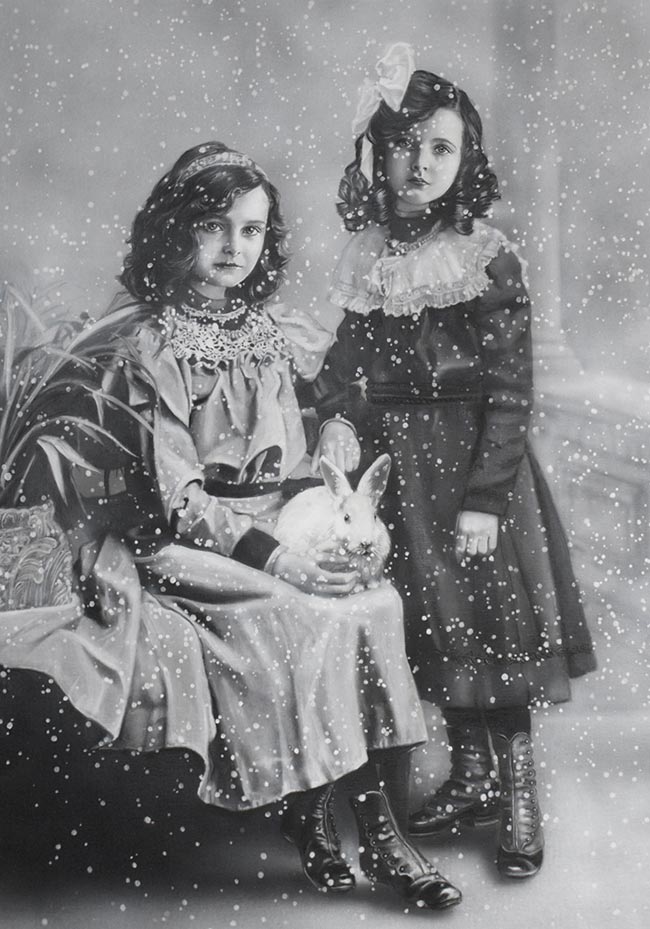 What are the best and also the worst pieces of advice that you've ever been given about your art or career?
"Do what you love" remains the best piece of advice. So simple and true. I seem to have successfully repressed any memories of bad advice I have been given.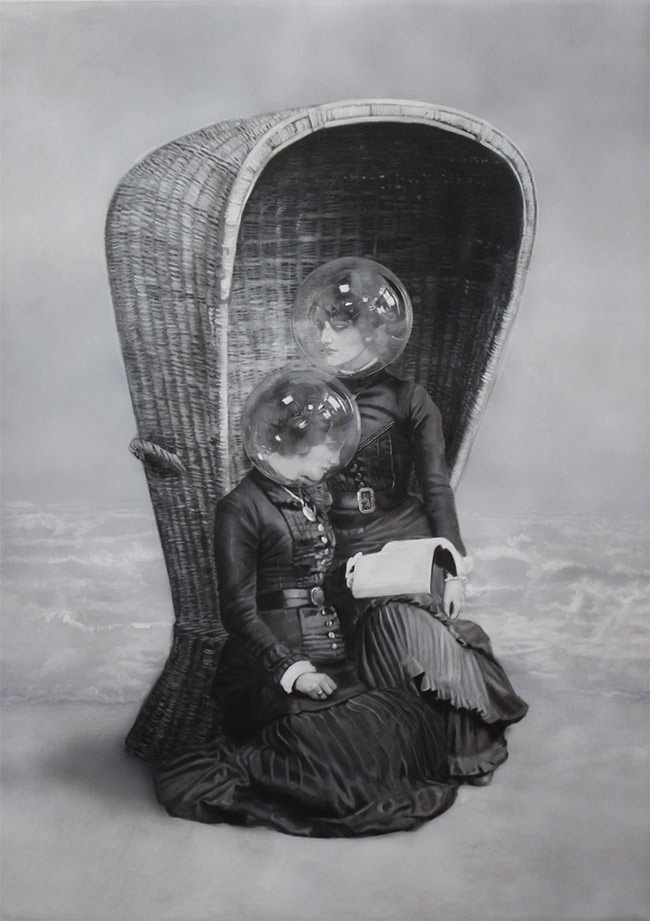 If you could own one piece of art from any of the world's collections, what would it be and why?
A painting by the Van Eyck brothers… or a gothic cathedral!
What's next for Zoé Byland?
My solo show is on at KochXBos Gallery in Amsterdam finished at the tail end of 2015. This year I will be participating in group shows in New York and Tunisia, I'm looking forward to all my upcoming projects.