Artist Rob Gonsalves was born in Toronto, Canada in 1959. During his childhood, he developed an interest in drawing from his imagination using various media. By age twelve, his awareness of architecture grew as he leaned perspective techniques and began to do his first paintings and renderings of imagined buildings.
After an introduction to artists Dalí and Tanguy, Gonsalves began his first surrealist paintings. The 'Magic Realism' approach of Magritte along with the precise perspective illusions of Escher came to be influences in his future work.
In his post college years, Gonsalves worked full time as an architect, also painting trompe l'oeil murals and theatre sets. After an enthusiastic response in 1990 at the Toronto Outdoor Art Exhibition, Gonsalves devoted himself to painting full time.
Although Gonsalves' work is often categorized as surrealistic, it differs due to the fact that the images are deliberately planned and result from conscious thought. Ideas are largely generated by the external world and involve recognizable human activities, using carefully planned illusionist devices. Gonsalves injects a sense of magic into realistic scenes. As a result, the term 'Magic Realism' describes his work accurately. His work is an attempt to represent human beings desire to believe is the impossible.
Numerous individuals around the world, corporations, embassies, and a United States Senator collect Gonsalves' original work, and limited edition prints. Rob Gonsalves has exhibited at Art Expo New York and Los Angeles, Decor Atlanta and Las Vegas, Fine Art Forum, as well as one-man shows at Discovery Galleries, Ltd., Hudson River Art Gallery, and Kaleidoscope Gallery.
"Frequently, the desire to express the wonder of imagination is manifested as images depicting children at play. The magical transformation in such images illustrates what is happening in the minds of the characters depicted, who are so absorbed by their activity that what is imagined seems to become real. Often these images will involve the type of illusion device that suggests an impossible (yet convincing) change of scale.
Other sources of inspiration for my images can be found in the various dualities that can be observed in life experience: natural vs. human made, urban vs. rural, light vs. dark, material vs. spiritual, etc. The images that are rooted in these concepts usually employ the device of a metamorphosis from one element to another. However, the techniques of optical illusion in my work are utilized somewhat intuitively. The devices that I use are generated perhaps less scientifically than in the work of artists whose primary concern is the creation of optical illusions for their own sake. For me, the particular subject depicted and its emotional impact is crucial; the illusions are a means to an end and must serve the objectives of the overall conception of the image." – Rob Gonsalves (excerpt from 'Masters of Deception' book)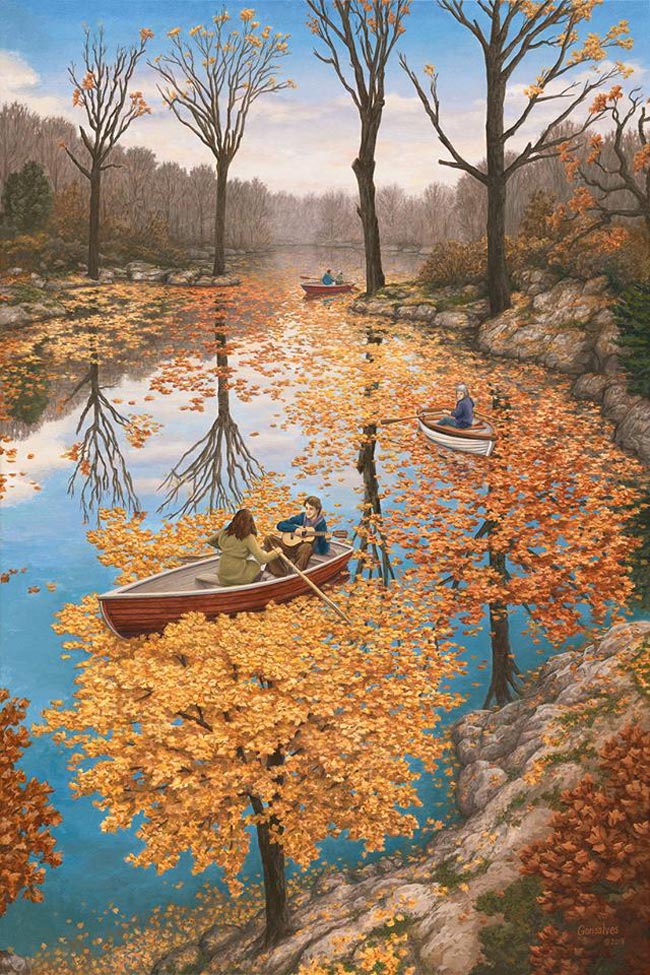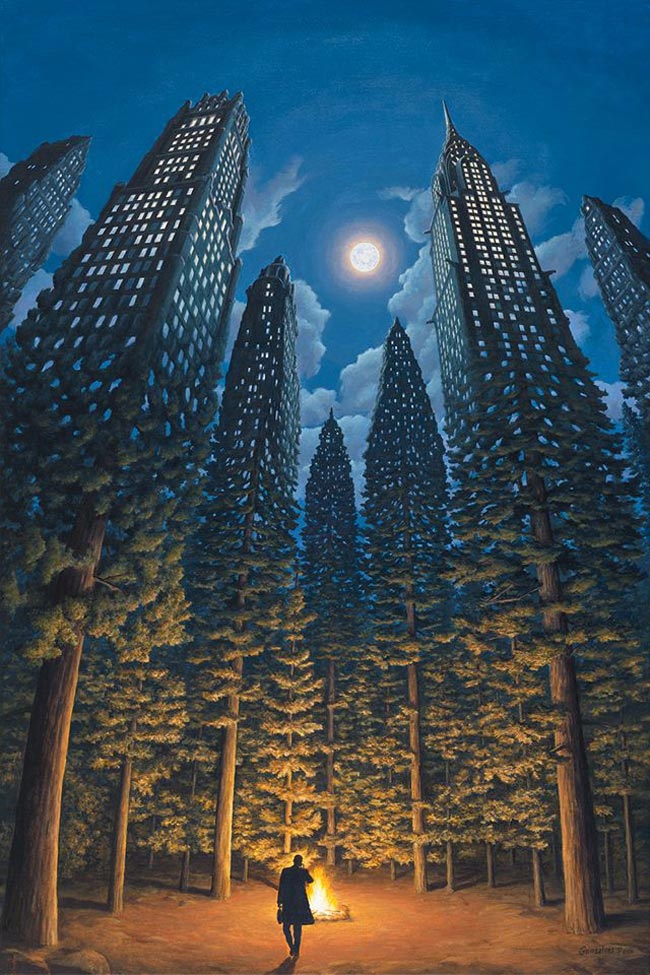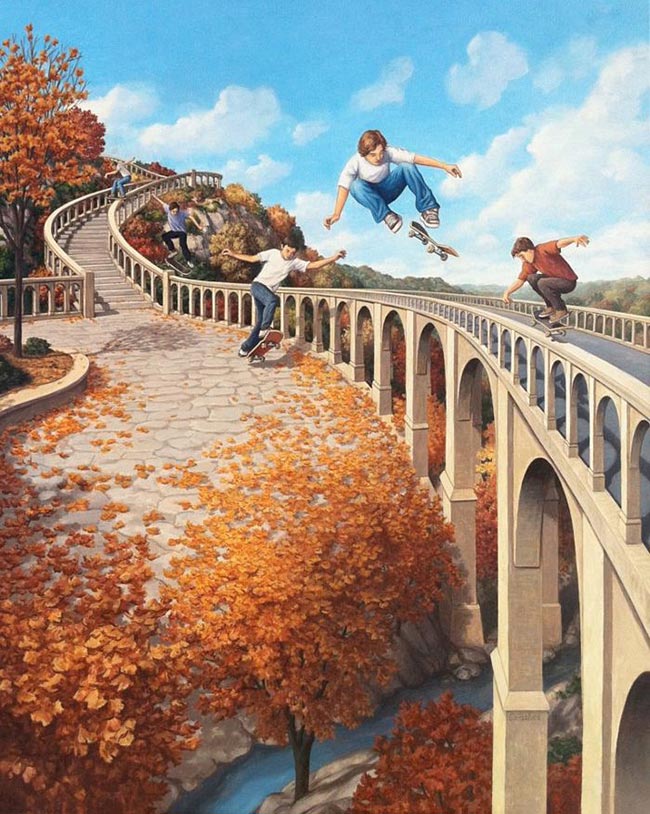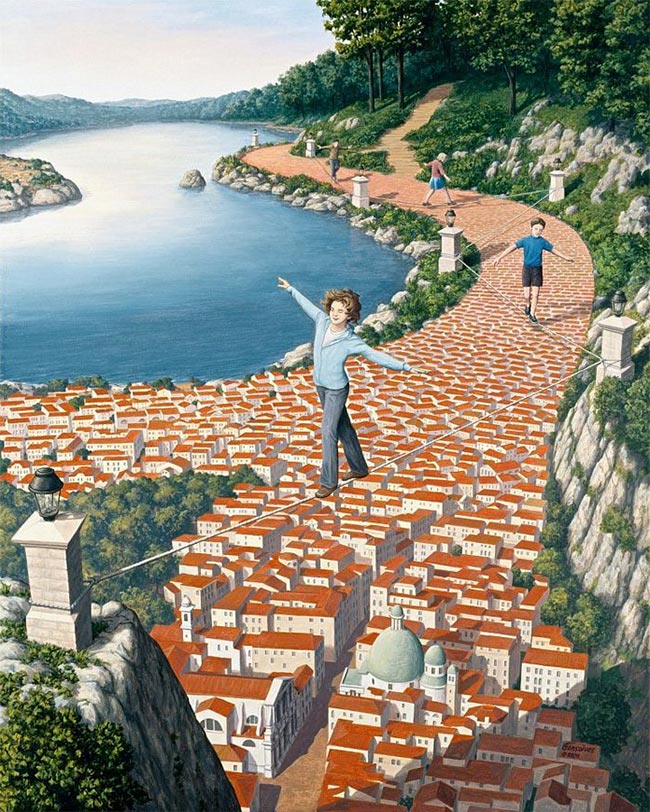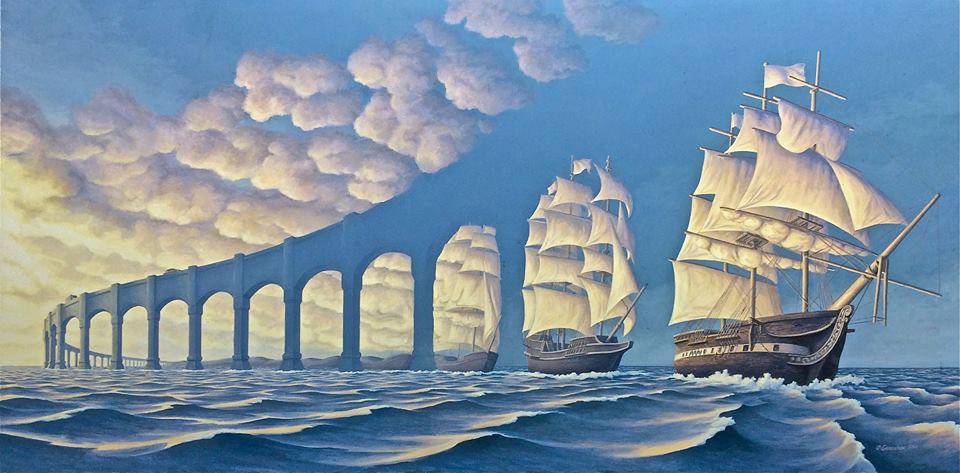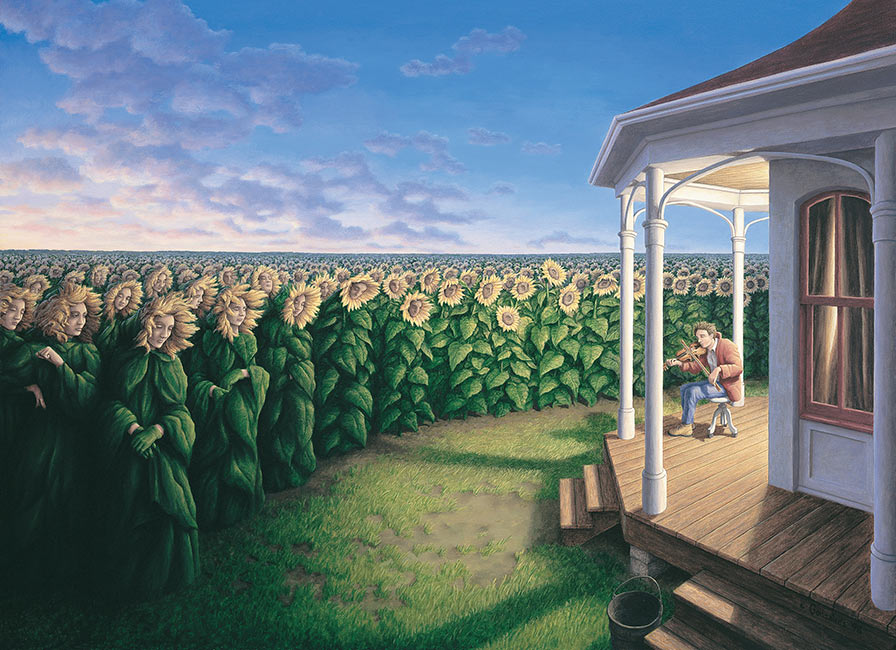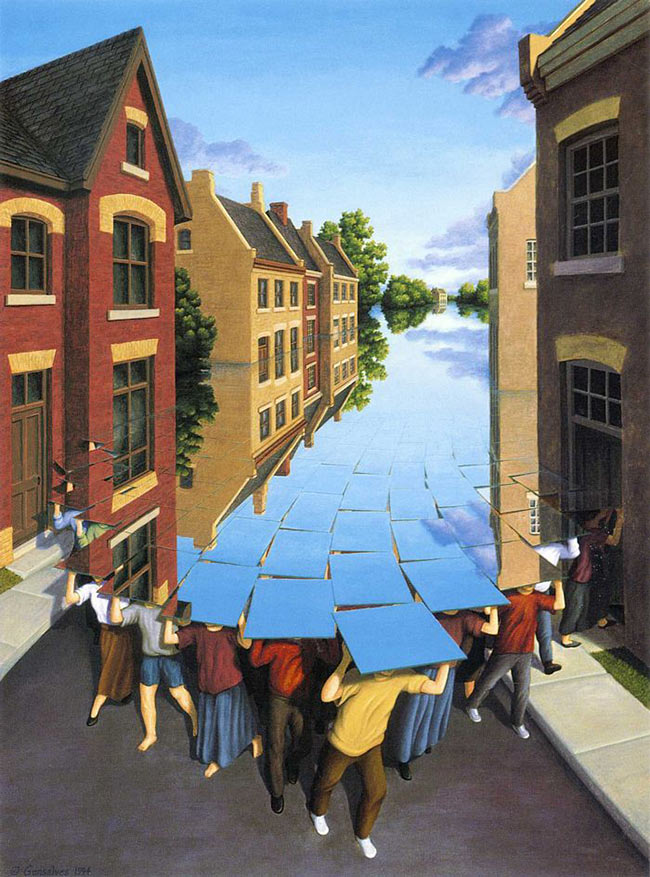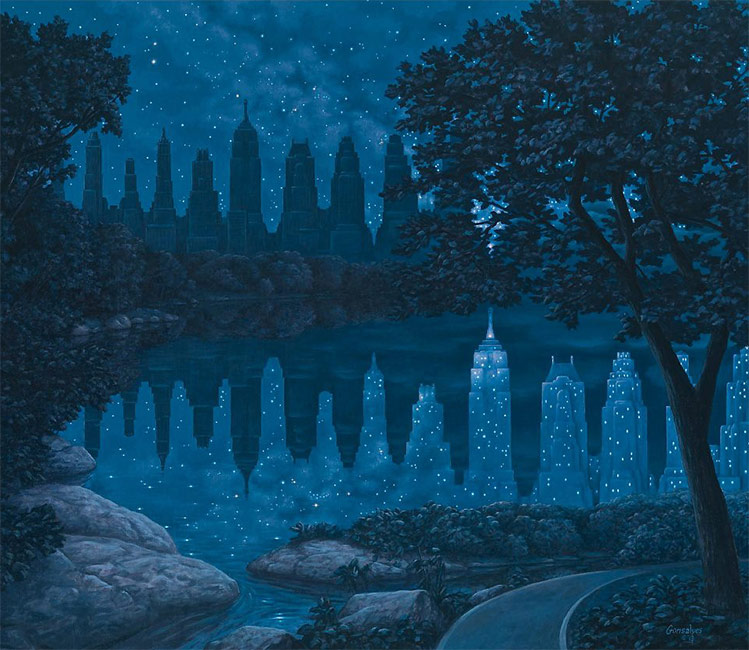 Save
Save
Save
Save
Save