'Reverie' by Boris Pelcer
'Reverie' is a visual experiment involving a voluntary confrontation with the unconscious through willful engagement with my own imagination and fantasy. In essence, each piece is shaped by the rich and symbolic narratives that are brought forth from the unconscious. Being that each piece is shaped by the unconscious means that they are paradoxical in nature; they simultaneously say a great deal about my own psyche while posing questions that I am not able to answer. The meaning that I am able to extract from each image is based on the overarching concepts that surface during the creation of each piece. Ultimately, my decision to deliberately evoke fantasy in a waking state is an effort to overcome the frequently cumbersome nature of conceptual overthinking in order to create work that is a more authentic representation of my own psyche.
For example, with my 'Pasithea' piece, the overarching sensation can be best described as delicate and calm, but ultimately fragile. If I further explore those sensations, as far as I can tell, that piece is really about the fragile nature of human perception. Furthermore, considering that the focus of the piece is on an unknown figure, perhaps that can indicate my own personal difficulties in feeling like my perception of other human beings is correct or clear.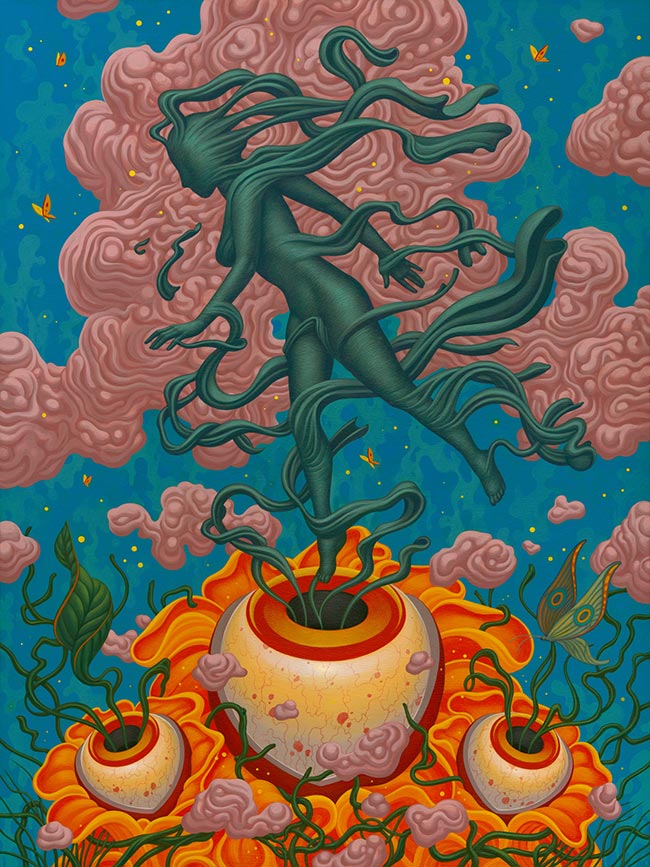 A great deal of what I understand about others is shaped by my own emotions and thoughts that are prevalent both consciously and unconsciously during my interactions with others. Thus what I take away from those interactions is greatly shaped by my psyche, whether or not I am aware of it. If such is true, can I say that I really understand anyone for who they really are? Also if so much of who I am is shaped by my unconscious, can I say that I really understand myself at all? If such is true for others, does anyone know themselves? And what does that mean, to know one self, or know others? It seems to me that our identities are malleable and are frequently reshaped by many factors we are not fully aware of.
Considering all of that, it seems that in the end I can only speculate as to what each piece is all about. However, what I can say with certainty is that the biggest utility of creating such pieces is the fact they ask questions and encourage self reflection. Furthermore, since so much of what I've chosen to depict in my work is guided by the unconscious, it means that the pieces represent my psyche in an authentic manner which seems to transcend the limitations of symbolic language.
Boris's 'Reverie' exhibit opened at Nucleus Portland on 22nd July and runs until 17th August, 2017.
'Exploring the Unknown' – Guest Blog by Boris Pelcer
'Somewhere Fantastic and Glorious' – Artist Interview with Boris Pelcer