The imagery of Dimitri Drjuchin is nurtured and coaxed from his memories, experiences, relationships and interactions. His creations are a direct product of a meaningful meditative processing of life events, the everyday bombardment of visual stimuli, the cluttering of mental detritus, and everything else we absorb through our existence here on planet earth. Drjuchin tries his best not to interfere with this processing and avoids moulding his visuals into anything other than the mysterious and colourful narratives they are conceived as; revelling in the tangle of emotional content that varies from taught anxiety to breezy frivolity, Drjuchin joyfully celebrates the dreamlike symbolism that lies at their core.
Dimitri Drjuchin is an artist/musician who was born in Moscow, but grew up making images and sounds in New York City. He graduated from Parsons School of Design in 2003 with a BFA in Illustration. He has since embarked on an exciting career, working in the fields of both visual art and music. This path has led him to create artwork and posters for his own band, Corrupt Autopilot, and also other musician clients, including Les Claypool and Father John Misty.
WOW x WOW was intrigued to find out more about the thoughts and inspirations that lie behind Dima's magically mysterious imagery and was thrilled when he agreed to participate in the following interview. We hope you enjoy!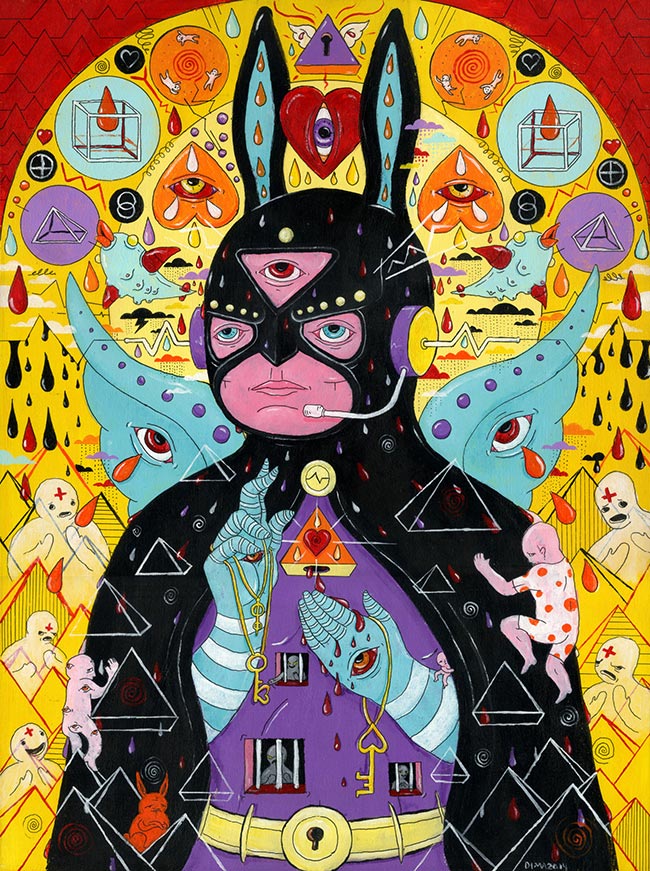 Hi Dima! First of all, thanks for agreeing to free up some of your valuable time in order to have this wee chat, we really appreciate it. If you could please start us off by introducing yourself and talking about your background, touching on anything you feel has been relevant to shaping Dima Drjuchin the artist?
I was born in Moscow during the 1980 Olympics and moved to the Bronx, NY a year later. I grew up there until I was thirteen when we moved to the city. I've always been interested in art. Some of my earliest memories are of learning to draw. It's something my brother and I always did and kept up with. I was not a strong student in school, but I always excelled with art. I think it's because I genuinely enjoyed it. It was always a source of personal freedom to me. I never felt I needed to follow rules with art, even when rules were pushed on me, I always maintained that what I say goes with my own work.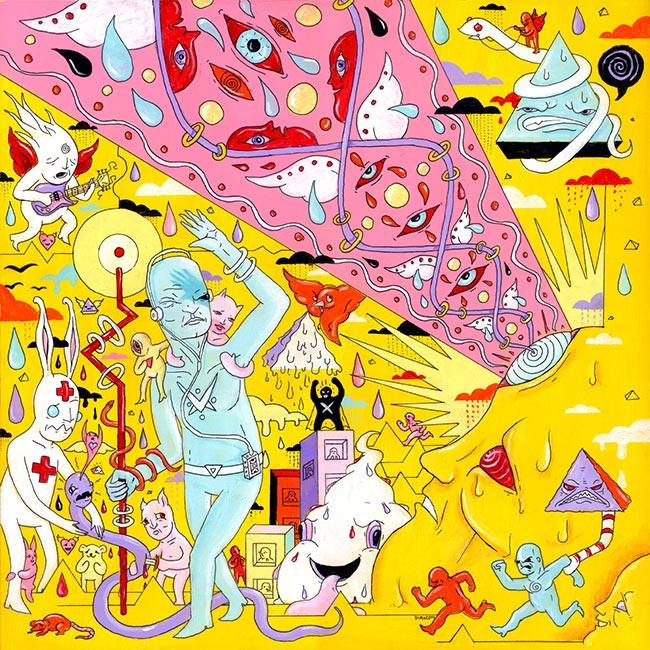 We're interested to hear about where you're currently living and what you like about the area? What is the art scene like there and do you feel a part of that community? Are these aspects of your existence that are important to your creativity?
Right now I live in Greenpoint which is a neighborhood in Brooklyn NY. It's across the water from where I grew up in Manhattan. My wife and I have been here since 2012. I really enjoy living in this area. Though things change very quickly, I feel like we had a thriving art scene happening for a hot minute but a lot of the spaces I frequented closed down and it's hard not to feel the void. At least that's the case for me and the circles I frequented. I can't really generalize on the NY art scene as a whole, I occupy only a small part of it. I'm also a borderline hermit so that could be my fault too. I do feel like we have a great network of artists and creatives here still. I really love the people I've come to meet through this world. I feel like everyone is super creative in their own ways and supportive of one another. Most of my friends are artists, musicians, comedians, film makers.
Do you assign meanings to your narratives and characters before, during or after the time you spend creating them? Or does your work come from a more subconscious place and your intentions and thoughts about the work and its meanings are always open, forever evolving and never nailed down? We'd love to hear your thoughts.
I suppose more the latter. I don't really think too hard about what my art means. It definitely means something, but I don't think of it linearly or aim to tackle an issue. I also feel like once I'm done with the piece it's not up to me to assign meaning to it. If it's meaningful to the viewer in whatever way they choose to see it, that's as valid as anything I could think of. Isn't that the point of doing this? Shouldn't art be a shared experience?
What role does history play in your art making? You can take that to mean both personal and learned.
I'm not sure, I do add things from my personal history into my work. I often draw birds in threes and recently only realized that I had three birds when I was a boy. I didn't realize this for so long because I only had them two at a time. Kinda blew my mind. But things like that creep into my work. I used to paint a hammer and sickle a lot and it's not in celebration or deferment of communism. I think it's more of a bi-product of going to a Russian school during the Cold War. That symbol was everywhere in my Russian school.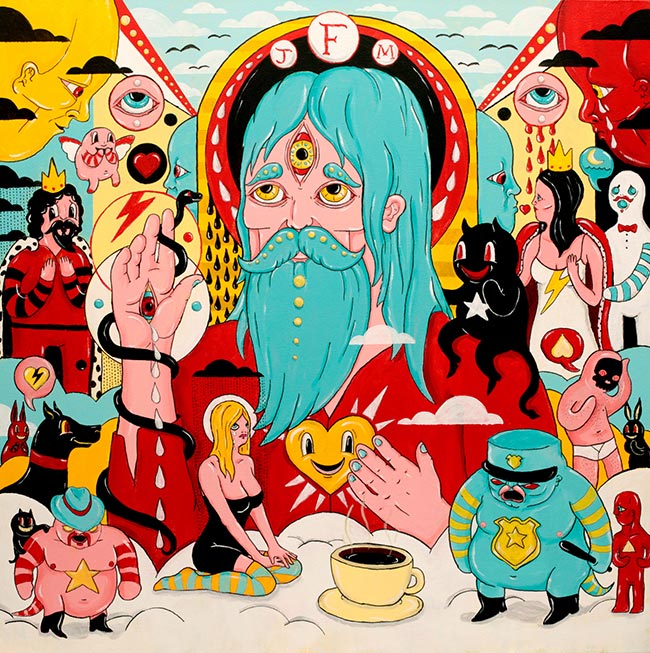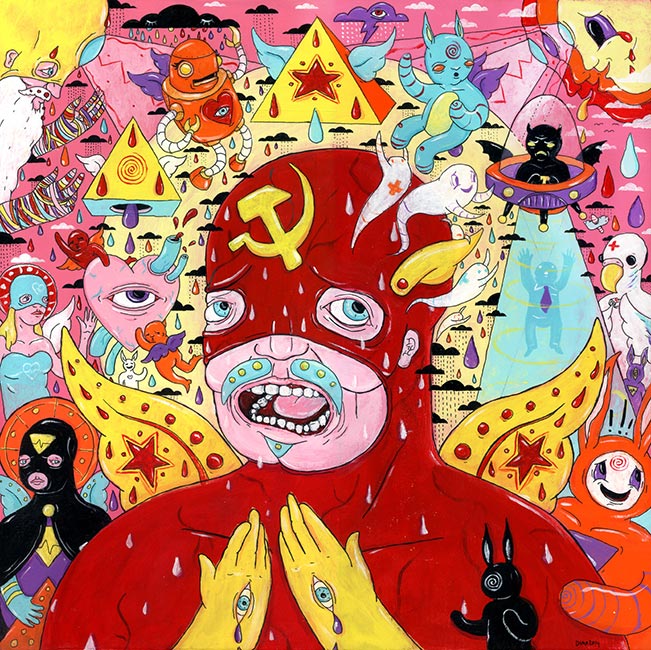 Where does your focus lie when you're painting?
I don't know honestly. I mostly let my mind wander. It's meditative, but I don't seek it to be. I also just try to entertain myself. I try to make myself laugh with drawings. I also focus on doing things better. I don't know, it's hard to say. I run a pretty good line between heavy discipline and wandering in the woods.
As we move through life we continue to grow and change. In what ways have you seen your work evolve since you started down the path of being a professional artist?
I've definitely seen my skills sharpen through time, for me that's part of the fun of it. I like seeing my worlds evolve over time and see what stuck around and what was left behind. I've changed up the way I approach things a lot in the last ten years. I used to just start painting and see what happened. But slowly I started being more cautious about composition and started planning things out more. Now I pencil out the whole piece before I start painting. I know that's art school 101, but for some reason it took me forever to get to that point. From it, I've seen my work get a lot tighter and I've been able to express more complex ideas that way. I do miss the chaotic energy of my earlier pieces however, but I was a more chaotic person back then, and you can't stay the same way forever.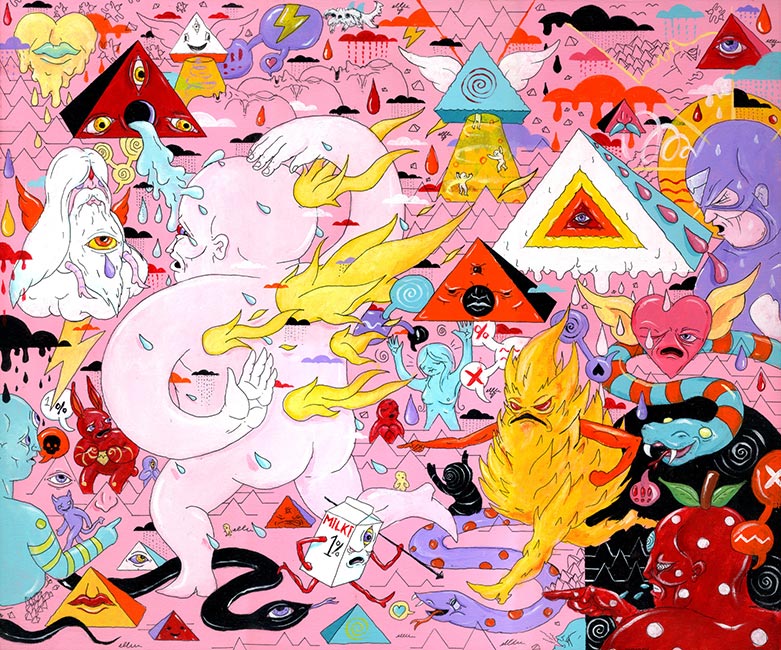 Being both a musician and a visual artist, how do you divide your time between both of these creative outlets? What you enjoy the most and ultimately find the most rewarding about channeling your energies into two different forms of expression?
I started making music when I was 13 years old, that's when I got my first bass guitar, and I've been playing in bands ever since. It's been as much of a rewarding practice to me as art has, even though I haven't seen the same type of success with it as I have with art. But I do them both first and foremost for myself. Music these days is basically my social life. I don't really go out to bars regularly or party hard anymore. Playing in bands is a way to keep a creative and collaborative social life. That's how I spend time with my friends on a weekly basis and the benefits are much more rewarding than going out to a bar every weekend. I would probably rarely leave my house or see anyone if I didn't play in two bands. Art takes up most of my time. It is, for a lack of a better phrase, my day job. But I try not to treat it that way. But both creep into one another. I often do art for my bands posters and records. It's made it easy for me to work with other bands because I understand the music world. I've been making animations lately and knowing music makes it easy to do things like edit sound and pace things. I don't really think of music and art as separate things. I think it all comes from the same place. Or, at least, the same neighborhood.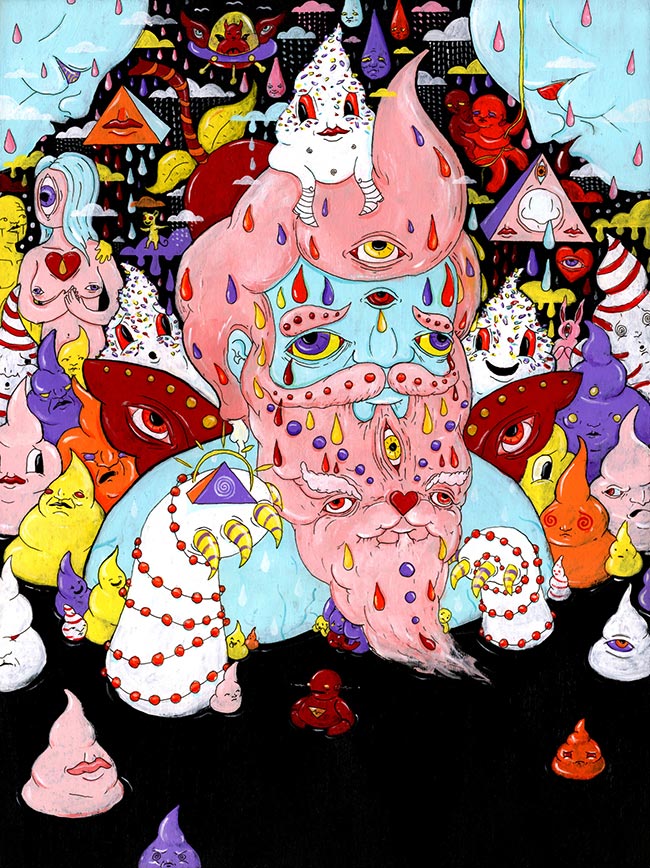 What are your thoughts about the dialogue and conversation cycle which is created between the artist and viewer? Also, what do you hope for viewers to take away from their time spent interacting with your work?
I try not to think about audience while I'm working on something. I feel like the more you have that in mind, the more you start pre-emptively judging your work against how it would be perceived by others. I try to maintain that I'm doing this first for myself. After it's finished I'm more interested in how people react. It's interesting, because someone else's perception can shed light on things that I haven't considered. It's nice to see someone have an emotional reaction to something I put a lot of feeling into. At my last solo show opening at Campfire Gallery, I ended up having a lot of long conversations with attendees. It forced me to talk in depth about my work, which is something I rarely do. But it became a very nice shared experience. I think an audience plays a major role in art. But I try not to let it be a deciding factor in how I feel about what I'm doing.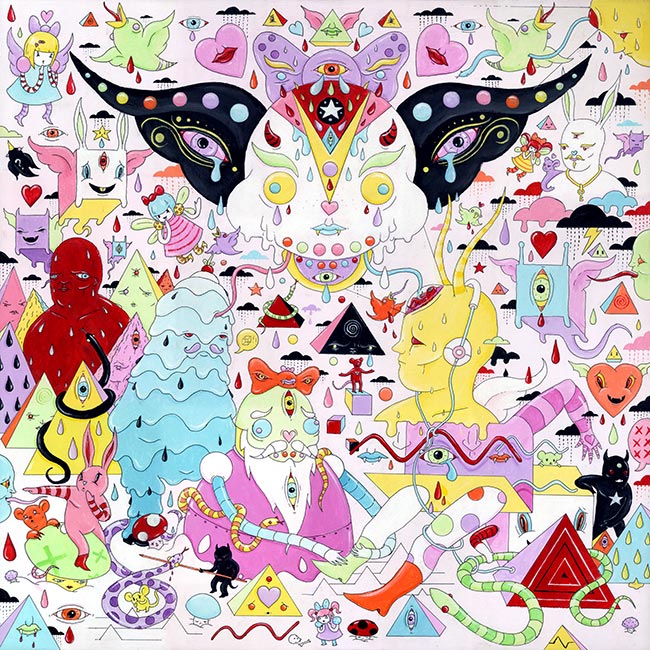 In order to get a better understanding of the personality of an artist, it can help to get a peek behind the curtain. Would you be willing to share a story from your own life, possibly one whose memory you find yourself returning to for inspiration, or maybe just a tale about a hardship you've overcome which has helped define the person and therefore artist that you are now?
I feel like I've always been working toward being a working artist, but I've definitely had some lulls early on. I spent the early part of my 20's playing in bands and making art here and there. In my mid 20's I started focusing more on having a job, primarily doing web and design work at office jobs. I was also going out a lot and just being careless about how spent my time. I hit a wall with depression that a lot of factors in my life were contributing to. So, I made some big decisions to cut a lot of these negative attributes out of my life and focus on doing things that made me happy. I had this large unfinished painting in my house that I started a year prior and it was always staring at me. One morning while nursing a bad hangover I kept looking at it and decided that instead of being a wasteoid I would go to the art store, get some paints, and get to work. That really set me in motion to what I'm doing now. After finishing that piece something really clicked in me and I went all in. It's interesting to look back at it too. It's so different to what my artwork looks like now. It was a lot more chaotic (as was I).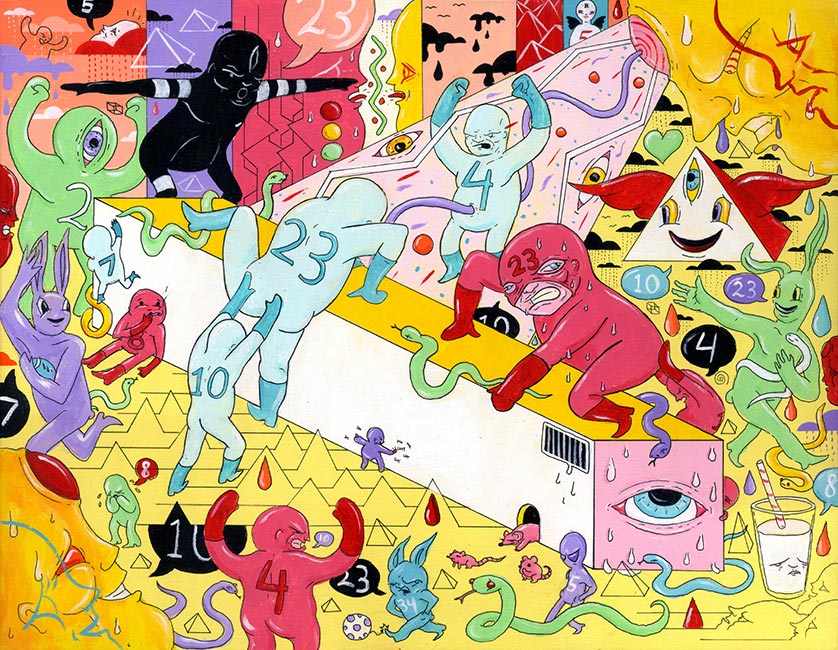 If you could own one piece of art from any of the world's collections what would it be and why?
That's a very good question. I really don't know. I would love to have any piece by any artist I like. Like a Francis Bacon piece. But one artist I would love to own a piece by is Daniel Higgs. He's an artist and musician that I deeply admire. I'm pretty sure he's an actual wizard. I'm huge fan of his band Lungfish, they've influenced me greatly in music. He's also an accomplished visual artist who should be much better known. To me, his art is magical and beyond surrealism.
What's next for Dima Drjuchin?
The future is somewhat open for me right now. I'm taking a break from doing any major art shows right now. I'm doing occasional group shows. I'm trying to focus on learning new ways I can appropriate what I'm doing. I've been teaching myself animation for the last few weeks and been really enjoying it. It's fun to see my drawings come to life. But outside of that I've been doing more illustration work. Most notably of late is I collaborated with my friend artist Fantasista Utamaro on cover art for Japanese pop idol group Dempagumi.inc's album. It was a lot of fun to work on and very surreal for me to see my art going around in Japan. They used it as set decoration on their stadium tour. It still kinda blows my mind. That's a good thing that happened.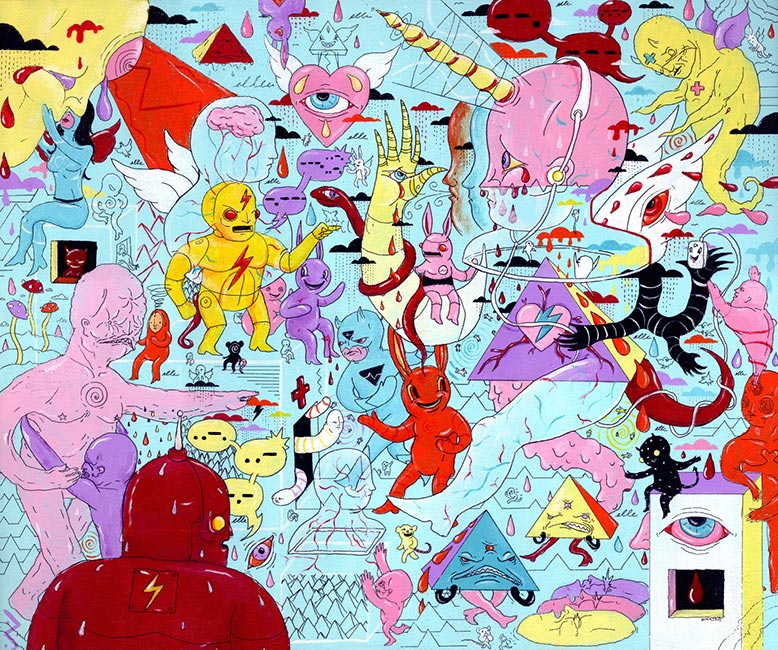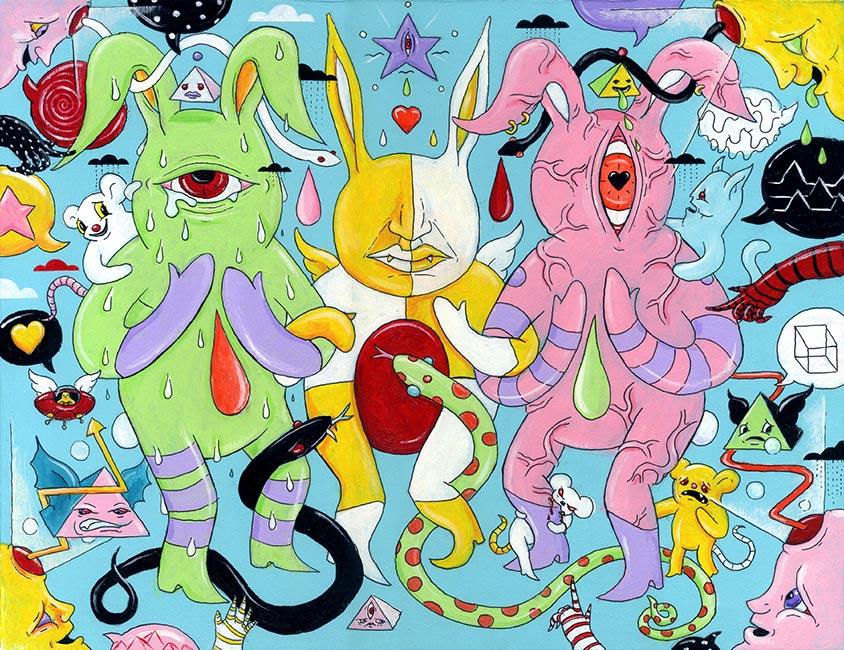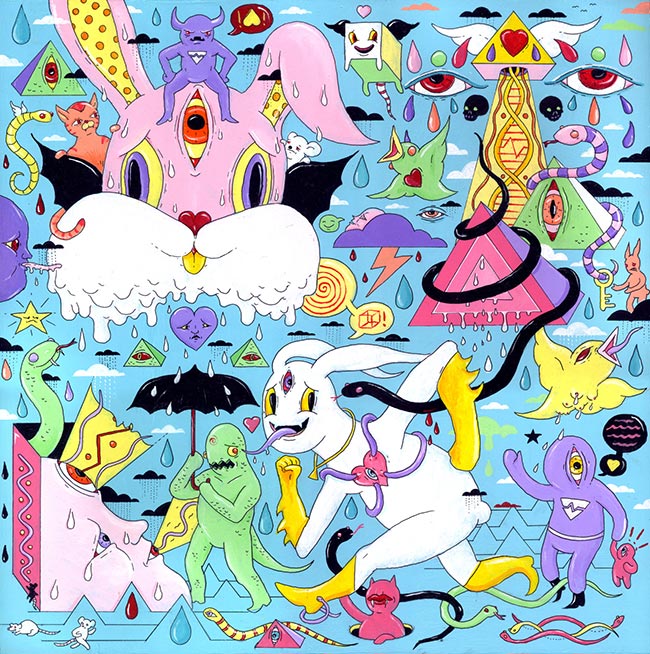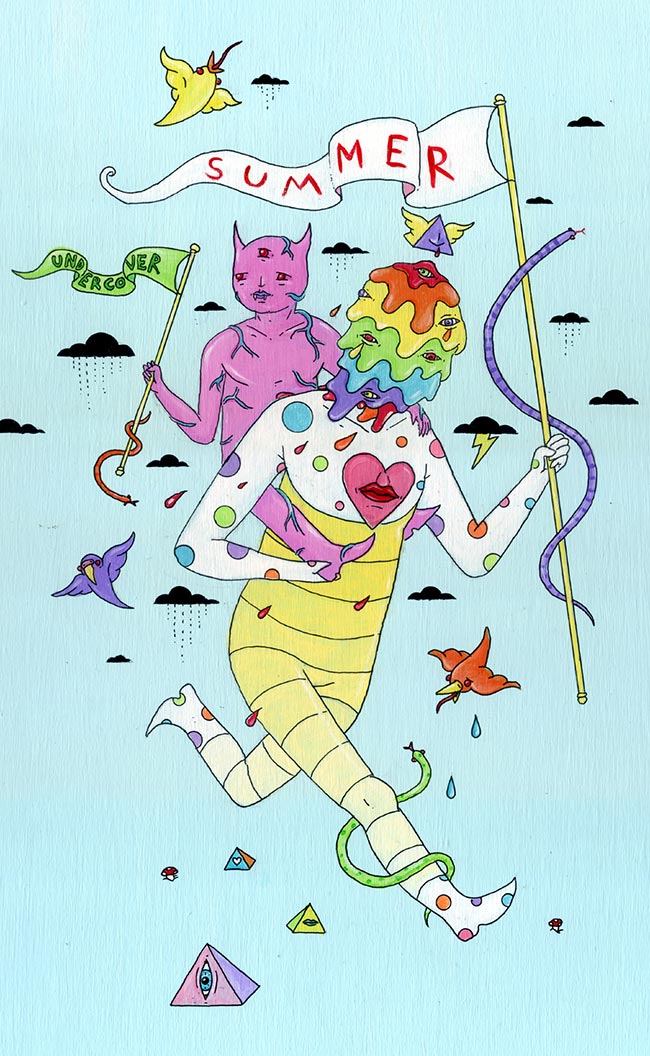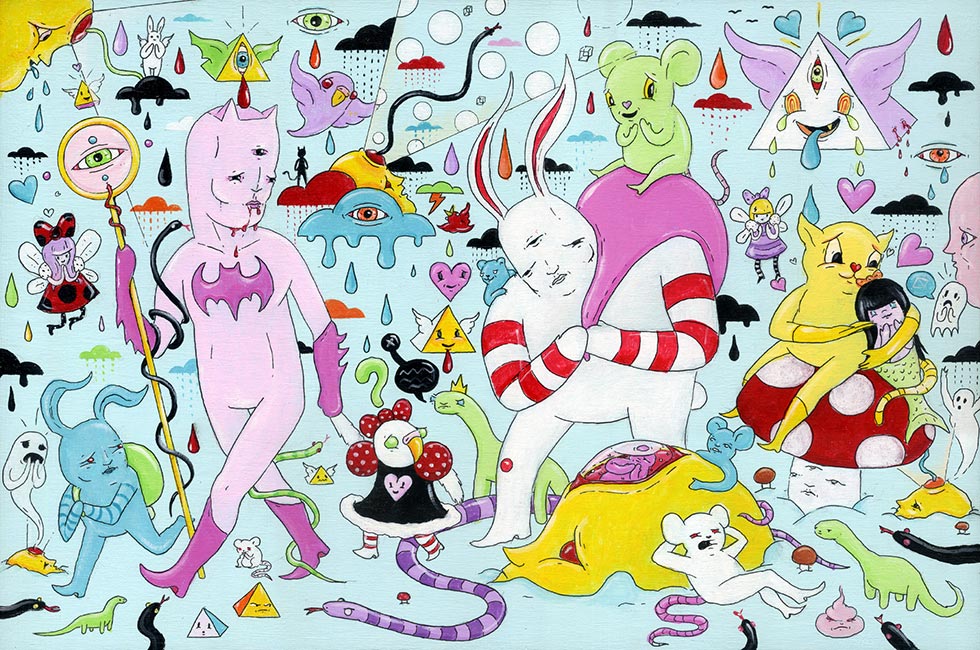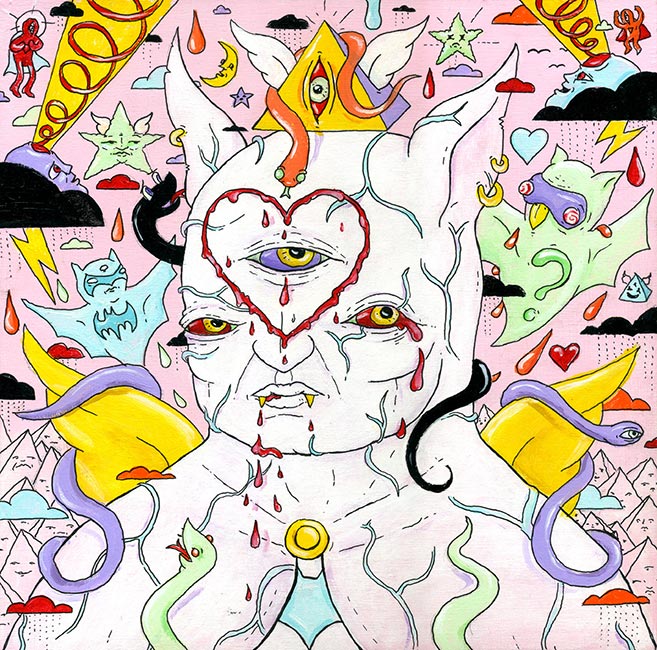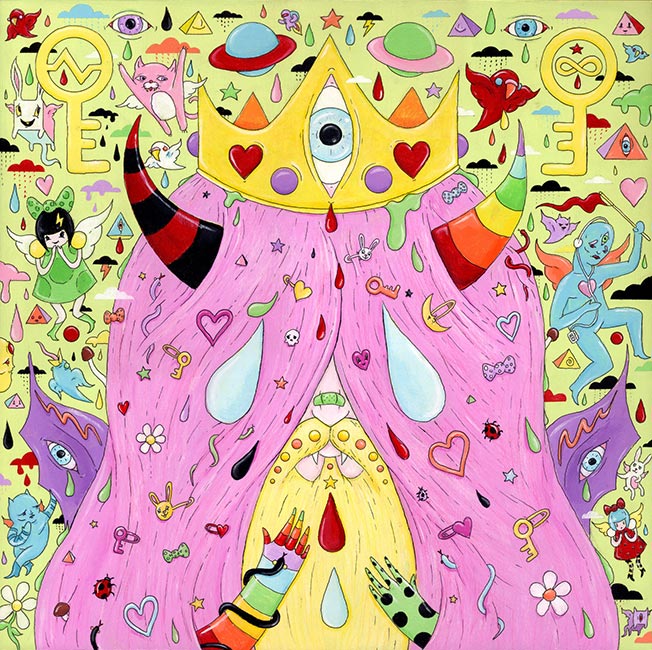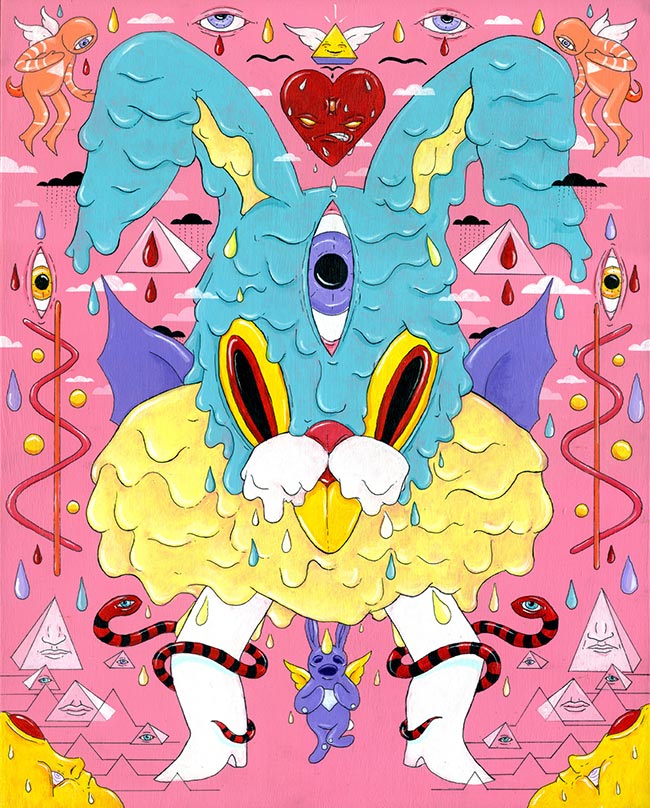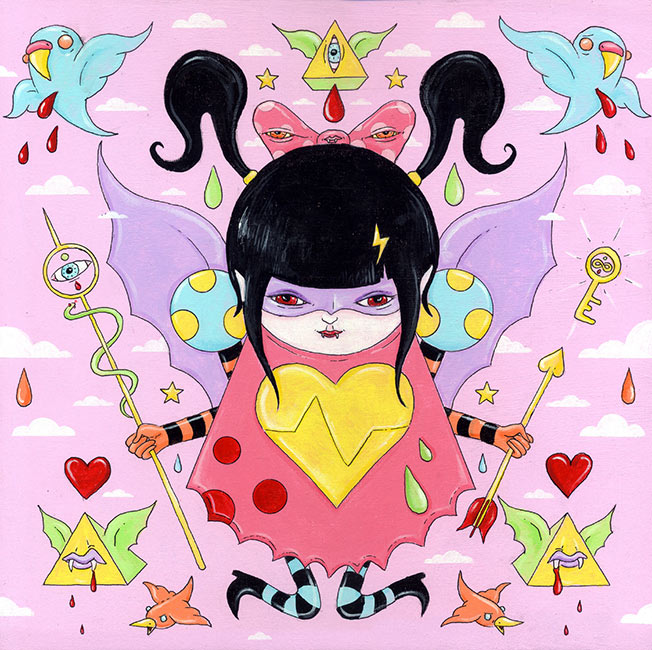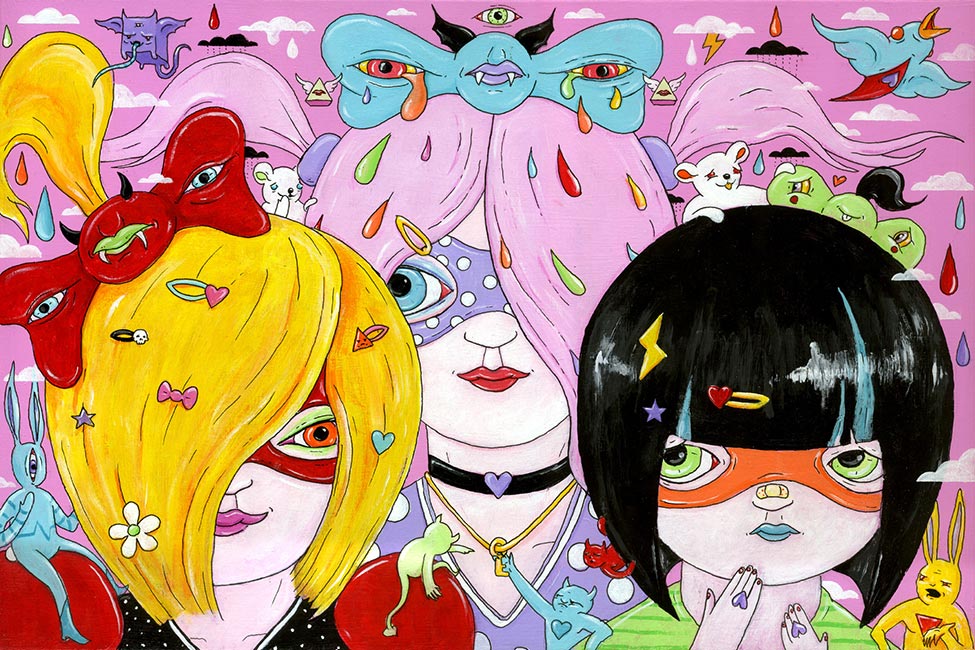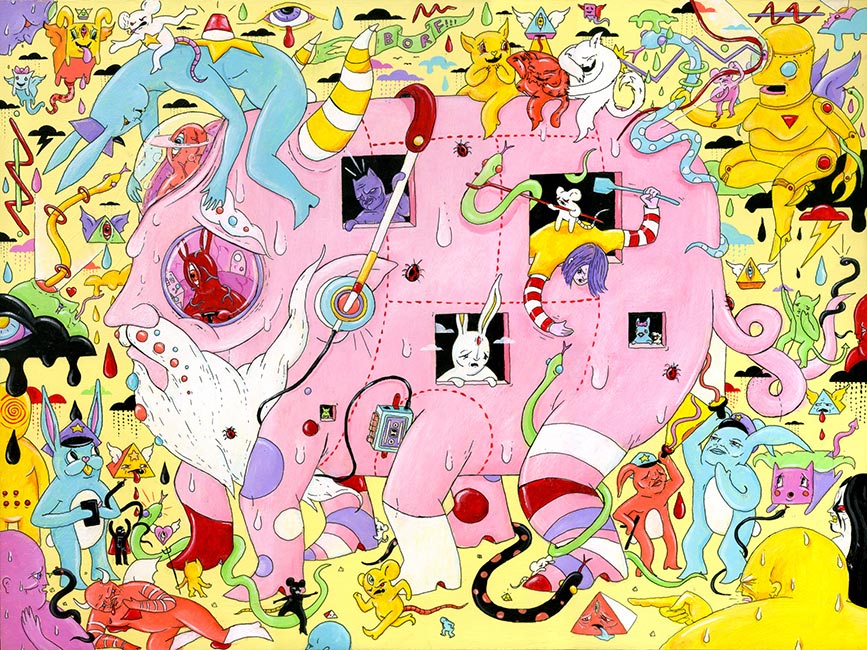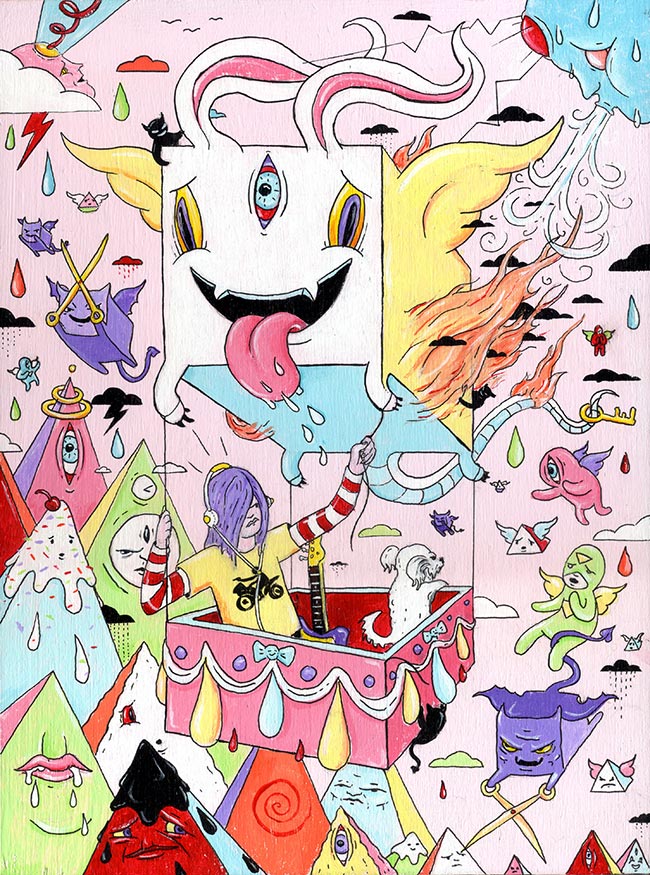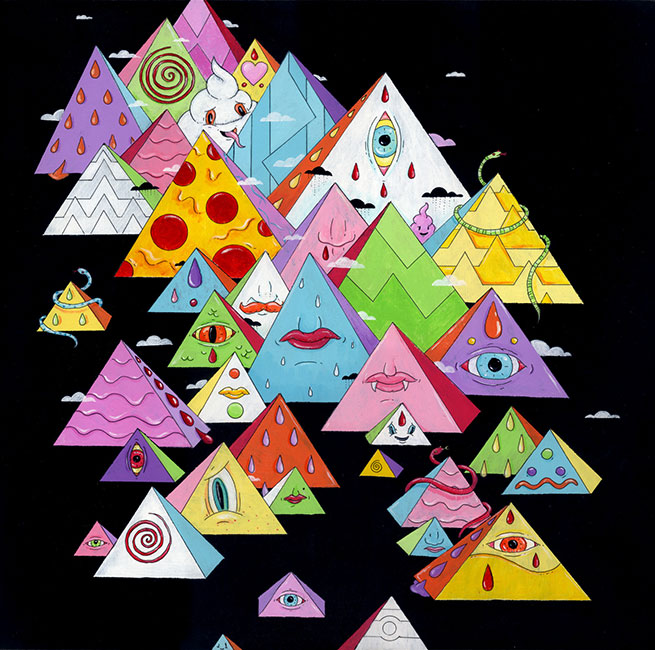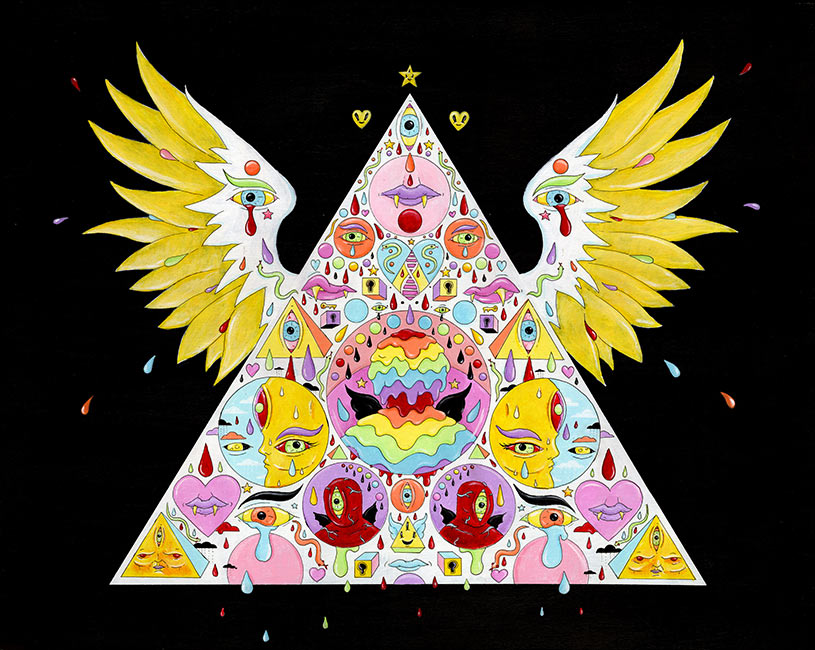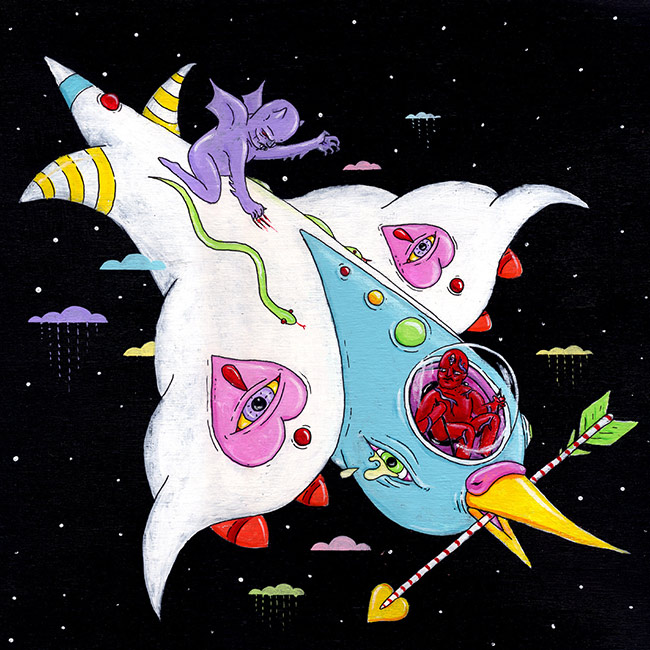 Save
Save
Save
Save
Save
Save
Save