WOW x WOW Gallery proudly presents Fistfuls of Sky, which opens on wowxwow.com at 7pm BST on 7th June and will run until 28th June. The exhibition features over 40 incredible international artists and consists of more than 50 new artworks.
Throughout history, the sky and it's vast, rolling, endless wonder has been consistently looked to for inspiration and answers. Within art, it has appeared in many forms and contexts and has been imbued with a rich tapestry of symbolism. And while this exhibition (like all our exhibitions), is completely un-themed, for the show title we wished to borrow from one such symbolic gem involving the wild blue yonder and give a nod to the limitless potential of creativity and the imagination. The sky's unbounded, fleeting, and intangible qualities provide the perfect metaphor for the thoughts and dreams that lie at the heart of the creative process and the seeds of our imaginations. During the act of creation, artists must reach out and grab hold of the ephemeral… they must raise up their hands and seize those 'Fistfuls of Sky'.
As always, we'd really appreciate you spreading the word to anyone that you think might be interested in the exhibition. We're super excited about the work we've received for Fistfuls of Sky, and we hope that you enjoy the show!
If you're interested in receiving the Collector's Preview, please email us at info(at)wowxwow(dot)com. Thank you.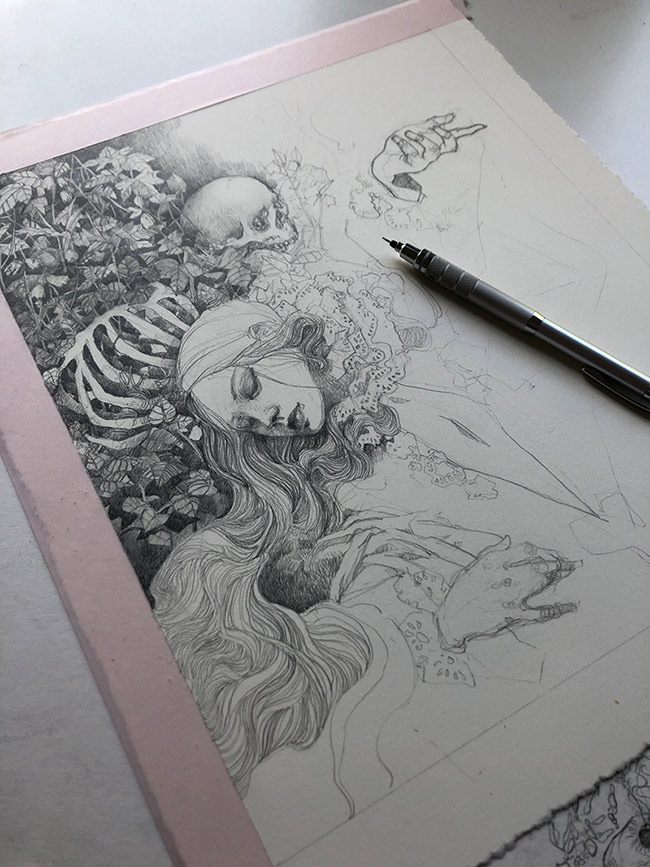 Participating Artists:
Alterlier | David Álvarez | Jenna Andersen | Zakuro Aoyama | Adam Augustyn | Scott Balmer | Matt Byle | Edward Cao | John Casey | Craww | Andrew DeGraff | Anna Ezer | Brendon Flynn | Jacqueline Gallagher | Katie Gamb | Andrew Ghrist | Claudia Griesbach-Martucci | Baptiste Hersoc | Daria Hlazatova | Anthony Hurd | Victor LeBlanc | Chris Leib | Alexandra Levasseur | James Lipnickas | Jon MacNair | Sean Mahan | Michele Melcher | Monika Mitkute | Tim Molloy | Niky Motekallem | Nunzio Paci | Dolce Paganne | Jeannie Lynn Paske | Dusty Ray | Corinne Reid | Meagan 'Magpie' Rodgers | Mark Rogers | Brian Serway | Nick Sheehy | Pruch Sintunava | Aof Smith | Andi Soto | Daria Theodora | Jon Todd | Kelly Vivanco
Flyer image: 'Summer Reigns' by Andrew Ghrist