WOW x WOW Gallery proudly presents House of Many Tales. Opening on wowxwow.com at 7pm GMT on 7th April and running until 28th April, the exhibition will feature over 90 incredible original artworks by more than 80 super talented international artists.
The nature of consciousness remains one of the most hotly debated topics in contemporary philosophy. Many philosophers consider experience to be the essence of consciousness, and believe that experience can only fully be known from the inside, subjectively. Our bodies house our thoughts and feelings, making it impossible for someone else to truly know what it's like to be you. About 330 billion of our bodily cells are replaced daily, the equivalent to about 1 percent of all our cells. In 80 to 100 days, 30 trillion will have replenished; the equivalent of a new you. Despite this continual regeneration, if everything is working correctly, we maintain a personal continuity and identity. Our experiences become our memories and the significant ones become our stories. With this in mind, we welcome you all to join us in celebration of the 'House of Many Tales'.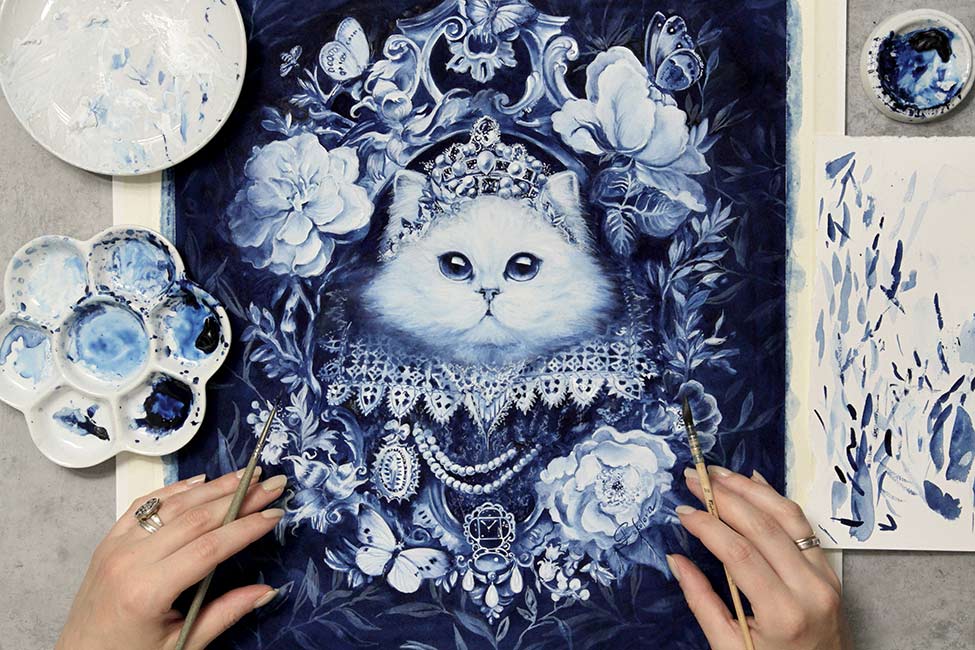 As always, we'd really appreciate you spreading the word to anyone that you think might be interested in the exhibition. We're super excited about the work we've received for House of Many Tales, and we hope that you enjoy the show!
If you're interested in receiving the Collector's Preview, please email us at info(at)wowxwow(dot)com. Thank you.
Participating artists:
Abby Aceves | Orphné Achéron | Sena Adjovi | Anja Altenburg | Anne Angelshaug | Scott Balmer | Paul Barnes | Black Ramu | Gigi Chen | Zoe Chigi | Kremena Chipilova | Michael Dandley | Matt Dangler | Lara Dann | Fran De Anda | Ilaria Del Monte | Adam S. Doyle | Teodor M.Dumitrescu | Sharon England | Roselin Estephanía | Sarah Finnigan | Kelli Flitton | Brendon Flynn | Natalie Foss | Tim French | Mariajosé Gallardo | Lindsey Martin Gardner | kEda Gomes | Amy Guidry | Brett Herman | Cleonique Hilsaca | Richard Ingersoll | Veronica Jaeger | Cassandra Kim | Nom Kinnear King | Risa Kishida | Chris Leib | Po Yan Leung | Kristen Liu-Wong | Milka Lolo | MadebyEnger | Kristen Margiotta | Helen Mask | Gary McMillan | Nicolás Menay | Zach Mendoza | Marina Mika | Andreas Nagel | Alan Carroll Navarro | Johannah O'Donnell | Christian Orrillo and Cristopher Pérez | Xavier Ortiz | Diego Peñuela | Dasha Pliska | Ryan Pola | Tania Pomales | Vanessa Powers | Marie-Eve Proteau | Angelika Rasmus | Carlo Alberto Rastelli | John Rego | Rocodrilo | Chay Ruby | Marc Salamat | Renan Santos | Kirsten Schaap | Juliet Schreckinger | Carolina Seth | Andrew Sides | Anna Sokolova | Sylvia Strijk | Alex Sugar | Deirdre Sullivan-Beeman | Sybiline | Shannon Taylor | Thoth | Nikolas Tower | TrashKitty | Karl Trewhela | Ingrid Tusell | Joe Vaux | Joanna Viheria
Flyer image: 'Gypsy Moth' by Kelli Flitton