Artist and illustrator, Bob Dob, is a master at nurturing and cultivating the memories of his youth, and these lie at the very heart of the narratives and characters he loves to develop and explore in his art. While tapping into the often uneasy, yet vital experiences of adolescence, Bob succeeds in finding the humour within any darkness and shadows surrounding these times. The surf, skate and punk cultures of his once home town, Hermosa Beach, provide the backdrop amidst which his youthful protagonists run amok, and whether our own experiences have revolved around these subcultures or some others, we can undoubtedly relate to the all important and largely universal personality forming encounters which Bob's characters are living through while carving out their own individual paths in life.
Bob Dob was born and raised in Hermosa Beach, California. He played guitar in a punk band named Lunacy for ten years and the music scene in LA proved to have a strong influence on his visual art. In 2001 Bob graduated from Otis College of Art and Design with a BFA in Illustration. Currently, alongside being a part-time professor at Otis, he works as a commercial illustrator and also as an exhibiting artist. Bob has shown is work throughout the US and Europe and has had solo exhibitions in high profile galleries such as La Luz De Jesus and Gallery1988. His impressive list of illustration clients include the likes of The Fox Family Channel, Aflac, Kraft, Intel, The Village Voice, American Airlines, Southwest Airlines and Random House Publishing.
WOW x WOW grabbed a recent opportunity to fire a few questions in Bob's direction and he was gracious enough to let us in on some of his creative inspirations and his approaches to image making. Read the following interview to find out more!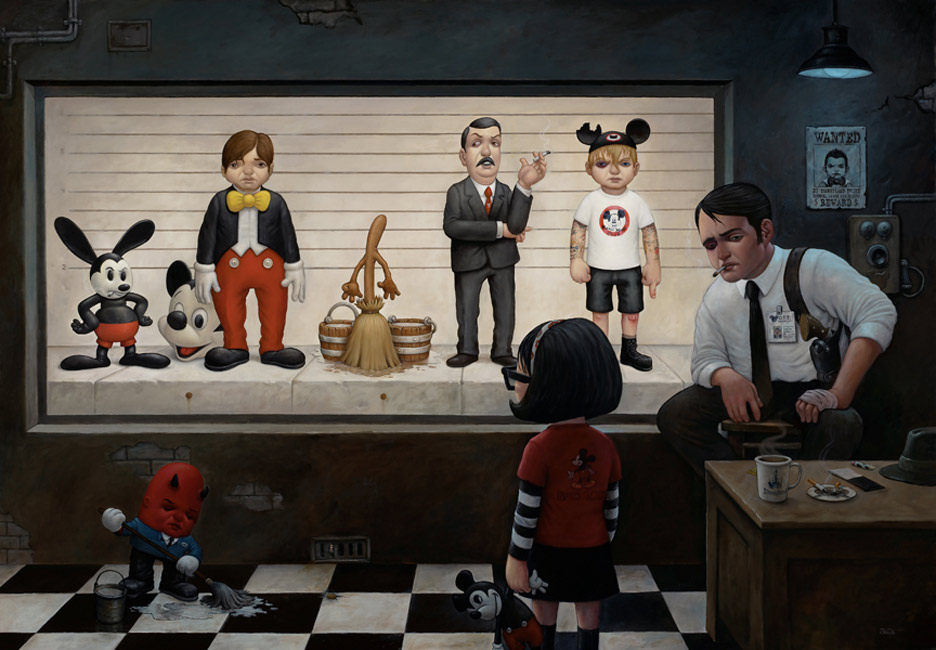 We're interested to hear about where you're currently living and what you like about the area? What is the art scene like there and do you feel a part of that community? Are these aspects of your existence that are important to your creativity?
Hello, my name is Bob Dob (born Bobby Dobbie), that's right, my name rhymes. It sucked growing up. I grew up in Hermosa Beach but now live in Redondo Beach. Mainly due to Hermosa being overrun by yuppies and what is now referred to as, 'The Yuppie Ghetto'. Hermosa Beach has a rich history in surf skate culture as well as the birth of west coast hardcore punk. Black Flag, Descendants, and Circle Jerks to name a few. It all influenced me in many ways, from drinking beers under the pier to starting my own thrash/punk band. The art scene is heavily influenced to this day by the surf/skate/punk cultures as many people I grew up with here who experienced the old Hermosa are creating art.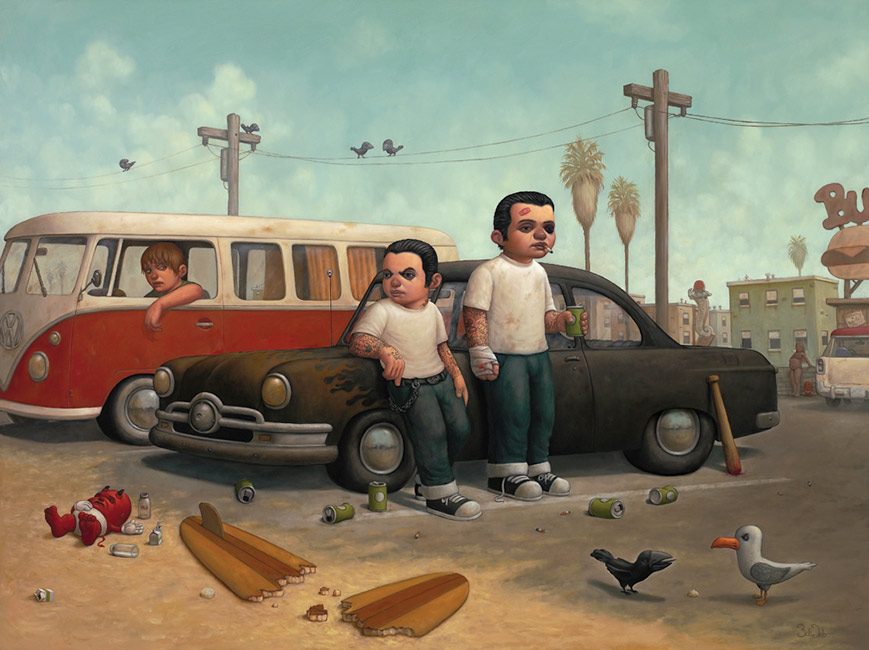 In what ways did your childhood and upbringing affect your relationship with the arts?
My childhood upbringing in Hermosa Beach influenced me to become a musician/artist when cancer took my dream of becoming a pro baseball player. One gift was taken from me, baseball, and another presented itself, art. Metallica and Guns N' Roses were huge around the time I was going through chemotherapy so I saw Slash on stage and thought, I wanna do that.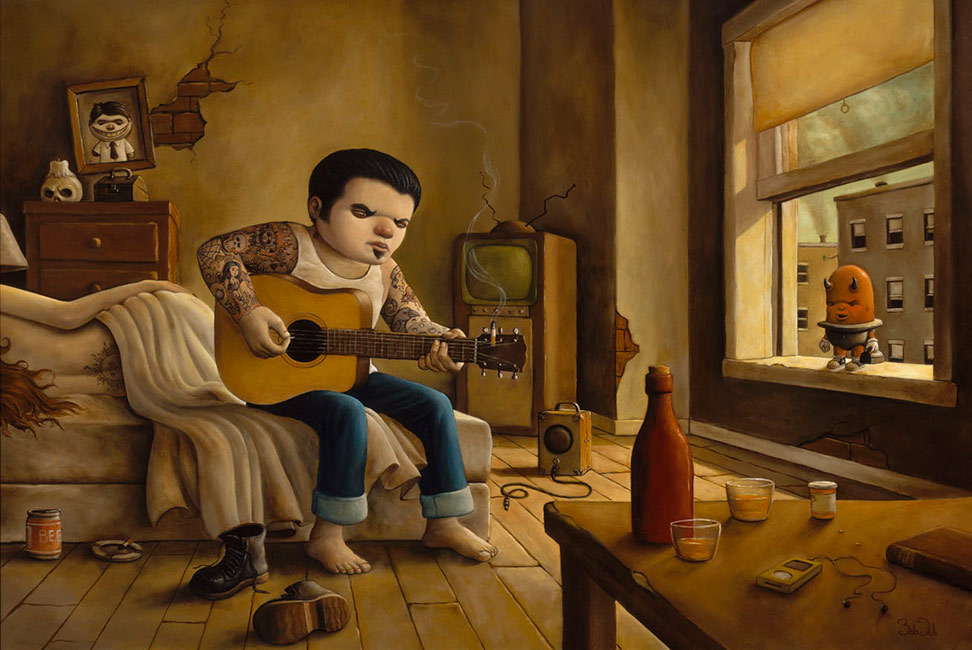 Storytelling and narrative are at the heart of the art you make. What were some of the biggest influences on stimulating your interest in story telling? Also, in your opinion, what are some of the most important ingredients that go into making a successful visual narrative?
A successful narrative will resonate with the viewer. Whether the viewer laughs or becomes agitated or offended, that's when you know you have a good concept. In my work I tend to add personal experiences such as with the Mario and Luigi mug shots. There were two brothers that were top ten most wanted and they came to a party in Hermosa, they got in a fight with some people I knew and it ended with a police high speed pursuit and them being arrested and getting pretty injured when the pursuit ended. I linked that personal experience with Mario and Luigi having a 'Rough Night Out'.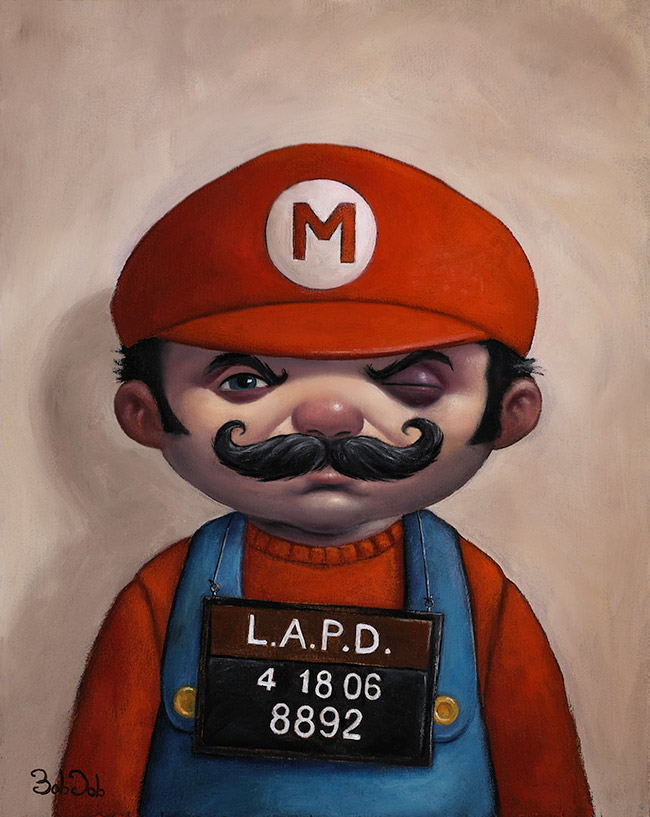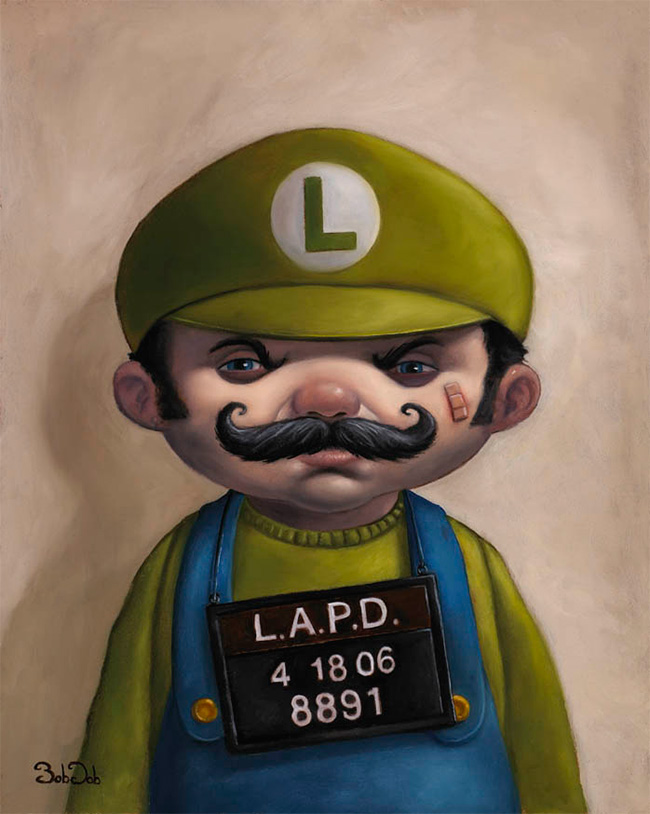 Do you think of your work as containing symbolism? What sort of personal meaning do you assign to the recurring characters and objects in your work?
None of my characters have specific assignments except for my Luey character. He's the only one, because of the dark humor he represents in my work. However, when I compose a piece I'll figure out the focal point and what type of character will work best.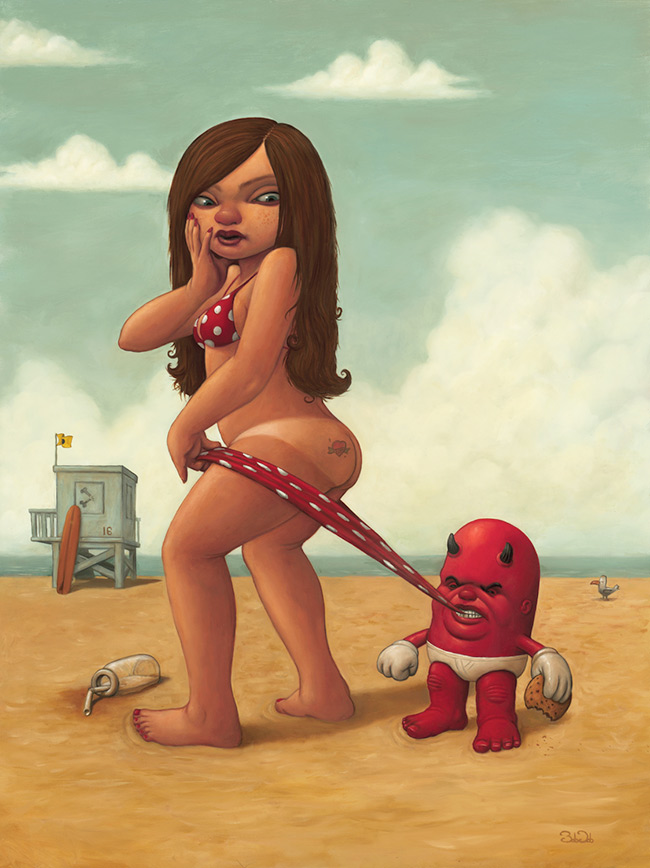 How deeply do you allow the autobiographical currents within your work to flow? When looking back at individual pieces from your back catalogue, do you feel that they show what you were experiencing or going through around the period of their creation?
Yes, the 'Where Crows Die' exhibition was when my first son was born and around that time Luey came to fruition. My son had milk allergies, colic and was really stubborn with his eating. Milk was the devil in our house. So I added that characteristic to Luey. Only the milk makes Luey drunk.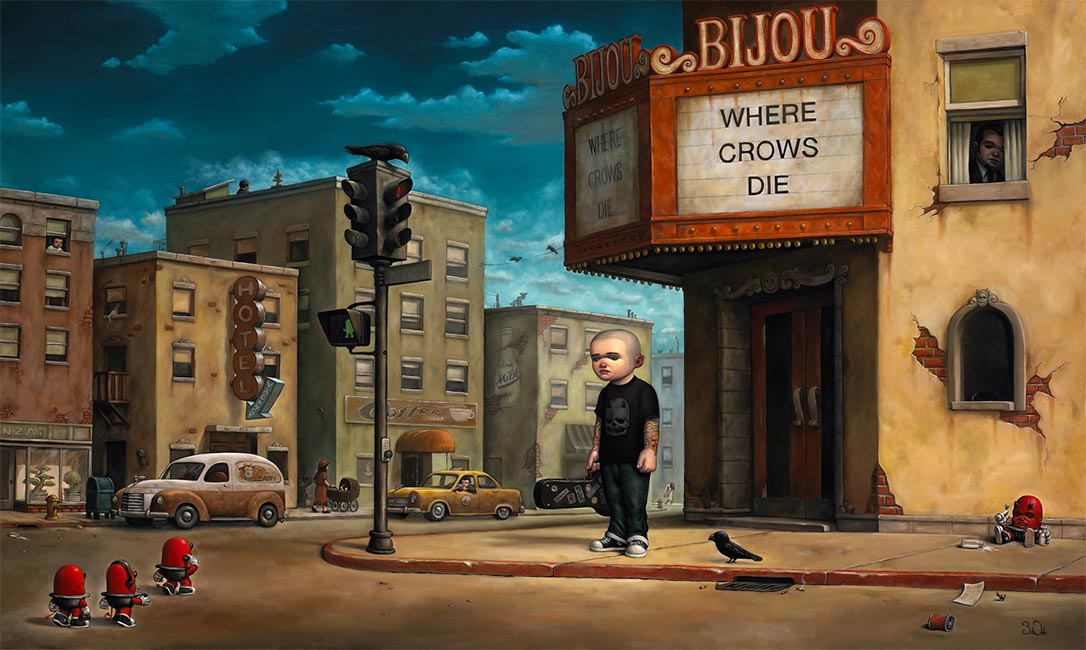 You're a Professor at Otis College of Art and Design. Please tell us about some of the ways that the interaction with your students enhances the time you spend alone in your own studio.
My students are great and they really inspire me to keep working hard. I feel very fortunate to have made a living creating art and I'm reminded of that by my students who are striving for the same success. You can see them scared about what lies ahead for them, which is good. It makes them more motivated trying to pay the bills doing something they love. Plus they keep me aware of growing trends in art and music, although their music sucks for the most part.
What do you feel is the most essential factor an artist must be open to, regarding the evolution of their practice? Having had a lengthy and successful career so far, how have you seen your own work evolve over time?
Getting out of your comfort zone is very important. 'The Mouseketeer Army' show I did was a great learning experience. My studio mate at the time, Greg Simkins (Craola), got me working with spray paint, stencils, and spontaneously dripping and splattering paint everywhere. Totally different approach than my tight drawing being transferred onto a canvas and then slowly building up the paint. A funny story with Greg: when I first had the American flag perfectly painted out on wood panel for the Mouseketeer Army show, 4 foot by 8 foot, I was mixing up some diluted brown paint in a cup with a giant brush. I was staring at the panels trying to strategically envision splattering paint over it. Greg walk by and said, "Nervous?" I said "Yes" and he grabbed the brush out of my hand and just threw paint everywhere. I freaked out but then saw that's what it needed and I loosened up after that.
Do the interpretations viewers offer about your work ever end up influencing what you produce? What are your thoughts about the dialogue and conversation cycle which is created between the artist and viewer?
Not so much with the character driven paintings, but sometimes with the head paintings I do. 'Pot Head', 'Pill Head', etc. People have ideas sometimes that influence the other head paintings. Little story lines about the environment the heads might be in. 'Shit Head' was interesting because I didn't want to paint a pile of shit for a head. I mean who would hang that on a wall. So a former student came up with the idea of a paper bag on fire.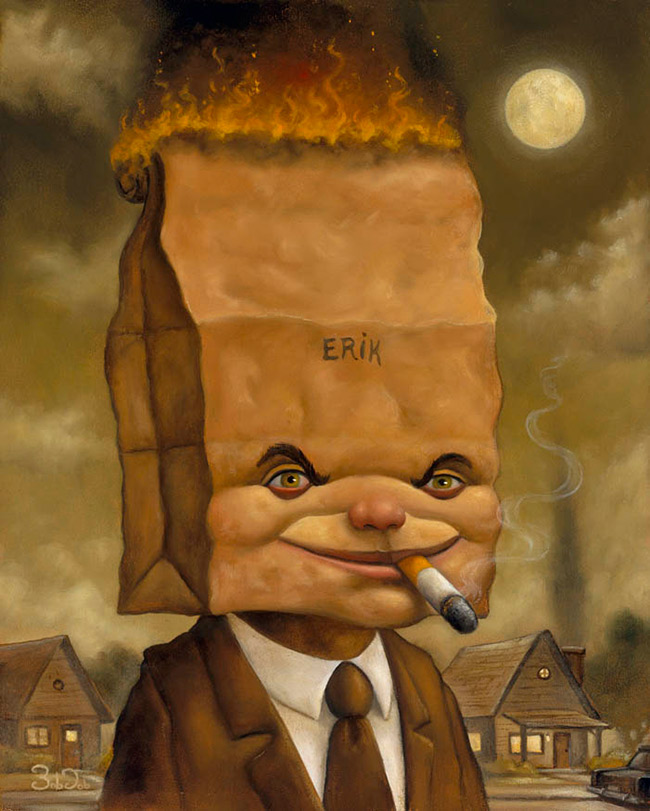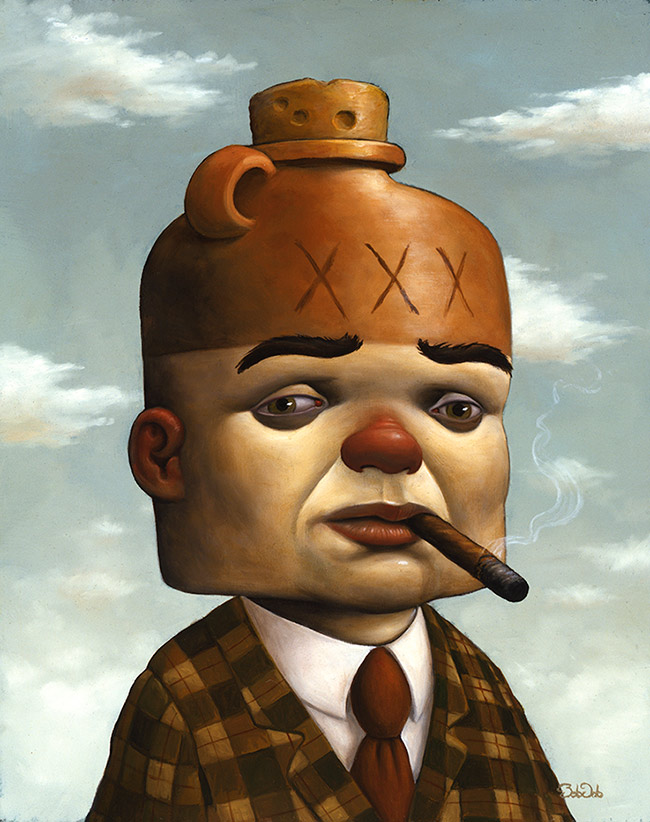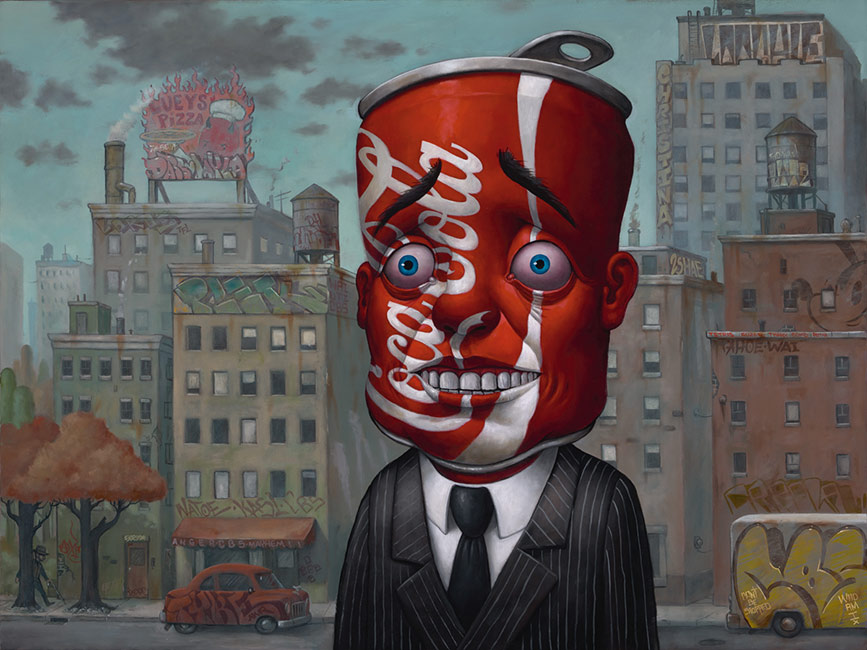 In order to get a better understanding of the personality of an artist, it can help to get a peek behind the curtain. Would you be willing to share a story from your own life, possibly one whose memory you find yourself returning to for inspiration, or maybe just a tale about a hardship you've overcome which has helped define the person and therefore artist that you are now?
In 2003 I entered an illustration competition and my friend artist Nathan Ota was the chair of the committee. I submitted a personal painting titled 'Robo Boy' in the circus side show theme. It was kind of a self-portrait because I had metal in my knee due to bone cancer when I was 12 years old. The jurors were considering giving it an award, but either Chris or Rob Clayton of the Clayton Brothers who were a part of the judges panel said it was lacking drama. They said maybe if there was a dead bird or something on the ground it would work better. My friend Nathan told me this and I said OK. So for the next competition in 2004, I did a similar piece, but this time 'Amp Head' and when I needed to add more 'drama', I added a dead possum with a crow eating it's guts at the characters feet. The judges really loved it and so that small critique by the Clayton Brothers of my 'Robo Boy' painting really affected how I approach narratives in my work.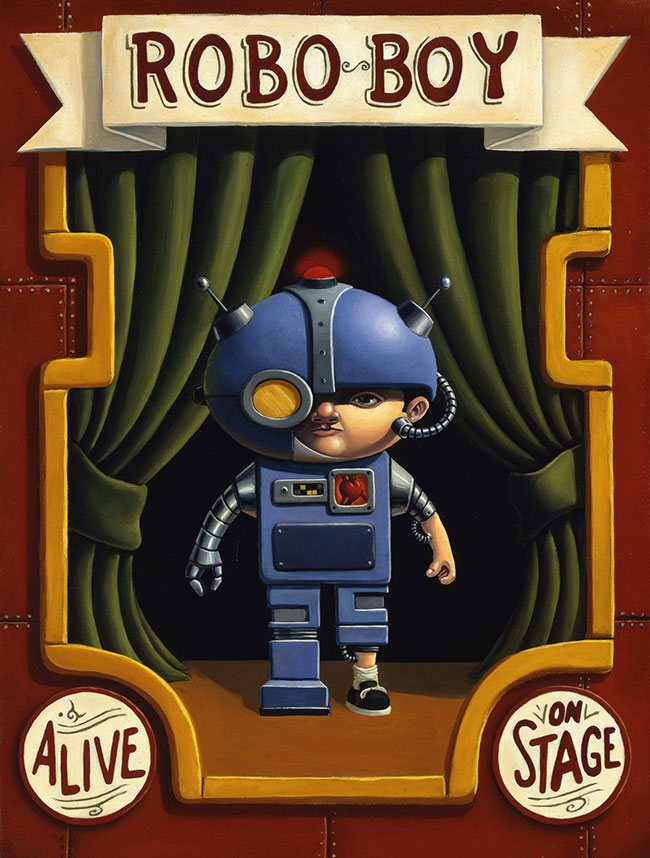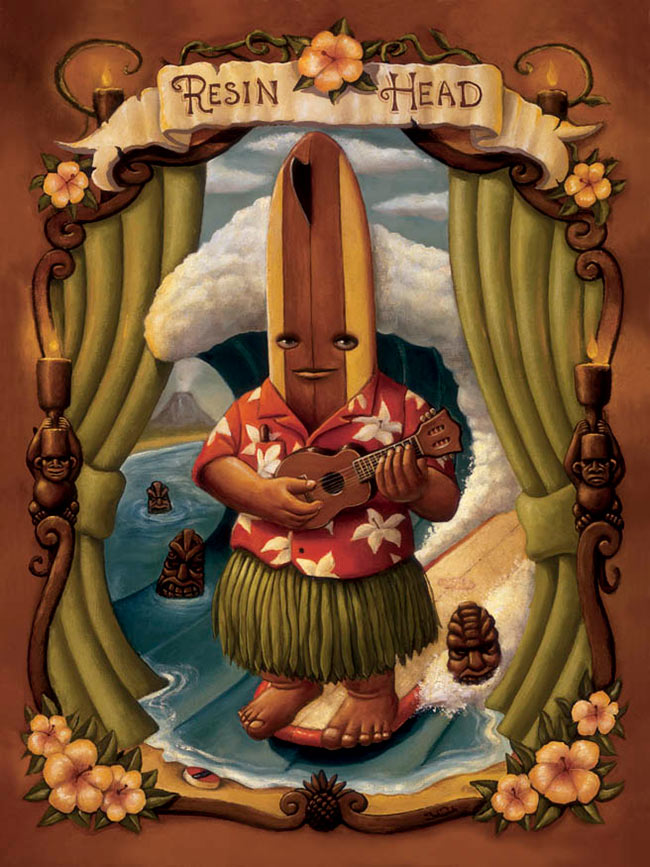 If you could own one piece of art from any of the world's collections what would it be and why?
Thomas Hill's 'Great Canyon of the Sierra, Yosemite'. I marvel at all the Hudson River School painters and I have love for all things California, especially Yosemite Valley. The scale of this painting is 7 foot by 10 foot I think.
What's next for Bob Dob?
A 'Luey Show' animation with actor Ian McShane is in the works, A 'Heads' toy release with 3D Retro and a solo show end of next year.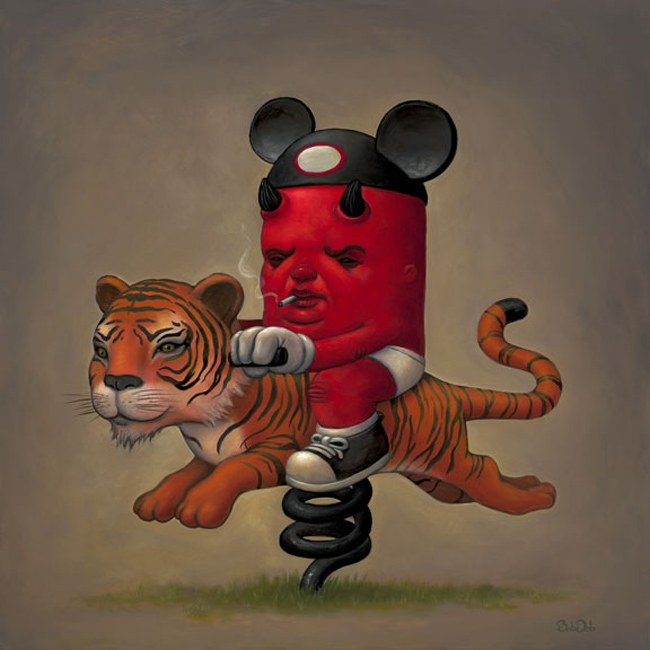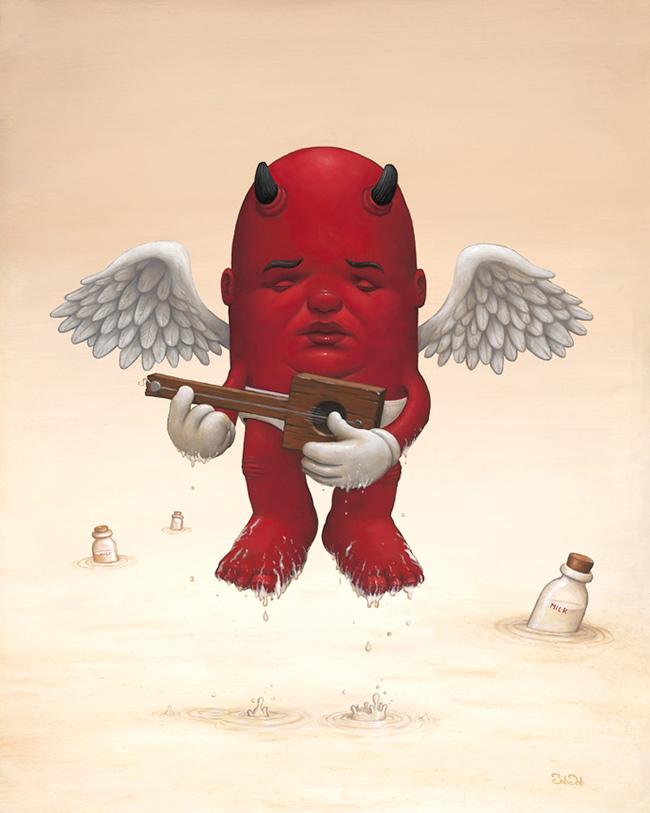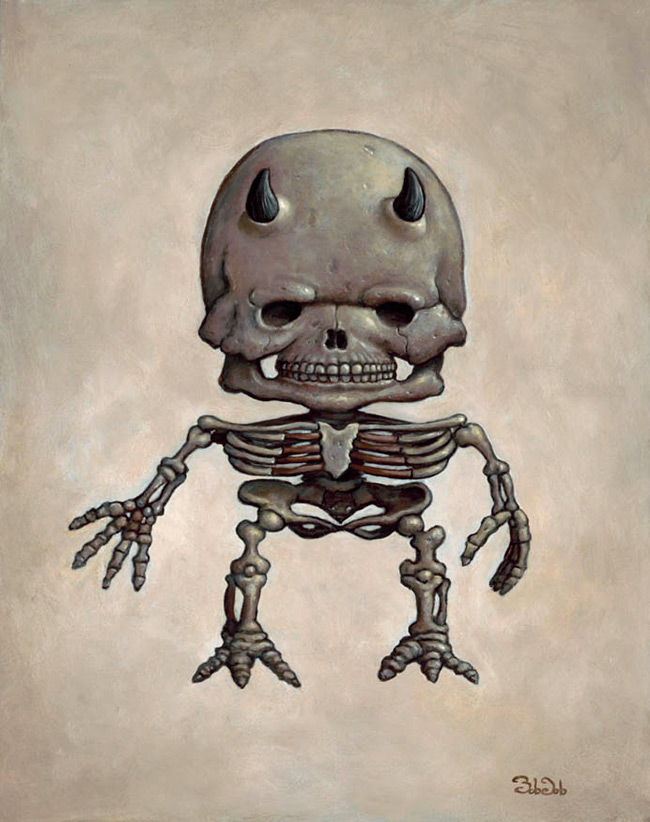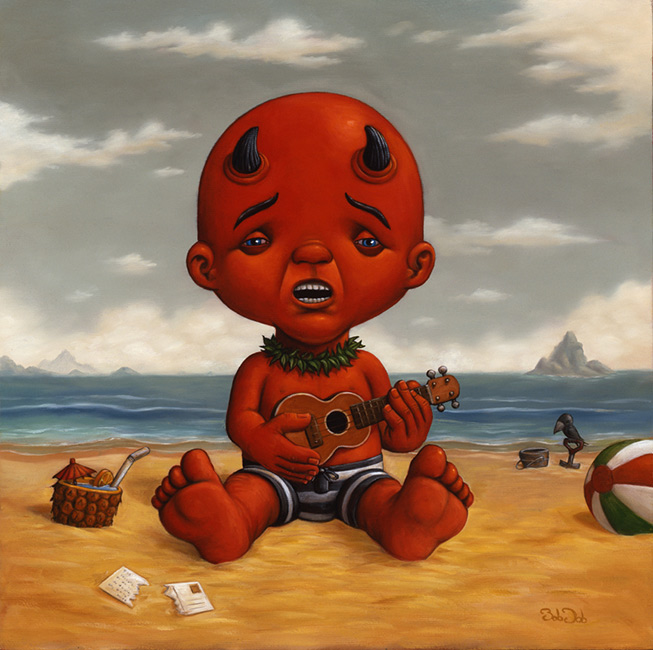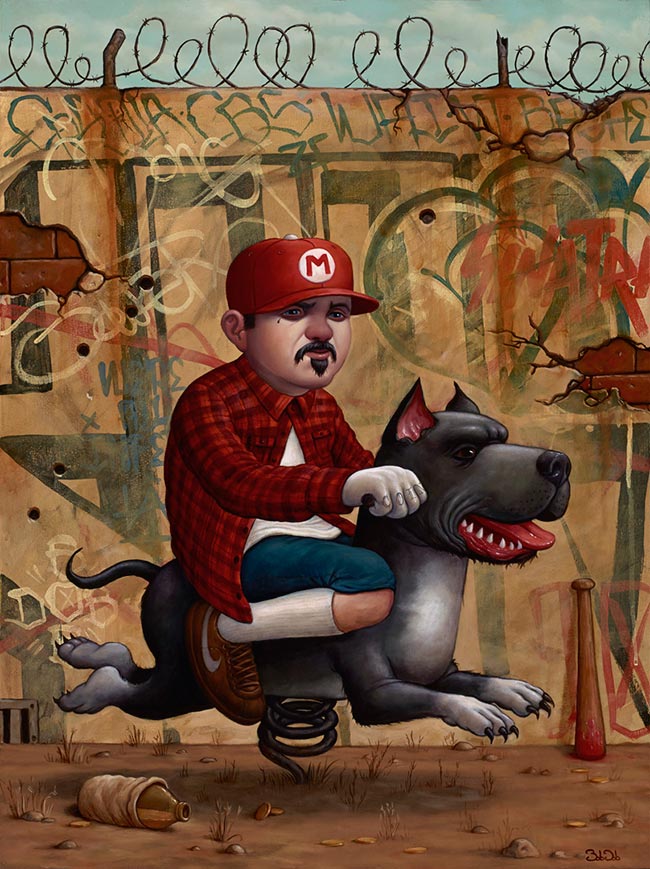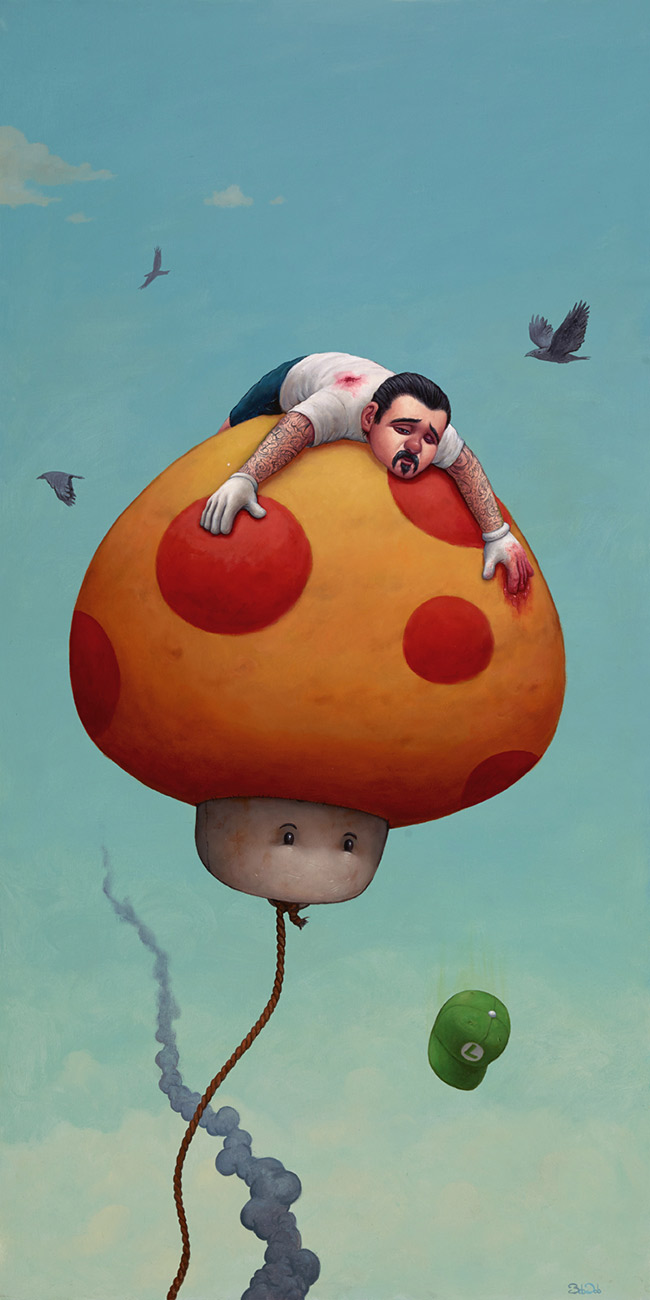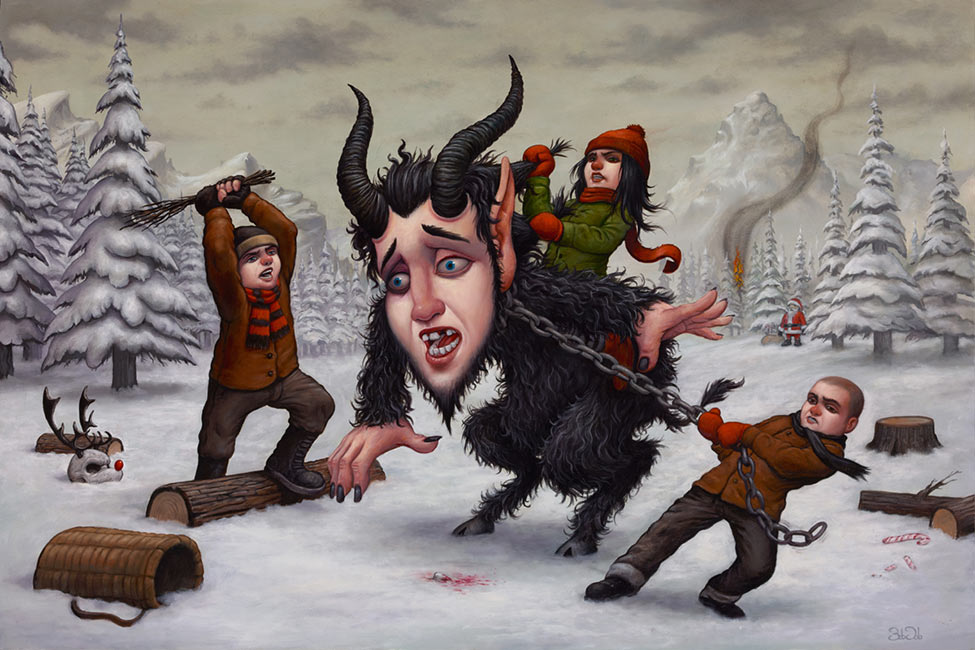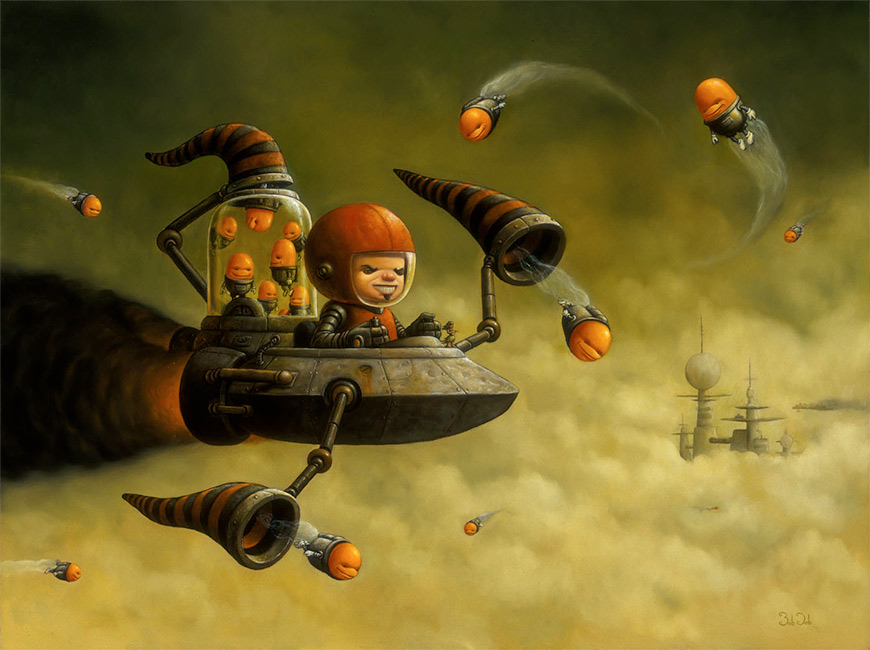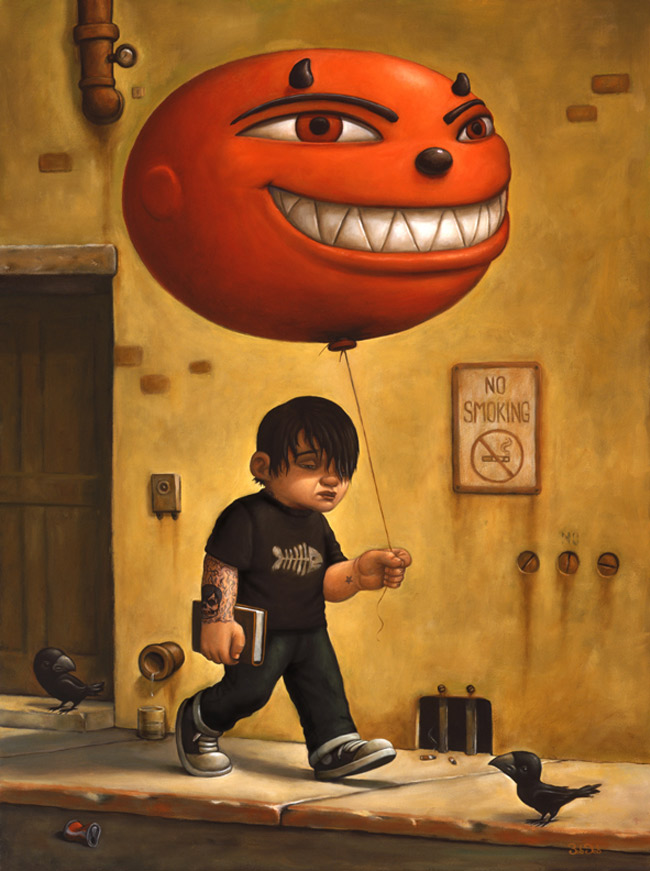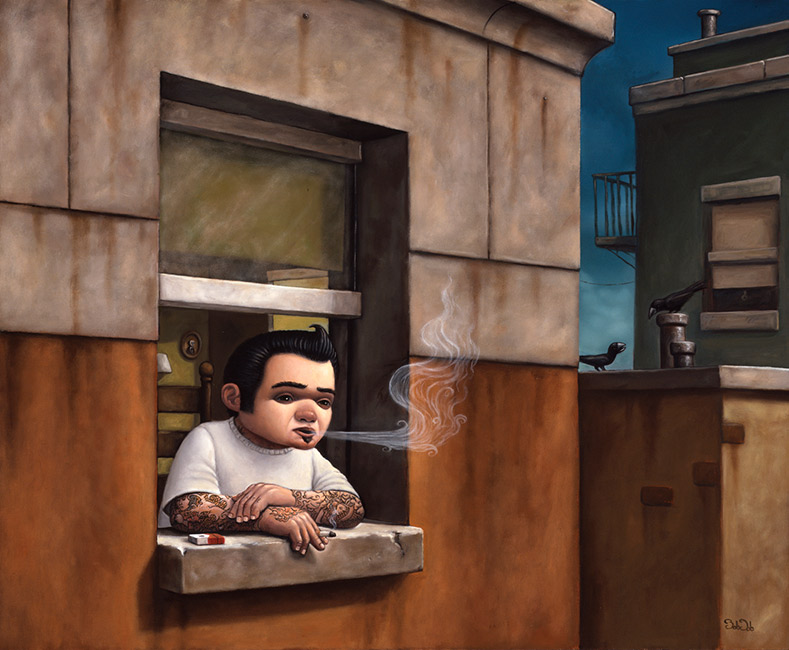 Save
Save
Save
Save
Save
Save
Save
Save
Save
Save
Save
Save
Save
Save
Save
Save
Save
Save
Save
Save