Erlend Tait is a fine artist and also an accomplished stained glass artist from the Black Isle in the Highlands of Scotland. Drawing inspiration from the history and mythology of his Orcadian and wider Scottish heritage, Erlend has developed a unique symbolism which he skillfully employs within his exquisitely observed and beautifully composed figurative works. Underneath the elegant visual aesthetic, lie stimulating concepts and questions pertaining to the nature and meaning of our existence. Tait has worked in the stained glass design and restoration business for many years now and has nurtured the discipline in tandem with his drawing and painting, allowing for a symbiotic relationship to develop between both practices.
Over the years, Erlend has exhibited his art far and wide and has built up a solid international clientele. He is married to the equally talented artist, Pamela Tait and the couple often exhibit together and also join forces in the production of collaborative works.
WOW x WOW caught up with Erlend to talk about his various creative outlets and inspirations, including his love of painting, music and comics.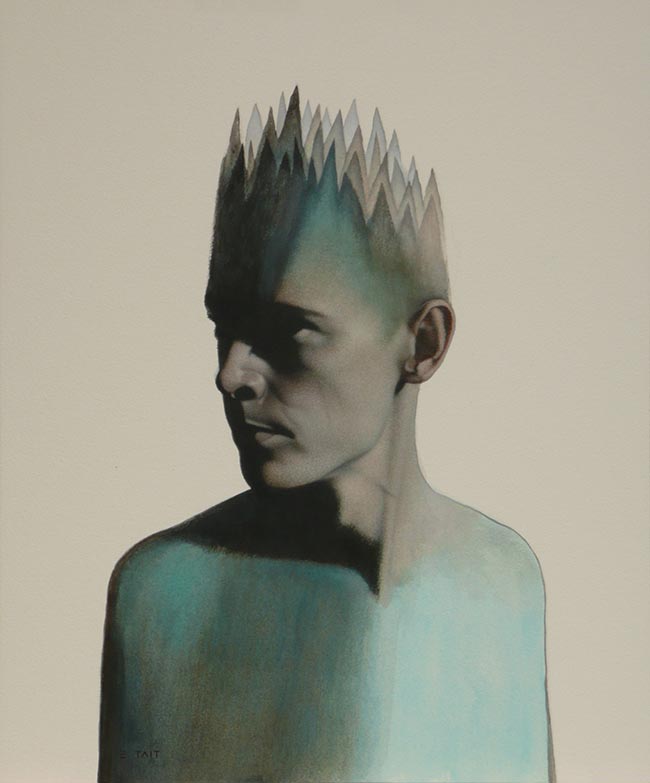 Hey Erlend, thanks for taking the time to chat. Before we go any further, can you give us a little bit of your background including where you live and any training, etc.?
Well, I was born and raised in Ross-shire in the north of Scotland to Orcadian parents. As a wee boy I always liked the Viking connection, which led to an interest in antiquity and especially the Picts, so I think heritage is something that's always been quite important to me.
I was always drawing, mainly monochrome with pencils, but wasn't so keen on painting or colouring until I discovered oil paint in my mid-teens. It was a real 'eureka' moment and I remember thinking "oh, that's how they do it"!
After high school I studied Drawing & Painting at Gray's School of Art. One of the best things about the course was spending at least one full day on life drawing every week. While studying I really struggled to find my way, but I did develop an appreciation of stained glass with its combination of drawn lines and complex colour arrangements, which appeared to provide solutions to some of the problems I was having making images. After graduating I just lost any idea of what I wanted to do, painting-wise, so I enrolled in a short stained glass course and applied for work in a studio doing restoration and design of windows (ecclesiastic and secular) where I worked for 7 years before going self-employed.
Now I live on the Black Isle with my wife, the artist Pamela Tait. I mainly draw and paint, and still do some stained glass design and restoration.
What first got you interested in art and can you let us know who your earliest influences were and why?
I think the first images that really amazed me were in the early Ladybird fairytale books. Who can forget that troll sitting under the bridge waiting for the Three Billy Goats Gruff?
My earliest influences were older school friends. In Primary One, Innes and Duncan were really good at drawing, so I wanted to be as good as them. Innes still reminds me that I copied his drawing of a thrush, which was excellent (I remember it, and I did copy him!) and that mine replaced his on the staffroom wall.
Next was probably Derek Riggs who did all the Iron Maiden covers of my youth, and created Eddie. Then most of the 2000 AD artists from the 80's and 90's: Carlos Ezquerra, Arthur Ranson, Colin MacNeil, Simon Bisley – 'Sláine the Horned God' just blew me away completely and I still love it.
There aren't many public galleries/collections in the Highlands, so I didn't see great works like 'The Druids bringing in the Mistletoe' by George Henry and Edward A. Hornel, or John Duncan's 'St Bride' until I was in my teens, but I do remember admiring old portraits of local aristocracy on the walls of our village hall, which we used to bounce shuttlecocks off on a Sunday afternoon.
I've always admired artists who offer a window into a believable imagined world. This is something I struggle to do, but I think it's why representational painting is important in my practice.
And movements such as Symbolism and Dada and COBRA.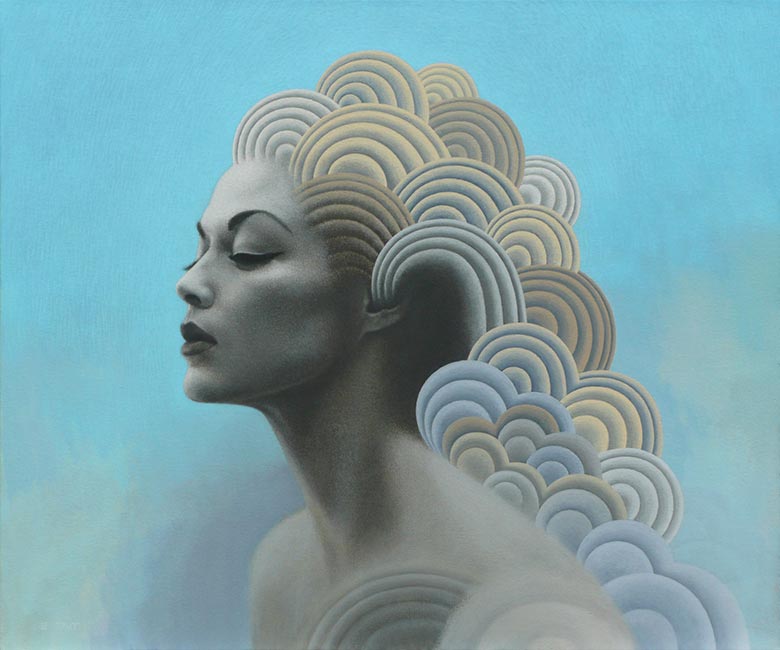 Describe your fine art process and what themes you are currently exploring?
I'll struggle to answer that question as I'm not fully aware of a process. I feel like I approach each piece like I don't know what I'm doing – if I had a formula I'd stop doing it. It seems to be different every time. Sometimes I have a vague image in my mind which I try not to over analyse, and rendering it is like clearing a mist until the image reveals itself. You use tools and techniques to try to solve the puzzle, and sometimes you fail.
To put it another way, you develop your own skills and techniques over the years, but I never know if a piece is going to work. If it does, then I feel I've solved that particular problem and want to move on and do something else. If it doesn't work then I try to learn from my failures.
It's a constant, glorious struggle and I'm not really sure what my motivation is except that when I'm drawing or painting I feel that I'm doing what I should be doing.
Regarding themes, I have a constantly evolving underlying symbolism to represent ideas or questions I have about existence, and this usually involves a figure. I've experimented with non-figurative painting, but without that human element I always felt there was something lacking, and I find painting people particularly challenging and rewarding.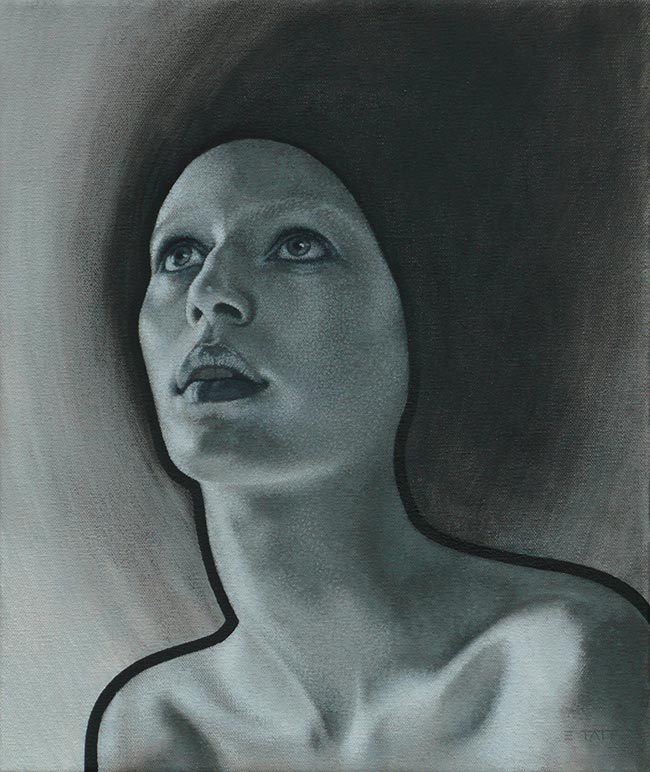 You are a trained stained glass artist with your own restoration business. Can you tell us a little about that? How do you maintain a balance between it and your painting and what relationship is there between the two?
Well, I suppose I'm quite old fashioned in that I like the idea of pottering away in a shed with traditional tools and techniques. The medium of stained glass has been described as painting with light, so it's just another element of my visual art practice. I enjoy glass cutting and leading, but the part I enjoy the most is the glass painting and staining, which has to be fired in the kiln. It's all very laborious and time consuming, and after finishing a window I really appreciate the immediacy of painting on canvas or paper again. So it's great to have both these complimentary sides to my practice which I can go back and forth between.
I'm always trying to get the balance right, and it just depends on what I'm working towards, but basically painting comes first. If I have an exhibition to work towards, then I just don't take any big stained glass jobs on. I'm always open with clients about how long it's going to take as I hate keeping people waiting or missing deadlines. I try not to take too much on, although it's sometimes hard to work out what's too much when planning ahead, while still earning a living.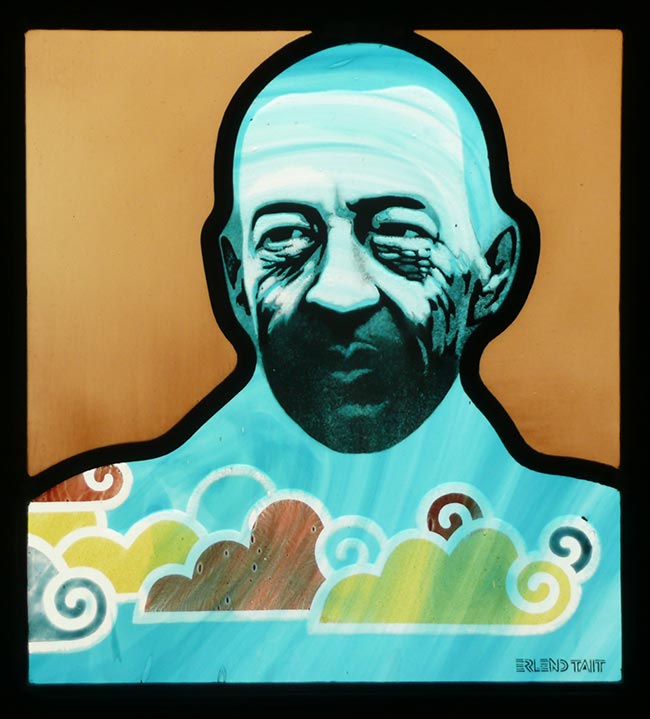 Music is a massive passion for you, having been introduced to heavy metal by your older brother at an early age and then playing guitar in a number of bands later on. Tell us about your love affair with music and why you ended up being a visual artist instead of a musician?
From age 8, I was pretty obsessed with Adam and the Ants, then Iron Maiden, Thrash, and Death Metal, and it's just carried on like that: hearing new stuff and going through phases and now we have quite a collection of records, tapes and CDs, all of which we still listen to.
Iron Maiden and AC/DC made me learn guitar, and I loved playing in bands, performing and recording, but I realised a life of touring and studios wasn't for me, and I missed Pamela. It was a difficult decision, having worked so hard at it to get to a point where you realise, "I don't want this". But it helped to clarify that I wanted to be a visual artist.
Francis Picabia made an incredible piece called 'Music is like Painting', which, for me, represents the symbiosis of the two. That's something I tackled when studying, and made a piece of music called 'Painting is like Music'. It's all just manipulating sound, light and form. Playing a musical instrument can feel like sketching; writing a song like sculpting; painting like harmonising, etc. so I still play music.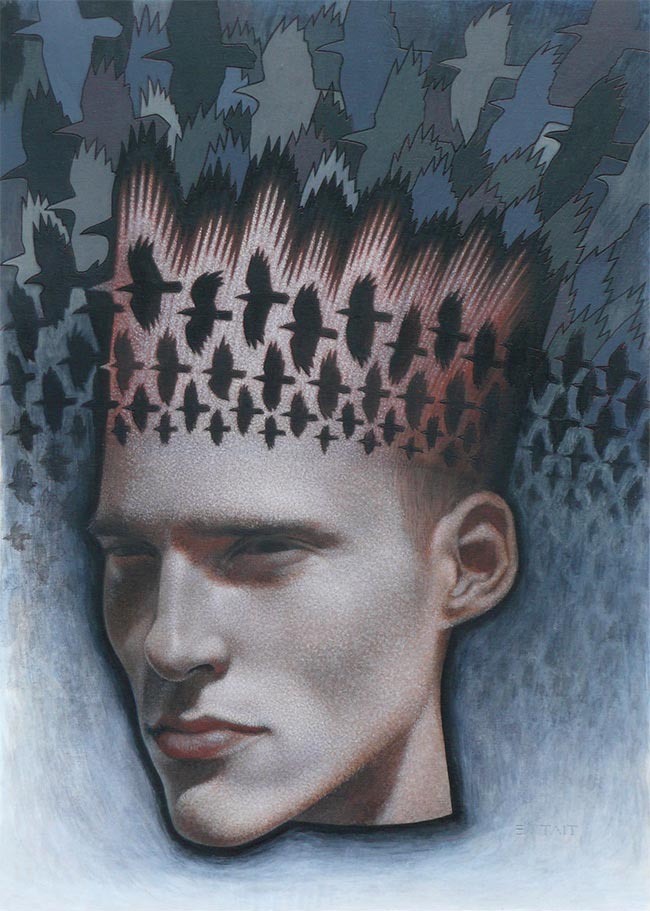 What's your current music playlist while you're in the studio?
Sometimes silence is the best for painting and it's a form of meditation. Sometimes, if I have a lot of fine detail that's going to take a long time, then something heavy and/or complicated such as Meshuggah, Opeth, Enslaved, High on Fire, Secret Chiefs 3, Circle keeps my mind stimulated. And at other times, music with a lot of space and room to think such as Earth, Horseback, Master Musicians of Bukkake, Boards of Canada, Neurosis.
I've just bought Micachu's latest tape, because I loved her soundtrack to Under the Skin. Read the book – totally different from the film (both are brilliant) – and based in Easter Ross of all places! Also, my cousin made a great mix which includes Dean Blunt so I've bought his new record 'Black Metal' (although I'm not aware of any connection to early Venom or Norwegian church-burning), and Yob's latest album is ace.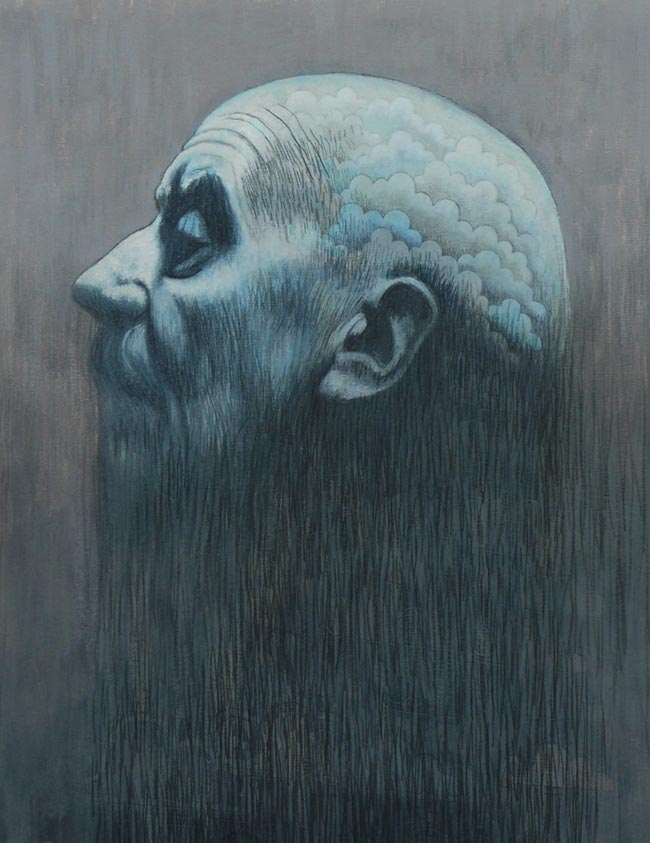 As a huge fan of comics and graphic novels and having produced your own comic in the past, do you feel that the aesthetics of sequential art have had an affect on the fine art you make? Also, feel free to give us the lowdown on your comic book interests and endeavours?
The one thing that doing a comic made me realise was that I'm no comic-book artist. It was so difficult and I can't say I enjoyed it. I don't know if it had any effect on my work except to help me realise that I wanted to paint my own images with no script or brief to fulfil. I'm glad I tried it and it makes me appreciate comic artists even more – I especially enjoy comics which are written and drawn by the same person. Some of my current favourites are (in alphabetical order) Charles Burns, Anke Feuchtenberger, David Heatley, Kaz, Jerry Moriarty, Gary Panter, Esther Pearl Watson.
I've just put down Charles Burns' Sugar Skull. I LOVE his work. When it arrived I sat quietly with all three books (it's been a long but worthwhile wait for the last instalment) and allowed myself to be totally absorbed in his nightmare.
I don't have any great urge to work in that field right now, but you never know.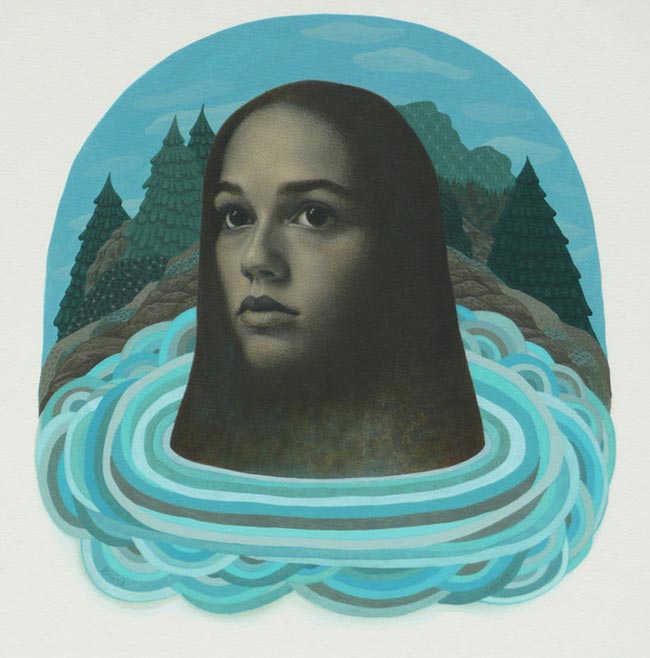 We spoke to your lovely wife Pamela earlier in the year about the collaborative artwork you produce together, which she informed us started back in 2011. Can you talk to us about how this process has evolved for you since your initial collaborative experiments?
We'd talked about collaborating a few times, but didn't really figure out how we'd approach it. So when we were invited to create a piece for the Feminality Couples show in LA it gave us that push we needed to actually work out a process. To begin with we sat down together with separate sheets of paper, put on some good tunes, and just drew. We both had a few ideas which got to a stage where we were happy to hand it over for the other to continue.
We both like each other's work and get excited to see how a collaboration will evolve, but I don't know if I could work this way with many other artists as there's a lot of destruction involved. Our latest piece 'The Storm Witch, Scota Bess' is a lot different from how it started, but it's basically the same process: passing it back and forth, adding, removing and refining until we're both happy. We start together but usually finish in separate studios – not because of any fall out, we just like our own space when working. And Pamela doesn't like Iron Maiden.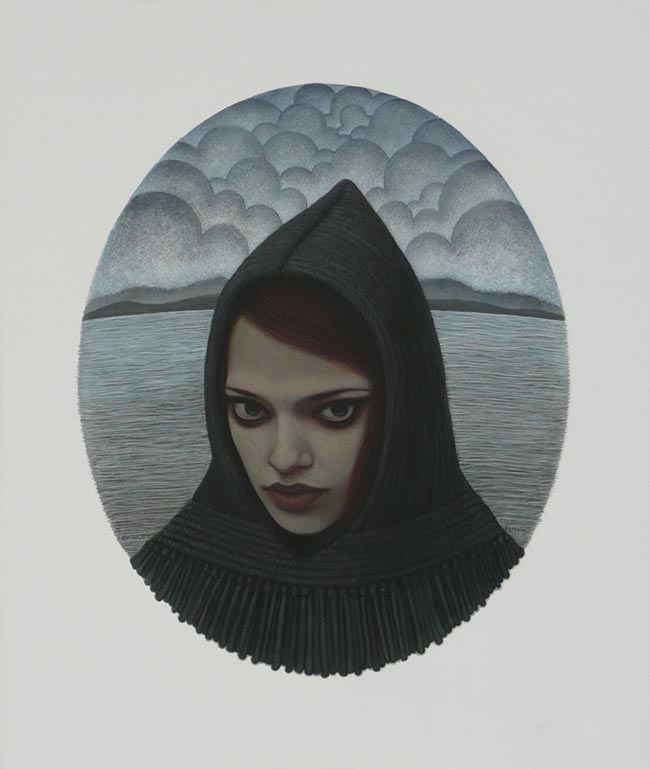 Over the years you have also been known to take on some illustration work. What have you been doing in that line recently and do you have any future projects lined up?
Most of the illustration work has been for people I know. Recently I've done a couple of T-shirts and a poster for the band, Falloch. Ben, the bassist, used to live along the road and would always bring round great records to listen to. Otherwise mostly stuff for my old band, RAAR (I've got a photo of Bruce Dickinson at Download Festival wearing one of our T-shirts!), bands I know, and my local pub.
I don't have anything else lined up just now which is fine as I've got a lot of my own ideas I need to get down.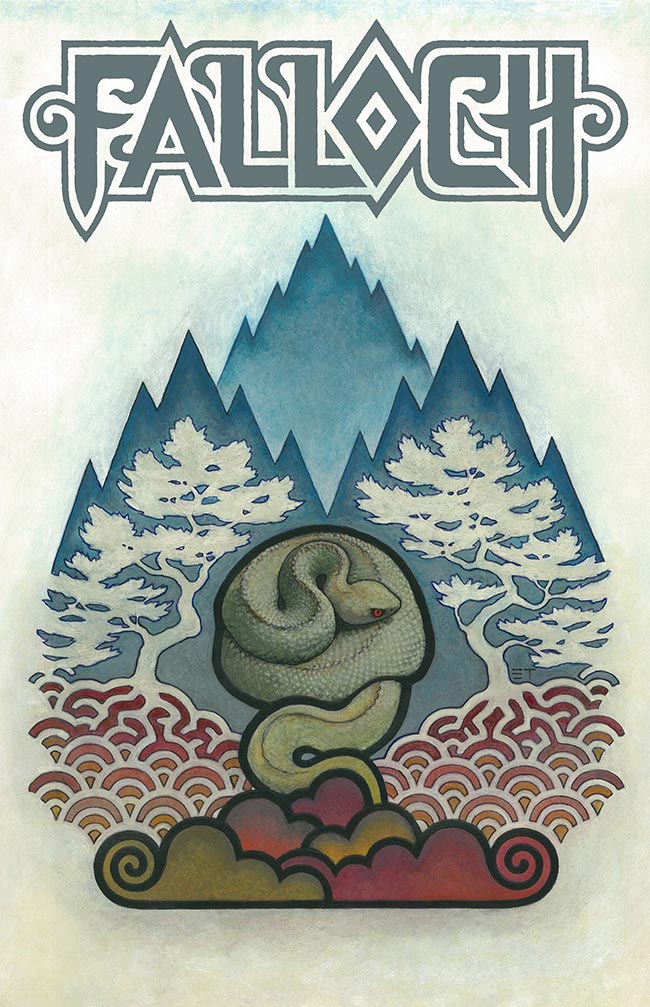 You are a multi-faceted artist, being a painter, a stained glass artists, an illustrator and a musician. What do you see yourself as first and foremost and are there still any creative avenues left that you would like to explore?
A painter, but it's all part of – well it's tempting to use the term 'self-expression', but that always sounds too much like 'self-obsession' to me. I want to make images, but it's really difficult, so I'm going to use any medium that I feel works for a particular idea.
Sometimes I almost feel guilty for painting because I love it so much.
How do you deal with a creative block?
Putting in the hours, but not putting yourself under pressure to create your best work ever, every time, which is what stopped me painting in the past. I've learned that you have to get a balance: Self-criticism is good if it doesn't spiral into inaction. Now I see every piece of work as a step in a long journey, and accept that some will be failures, but they are an important piece of a larger body of work. Like a small mistake in a large painting which still contributes something.
If you keep working, more ideas seem to grow from that mindset you're in, and it becomes self-perpetuating. If I do get stuck, then drawing, exercise, playing guitar, are all things which either focus my mind or take me away from it long enough to trigger an idea.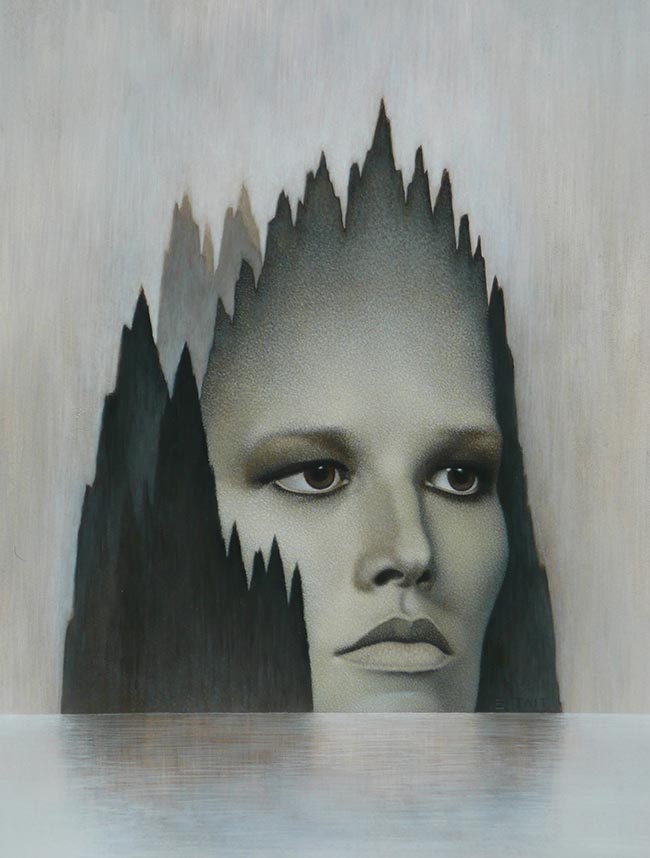 What's next for Erlend Tait?
I have ideas for new 2D work and plans to experiment a wee bit in 3 dimensions, and I've got a short residency at Inshriach Bothy coming up. Total solitude in the hills in a purpose built studio/ living space, just looking, drawing and thinking.
This month I'm restoring a stained glass window for The Highlanders' Museum, and musically, I've got lots of riffs I'd like to get down, so that means getting to grips with my recording equipment.
Otherwise, get better at guitar, learn more stunts on my bike, lots of collaborating with Pamela. Same old.