Helice Wen is a fine artist and illustrator currently living and working in San Francisco. Having spent the initial years of her art career illustrating children's books, Wen is now focusing her attention on exhibiting within the New Contemporary gallery scene. Her deeply personal work has an autobiographical flavour, and through the female characters she portrays, Wen explores those emotions or aspects of life which she finds difficult to express or share with others in any other way. It is by way of the painted surface that Helice allows us to open up a dialogue with her about the conflicts and vulnerabilities we all share as human beings. At times these conversations may have a certain sadness or dark tone to them, but Wen is often inclined to add her own hint of optimism.
Helice was born in 1985 in Shenzhen, China, but has been living in San Francisco since she was fourteen. Her work has been exhibited internationally.
WOW x WOW seized a recent opportunity to ask Helice a few questions about her life and work. Find out what she had to say, in the interview below.
Hi Helice, thanks for taking the time out to have a chat. First off, can you tell us a little about where you currently live?
I've been living in San Francisco since I was 14, previously I lived in Shenzhen, China.
Having spent half of your youth living in China and the other half in San Francisco, what kind of impact did experiencing the diversity of eastern and western cultures have on the younger Helice?
I came to America in my early teenage years, which is an awkward time to learn a new language and make new friends. I think that's why distance, and the constant seeking of comfort and familiarity are often themes explored within my paintings.
I studied Chinese watercolor and calligraphy as a kid which had an impact on my artisan style; not until college did I first use oil and acrylic and learned western painting techniques. I try to combine the flowing line work into a realistic rendering style.
What are some of your earliest memories of making art?
I am the only child in the family, and didn't make many friends when I was a kid. My parents bought me lots of children's books with pictures, and I would stay at home and copy those illustrations while other kids played outside. Later, I started making my own story books, which I've kept up to this very day.
You graduated with a BFA in Illustration from the Academy of Art University in San Francisco in 2009. What kind of experiences did you have studying there and how much do you feel that they have informed the artist you are now? Also, do you think that studying illustration (as opposed to a fine art subject like drawing and painting) has better prepared you for the world outside of art school?
The art school campuses are spreading around the heart of San Francisco and I get inspiration from the city all the time. To be honest, sometimes I really miss those crazy long studio hours at school and the sleepless nights working on paintings before a deadline. During art school, I learned drawing and painting skills that prepared me for working as a professional artist. But, the most important thing, which I learned from the many great teachers and classmates I had, is, when your technique hits a certain level, what really makes you an artist is your knowledge, character, personality and your understanding of everything around you.
I studied illustration at school because I want to be a children's book illustrator (and I am doing it now!). I think our illustrators are much faster at drawing. We have also learned how to narrate a story and deliver ideas in the most direct and simple way, as opposed to fine art painting, where a viewer's interpretation of an art work often depends on their personal experiences.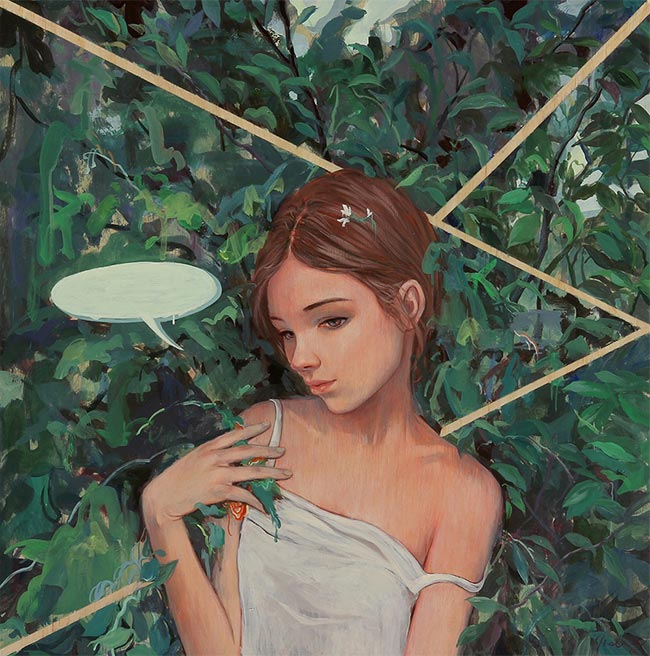 The art you make has a very beautiful aesthetic which really pulls the viewer in. Once we are in there however, it often becomes apparent that the themes being explored are a little darker than we had originally thought. Can you talk about this side of your work for us?
I see myself as a private person, I find it difficult to discuss my emotions and feelings with others, sometimes even to my closest friends, or the person I am in relationship with. When I draw and paint, that's a whole other world, it's the type of language I know the best. My conflicts naturally come out and allow expression to flow. What's inside might be a little darker than it's appearance, but there's always a hopeful spark at the end.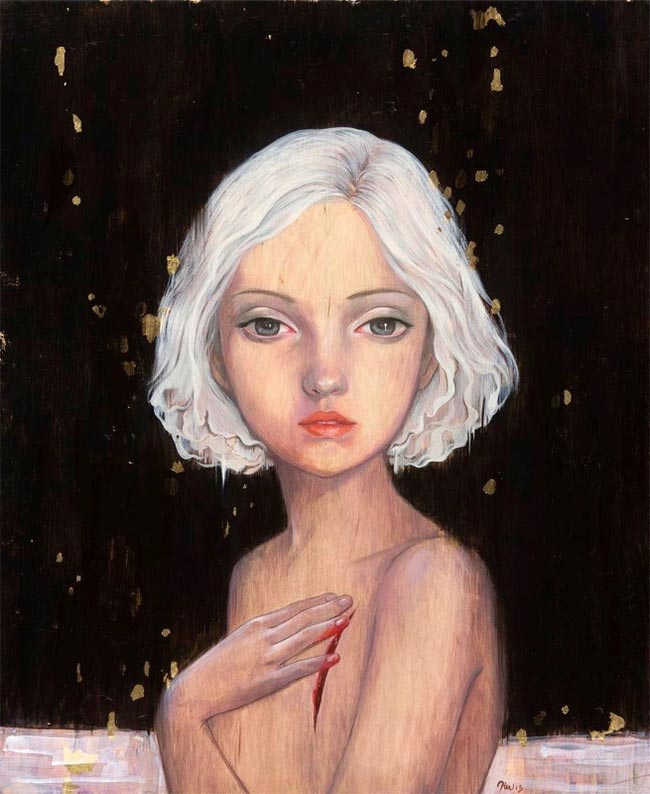 Your works appear to have a very personal narrative which display a certain amount of vulnerability. How much of yourself do you like to reveal in your art? Do you make the narrative intentionally ambiguous or is it important to you that the viewers of your art get your intended meaning?
Yes, most of what I paint is based on personal experience and unexpressed conflicts or struggles. I used to think it was important to deliver my intended meaning or narrate my experience. But after a while, I realized details don't matter anymore. Right now I just hope people who come from different life experiences can relate to my work in some way, then the painting becomes about everyone, not just about me.
Compared to when I was in my early 20's, I have become more comfortable and accepting of myself. Although I still feel insecure and vulnerable, I think that's where some of my creativity comes from. I see there are always many sides to one thing, it's hard to determine right or wrong; my idea is to show the struggling in between and live with it.
Flowers are a recurring motif in your art. What is it that draws you to painting flowers and can you tell us anything about the symbolism you attribute to them?
I love pattern designs. I use flower elements to build the composition of painting. If you have a chance to visit my studio, you will always see seasonal flowers, I buy them for painting reference. I view fresh cut flowers as a dying beauty, like the brightest firework before the dead of night. That's the same language I got from all the flowers.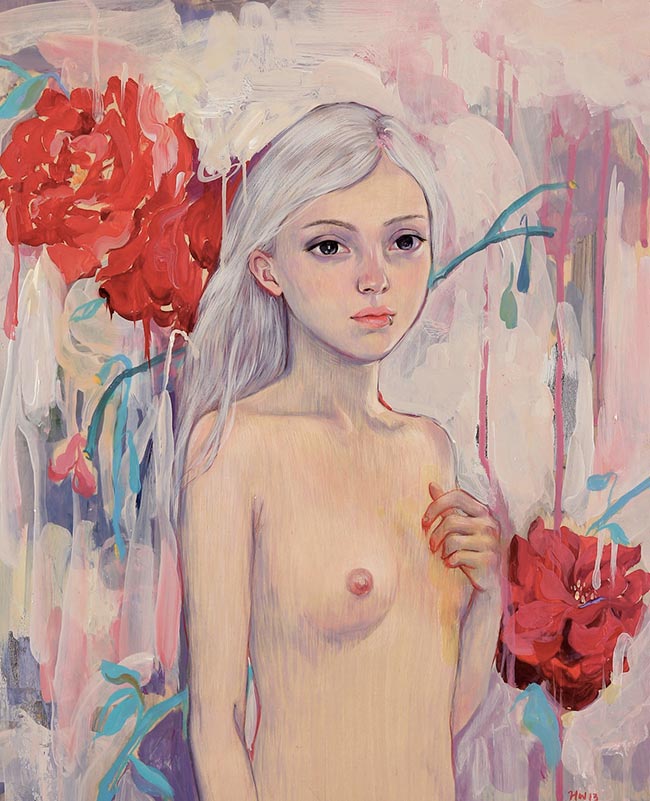 You have always had a wonderful arsenal of mark making at your disposal, having loose expressive brush strokes sitting next to very delicate and refined areas. In some more recent works you have also introduced a more dramatic range of paint textures too. Some of your backgrounds display an impasto quality, as if the paint has been applied with a palette knife? Is this an area that you would like to explore further?
My studio mate paints abstract cityscapes and I see her use palette knives all the time, that's how my fascination started and why I initially wanted to try them. Lately I've really been enjoying the process of building texture. I like how the loose brush strokes complement a refined area sitting near by. The technique also reflects the content of my paintings – enormous emotion hidden beneath the calm and delicate surface.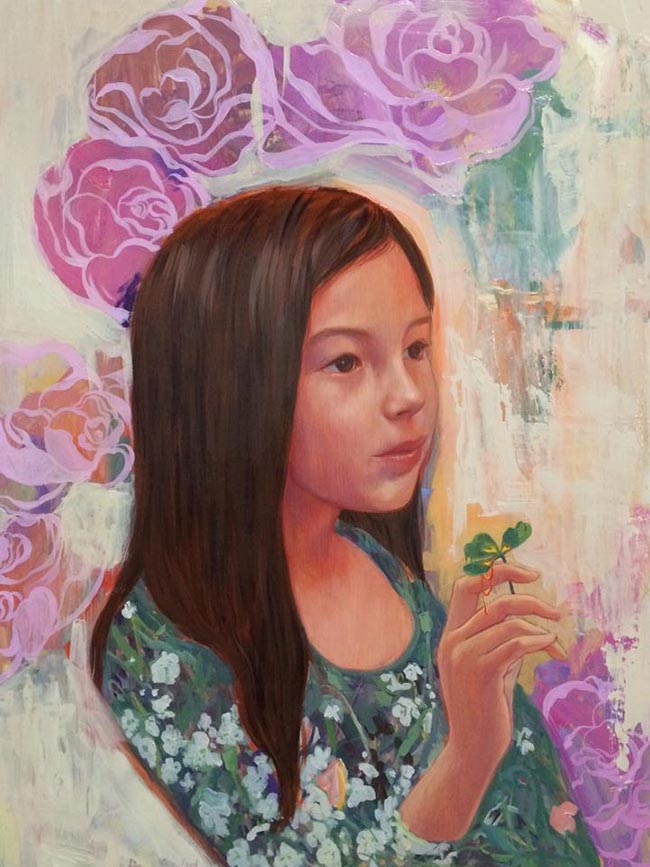 In order to get a better understanding of the personality of an artist, it can help to get a peek behind the curtain. Would you be willing to share a story from your own life, one which you feel has contributed to shaping the person and therefore the artist you are today?
This is a tough question. Stories are unfolding every day, and I feel like my interests and vision are changing constantly. There is one moment however, that I often revisit during the creative process. I visited Varanasi in India a couple of months after completing art school and during a cold winter's morning, as I walked by the river, I realized I could see time take on a visible and physical form. I could reach out to it and open it like a curtain, then see another version of myself walk towards me from a parallel world. I have visited inspired cities before and after, but that was the first far and lonely trip I take. That particular moment reminds me to transfer sense and emotion to a visual language that we can all share.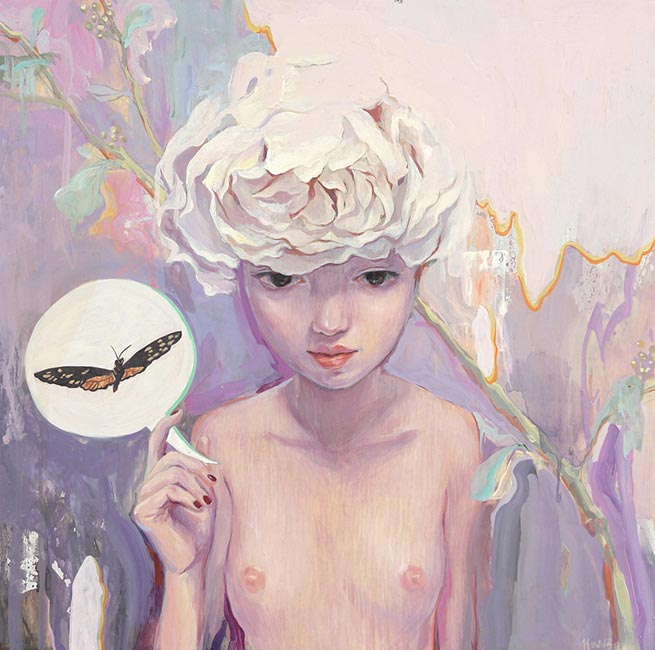 Who has been the greatest inspiration to you in life and why?
I have to say there are many inspirational figures in every stages of my life. I am very thankful for that.
How do you deal with a creative block?
I believe creative blocks are a big problem for many artists, and feel that if you don't stop working you can often break through them. I have different groups of friends with diverse interests and backgrounds, spending time among people you admire always stirs up a lot of inspiration. I also find doing physical activities helps. I love doing boxing and modern dance, they not only make my body feel more powerful, but also my brain.
What's next for Helice Wen?
Currently I am at the researching and studying stage for my new body of work. I am really excited about showing with new galleries this year! I'm also starting work on writing and drawing my own children's book. It's always been one of the biggest dreams I've wanted to achieve as an artist and as a big kid.