Joe Vaux is an American artist. His name may be familiar to many, through his work as a director on the the hugely popular animated TV series 'Family Guy'. However, Vaux also engages his boundless imagination and creative skills as a prodigious fine artist. The paintings Joe concocts lead viewers into a bizarre, yet strangely familiar world, populated with ghoulish creatures who collectively engender twisted visions sprinkled with generous spoonfuls of humour. It is by way of Joe's fun loving personality that this all important ingredient of humour injects a remarkably playful and distinctly human flavour to his narratives, often shining a light, albeit a metaphorically caliginous and creepy one, on our dreams, fears and all the other good stuff which inextricably goes into making us human.
Joe Vaux was born in Islip, New York in 1972 and currently lives and works in Los Angeles. He graduated from Syracuse University in 1994 with BFA Illustration, after which time he started his career in the animation industry. Joe's fine art has been exhibited internationally and he partaken in numerous group and solo shows, as well as a couple of museum exhibits, including the Suggestivism show at Grand Central Art Center in 2011.
WOW x WOW was thrilled to have a recent opportunity to quiz Joe about his art and to also find out a little bit more about the man behind this fabulous work. Read on!
Hi Joe, thanks for agreeing to free up some of your valuable time in order to have this wee chat, we really appreciate it. If you could please start us off by introducing yourself and talking about your background, touching on anything you feel has been relevant to shaping Joe Vaux the artist?
Let me start by saying "thank you", to WOW x WOW, for reaching out to me. I haven't been as active as I'd like to be in the art community, and sometimes I can feel my claws losing there grip on this world of fine art. My painting production has dropped dramatically since I started directing on Fox's 'Family Guy'. It is a very time consuming and energy absorbing job, but I love it. WOW x WOW's gesture has reminded me of my other self, the painter, who still has something to say.
My name is Joe Vaux. I am a father, painter, animation director, animal lover, and parkour enthusiast.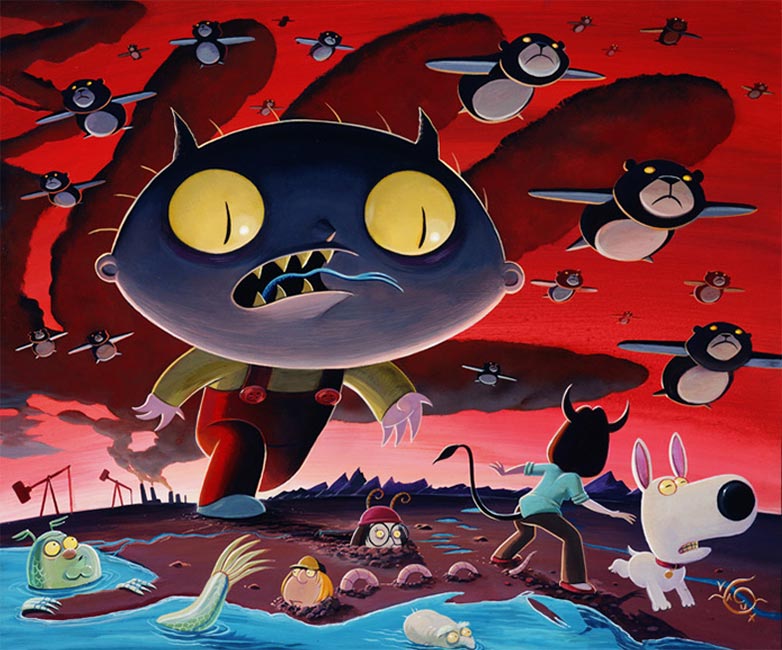 Give us a little insight into where you currently live. What are some of the things you like and dislike about the area?
I live in Los Angeles. A city rich with creative energy, short drives to natural beauty, great food, boring architecture, and tons of bullshit.
I grew up in the most idyllic neighborhood of suburban Long Island. The surrounding forests were an endless source of action and inspiration. The coastline was littered with natures little monstrous beauties. Sea creatures that inspire me to this day. Inspiration is harder to find here in a city, But it is here. Nature is brilliant at finding cracks in our walls.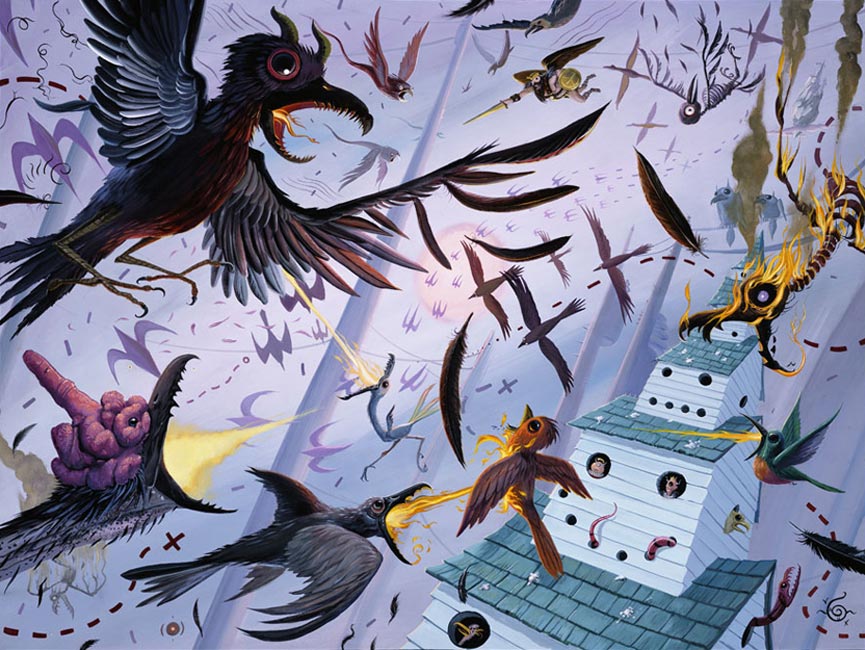 You have worked in the animation industry since you graduated from Syracuse University in 1994. Can you tell us something about your time in the business and what impact these experiences have had on your personal artwork?
The animation industry has been really good to me. I got my first break in New York, and it's all thanks to my dad. I was feeling a bit hesitant about dropping my portfolio off with animation icon Ralph Bakshi, creator of 'Wizards', 'Fire and Ice', and many other films I enjoyed. My dad and I were in the city picking up one of my portfolios, which had a rejection letter inside, and a few of his paintings when he asked if there was anywhere else we should be taking my book. I had cold feet, but mentioned Bakshi's address. We were there in moments. My dad drives through city traffic madness like it's a walk in the park. With no appointment, and feeling very intimidated, I went inside. Ralph couldn't have been kinder, and he liked my work. YES! The next thing I knew I was painting animation backgrounds for a living. Thanks, dad, for giving that little push.
After 20 years in animation, I continue to learn and grow from some of the great talents in this industry. The job has afforded me the ability to raise a family and make art for a living.
I don't do well under stress. My creativity gets stifled. My ideas flow out calm dream states and carefree walks. Beyond the creative perks, my career in animation has provided me with the financial security to keep those ideas flowing.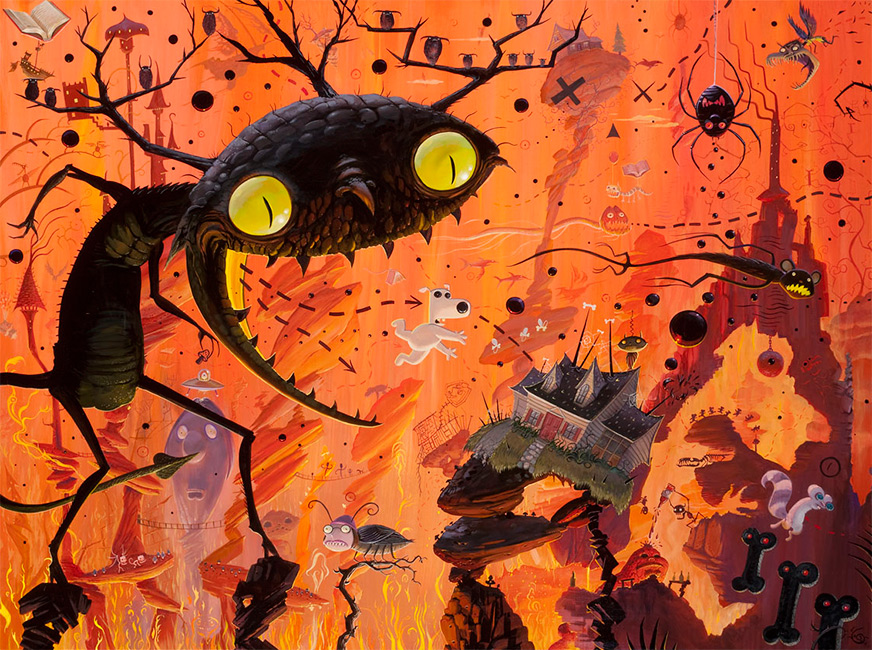 You can be quoted as saying that your imagery "seems to grow out of an adolescent's sensibility." Can you talk to us about your own adolescent years and the influences you nurtured through them which still remain of vital significance to your visual aesthetic and artistic voice?
Fantasy has always been a big part of my existence. As a kid, I ingested a constant stream of cartoons, sci-fi and monster films, and toys. A family trip to the zoo would also be a Lego man's journey to an alien world. My bedroom was host to epic battles between Star Wars guys and Lego soldiers.
As I entered my teenage years I found it harder to find friends with similar interests. I became a bit more of a rogue. My friends became more interested in parties and girls and I was making fabric clothes for Lego wizards. Sports kept me involved socially to some extent. I'm a pretty sweet athlete. But outside of that, I was left in the dust. This was tough but also kept my imagination running. My imaginary worlds continued to grow.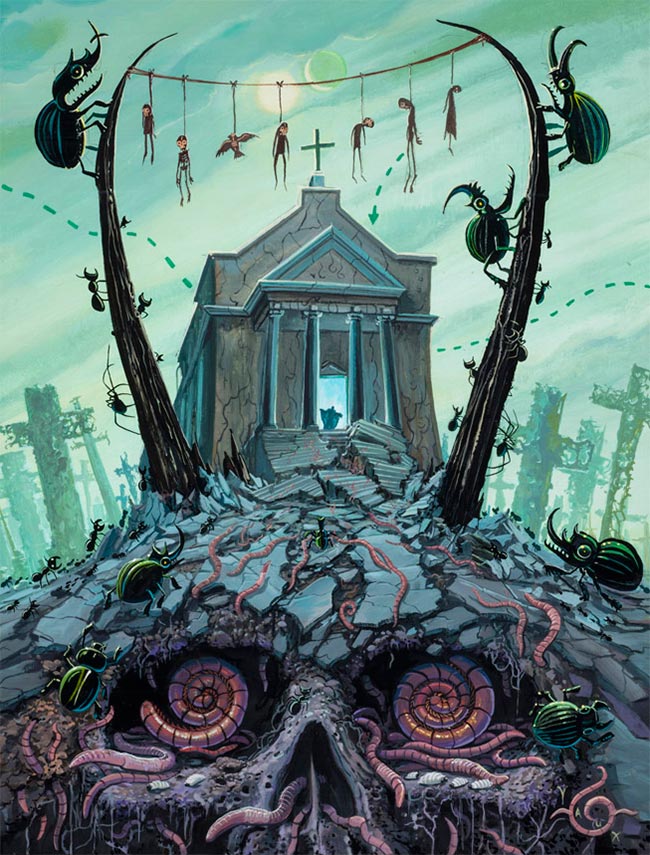 Imaginative storytelling is at the heart of your creative process. In your opinion, what are some of the most important ingredients that go into making a successful visual narrative?
I usually start with a concept I think is interesting and some key visual elements that will be my main characters. As the paintings develop, and the main stages are set, the image becomes more about balance and design. The mood/temperature of an image is very important. I like to walk a line between playful and dark in my overall scheme. In my opinion, my more successful paintings feel like something that may have been pulled from a Grimm's fairy tale.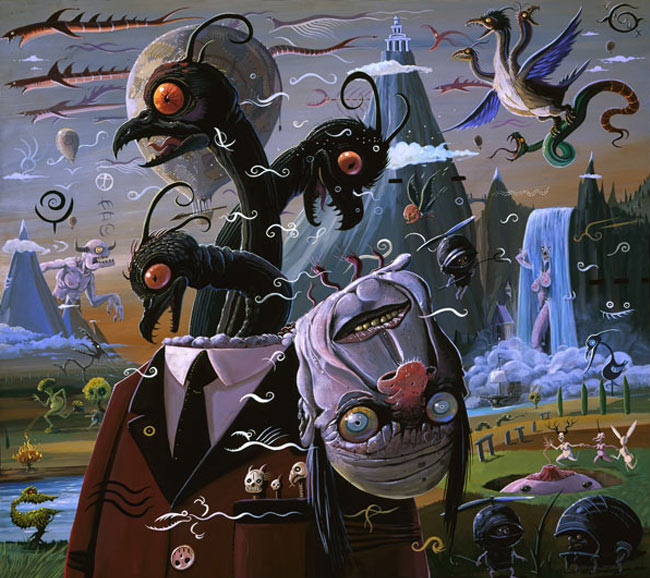 The stories which unfold within the fantastical universe you create, may feature a wonderful array of curious creatures, although at the heart of your narratives are very human sentiments and emotions. Talk to us about how your style developed and some of the reasons you have for using fantasy to explore the human condition?
This comes from an avoidance of reality. I like the dream world. It's more fun to create and move around in a world where anything can happen. It's easier for me to channel my stress into weird little creatures that can contort and emote in ways a normal body can't.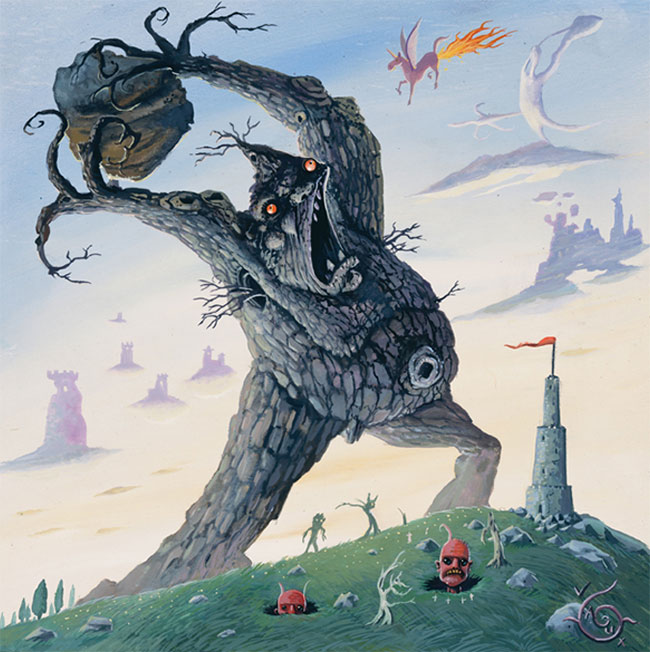 How important do you feel your subconscious is to your creative process? Do you have any practices or habits that encourage creative ideas to rise to the surface?
I don't have any rituals or anything, but I find a nice afternoon nap can really get the ideas going. I also, depend greatly on those last minutes of consciousness before my nighttime sleep. It seems like rest is my 'go to' here. I really enjoy sleeping. I pull most of ideas out of thoughts and visions that appear during these moments.
Imagine, all of a sudden, you find yourself residing within the painted world you have created. What would your character look like and what would you be engaged in?
I rarely incorporate myself into a painting. Even metaphorically, I think I've only appeared a hand full of times. It's usually about the emotion and my interpretation of that feeling. When I appear, I usually take the shape of a victim dangling above hungry teeth, or a sweet, magical unicorn.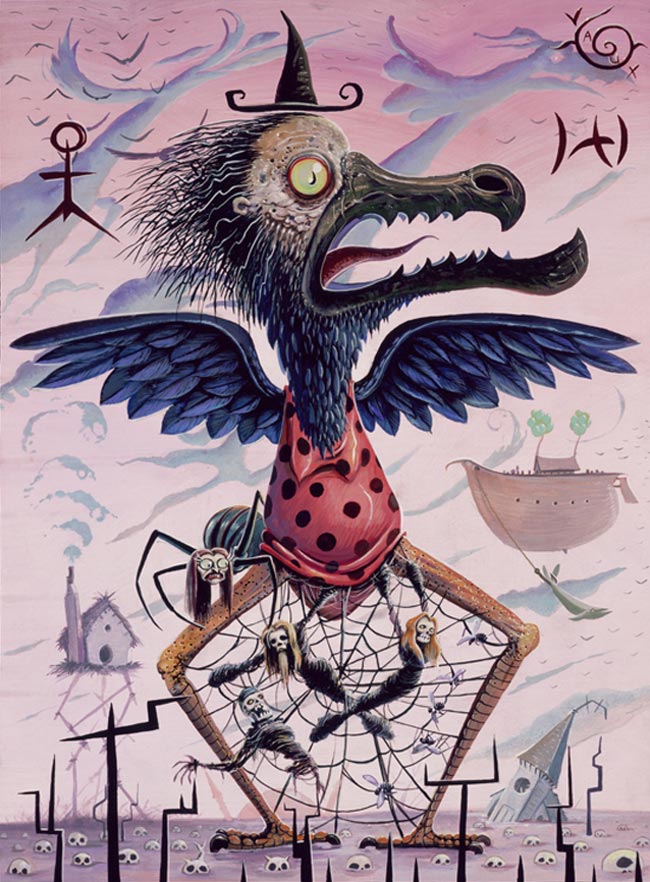 As we move through life we continue to grow and change. In what ways have you seen your work evolve since you started down the path of being a professional artist?
My skills and confidence aside, I feel like I'm still in the first stages of my artistic voice. I've never had to create my paintings to survive. Animation has paid the bills. If there are no ideas, I don't paint.
In order to get a better understanding of the personality of an artist, it can help to get a peek behind the curtain. Would you be willing to share a story from your own life, one which you feel has contributed to shaping the person and therefore the artist you are today?
Meeting me in person, one might not see this, but I'm a nervous nelly. I'm ruled by fear when it comes to my art. In the past, you might find me quietly freaking out in a dark office corner or, screaming into my pillow with frustration. Ha! Making art is painful, but I wouldn't have it any other way.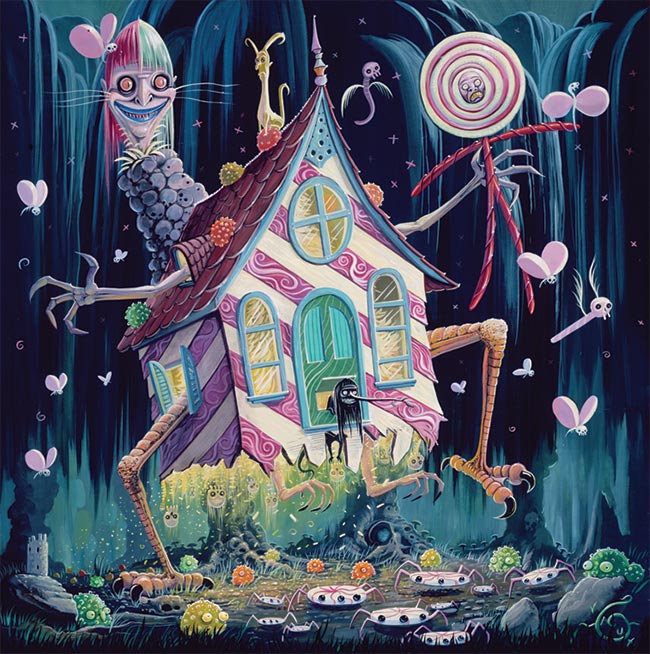 What are the best and also the worst pieces of advice that you've ever been given about your art or career?
I haven't received a ton of advice over the years. My career has kind of flowed like a nice gentle river. One thing has led to another.
My advice to anyone would be this:
Work with passion. If you don't feel it, it will show in the end product.
Find your OWN voice.
Creating the work is one thing, understanding the business is another. Learn how to market your work. I've struggled with this. There are keys to marketing yourself that elude me. I still don't know how to take advantage of social media.
And finally, if you want it, go and get it!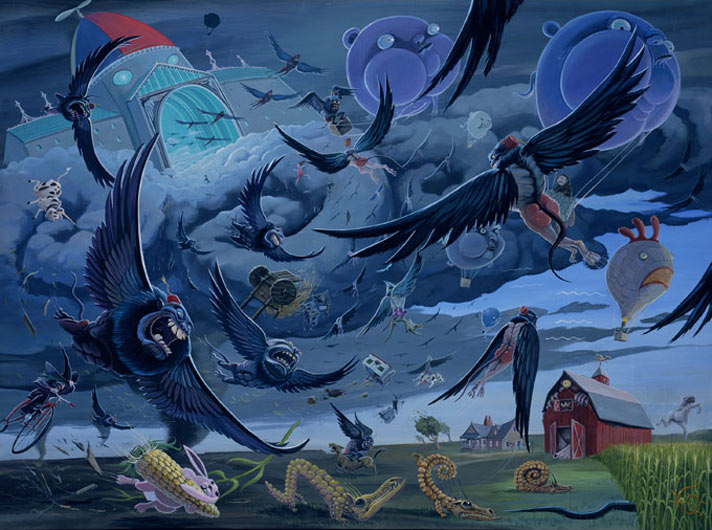 If you could own one piece of art from any of the world's collections, what would it be and why?
'The Garden of Earthly Delights' by Hieronymus Bosch. The guy must have been a wizard. This piece is so !$?#*!!-ing RAD!!!
What's next for Joe Vaux?
Well, we're waiting on a pick up for the next season of 'Family Guy'. I'm currently putting the finishing touches on another animated sequence in the show that is heavily inspired by the art of Joe Vaux. I'm very proud of the look and my teams efforts on this latest bit. I have a couple of new boards ready to go at home, so let the paint flow.
joevaux.com
joe on twitter
joe on instagram