Kisung Koh uses his art to open gateways into nature's spiritual dimensions and explores the intimate connections he has built with wildlife during his lifetime. Drawing heavily on the memories and dreams provided to him by the sheer awe inspiring spectacles he has witnessed in the great outdoors, Koh pays tribute by creating imagery that is suggestive of the metaphysical energies and bonds which can exist between two living creatures, even when interacting from a distance. Over the years, Koh has had the honour of coming in close contact with many wild animals in their natural habitats, and has become aware of these energies, which have manifested themselves to him with an ethereal majesty. Through his art, Koh captures the essence and beauty of the natural world, and reminds us that our relationships with it are often more precious and rewarding than we sometimes take the time to remember.
Kisung Koh was born in 1985 in South Korea, where he lived until 2006, when his family moved to Canada. Since becoming a professional artist, Koh has exhibited his art around the world and has become a much sought after name within the New Contemporary Art scene.
WOW x WOW is truly grateful to Koh for allowing us to interrupt his valuable painting time in order to ask him a few questions. Read on to discover a little bit more about this talented young artist.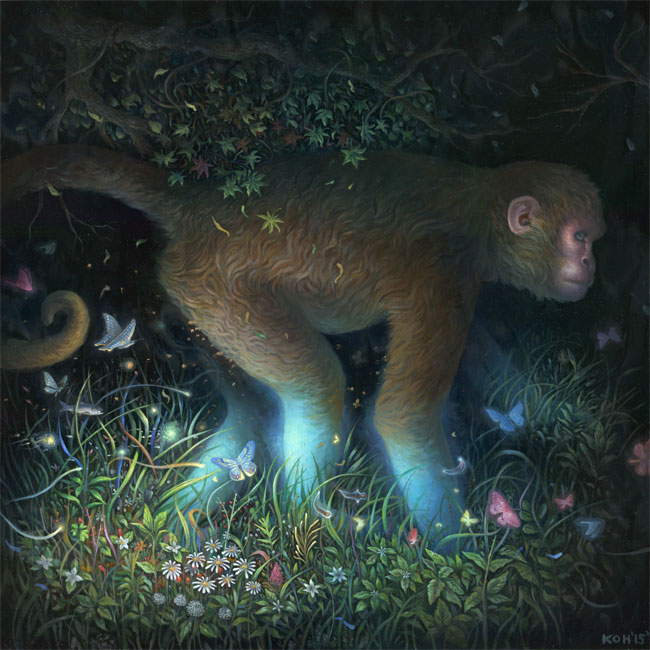 Hi Koh, thanks for taking the time to chat. Firstly, can you tell us a little about your upbringing in Korea and what influence that chapter of your life has had on your art?
Thank you for giving me this opportunity, I'm very honored. My family moved to Canada in mid 2006 to let me see the bigger world and nature. I had previously lived in small town suburbs and Seoul, the biggest city in South Korea. I think my childhood memories of those small towns with their rivers and mountains really influenced me.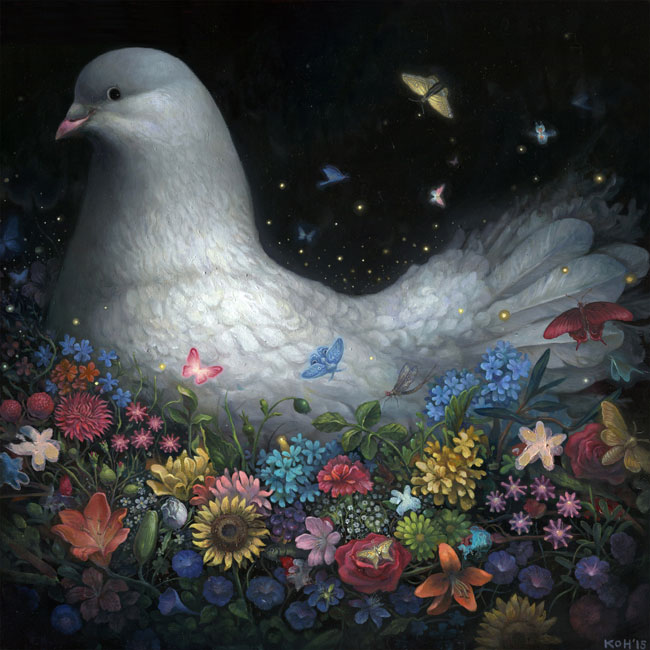 You now live in Toronto, Canada. What do you like about the area and what was your original motivation for moving there?
To be honest, I wanted to move somewhere else, that has more 'nature', but somehow I ended up here. Haha.
What have you had in the way of formal training and do you feel it was beneficial to you?
I studied BAA Illustration in Sheridan College, Canada, and I think it truly helped me to figure out what I really want in my life and where my passion is. One thing I regret, is that I should've experimented more with the other various art forms while I was in school.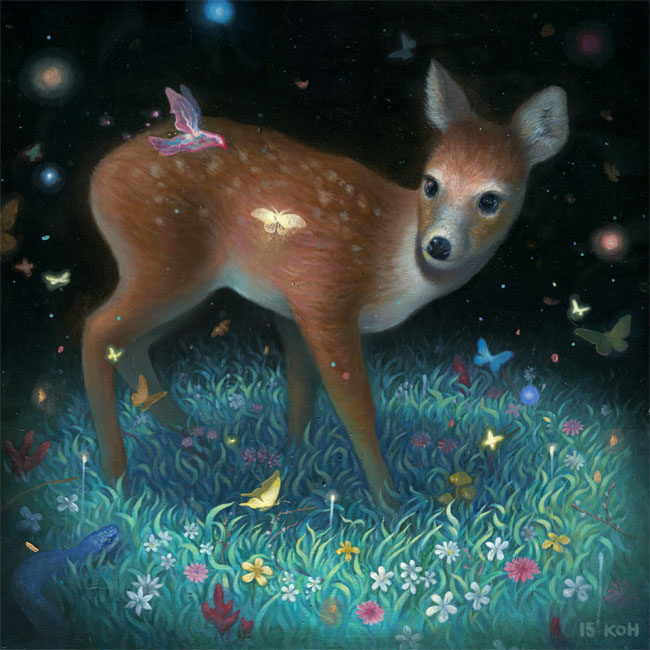 You have two distinct sides to the art you create. On the one hand, you have your beautiful wildlife inspired pieces and on the other you have your intriguing and whimsical illustrative work. Please talk to us about these different sides of your creative output and the themes you like to explore within each?
Well, I love animals and nature. They are everything for me. I also love to create cute, weird and ridiculous things that I love, as these are the images that represent my old memories and also my daily life, unlike the way I tackle the 'beautiful wildlife inspired pieces' in a surreal and conceptual way. I'm trying to develop the idea of combining both sides eventually.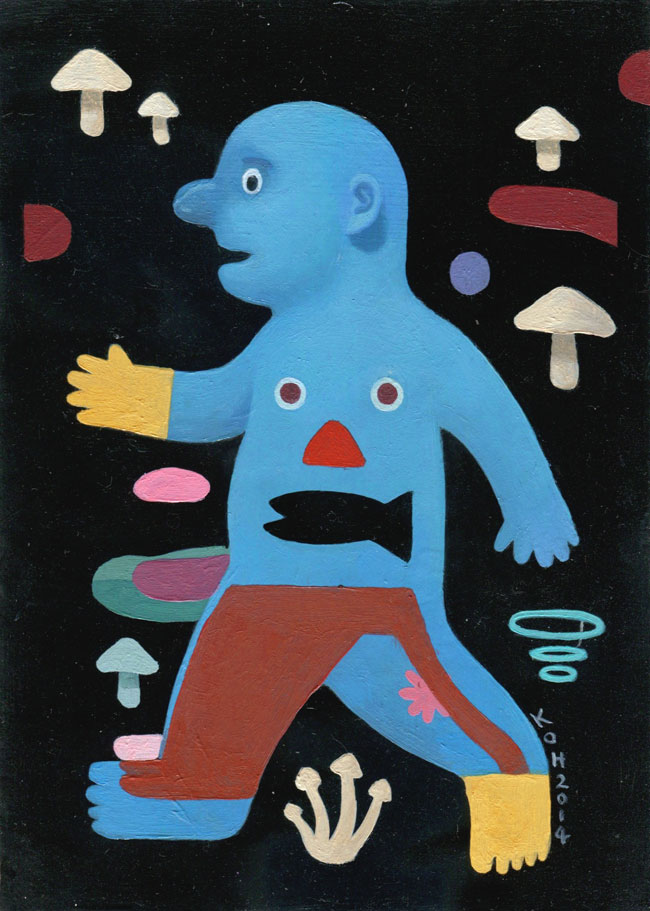 Your love for nature, and animals in particular, is very apparent in your work. What would you say is the biggest inspiration for the more surreal aspects of what you paint?
It's really hard to explain, but the invisible 'spirit' around the animals that I have 'witnessed'.
What do you wish for the viewers of your art to take away with them?
I know we are not talking about the case of some abstract work that someone is staring at for hours, but I want to create imagery that allows viewers to deeply feel my thoughts and emotions. Although there is plenty evidence of bright or highly saturated colors in my work, I also want viewers to delve deeper and see the hidden sadness in what I create.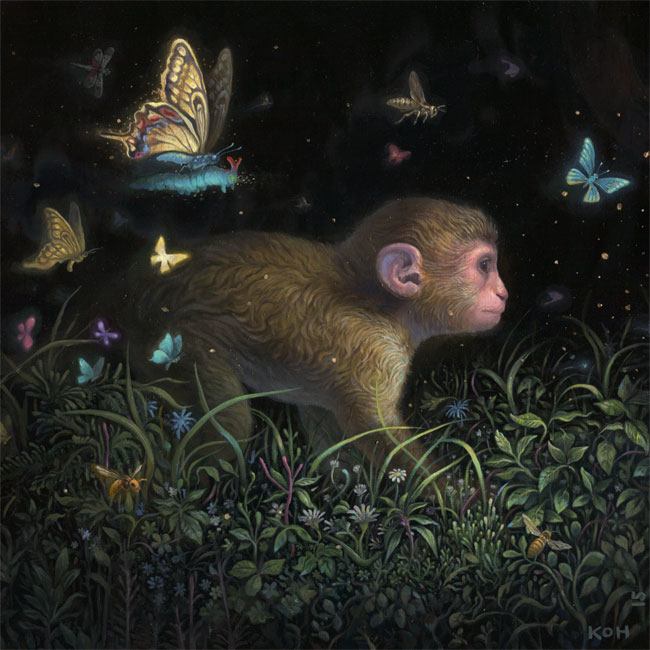 In what ways do you feel your work has evolved since you've become a professional artist?
It's hard to pin point the exact ways in which my work has evolved, but I know it has and I believe viewers see that as well.
What is the best piece of advice you have ever been given?
My good mentor, artist Tessar Lo told me, "Just do it, but don't fuck it up."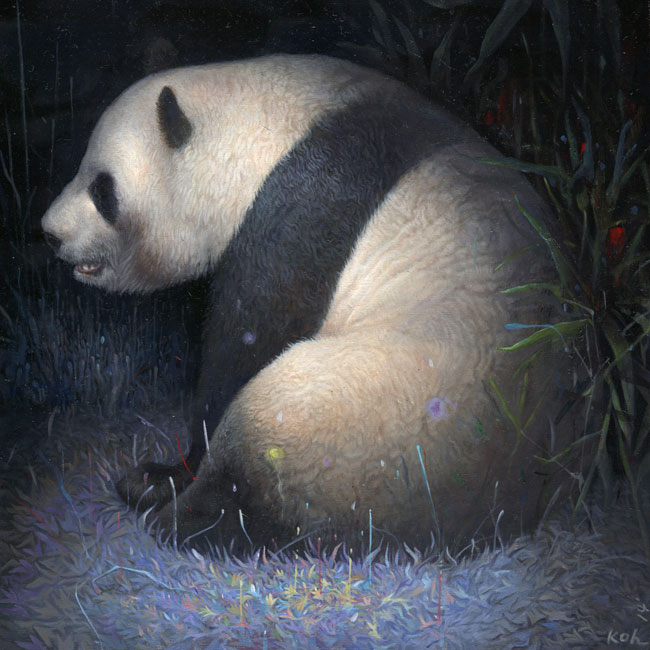 If you could own any piece of art from the world's collections what would it be and why?
One of Klimt's pieces, simply because they give me goose bumps.
How do you like to spend your leisure time?
I love walking in a forest or in a park with my baby (dog), Dooly and taking care of my scorpions.
What's next for Kisung Koh?
I have some group shows before end of this year and into next year, and my first solo exhibit will be in spring 2017.