Mike Egan produces art which particularly resonates with those of us who are attracted to the darker side of life. Having worked as an embalmer in funeral homes for several years, Egan has had plenty of first hand experience dealing with death and it's related issues. Drawing inspiration from the world of Folk Art, Mike focuses on giving a raw simplicity to the shapes and motifs he paints, and renders them with intentionally naive brushstrokes; these all important stylistic touches add to the handmade feel of his work. While Egan's subject matter may be dark, he contrasts this with a bold visual aesthetic filled with bright colour and a certain playfulness, which successfully injects an element of hope into the otherwise sombre themes.
Mike lives and works in Pittsburgh and has been exhibiting his art internationally over the last ten years. He is an extremely prolific artist and often produces work for multiple solo shows as well as numerous group shows each year.
WOW x WOW managed to catch up with Mike recently and he graciously answered a few of our questions about his life, work and inspirations.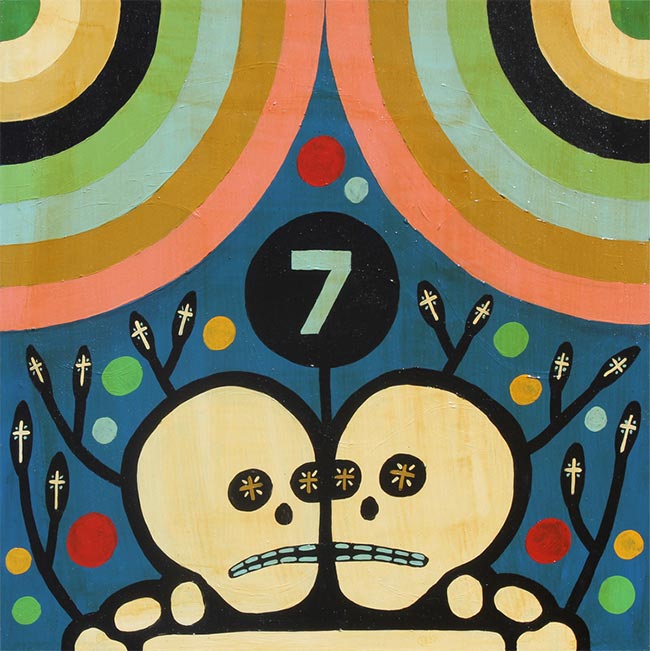 Hey Mike, thanks for joining us. First off, can you tell us a little about your background in the arts?
I went to Edinboro University of Pennsylvania to study fine art. I focused on printmaking, mainly woodcut prints. This is where I learned about artists like Posada and Käthe Kollwitz . After school in 2000, I moved back home, I didn't have what I needed to continue printmaking so I started painting. A couple years passed and I decided to go to the Pittsburgh Institute of Mortuary Science to study funeral directing and embalming. I did that for five years, I enjoyed it but really always wanted to be an artist. I continued to paint while I worked at funeral homes. Social media really helped me to get enough attention that I started getting gallery shows.
What does your studio look like?
I use the second floor of my home, it's kind of a loft space. I repainted it and laid new flooring. I have my vinyl toys and artwork hung. We put a couch up here so my wife can hang out and we can watch movies while I get art projects completed. I'm a bit of a home body so it's nice that most of the time I can make some tea and head upstairs to work.
The subject matter for your work focuses on the darker side of life. Talk to us about the themes that you like to explore with your art?
The biggest theme is Death, I've always been drawn to it for some reason. Especially with working in the funeral homes. I tend to use relationships, good and bad in my paintings. I went through a crappy divorce and lost friends because of it and made an entire show about it. Overall, the themes are really about me and my life as I grow as a person and an artist. I hope to make paintings that people can relate to, whether it's heart break, losing someone in their life, finding someone new, death, depression, etc.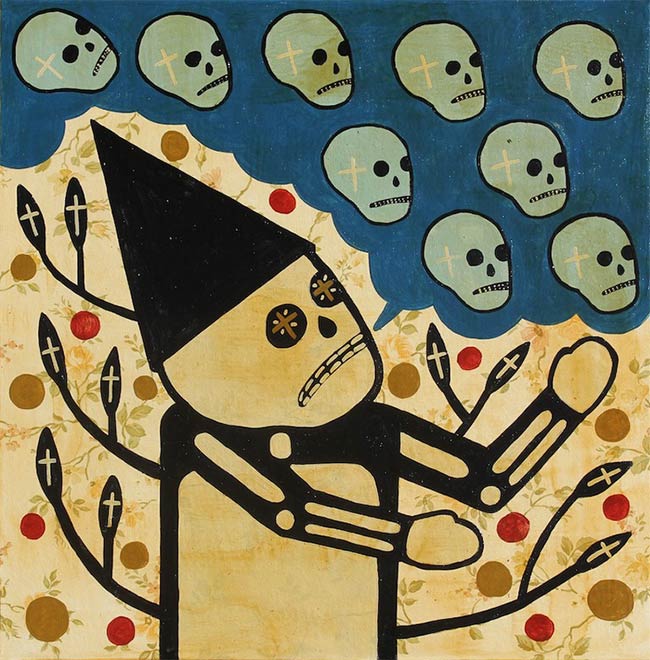 You are a very prolific artist, completing one or two paintings a day. Does one piece spawn an idea for the next or do you keep a sketch book of ideas? Describe your creative process?
I don't keep sketch books, I've tried but they just don't work for me. I actually work well with post-it notes. I'll write down small sketches, ideas or words that I'd like to use in paintings. I do like to build off of ideas that I come up with. Like I wanted to start painting masks, so I came up with the Wolf. Once I had that done it was like "What else can become a mask?" But most of the time I have an idea in my head and work directly onto the wood panels that I paint on.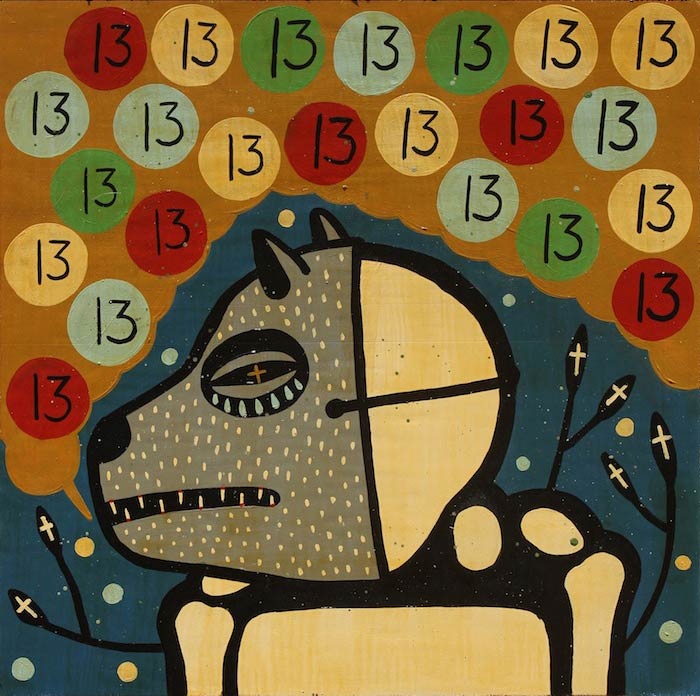 Some of your paintings have been done on found objects which you've said helps to give your work more of a Folk Art feel. What is it that first drew you in this direction and who are some of your favourite artists working within the Folk Art field?
I think that I like how crude and simple the work can be. I also like that everything is handmade and looks that way. Nothing is polished. The artists that I like tend to be folk art inspired like, Fred Stonehouse, AJ Fosik, Richard Colman, Troy Lovegates and Barry McGee.
You have also expressed a love for the German Expressionists. Can you talk to us about a few of the artists within the movement that you particularly love and why?
Käthe Kollwitz, Max Beckmann and Otto Dix are the big three that I was introduced to. I was drawn to the bold line work of their black and white wood cut prints and mainly the dark imagery. They dealt a lot with death and loss which of course is what most of my work is about.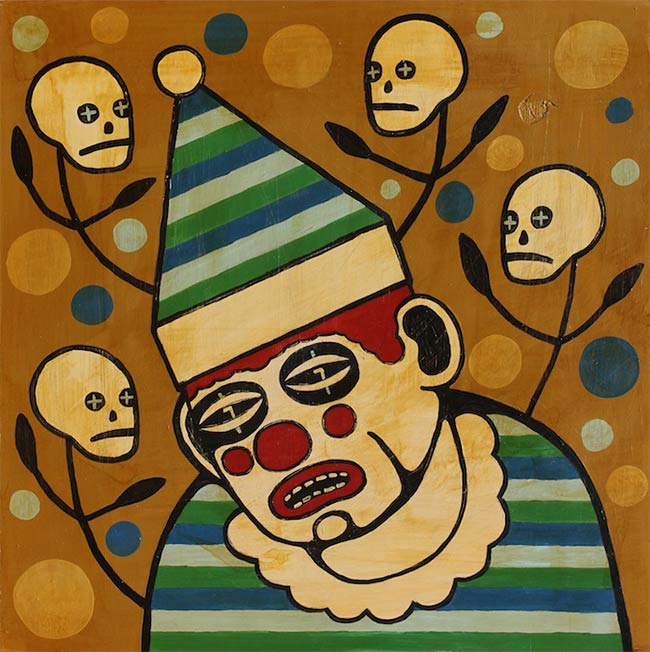 As a fan of music, how important do you feel the imagery from your favourite bands while growing up has been to shaping your current visual aesthetic and interests?
That's a tough one to answer, I feel like I've listened to so many types of music. I can definitely pick out some bands and musicians that influenced my work through the years. Two big ones would be Tom Waits and Nick Cave and the Bad Seeds. They are so creepy and dark, yet they are very playful and witty. I kind of feel the same way about my art, it's very dark in subject matter but so bold and bright with colors. Other influences include The Smiths, The Misfits, The Cramps, Interpol, Mogwai, etc.
A few of your character designs have been turned into vinyl toys. Can you tell us about your interest in toys and how your first release came about?
I didn't know much about vinyl toys. I was introduced to Dov and Sarah Jo from DKE Toys at one of my openings in Philly. They liked my work and Dov later approached me about designing toys. I first designed Bones the skeleton who debuted at San Diego Comic Con. I later designed Lucky the devil who also debuted at SDCC which is when I got to go. It was great to meet other artists that I look up to like Ron English and Frank Kozik.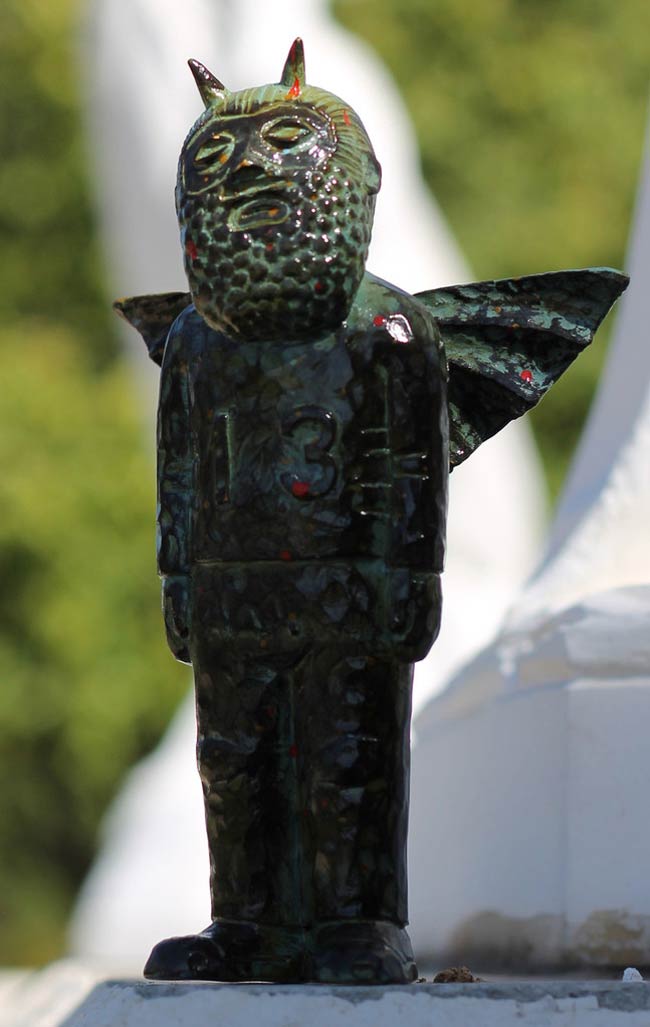 Having a lot of tattoos yourself, do you ever get asked to design any and is this an avenue you would like to venture down?
I have been asked to design tattoos. I really like when people take my work and get it tattooed on them rather than ask me to draw something specific for them. I feel that the tattoo artist is going to know shapes and placement better than myself. Besides I love being surprised with fresh tattoos of my art.
What has been the highlight of your career and why?
I don't think that I can pick one thing. There are so many cool projects and shows that I got to be a part of so far. Going to Comic Con in San Diego was great, solo shows in Austin, Portland, London and San Jose were all amazing. I guess I feel like I'm still working towards a huge highlight.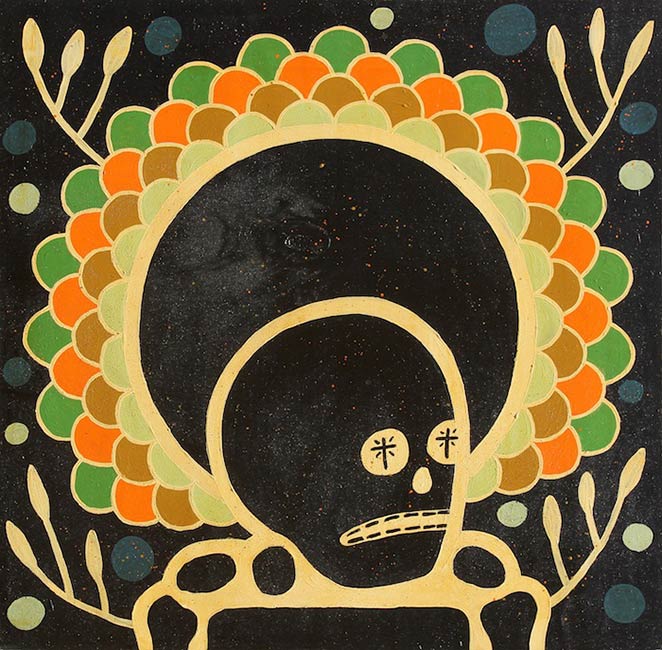 When taking a day off from painting, what do you like to do to relax?
I like working out a lot. My wife has turned me onto Crossfit and I love it. We like to travel when we can to see other cities. I like getting my dog outside and taking her for walks. I also like working on my house
What's next for Mike Egan?
I'd like to take everything to the next level. It'd be great to get into larger toys or sculptures. I'd definitely like to do larger solo shows. I think I'm to a point where a book would be great to showcase the work that I've done already. As long as I get to keep creating I'll be happy.