Paul Barnes delves into the ancient traditions of his Scottish homeland and incorporates it's folklore and legend with his own experiences and an affinity with nature, to produce dreamlike paintings set in a timeless world. Paul's beautifully stylized anthropomorphic characters are metaphors for elements of the human condition and they weave gentle narratives infused with myth and magic. Forever fascinated with the past, Barnes paints with a soft and subtle colour palette on a textured support, which lends his work the time worn appearance of ancient relics. It is through his collection of masterful visual cues that Paul invites the viewer to revisit their childhood naivety and unlock the innocent imagination which accompanies it.
Paul currently lives and works in Aberdeenshire in the north east of Scotland. He has a strong international following and his art has been exhibited in preeminent New Contemporary Art galleries around the world.
WOW x WOW were lucky enough to catch up with Paul in order to ask him a few questions and get an insight into the working life of this talented artist.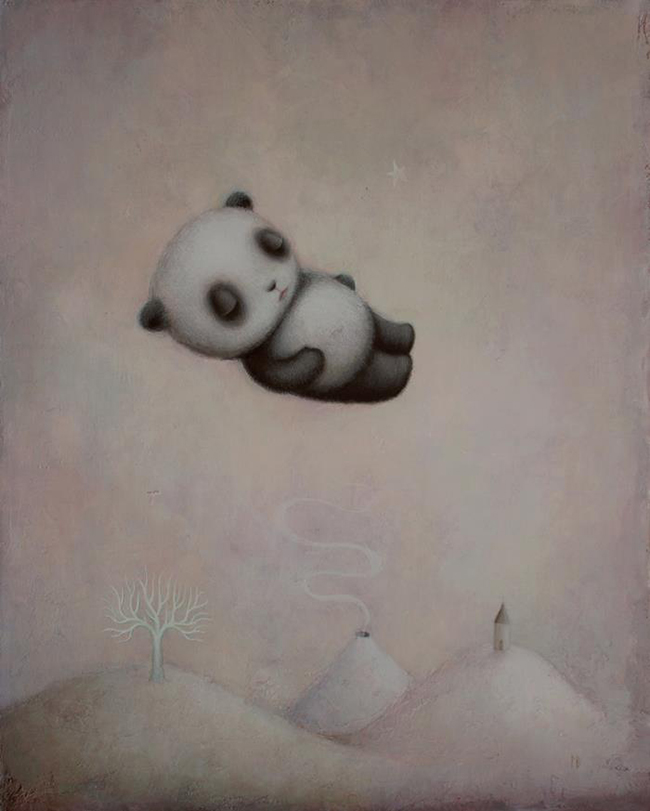 We recently interviewed Pamela Tait, another Scottish artist who also studied at Gray's School of Art in Aberdeen. How was that experience for you and do you feel that it has informed the thought processes and artistic practices you implement today?
I went to Gray's School of Art for the final two years of the honours degree course straight from completing an HND in Graphic Design at Aberdeen College. I knew I didn't want to work as a graphic designer but had a great interest in illustration, which I knew I could explore further at Gray's. It was amazing to have such a dedicated and structured period of time to produce the degree show. A magical time where you could get completely lost in your own world and where a lot of the work was created almost through the subconscious with everything working together in harmony to form a strong and cohesive show at the end of the year. I learned during this time exactly what I was capable of achieving and with very little sleep. A valuable insight into what was to come in the future of my life as a professional painter, with the pressures of completing deadlines within strict time limits. By the time the degree show was hung, I knew I had to be a painter, to have complete freedom to explore my work out with the constricts of client briefs. Those years at Aberdeen College and Gray's were vital in laying the foundations to the art that I make today.

Can you give us an insight into your creative process?
I'm always thinking about how best to capture little moments of life's experiences within the context of a painting. I think about my immediate relationship with the world, the experiences with my children, loved ones, friends, animals, where I've been, what I've seen, all filtered through the music I listen to, until little pictures start forming in my head and I start drawing. I keep drawing until something I feel best reflects the image or vibe I was imagining, appears.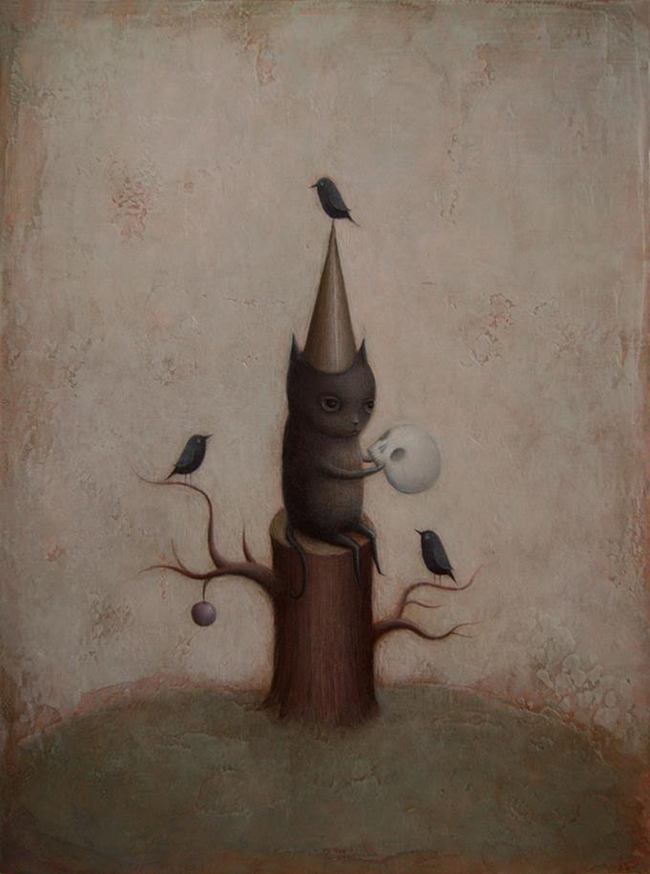 Your paintings are created on top of a textured plaster base. Can you talk a little about how you arrived at this technique and the effects it allows you to achieve?
The plaster technique I use at the moment developed out of my deep love for ancient art and antiquities and the patina of age and distress on natural surfaces like stone, wood, plaster, paper, etc. It evolved over about 20 years of experimenting with surface textures and techniques, from shellac and correction fluid, gum arabic and hand made papers to emulsion paint on wood and linen, etc. The plaster, I feel provides the best ground layer for the feeling and sense of the past I try to paint into my work
You have an international following and your artwork has been shown in New Contemporary Art galleries all over the world. What was the first gallery you showed with overseas and how did this come about?
The first gallery I showed with in the USA was La Luz De Jesus in Los Angeles. They were my springboard into the world of Pop Surrealism/New Contemporary Art and I'm forever grateful to Billy Shire for that.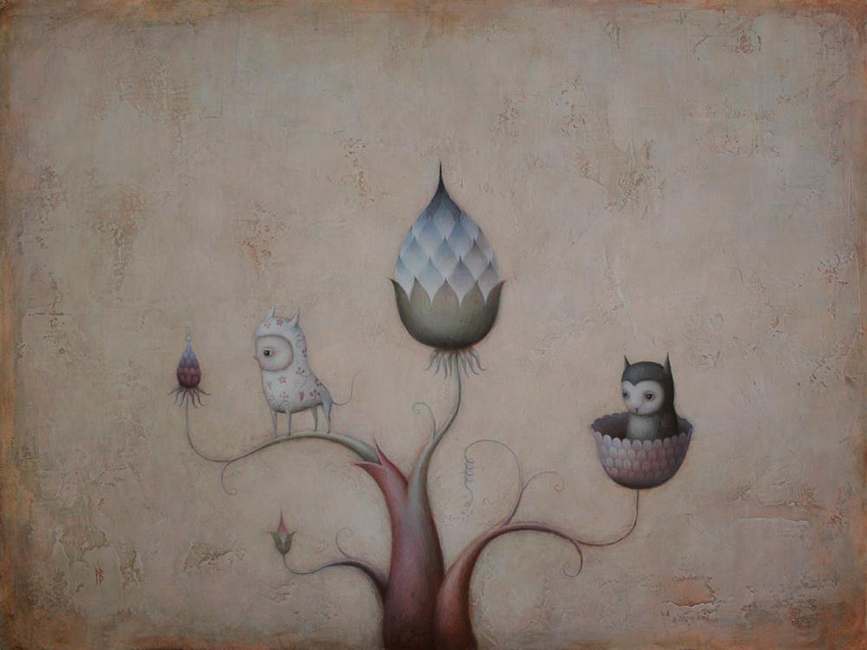 The New Contemporary movement is largely American driven and you exhibit a lot of your work there, but you also show locally too. How do the galleries you show in at home differ from those abroad and what do you think the future holds for New Contemporary Art in the UK?
Since I've been showing with galleries in the US I've noticed that they command a very strong internet presence and promote the hell out of their shows, gaining massive exposure with the support of the popular art magazines and blogs which have international readership. I've never seen queues around the block for private art openings in Scotland. There are a few galleries in London, like StolenSpace and Lazarides, who have been international market leaders in Urban and New Contemporary Art for years but it seems like more mainstream private galleries have still to be blown away by it's incredible force. I was very excited to see Gary Baseman's 'Mythical Homeland' show at Summerhall as part of the Edinburgh Festival this year. That surely must be a very positive sign of it starting to reach the Scottish consciousness.
You have stated that one of your sources of inspiration is the wealth of Northern Scottish folklore and legends. Do you have any particular favourite legends or tales that you'd like to share with us?
There are so many to choose from. Stories of the Scottish landscape being inhabited by fairies, witches, kelpies, water horses, etc. are fascinating to me. These old stories personified the forces of nature to connect with the imagination to enable us to have a better understanding of our place within the world and how to survive in the often harsh surroundings and circumstances of past centuries. They were told to be remembered. Although most legend is not considered to be true, it did help connect us a little to the invisible powers all around. I particularly love how animals have been used in folklore. Some of my favourite stories are of witches who can transform into hares and if injured by a huntsman would later bear the wounds on their human flesh, the deer of the Highlands being guarded by the spirit of a woman who used to milk them while singing. There are so many fascinating stories.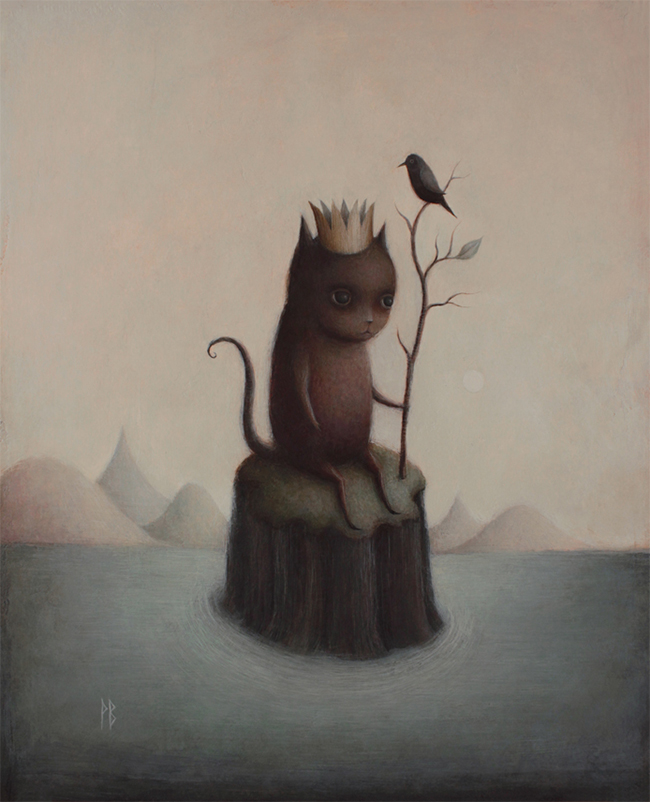 As a father of three, what words of wisdom have your children given you?
I think I learn more from my children than they learn from me. They have shown me how to look at the world through children's eyes and make me realise just how much we as adults take for granted. They show me how to stop and take time to just be in the moment, creating a more mindful space to experience the world through the senses. Colours and sounds become brighter, time slows down and a new clarity forms where things seem to make more sense. They have also taught me how to reconnect with my own inner child and to be able to play again, which is hugely important to my work. Having three children also heightens the awareness of our perilous future as a human race on this planet and just how much of a desperate need there is for us adults to teach and guide our children to continue to change our relationship with the earth and our fellow humans. To leave a legacy which will inspire a new way of living for them in future years.
What would you class as your greatest artistic achievement to date?
I see my greatest artistic achievement as being the connections I have made with so many inspiring and wonderful people through my art. The people who keep me painting and showing in galleries.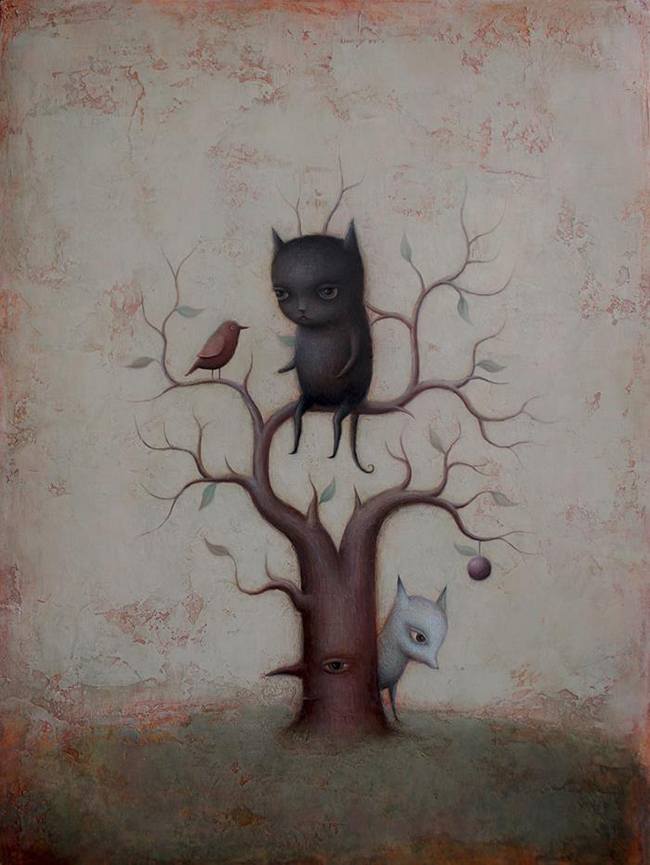 Who is your favourite artist (living or dead) and why?
There are 1000's of artists who I greatly admire but choosing just one, it would have to be Paul Klee. I saw a big exhibition of his work at the Tate Gallery in London when I was about 17 and to be able to study his work and all it's layers and surfaces up close had a huge impact. I felt a deep, almost primal connection to his visual language, humour and poetry, the pure simplicity to the extraordinarily complex nature of his technical skills and composition. His inspiration has been very important to me. I love him.
What do you do to relax and take a break from painting?
Most of my free time is spent hanging out with my children, visiting castles, forests, beaches and parks. I regularly visit the Winter Gardens in the Duthie Park in Aberdeen which was once a Victorian glass botanical house until it was demolished and rebuilt in the 60's after severe storm damage. It's been a sanctuary to me all my life where I find total peace amongst the plants and flowers. I also enjoy exploring and discovering new music, gardening and driving, when I get the time.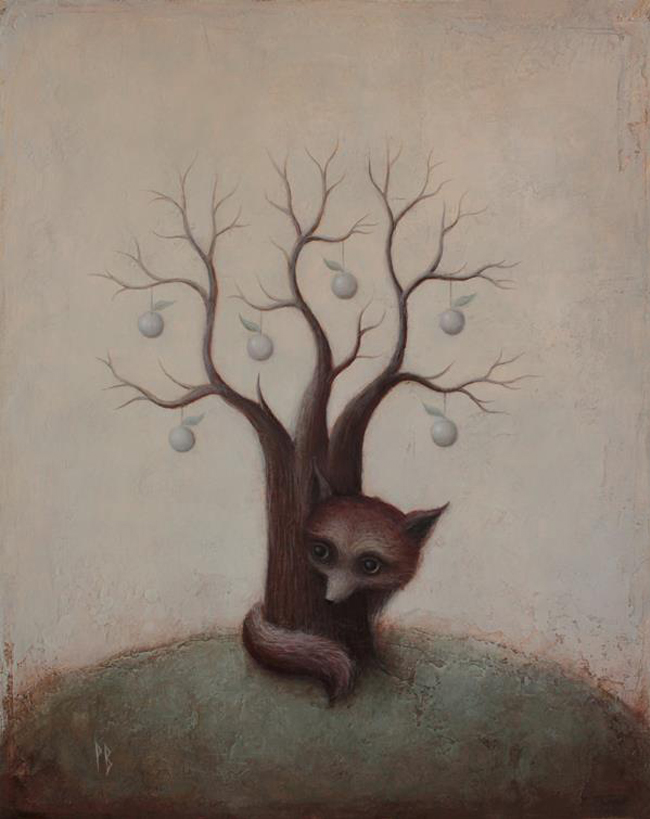 As the eclectic music lover we know you are, this question could prove challenging…but imagine it's a matter of life and death. Name your top 5 albums?
A difficult one. Right now I would choose, The KLF – Chill Out, Sonic Youth – Daydream Nation, The Caretaker – An Empty Bliss Beyond This World, The Books – The Lemon of Pink and The Velvet Underground & Nico. I have chosen these because they are some of the very few records where I never skip a track. Every single song plays it's own important part in what are like the soundtracks of my life, to me.
If you could have one superpower what would it be and what would you do with it?
I'd like to be able to fly. I've had recurrent dreams since I was a kid about being able to fly, usually to escape some dark force. The feeling of being able to free yourself from any situation by leaping into the sky, looking down on the landscape, I feel would be amazing to experience for real, so I'd like to be able to fly.
What's next for Paul Barnes?
I'm just starting the work for a few winter exhibitions coming up over the next couple of months and then I've got Thinkspace Gallery's 10th Anniversary show in January 2015. Straight after that I'll be getting to work on a solo show with the Open Eye Gallery in Edinburgh in October.