Tom Bagshaw is a fine artist who hails from Bath in England. He creates images of haunting beauty filled with darkly mysterious female characters who cast a bewitching spell over their viewers. Bagshaw's skillfully composed and painstakingly rendered paintings are created in the digital domain, but exude the tangible organic quality achieved with traditional media. This is fine art at the cutting edge. Pushing the envelope, breaking down preconceptions and forging a new path in the name of contemporary painting in the 21st century.
Tom's work is highly sought after and he exhibits in leading New Contemporary Art galleries throughout the world, such as Corey Helford Gallery in LA, Roq La Rue in Seattle, Strychnin Gallery in Berlin and Atomica Gallery in the UK.
WOW x WOW is honoured that Tom recently took time out of his busy schedule to chat to us about his work.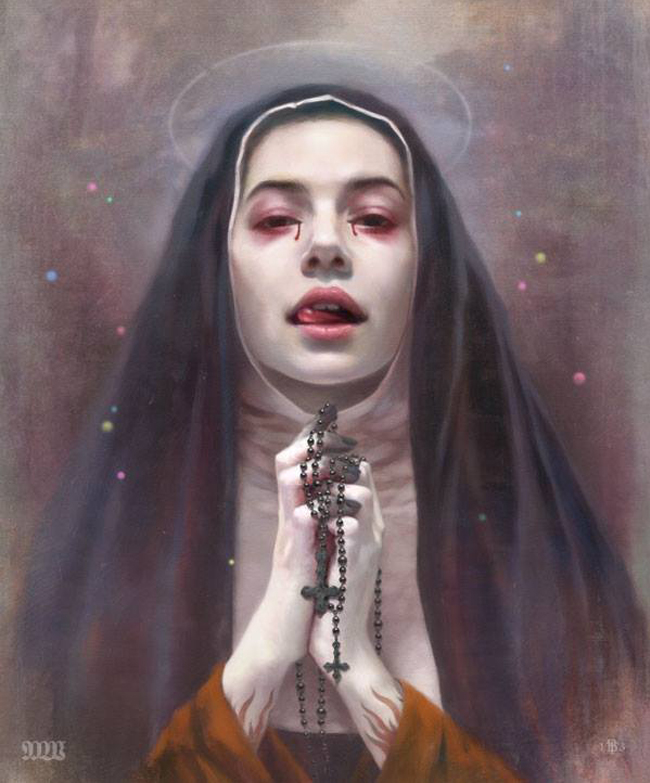 Firstly Tom, can you tell us a little about where you live?
I live in the beautiful Georgian city of Bath, which is in the South West of England a few miles away from the larger city of Bristol.
What kind of training have you had?
I'm self taught. I used to draw and paint traditionally for a number of years but then discovered the advances in digital painting about 12 years ago. I never went back to traditional work from that point on.
You have done your fair share of commercial illustration work, but more recently have started exhibiting personal work in New Contemporary Art galleries throughout the world. Did you actively pursue this change and how did you set the wheels in motion? Also, do you intend to keep working in both areas?
I didn't actively pursue gallery work to be honest. I had done some personal work that got picked up by a local gallery and it kind of grew from there. I have really moved away from doing commercial illustration work altogether now, I get much more enjoyment from doing fine art type work and it takes up so much of my time, I rarely do any commercial work these days!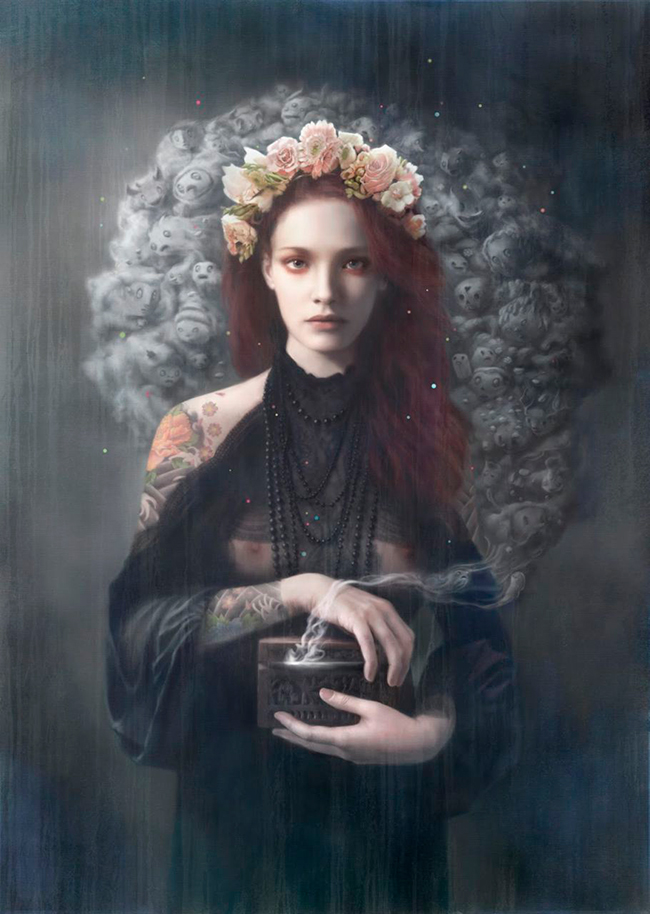 Talk us through your creative process regarding your personal work?
Like most artists, I just start with an idea which gets scribbled down and then go through a process of thumbnails, sketches and studies until I can start refining the idea into something workable. The majority of the time what I end up with only has elements of the original idea. It's usually a very organic process!
Your work is created in the digital domain using computer based software. Many contemporary artists are using this relatively new medium to create artwork and treat the computer as they would any other artistic medium, as a tool to realise their creative visions. As it is still seen as a new medium, do you feel there are any misconceptions regarding digital art and what could be done to address these misunderstandings?
LOL! This is one of the worst questions, because yes, all types of digital art are looked down upon in comparison to traditional work. It's difficult because the main issue is that the majority of people don't understand digital art (the amount of people I've been talking to at shows who have actually said 'but isn't all of this filters and stuff in Photoshop?) nor the differences that there are working digitally. For example, try explaining the differences between a concept artist and a 3D modeller to someone who knows nothing about working digitally, you can see their eyes glaze over immediately. People think its 'easier' or 'quicker' to work digitally and the vast majority of the time that's not the case. When it comes to gallery work though (and this is one of the worst hurdles) is that as a digital artist there is no definitive physical 'original' and that's what really causes the problems for collectors. You might have spent weeks of time to create a piece of art but in order to produce the physical product you are limited to printing your piece and that is a process that gives people concern. What can be done to address the issues with peoples perceptions about the medium, I have no idea. Hopefully with time, it will just become more accepted.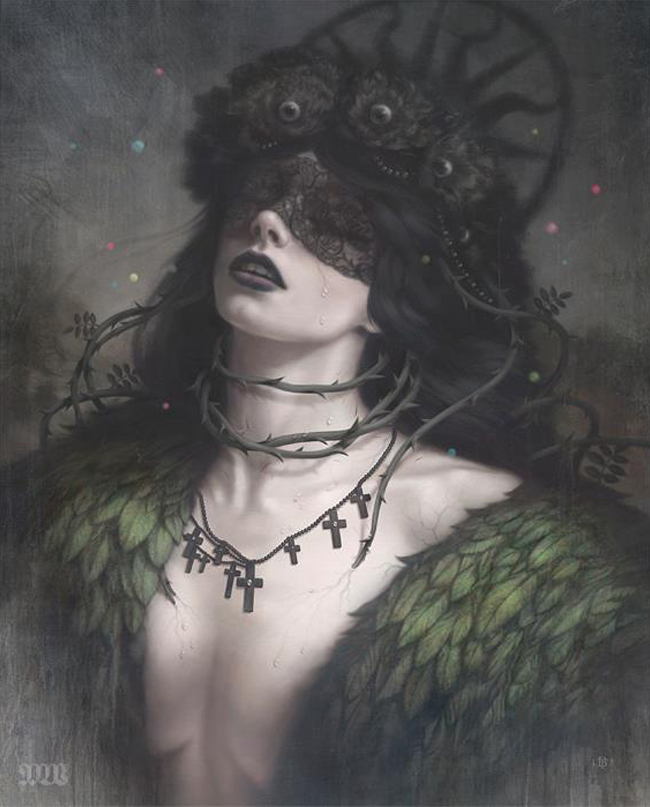 You have recently been developing a body of work which you've called 'The Black Lodge' series. Can you talk to us about this project and how you approached it?
This was a personal project that I started at the beginning of 2013. It was an experiment to see whether I could get some volunteer models via the social networking platform Instagram. I have a difficult time finding suitable models in my area and wanted to see if it would be possible to produce a body of work using models from around the world. The result was quite amazing, I got 800+ volunteers in the space of 48hrs! I then had the difficult choice of making a selection of models who I thought might fit some of the ideas I already had. Once I had the volunteers and thanked everyone for putting themselves forward, I set about doing some thumbnails and rough sketches for each of the portraits I wanted to do, sending the models a quick pose sketch which I asked them to try and photographically replicate for my reference. From there it was really a case of painting each piece. Because of my other commitments to shows and commission pieces, etc. I had to keep stopping and starting, but a year and a half later I had 18 finished paintings. I had also done a few companion pieces to the collection in order to break up the portraits a bit and was able to put everything together as a small limited edition book. When I released the collection on the 1st August 2014, I was amazed by the reaction, the 100 limited edition books sold out in 3 days and all but one of the 18 framed works sold by Sept. I really couldn't have asked for a better ending to the project!
Can you talk to us a bit about the themes and narratives that you like to explore within your artwork?
The majority of my work centres around feminine beauty, particularly portraiture pieces, but it's the inner strength of that beauty that really fascinates me. I've never really been interested in portraying the frail damsel in distress type, my characters, although beautiful, all have an edge that makes you want to know more about them; their background and story. Dark, haunting and powerful, that's what I'm interested in. This still carries over into my more narrative pieces of course but there I can explore more and divulge more of the story.
What are your most indispensable pieces of computer hardware and software?
Without a doubt the most indispensable thing to me is my WACOM Intuos3 tablet. I've used an Intuos tablet since I started. I've got a really bad back so sitting straight and looking at the screen while my hand is drawing is actually better for my posture than getting something like a Cintiq (if I didn't have a back problem I would likely be using a Cintiq though, they're wonderful pieces of kit!). My preferred software is Corel Painter, Photoshop and Artrage.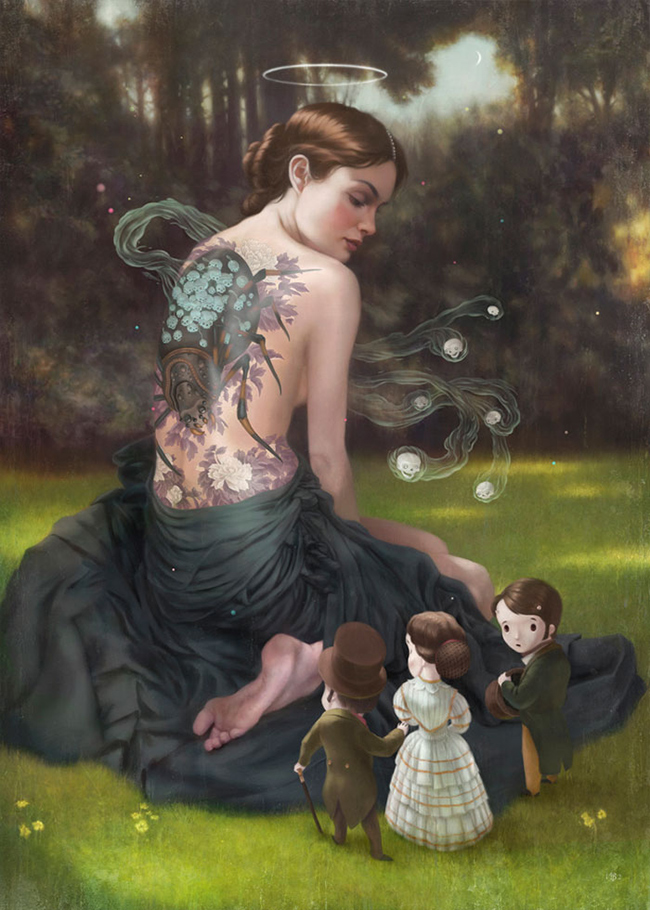 Do you prefer to create in a quiet environment or do you need noise, and if so what kind of noise?
Personally, I find that ideas creation, the initial steps of the process at least, are best without any noise at all. I seem to be able to concentrate on these stages if there's nothing interfering. When I've got everything sorted and know what I'm actually going to do and can start actually painting, then I tend to have music playing or have Netflix running, really just as background noise.
What piece of your own work are you most proud of and why?
I think my 'Dead Wait' piece is probably one of my personal favourites, mainly because it was originally just intended to be a sketch for fun but with a little refinement it became something more striking!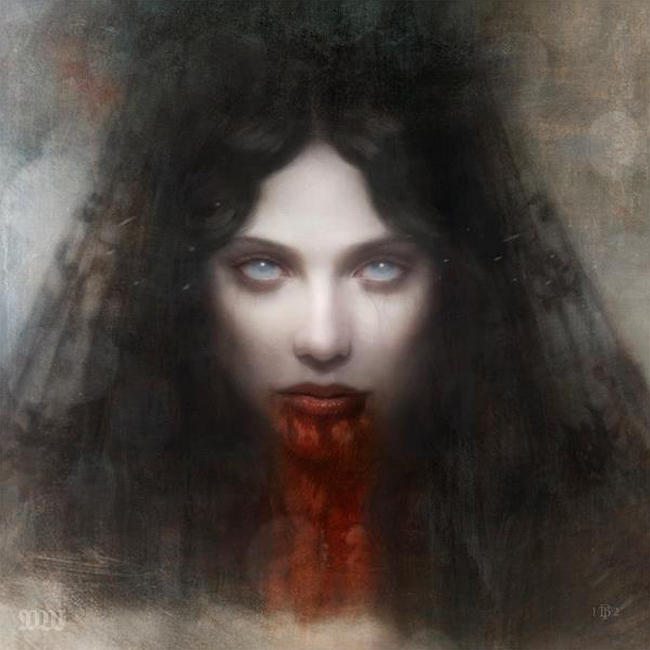 How easy do you find it to get a good balance of time to work and time to play? What do you like to do to relax?
I have a family so if I'm not working there's not really much chance to relax. However I do enjoy a good bourbon drink and love watching a movie with my wife!
As one of only a handful of UK based artists exhibiting in the largely US driven New Contemporary Art scene, what are your thoughts and experiences of the scene in the UK and what are your hopes for its future?
I find it quite amazing that not only am I one of the few UK artists in this New Contemporary Art scene, but also, one of the few digital artists to have been able to move into the collectors market and while it is wonderful that the art scene is so strong in the USA and in other countries around the world, it's still quite sad to me that the UK market is so bad! There are so few galleries that deal with this type of work, whether it's because the collectors or fans just aren't in this country, I don't know. I'm grateful that there are some good galleries starting to pop up though. We now have places like Atomica gallery who have made great progress, so hopefully things will continue to improve here!
What's next for Tom Bagshaw?
I'm hoping that I can get back to doing some more narrative pieces soon, more character driven work, as I have done a hell of a lot of portraiture pieces recently!