In Tim Lee's artwork, it is not unusual for the dead to rise from their graves, emerging from their coffins clutching folk guitars, or pistols, or copious quantities of moonshine… or all of the above. These curious characters appear to haunt their home towns and villages, leading us through dark streets, murky swamps and the ramshackle farmyards of rural America. Within a vintage aesthetic that Lee has made entirely his own, we are treated to influences from the rich tapestries of Americana and Southern Gothic which have made such a lasting impression on the artist, along with stylish tropes garnered from his passion for science fiction and an assortment of horror oddities. While drawing on darker subject matter, Lee's imagery is chock-full of whimsical bounty and his ghoulish cast of misfits and mavericks parade their creepy wares with tender hearts.
Tim Lee is an American artist and illustrator, originally from Marion, Ohio and currently living in Raleigh, North Carolina. He is formally trained and gained his Bachelor of Fine Arts degree from the Columbus College of Art & Design. Tim enjoys working on a variety of surfaces and exploring different creative disciplines, including drawing, painting, printmaking and sculpture (especially wood carving). He is an internationally exhibited artist, regularly displaying his work in both group and solo shows. Tim is currently working towards a solo exhibit at the Stranger Factory, which opens this coming February.
WOW x WOW recently asked Tim to create a couple of t-shirt designs for a new WxW artist collection, which we are mega excited about unveiling early in the New Year. To whet your appetites, please enjoy the following interview with Tim, in which you will learn not only about his visual inspirations and influences, but also about his phenomenal bluegrass band 'The Hey Brothers', which strengthens the relationship between music and his art.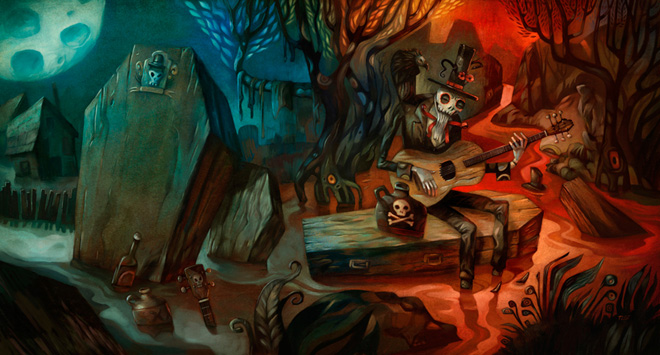 Hi Tim! First of all, thanks for agreeing to free up some of your valuable time in order to have this wee chat, we really appreciate it. To start us off, we're interested to hear about where you're from and then something about where you're currently living and what you like most about the area?
Thanks for asking me to participate, I'll try to give some insight into my journey so far.
I'm from Marion, Ohio, a small town in the corn and soybean section of the state, infamously known for being the birthplace of Warren G. Harding, the 29th President. Look him up, it wasn't good… Marion was an easy place to be a kid at the time, so I left right after high school.
I've lived in Raleigh, North Carolina for the last 10 years, and I feel mostly safe saying I'm done wandering. Raleigh is a mid-sized city that's changing fast, quickly becoming a place for craft brewers, restaurants, music and art. It's small enough that when I do leave my art cave, I usually run into someone from my circle of artists and musicians. I'm motivated from their enthusiasm.
In what ways did your childhood and upbringing affect your relationship with the arts?
My childhood was very normal, backyard sports, dirt bikes, music, and plenty of kids running around with very little parental supervision. It was almost identical to the movie 'Dazed and Confused'.
I really didn't think about art much until I was 15, it became obvious I had no interest in math, so from then on any kind of art class was a good art class. I enrolled in as many as the school would allow. The sheer variety of classes may have started me on this long path of working in so many different techniques.
You gained a BFA from the Columbus College of Art & Design. Please talk to us a little about the time you spent studying there and the working experiences you had upon graduating.
I was pushed by my mom to go to try and attend art school after high school. The next thing I knew, I was sitting in color theory and 2D design classes without a clue. I stayed a year, took a year off to race Moto-X and work in factories (huge wake-up call). Upon returning, I became an illustration major.
Art school was about surviving the massive amount of homework every week; it felt like deadline boot camp with mac and cheese. I just tried to do my best and not embarrass myself during critique. My room-mates and I paid close attention to the techniques of our heroes and attempted to understand how the heck they did that! Experimentation outside of the classroom became a huge part of my art education.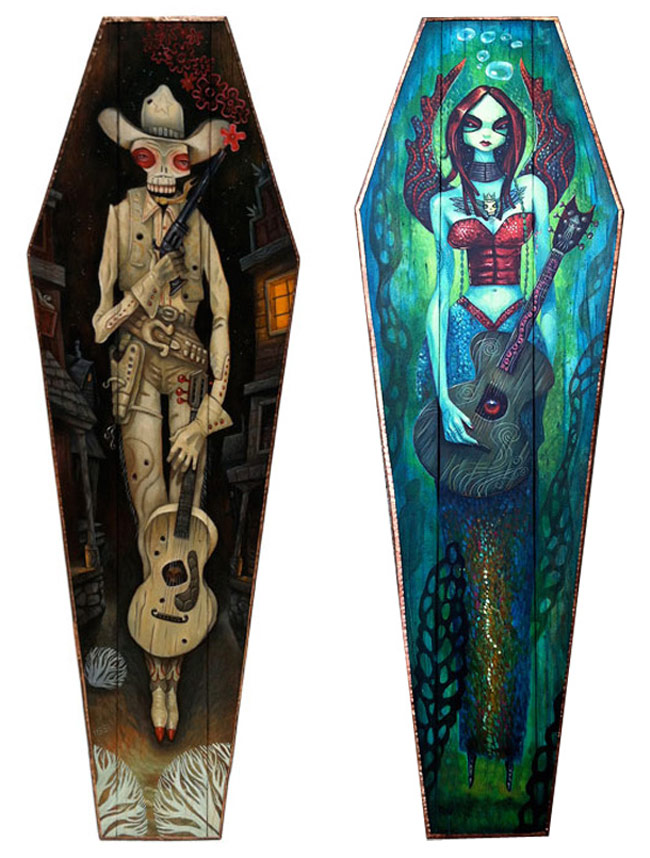 My first art job was at an illustration studio in Atlanta immediately after graduation. I was scared to death! Thankfully, the torture only lasted a month, and then I was laid off. After that nightmare I found myself working in a large newsroom art department with some very talented and lively artists. We cranked out illustrations and graphics as fast as we could. Being a news artist was great training ground. The art was going in the paper one way or another; if it sucked there was always the next day to try something again. A perfect fit for my illustration personality, but what I really wanted was to be a full-time freelance illustrator. I finally got that chance after seven hectic years at two newspapers. I spent the next 12-yrs at home doing magazine and corporate assignments.
Currently it's rare that I do assignment work, I'm careful now to only accept assignments that I really want to do. I would rather be creatively fulfilled telling my own stories. The upside is that I'm easier to be around when not under the stress of pleasing a client.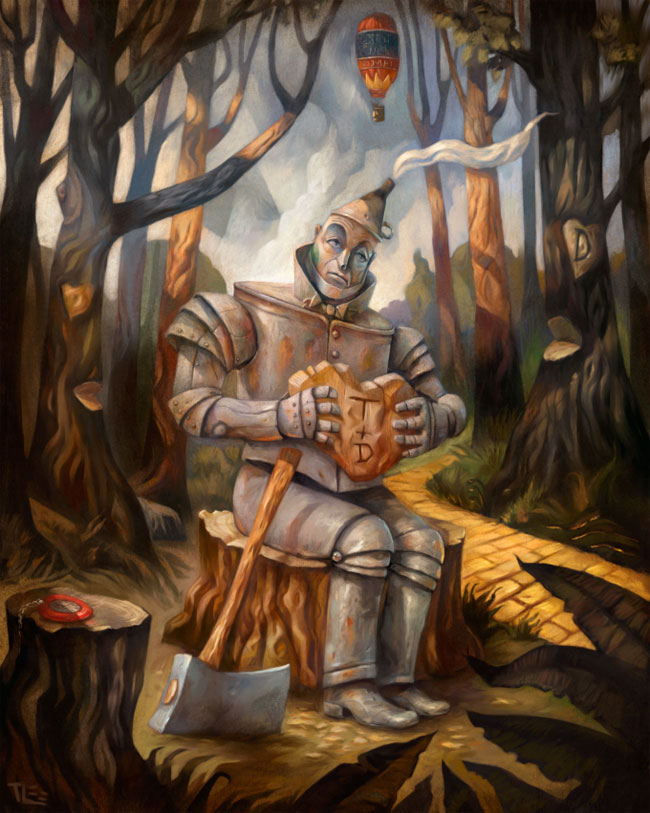 As an artist whose work contains a strong narrative element, can you let us in on what initially got you interested in visual storytelling? Also, what would you say, for you, are some of the most important ingredients that go into making a successful visual narrative?
Art school was where my fascination started. Most of the editorial work that I liked told the stories using visual metaphors, it was a trend in the business; try to explain a really dry topic in an interesting way when a photo could not be found. In the real world I solved the problems, told stories after being sent a draft, an art director's note, or often just an intro paragraph.
Telling the story is ALWAYS the most important thing. The snapshot of the story needs to be a delivered in a way that the viewer quickly gets the message, this is especially important in non-sequential art. I try to use strongly designed shapes that move a viewer through the different areas of the image. Details and subtle, juicy, thoughtful tidbits can be accents in the image added to the tale. I pay a lot attention to light source to help in setting the mood.
The darker aspects of your subject matter appear to stem from the literature and pop culture which has influenced you over the years. Would you say that this is an accurate statement? If not, feel free to correct it and if so we'd love to hear about some particular examples which have resonated with you and why.
Yeah, I'm one of the many artists that have read a lot of sci-fi and fantasy books while listening to 'art rock' or 'prog rock'; they all went hand in hand with my first attempts making pictures. Those entertainment genres are often a little dark. It makes sense to me that the work I now enjoy making for myself is a bit dark (but not horror dark). I do like some whimsy.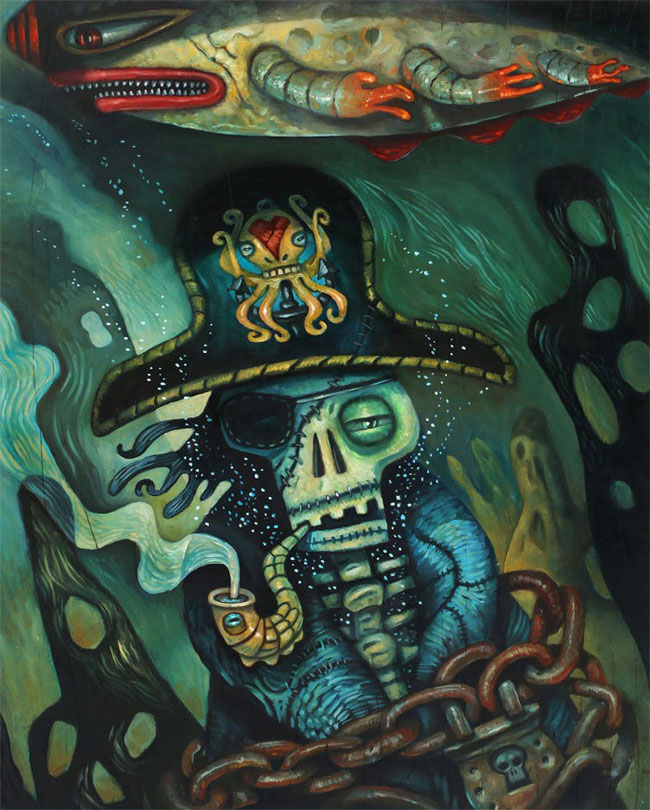 Your love of music (we'll get deeper into that later on) and the visual arts are closely intertwined. The narratives you weave in the imagery you create draw heavily from the history of Americana, in particular bluegrass and old-time music. Tell us a little about when your relationship with music started and the ways in which the themes and imagery from these genres speak to you and how you like to incorporate them in your art.
From the time I was 12 I started listening to music and buying my own vinyl, making music discoveries with my friends was thrilling. I absolutely rejected my parent's music which was country and bluegrass based, but when I was in my late 20's I saw the light and became interested in learning to play an instrument. Somehow I made a full circle back to my parent's music. I don't know how it happened, I guess I was temporarily bored with indie rock. Bluegrass was new to me, but it felt comfortably familiar. During that time, I discovered the primitive folk artist Howard Finster. The music and the art started to intersect, and I reconnected with my rural Ohio background. Bluegrass and Americana roots music are all about telling stories in song form, it eventually bled into my artwork.
Music was always such an integral part of me, when the time came to do art for myself again, I decided to paint the stories I knew well. It was a natural bridge.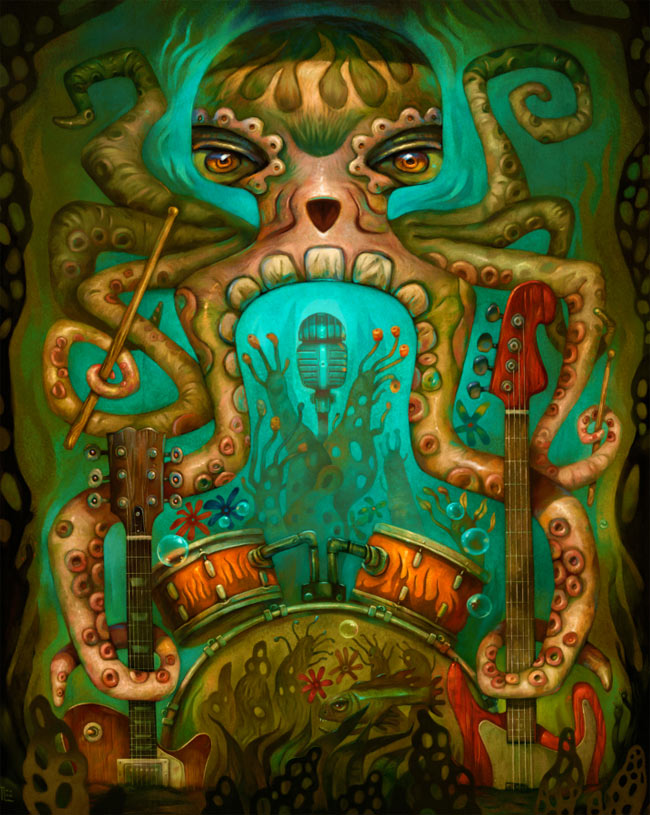 Having a Folk Art sensibility, it's no surprise that you love painting on found wood and objects. You also custom shape some of the wooden panels you paint on; we love the coffin and skull shaped pieces for example. Talk to us about some of the key inspirations which helped you develop your visual aesthetic.
If it's worn out, rusty or full of worm-holes, I like it! That's the folk art part that seeps into the pictures.
Painting on wood and using tools to shape it, happened when I was sick of doing digital paintings. It had been years since I picked up a paint brush; I needed to remember what it felt like to get dirty and maybe get a splinter or two while making art. I enjoy pieces that feel vintage and 'folky', but are drawn and designed with more contemporary graphic shapes. There is something about making coffin lids from boards that makes me smile, the shape is such a clichéd symbol of times past, but it still works on some base level. I knew it could be trite, but I made them anyhow, because who doesn't love a coffin shape? The lids are a perfect fit for dead turn-of-the-century musicians or maybe the last singing cowboy.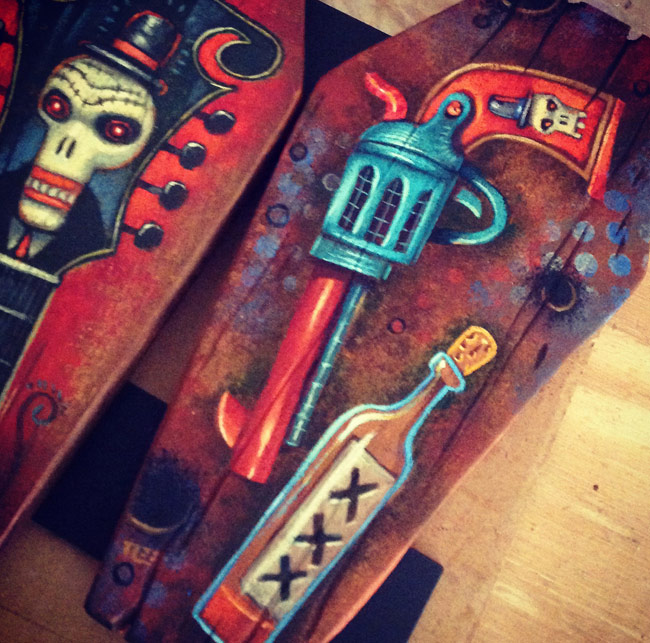 As we touched on earlier, you have a deep love of music. What we didn't mention, is that as well as being a talented visual artist you are also a gifted musician too. You currently play the mandolin in an area bluegrass band called 'The Hey Brothers' in which you write and record original material. Give us a little history about your guitar playing and feel free to give an unbashful plug of the 'Bros.
I mentioned that I was a late starter to playing music; I was 29 when I bought a guitar, quickly switched to mandolin and became completely obsessed with learning it. I started too late for playing to ever be easy and totally fluid, but I'm OK with that. I've cursed myself over and over for quitting guitar after one lesson in the 7th grade.
Playing bluegrass is my creative outlet. The music style has very specific traditional roles for each instrument in the band, and the tight structure oddly works for me. It's a weird and quirky music, often sounding happy (because of the banjo), but if you listen to the lyrics of those old songs, you'll find some dark lonely stuff.
The Hey Brothers are strictly local, with no big plans except to jam, have fun and play some gigs. We're finally going to record in November. I did write a few of the songs, and yes, somebody dies in typical bluegrass fashion. I'm lucky to play with that many talented guys.
As we move through life we continue to grow and change. In what ways have you seen your work evolve since you started down the path of being a professional artist?
Damn! Have I really been evolving this long and slowly?
The most important thing to me, is always going to be improving my drawing ability. I think that's where I can really see my evolution. When I go back and look at older work, I can see how a weak drawing just ruined it. You can't really hide a bad drawing with any amount of technique.
I honestly don't know how my work is going to evolve, where it will go next year, or next month, or what media I will be interested in. As long I'm drawing from my head it will probably look like I did it. Right now, I've sworn off the computer for personal work and I expect that to continue.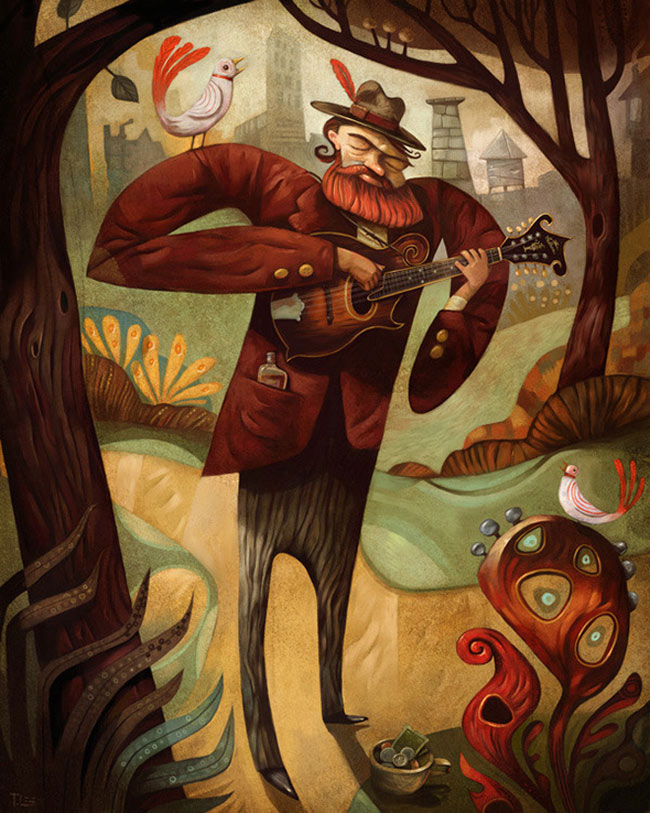 In order to get a better understanding of the personality of an artist, it can help to get a peek behind the curtain. Would you be willing to share a story from your own life, possibly one whose memory you find yourself returning to for inspiration, or maybe just a tale about a hardship you've overcome which has helped define the person and therefore artist that you are now?
I choose a tale of hardship…
The only thing I wanted to be was a freelance illustrator, I was able to finally make that happen, leave my full-time job and live my dream job.
12-years later, the U.S. illustration market slumped badly and became very unstable. I had a family to support, so we moved to another state and I went back into graphic journalism. It was a soul crushing thing to have to give up. There was a time when I wanted no part of making art after my workday was done. It just hurt too much.
Of course, in the true fashion of an inspirational tale, it turned out to be a good thing in the end. The desire to make art came back strong; this time I'm approaching my art business very differently. Some days I'm even happy about the way I'm progressing.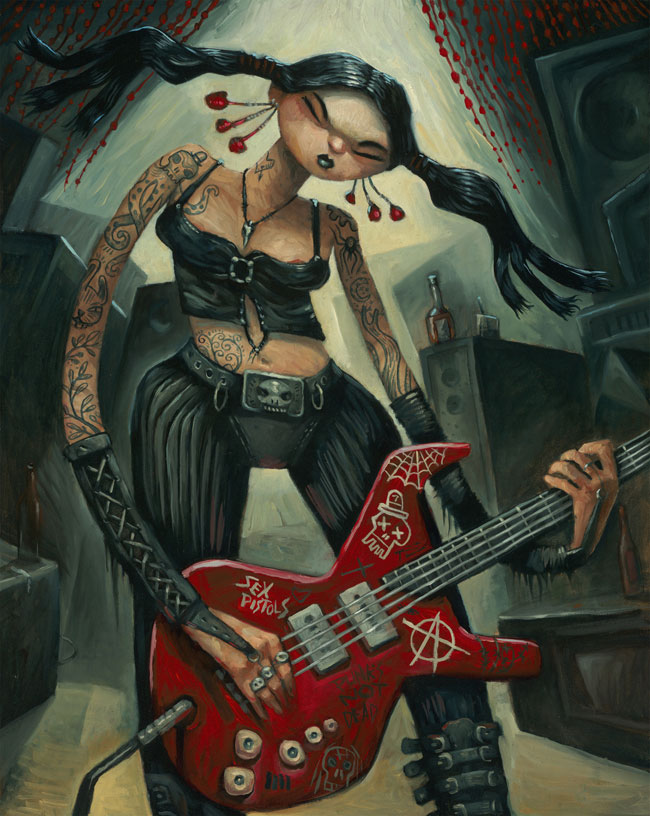 If you could own one piece of art from the world's collections, what would it be and why?
An N.C. Wyeth oil painting from the Treasure Island series called, 'Old Pew'. He's always been my inspiration as an illustrator. His color, figures and composition are amazing. When I finally saw a few of the originals I was blown away by the color and looseness of the original work.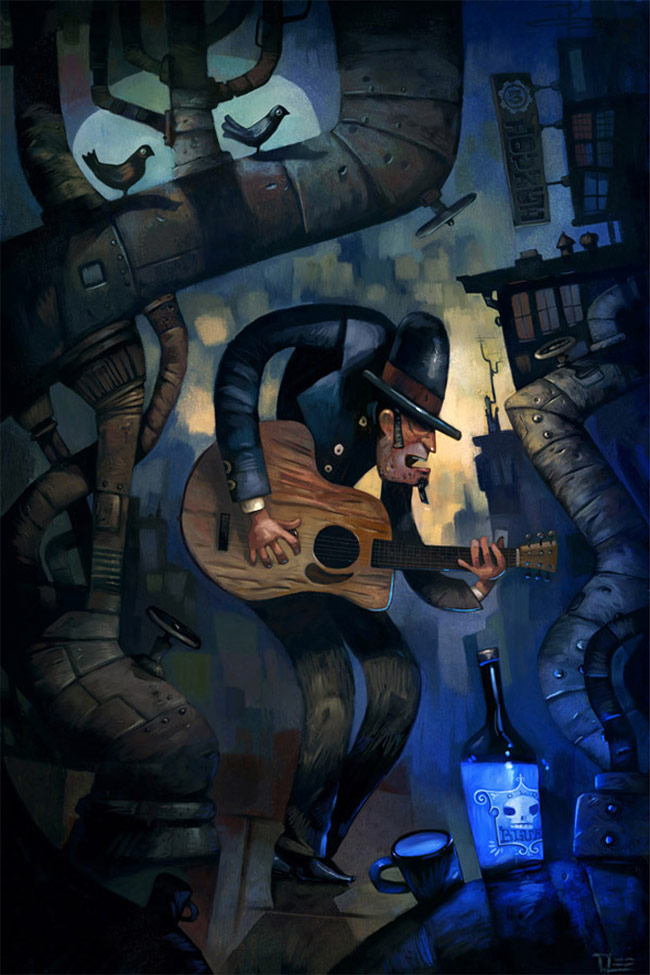 What's next for Tim Lee?
The plan is to begin working on paintings that are larger format. It's past time to break out of my 20 x 30 inch comfort zone, and I'm sure I'll do a lot more wood carvings in the next 6 months.
Currently searching for a good downtown studio space where I can work, socialize with other artists and maybe sell some smaller works.
I'll be showing with Joe Scarano at The Stranger Factory on February 2017. Really looking forward to that one!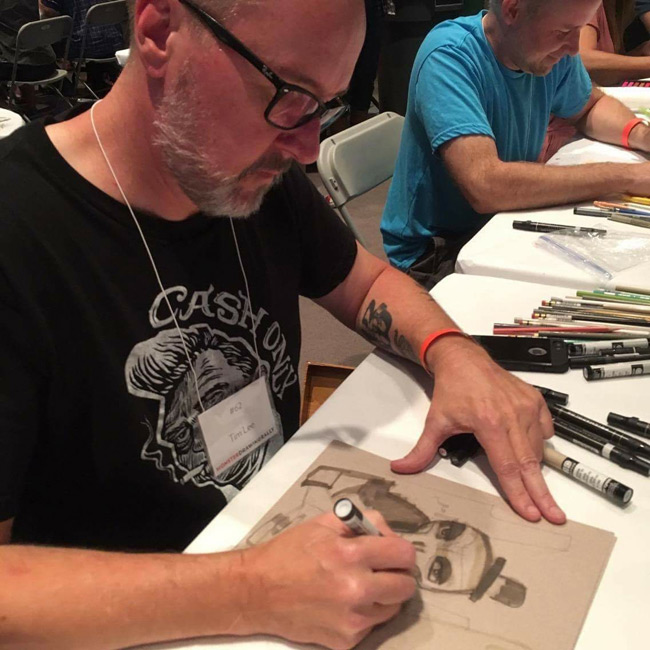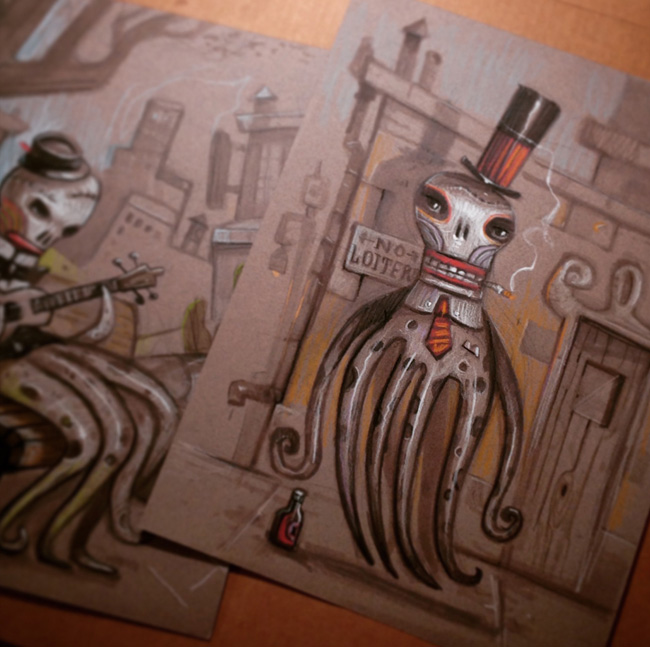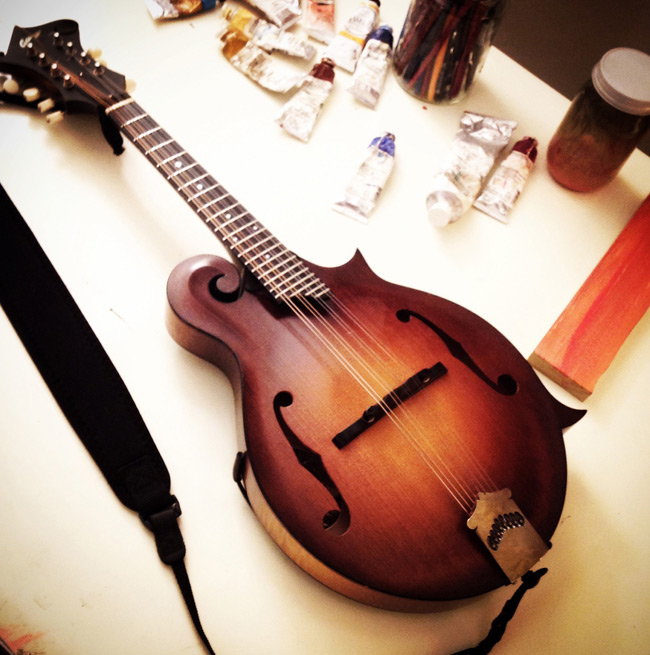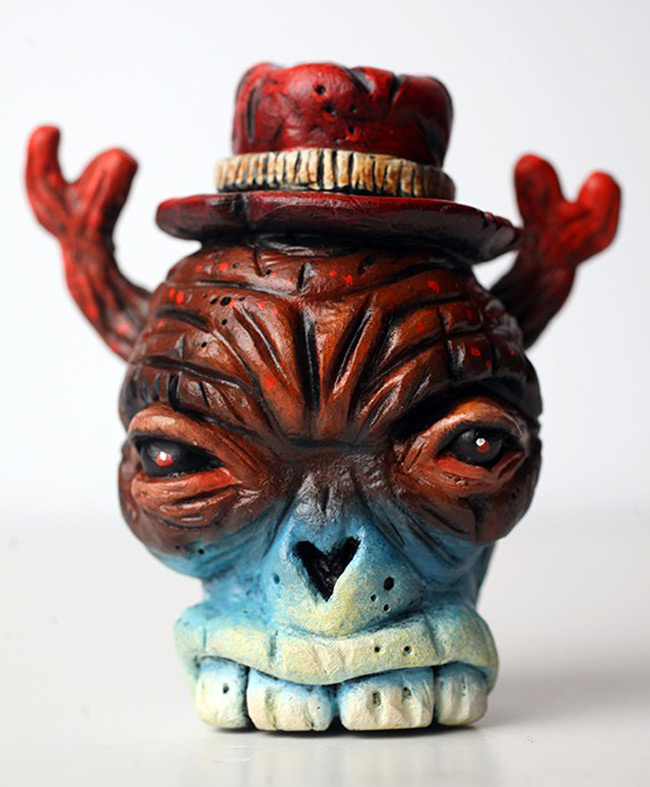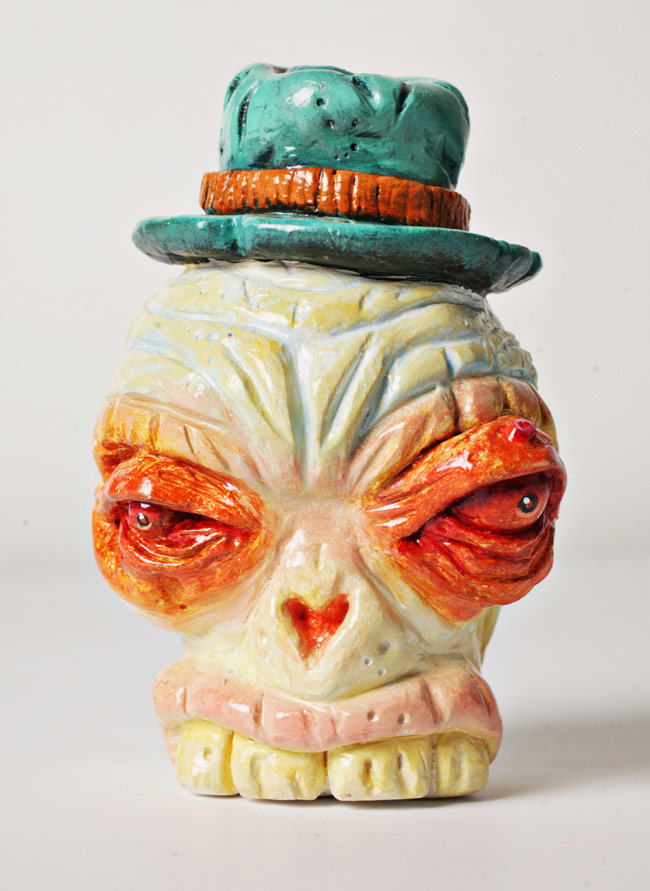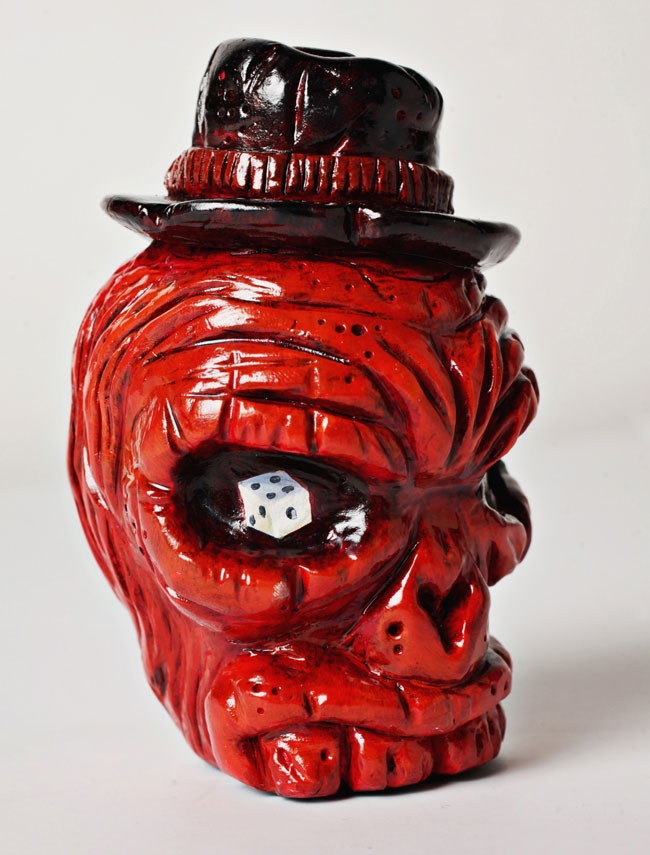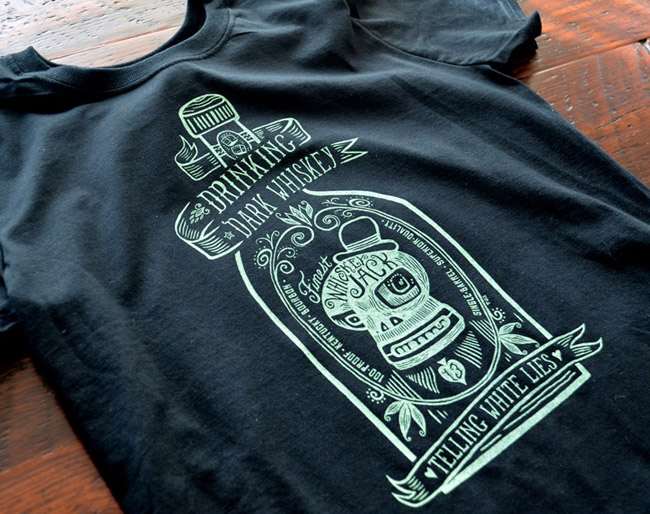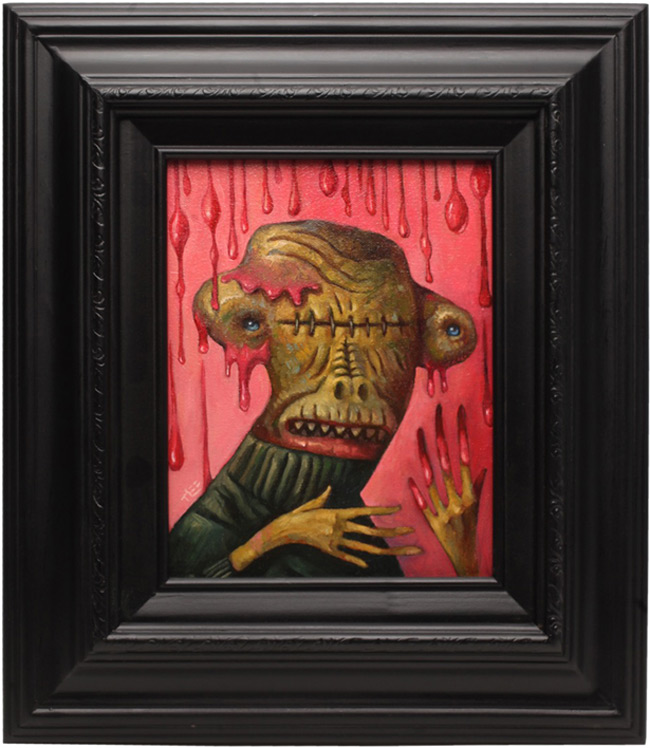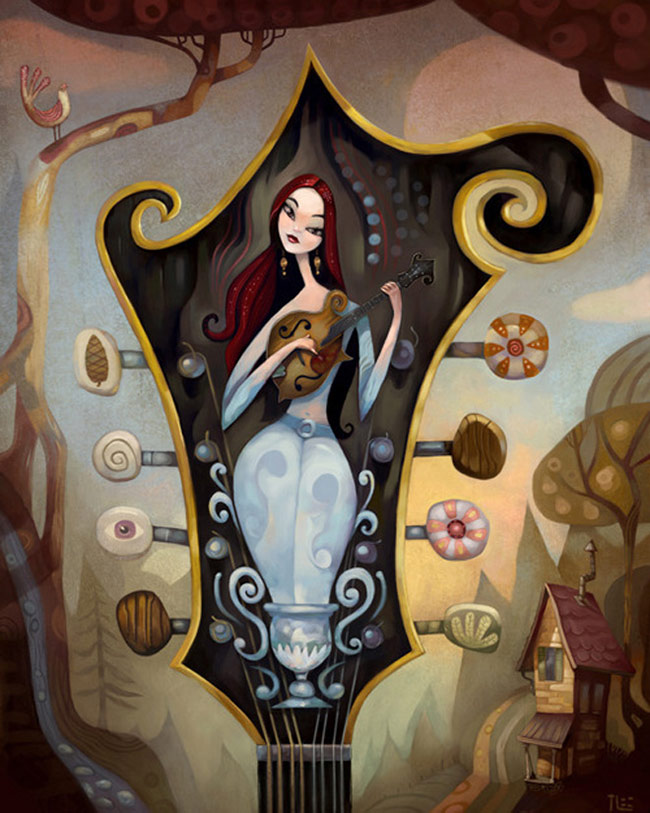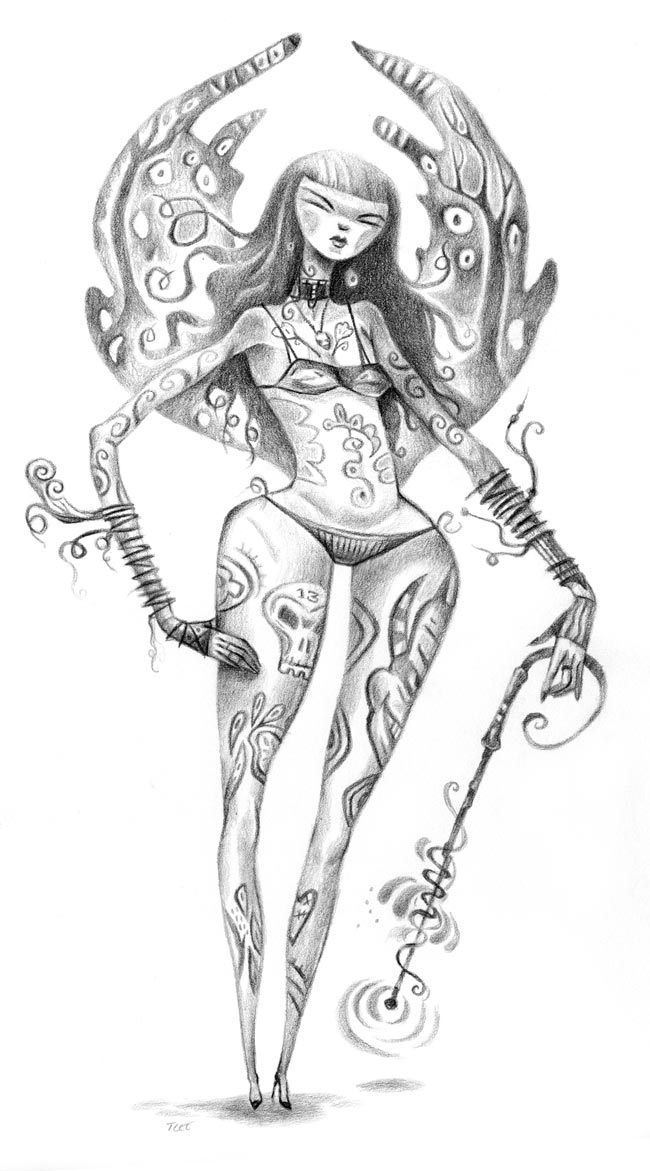 Save
Save
Save
Save
Save
Save
Save
Save
Save
Save
Save
Save
Save
Save
Save
Save
Save
Save
Save
Save
Save
Save
Save
Save