Brian Chambers is extremely passionate about art and his life is profoundly affected by it. Art provides him with the inspiration to strive for excellence in all life pursuits. He is hugely motivated to take art to new places in the hope that it will have the same affect on others, and is currently achieving this through the work he is doing with Furtherrr, a gathering of artists pushing the boundaries of visual art. Chambers is the curator of Furtherrr's radical upcoming exhibition entitled, 'Momentum', which opens at Space Gallery in Denver on November 7th and features the latest collaborative works of Mars-1, Oliver Vernon and Damon Soule.
Brian kindly took time out of his hectic schedule to give us the lowdown on the 'Momentum' show and why he sees it as being an event everyone should put in their diary.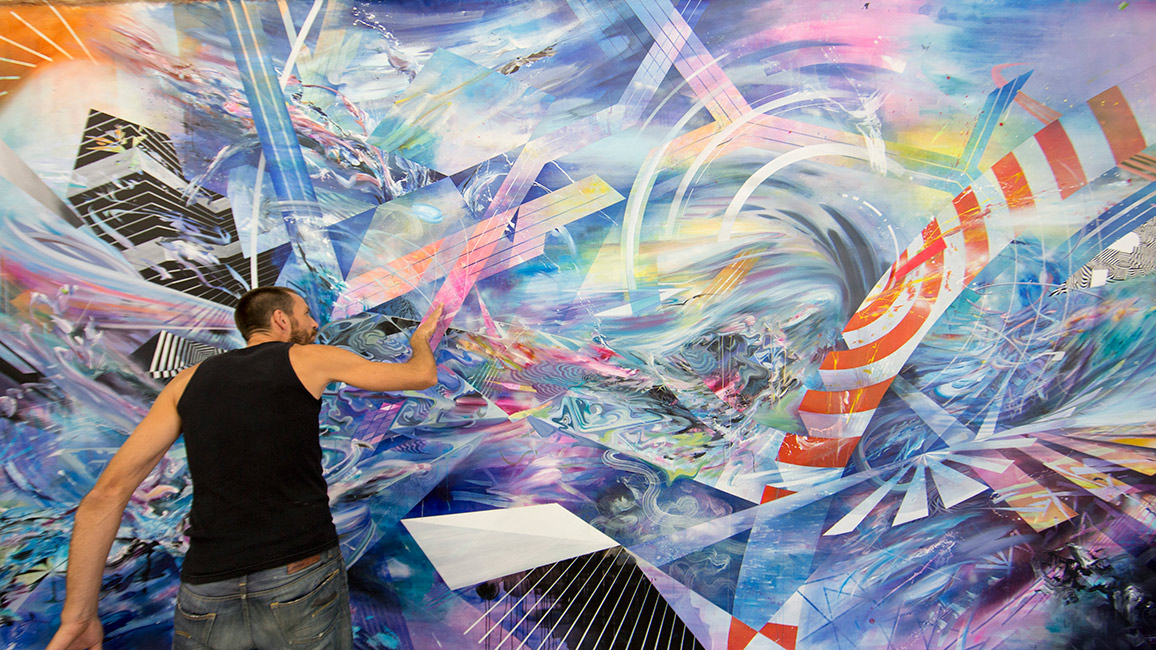 Hi Brian, thanks for taking the time to chat to us at such a busy time. We are sensitive to the fact that you are in the midst of curating a ground breaking exhibition called 'Momentum', which opens it's doors on 7th of November. Before we talk about the show could you give us a bit of your background, touching on your history with the artists you work with and also the Furtherrr Collective?
My background lies in the collecting of the arts. I have a long history with collecting the 60's psychedelic guys like Rick Griffin and Stanley Mouse, ephemera from Albert Hofmann and other luminaries of that time, Alex Grey, Salvador Dali, Ralph Steadman and Hunter S. Thompson, and most recently work from my best friends who have come to be known as Furtherrr. I met and began collecting the work of Mars-1, Damon Soule and Oliver Vernon in 2008, and in 2009 began commissioning projects under the moniker of Furtherrr. 'Momentum' is somewhat of a celebration of what we have been building towards and accomplished together since meeting and beginning working together six years ago.
Can you introduce the concept of the 'Momentum' show for us and divulge some of the themes being explored?
The concept of the Momentum show is to quite simply try to raise the bar for what an art exhibition is and can be. We chose to do this show in Denver because it is one of the most exciting cities in the world at the moment. It is the fastest growing city in America and obviously one of the most progressive as well. We have a lot of amazing friends in Denver, and my partner who is co-curating the show with me, Brady Alexander, lives there as well. We also have a lot of support from collectors there as well and that obviously helps a lot. Thus, we are striking where and when the iron is hottest. One of the main themes being explored for 'Momentum' is that of being "in tune and on time." It is almost like a reflex.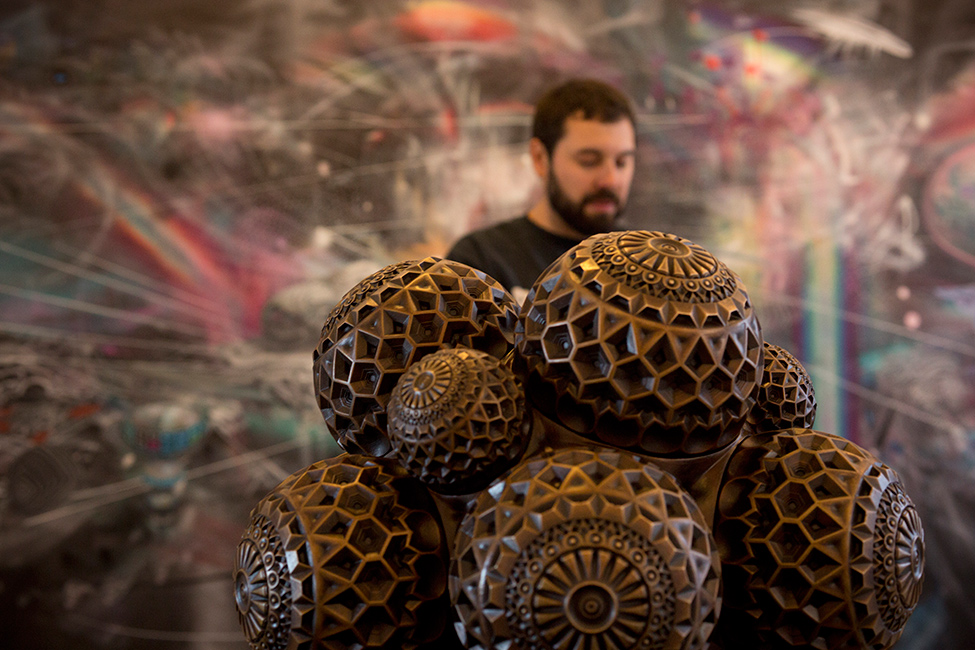 The exhibit is going to feature works in a diverse range of media 'including paint, bronze, pen and ink and collage, many in unconventional shapes designed to change perceptions of the use of space itself and the viewer's relationship to it.' Fantastic stuff, it sounds like a lot of new ground is being explored here. Could you tell us a little more about this?
We all really wanted to push this exhibit in as many ways as possible and thought that diversifying the media should help with this. For me personally, I get bored of seeing so many 90 degree angles all the time, so I cherish the opportunities to collect pieces that are unusually shaped and sized. It also just really happened organically because Mario has really been inspired with 3D modeling this year and has thus put a lot of his energy into new bronze sculptures designed in this manner. Damon is an absolute master with a pen and drawing is definitely one of his strongest features, so doing some large scale pen drawings was what he really wanted to do. In addition to his drawings, he has done some outstanding work on octagonal, hexagonal, and triangle shaped panels to keep the viewers' eyes moving along rather than getting stuck at a corner. For the past year Oliver has been focusing on collage based works and has been totally rejuvenated while doing so. Through years of friendship, collecting, and dealing their work I have noticed that it is very important that these artists do exactly what it is that is currently inspiring them. As curator, I cherish these opportunities to be the vehicle that allows them to pursue their dreams and to create as they wish. I typically try not to give much direction with what they want to produce and I enjoy giving them full creative control over this. However, for 'Momentum', it felt important and appropriate that they collaborate on a scale larger than anything done before. Thus, I did really encourage them to go as big as possible on the show's centerpiece.
The centrepiece of the show is a colossal collaborative painting measuring 12 x 23 feet. From the promo video the collaborative work on show is mind blowing both in scale and in how seamlessly the three artists' work gels together. What insight can you give us into how this piece was created?
It is actually only 10 by 23 feet, only because I couldn't get a 12 ft tall piece of linen. Simply put, the piece was created improvisationally through intuitive abstraction. As with all previous collaborative projects, there is no plan prior to getting started and everything is up for grabs. Layer after layer, the painting simply comes to life. This, in my opinion, is totally unique to them and separates their collaborative works from anything done by artists of the past. The confidence and trust shared by everyone is critical in allowing these masterful works to transpire as quickly as they do and this has been developed through 10+ years of friendship and 5+ years of collaborating often.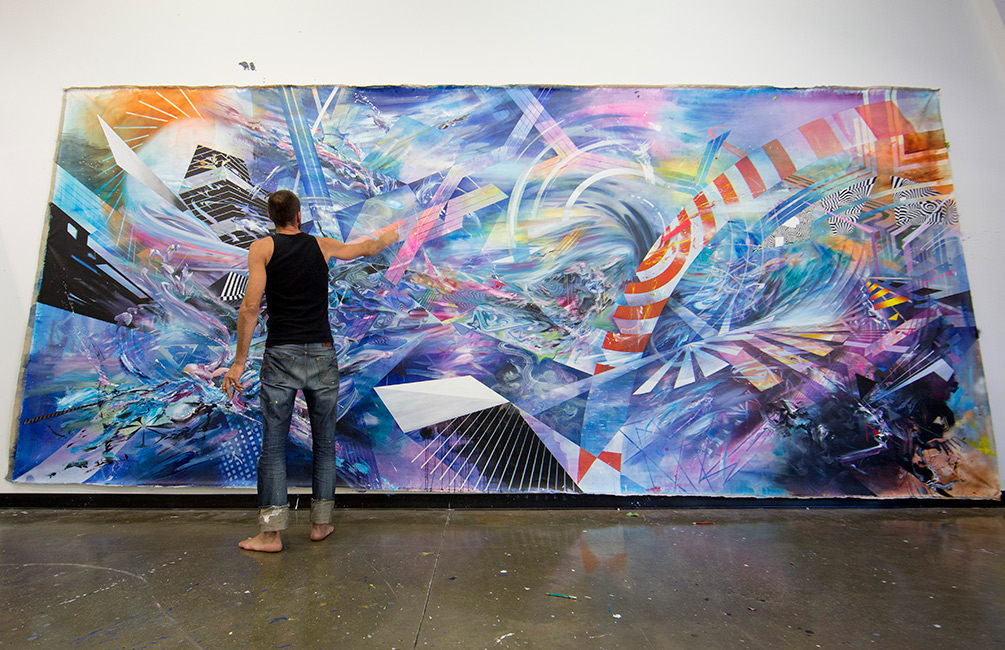 Why did you choose Space Gallery as the host for the exhibition?
Space Gallery was chosen as the host for this exhibition because of it's size and design. I don't live in Denver, but I did spend a lot of time there after deciding to do this show and I checked out all of the galleries around the city and Space really stood out. It is a cutting edge, big and expansive space and it really felt like the perfect place to do an exhibition of this scale.
Many of the world's art critics have been saying for years that painting is a dead art form. What are your views on this?
I personally feel like this is laughable and that it couldn't be farther from the truth. I feel like the works of Mars, Damon and Oliver are very much alive and thriving in a major way. I suppose it all depends on what artists you are looking at and everyone will obviously have different feelings about this but my feeling is that each painting from these guys develops a life of it's own and that the market is very much alive and well. I will say though, that I feel simply painting canvases in the studio isn't enough to really make a strong impact on society and the world of art these days. My feeling is that you need to attack from as many angles as possible if you are really trying to make it in today's society and market. I'm a big fan of murals and public art and this is certainly an important piece of the puzzle in my opinion. We are also diving into the world of fine art jewelry with our great friend and master jeweler, Sean Smokovich. I also feel it important to have art that you can wear as your clothing as long as the quality is top notch and for this exhibit we have gone deep into this direction. Add a ton of bronze and other sculptures to the mix and your senses are overloaded from multiple angles and that is the goal in my opinion. The paintings from these guys are certainly powerful enough to make an impact on their own, but it is my intention to build the brand into a lifestyle and way of thinking and living that far exceeds paintings hanging on walls. So to answer your question, no, I do not feel like painting is a dead art form, but I also don't see it as enough to make the type of statement that we are trying to make either.
What impact do you think that an ambitious exhibition of this nature will have on the Denver fine art scene and the New Contemporary Art scene in general?
I think that this exhibit will have a very dramatic effect on the art scene in Denver and that it's effects will be felt around the world. As with everything in life, timing is everything and I certainly feel like our timing here couldn't have been any better. My hope is that it will make everyone want, and need, to raise the bar to the next level in whatever it is that they are doing in their life. I feel like the art scene in Denver is rather young, but very vibrant and my hope is that 'Momentum' will inspire more people to collect, curate, and be involved with the arts in as many ways as possible. Art is a very powerful thing and when approached with pure, positive intentions, it can have a very profound effect on one's life. My hope and belief is that this exhibit will redefine what an art exhibition is and can be and that it will inspire all who see it to push themselves into being better people who are pushing harder for excellence in whatever it is that they are pursuing in their own personal lives.
Anything else you'd like to mention?
I'd just like to thank all of the people in Denver for all of the support. You guys are amazing and we are very excited to share this experience with you! Thank you Brady Alexander for making it happen and for all of your help here. Obviously, huge thanks to Mars-1, Damon Soule and Oliver Vernon for all of the incredible work and for being the wonderful friends you all are. Also, major props to Justin Lovato who has elevated his game to a whole new level for 'Prima Materia', which will be showing in the project room during 'Momentum'.
Photography and videos by Colin M. Day