Femke Hiemstra's universe is filled with beautifully anthropomorphised animals and inanimate objects who weave dark fairy tales within mysterious lands. Her characters tell stories rooted in human nature and they exhibit feelings, emotions and motivations which reveal the strengths and weaknesses that lie within all of us. These character traits and qualities are made all the more overt through their transposition to Hiemstra's otherworldly ensemble of critters. Femke's incomparable imagination, when married with her assiduous attention to detail allows for the creation of painted images which enthral and bewitch. The uniqueness of her work is elevated further by unconventional choices of painting surfaces, as many of her works transform the appearance of intriguing objects from days gone by.
Over the last several years, Femke has a built up a rabid international following and client base, with her solo shows often selling out within minutes of being made available. She has exhibited her work throughout the world and is currently represented by Kirsten Anderson at Roq La Rue.
WOW x WOW recently caught up with the very gracious Femke to discuss art, life and flea markets.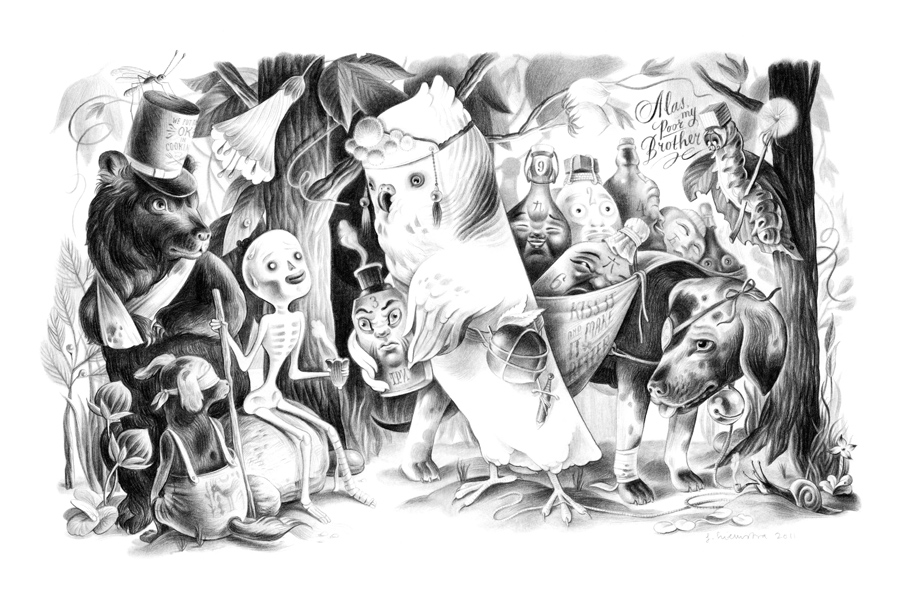 Hi Femke, thanks for taking the time out of your busy schedule to chat. Firstly, can you tell us a little about where you live and your artistic background?
Amsterdam is the city where I live, in a working class neighbourhood with lot's of friendly folks and some eccentric birds of paradise. Amsterdam is a good place to be with great museums and culture and always something to do or see. Never a dull moment, in both a positive and negative sense. Though the crowdedness is weighing on me more compared to a few years back I still can't think of a better place to be than here.
Before my move to Amsterdam I lived in Zaandam. This is commuter town lies next to the capital, from where I went to the School of Arts in Utrecht (Illustration 1994-1997) and before that to the Illustration and Visualizing education at the School of Graphic Arts in Amsterdam (1990-1994). After art school I was a freelance illustrator for several years and in 2006/2007 decided to focus on making personal work.
Can you talk to us about the themes you like to explore in your personal work?
My work has once been described as 'otherworldly folklore' and I much like that description. The narrative of my 'painted stories' involve characters, inanimates and flora and fauna and is part real and part fictitious. The characters interact in a figurative surrounding yet all is cast in a surreal light. Although I don't paint the human figure very often the creatures in the scenes behave like them, with the same glory or shortcomings as we might display. Furthermore I'm very attracted to contrasts. Humour is part of my stories but I'm also drawn to darker themes that involve strong emotions like battles, a hunt, the loss of a loved one or the 'romantic' death.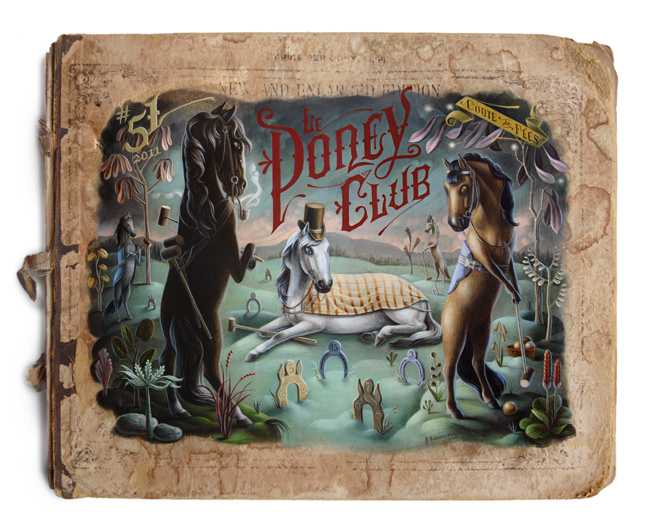 What does your studio look like?
I don't have a studio, just an extra table in my apartment. Practical and impractical at the same time, the boundaries where work stops and living begins are often unclear. Once a week I go to my 'flexible work-spot' at a shared studio with other creatives to avoid turning into a hermit.
Within the New Contemporary/Pop Surrealist movement there is often a blurring of the lines between illustration/design based work and that of fine art, with so many artists working within both fields. Your work contains many stylistic devices used within illustration, such as anthropomorphism, typography and narrative. As a practicing fine artist who trained and worked as an illustrator, how much of your visual language do you feel comes from your days working within illustration?
I have an illustration background so my personal work has that touch as well. Whether that's a logical outflow or not I don't know. The joy of doing this type of work is to make a personal story in paint and I use what I think is necessary to get that story across, by going on instinct and feel.
'New Contemporary Art' is an umbrella term which encompasses many sub genres of contemporary art, which the world's art critics tend to label as 'alternative' or 'underground' art. You have stated that you would affiliate yourself with 'Pop Surrealism', or more accurately, 'Neo Fabulism'. Can you expand on this for us?
I don't care much for labels but at the same time realize the terminology is needed to place certain art forms. I categorize too for clarification and I would want to see my work in the right corner. That also goes for galleries and exhibitions. I can see in a blink of an eye whether this would be a good group to be part of.
New Contemporary Art is an okay term as a broad umbrella. Pop Surrealism, fine by me too. But Neo Fabulism is to me the best fitting description so far, since my work is based on narrative and anthropomorphism.
Your work is often created on found objects, such as ancient books, old bread bins and antique biscuit and tobacco tins. What was the impetus for you to start working in this way and how do you go about preparing the surface of these objects to accept your paint?
The books were a find at an antique book shop. I loved their faded covers and thought they'd make a nice canvas. And since I'm a flea market roamer the step to antique wooden panels was easily made.
The book covers need to have the right surface. Seeing and feeling the books is knowing it. The panels take more care. Because of their age they sometimes have woodworm and I have to have them treated for that. Then, depending on the type of wood, I put a transparent layer of gesso on them as a basis and go from there.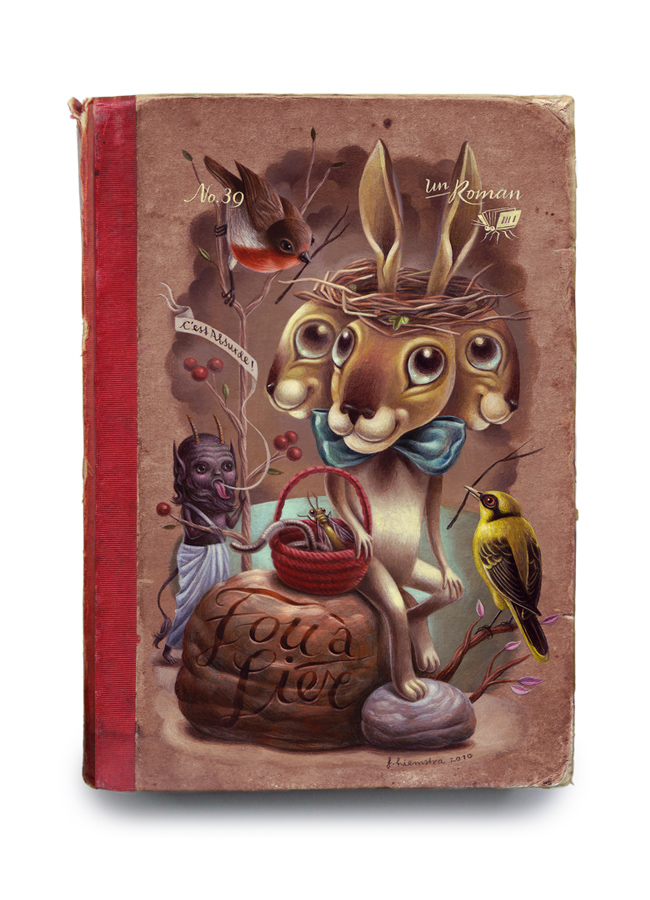 Having a love for visiting flea and antique markets in order to procure articles from the past, would you call yourself a collector?
No, I would not call myself a collector per sé. I don't push the financial limits to get a certain something and I don't collect to make a particular series complete. I go to markets and gather all sorts of inspiring stuff (often of the kind 'one man's trash is another man's treasure') and I have fun in the process. And after a while I realize I got several scrapbooks filled with postcards and a small glass case with oddball characters and presto, it's a collection.
My last flea market find is a little monkey puppet in a white 'onesie'-like knitted sailor suit. "Very old!" the seller told me, and although sellers love to throw this flea market cliché at their buyers, in this case he was right. The wear and tear, style of suit and detail suggests its made around 1900. It's monkey face is made from a material which looks and feels like wood but is too heavy to be just that. I love it for its curious looks. Why the sailor suit? Why a monkey? Did it stand on its own as a small stuffed toy or was it a larger puppet's puppet? Best five euro's spent that day.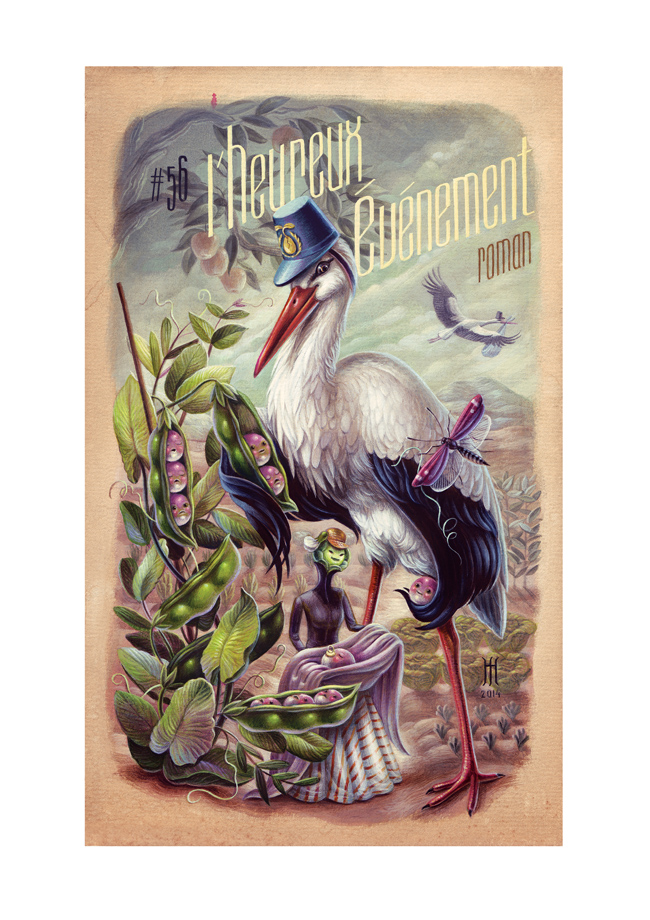 As someone with a love for objects from a past era, how important is it to you that your artwork survives for centuries to come and do you take any measures to ensure your artworks longevity?
I do all that's in my power to make my art time-proof. The moment I switched to art I also switched to better painting and (UV protected) varnish materials. I have old panels treated for bugs. Painted book covers are framed behind glass not only to make them look good but also for protection from dust. And every framed piece or panel is fitted with a sturdy hanging system.
We recently interviewed Heiko Müller and he fondly recalled some shows that he was in with you and Fred Stonehouse, stating that he considers them to be the highlights of his art career thus far. What are your memories of these exhibitions?
All exhibitions are enriching to me in one way or the other. The exhibitions at Feinkunst Krüger do have their own touch and I can add to those fond memories of Heiko. Perhaps it's the European character of it, mixed with the 'not just the usual suspects' line up?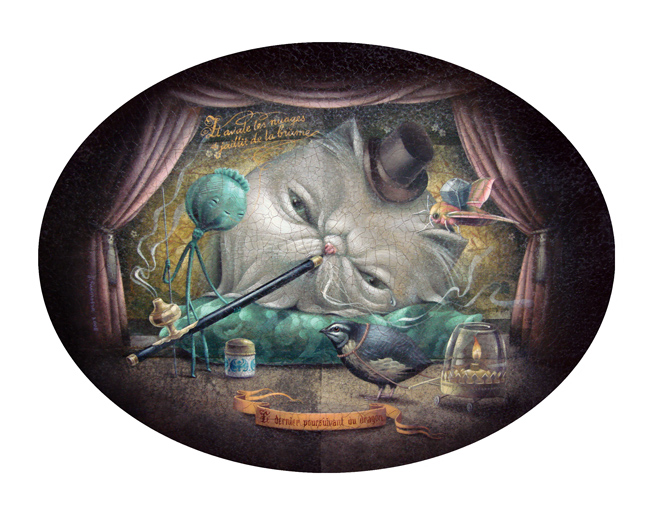 Music has been an inspiration to you both lyrically and through it's atmosphere. Can you talk a little about what you listen to while painting and how it influences your creative thought process?
Although I still listen to music it is playing a lesser role in my work these days, I think. It partly got replaced by audio books, my favorite thing to listen to while working. The great thing about those (English or German spoken) books is that it's not just entertaining but I can learn expressions, sayings or new words while painting. That can lead to inspiration for new works. Not all types of stories go well with painting. It's detective stuff that works best for me. A Sherlock Holmes story read by Derek Jacobi for example, simply fabulous in its style, suspense and acting, makes the words unfold into images before my minds eye.
With creating a painted story there's no straight forward thought process. Sometimes a complete story just pops up in a complete form. And sometimes I only get parts of a scene and I write or sketch it down for possible later use. I can then sculpt a new story from those bits.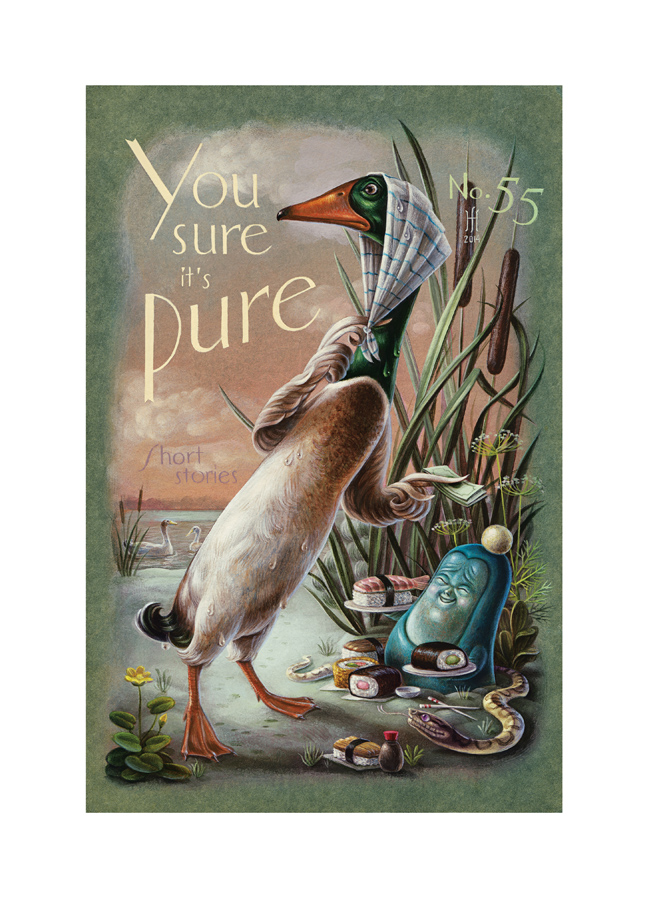 You no longer use social media, which is rare for a contemporary artist. Can you tell us about your experiences with it and how you find your working life has changed since you made this choice?
I have social media to thank for the career switch from illustration to art. By posting illustration work on Myspace and subsequently Facebook, I got invited to join in art shows and it began rolling from there. But after a while being on those social sites it started messing with my concentration too much. I wish I could be one of those people who checks in once a week and then can forget about it. But to my great embarrassment I discovered that I couldn't. So I decided to then quit all together.
Work wise not much has changed and people still manage to find me. But I very much pity the absence of not having an easy access to posts of friends or fellow artists since many live abroad. I'm often behind on news and I must miss out things as well.
Almost everybody is on Facebook or something alike. To keep contacts warm when you're not on it is not impossible, but in a busy business like this I find it a harder, more time consuming step to take.
What's next for Femke Hiemstra?
The 'Don't' Wake Daddy' show at the very sympathetic Feinkunst Krüger in Hamburg. I'm happy to be part of it once more and looking forward to seeing the other works.