'The Offering' by Ewelina Koszykowska
I was born beneath a veil known as a caul that has affected the way I view the world and my work. By my mid twenty's, I began to feel like my emotions were woven patterns which structured my thoughts. I saw correlations of this veil within all aspects of life.
Imagine the veil as if it were an ozone layer which separates us from the stars, or like the layers of an onion peeling ever closer to the core. It can be felt in the sheets which protect us as we sleep, in the unseen aura which surrounds every human being; as if each of us were born to experience different planes of awareness.
My current studio practice combines techniques in realism with studies of life and death shrouded in the veil.
Living in Europe has changed me. Being exposed to artists such as Vermeer, Rodin, Blake, Lucian Freud and Paula Rego has helped to shift and deepen the perspective of my work. My practice is mostly about questions, it has led me to discover influential thinkers, in fields ranging from Prehistory to String Theory.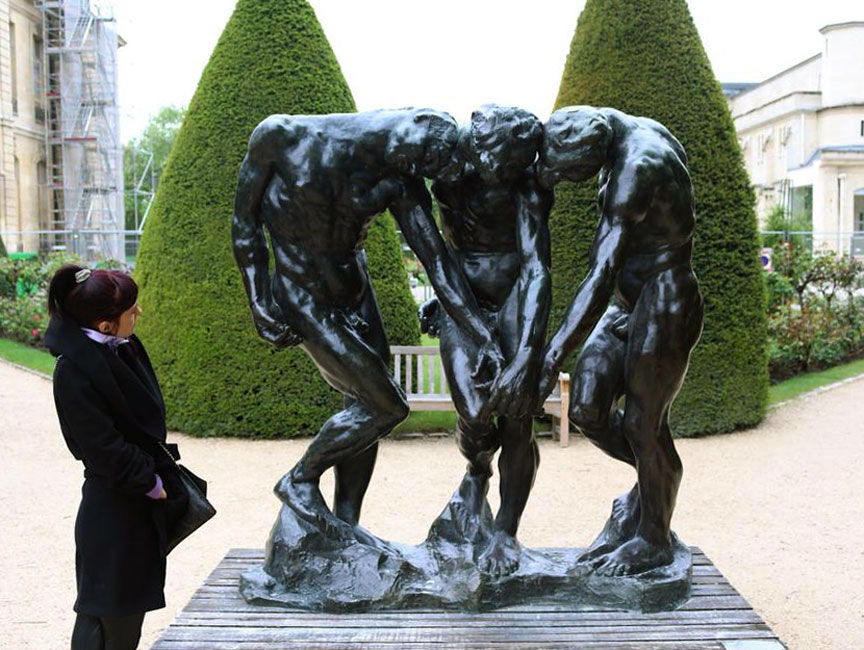 I work with three distinct symbols: the mind as a line or shape, the body as a material form and the spirit as the veil. My curiosity leads me to explore their relationship, the abstract color-stained forms of the fabric merge with gestures and geometry.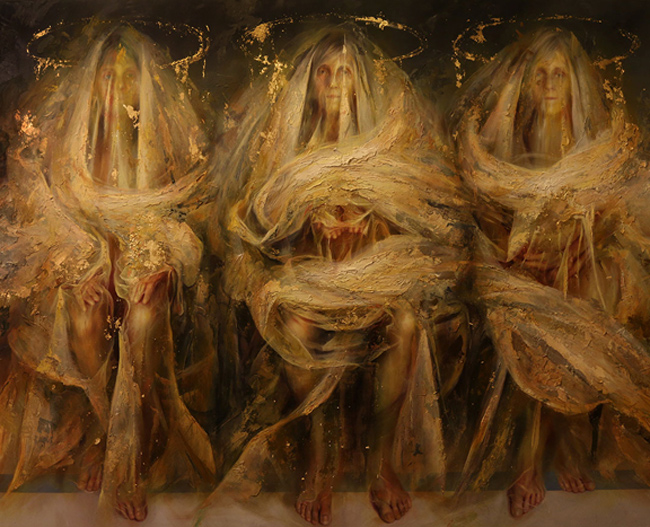 'The Offering' evolved from my studies on ancient sculptures of the Triple Goddess. I envision much of my work in groupings of 2's, 3's, 6's and 9's. I incorporated impasto upon the golden sheath wrapped around her. This texture can be seen as that of soil baking under the sun. The gold leaf is a trickling river running down from her halo as she showers us with her ever attentive gaze and alchemy of life in her hands. There is a sense of deterioration which points to the current state of the planet. The Earth pleads for us to take the reigns of responsibility. This give and take becomes a process humans encounter when we engage with nature. The figure is seated upon an invisible throne. Her feet are planted on a blue line. This color is a symbol of a well known goddess; The Virgin Mary, the keeper of the innocent and the pure.
I was influenced during this period by the works of Anselm Keifer. His application of thick paint, the scale and illumination of his symbolism struck awe in me at his retrospective at the Royal Academy in London. Recollections of William Blake, who I also often draw reference to, came alive in Keifer's contemporary meditations of the subconscious. I began to look at the films of two directors, Ron Fricke and Andrei Tarkovsky, both of whom have depicted the chaotic balance between humankind and our surroundings.
As my work continues to evolve, I have become more engrossed with colour concepts and their suggestion of mood. There are 5 canvases currently in my studio devoted to the late Angeles Arriene, a cultural anthropologist who studied the universal shapes. These shapes are re- imagined as portals in my new pieces. I also have several large scale pieces in the making, such as 'Jump', which includes a crowd who plays with gravity, duality and space. These paintings will be a perfect starting point for exhibition in Europe in the near future. I am also creating a series of smaller drawings on magic, real magicians appearing and disappearing along with veiled etched concentrations.
In the process of painting, I have discovered that a line can really resemble anything and is indeed always moving even though it may appear stagnant. And so my work is in continual progress.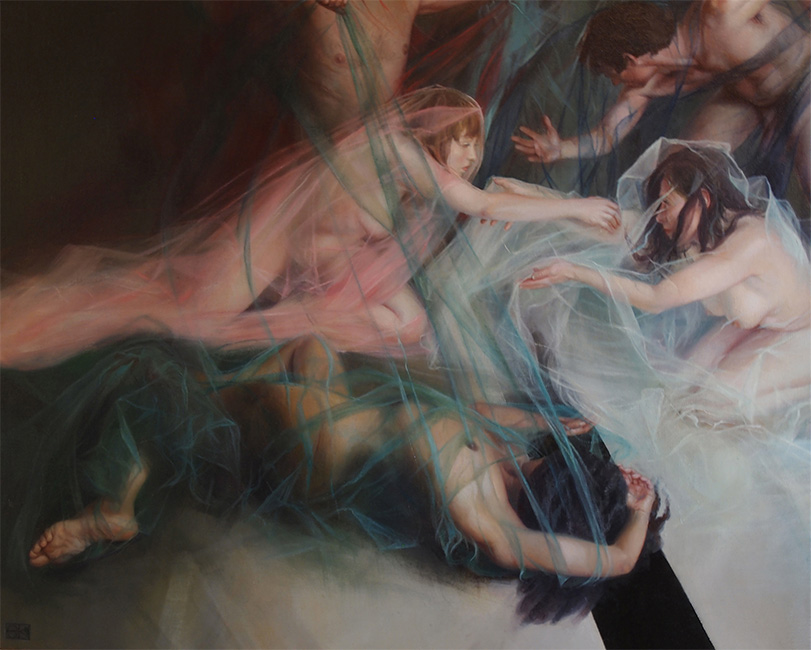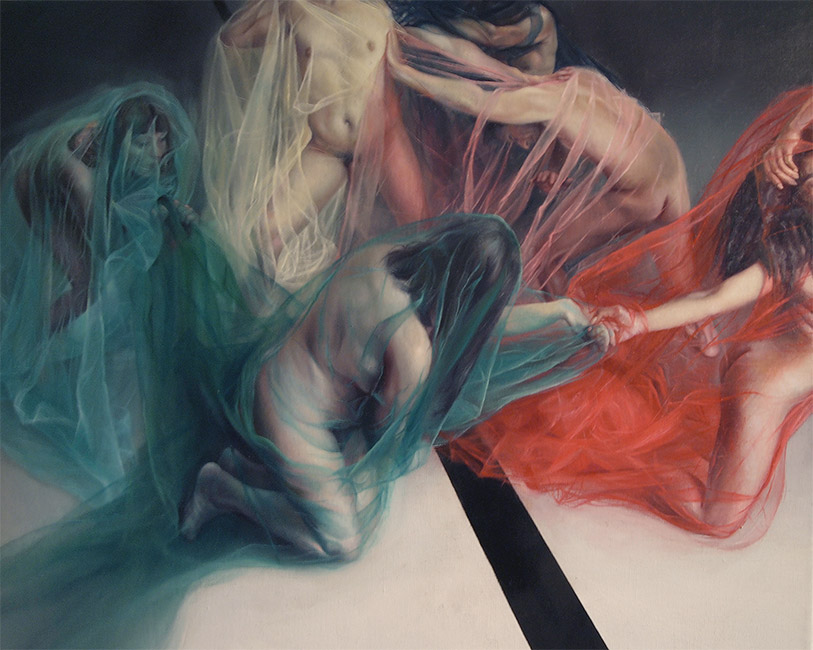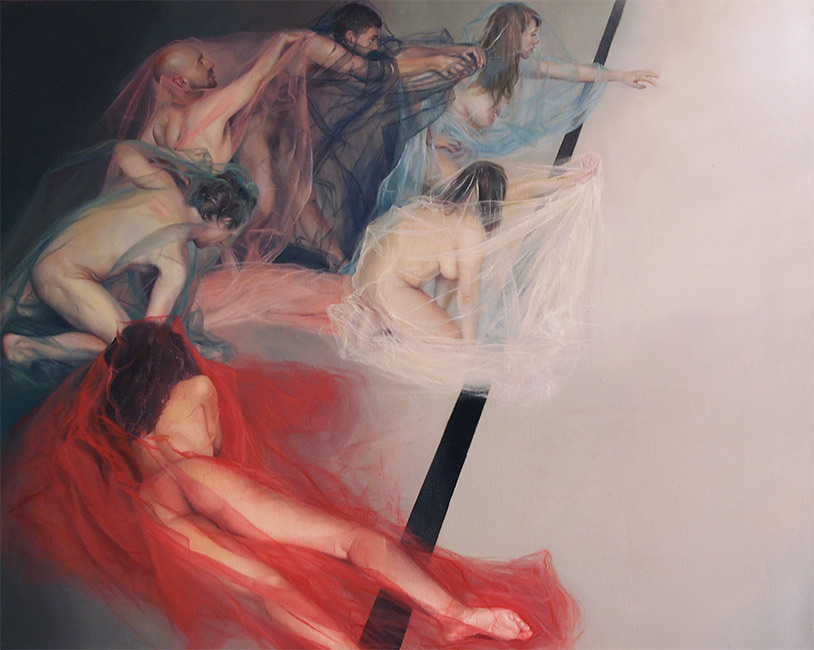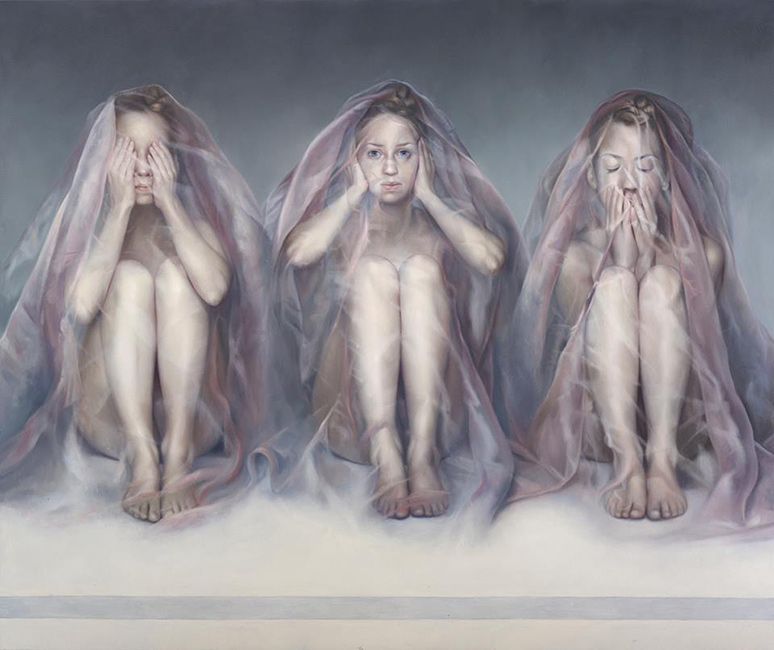 Save
Save
Save
Save
Save
Save