'Brand Identity As Cultural Identity' by Peter Adamyan
All human civilization starts with us finding our place in the natural world, with our desire to tame and control nature, to advance our own survival and push the proliferation of the human species forward.
In the beginning, human civilization was egalitarian, all contributed and all reaped the benefits, with any sense of hierarchy being loosely defined. As agriculture began to play a larger role in this civilization, it not only pushed population growth but created division of labor. With division of labor came social hierarchies and a ruling class. The ruling class began to enrich itself with goods in a larger proportion than those they ruled over, larger homes and in patriarchal societies, multiple wives.
The rulers required something to distinguish themselves from those they rule over, usually in the form of ornate clothing, larger and beautifully decorated homes, leading possibly to temples dedicated to their god like status. These flourishes became a signal to subordinates, possible mates and rivals that this person was one of high status, who should be admired, feared and desired sexually. In this way these objects were much like the plumage of a peacock or the structures built by the bowerbird in New Guinea to attract mates and increase the likelihood of procreation.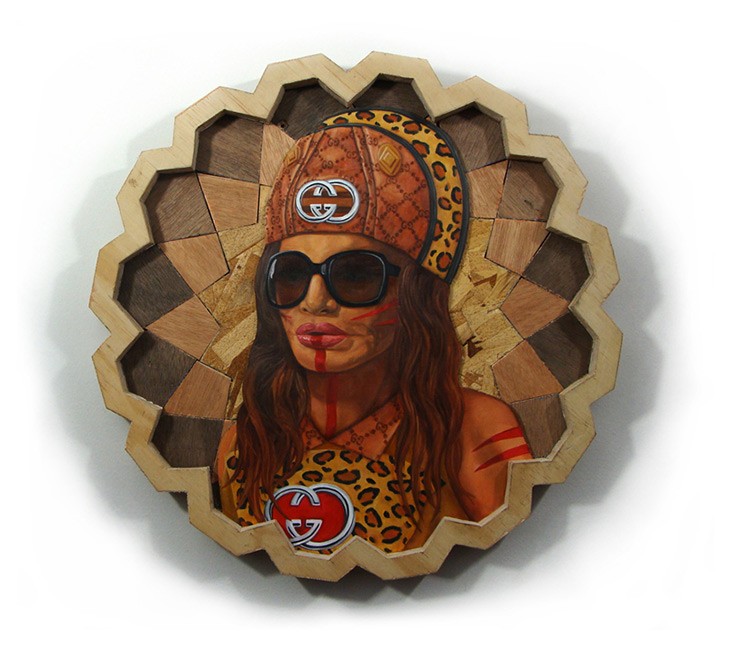 We continue this practice in modern society with expensive jewelry, cars, homes, clothing, exotic foods and countless other types of material goods. It is a driving factor in humanity's ambition towards material wealth. It occurs across all classes of people, all cultures and countercultures. The major difference today to our ancestors in hunter gatherer tribes or agricultural cultures is that they created their symbols of power from the materials they had at hand or traded with neighbors. Today, with mass produced, often environmentally hazardous goods and homes larger than the communal living space of our tribal ancestors. Most of these come with name brands as symbols of status, ranging from the high end luxury brands of the ultra wealthy, to brands associated with subcultures such as the early days of hip hop with Adidas, or skateboarding with Vans, which become status symbols in their own counterculture.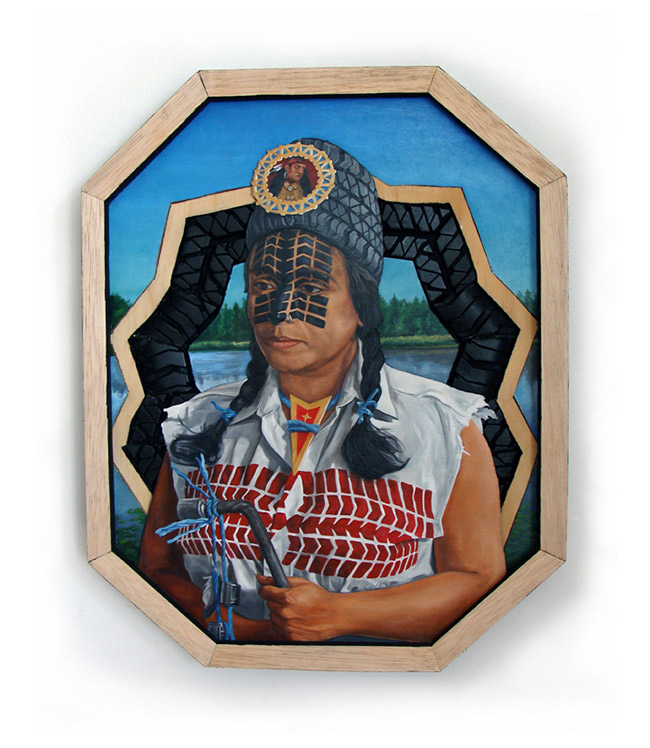 The individual no longer knows how these things are made, how the raw materials for their creation are gathered. The division of labor has disconnected us from the land that provided for our ancestors and by long means of production, provides for us today. In my work I want to explore this disconnection of humanity from nature, the proliferation of waste created by unfettered desire for material goods and the replacement of cultural identity with brand identity.
I have chosen to explore these ideas by creating new tribal identities imagined in a post consumerist society, where humanity has reverted back to hunter, gatherer societies rising up besides the ruins of metropolitan areas. They sift through our waste, creating cultures based on what we have left behind and what knowledge may have been passed on through the generations.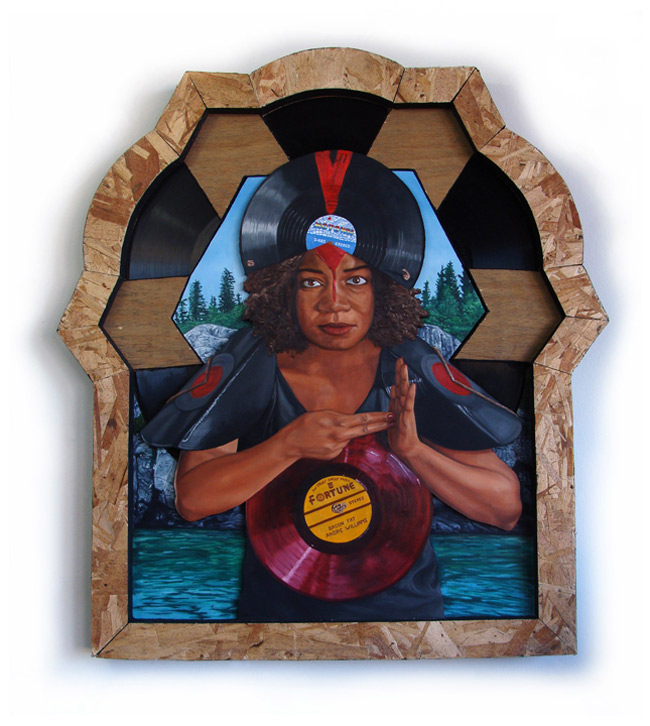 To create this work I often create props and costumes as I imagine these tribal members might make and use them in photoshoots with models. I then use the same materials the model is wearing to create a decorative motif in the work, alongside found wood and oil paint.
My intentions are to have the viewer think about what makes us human, how we are different from other animals on the planet, and how we are the same. How we have lost our connection to the wilderness that has nourished us throughout our evolution and how we could possibly bring some of it back into our lives. Overall I want the viewer to know, that no matter how far we think we have come from our indigenous ancestors, we are not as different from them as we believe we are.
Photograph of artist courtesy of Shaun Roberts.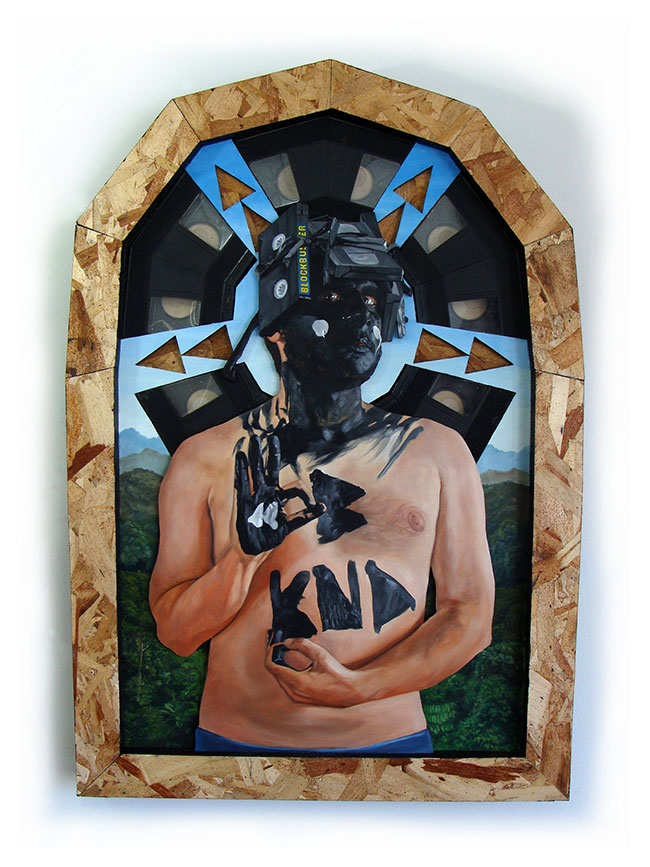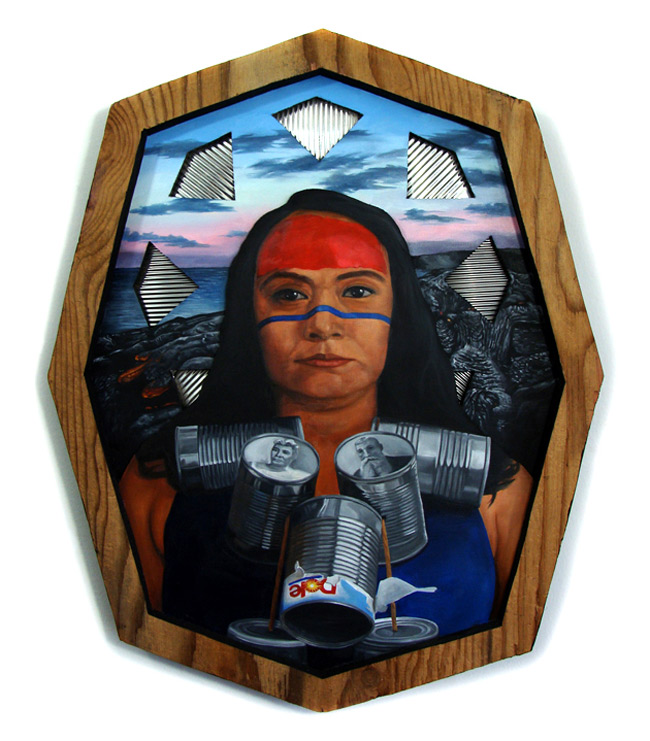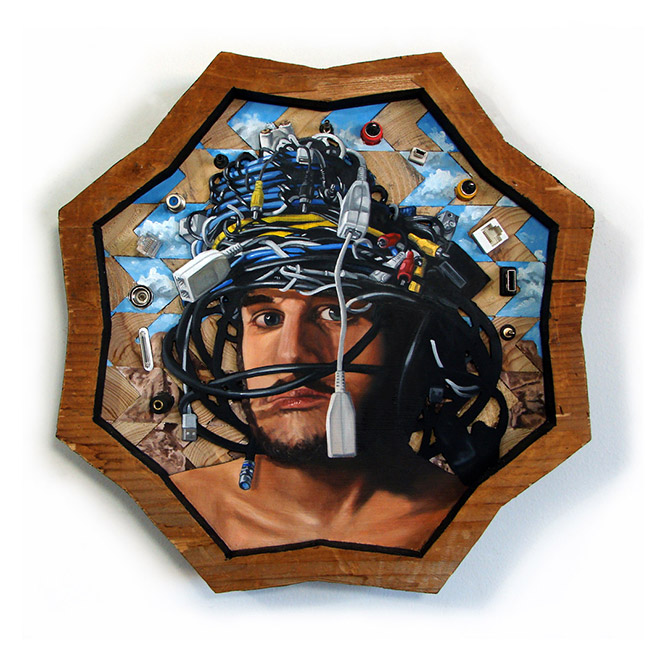 Save
Save
Save
Save
Save
Save
Save
Save
Save
Save
Save