'A Sense of Being' by Veronica Jaeger
Making something out of nothing, along with the feeling of disconnecting from the reality of the everyday life to my own invented one, is what keeps me delving into the process of creating. The common existential questions about the universe, life, death, and consciousness have always intrigued me, but all this wondering usually leaves me with a bigger pile of questions instead of answers.
Coming from these ideas, my work starts unfolding in a series of exploration of imaginary portraits merging with different elements: geometric shapes, lines, clouds, air creating most of the subjects in my recent work. Some of them are becoming or turning into something else, maybe caused by the air they breathe, transforming into another kind of structure, or into a different type of being. I am usually fascinated by the discoveries that connect the past with the future, space, time, and their links to our mysterious ancient buildings where mankind, nature, art, and architecture merge as one with the universe.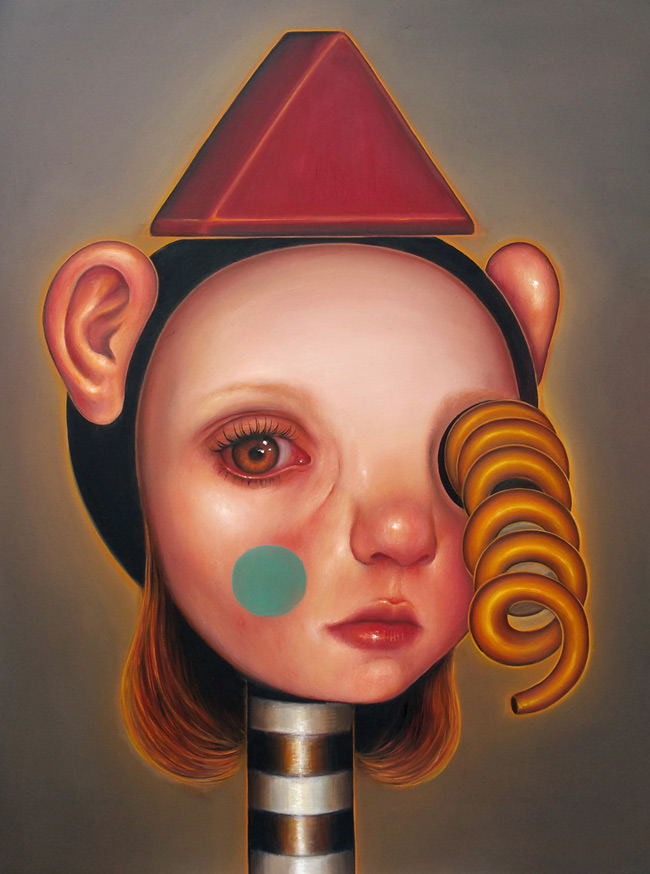 I have always been interested in painting portraits, so most of the characters in my work are based on heads or faces, but in a more non-conventional way. They are part human, part something else. Throughout art history it is common to see many ways to interpret the portrait and figure, distorting and changing reality to show the perspective of the artist, and this is what I believe I do. I try to focus on an inner reality instead of the outer world where emotions, drama, and conflict abound. Sometimes they are playful and sometimes nostalgic. I don't intend to communicate emotions, but more an introspection or a sense of being.
My influences come from readings about ancient and classical art, philosophy, consciousness, and from looking at old and new art. I feel a connection with the works and colors of the Renaissance artists, and some Latin-American surrealists, like Leonora Carrington and Frida Kahlo. I admire the works of Hieronymus Bosch. He had an understanding and a very strong personal vision of humanity, nature, and the spiritual, that is still current in our times.
My intention is to make work that is universal, while mocking the palpable reality and its false sense of normalcy and stability in the midst of its chaotic existence.
Save
Save
Save
Save
Save