In Peter Adamyan's latest work, he envisions a post consumerist world in which future generations have become reacquainted with the hunter gatherer tribes of the past. They invest themselves in foraging through the discarded remnants of mass produced commodities left in the wake of our own materialistic obsessions and ultimate genesis of our downfall. In the creation of these pieces, Adamyan partakes in his own foraging, skilfully incorporating particularly appealing finds into the work, making them the central focus of each shamanic protagonist. The end results are such fascinating and incredibly thought-provoking images that are so densely layered with meaning and conceptual explorations of the moral dilemmas and unavoidable implications associated with contemporary human existence. And the questions being raised most certainly deserve our undivided attention.
Peter Adamyan is an American artist who was born in 1987 and raised in the suburbs of Los Angeles. He is currently living and working in an industrial area of Oakland, CA. Peter has been exhibiting his artwork for over a decade and has shown his work in some of the most prominent galleries within the New Contemporary Art scene, including Spoke Art and Thinkspace Gallery.
WOW x WOW is extremely honoured to have a new painting by Peter in our current 'Room of a Thousand Doors' group exhibition. The piece, entitled 'Bomber', is a wonderful component of his ongoing series of works and is available for purchase here. We hope that you enjoy the insight provided into this fascinating artist in the following exclusive interview.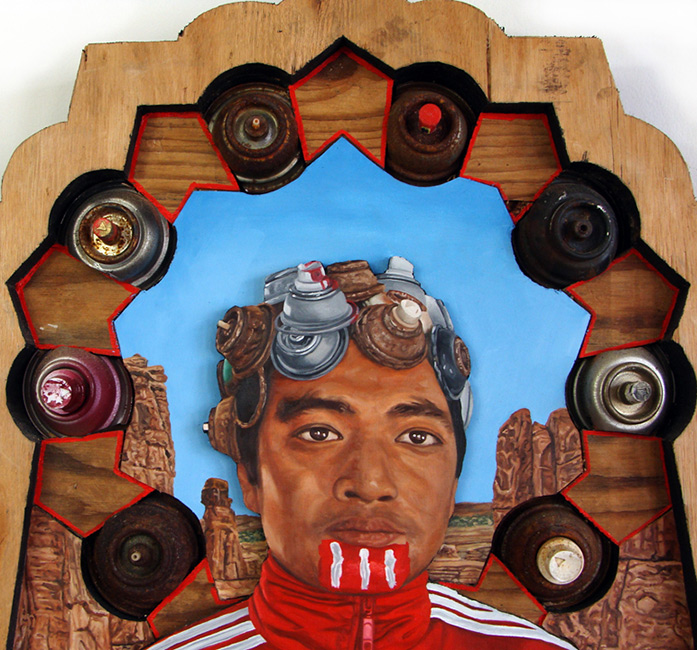 Hi Peter, thanks very much for making the time to have a chat, we really appreciate it. To get us started, can you give us some background on what has lead you to this point in your professional life, be it your formal training, hard work, serendipity, etc.?
I think what little success I've had has come from never not making art and taking advantage of any opportunity that came my way.
Talk to us about growing up. In what ways did your childhood and upbringing affect your relationship with the arts?
I grew up in the suburbs of Los Angeles watching a lot of television and drawing a lot. I think growing up watching as much television as I did, in the shadow of Los Angeles made me see popular culture as a contemporary mythology that affected a lot of my earlier work.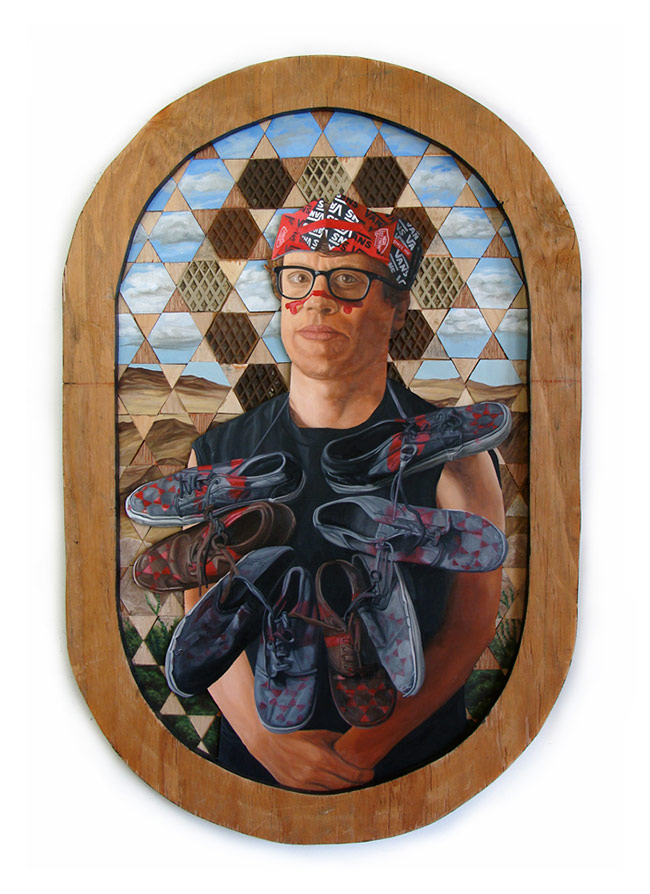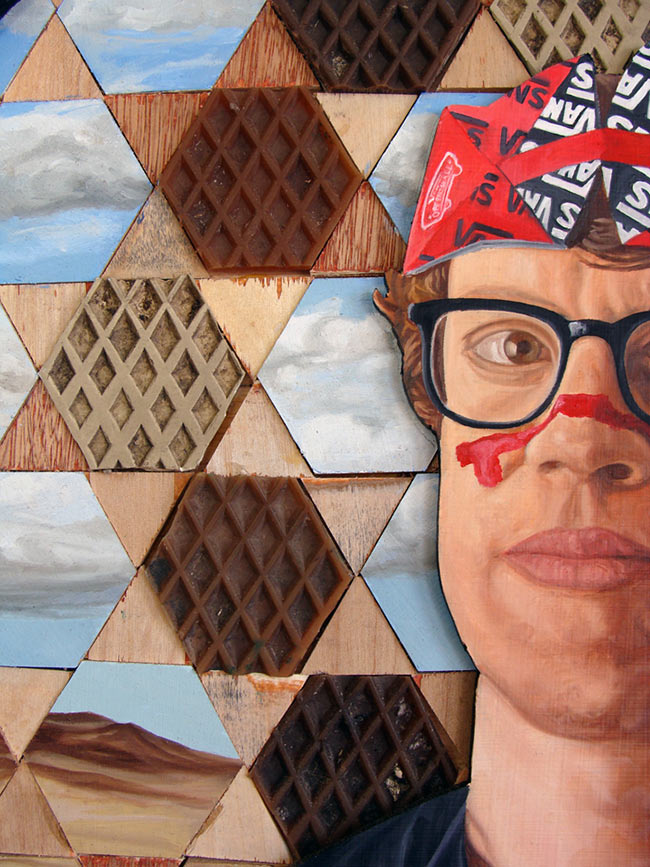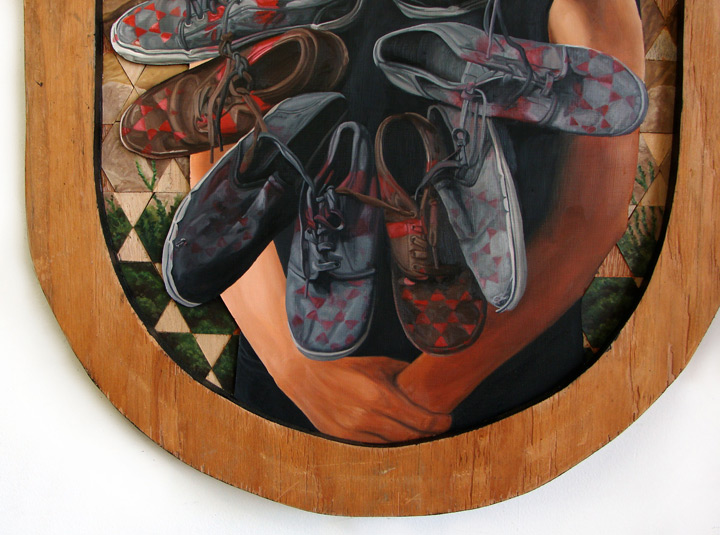 Where does your sense of community stem from as an artist? Do you feel part of a close-knit scene in your home city, or do you connect more with other creatives online? Is community something that is important to you and your creativity?
Most of my friends are artists, musicians or work in the arts in one way or another. I actually find it surprising when I meet someone who is 'normal' with a regular job and not interested in a creative pursuit of some kind. I can't say for certain how this influences my creativity, I think it mostly keeps my drive to continue creating in high gear, but it can sometimes also have the opposite effect on my more pessimistic days.
How political do you feel you are as an artist?
I have always made work inspired by my politics and my political views are a huge part of who I am. My new body of work is more about my environmental concerns, but we have seen how politicized that can be.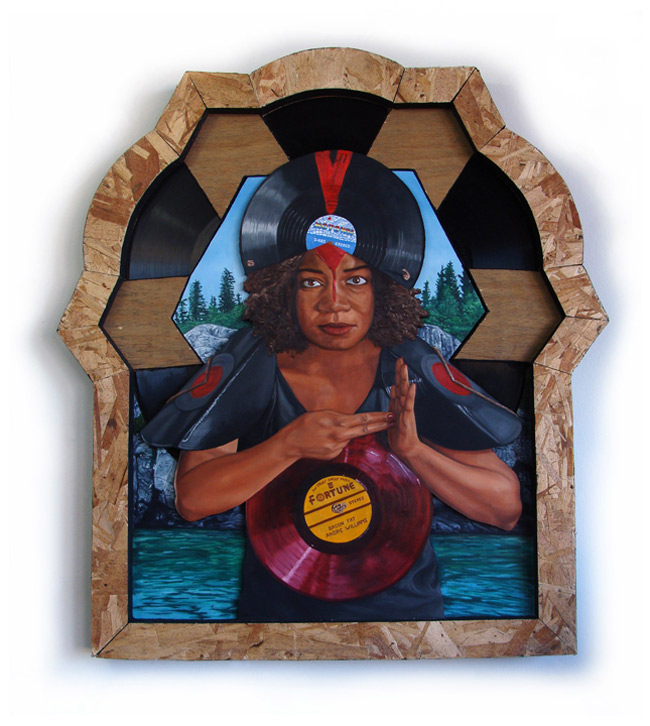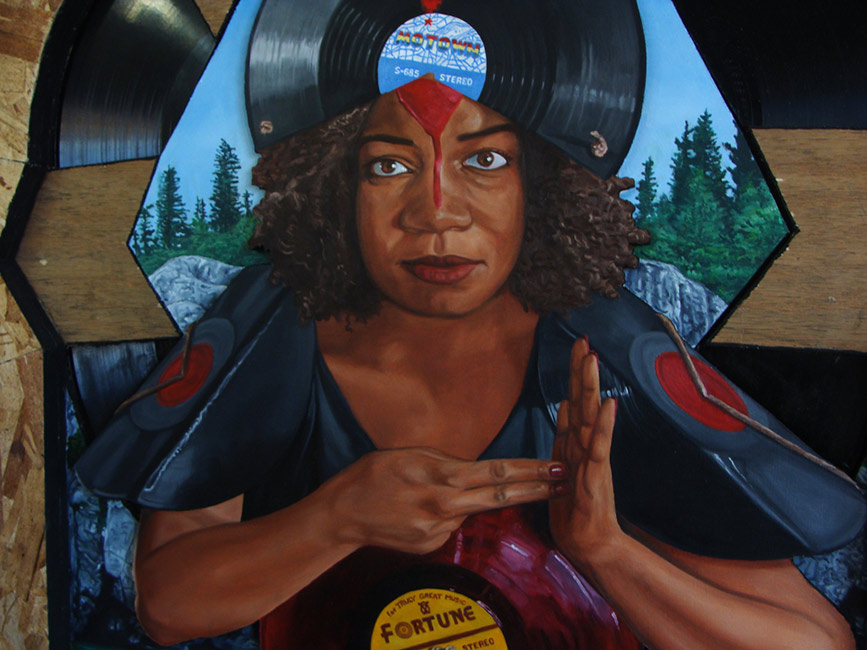 The darker side of human nature has been at the heart of your imagery for quite a while and you've recently taken aim at the evils we perpetrate which negatively impact the environment. In your opinion where are we going so badly wrong in this regard and what would be the first thing you would love to see change?
I think a lot of the problems in the United States always goes back to money in politics. Money controls the narrative, and it allows people to put profits above all else. It's a problem on both sides of the political spectrum, but disproportionately on the right. There are many problems on the right that don't allow them to see the destruction of the environment as a major issue, from their anti-scientific beliefs, their belief that god put everything on this earth for us to exploit and that it won't matter if the world isn't habitable when Jesus comes back, to their general hyper masculine ideas of caring for the environment being some kind of tree hugging, feminine ideal. The only allies we have on the right are hunters and fisherman and we can begin partnering with those on the right that see that there is profit to be made in renewable sources of energy. If we can't get the money out of politics we have to exploit it and show that taking care of the environment can be profitable.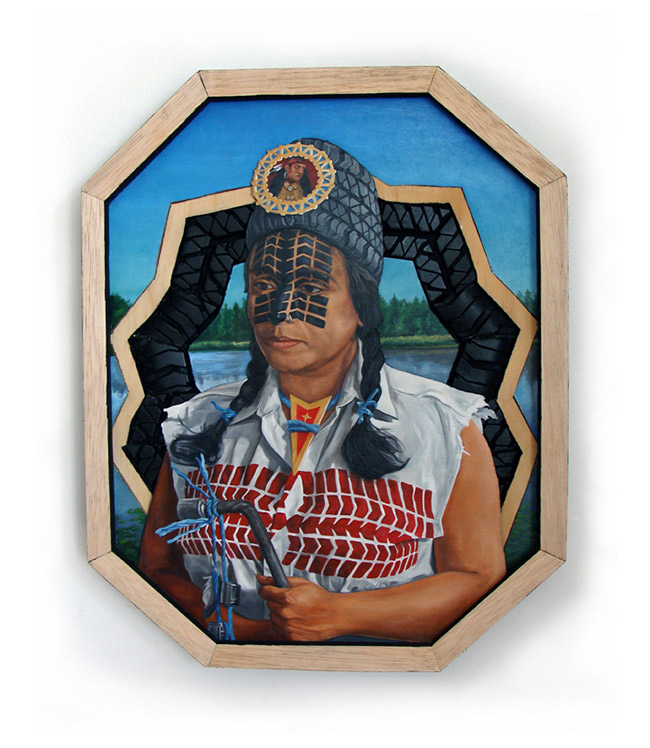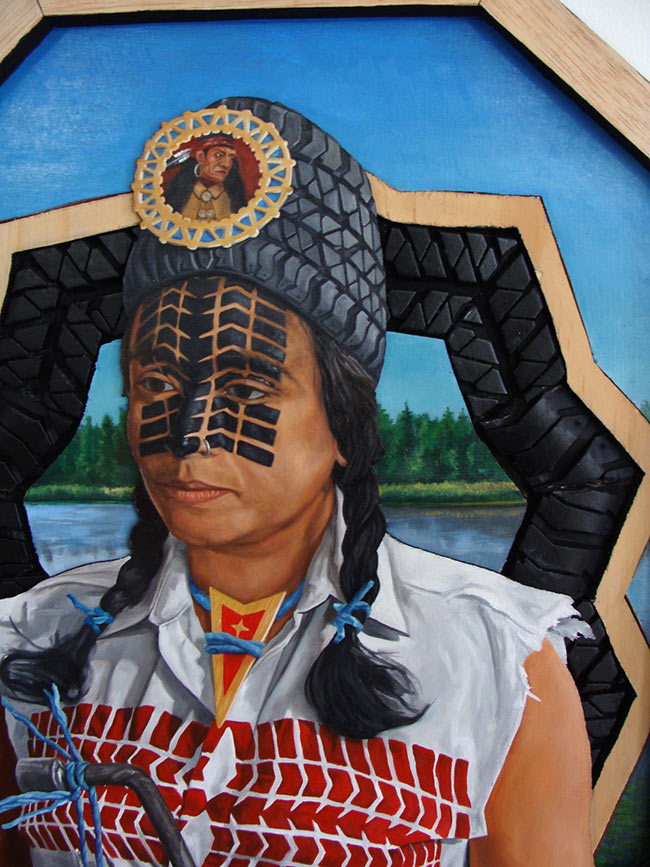 You've started incorporating found objects into your imagery. What was it that sparked this exploration and what kind of obstacles have you encountered in the process?
When I first started creating art seriously, I used a lot of found wood and materials, but when I started to do the relief paintings I was doing previously, I no longer could make them fit into the work. When I moved into East Oakland, I moved into a very industrial neighborhood that is often used as an illegal dump. This neighborhood has been as much of an influence on me as the hiking found in the Oakland hills and on my frequent backpacking trips. I started using more found objects from the neighborhood.
I've had a few problems with how some objects break when you try to cut them and trying to pull apart a car tire proved to be much more difficult than I expected. Every piece that incorporates found objects is a learning experience, not only in how can I break this thing apart to create a decorative motif, but how can I incorporate this to be aesthetically pleasing, instead of looking like a mixed media project by a middle aged crafter with a hot glue gun.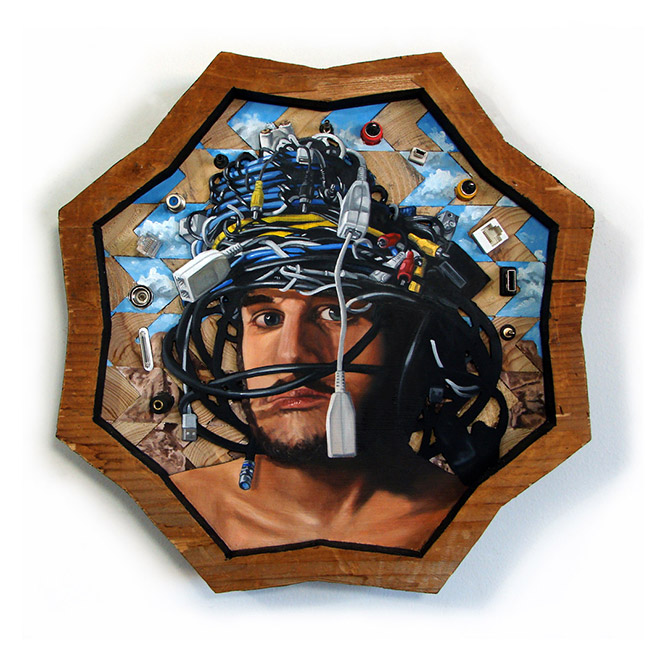 Do you find that creating your art helps you work through the more pessimistic thoughts you have about our world? Do you have hopes for what your audience or collectors are rewarded by through spending time with your imagery? If so, we love to hear about them and also to what extent you consider the viewer while constructing your art?
My pessimism is as much a part of me as my limbs and I've come to accept it as such, it influences my work, but I don't think anything can change that part of me. The work I create is often made out of habit, it is something I do every day and think about often. For me it is an expression of my thoughts, with my exploration of humanity's connection with the natural world being my current interest. I don't often think of the viewer when making my work, I mostly think about what I would think of the work, if I came across it, but it's very hard to detach from the work in that way.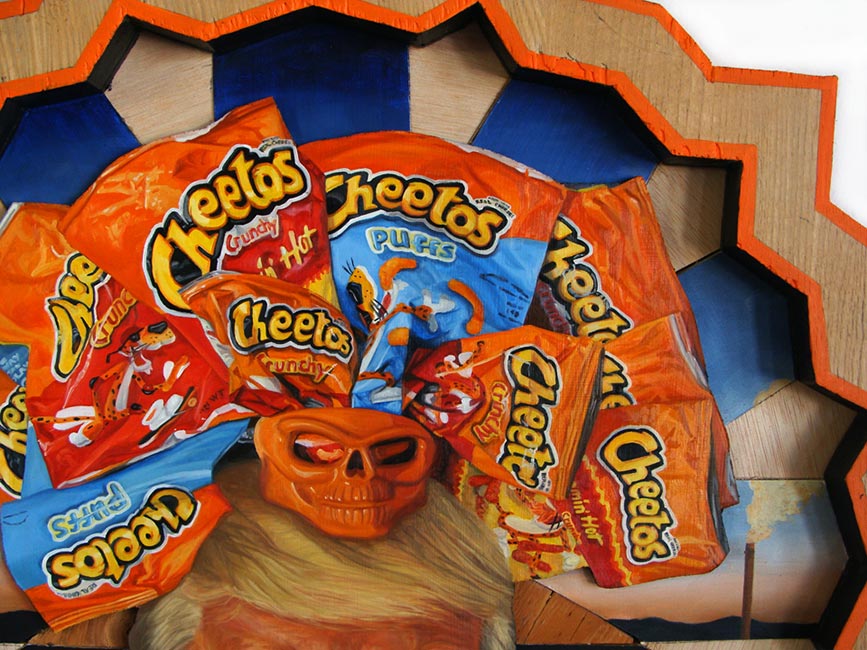 What have been some of the greatest breakthroughs you've experienced within your learning as an artist? Those moments that have opened up whole new creative avenues or that have led to you taking large leaps forward in your development?
I don't feel that I've had major breakthroughs or leaps forward. Creativity is a slow process for me of constantly learning, pondering and creating. Things grow slowly.
The recent shift in my work came from learning more about the natural world and from reading Jared Diamond, John Muir and Edward Abbey, I'd say that was the closest I have come to a major leap, but I would say it was more of a shift in focus.
What is your relationship with the history of art and do you feel that it is important to have a good understanding of what has come before? Can you talk about some of the artists from the past who you feel a kinship with or who have inspired you?
I took an AP Art History class in high school, and read about a lot of the most famous artists of the 20th century. Dalí was a major influence early on in my development, I loved the baroque artists Bernini and Caravaggio and later on artists like Robert Williams and R. Crumb. I have always been inspired by narrative based work as figurative realism. I feel like kinship is a bit too far, but I always felt a connection to the illustrators of pulp magazines and commercial illustration, because they were the ones that held onto figurative work when the fine art world rejected it. Most important to me is my belief that the height of art is the cross section of concept and craftsmanship.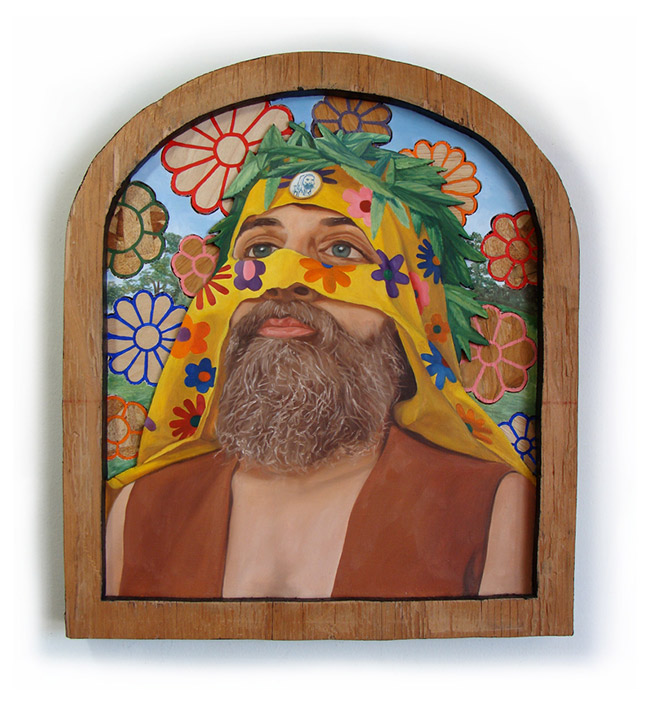 In order to get a better understanding of the personality of an artist, it can help to get a peek behind the curtain. Would you be willing to share a story from your own life, possibly one whose memory you find yourself returning to for inspiration, or maybe just a tale about a hardship you've overcome which has helped define the person and therefore artist that you are now?
This is a bit personal, but I feel that it is worth sharing only because I feel like it's important to see how personal art can be to a person who creates it. When trying to develop my latest body of work, I was spending a lot more time outdoors, backpacking, fishing and foraging. I wanted to create work that talked about humanity's disconnection with the natural world, to stay on the topic of materialism that had been so important to me in past and to use more found and recycled materials.
I developed the concepts and use of materials in my head, but when it came to it, I thought there might be some similarities to the work of a fellow artist and friend of mine. As I began creating the work, a mutual friend of ours said he saw it as well, and heard rumors of other people saying the same. I talked to this artist friend of mine, and after doing so, I considering dropping these concepts, but as I considered it I began to tear up. At that moment, I realized that this work was very personal to me and if something could make me feel that way, it was worth pursuing no matter what.
If you could own one piece of art from any of the world's collections what would it be and why?
That is a nearly impossible question to answer, but I suppose if I had to choose it would have to be Théodore Géricault – The Raft of Medusa, because I believe it is a masterpiece of a painting, from the composition to the painting ability and subject matter. It has narrative and is socially conscious, it touches on inequality, the darkness of the human soul and the hardships we endure.
What's next for Peter Adamyan?
Just going to keep making art, I want to keep exploring new mediums as well as continue to work on the body of work I'm immersed in now.
Peter's Guest Blog post for WOW x WOW