In the whimsical world created by artist and illustrator Phoenix Chan, you can expect to encounter cats… and lots of them! Although not her only muses or choice of subject matter, Chan is the first to admit to a healthy obsession with all things feline, and she finds endless inspiration through her interactions with, and observations of her favourite four-legged companions. As a highly skilled draughtsperson and storyteller, Chan's creations are lush in both rendering and narrative, and often injected with a mischievous wit or simply a warm, cuddly dose of cuteness. Her masterful ability to create such inviting fairy tale-like imagery reveals itself as a potent tonic; they are the most perfect and welcome antidote of pure unadulterated escapism in these uncertain and unsettling times.
Phoenix Chan is an artist and illustrator who was born in Hong Kong and is now currently living and working in New York. She is a graduate of the Fashion Institution of Technology (FIT), earning her BFA honours degree in Illustration. She has since gone on to work for a long list of commercial clients and has exhibited her work in numerous galleries, including Gallery1988 and Light Grey Art Lab.
WOW x WOW is currently delighted to have two new original paintings by Phoenix in our WOW² group exhibition of square artworks. 'Pinky' and 'Sheer' both contain her trademark beauty and playfulness. To celebrate this joyous occasion, we invited Phoenix to participate in an interview, which we are very happy to publish for you now. Enjoy!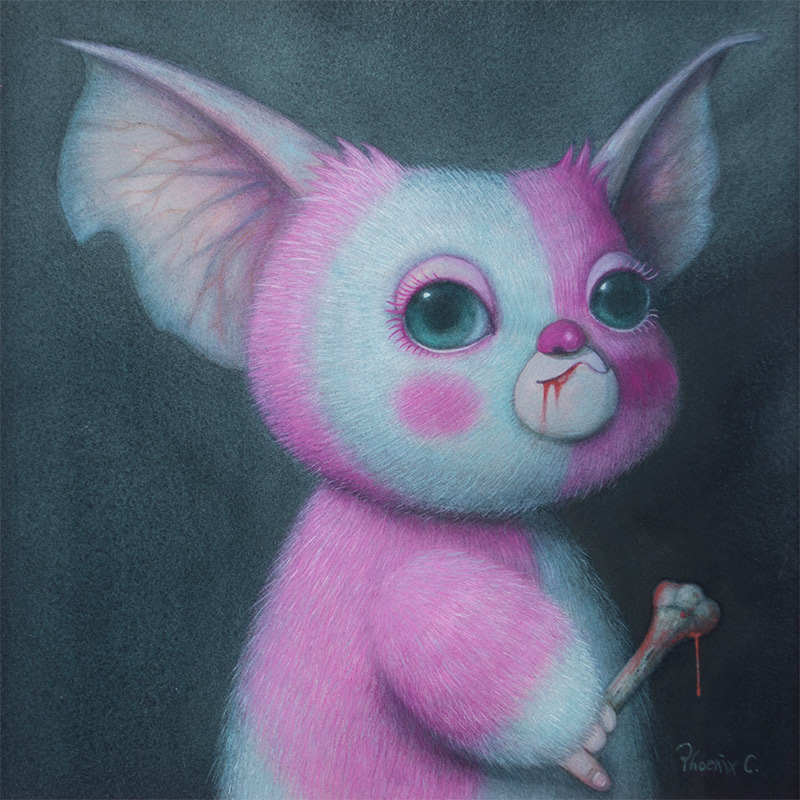 Hi Phoenix, thanks very much for making the time to have a chat, we really appreciate it. To get us started, can you give us some background on what has lead you to this point in your professional life, be it your formal training, serendipity, etc.?
I was born in Hong Kong and lived in there for seventeen years. When I was around 2 years old, my Mum sent my elder sister and me to a drawing class on weekends. When I grew older, I asked my Mum why she wanted us to attend the drawing class, she told me because when we were attending the class, she could have more free time for herself. Anyways, the drawing class was good and I fell in love with drawing quickly. I went to that drawing class every week as a hobby, but never thought of working in the art field at all.
While preparing for my A-Level examination, my parents told me that our family would move to the USA two months later. Thus, I didn't need to study for the examination anymore. Although I was never the best student in my secondary school, I was an average one that usually passed all the tests. However, I totally lost my confidence and didn't know what I was going to do in the USA. The only thing I still felt confident about was I could draw quite well. Therefore, I applied to an art school and chose to major in illustration.
We're interested to hear about where you're currently living and what you like about the area? What is the art scene like there and do you feel a part of that community? Are these aspects of your life that are important to your creativity?
I live in New York now. I like the diversity of the city a lot and it is also full of art resources. To be honest, I felt I was quite isolated after graduating from college. I always stay in my home studio working on projects and only communicating with my friends through social media. I think this is unhealthy mentally and I hope I will do better in the future.
Talk to us about growing up. In what ways did your childhood and upbringing affect your relationship with the arts?
My Mum is also an artistic person and she has had a great influence on me. She likes to craft a lot of things, such as ceramics, paper cut, sewing dolls and knitting. I have learnt a lot of skills from her and maybe I inherited my artistic DNA from her as well.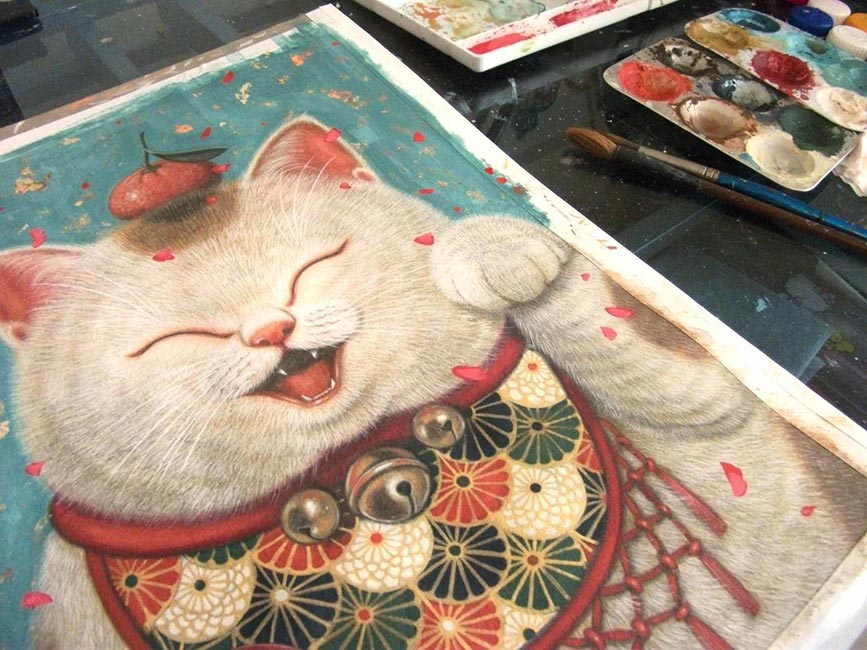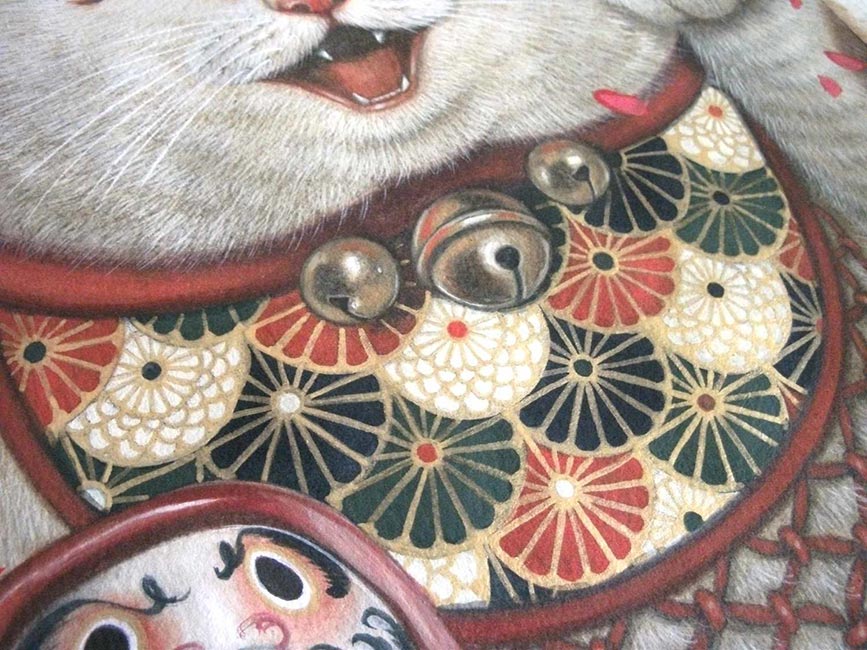 We are very honoured to have you participating in our WOW² show. You've created two new paintings, 'Pinky' and 'Sheer', both evoking wonderfully intriguing narratives. We'd love for you to give us a little background on these pieces. What were your inspirations and how do the images fit into your larger body of work?
'Pinky' is a monster with pink fur who has just finished its dinner. The inspiration for this piece came from my cats. Most cats, including my own are all cute and lovely but on the other side, you cannot underestimate their destructive power. This pink monster reflects the personality of my cats; cute little monsters, who can always surprise and fool you easily.
'Sheer' depicts an elf or fairy with a head of pink petals. I done illustrations of this character many times already, but in different styles. My inspiration for this character is from the peony flower. I like peonies a lot and somehow, I've wanted to create an anthropomorphic peony.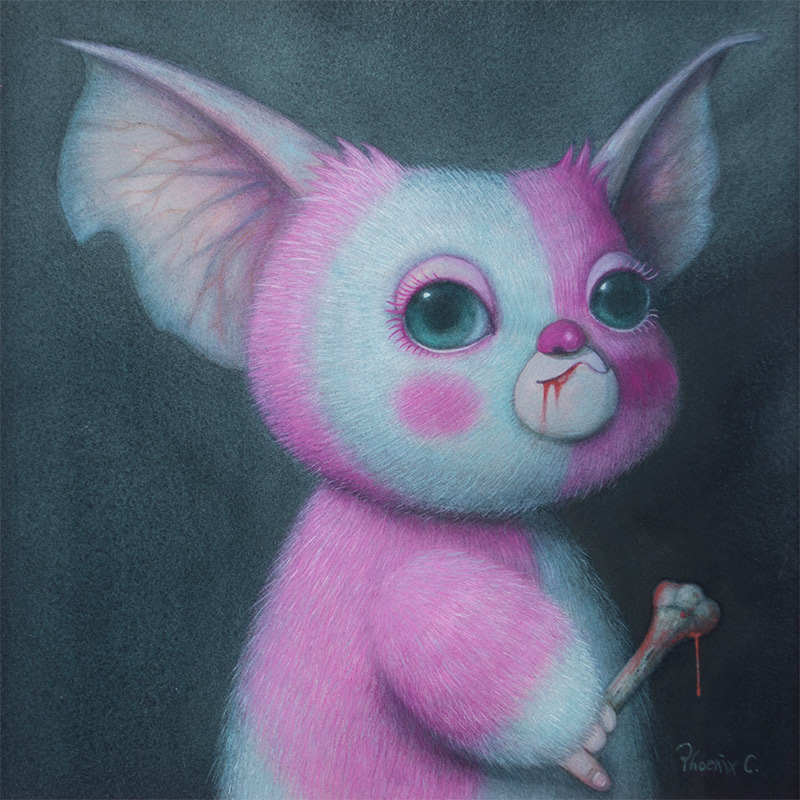 The art you make is very narrative driven. What were some of the biggest influences on stimulating your interest in story telling?
It's because a good story makes me happy and may also bring a lot of happiness and joy to other people.
We'd love to hear you talk about a favourite creative experience and why it has earned that status.
There are too many favourite experiences, but I'll talk about one of my absolute favourites and probably the most meaningful one. Just after I graduated from college, I got a children's book project from Mr. Nassaney. He organized a charity organization to memorialize his son whom was a passenger in the flight of the 911 event. In order to memorialize his son, he did a lot of charity works and one of them was creating a children's book. He published his own book and then he gave the books to local schools and libraries. I was both shocked and honoured to be part of this project. I told myself I had to do my best and could not disappoint this gentleman. Of course, the process of working on a children's book was always fun and enjoyable.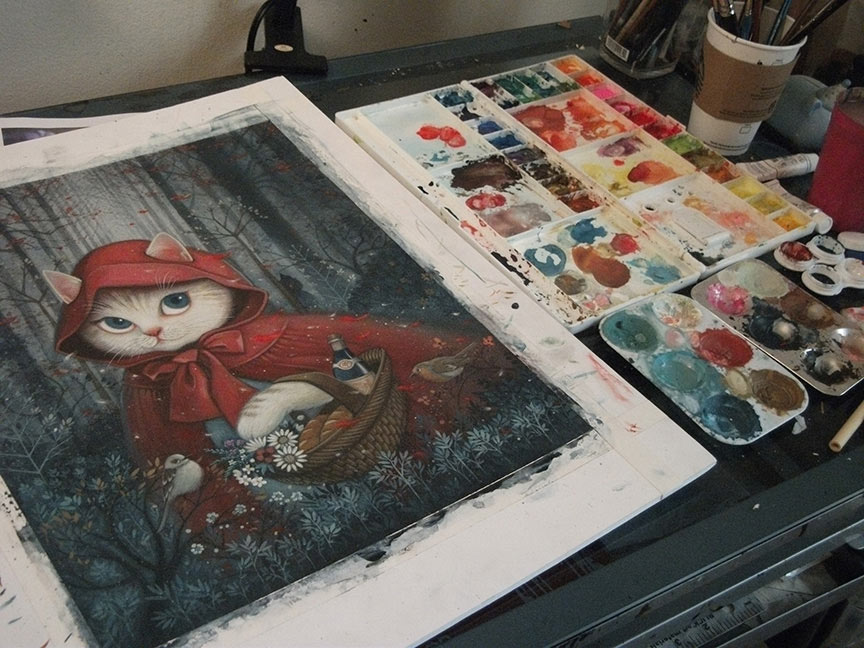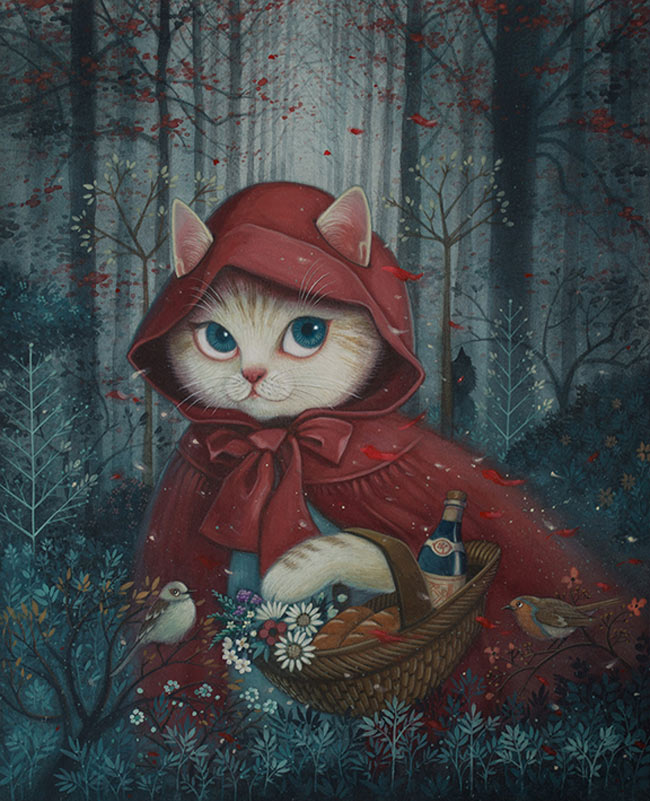 As both an illustrator and a fine artist, do you compartmentalise these as two separate aspects of your creative output, or do you feel that these terms are redundant and that the word 'artist' sufficiently encompasses what you do? What are your thoughts?
I actually wrote an essay titled 'Illustrator vs. Fine Artist' for my English liberal class in college. I wrote about that subject because our illustration department shared the same floor with the fine art department and I always discovered many interesting differences between the two departments. For instance, our classroom was always cleaner than the fine art's classroom. To answer your question, I think 'artist' is a good term to generalize everything. I may be an illustrator in the morning and a designer in the afternoon and then a fine artist at night. Personally, I don't really care what my title is.
What has been the most exciting life and impact you have you witnessed any of your art take on once it has left confines of your studio? What kind of feelings do you have about letting your creations go and live their own lives in the big wide world?
I feel happy and relieved because my studio was already very crowded. I think I will miss them on some random days.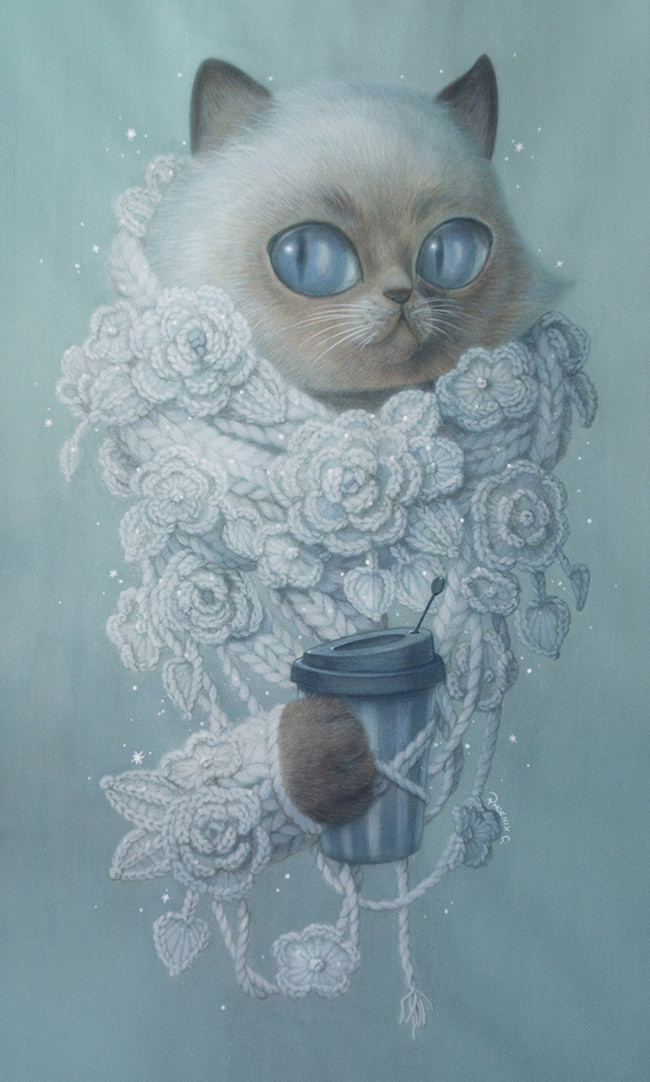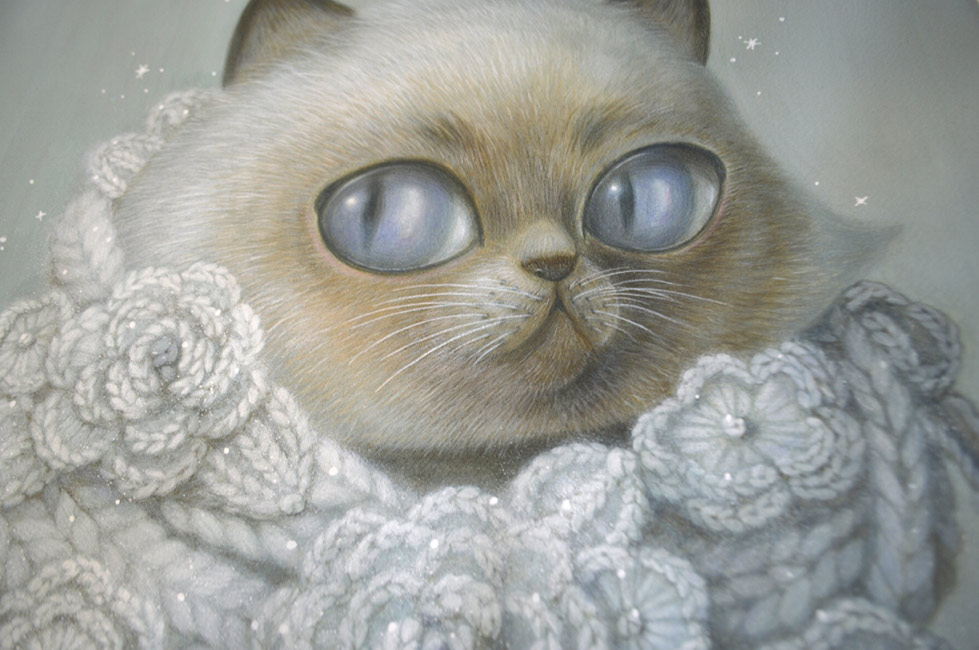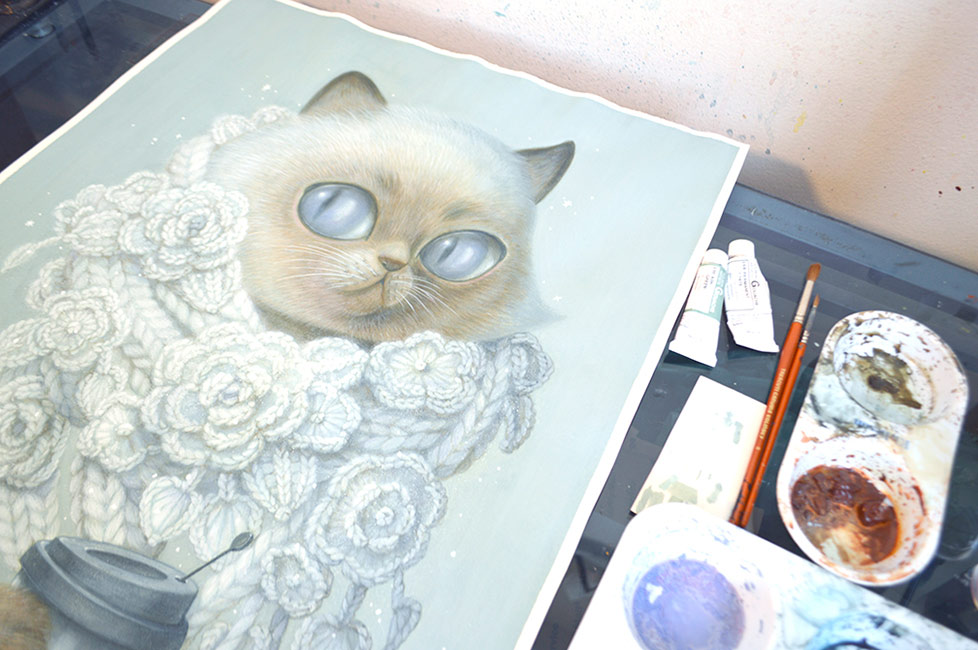 What would be the greatest compliment you could ever receive about your work?
I once had a client said this to me after receiving my work: "You are worth five times your weight in gold." I'd never received any compliments like that before, it was so original.
In order to get a better understanding of the personality of an artist, it can help to get a peek behind the curtain. Would you be willing to share a story from your own life, possibly one whose memory you find yourself returning to for inspiration, or maybe just a tale about a hardship you've overcome which has helped define the person and therefore artist that you are now?
While in college, we all learnt how to paint digitally. I did most of my artwork digitally for many of my commercial works because it was faster and easier to revise. However, I lost my desire for creating artwork, I lacked inspiration and everything felt quite dull. I didn't know what to do, but I decided to go back to the beginning and paint traditionally again. It definitely brought my inspiration back. I still paint digitally for my work but if the timeline and the aspect of the assignment allow, I would rather finish my work traditionally for my client.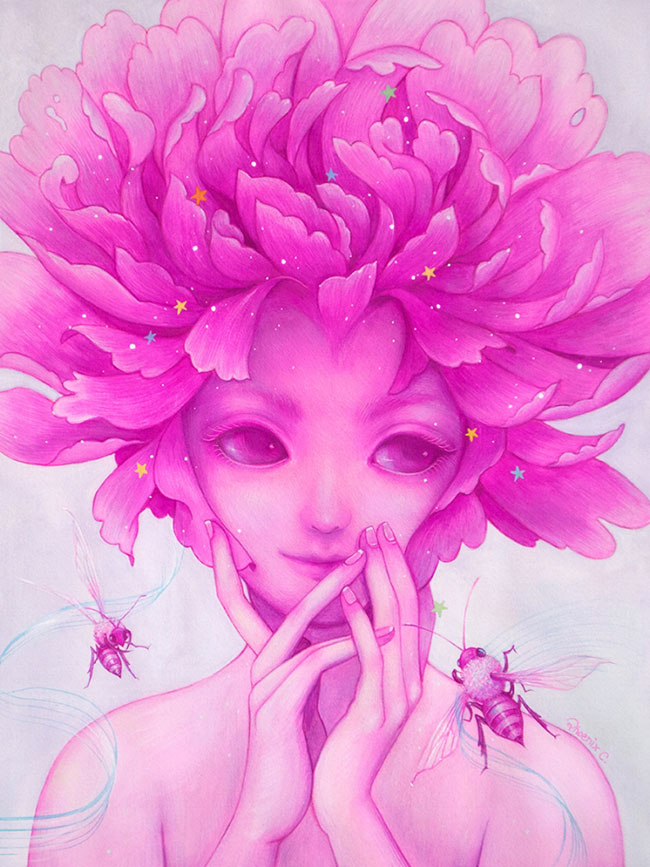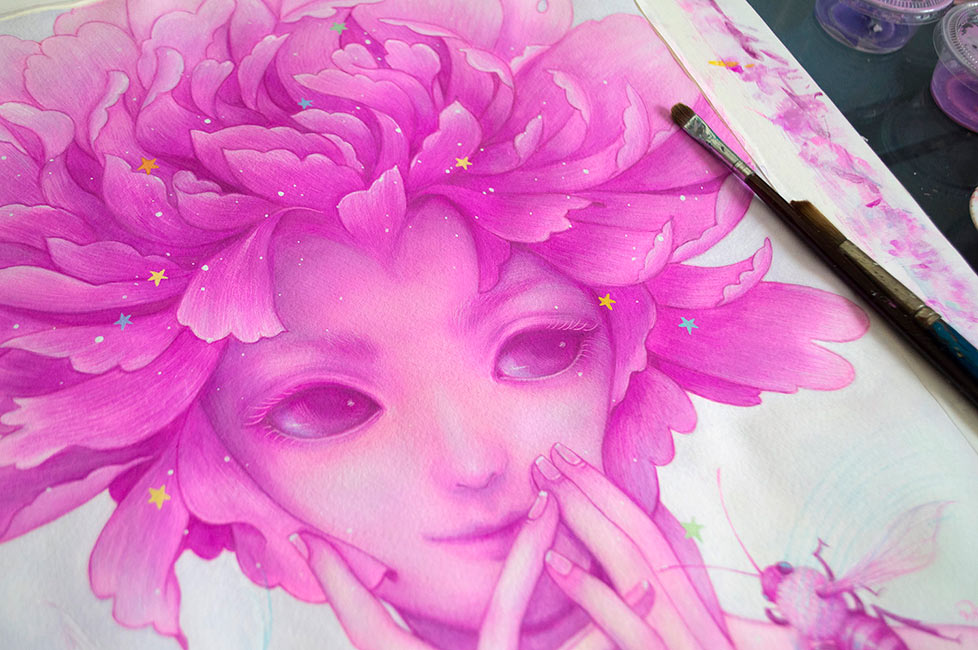 If you could own one piece of art from any of the world's collections what would it be and why?
'Oberon and Titania, A Midsummer Night Dream' by Joseph Noel Paton, 1821-1901, Scottish. I just like it, no special reason.
What's next for Phoenix Chan?
I am doing a children's book for the City of Central Falls. It is about the history and the development of that city. The governors of the city want to include this children's book to their local school's programme so that the children can learn about their history in a fun way.
Besides, I have started a new series of my personal work, called 'Cozy'. The artworks are to be created in a small size and will be painted on a piece of basswood. I hope I can have part of them ready and put them up at my Etsy shop in October. Also, I will have few pieces of artwork exhibit at Helikon Gallery in November. Please support and stay tuned. Thank you!