'Into the Void' by Ana Bagayan (Discussing her latest solo show at Hidari Zingaro Gallery, Tokyo, 23rd June – 11 July 2017)
The artwork for this show was created during my travels around the perimeter of the United States in 2016-2017. The title 'Into the Void' represents this new period of my life where I left behind my home, studio, and comfort zone to experience something new.
Two months into my travels, I unexpectedly received the invitation from Takashi Murakami to exhibit at Hidari Zingaro. I had been traveling with my husband and two dogs through Washington state and Takashi was curating an exhibition in Seattle. There we were able to meet up in person to discuss the show. Although I did not know how the creative process would unfold while traveling, I accepted this new challenge to create artwork for exhibition.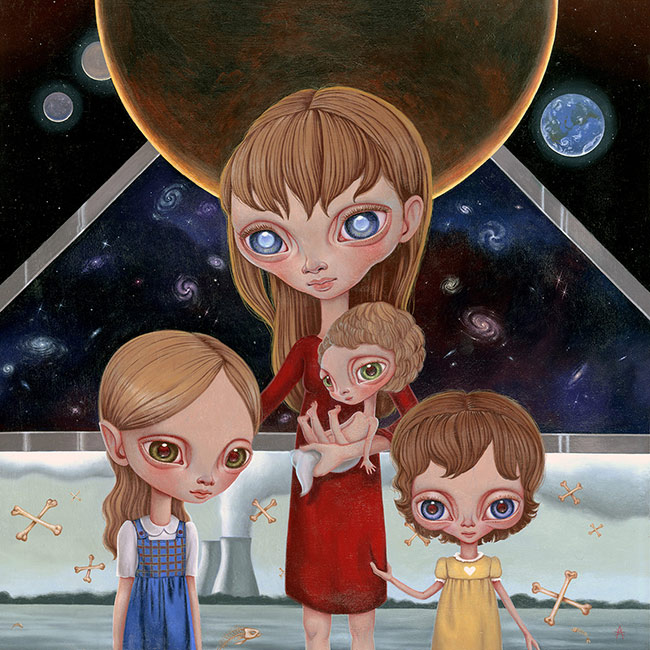 The themes that I experienced while traveling became the basis for the themes in my artwork, such as faith in abundance, and the constant push and pull between negative and positive states of being. The artwork tells a dark-to-light story, taking a look at the present and imagining a future in which humans and aliens live together in Peace. Into the Void represents my exploration of the future as well as my personal journey into a nomadic lifestyle.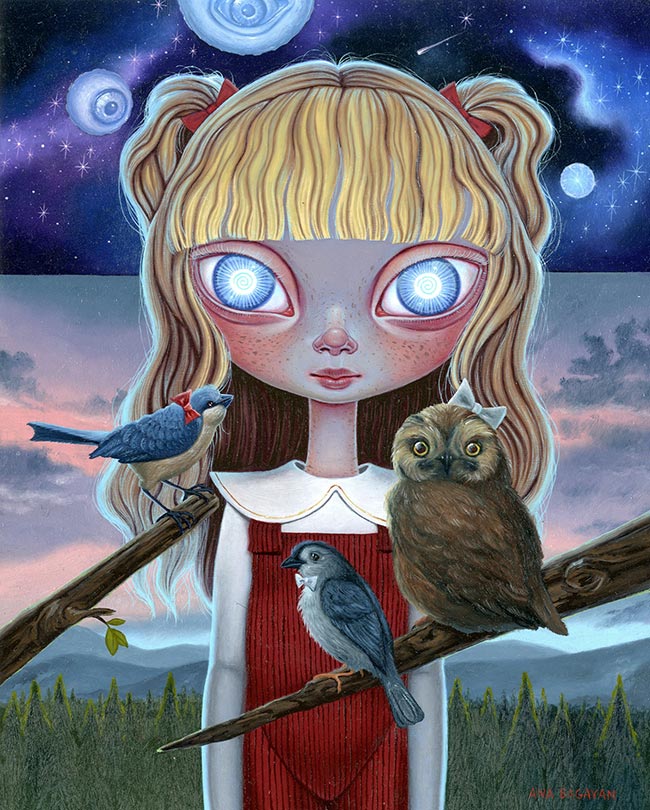 My trip coincided with the US presidential election and although my artwork is not political, I found myself reacting to events by making artwork that imagined a more positive outcome. For example, my use of aliens, humans, and hybrids symbolize how refugees and immigrants are perceived within our society today. However, in my paintings, the humans are the refugees and the aliens are the welcoming hosts.
The paintings are part of an on-going theme that I have described as Futurealism, which means imagining and manifesting a positive future through artistic expression.
View 'Into the Void' at Hidari Zingaro Gallery
Read about Ana's travels and creating her art on the road in her previous guest blog post, 'The Land of Abundance'.